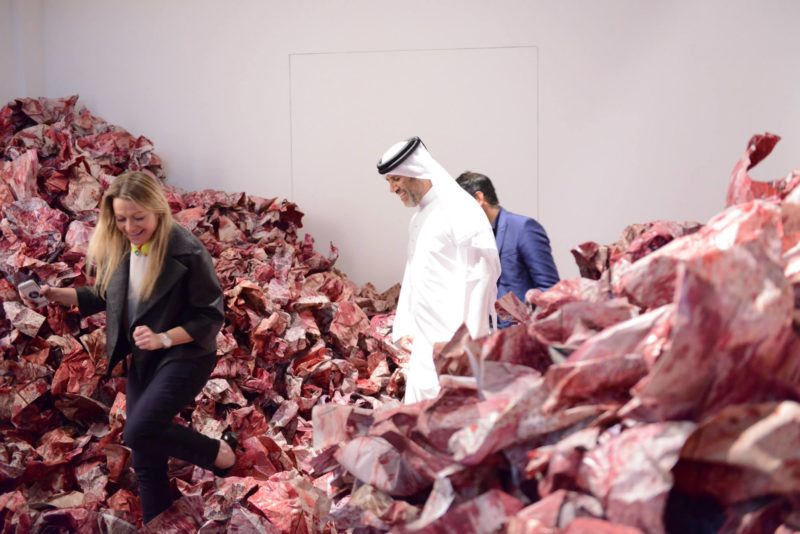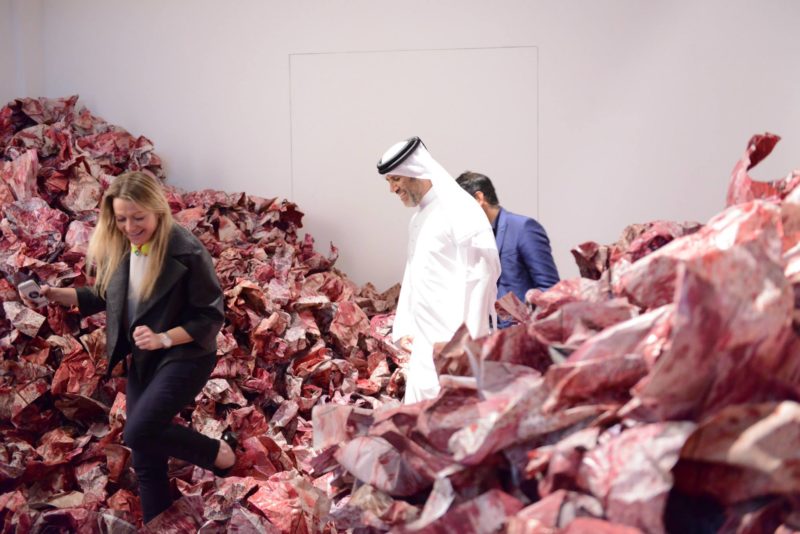 Imran Qureshi
Many art critics widely consider Imran Qureshi to be one of the most influential Pakistani contemporary artists. He has refined the regional and traditionally rooted painting style and took it to the modern day.
Style
His painting features a unique fusion of the genre's styles and techniques with the current issues and the recognized language of contemporary abstract painting.
He synthesizes personal observations on day-to-day life in present-day Pakistan while identifying that violence can be met in many societies and cultures worldwide and not only in his home country. The artist was quoted saying1:
The dialogue between life and death is an important element in my work. Leaves and nature, for example, represent the idea of life. And the particular color of red that I have been using in recent years can look so real, like blood. But somehow, people still have hope. The flowers that seem to emerge from the red paint in my work represent the hope that – despite everything – the people sustain somehow, their hope for a better future.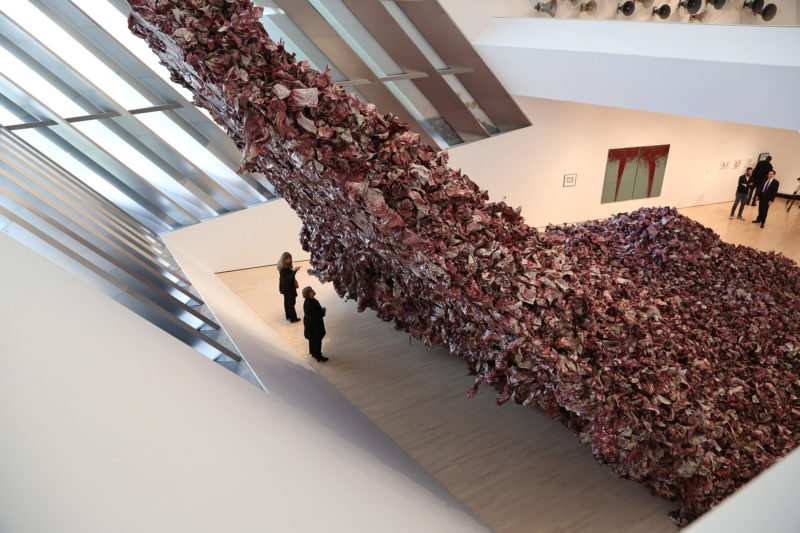 MET Roof garden installation
Imran Qureshi announced himself to the world in 2013 with his large-scale site-specific work at the Roof Garden of The Metropolitan Museum of Art in New York.
The artwork is titled "And How Many Rains Must Fall Before The Stains Are Washed Clean", which reminds of Cy Twombly, Mughal Miniature Art, as well as the violence that permeates the Pakistani society.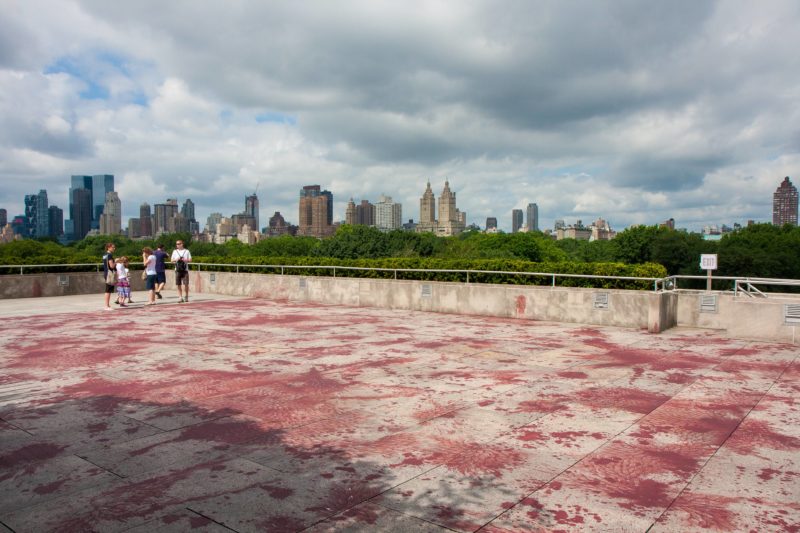 Using the 8,000-square feet open-air space above the ground as his canvas, the artist created patterns of lush decorative leaves out of his spilled and spattered red acrylic paint and evoked the flourishing enclosed gardens that are pervasive in miniatures of the Mughal court.
There is plenty of war art at the Metropolitan Museum of Art. Still, during its Civil War exhibition in 2013, there was a particular sense of despair and trauma in some sections of its galleries since so many contemporary pieces echo what the world is still witnessing these days.
Qureshi began incorporating red acrylic paint in his work in response to the bombings in Lahore. He started to create tragic sceneries that contradict the notion of paradise on earth. While the project at the Met was still undergoing, the Boston bombings happened. So, Qureshi postponed creating a series of more slanting lines, a bit askew from the grid.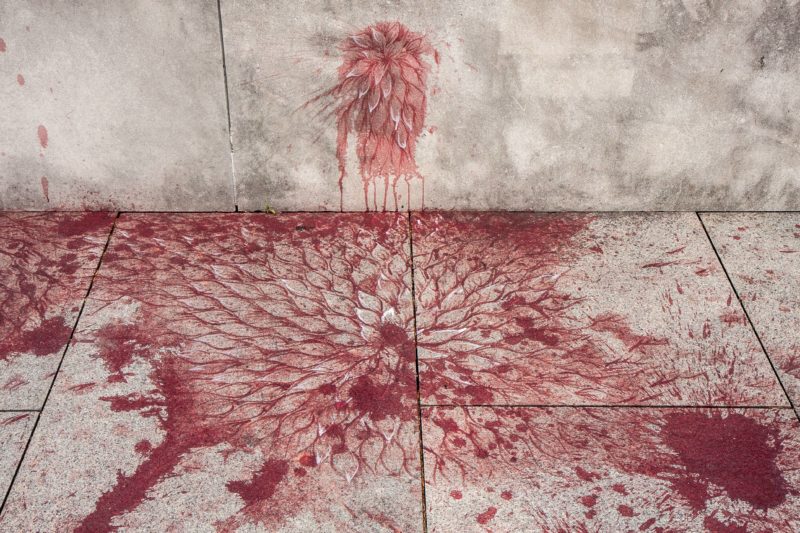 When I was about to fly to New York to create this installation (Met rooftop installation), the Boston bomb blast had just happened. In the news, they were continuously using the word 'finishing line'. Somehow that word stuck to mind when I was working there and it became manifested in my work. So that's why I created this sharp finishing line. The idea was that when you first enter this installation, you feel unconformable, but slowly people get used to it. They start walking and looking at the flowers and when they reach the unpainted part, they once again get uncomfortable because they wonder why this part was not painted. The idea was that when there were so many blasts that we have experienced, then the lack of an attack of violence causes people to wonder and become uncomfortable. I think this is another kind of psychological effect. You get used to it but in a very different way.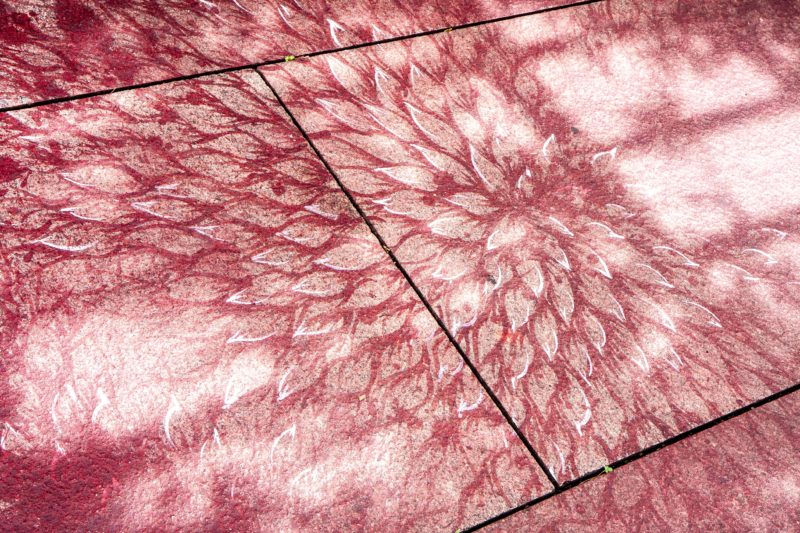 The Met's rooftop piece is a contemptible site at first glance, as it evokes the aftermath scenes of a brutal attack. Abhorrent blood stains cover almost the entire open space. The work is effective because it both shocks the audience while commanding a presence in its positive quality.
This work was created precisely for space. We have to endure its brutal scale. The effect is both grand and violent, just like Twombly's work. Qureshi skillfully blends the rough tastelessness of the splattered paint with the symmetry of his painterly deftness, which has an eye-catching characteristic. Qureshi's work is about growth and destruction, coupled with creativity.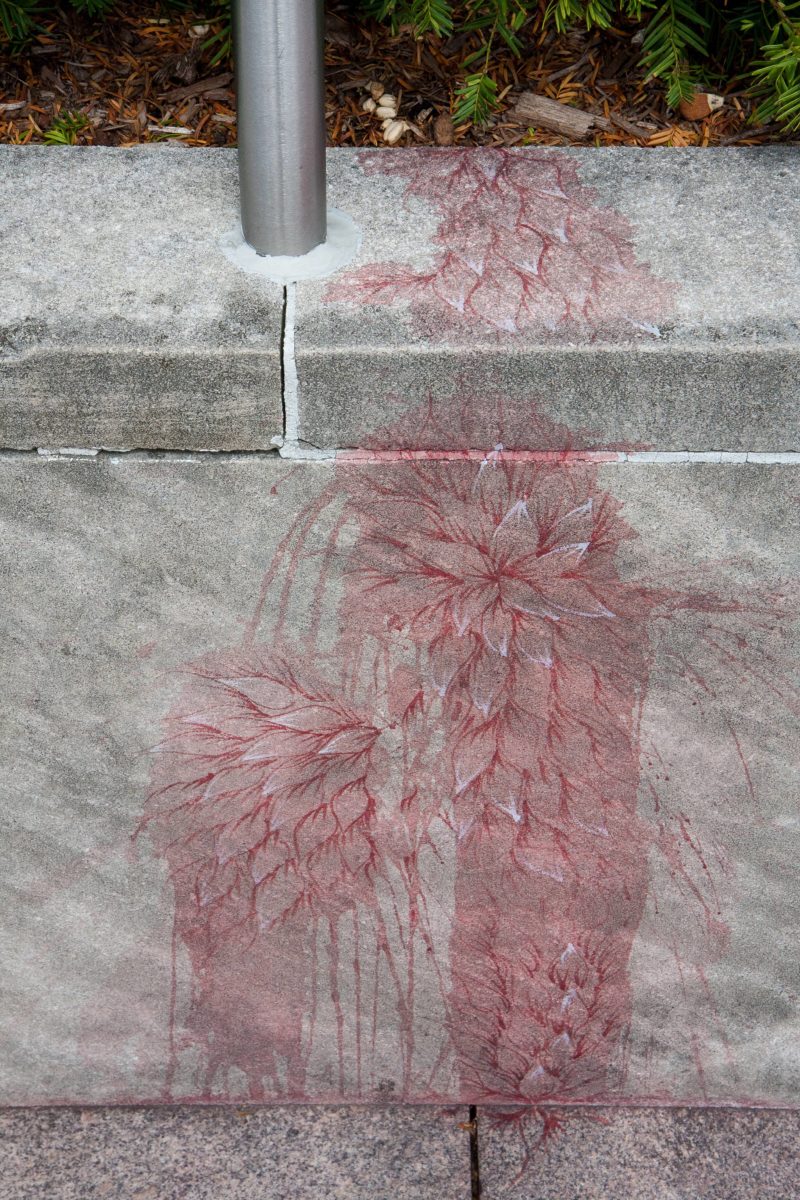 Modern miniature painting
In Downtown New York, near the Holland Tunnel, the artist also put up another violent scene. However, in this case, his victims are tomatoes, creased to produce juice that was hurled on Sean Kelly's wall. The piece resembles the famous Spanish tomato-throwing festival and conjures the tomatoes flung in political protests around the world.
However, these are not real tomatoes, rather, porcelain models. Qureshi has a knack for making something gruesome and gory into something that is so visually appealing. His aestheticization of violence has an impact on viewers.
I think there is some element of tension between the work and the viewer. It attracts you but at the same time repels you as well. This is the kind of response that I have been continuously getting. It feeds on the idea that violence repels you, but then it raises another kind of voice against the same thing. Sometimes I feel like we get used to it.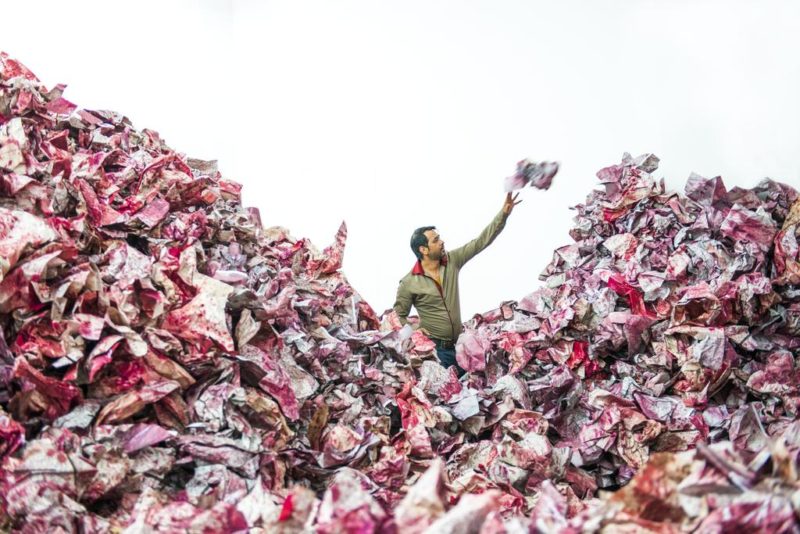 And they still seek the traces of blood (2013)
Imran Qureshi's "And they still seek the traces of blood" (2013) has become renowned for its ability to invoke emotional responses from viewers as this intrinsic work is printed on thousands of crumpled sheets of paper and gathered to form a steep heap. The title of his artwork, "And they still seek the traces of blood quotes a poem by Faiz Ahmed Faiz4 about individuals who have been killed and buried without their lives honored nor the events surrounding their deaths investigated.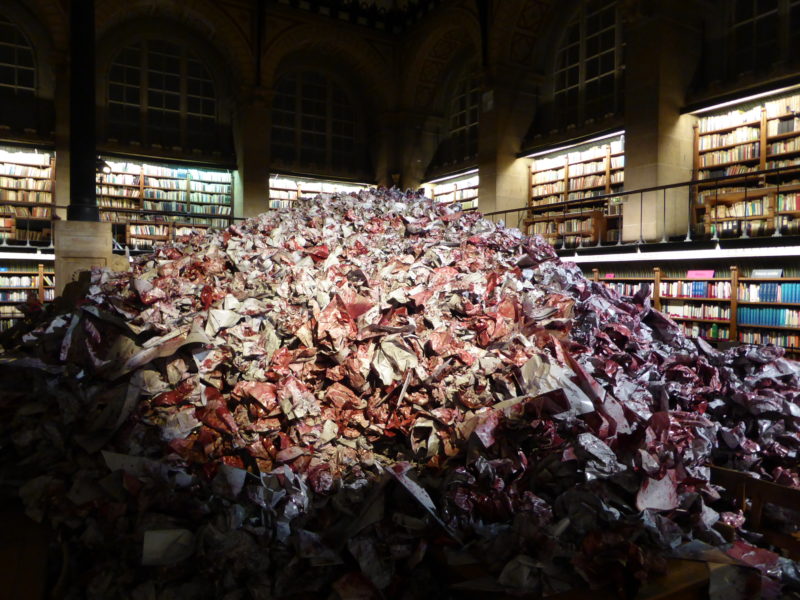 His exhibition uses a binary combination of light and darkness. The artist utilizes the color of the rooms of the nighttime landscapes of Venetian painting, often depicting landscapes and interior courtyards in which every stone and leaf is pedantically arranged.
Each delicate painting is tainted by the blood-red stains that impinge on the picturesque scene, uncompromisingly annihilating the delicacy and balance. In doing this, Qureshi creates a space of binary elements, beauty and violence.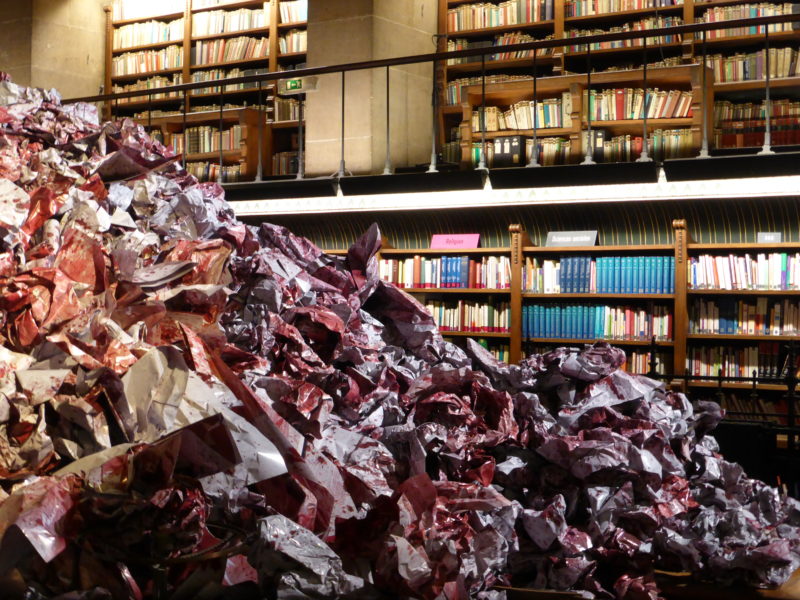 Throughout these somber rooms, you have to feel your way slowly and cautiously, as Qureshi's method of presentation causes references to the colonial architectures and domains in which servants were kept in small compartments. Through the surrounding darkness, the paintings burn into the viewers, provoking them to reflect upon the conditions as they attempt to discover a way out of the labyrinth of depicted violence or create a split second in which viewers can escape the perpetual succession of creation and violence.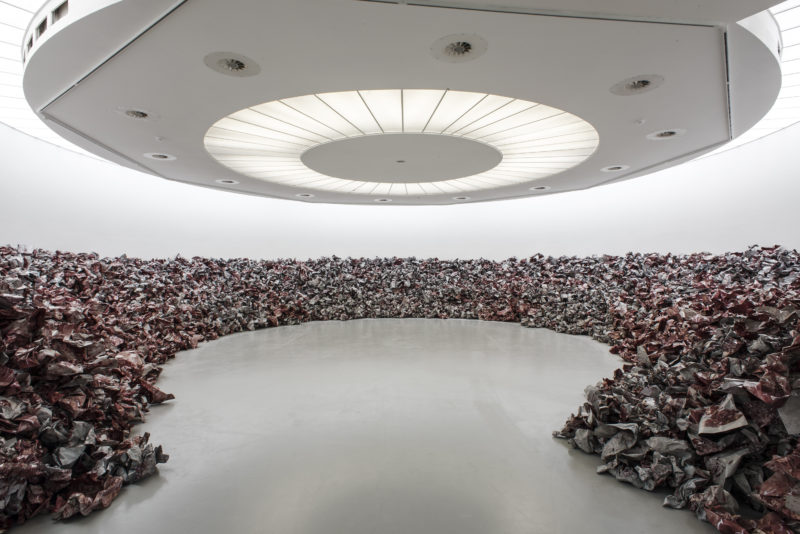 Video: Nuit Blanche, Paris, 2014
Influences
Imran Qureshi's work is largely influenced by the Mughal heritage of miniature paintings, though he took that style to new levels with his own particular iconography. His work reflects upon his own lived experience, expressing the memories of his living through decades of precarity, martial law, uprisings and massacres, terrorism, and politics.
His artwork is, without a doubt, metaphorical, expressing both life and death, darkness and light. His work is so completely profound as the symbolic and binary nature of his work is infinite, depicting a teetering balance of beauty and life versus the dark blood-red, spattered imagery associated with violence and death.
His work is also about current events in Pakistan. It highlights the types of violence and discrimination imposed upon innocent people around the world every day. Qureshi's work is visually striking, while it calls forth profound imagery of violence. In many of his installations, the use of light and darkness makes his work emotionally charged and, as described by some viewers, almost brutal.
Final words
Imran's work exudes a sense of freedom due to the randomness of chucking paint. Once the paint is splashed on the surface, it appears too wild to be restrained or understood. Yet, blossoms arise from these spaces as you enjoy the color of the paint and the artistic process. Thick, dense portions are turned into a progression of beautiful flowers that are gentle and pacifying. Others are sizzling red spots, while others are similar to the multiple layers of sunflowers and dahlias.
It is fascinating how Qureshi lets his piece of work interact with the audience. In some artworks, he reminds the viewer of the harsh political realities. In contrast, in others, he mediates with soft repetitive shapes and forms that take the audience's response to regeneration and rebirth.
Footnotes