VIDEO
PHOTOS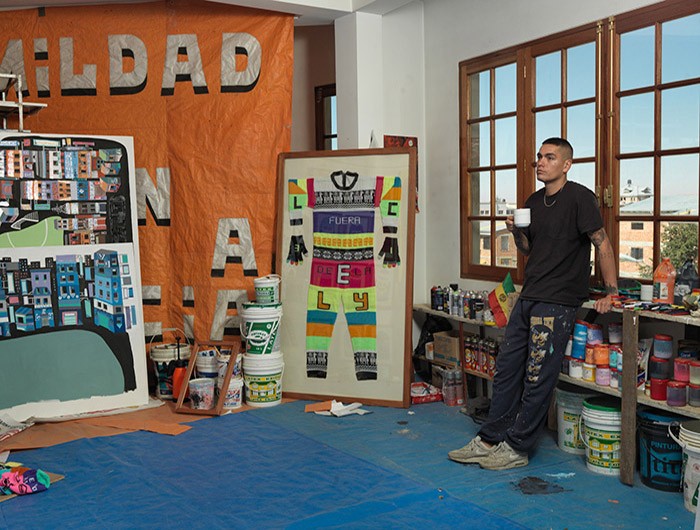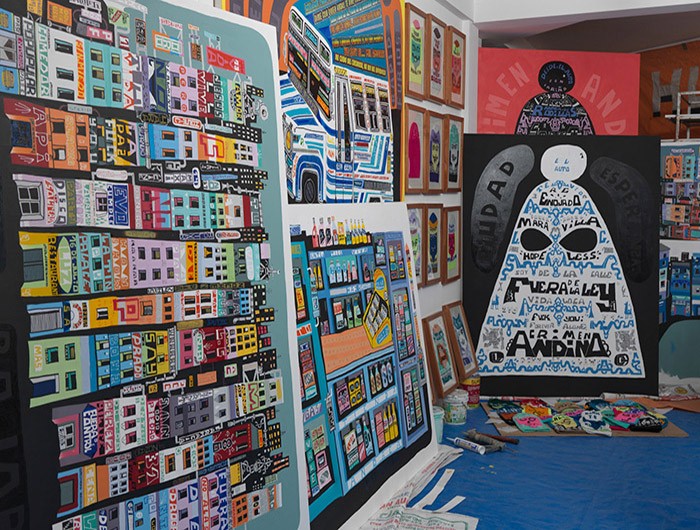 We are delighted to share some exclusive studio photos of Luciano Calderon's upcoming show next week in La Paz, Bolivia.
> Read all about the exhibition and see more photos here or check the older preview
> Download the presskit: web, print
Photos by Gabriel Barceló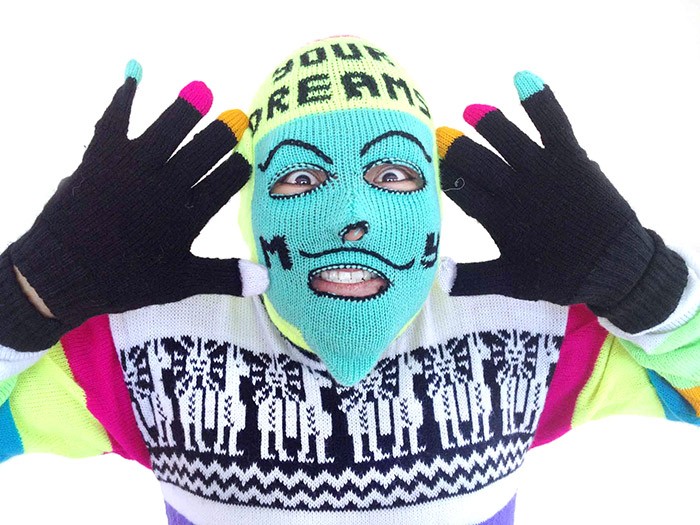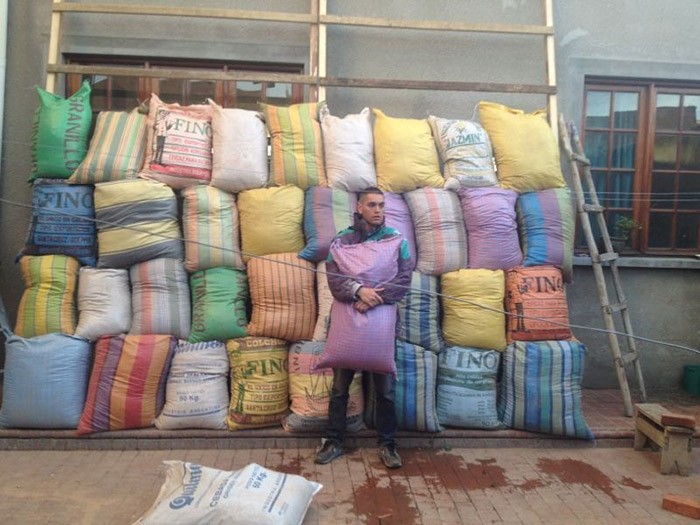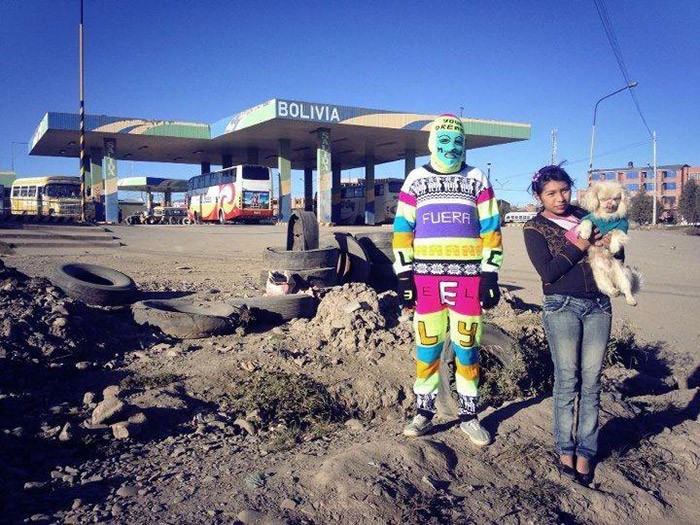 Our next project is coming in May in La Paz, Bolivia!
El Choco is a solo exhibition by the Swiss-Bolivian artist Luciano Calderon. He is going to show completely new works ranging from videos to sculptures and paintings. The exhibition takes place in one of Bolivia's most important non-commercial art spaces, Centro Cultural de España en La Paz.
More information here on May 8.
Tam Wai – Falling into the Mundane World, 2013
Falling into the Mundane World, commissioned for this project, reflects Tam's ongoing interest in working in the public realm and exploring myriad responses to specific sites and contexts. The oversized female legs and cockroach sculptures point to ubiquitous aspects of life in Hong Kong as well as underlying ills that plague contemporary society at large.
Paul McCarthy – Complex Pile
Complex Pile is a 51-foot-high, 110-foot-long, inflatable sculpture of a twisted pile of excrement. Embodying his rare ability to leverage bad taste to infiltrate the well-mannered confines of the art world, Complex Pile mocks its picturesque surroundings and pokes fun at the prudent qualities of public sculpture.
Choi Jeong Hwa – Emptiness is Form. Form is Emptiness, 2013
Departing from his usual cheery hues, Emptiness is Form. Form is Emptiness re-casts this iconic symbol of purity as something seemingly dark, or solemn. By placing the work on the future site of the park of West Kowloon Cultural District, a plot of land which cannot be said to be either wholly natural or man-made, Choi also points to hazy relationships between nature and artifice, urban and non-urban space, and to the presence, or absence, of nature within Hong Kong's increasingly urban, often consumer-frenzied environment.
Cao Fei – House of Treasures, 2013
Fascinated by places and moments in which people can bring their private imaginings to life and intersect with the public sphere, Cao has created House of Treasures, an outsize inflatable suckling pig that celebrates themes of prosperity and abundance. Part playful interactive attraction, part nod to Hong Kong's food-obsessed culture, House of Treasures injects a space of leisure and pleasure into the West Kowloon site, while prompting visitors to ponder the meaning behind such enjoyment.
Tomás Saraceno – Poetic Cosmos of the Breath (photo by Nicholas Tse)
Inspired by the work of Dominic Michaelis, an English architect and inventor who pioneered the technology for a solar-powered hot air balloon, Poetic Cosmos of the Breath is a time-based experimental solar dome that takes flight only under certain climatic conditions. It uses deceptively simple materials — a paper-thin foil membrane accompanied by a few sandbags and a handful of participants, to produce a startlingly ethereal, shimmering effect.
Jeremy Deller – Sacrilege, 2012
Sacrilege, a life-size bouncy castle in the shape of Stonehenge, encapsulates Deller's interest in the generative spirit of public participation. By recasting one of the world's most famous existing prehistoric monuments (closed to the public since 1977) as an interactive public sculpture, he allows audiences to reacquaint themselves with history in a high-spirited and entertaining manner.
Jeremy Deller – Sacrilege, 2012
VIDEO
Inflation! is the name of a project that shows six large-scale inflatable sculptures on the site of the Park at West Kowloon Cultural District. The large-scale inflatable sculptures by Cao Fei (China), Choi Jeong Hwa (South Korea), Jeremy Deller (UK), Jiakun Architects (China), Paul McCarthy (USA), and Tam Wai Ping (Hong Kong) pose questions about the nature of public art and the ways in which audiences might engage with it. The works are on public display until 9 June 2013.
By transforming the current site into a (con)temporary sculpture park of inflatables, Inflation! attempts to consider how certain realities and preconceptions around art in public space can be altered, undermined and challenged in the context of an evolving and endlessly mutating cultural and urban landscape.
> Directions and more information about guided tours, interpretive performances, workshops and talks
Images: AP / Getty, via Dailymail

Don't holla at me unless money is the topic (sketch), 2013

What's love got to do with it, 2013

Don't holla at me unless money is the topic, 2013

On the front page of Metro Belo Horizonte, part of Metro, the world's largest newspaper
In March, 2013 Swiss-Bolivian artist Luciano Calderon painted a site-specific, indoor mural in Belo Horizonte, Brasil. The painting was executed for the Verão Arte Contemporânea Festival inside Sesc Palladium.
Calderon used two quotes by African American artists, the first being Tina Turner's What's love got to with it which is an ironic comment about the relationship of art and money. In contemporary times how much does love actually have in common with art?
Nipsey Hussle's Don't holla at me unless money is the topic alludes to the people working solely for money, some of those being business men using the very center where the mural is painted.
Calderon's upcoming shows are a major show Centro Cultural de España en La Paz, one of Bolivia's most exciting art spaces, and a group show at the State Museum for Ethnology in Munich. More infos following here
Artwork details:
Untitled, 2013
Marker, spray paint, liquid paper on wood
250x1200cm
The project was curated by Angelina Camelo

Flickr, 2007

Second Life, 2007

YouTube, 2007
Santiago Zabala, research professor of philosophy at the University of Barcelona, wrote an article about Filippo Minelli for The New York Times, based on the series Contradictions, which comments on the contradictions of society, brands and art and how they impact the earth's ecosystem.
When we type "Flickr" or "Facebook" or "YouTube" into a browser, we seek to enter social networks and enjoy secure communication and interaction with a vast number of online users from around the world. Most of us take for granted that these words are understood by others in the same way. But what if rather than type these words on a keyboard we paint them on the walls of slums in Mali, Cambodia or Vietnam. Their meanings would certainly change.
> Read more at The New York Times or check more works by Filippo Minelli
Hendrik Beikirch's upcoming solo exhibition, Transsib – Greyhound. Paintings from train and bus rides, is a showcase of his latest works. As the title suggests, they are inspired by his travels and encounters on Russia's Trans-Siberian Railway and America's Greyhound buses. Both transport the working classes, connecting people and products and bringing them in line. In Beikirch's canvases, it is difficult to determine whether subjects hail from the East or the West, with only tiny details giving any clue. Like his previous works in graffiti, Beikirch blurs the boundaries.
In both his large-scale murals and canvases, Hendrik Beikirch depicts the personal and the private, portraits that tell a story. Instead of illustrating famous people, he draws attention to those who have a magnetic personality or some other recognition value, characters who become all the more interesting because they remain anonymous.
Beikirch takes inspiration from accidental and brief encounters. In some cases, he gains insight into his sitter's life. At other times, the particulars remain unknown. As such, his paintings are open to interpretation whilst exuding authenticity.
The 39-year-old German artist enlarges his portraits as tall as 70 meters (230 ft.). He applies India ink, acrylic paint, and spray paint – a rough tool that does not allow for pinpoint accuracy, but it does effectively reveal Beikirch's background in graffiti, and the glance, expression and mood of his subjects.
The exhibition is open until May 19, 2013.

Shape C/L, 2013

Shape C/G, 2013

Shape C/D, 2013

Shape A/Z, 2013

Shape A/V, 2013

Shape A/U, 2013
Filippo Minelli has been shooting more smoke bomb photos this year