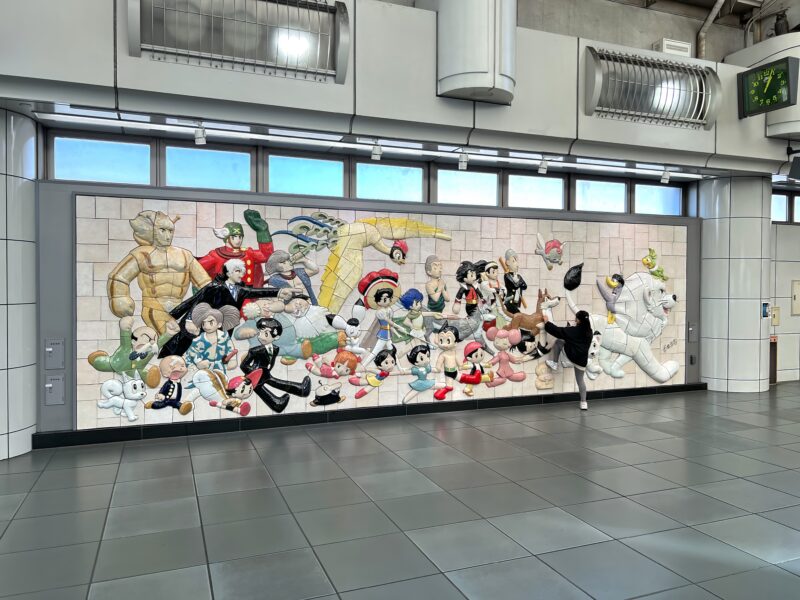 Introduction
Osamu Tezuka is often referred to as the Walt Disney of Japan. Regarded as one of the most legendary Manga artists of his generation, Tezuka sometimes went by other celebrated titles, including "god of manga" and the "godfather of anime".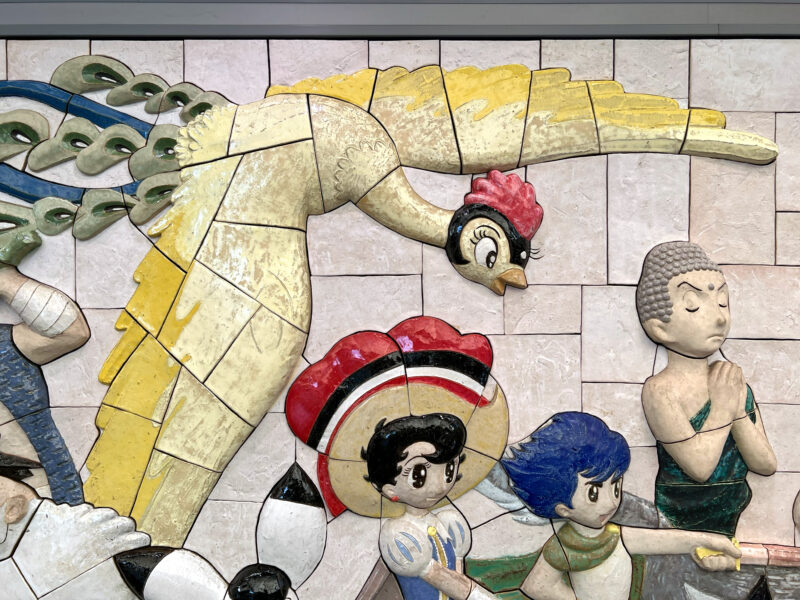 In 2019, 30 years after his passing, a large ceramic relief was installed to pay homage to his legacy. The impact of his work in the country has been immeasurable and his creations are still deeply engraved in people's memories. Though he started in the late 1960s with the iconic Astro Boy, his process of adaptation, along with many of his techniques, helped to greatly grow the industry, as well as his distinct artistic style and identity.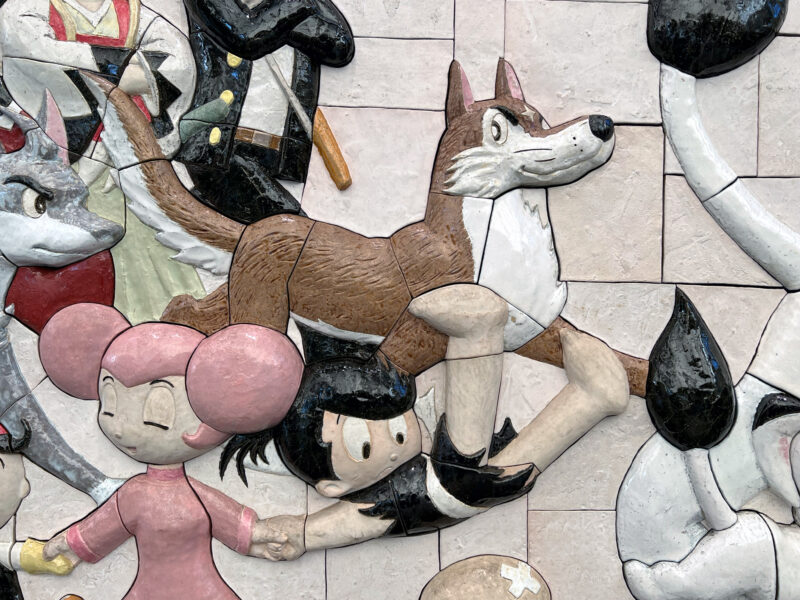 The ceramic relief Characters on Parade was created based on an original 1976 drawing done by Osamu Tezuka. The artwork was installed on March 18th, 2019, inside the ticket gate at the Kokusai-Tenjijō station in Kōtō, Tokyo.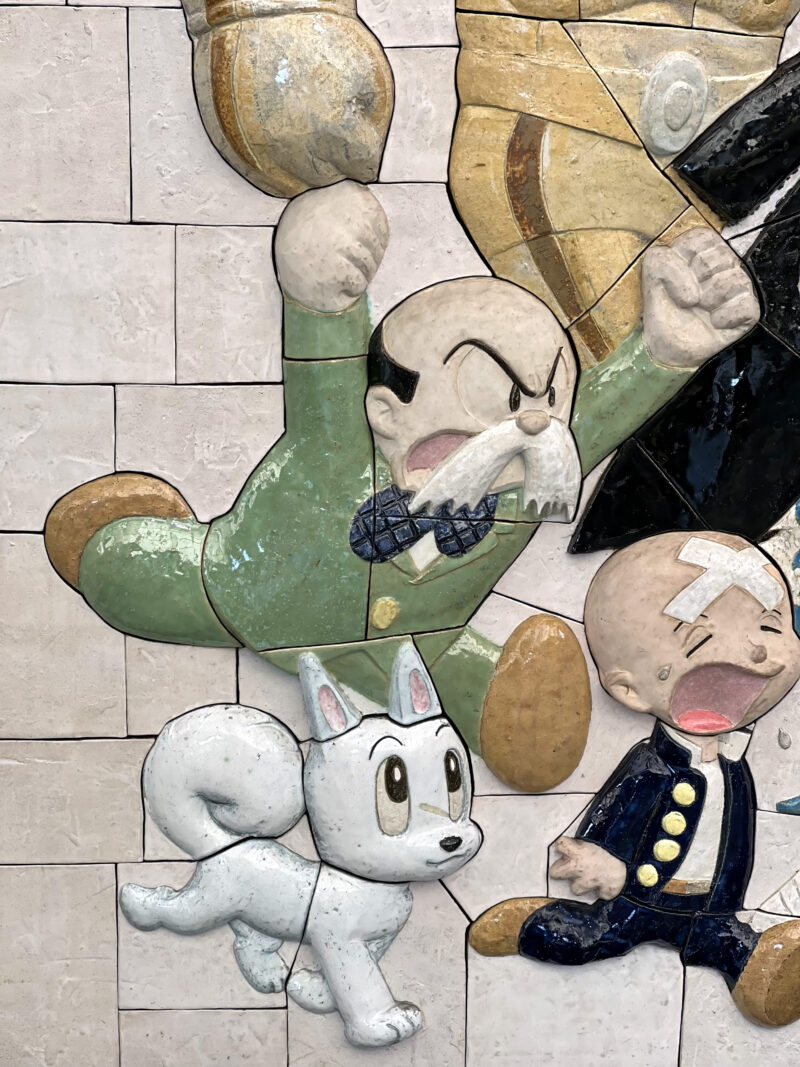 The original work featured 92 characters happily marching. However, for the ceramic relief, the organizers of the installation opted to use 36 characters, which were rearranged to suit the wall.

The parade, which was installed in the station, contained images of not only people but robots and aliens as well. The point of the installation was to revitalize the region as well as create social morals through public artworks, disseminating Japanese culture and attracting tourists.1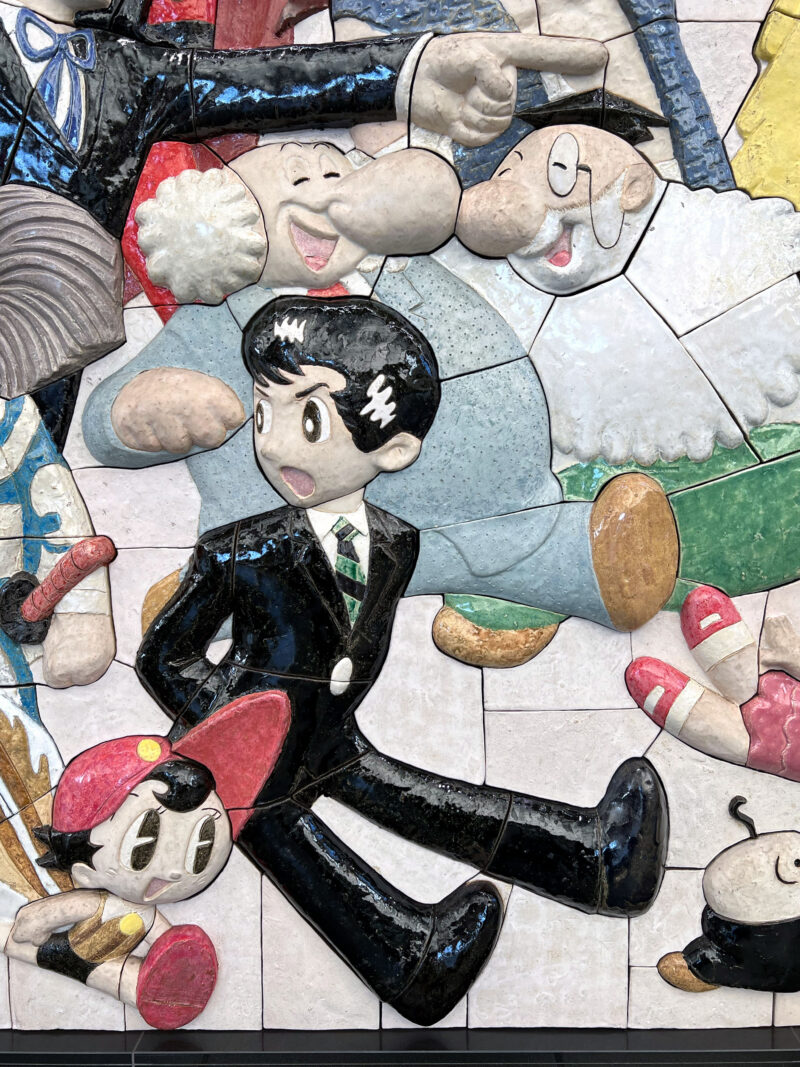 Tezuka Productions, the team behind the work, was quoted saying2:
(…) I hope that this parade will lead to a peaceful and bright future where not only humans but also animals, robots, and aliens will join in and go forward happily.

Inspiration
The ceramic relief draws its inspiration from an illustration created by Osamu Tezuka in 1976. At that time, Tezuka had already made a significant impact with numerous successful publications, including eight captivating monthly manga series such as "Black Jack," "The Three-Eyed One," "The Phoenix," "Buddha," and "UNICO."

The following year proved to be exceptionally busy for Tezuka as he embarked on the ambitious and unprecedented project of publishing the monumental 400-volume collection, "The Complete Works of Osamu Tezuka's Manga."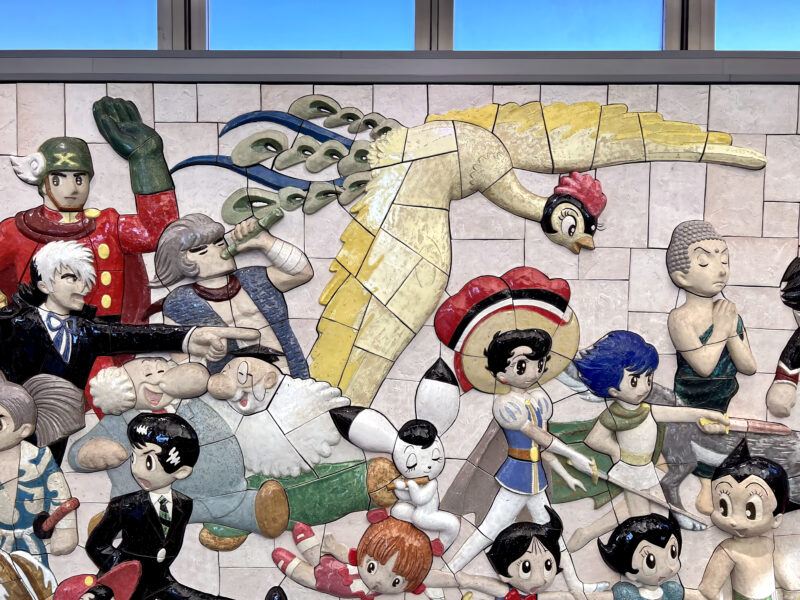 What it shows
The relief shows the characters' innocent expressions, warm texture, and vivid colors, creating a three-dimensional and captivating presence. As you get closer, the shapes of Tezuka's characters become clearer, and the innocent expression of each character stands out. When you see this artwork in person, you will witness an enigmatic presence that can never be expressed through posters and murals.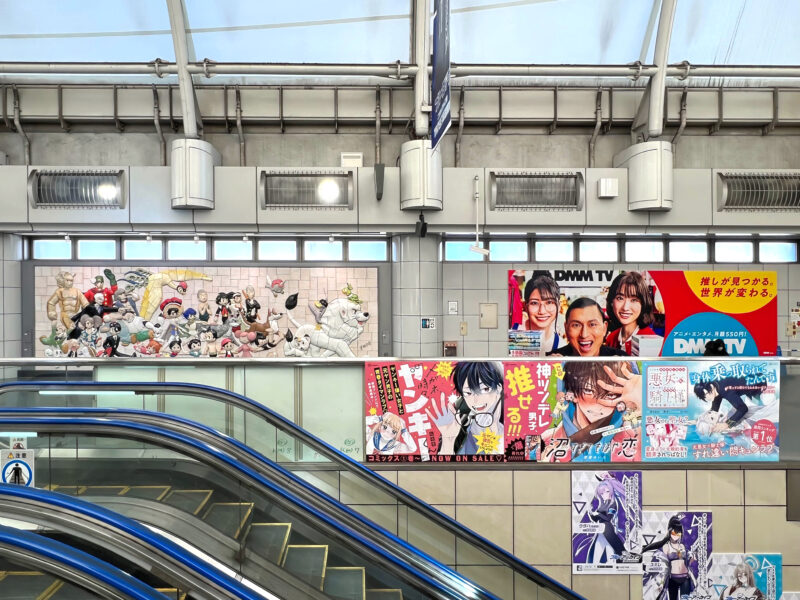 Viewing it from different angles adds to the experience of its three-dimensional effect, with the thickest part, the face of the panja 3, raised approximately 25cm from the background.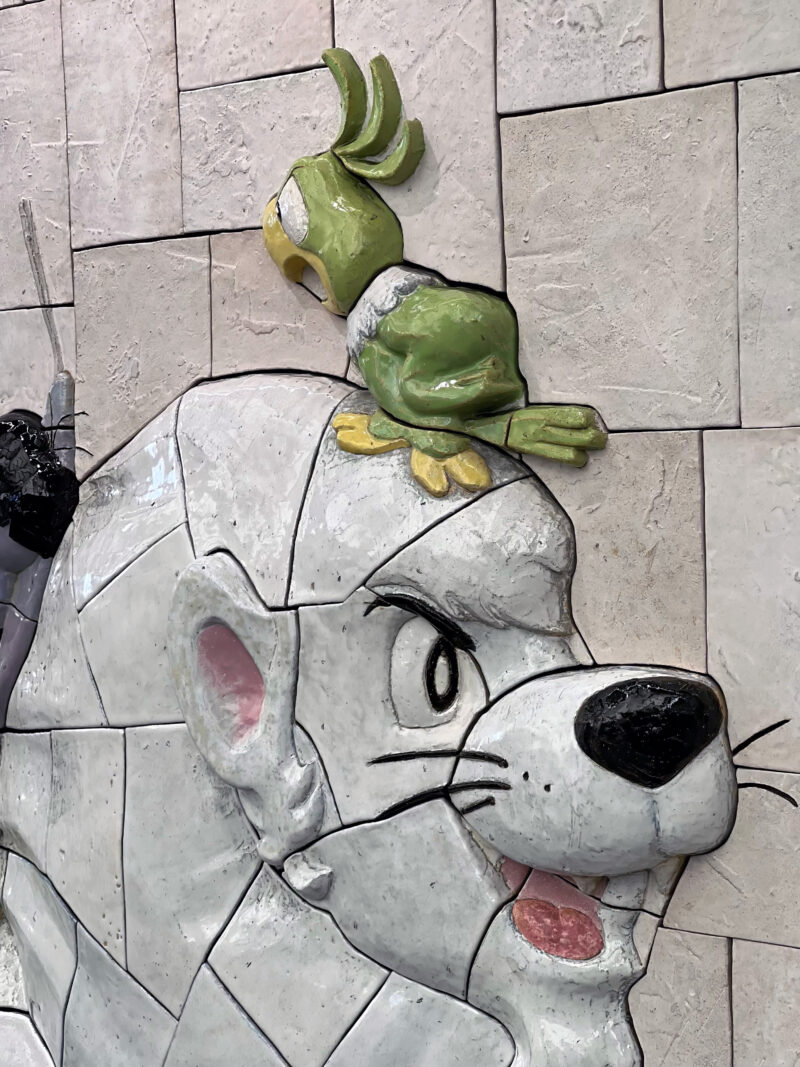 Location
The relief is installed inside the ticket gate of Kokusai-Tenjijō station, located in Kōtō, Tokyo. It is the closest station to Tokyo Big Sight, a renowned landmark frequently visited by domestic and international travelers.
Kokusai-Tenjijō station (R03), Rinkai Line of the Tokyo Rinkai High-Speed Railway
Tokyo Big Sight hosts annual events related to anime and comics, attracting a large number of fans from all over Japan and beyond. One notable event is "Comic Market" or "Comike," which took place in the summer of 2022 after a two-year hiatus. During this event, tens of thousands of manga fans passing through the station's concourse would have likely noticed and appreciated the ceramic relief featuring Tezuka Osamu characters.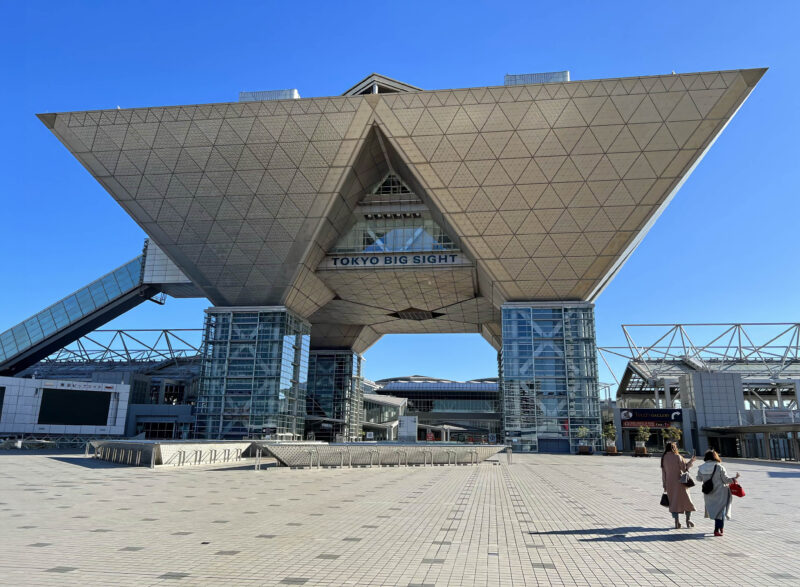 Moreover, the station's strategic location makes it significant during major international events. During the Tokyo 2020 Olympic Games, the station served as the nearest one to the International Broadcasting Center and multiple sports venues. As a result, it welcomed guests from all around the world attending the prestigious sporting event.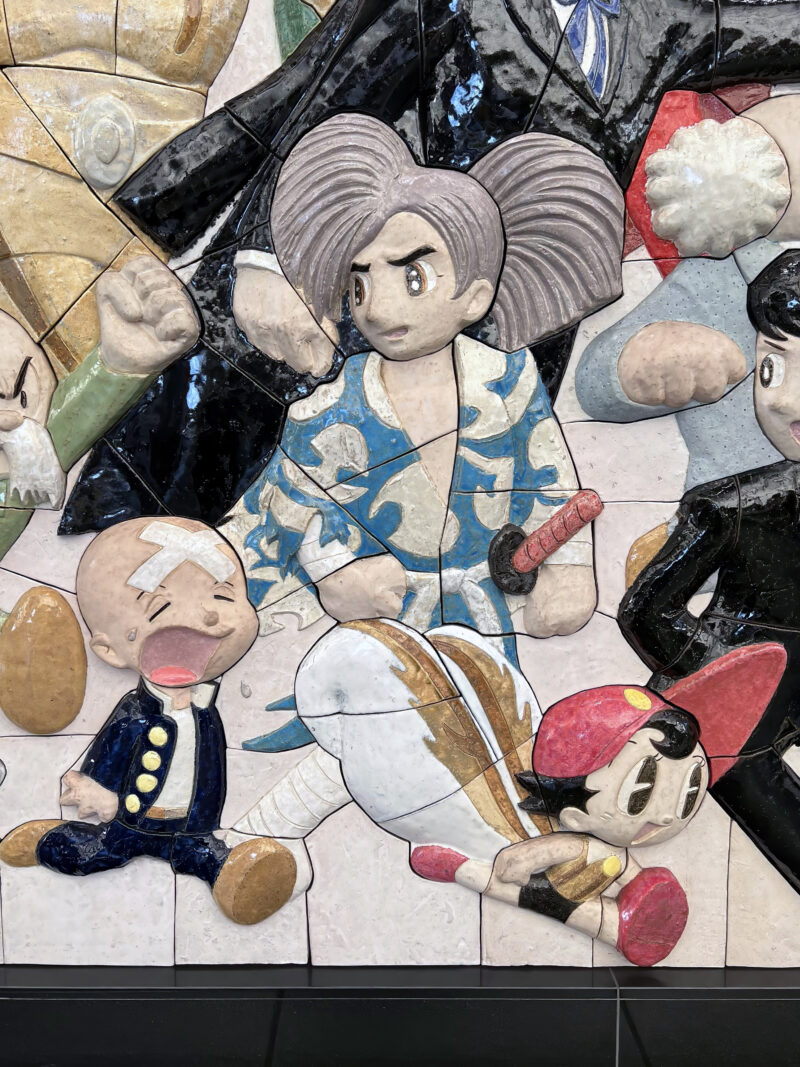 Best time to visit
Avoid the rush hours (7.30-9.30h, 17-19h)
Weekdays
The station handles roughly 33,000 daily passengers, so avoid peak commuting times. If you prefer a less crowded experience, consider visiting Kokusai-Tenjijō station on weekdays rather than weekends. Major events and popular tourist spots tend to be busier on weekends and holidays.
Crowd sizes can vary depending on the season and the occurrence of events or conventions at Tokyo Big Sight, so it's always a good idea to check the local schedules and plan accordingly.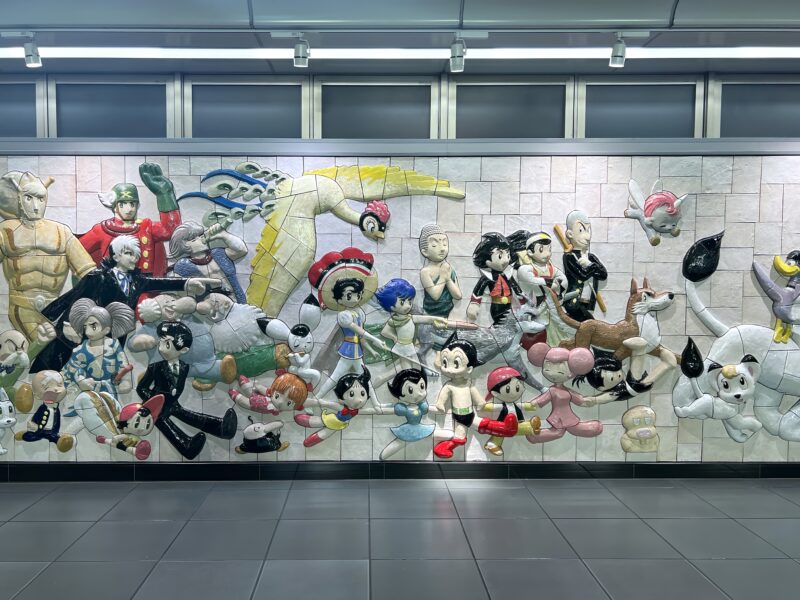 Production
Created by the well-known ceramic studio CREARE Atami-Yugawara Studio, it took approximately ten months to complete the work. The studio, located in Atami City, Shizuoka Prefecture and founded in 1977, is responsible for producing numerous stained glass and ceramic reliefs and is deemed a pioneer in the field of public art.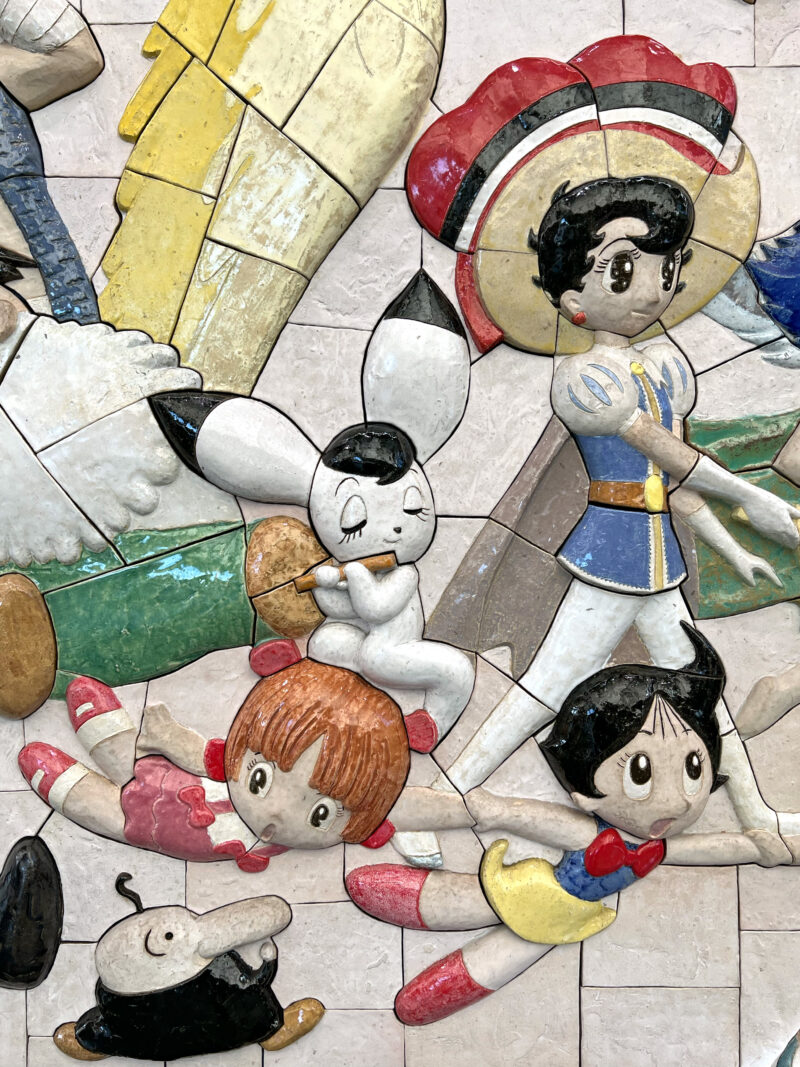 Process
The production involved several stages, including creating a model, hollowing out the backside of the clay to reduce weight, dividing it into 460 pieces, glazing, firing, and finally, installing the pieces on the wall of the station. The process began with creating a model at a 5/1 scale to determine volume adjustments and avoid weight discrepancies between characters.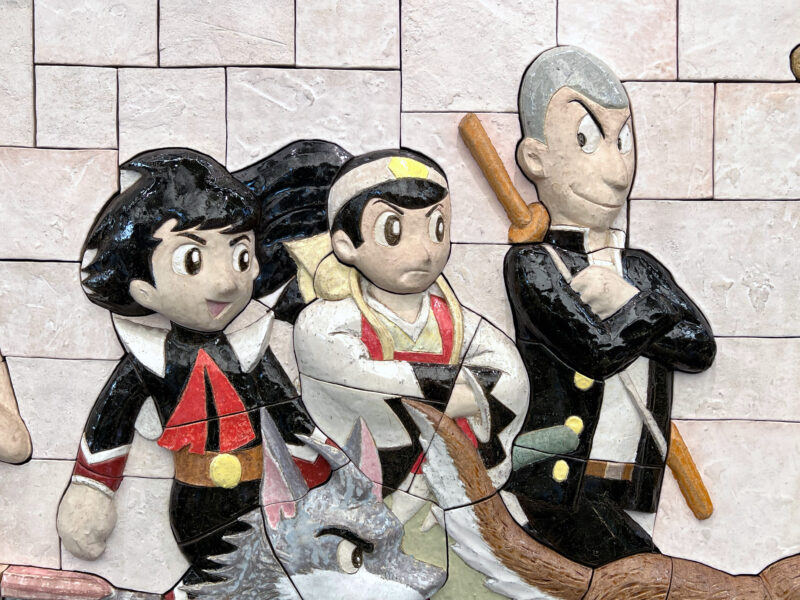 The ceramic relief was divided into 460 pieces to ensure manageable weight and drying time. Each piece got photographed and sent to Tezuka Production for supervision, leading to various small adjustments, such as making lines thinner or eyes bigger.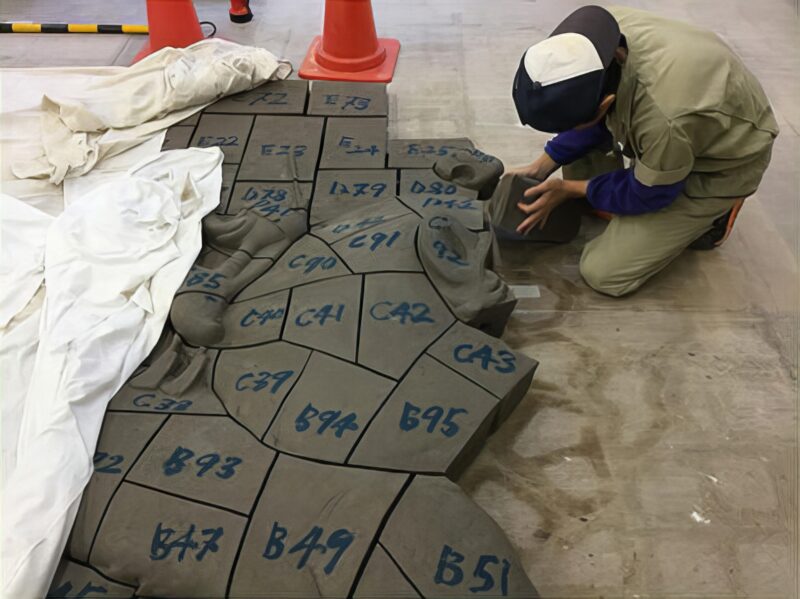 Production starts
After that, a clay prototype was created. However, the allocation of the relief presented a challenge as the team had to divide it into 460 pieces while avoiding breaking up the faces. This complexity arose due to the need to manage clay weight and drying time, leading to a careful balance in sizing the individual pieces.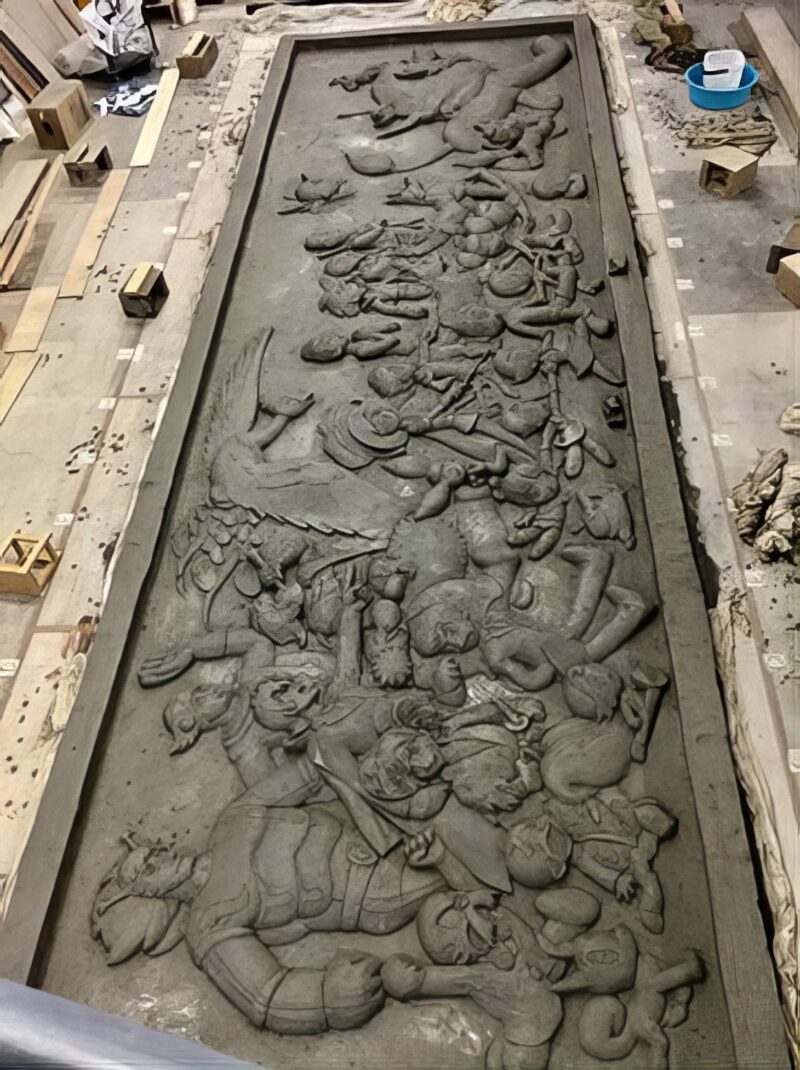 After hollowing out the backside of the clay to reduce weight, glaze was applied to the unglazed pieces. The glaze colors were chosen and tested, aiming to strike a balance between the original color and the glaze characteristics. The final step involved firing the ceramic plates at 1230 degrees Celsius. During the process, irregular dots and patterns are sometimes created. This step alone took one week to complete.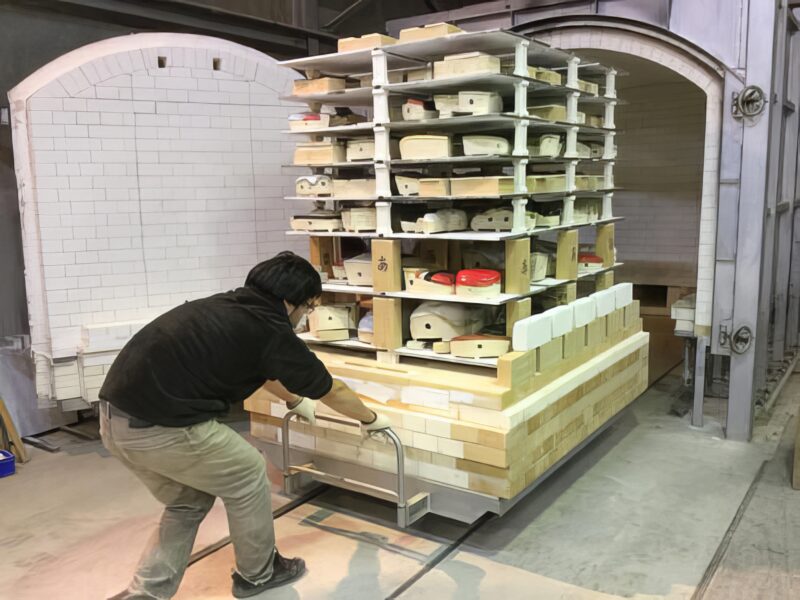 Assembling & installation
Once completed, the 460 pieces were temporarily assembled in the workshop, allowing for adjustments to be made. Little gaps between each piece were made, considering the changes in temperature and the resulting expansion and contraction in summer and winter.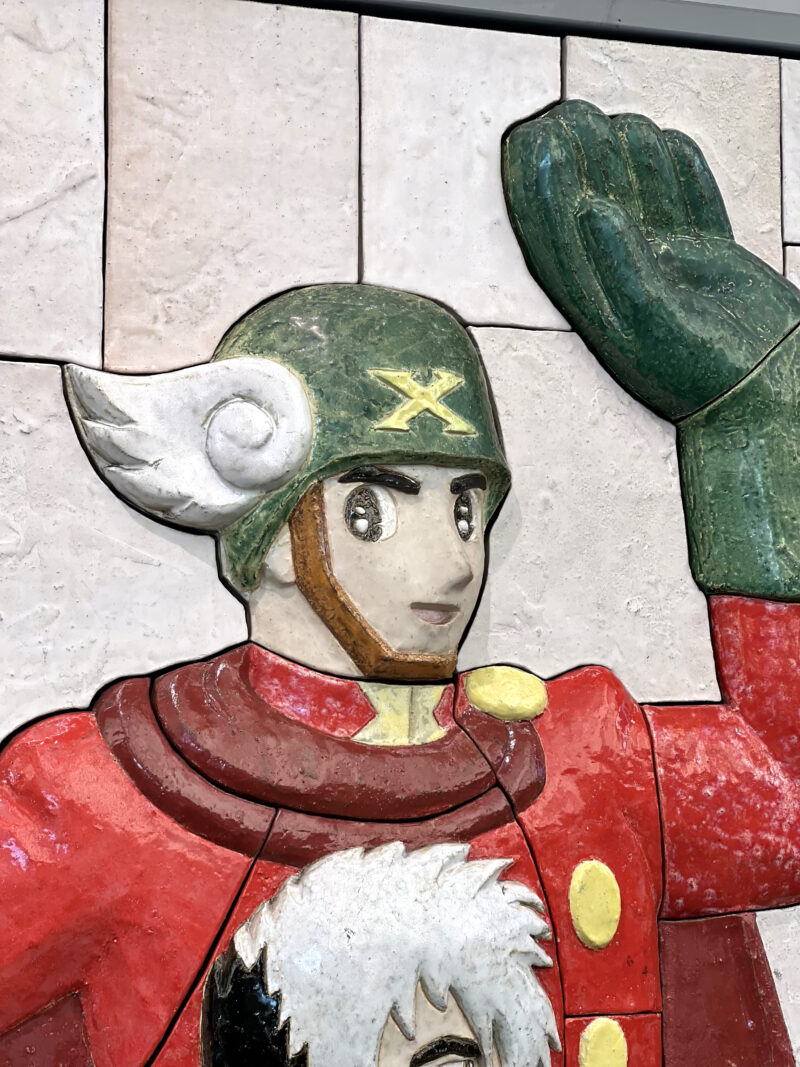 The pieces were then transported to Kokusai Tenjijo Station and meticulously adhered to the wall using silicone-based adhesive. Wires were added for added stability to ensure that the ceramic plate won't come off, even during an earthquake.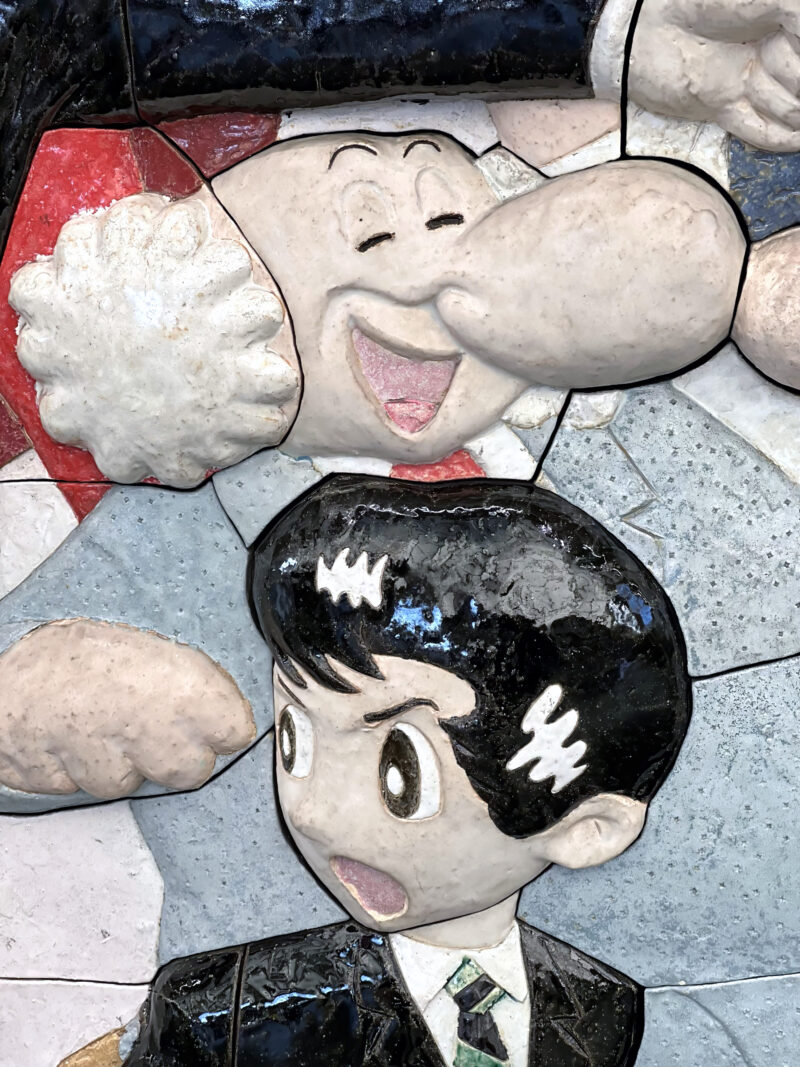 Opening ceremony
Given Osamu Tezuka's high profile, several media outlets, including television stations and newspapers, documented the opening ceremony. During the event, Tezuka's eldest daughter, Rumiko, said 4:
Ceramic plates are made using natural materials such as earth, water, and fire, while humans come to terms with nature, with wisdom and ingenuity, and this is what Tezuka Osamu has conveyed in his works.
Osamu Tezuka's murals at Takadanobaba station
If you want to see two other public artworks by Osamu Tezuka in Tokyo, check out Takadanobaba station (Y25) on the Yamanote Line. Takadanobaba holds a special significance because this neighborhood functioned as the main setting for Astro Boy and also is the hometown of Tezuka Productions.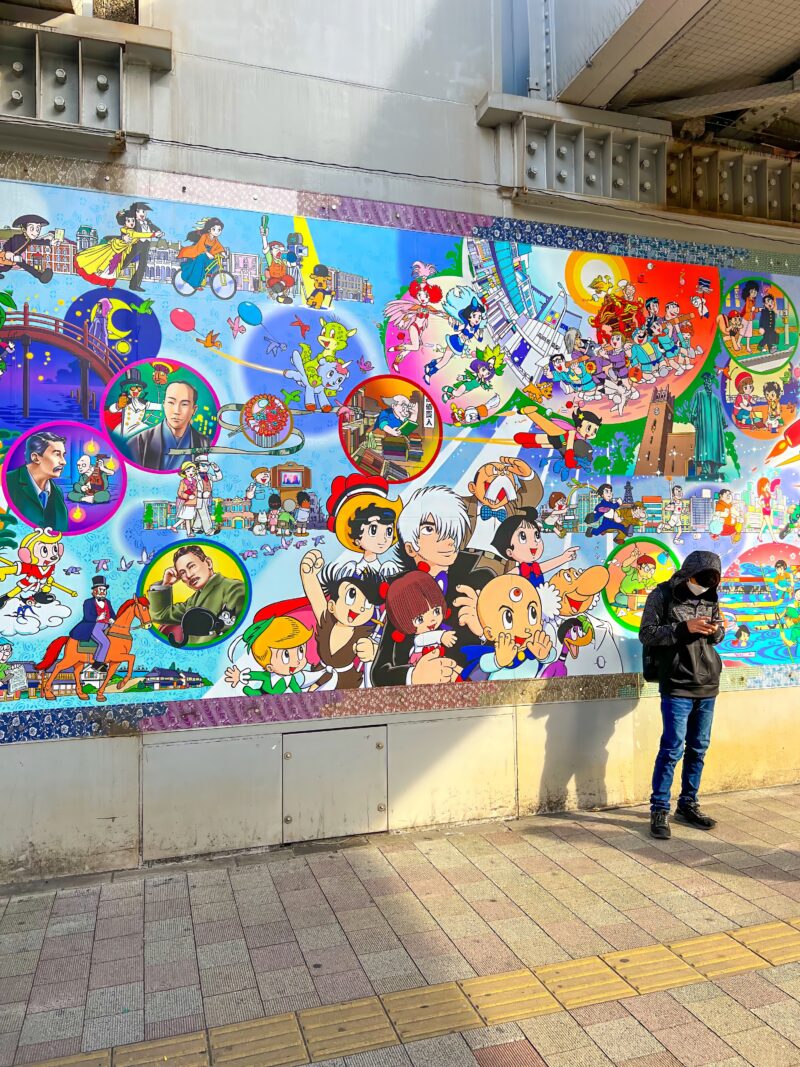 Just outside the station, located under the elevated railway at the Waseda exit, are two different murals, each 10 meters wide and 3 meters tall. One was installed in 1998, depicting coexistence with nature and the scenery of the four seasons. The second was put in its place in 2008 and shows the neighborhood's history, including prominent people, legends, important buildings and regional events.

Dealing with Japan's notorious bureaucracy meant it took well over four years to get permission to install the first mural. It only happened after prominent residents of Tokyo spoke out in favor of the artwork. JR, the railway company, originally even asked Tezuka Productions to pay advertising fees 5 for being able to use their walls.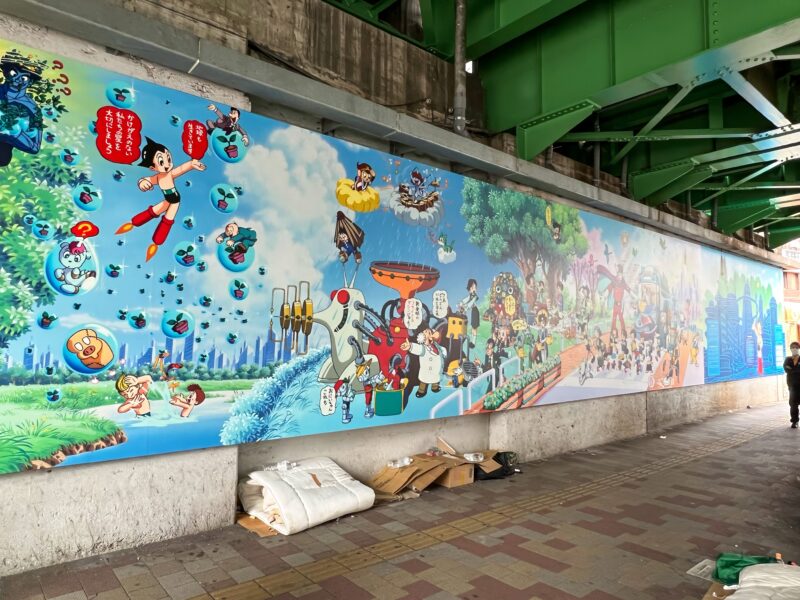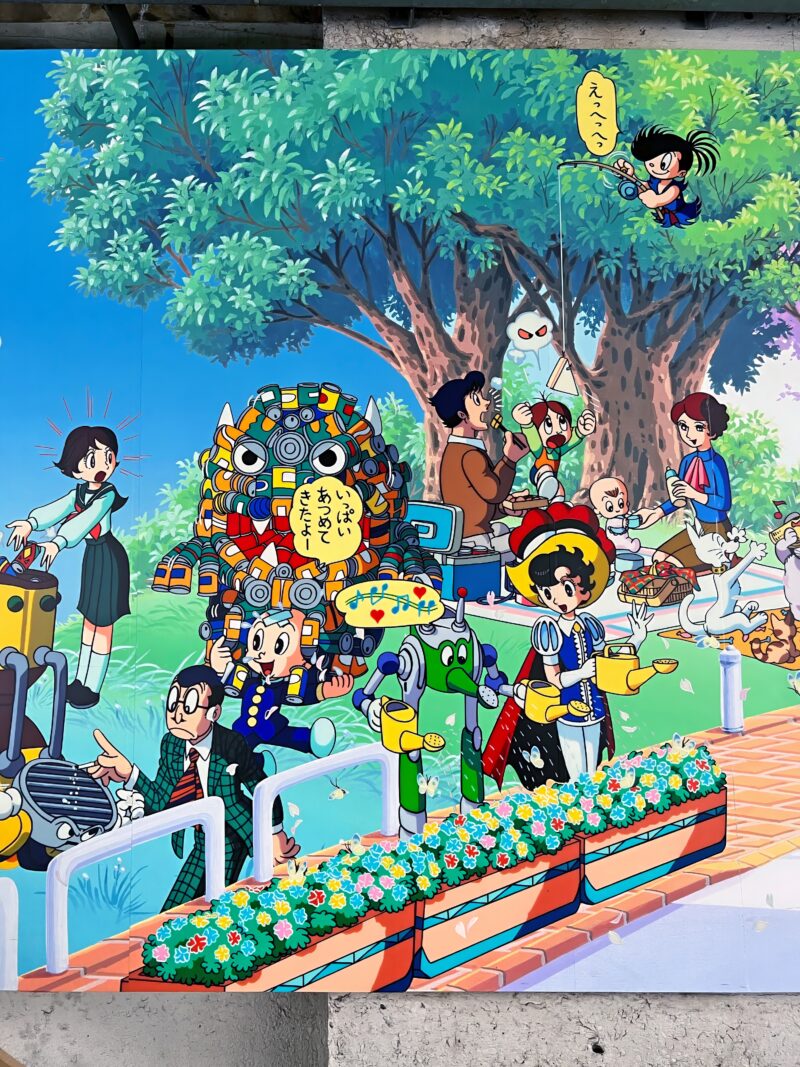 Why is Osamu Tezuka important?
Throughout his life, Tezuka created more than 700 manga titles that comprised 150,000 hand-drawn art. He made more than 60 anime titles in his lifetime, which essentially made him one of the most fruitful manga artists in Japanese history. He created several unforgettable characters, such as Astro Boy, Japan's first animated TV series, as well as Jungle Emperor Leo; the color animated TV series, and many more.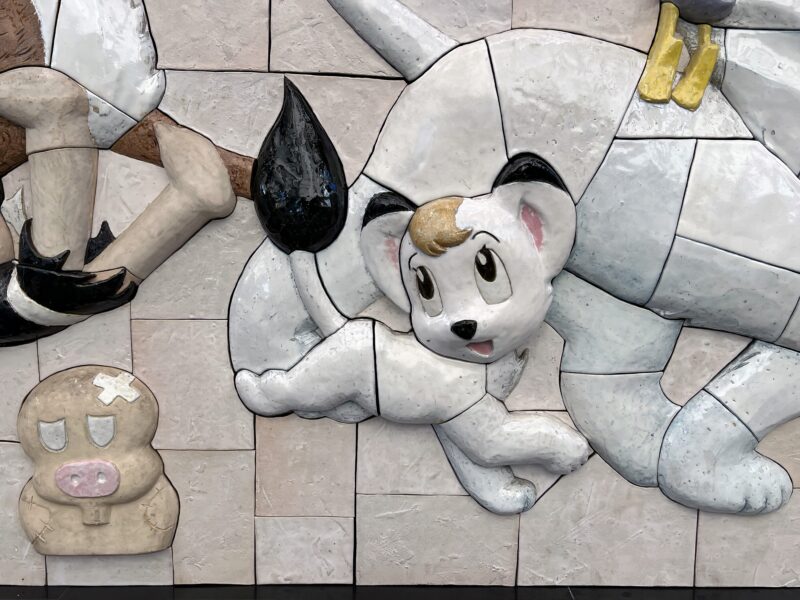 Tezuka was born on November 3rd, 1928, as the eldest son of three kids. His family often encouraged his creative side after noticing that he was incredibly witty and imaginative. As a boy, he developed a fascination with insects, which explains why insects were a central theme and motif in his creations throughout his career.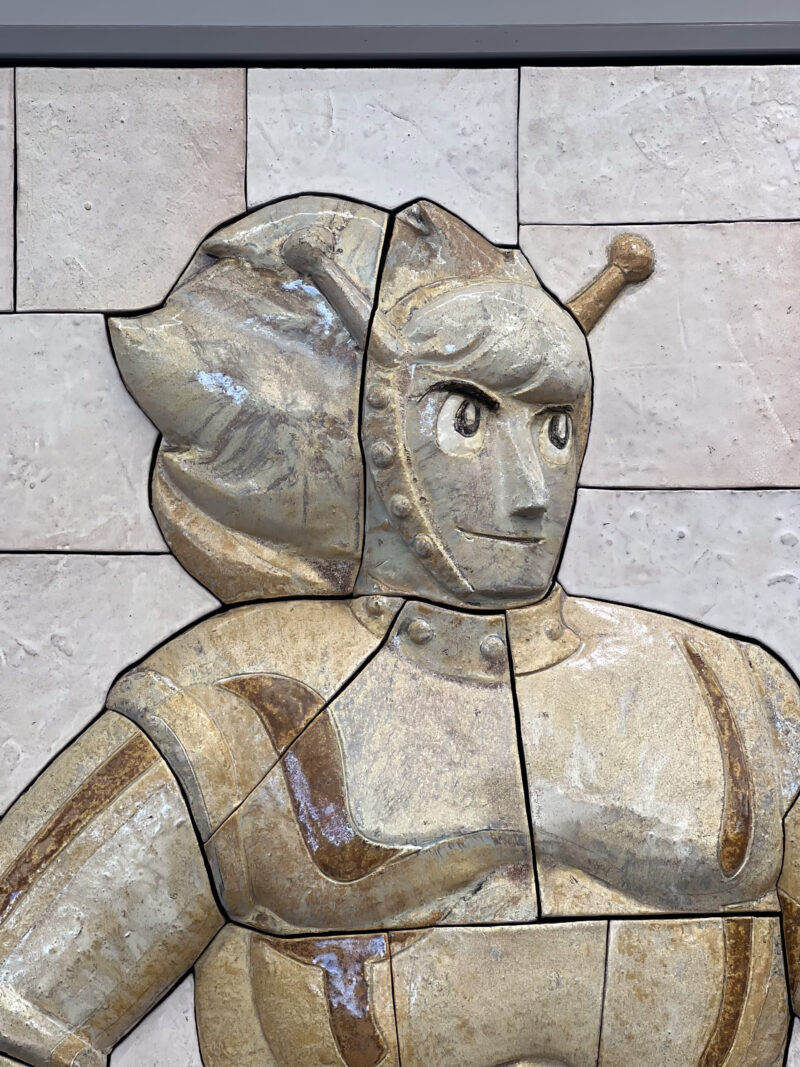 Unlike most artists that attained training in prestigious art schools, Tezuka first trained as a physician before moving on to the works of manga artistry and animated films. In the US, Tezuka was primarily known for his work in Astro Boy, Buddha, and his anime Kimba the White Lion, which was initially published as Jungle Emperor.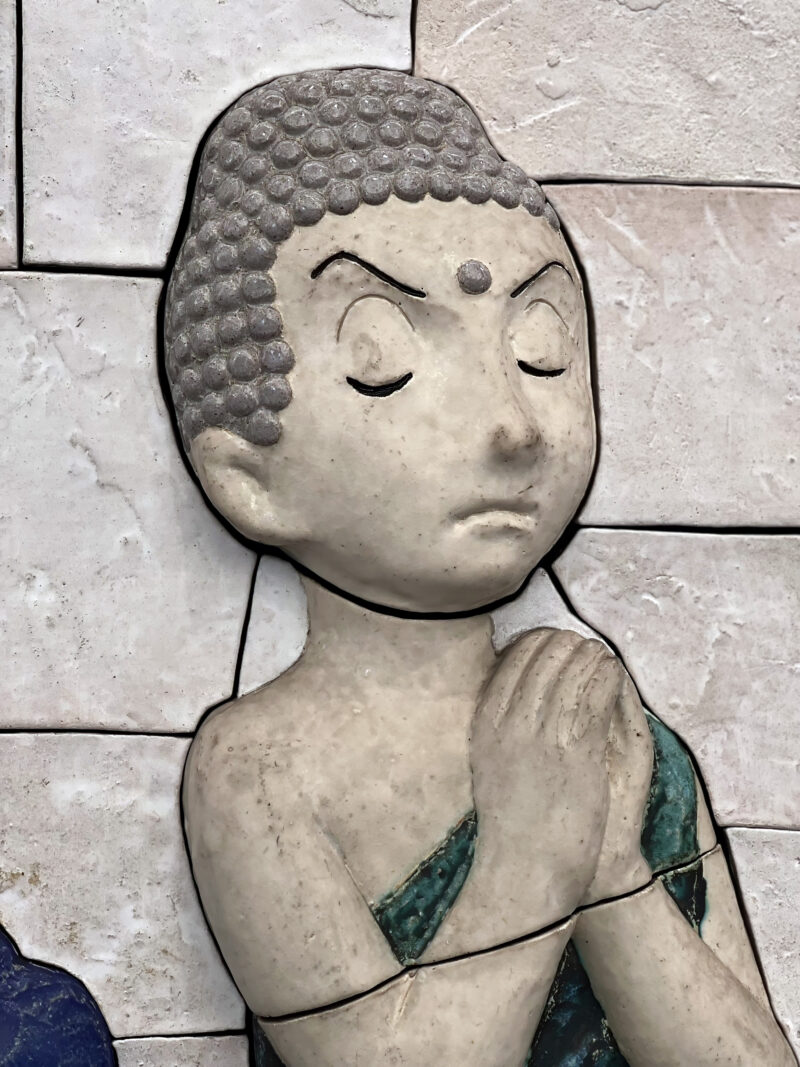 Even though his works are not as popular in the US as they are in Asian countries, Tezuka's influence is still felt, particularly regarding his style and stories. Tezuka's work was so influential that Stanley Kubrick even handpicked Tezuka to work as the art designer for the 2001 hit film A Space Odyssey. However, Tezuka declined the offer because he had too many projects to handle at the time in Japan.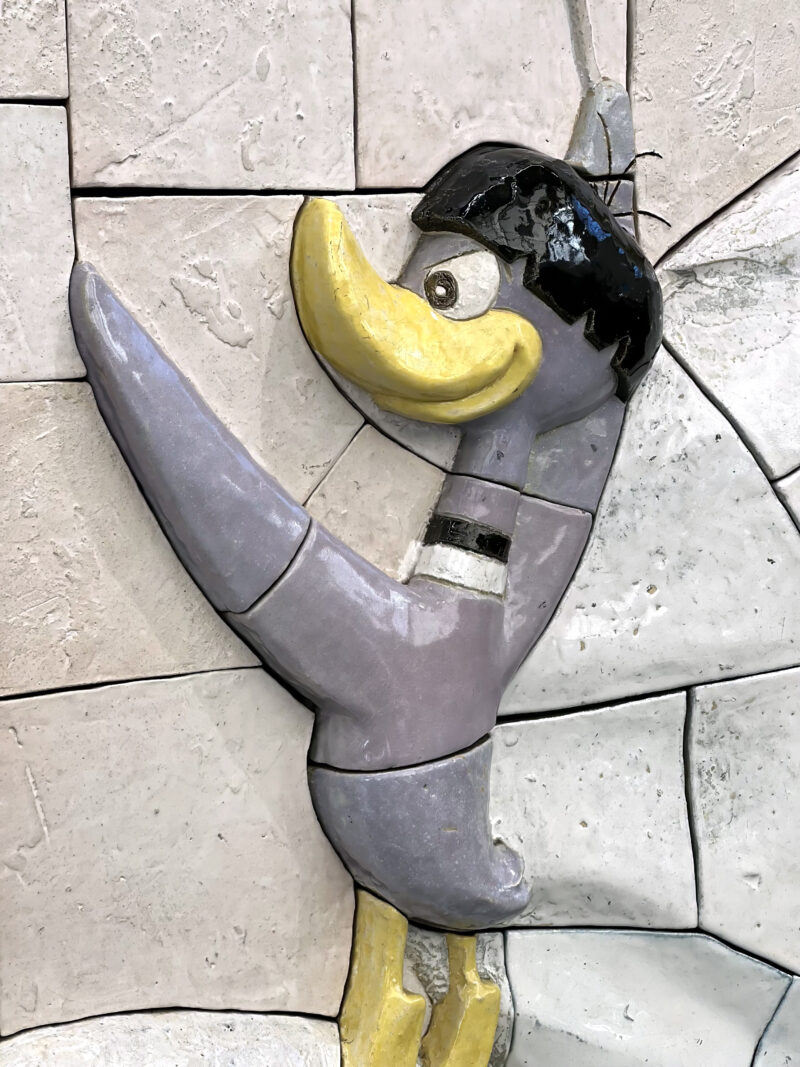 Though he started in the late 1960s with the iconic Astro Boy, his process of adaptation, along with many of his techniques, helped to greatly grow the industry, as well as his distinct artistic style and identity.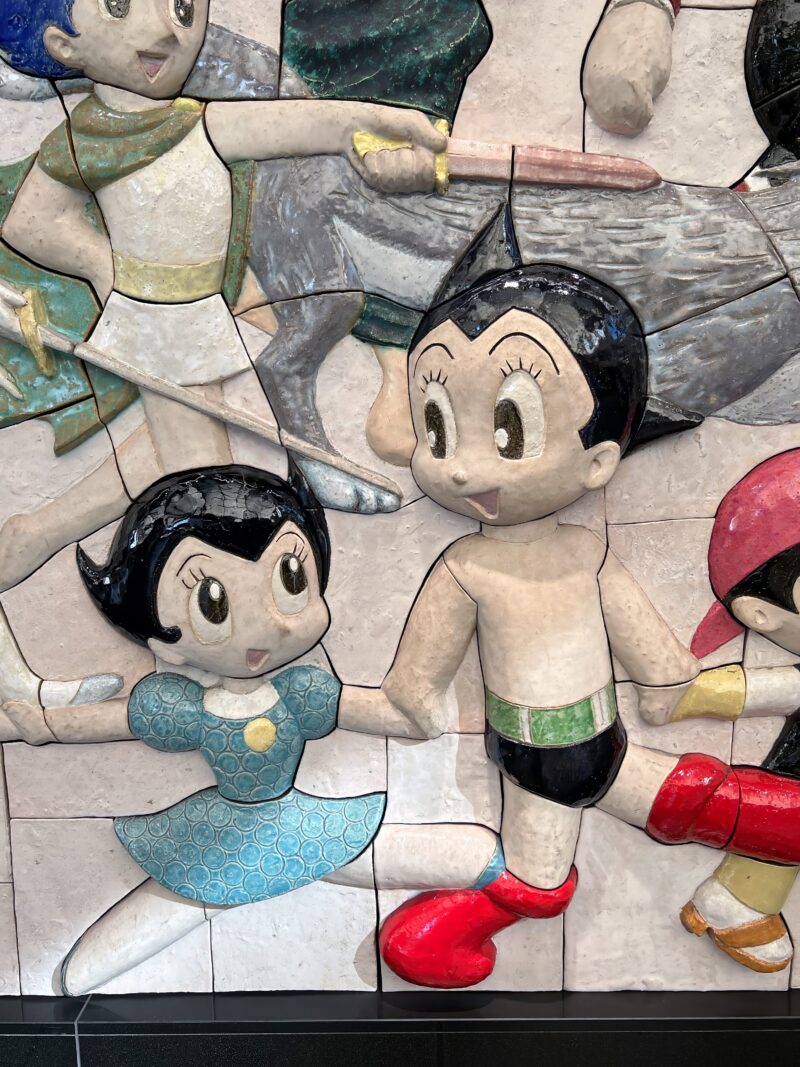 Despite his packed schedule, Tezuka's creative energy remained boundless, and his mind teemed with inexhaustible ideas each day. His dedication to his craft and unwavering passion for storytelling elevated him to legendary status in the world of manga and left an enduring legacy that continues to inspire artists and enthusiasts to this day.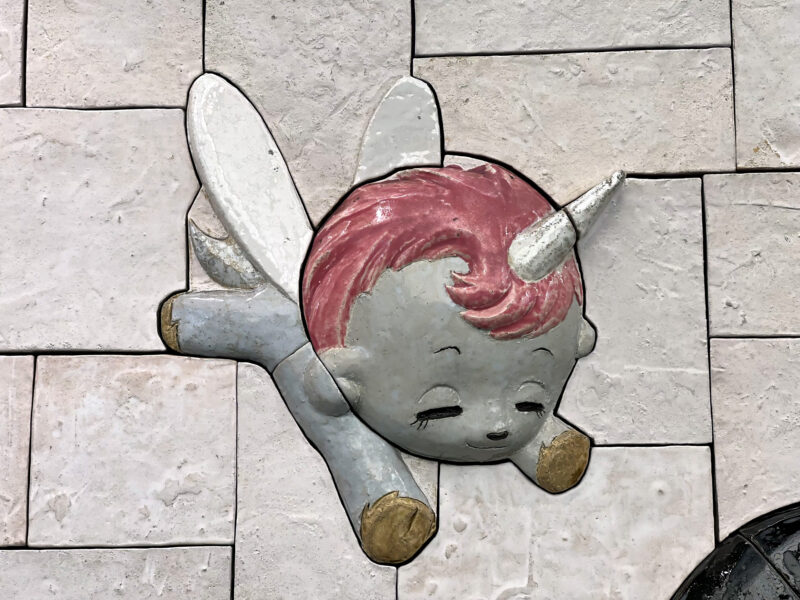 Tezuka passed away from cancer in 1989, aged 60. Even though it has been decades since his passing, his fans have done a great job of ensuring that his works are kept alive.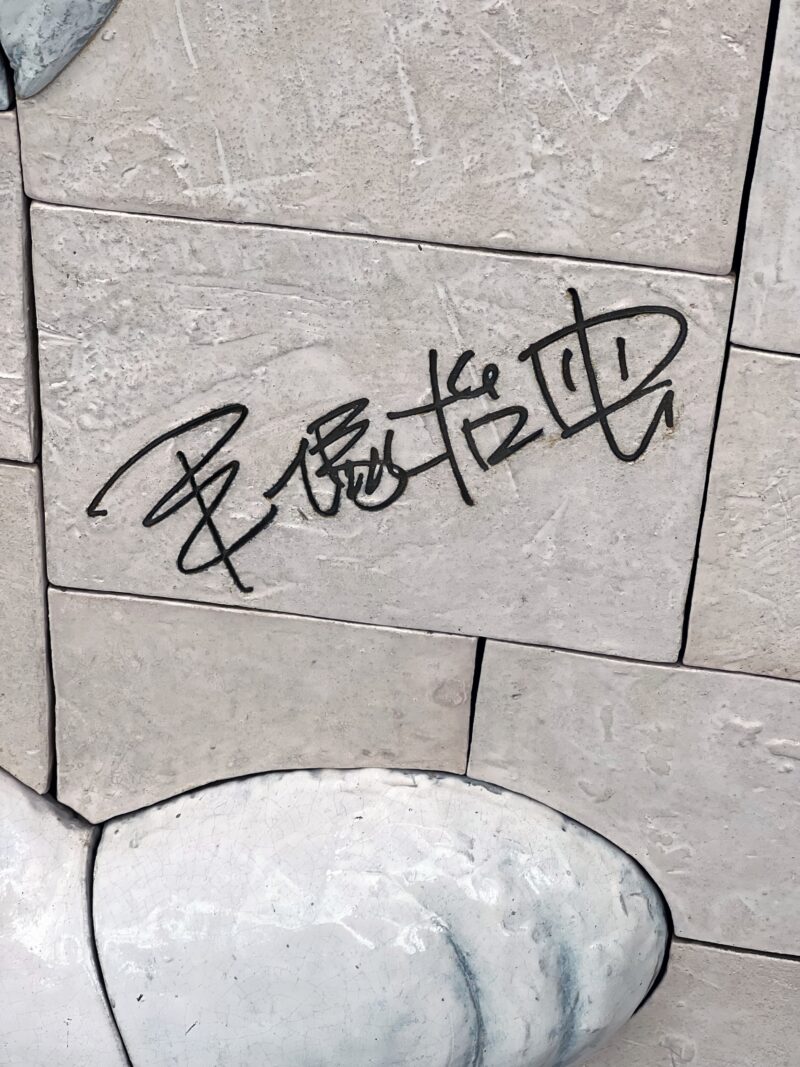 More art in subway station
More Manga art
Footnotes