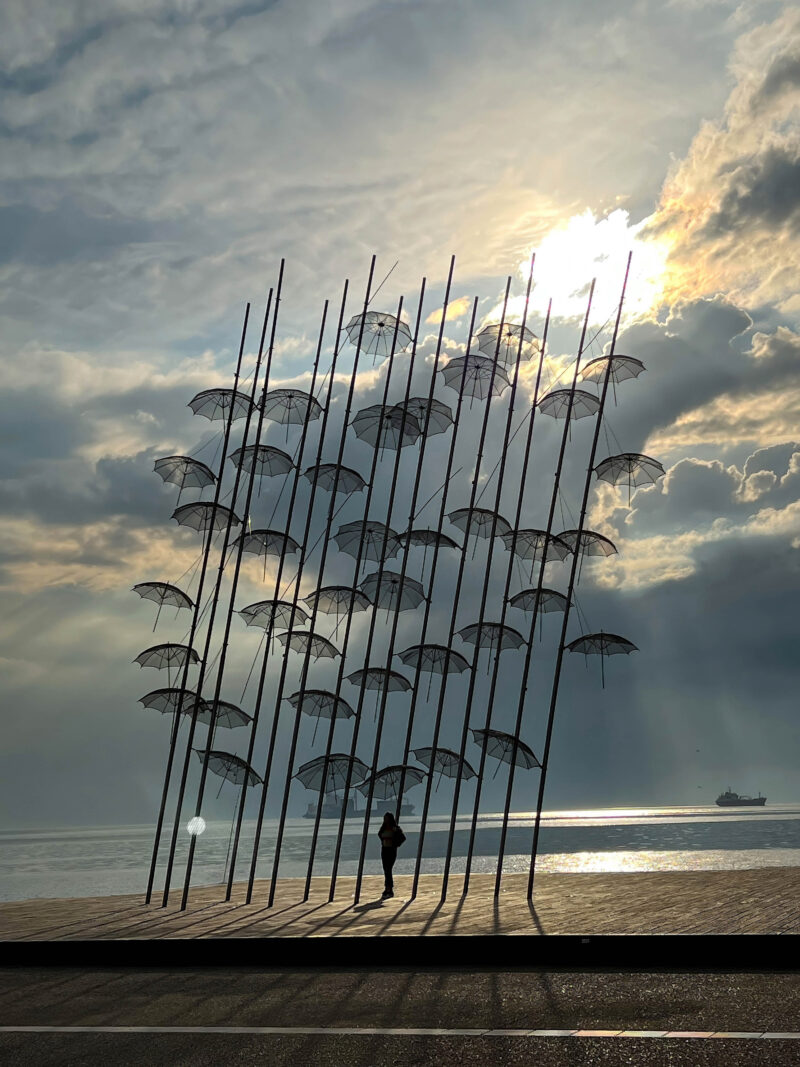 Introduction
What makes summertime in Thessaloniki, Greece, even better is lounging at the waterfront in full view of George Zongolopoulos' breathtaking public installation, Umbrellas.
Umbrellas is a renowned installation and for good reason. It is a stainless steel structure towering an impressive 13 meters high and perhaps Greece's most photographed sculpture. What's even more impressive is that at the time of the creation, Zongolopoulos was already 96 years old. He probably did not expect to create such a marvel which locals call the secret landmark of Thessaloniki.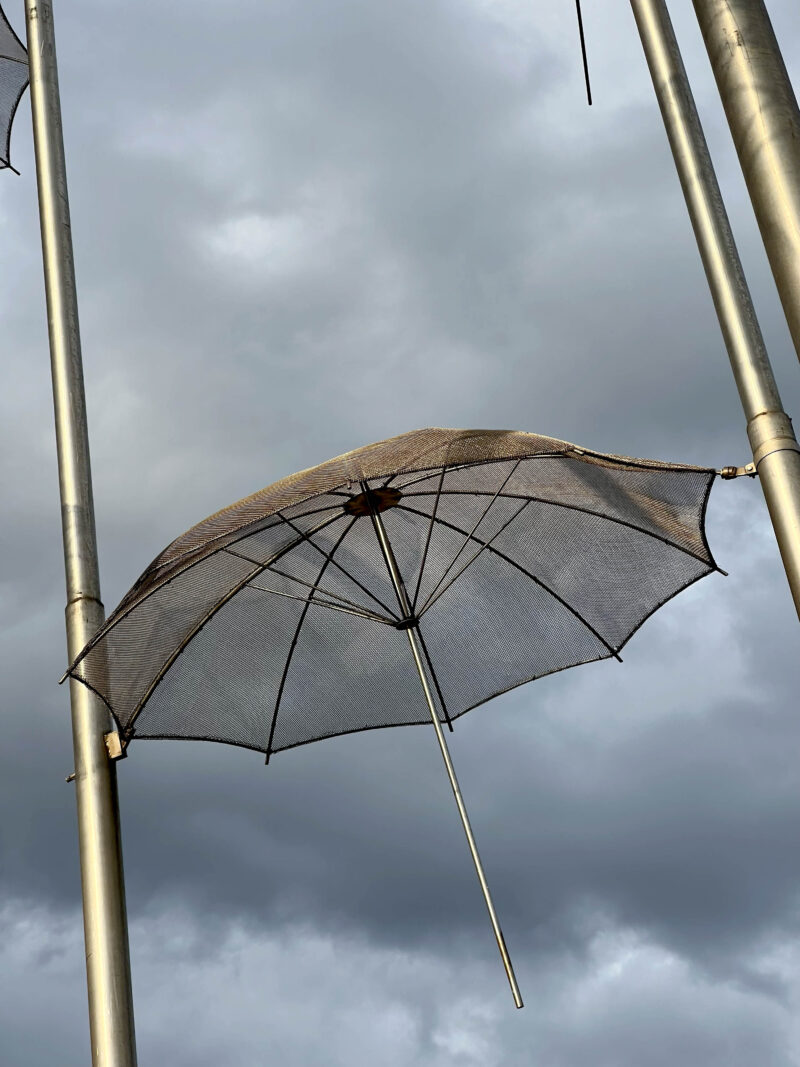 Over the past 24 years, it has taken on different meanings for the residents of Thessaloniki being platforms for social campaigns, symbols of protection, cultural landmarks, and a reminder of how art created can be full of dynamism and sensitivity over time.
It is also of particular importance to the domestic art world. When speaking to Public Delivery, Nicos Theodoridis, head of the George Zongolopoulos Foundation1, calls the sculpture:
The most important point of reference for contemporary art in the public space of ​​Greece.
The making of the Umbrellas
From 1988 umbrellas were a familiar and frequent motif in George Zongolopoulos' work. When he presented it at the 46th Biennale in celebration of 100 years of the institution, Zongolopoulos mentioned that he chose Venice because there was space, an immense horizon and the sea and hence felt that the gaze at his work would reach out far without being obstructed. He also said that the sculpture would look and feel different based on the weather and the viewer themselves.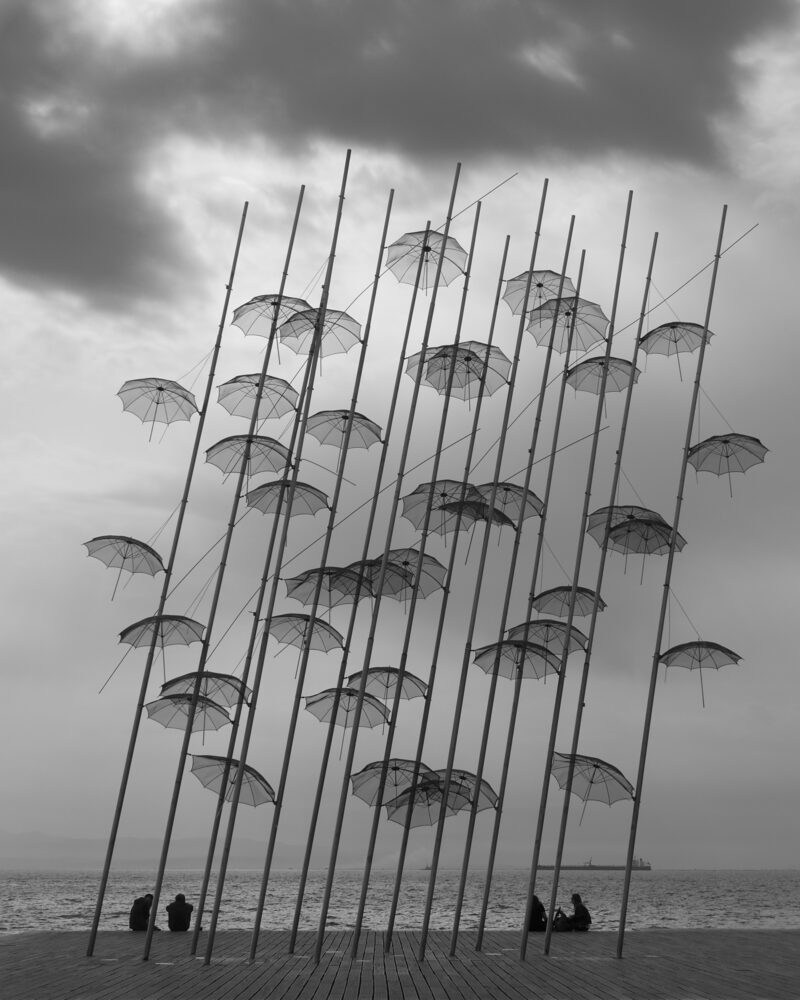 Of concern to Zongolopoulos were the strong winds. To counter this, metal lines that looked like rain served as support for the installation, which pleased the artist immensely because it was in line with his philosophy of art being harmonious with nature.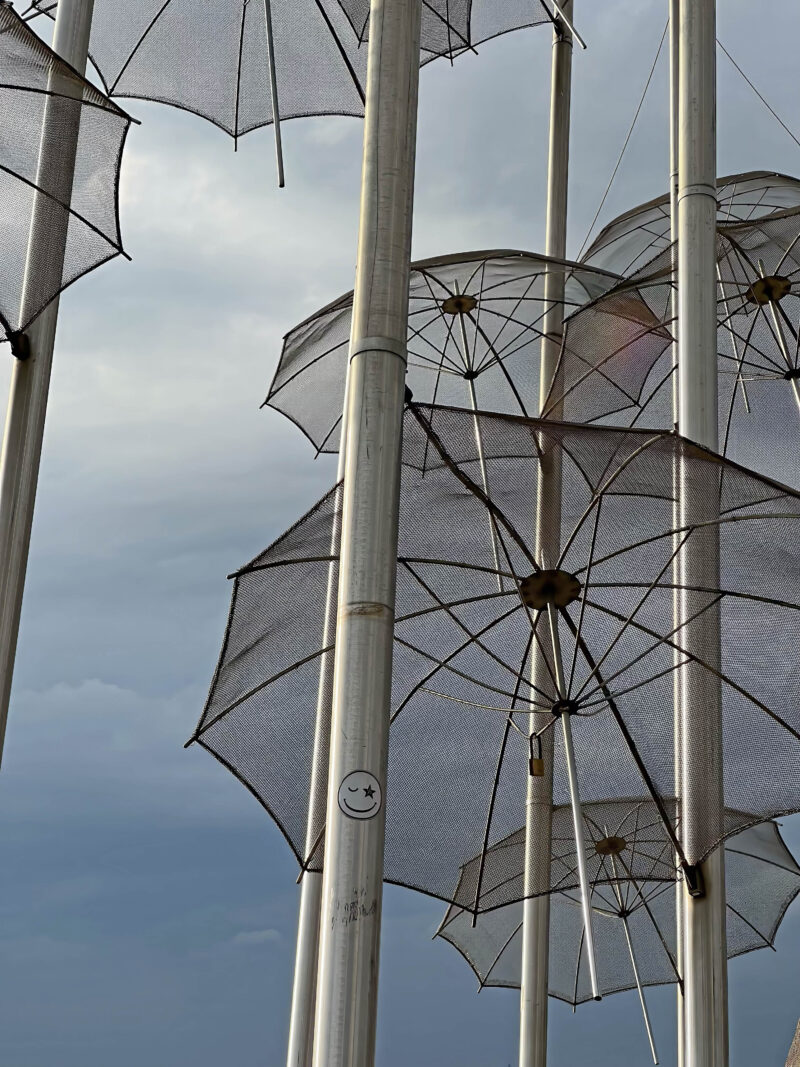 Construction & installation
The Umbrellas of Thessaloniki is a stainless steel installation consisting of 40 umbrellas that span over 13 meters high from the wooden platform on Thessaloniki's seafront. They are also lit up with an off-white light that, at night, makes them seem as though they are floating in the air against the black sky.
Umbrellas Thessaloniki | 4K Sunset Timelapse
Construction was done as per Zongolopoulos' design and under his care and supervision and it only took two days. The collaborative aspect was important to Zongolopoulos. He said: "This work goes beyond the scale of a human construction. A sculptor can work a work as long as three meters. Then a kind of collaboration begins to grow the project. 2
Illumination at night
The illumination is an essential aspect of Umbrellas, especially given the stark contrast to the ocean, making the sculpture appear as if it is floating against the black background. The artist spoke about a magic that astonished and satisfied him and he was intrigued by the large horizon, which according to him3 made the artwork seem to have been taken from here.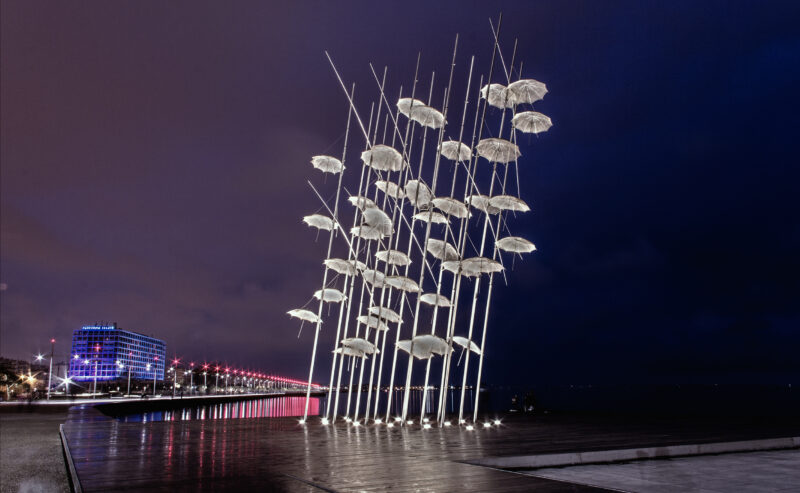 […] at night, the lighting creates a magical image, which, as soon as I saw it for the first time, I was amazed. With the Umbrellas in the black background of the horizon to be like a dream. This is also the additional element. We have an evening phase of the work, improbable in magic, and the second that some horizontal lines were also included, which must be there because they help the staticity of the work in the air, which were an element of plasticity, they create a plastic composition.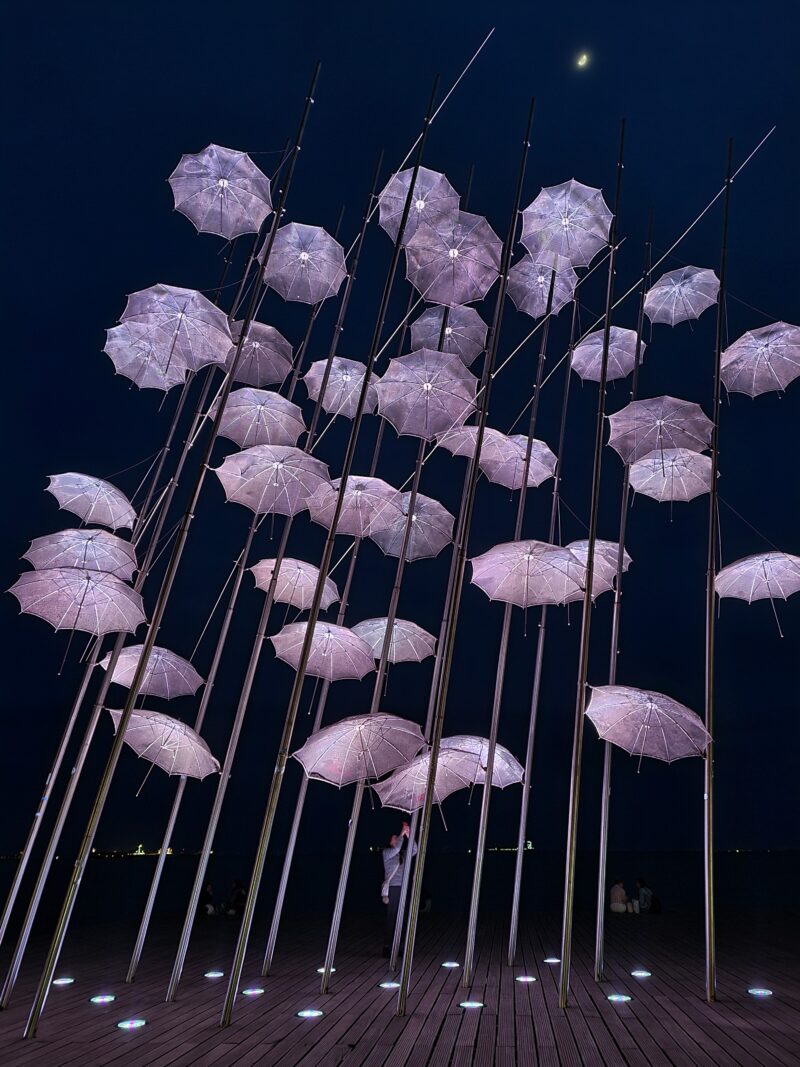 The meaning of the artwork
The sculpture's ability to be unique and adapt to various times and moments, presenting different images and moods depending on whether it is foggy, rainy or a clear sunny day, makes it versatile to viewers.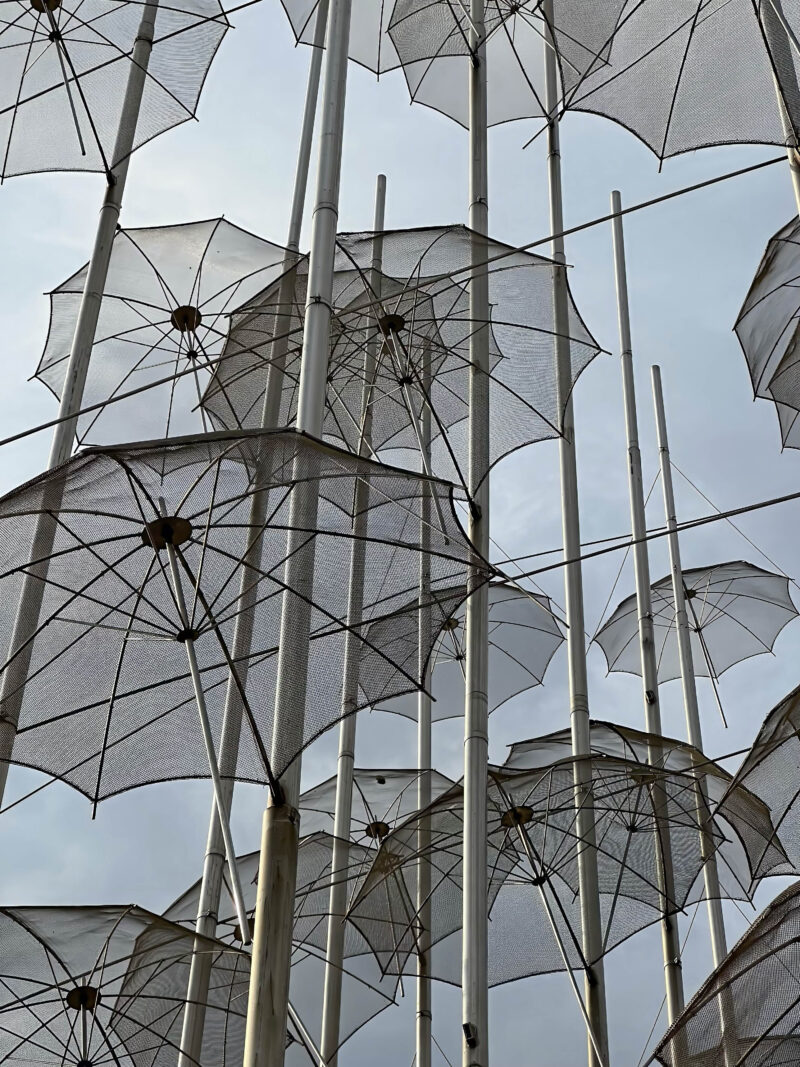 In the cold and dreary winter, the umbrellas seem like a symbol of protection, while on clear summer days, they mirror and add to the summertime vibes along the seafront. As such, this is not only a physical structure but also a poetic one. Zongolopoulos said: 4
It is not accidental. There is a rhythm with the vertical columns and with the umbrellas. The work has some composition. There are certain things that have to do with numbers. People need to see and see it again. Imagine it.
Why is this work important?
It is also a visual point of focus for visitors and has served as a beautiful backdrop for numerous photos of Thessaloniki. It is best photographed at sunset. This is because it offers fascinating background and exposes the visitor to the ephemeral lighting of the evening, with the water and the horizon combining to lend a surreal and romantic aura to each photo of the umbrellas that visitors capture.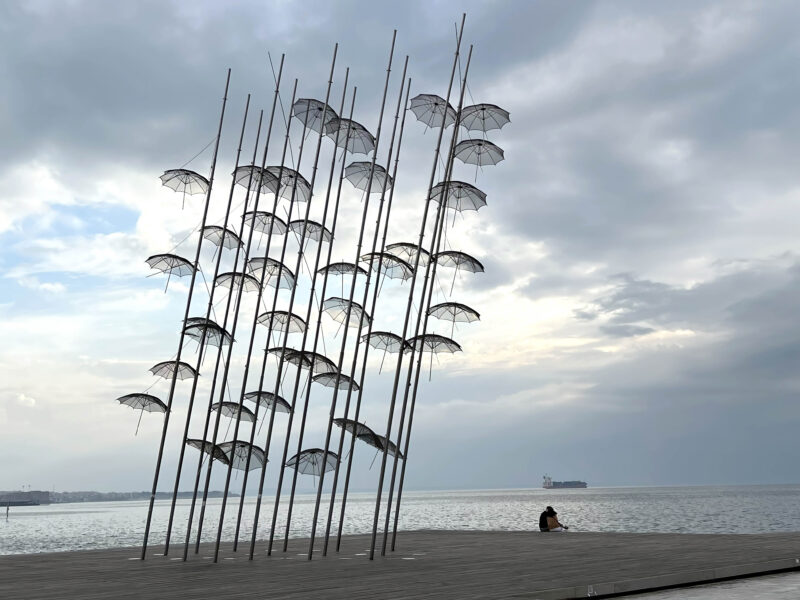 Indeed, the landmark, along with the waterfront, is arguably one of the most romantic and beautiful places in the city of Thessaloniki. It is a testament that urban design, in tandem with nature, can absolutely transform an area into something extraordinary.
Location
Umbrellas occupies a prominent position in Thessaloniki's open skyline, facing the coastlines of Katerini and Mount Olympus and taking in the changing colors of the Aegean Sea and the city's sky. It is located in Thessaloniki's new seaside and in walking distance of MOMus, the Macedonian Museum of Contemporary Art and the Makedonia Palace Hotel
546 40, Thessaloniki
Hours: 24h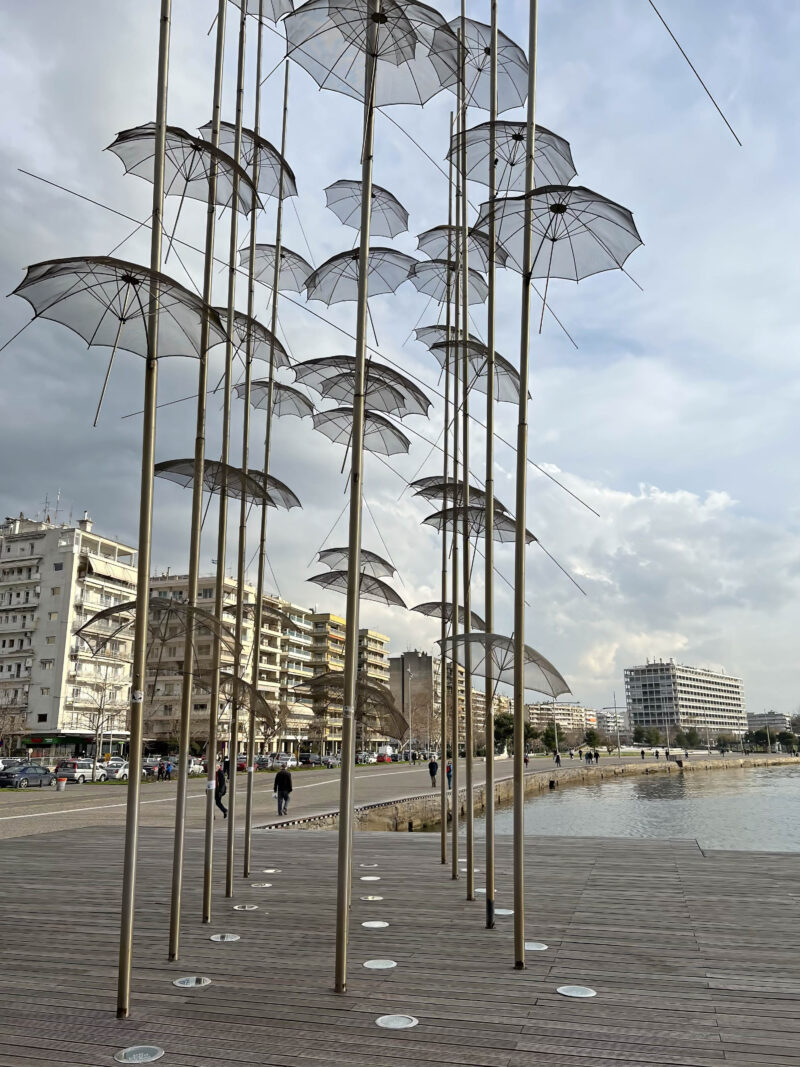 George Zongolopoulos' umbrella sculptures
Throughout his career, Zongolopoulos created several large-scale umbrella sculptures in public space, with the recent one being installed in Egypt in 2018, 14 years after he passed away in 2004.
1995 Installation on a floating platform in the Gran Canale at Venice Biennale
1995 Installation at the Council of Ministers of the European Union, Brussels
1997 Installation at Thessaloniki's seafront during the Cultural Capital of Europe
1998 Installation in Psychiko, a suburb of Athens
1999 Installation in Syntagma station, Athens
2018 Installation in Al Alamein, Egypt
Umbrellas, Venice Biennale, Italy, 1995
At the 46th Venice Biennale in 1995, the sculpture "Silver Umbrellas Rain" got placed on a floating platform at the exhibition's entrance, earning a lot of attention and publicity. This other version consisted of a static group of floating umbrellas based suspended in the air on diagonal axes. Umbrellas was Zongolopoulos' his way of celebrating the Venice Biennale centenary.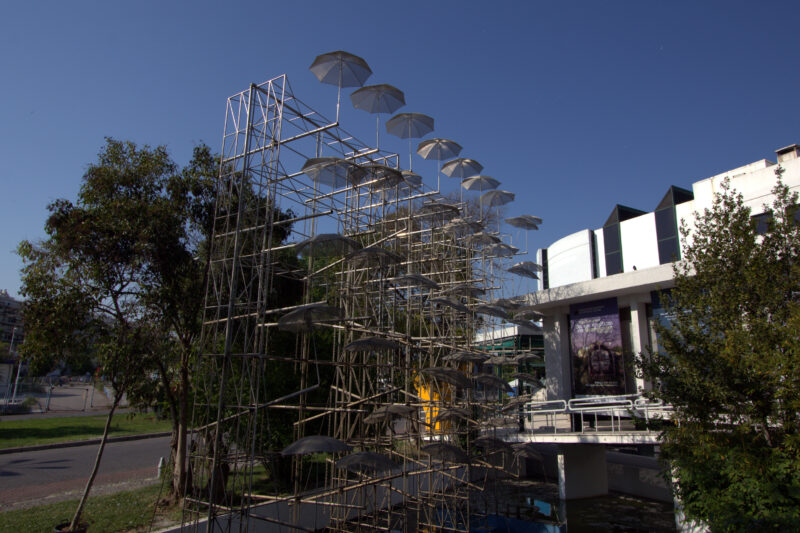 This artwork is now installed in front of MOMus, the Macedonian Museum of Contemporary Art and about 15 minutes walk away from his 1997 Umbrellas at Thessaloniki's seaside.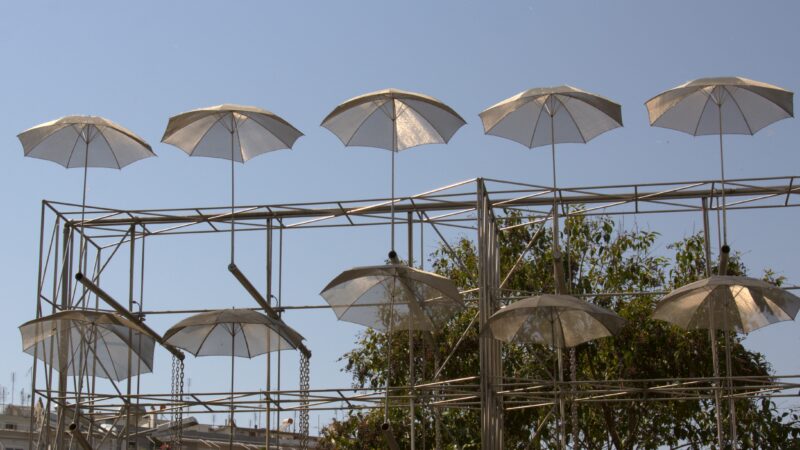 Umbrellas, Brussels, Belgium, 1995
In the same year, Zongolopoulos scored first place at a contest for placing an artwork in the building of the Council of Ministers of the European Union in Brussels. His hydrokinetic sculpture Umbrellas was placed at the building's Cour d'honneur, where it is still today.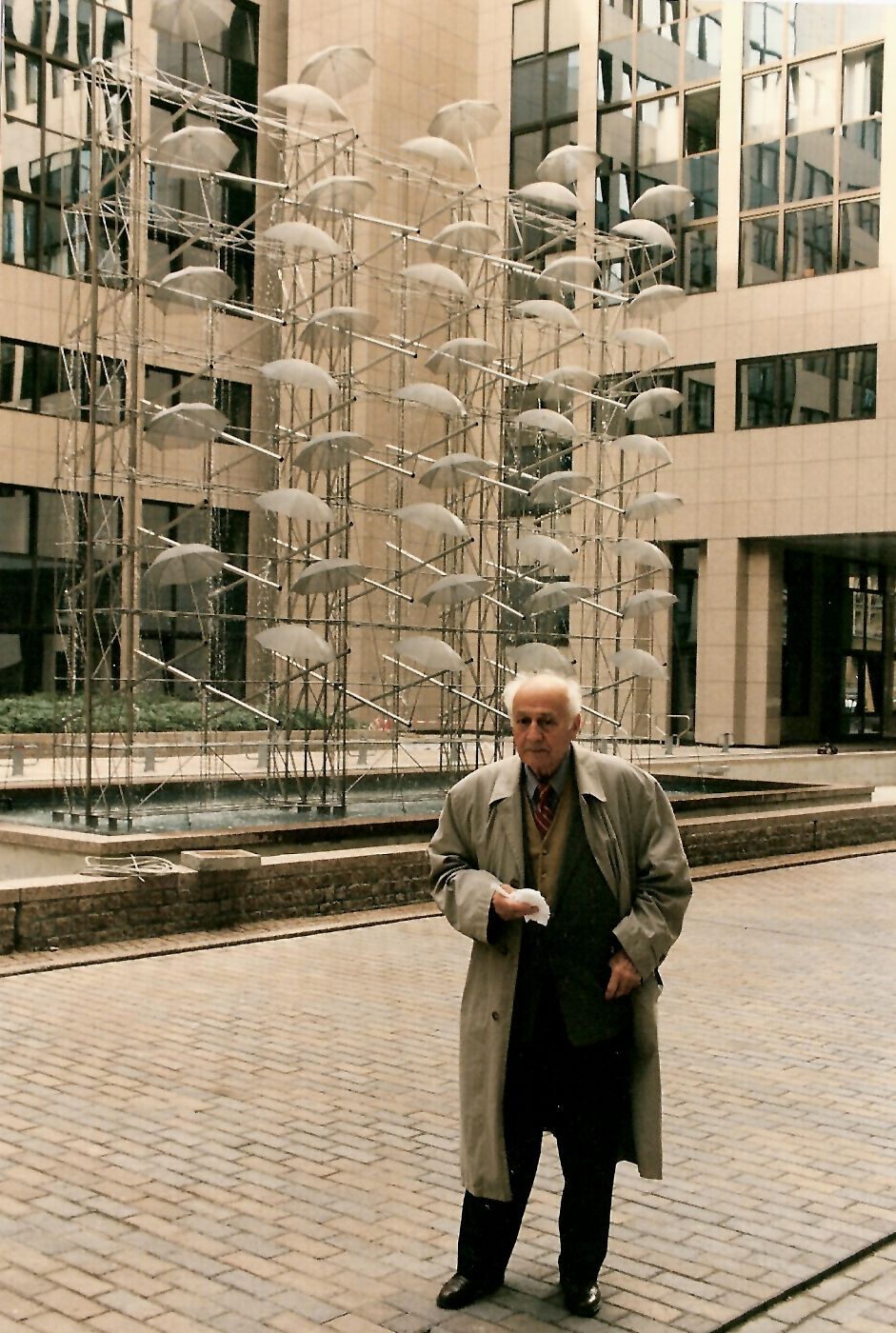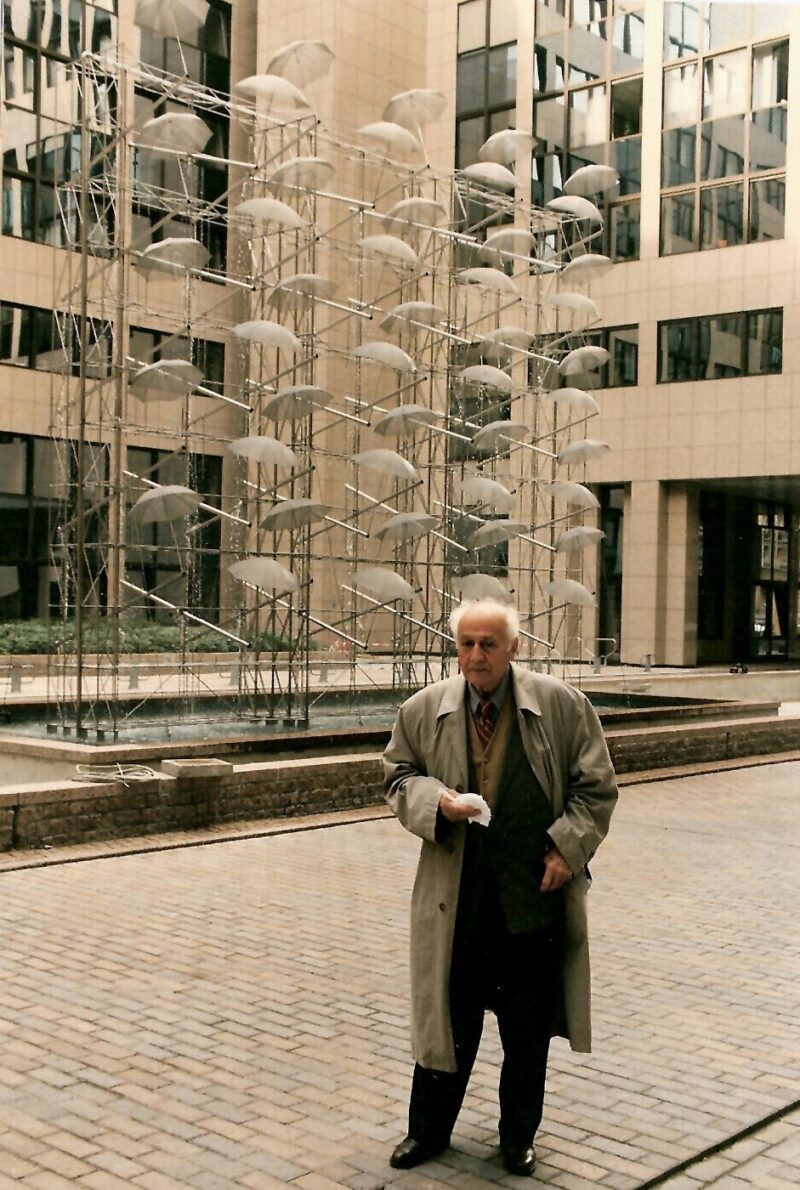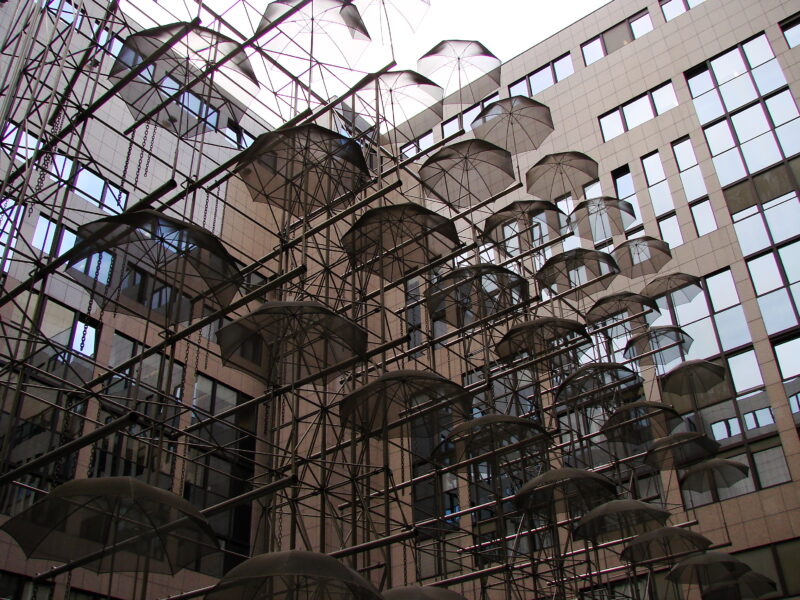 Umbrellas, Thessaloniki, Greece, 1997
1997 was the year when Thessaloniki held the title of European Capital of Culture. In this context, Umbrellas was placed at the city's New Waterfront.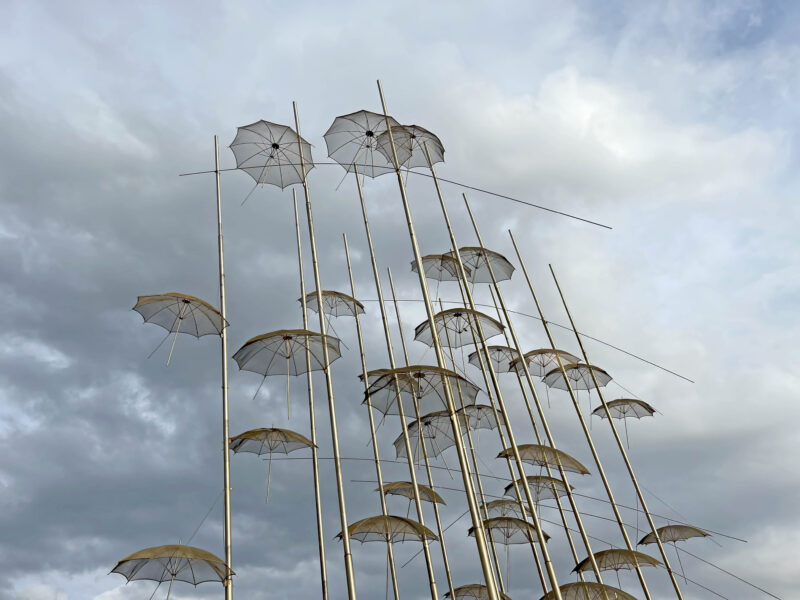 Psychiko, Athens, 1998
One year later, in 1998, Zongolopoulos created a similar sculpture which got installed in Psychiko, a suburb of Athens where the artist had lived and worked for about 60 years. Interestingly, this 9-meter tall stainless steel sculpture is much less known than its counterpart in Thessaloniki, even to the residents of Athens.
You can find this artwork at the main entrance of the Municipality of Filothei, right off Kifissias Avenue.
Address: 25is Martiou 3, Psychiko 154 52, Greece
Hours: 24h
The neighborhood is now also home to the George Zongolopoulos Square, a small sculpture park with the title Open-Air Glyptotheque of Psychiko, and the George Zongolopoulos Foundation, a museum dedicated to his work.
Atrium, Athens, Greece, 1999
In January 2000, two new metro lines opened in Athens, Greece, to accommodate the influx of visitors to the 2004 Olympic Games. Syntagma station, the busiest station in all of Athens, is the centerpiece not just for the metro but also a transportation hub for buses and a terminal for the tram.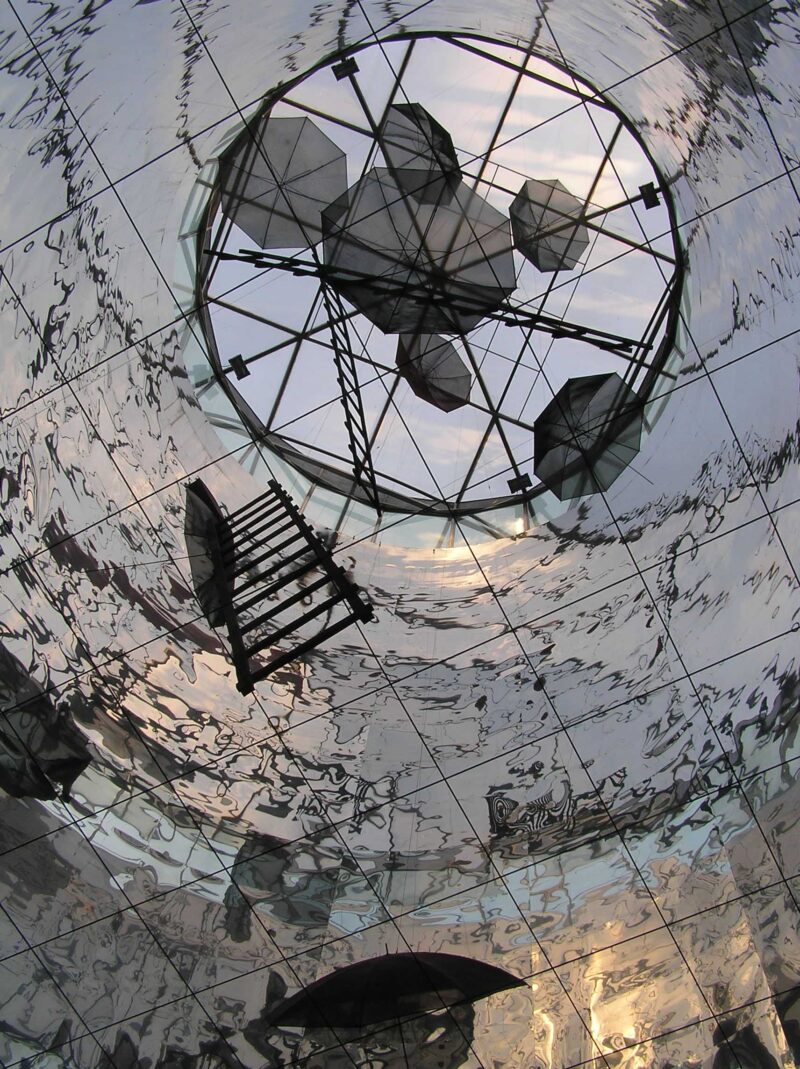 It is here where in 1999, Zongolopoulos placed his large sculpture Atrium in a huge ventilation shaft of 25 meters in height and 8,5 meters in diameter. The monumental kinetic work with suspended umbrellas and ladders as well as walls lined with stainless steel sheets is part of a project aimed at promoting artworks by Greek artists that directly relate to the city or region.
Umbrellas, Al Alamein, Egypt, 2018
A complex placement of Umbrellas happened in 2018 when a version of the sculpture was put in front of the five-star hotel Al Alamein, located about 135km west of Alexandria, Egypt. The sculpture was produced in Athens and then sent to Egypt, where very high temperatures and the sand of the beach posed unexpected challenges, causing a large crane and boom lift to get stuck in the sand.
About George Zongolopoulos
George Zongolopoulos was a multifaceted Greek sculptor who was active from the 1920s to 2004, when he died aged 101 years old. Since the 1980s, Zongolopoulos' work frequently featured the umbrella theme as his theme of choice to represent elements of motion. In fact, when asked about his intrigue with umbrellas, he said that his 'umbrellas eavesdrop on the universe.' The fact that he designed this sculpture at 96 years old is also a testament to his relationship with his art.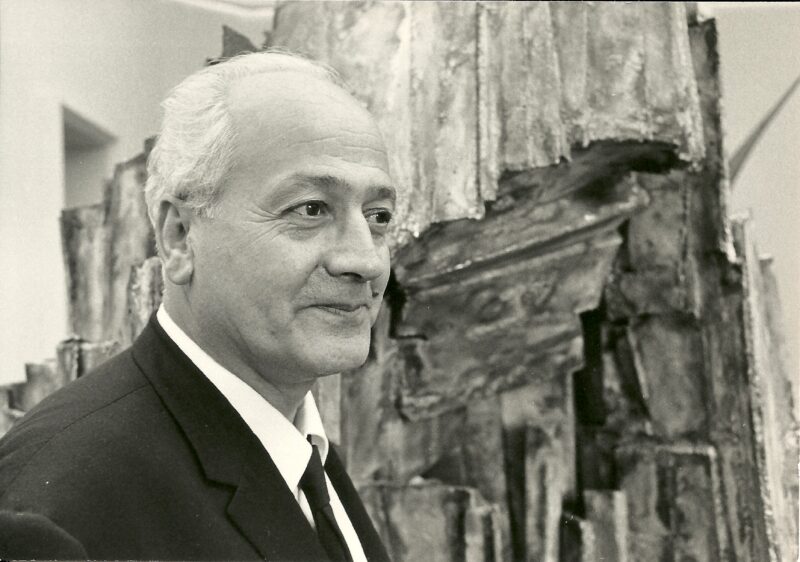 Zongolopoulos was born in Omonia, Athens, in 1903. His family originated from the village Manna in Corinthia and at an early age, he started to show an interest and talent in art. Once he served his military service by 1924, he enrolled in the Athens School of Fine Arts, where he studied sculpture and also became an ardent supporter of demands for modernization.
This involvement with politics got him expelled in 1929, although his suspension was revoked a year later, thanks to the intervention of renowned poet Ioannis Griparais. Between 1926 and 1928, Zongolopoulos worked as an assistant to famous architect Anastasios Orlandos and this step into the architectural occupation had a significant influence on his artistic career throughout his life.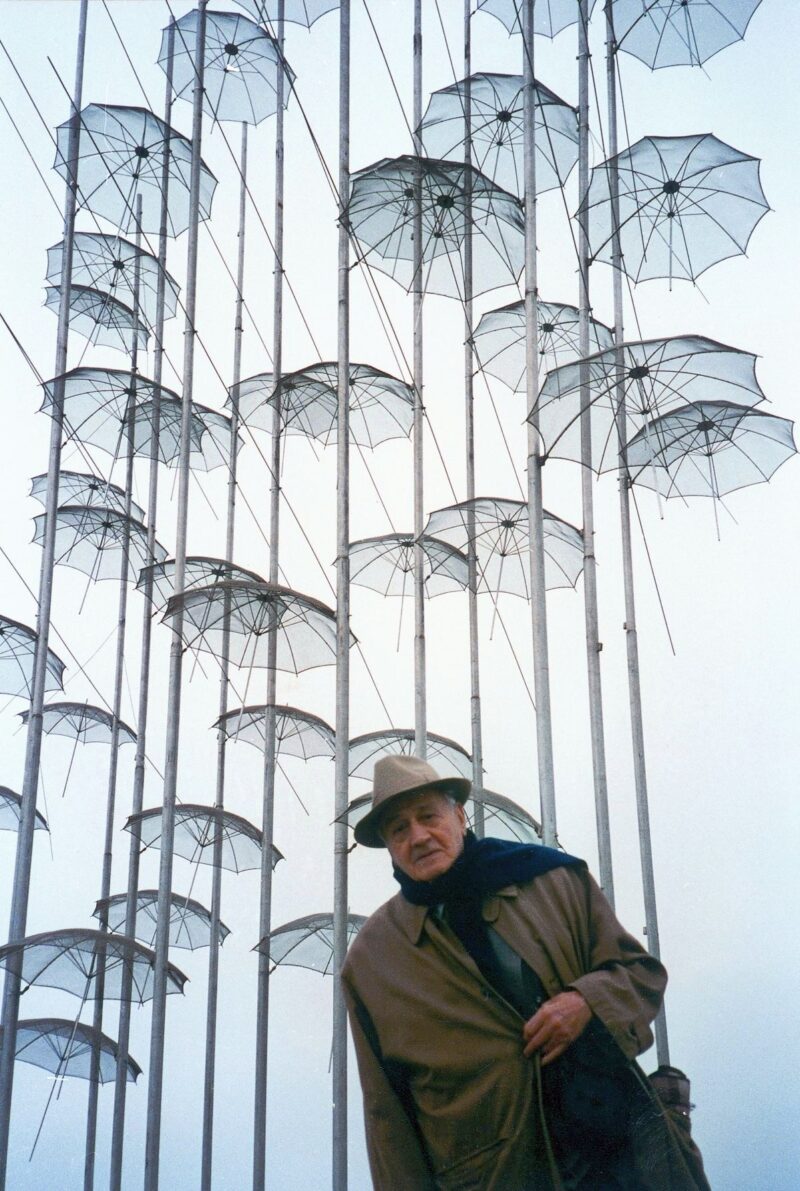 Footnotes