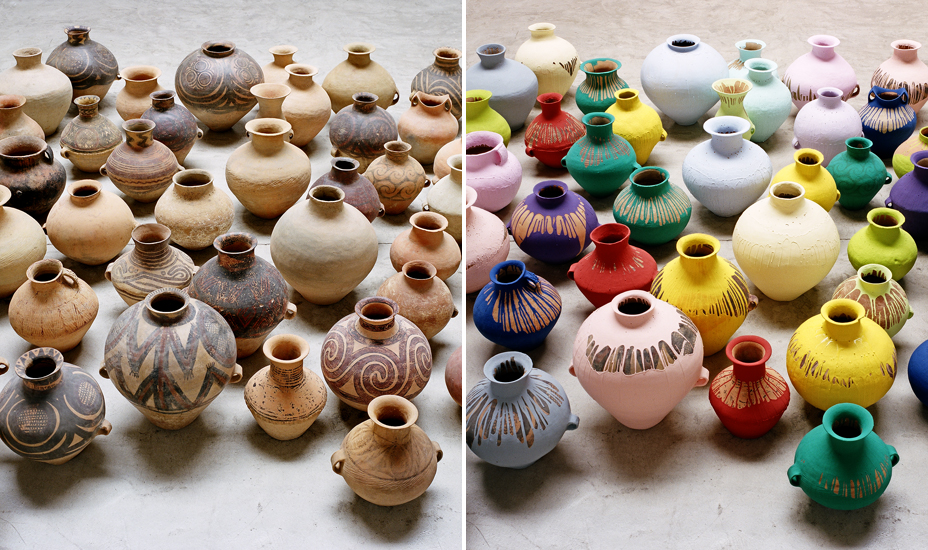 Ai Weiwei – Coloured Vases, 2006
Exhibition visitors have expressed feelings of uneasiness or even pain and nostalgia when seeing Coloured Vases by Ai Weiwei. The 51 vases that make up the artwork are originally treasures from the Neolithic Age (5000–3000 BCE) and the artist has dunked them in common industrial paint, commenting on the devastation caused by the Chinese cultural revolution and the disregard for centuries-old craftsmanship. By covering the surfaces, the history of the vases is no longer visible, but still there, beneath the dried layer of industrial color. Some viewers have felt provoked by this audacious act, in their eyes destroying something rare and precious, instead of safeguarding and worshipping it.
Like with many other works by Ai Weiwei, he uses irony to challenge viewers' assumptions and perspectives. As China's most notorious artist, he finds himself in constant confrontation with the Chinese authorities, and Coloured Vases is an essential piece in his rebellious oeuvre.

Ai Weiwei – Coloured Vases, 2006, Neolithic vases (5000-3000 BC), industrial paint, 51 pieces, dimensions variable

Ai Weiwei – Coloured Vases, 2006

Ai Weiwei – Coloured Vases, 2006

Ai Weiwei – Coloured Vases, 2006

Ai Weiwei – Coloured Vases, 2006

Ai Weiwei – Coloured Vases, 2006, 39 Neolithic Vases, industrial color
Ai Weiwei catalog
The only Ai Weiwei book you'll ever need
(affiliate link)