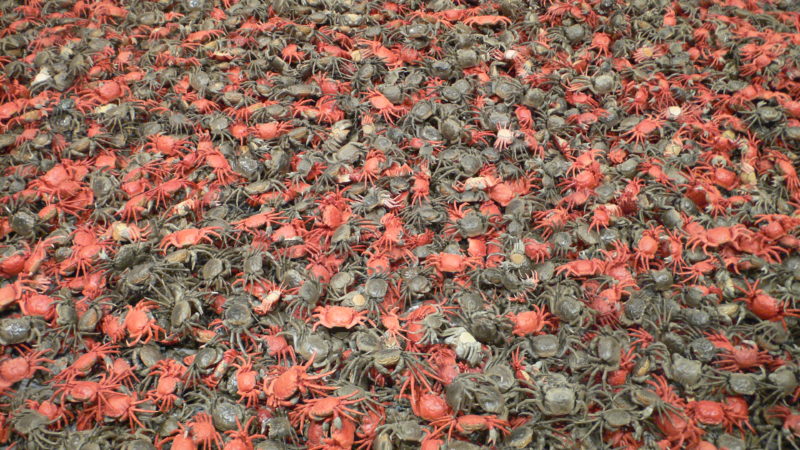 My definition of art has always been the same. It is about freedom of expression, a new way of communication. It is never about exhibiting in museums or about hanging it on the wall. Art should live in the heart of the people.
– Ai Weiwei
Ai Weiwei's Shanghai studio torn down by government
Artist Ai Weiwei, it seems, is always surrounded by controversy, whether it is in relation to his visual masterpieces or his activism. Mr. Ai's run-ins with the Chinese government have continued to border on danger, but the revered artist is always willing to include these elements in his performance art. In 2010, Ai ran into the Chinese police in an unfortunate encounter whereby the local government tore down a large new studio1 that Ai had built in Shanghai as a result of 'code violations'.
The lead up to He Xie (Crabs)
Before the studio was demolished, Ai hosted a dinner at the Shanghai studio as a satirical nod to the studio's planned destruction by the administration. Eventually, the government barred him from his own dinner attending, characterized mainly by one of Ai's most talked about installations- He Xie (crabs).
What the title references
As the name suggests, the installation consisted of 3,000 incredibly real-like river crabs piled up across a corner of a room. Ai Wei Wei titled the work He Xie, a homonym for harmony and a phrase used regularly by the government. He Xie, according to sources, also refers to a slang term that represents internet censorship2.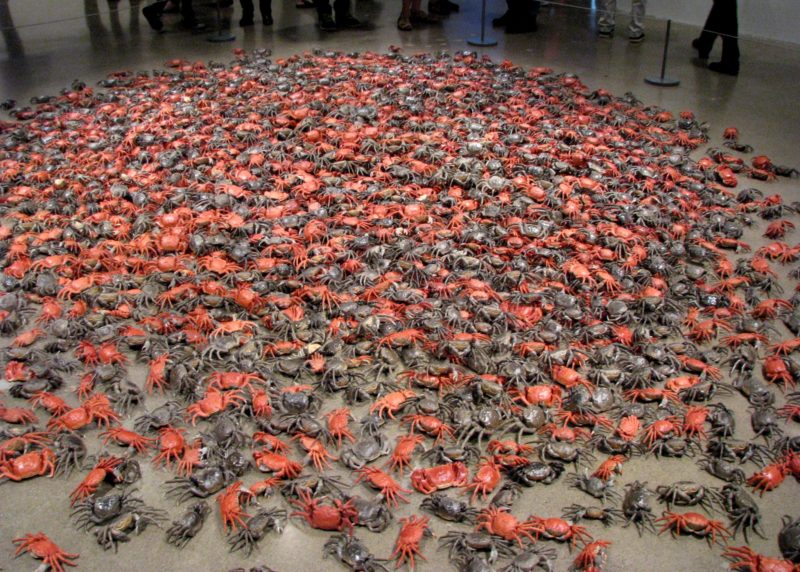 The meaning of Ai Weiwei's porcelain crabs
Ai Wei used porcelain crabs to represent himself, an artist whose voice has been restricted by authorities and has been forced to remain uncomfortably in a space in which he does not belong, motionless and restful. In the installation, a single crab was placed on a skirting board to symbolize the Ai Weiwei who it appears had managed to reclaim his passport3 for an amazing chance to show his artworks outside China for the first time in years.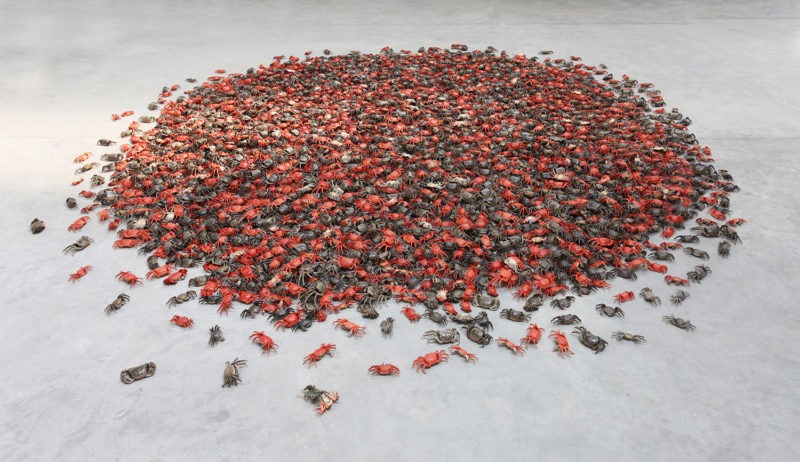 About Ai Weiwei
Ai Weiwei might be the most popular international artist of his time and the greatest Chinese advocate and campaigner of all time. This artist is also a famed architect; case in point, he played an instrumental role in helping to design the Beijing Olympic Stadium4 (the Bird's Nest) alongside Herzog & de Meuron, the Swiss architects that were commissioned to design the project.
Ai Weiwei as a voice of freedom
Over the past few years, the portly and easily recognizable Ai Weiwei has emerged as an eloquent voice of freedom, helping to shed light on the atrocities and the repressiveness of Chinese authorities and the administration in general. His most significant visual installations vary in size and magnitude, but they all play an instrumental role in changing Chinese culture and society5.
More by Ai Weiwei
Footnotes