Last updated:

Strijdom van der Merwe – Staircase to heaven, sculpture, Hermanus Fine Arts festival, Hermanus, South Africa
"Land art encompasses everything – wind, birds, smell, touch. And my work doesn't exist until I find it" – Van der Merwe
Published: October 24, 2018
Last updated:
Childhood and Education
Strijdom van der Merwe is a South African land artist. Growing up as a young boy on a farm just outside of Johannesburg, Strijdom was always taken by the beauty of nature and the magnificence of the sprawling landscape. The artist graduated with BA in Fine Arts from the University of Stellenbosch in 1984. He later received a scholarship to study printmaking at the Hooge School Voor de Kunsten in Utrecht, the Netherlands. Between 1993 and 1995, he taught Computer Graphics at the University of Stellenbosch before enrolling at The Academy of Art & Design in Prague, Czech Republic. Soon after, he went on to become the artist-in-residence at The Kent Institute of Art and Design, Canterbury, the UK.
Strijdom van der Merwe's art
Since 1996, Strijdom van der Merwe has established his place in the world of land art. He is best known for using whatever materials he could lay his hands on site to create his artwork. Strijdom's materials of choice include water, sand, rocks, pebbles, wood, stone, and rocks. He usually shapes these materials into geometrically attractive art that contrasts and complements the surrounding at the same time. In essence, his artworks are often considered quite "free" in the fact that they juxtapose with nature in a way that nature makes more impression on us than we do to it. According to Strijdom van der Merwe, the site and material for the art often manifest themselves to the artist as they walk or take in the beauty of nature.
Nature is van der Merwe biggest inspiration
Unlike other artists who create preconceived art, Strijdom van der Merwe let's nature do the inspiration. It's only when you are immersed in nature that ideas and techniques for creating the art take shape in your mind. As such, even when creating his work, Strijdom van der Merwe recognizes the fragility of beauty and what it means to the big picture. He reckons that visual recording is always what we are left with but should remind us of the experience – the journey of making the art, so to say. His work has been featured severally in many collections and galleries throughout South Africa and around the world.
Accolades and Awards
Strijdom van der Merwe has done exhibitions and commissions across the globe, most notably Sweden, the US, France, Lithuania, Turkey, Italy, Finland, the Netherlands, Japan, and Australia. He was the co-curator for GNAP (Global Nomadic Art Project) in 2015 and again in 2016 in South Korea, as well as the Exhibition of 30 Nature Artists in the World 2015 (also in South Korea). He also co-founded the pioneering South African Land Art Biennale.
Strijdom van der Merwe is a recipient of Medal of Honour from the South African Academy of Arts and Science, the 2008 Nominee for the Daimler Chrysler award for sculpture in Public Spaces, a recipient of the Prince Claus Grant Amsterdam, the Netherlands, and the 2007 recipient of the Jackson Pollock-Krasner Foundation Grant.
Five installations (photos)

Strijdom van der Merwe – Haikoes

Strijdom van der Merwe – Haikoes
"I invited 46 poets from South Africa to write me haikoes about: clouds, wind, water, trees, mountains and the earth. The 166 haikoes (poems) I then printed on the white fabric that is 2 x 1 meter and all these poems where then hang onto long lines in the Karoo landscape outside the town of Oudtshoorn South Africa. as the wind blow these fabric with printed poems function as prayer flags and the wishes / messages where the blown across the landscape. The installation was up for 7 days and then dismantle again and the fabric with printed poems was sold to the public."

Strijdom van der Merwe – Line of red flags, Paal 8 West aan Zee, Oerol, Netherlands, 2009
Photo: Elly Snel/flickr.com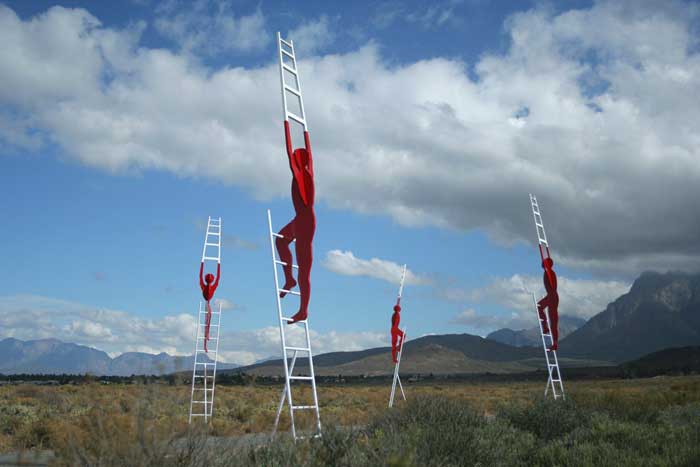 Strijdom van der Merwe – Reaching for the sky, 2011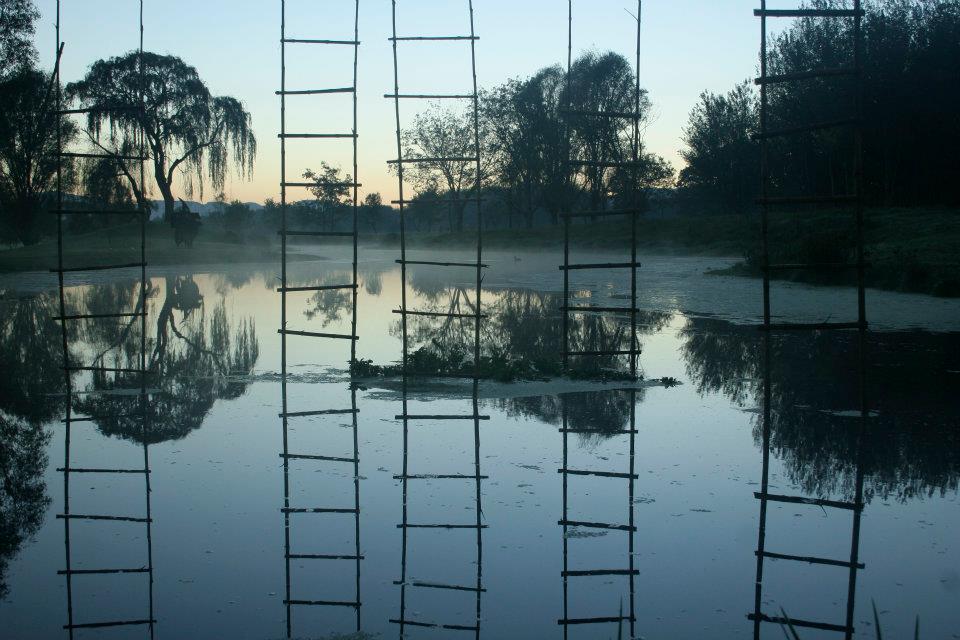 Strijdom van der Merwe – Ladders in water, 2014, Nirox Sculpture Park, Krugersdorp, South Africa
All images by Strijdom van der Merwe/strijdom.com unless otherwise noted.
Five performances (videos)
Drawing a water line in a dry river bed in the Namib desert.
1min 8sec
Drawing with water and shadow for self portrait. Doornkuil, Karoo, South Africa, 2015
1min 44sec
Drawing with Water, Oudshoorn, South Africa, 2006
5min 18sec
To water a rock: A futile attempt to revive the irredeemable. Namtib, Namibia
1min 21sec
Ever Hopeful: Recreating a river that once flowed. Namtib, Namibia
1min 9sec
If you enjoyed Strijdom van der Merwe artworks you might also like ..
Discover more ..