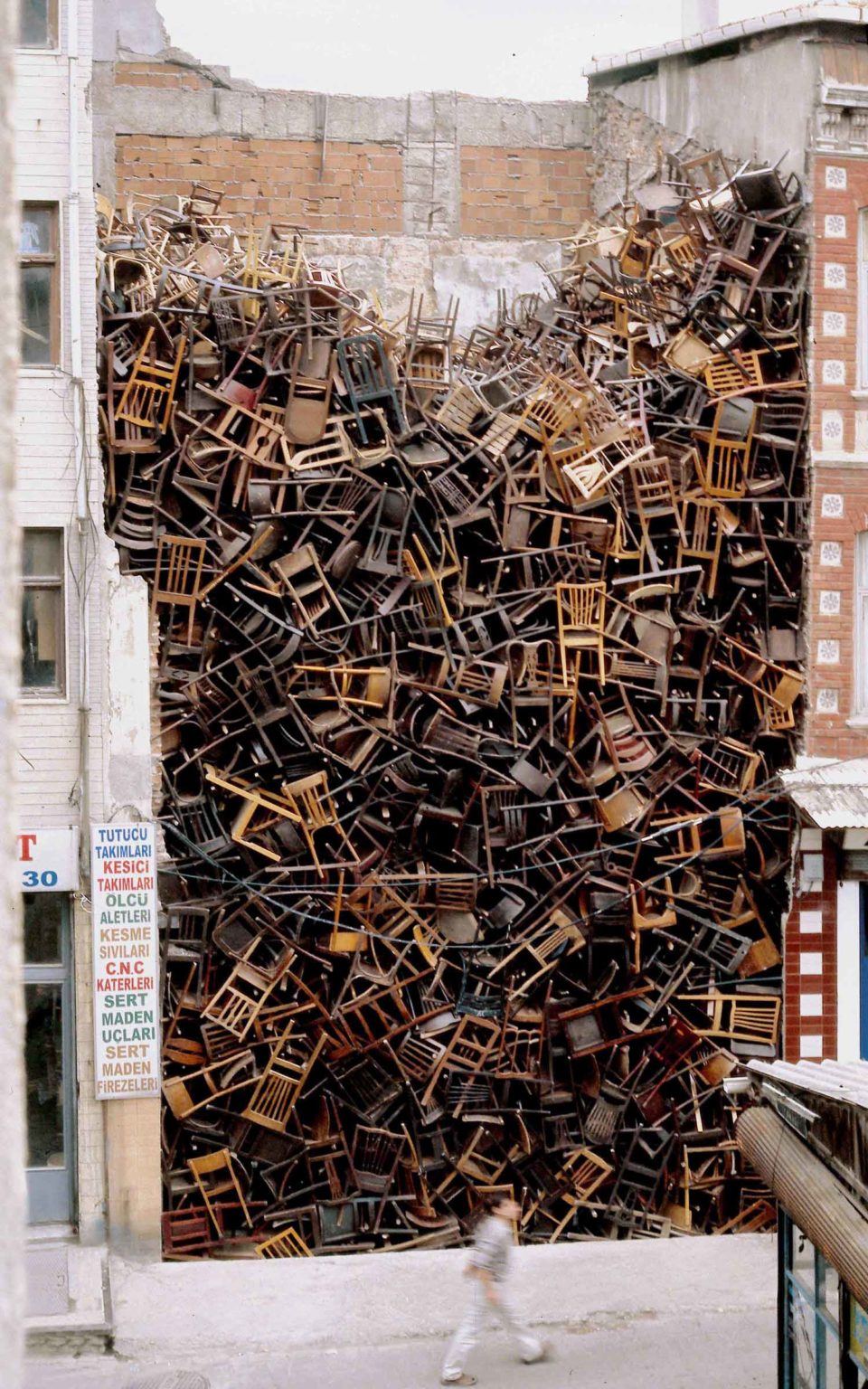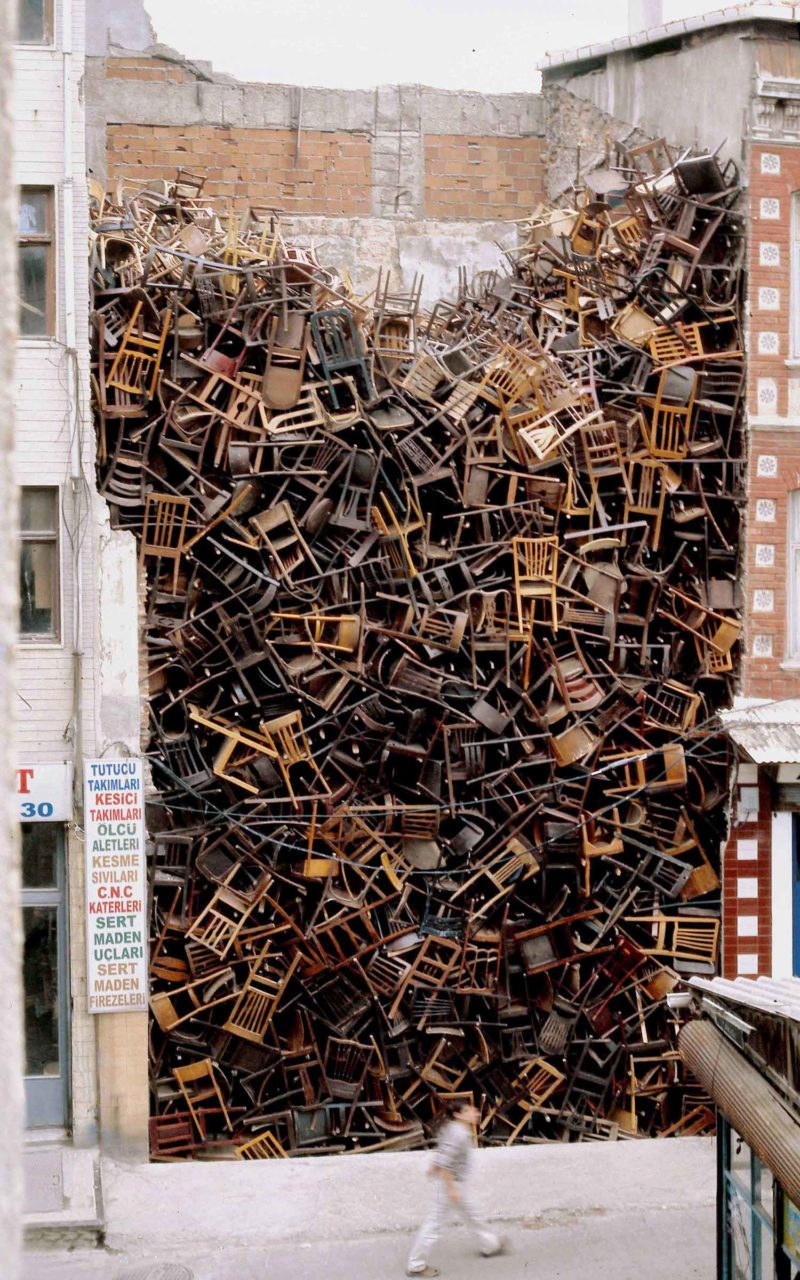 Who is Doris Salcedo?
Doris Salcedo is a Colombian artist, born in 1958 in Bogota. She completed a Bachelor of Fine Arts in 1980 at Jorge Tadeo Lozano University then traveled to New York for a Master of Fine Arts degree. Later she returned to her hometown of Bogota to teach at the Universidad Nacional de Colombia.
Chairs
Chairs is an installation made of 1,550 old chairs crammed into a relatively small space between two buildings in Istanbul. Salcedo created this work for the 8th International Istanbul Biennale. The placement of the installation in public space was to allow for extensive coverage.
Salcedo's work addresses the question of forgetting and memory, which is apparent in her installation of 1550 chairs. In Chairs, she takes a stack of chairs and transforms them into memorials, particularly for the history of migration and displacement in the city of Istanbul.
Salcedo's works evoke numerous impressions after a first look, but unlike other mysterious artworks, Chairs provide answers. The approach she takes to present these messages are distinct and bold, although she uses everyday household items like chairs.
Video: Salcedo speaks about her chair installation
Doris Salcedo: Istanbul | Art21 "Extended Play"
The meaning
The idea behind the 1,550 chairs was to create something she described as a topography of war. She further sheds light on this by stating that the installation was meant to represent war in general and not a specific historical event. The artist was quoted saying,
Seeing these 1,550 wooden chairs piled between two buildings in central Istanbul, I'm reminded of mass graves. Of anonymous victims. I think of both chaos and absence, two effects of wartime violence. What I'm trying to get out of these pieces is that element that is common in all of us. And in a situation of war, we all experience it in much the same way, either victim or perpetrator. So I'm not narrating a particular story. I'm just addressing experiences.
The installation of Chairs is simple in its concept, yet powerful in its impact. It ties to a specific historical event, which evokes the masses of faceless migrants who underpin our globalized economy. The piece expresses the silenced lives of the isolated and marginalized. Salcedo is particularly keen on the gap between the powerful and the powerless. She is also interested in the victims of violence and forceful migration.
I am a Third World artist, she says, and her work emerges from that perspective – from the perspective of the victim, from the perspective of the defeated.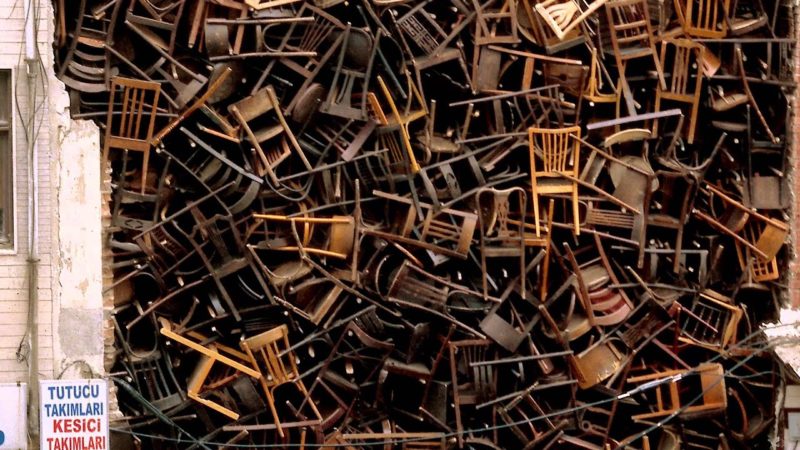 According to art commentator Jonathan Jones, Salcedo at some point witnessed a horrific class between guerillas and the state that ended in people being burned to death in the occupied Palace of Justice in Bogota:
It left its mark on me. I began to conceive of works based on nothing.' Her response was to go to a hospital in Bogota and collect dead patient's discarded shoes, which she put into cavities dug in a wall and veiled in a web-like fiber.
This shows that Salcedo's art approach is not to deliver form to the voices of the powerless, but rather to take for way.
To give form is an act of power. There is no art more involved with power than architecture because nothing says as clearly as a building that 'I had the power to build this.' Surely it's no coincidence that women such as Salcedo take on the heavy-duty materials and the power-bragging architecture and turn it inside out.
Four years after Salcedo installed Chairs in Istanbul, a Chinese artist and a dissident, Ai Weiwei, also used chairs to memorable impact in his artwork Fairytale, a piece that explores the displacement of people in China.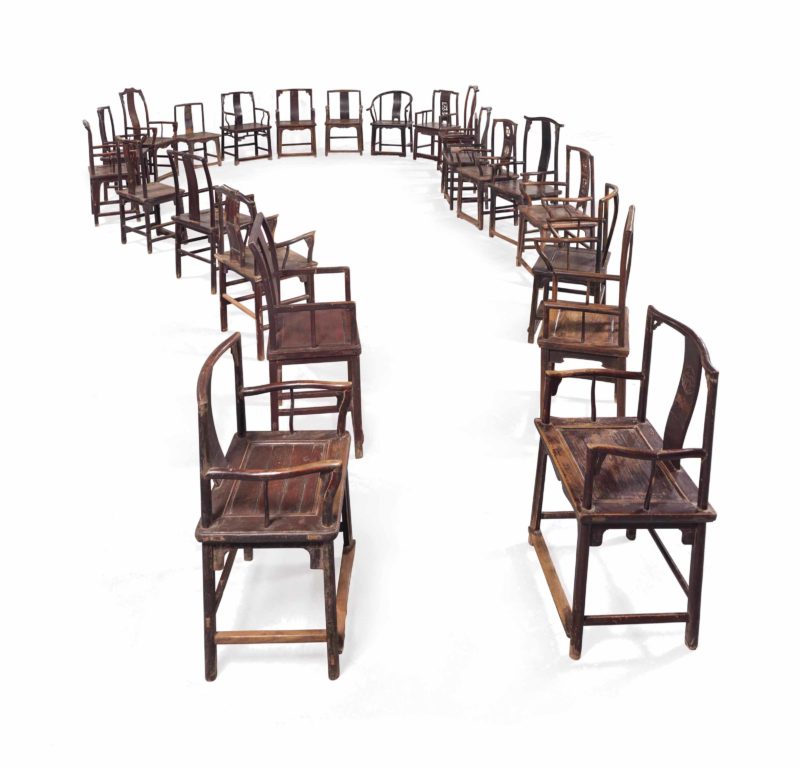 Analysis
Chairs is both porous and impenetrable to the audience and is riddled with dichotomies. With the selection of furniture, the artist plays upon the presence and the absence. She also hints at mechanical integrity and collapse, the novel and the ancient, the domestic and the organic; this all despite the installation's combined colossal scale.
Using the chairs as raw sculptural material, Salcedo communicates the absence as well as the human connection. Bringing together all the 1,550 chairs is not only visually remarkable but conveys an individual and collective experience.
Some artworks have the responsibility of evoking something in the viewer or conveys something. Chairs is one of those pieces that don't require the viewer to read specific material to understand it. Instead, it communicates on its own.
However, the interpretation of the artwork is still left to the imagination of the viewer. For instance, the chairs are stacked together in what is typically a space occupied by humans.
The chairs are also piled up between two buildings, rising to the heights of the buildings on both sides, space usually used by architecture. Or the chairs are occupying a space where people could be.
To some extent, there is a reversal of roles. The chairs that typically hold humans are now taking up space that humans usually occupy. This interpretation suggests that there is the meaning of the volume as well as the meaning of occupying a space.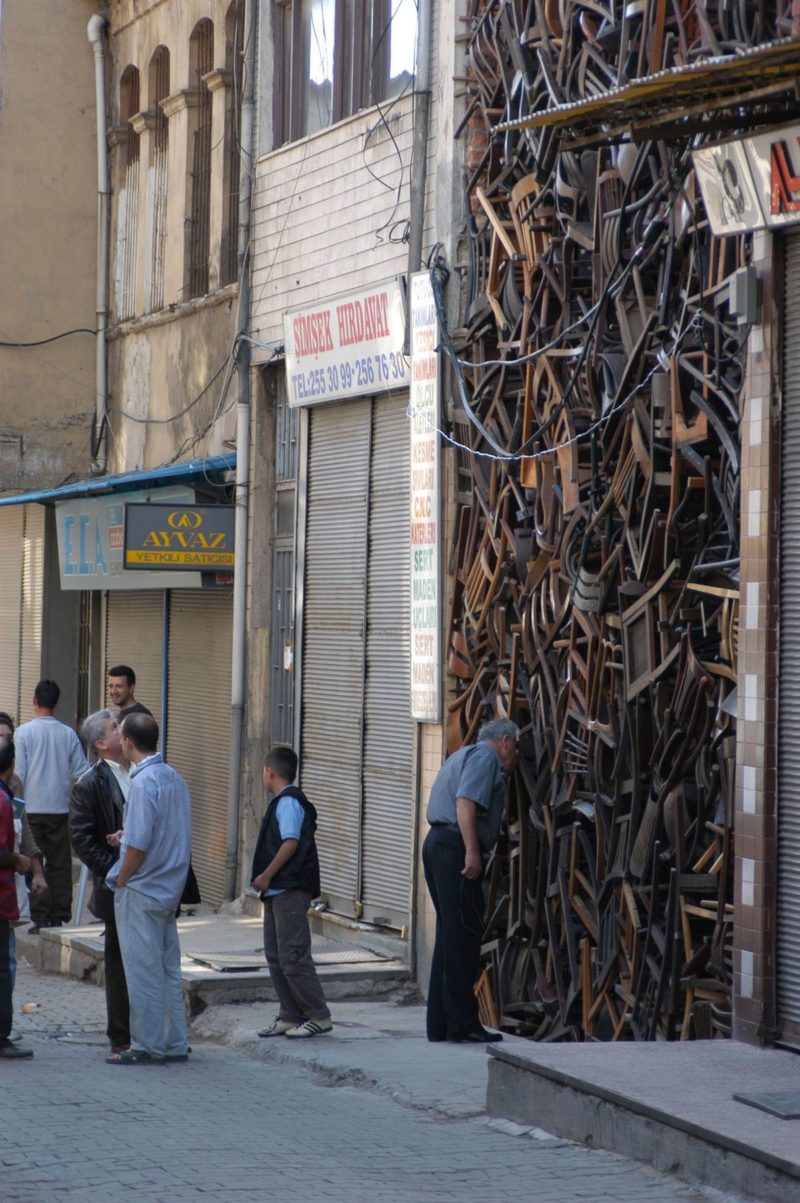 Another interpretation is in the form of color. When looked closely, one can not see the purple and yellow pigmentation, which, when combined, the result is the color brown. There is also an emotional aspect.
When someone looks at the chairs, they may feel overwhelmed and afraid. Chairs also evoke intellectual intrigues. It can make a viewer wonder how all 1,550 chairs are perfectly stacked together and how the whole task was accomplished.
When looked at as a whole, this piece also appears as some monstrous figure or living creature. It is almost as if the 1,550 chairs are alive or like there is life inside the mass of chairs. Chairs also evokes feelings of togetherness and community, especially how all the chairs fit together into a single space, forming a society of sorts.
The piece can also be interpreted in a fun way. Its simple approach resembles a roadblock. It is as if the artist didn't want anyone to enter the space, so she stacked chairs on the doorway.
Chairs has many different interpretations and ideas, making the large installation even more impressive.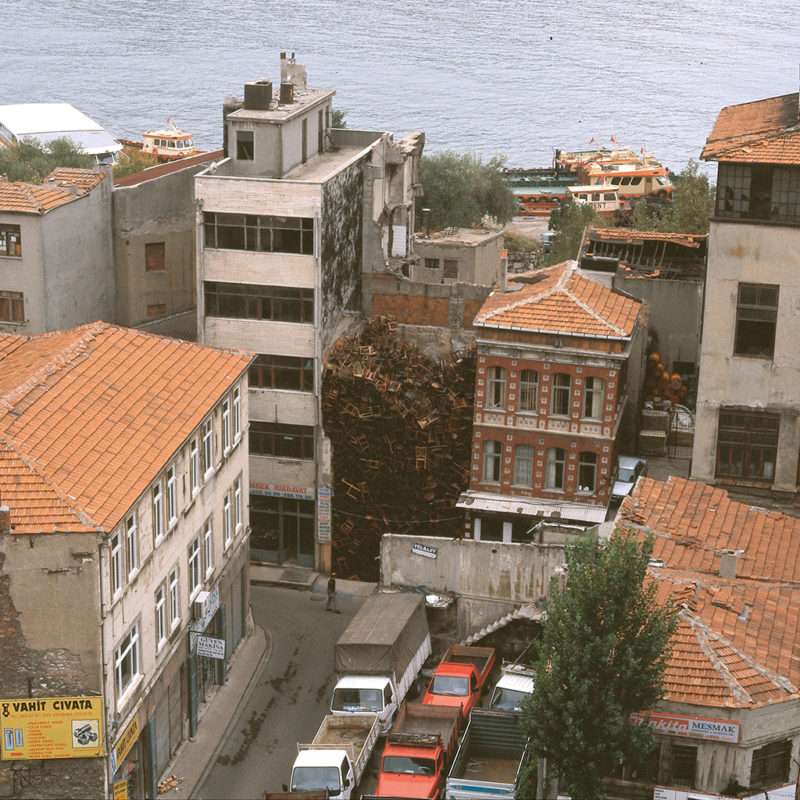 More by Doris Salcedo