Erwin Wurm – Instructions on how to be politically incorrect, Spit in Someone's Soup, 2003
Introduction
Erwin Wurm is certainly one of Austria's and the world's most recognizable artists. Using social taboos and absurd scenarios to create his thought-provoking work, Wurm's art installations have broken boundaries and changed the way that people approach and view art in a contemporary society.
Through his installations, Wurm comments on modern society and critiques it through his curious point of view of the world that has catapulted him to global fame and success. Throughout his career, Wurm's transient performative one minute sculptures which he often photographs before exhibiting have combined both humor and basic criticisms, which has paved the way for innumerable explanations and interpretations from audiences.
How to be politically incorrect
"How to be Politically Incorrect" consists of a strange series of photos depicting human beings in several awkward situations that would otherwise be deemed politically incorrect in any part of the world. The series of photos was created between the years 2002 and 2003.
"Instructions on how to be politically incorrect" was comprised of several inappropriate scenarios that should never happen in real life such as a woman peeing on a rug, as well as a scene containing a man whose head is stuck beneath a woman's blouse. Comic and absurd, each of these scenarios was created to question political and social standards as human beings understand them today.
For years, Wurm has been creating facetious skits such as these that challenge the rules of stability and societal ethics. Using photographs, performances, installations and videos, each of these works is created with the subjects or the actors posed in singular compromising situations. The subjects or mannequins in the series were made with simplicity in mind so that they could come as close to resembling real human beings as possible.
In the series, the subjects and the various scenes were designed to represent events that take place in daily life and Wurm emphasized their ridiculous nature to drive the point home. By relying on absurdities to make up his work, Erwin forces the viewer to confront and challenge expected behavioral conventions.
About Erwin Wurm
Throughout his career, Erwin has been creating art that both entertains and irritates at the same time- this has become his standard and style. When he creates art, Erwin strives to continually investigate the limits of human behavior by challenging the legitimacy of the norms and rules established by society.
Born in Austria in 1954 in Bruck an der Mur, Austria, Erwin has gained fame for his figures and sculptures which have been making rounds in biennials and galleries since the 80s. Today, he lives and works in Vienna and he has been the subject of numerous museum exhibitions including the National Gallery of Victoria, the National Museum of Art in Osaka, and many more.

Erwin Wurm – Instructions on how to be politically incorrect, Inspection, 2002, C-print, 126 x 184-cm
©VG Bild-Kunst Bonn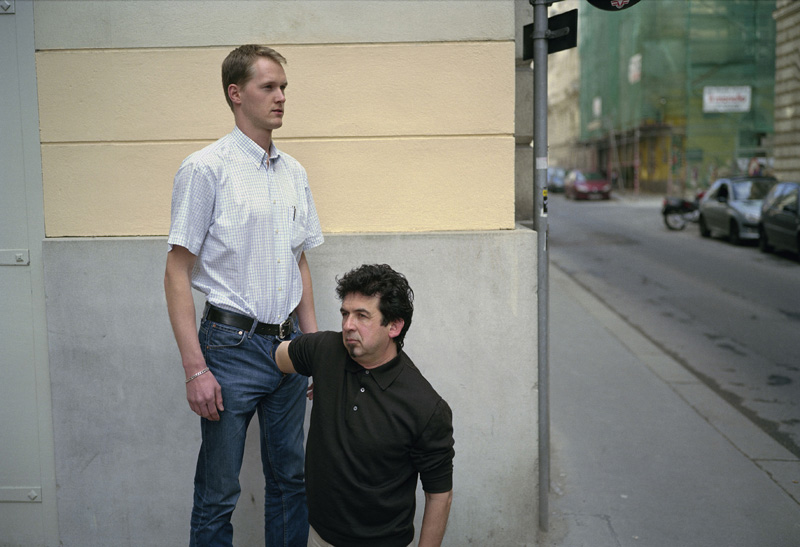 Erwin Wurm – Instructions on how to be politically incorrect, Looking for a Bomb 1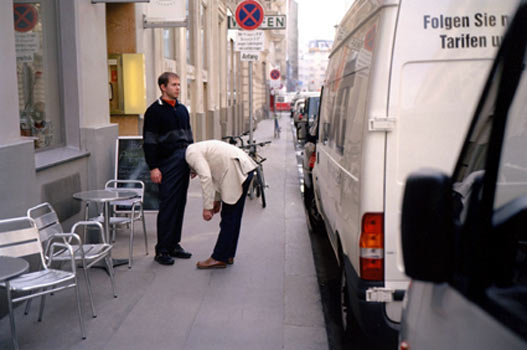 Erwin Wurm – Instructions on how to be politically incorrect, Looking for a Bomb 2, 2003

Erwin Wurm – Instructions on how to be politically incorrect, Looking for a Bomb 4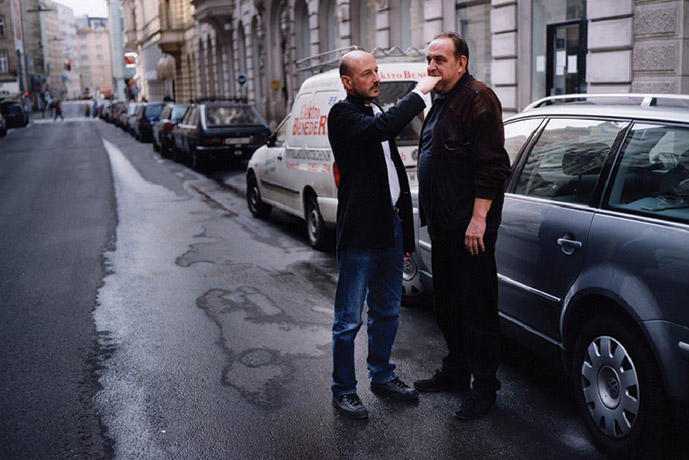 Erwin Wurm – Instructions on how to be politically incorrect, Looking for a Bomb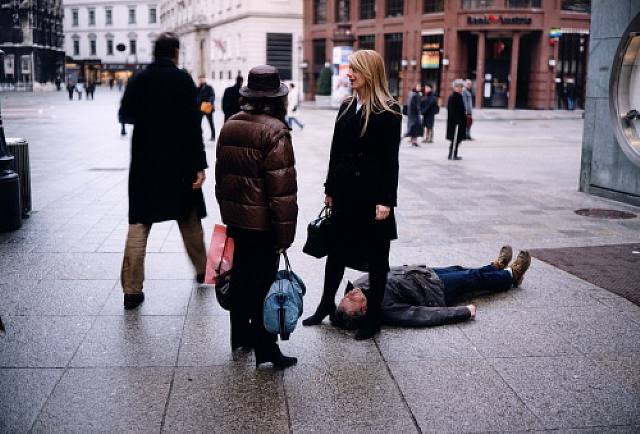 Erwin Wurm – Instructions on how to be politically incorrect, Observation, 2003
©Bildrecht Wien

Erwin Wurm – Instructions on how to be politically incorrect, Pee on someone's rug, 2003, c-print (126 x 160 cm)

Erwin Wurm – Instructions on how to be politically incorrect, Two Ways Of Carrying A Bomb
Other important works
Related readings