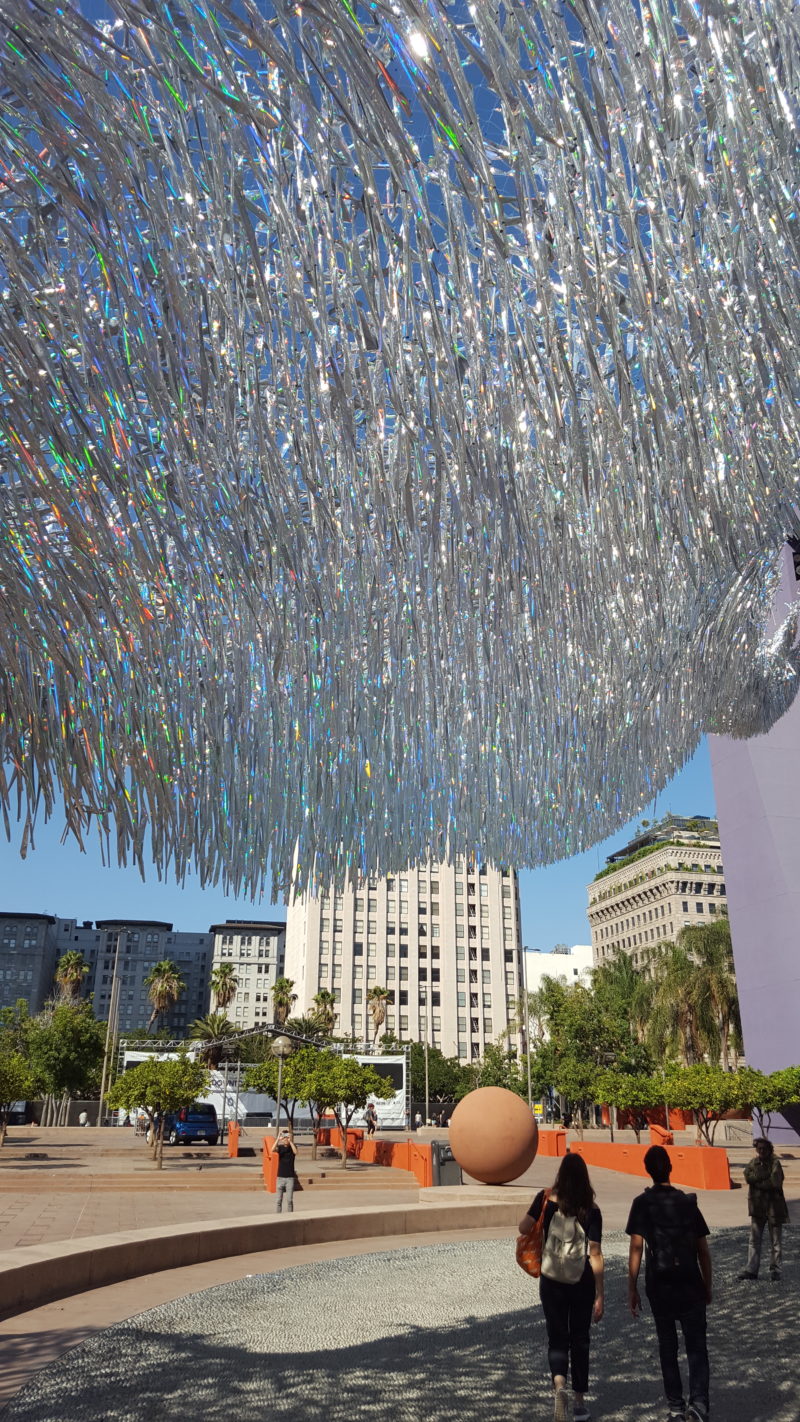 Introduction
If you keep a tab on what's happening in the public display arts, the odds are that you came across the Liquid Shard. It was a public art installation on display in Pershing Square in LA between July 28 and August 11, 2016.
Thanks to its odd size, unique design, and pure ingenuity of the creators, the Liquid Shard was all the rage, wafting several posts on social media and making headlines in the US and all over the world.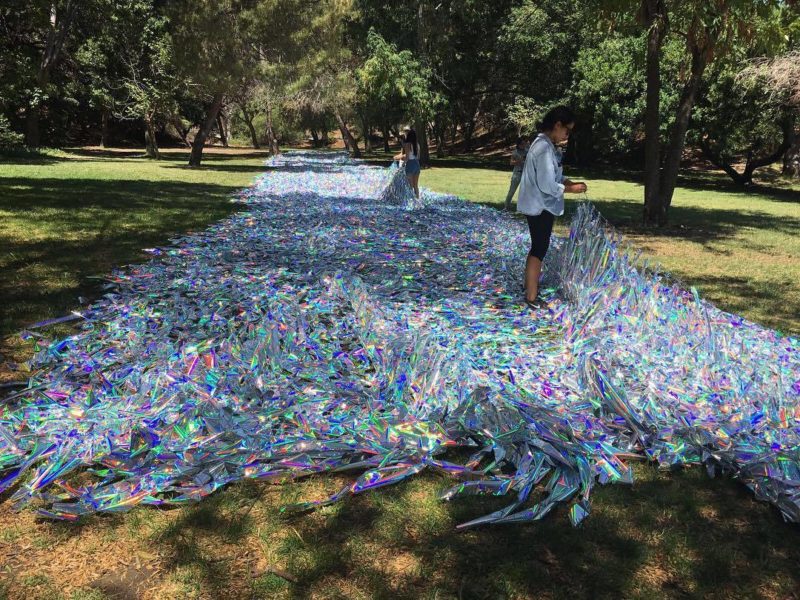 The 15,000 square feet "sea" hanging over Pershing Square
Designed and installed by Patrick Shearn of Poetic Kinetics, the Liquid Shard was a cloud-like kinetic structure comprising silver strands made out of holographic Mylar and monofilaments suspended over Pershing Square, one of the most popular public parks in downtown Los Angeles, California.
Surprisingly, the public art installation stretched a whopping 15,000 square feet, offering a nice backdrop for the blunt concrete structures surrounding the park.
Why did this artwork become a sensation?
The installation is so-called because of both its fluidity and sparkle. Owing to its shape and components, the artwork swung like a sea ripple overhanging the park. It cast a moving shadow below, attracting the eyes of both locals and tourists passing by the park.
That's why it comes as no surprise that it didn't take long before Liquid Shard became a huge sensation both online and in downtown Los Angeles. According to the artist, Liquid Shard was meant to be viewed either from the office buildings downwards or from the ground gazing at the skies.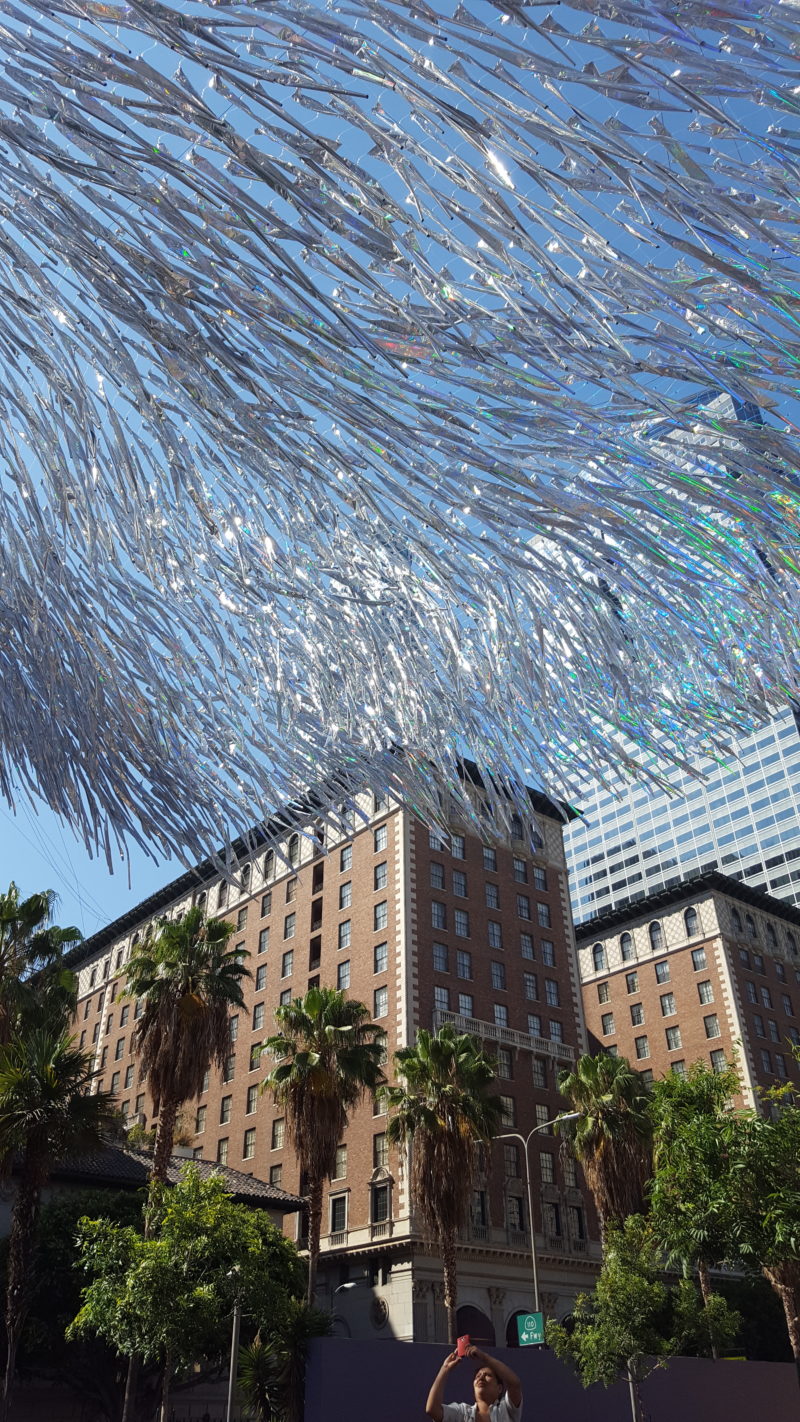 Who supported this piece
The LA Recreation and Park Department approached Shearn to develop a project as part of the city's continuing efforts to bolster support for aesthetic public art displays. The installation was also supported by Now Art LA, one of a handful of nonprofit groups curating public art displays across Los Angeles.
Collaboration with international students
Although most of the credit goes to Patrick Shearn, he actually worked on the project in collaboration with 12 attendees of the Architectural Association Visiting School. A ten-day design seminar brought together enthusiastic students from all corners of the world. The group consisted of architectural and art students from several countries, including South Korea, Egypt, Kuwait, Turkey, and China.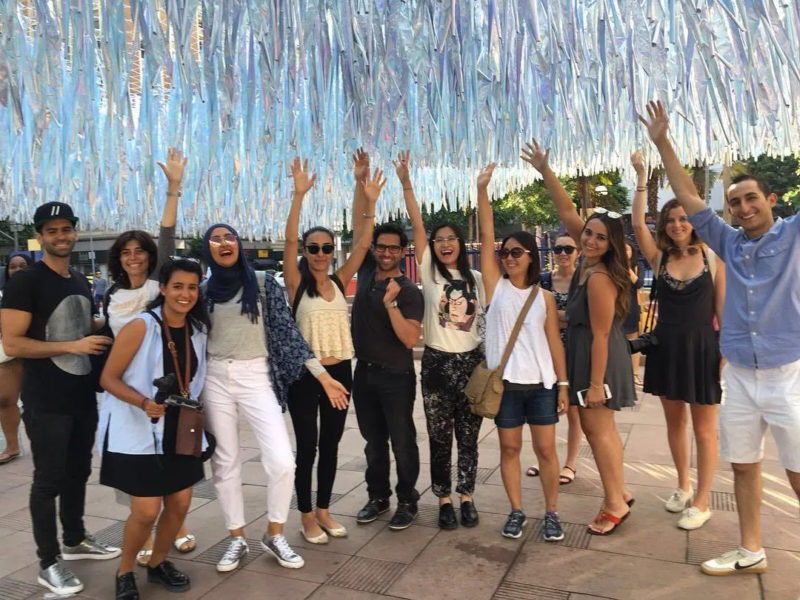 Speaking about the collaborative experience, one of the students said1:
From different parts of the world we came, we collaborated, we imagined, we designed, we built, and we made magic in Pershing Square. Truly an experience that I will never forget.
Another student commented:
The first time we visited the square, it was deserted. In the middle of the crowded city of downtown L.A. and it was empty. I cannot describe the feeling I got when we went back to the square after putting up the installation to find it flowing with life, I felt like I partook in something special!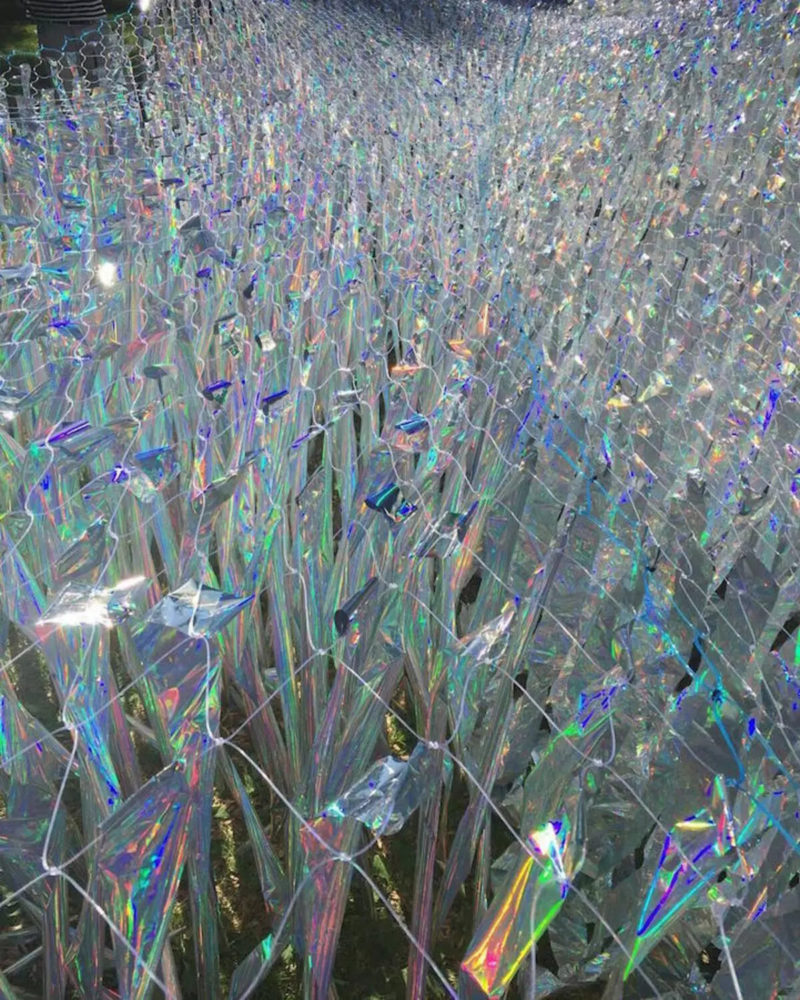 Where was the Liquid Shard in Los Angeles?
About Patrick Shearn
Patrick Shearn is a household name in the public art scene in LA. He's the founder and owner of Poetic Kinetics, a Los Angeles-based design & art studio known for designing and building unique yet large-scale public art pieces, especially for music and cultural festivals.
Shearn explained his approach2 as follows:
I create site-specific, experiential public art installations that are specifically tailored for the immediate community as a unique and ephemeral experience with a sensitivity to the works' digital immortality globally. Engaging with viewers' expectations regarding their choices, illusions, and time, my large-scale sculptures excite the senses with playful and inviting design that encourages interactivity. (…) Most recently, I am exploring methods of emulating flocking or schooling behavior in birds or fish, contrasting that flowing kinetic energy against the rigid, stark forms of man-made environments.
Inspired by nature, Shearn leverages his knack for construction and the latest in animatronics to whip up outstanding public arts.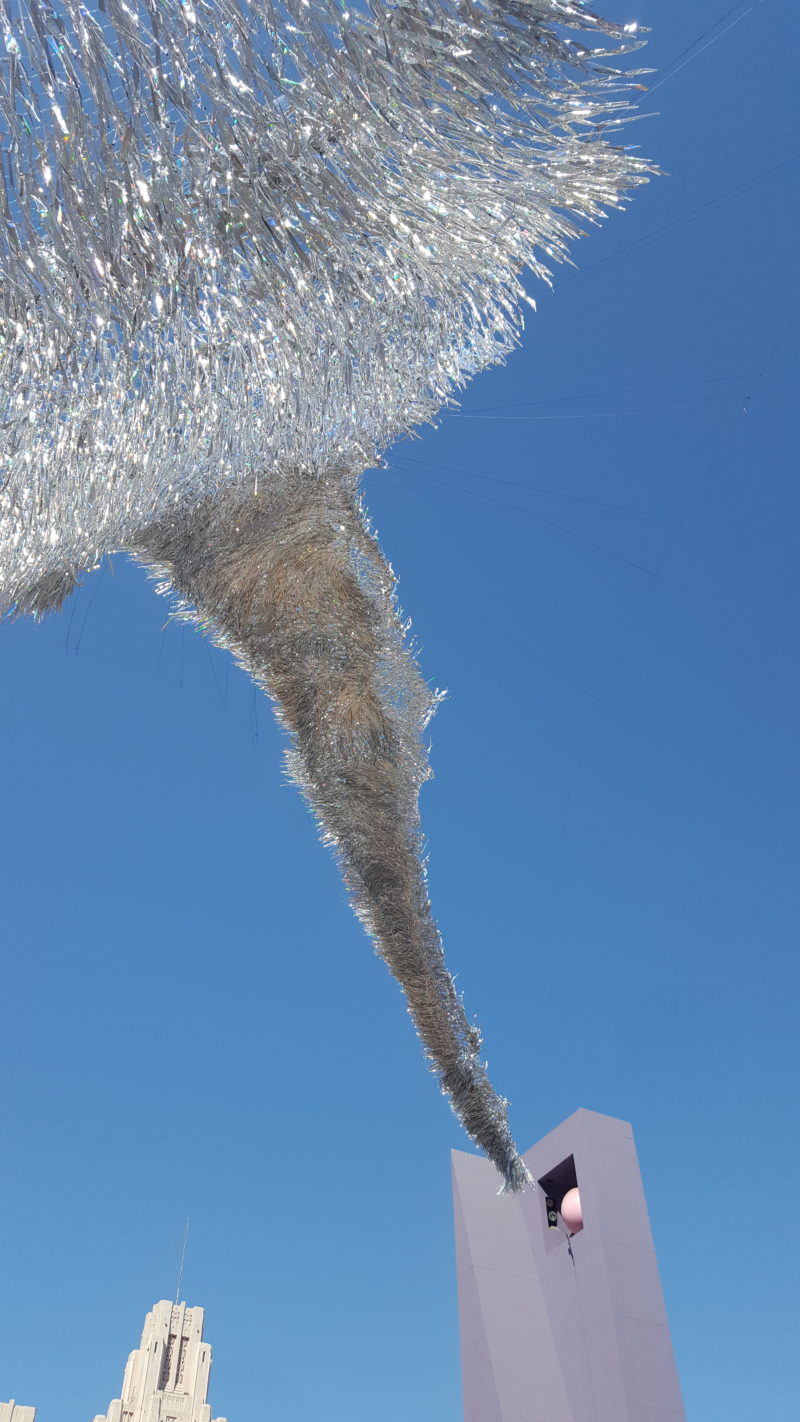 Footnotes
https://archinect.com/features/article/149963674/the-students-behind-liquid-shard-a-dynamic-sculpture-for-downtown-los-angeles