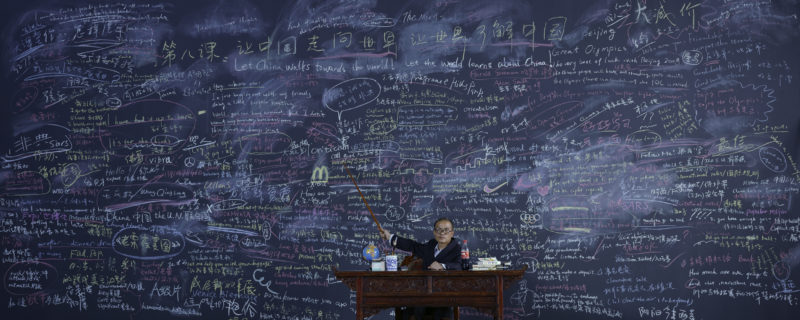 Introduction
Wang Qingsong's work titled Follow Me, is a social critique featuring both Chinese and English slogans and terminology representing the transitions in Chinese culture, society, and history, that have been facilitated by decades' economic growth. The text used mainly come from textbooks and manuals.
In his work, Follow Me, Wang poses by himself at a desk standing before a cluttered blackboard with hundreds of pieces of written information from several disciplines in different languages. Wang's work is in response to socioeconomic changes in China.
Analysis
The imagery is aesthetically pleasing. The artist, a lone figure, his lower body hidden behind a desk, is framed by a giant blackboard covered in writing. The light chalk against the dark blackboard serves as a brilliant contrast, making the messages on the board pop out to viewers.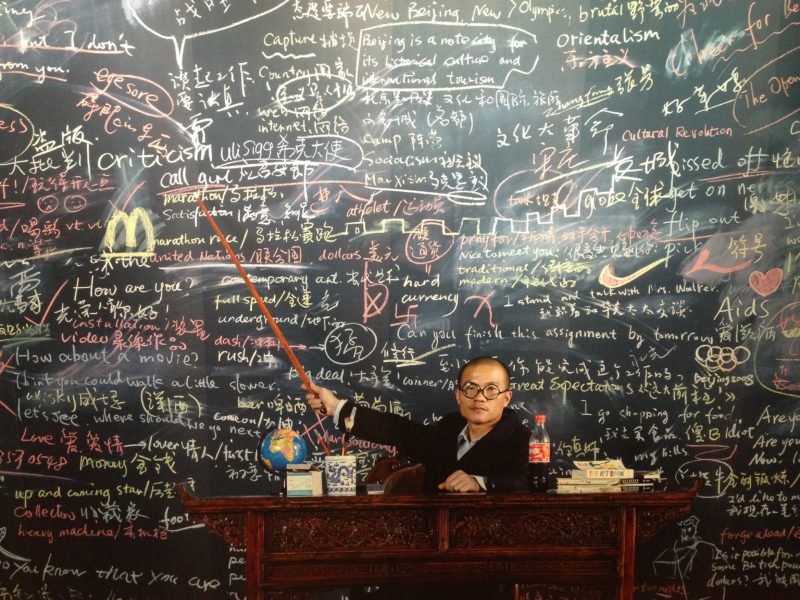 What influenced Wang Qingsong?
China's rapid economic development and reforms, along with powerful socio-cultural change, point to the ways in which the country is constantly changing, growing, and becoming more modern.
As economic development has increasingly become one of China's top priorities in its national policies, the country has consistently continued to change, and the people of China are no exception. Capitalism has 'modernized' traditional economic forms.
In the 1990s and the 2000s, the economic reform has made significant achievements in China, formerly a primarily agricultural country. This includes being selected to host the 2008 Summer Olympic Games1 in addition to China's entry into the World Trade Organization2. Both of these achievements bring China closer to contact and trade with other countries.
Video: Interview with Wang Qingsong
Artist Interview With Wang Qingsong
The message of the work
Wang's message, though related to issues specific to China, transcends any single culture. Socioeconomic changes are happening worldwide, and the global village has created new expectations and ideas of modernity.
As these rapid changes take place, tradition changes and makes way for modern trends. Wang's work reflects these changes and, through the use of slogans and language within imagery, serves to critique these changes.
Footnotes