Jazoo is a Korean artist who lives and works in Beijing and Seoul. She uses her paintings and installations to document other's solitude, often in interesting ways. Her paintings, which she creates by using brushes or knifes, are usually not finished, so that the surface becomes the infinite space for her.
Jazoo has exhibited in numerous galleries in Seoul, at the Sang-sang International Art Museum, Beijing and had a solo exhibition at the Kunstraum Bethanien, Berlin this year.
Read more about her work below the images.

Common alleys, installed in Seoul, 2010
Paintings in public space on Jeju Island, Korea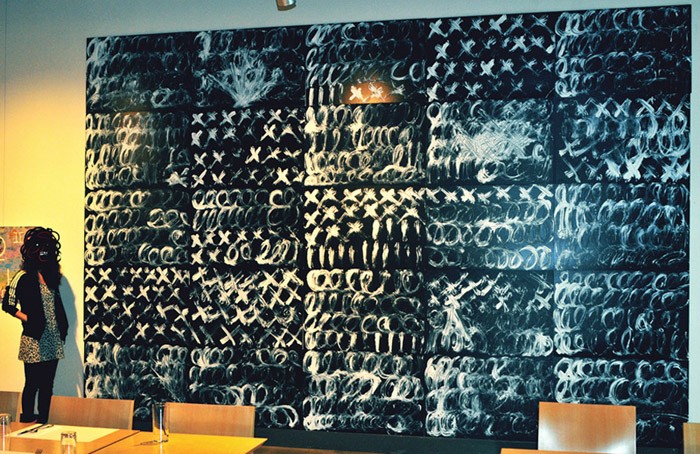 The Excretion Series (acrylic on paper, 300x540cm), exhibited 2010 at Gallery Space101, Seoul
The Excretion (mixed media on wall, 450x660cm), shown at the solo exhibition We Don't Blame You at Kunstraum Kreuzberg / Bethanien, Berlin, in 2011
"I use my actual body for my works with minimum-using tools like a brush and a knife. There is the mixture of finger-painting and action-painting. It immerses myself in the act of painting like a trance. Further more it takes various sincere emotions out of my unconscious. The act of painting means the work of harmonizing body and mind for me. The immersion to that brings my energy, 'ki(氣, chinese character)' out. The aim of my works is to make infinite space on a limited plane. 'A dot, a line and a face' holding my 'ki' has continuous movement. I make them to extend into that infinite space.
I also pay attention to the painting itself. A true painting has the characteristic of material like run-down, sprinkled, sticked, crumbled and scratched. The movement of a painter, the pace of a work and the intensity of emotion are found from that characteristic. To make the most of material's characteristic become the process to release my characteristic and freedom. The completion means the end so I just explode my energy, never complete my painting. After pouring my momentary energy to my canvas, I just leave it as it is. As a result, the fixed and limited plane surface becomes the infinite space. 'A dot, a line and a face' holding my energy infinitely extend to the space by themselves."