Archive: Art in South Korea and by South Korean artists
Why are these 40 TVs installed between tropical plants?

Nam June Paik – TV Garden, 1974, video installation with color television sets and live plants, dimensions vary with installation
About TV Garden
No one would think televisions are artistic under normal circumstances. Handy, yes. Useful, quite so. Nam June Paik, however, managed to put television in circumstances where he reveals their artistry. The celebrated artist is regarded as the father of video art and has used manipulated television sets, broadcasted live performances and video installation to depict electronic images in an artistic manner. TV Garden first created in 1974 is a large-scale installation consisting of forty television sets lying on the floor amidst many tropical plants while a video of Global Groove (see below) plays on the screens of the TV sets.
There are many interpretations one can draw including the rather obvious one that this is a merge of nature and technology and the effect each has with the other or on the other hand, the numerous curated content in the media could be considered disorderly as to leading the public back into the jungle. One thing is evident though that TV Garden seeks to tease the senses with a mixture of color and sound. Color from the lush tropical garden makes the canvas for his TV sets. Sound emanates from the TV sets and rustles through the leaves of the various plants that the television sets are nestled among. This artwork grabs the eye and the mind in its juxtaposition effect where the attention of the viewer moves from plant life to television sets and vice versa.
The Artist – Style and Inspiration
Nam June Paik was born in Korea in 1932 and graduated from the University of Tokyo in 1956 where he studies music and study furthering these musical studies at the University of Munich. In Germany, he allowed his fascination with merging music, electronics and arts to reign free. Since then, the artist had used this fascination to make art using television sets featured in video walls, ceilings, quirky robots and floors among other ventures. This has evolved and his work continued to playfully critique and celebrate electronic media.
Paik drew inspiration from his interest in electronics intertwined with his foundation in music and performance. In the mid-1960s, he arrived in New York and joined the Fluxus movement and quickly rose to the forefront of the movement with his work depicting elements of surprise and unfamiliarity. His production, TV garden, is one of the seminal installations resulting from this inspiration and resulted in a merging of the scientific and the natural coming together in a surprisingly aesthetic outcome. TV garden is an example of why an artist should not limit new forms of expression but must keep on reimagining his creativity to bring about innovation.
At Solomon R. Guggenheim Museum, New York

Nam June Paik – TV Garden (2000 Version), 1974, video installation with color television sets and live plants, dimensions vary with installation, Solomon R. Guggenheim Museum, New York

Nam June Paik – TV Garden, 1974, video installation with color television sets and live plants, dimensions vary with installation, Solomon R. Guggenheim Museum, New York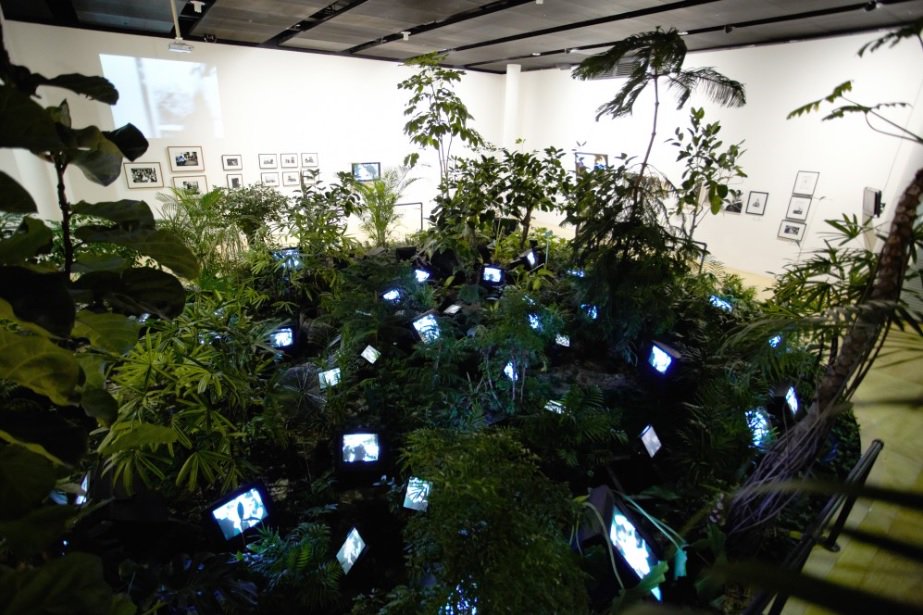 Nam June Paik – TV Garden, 1974, video installation with color television sets and live plants, dimensions vary with installation, Solomon R. Guggenheim Museum, New York

Nam June Paik – TV Garden, 1974, video installation with color television sets and live plants, dimensions vary with installation, Solomon R. Guggenheim Museum, New York

Nam June Paik – TV Garden, 1974, video installation with color television sets and live plants, dimensions vary with installation, Solomon R. Guggenheim Museum, New York

Nam June Paik – TV Garden, 1974, video installation with color television sets and live plants, dimensions vary with installation, Solomon R. Guggenheim Museum, New York

Nam June Paik – TV Garden, 1974, video installation with color television sets and live plants, dimensions vary with installation, Solomon R. Guggenheim Museum, New York
At Nam June Paik Art Center, South Korea

Nam June Paik – TV Garden, 1974, video installation with color television sets and live plants, dimensions vary with installation, Nam June Paik Art Center, Yongin, South Korea

Nam June Paik – TV Garden, 1974, video installation with color television sets and live plants, dimensions vary with installation, Nam June Paik Art Center, Yongin, South Korea
At Kunstsammlung Nordrhein-Westfalen, Düsseldorf

Nam June Paik – TV Garden (2002 Version), 1974, video installation with color television sets and live plants, dimensions vary with installation, Kunstsammlung Nordrhein-Westfalen, Düsseldorf, Germany
Global Groove, 1973 (video excerpt)
Nam June Paik – Global Groove, 1973, Video (color, sound), 28 min 30 sec
Related works