Archive: Art in Vienna
Why do these massive piles of rubble fill up art spaces?

Lara Almarcegui – Construction Rubble of Secession's Main Hall, 2010, Installation View, Secession, Vienna, Austria
Spanish born Lara Almarcegui who currently lives in Rotterdam has always had a deep curiosity for examining processes of contemporary transformation that are brought about by the social, political and economic transformations in society. Since the early 1990s, Lara has examined urban areas that most artists choose not focus on such as rubble from construction materials and stuff from wastelands. Lara carefully catalogs and highlights each location's inclination towards entropy or lack of order and predictability.
Her projects vary based on the intention of the message. For instance, she developed a guide to the wastelands in Amsterdam consisting of materials used to establish the wasteland in its raw form. Lara has managed to consolidate a reputation for herself as a respectable and revered artist in the global artist realm. In 2013, her work allowed her to act as Spain's only representative in the 55th Venice Biennial.
Posted in
Public Delivery
Tagged

2007, 2015, 2017, 55th Venice Biennale, Art in Austria, Art in Berlin, Art in Spain, Art in Switzerland, Art in Vienna, CAC Malaga, exhibition, Haus der Kulturen der Welt, Kunsthaus Baselland, Lara Almarcegui, Lyon Biennal, MUSAC, Museo de Arte Contemporáneo de Castilla y León, Rotterdam, Secession
Leave a comment
Erwin Wurm's One Minute Sculptures are refreshing
Since the late 1990s Austrian artist, Erwin Wurm is working on his on-going One Minute Sculpture series in which he or others pose with everyday objects, often within an art space.
Out of this world: Volcanic ash pyramids fill up museums

Magdalena Jetelová – Domestication of Pyramids, Museum of Applied Arts Vienna, Austria
Domestication of Pyramids by Magdalena Jetelová are pyramid-sculptures, covered by volcanic ashes, and have been shown at the Museum of Applied Arts / Vienna, Martin-Gropius-Bau / Berlin, National Museum of Contemporary Art / Warsaw, Irish Museum of Modern Art / Dublin, Forum Kunst Rottweil and other art spaces.
The Viennese Museum of Applied Arts is a typical example of Ringstrasse architecture: an elegant, richly ornamented Neo-Renaissance building with an inner peristyle hall and galleries. Upon entering the building, the visitor finds himself/herself, surprisingly, in a darkened, curved space: soon he/she discovers that he/she is standing under large, slanted scaffolding. He/she instinctively walks to the right, where there is a way out. When he/she returns to the daylight, he/she finds himself/herself in the Museum hall, standing next to a thirteen-meter high tilted wall covered in red silica sand. The wall slices the inner space of the Museum diagonally across two floors, slashing razor-like through pillars and balustrades up to the ceiling. The wall, tilted at a 45° angle and with a base thirty-five meters long, is a fragment of one side of a pyramid which could continue in the exterior of the Museum building. A space on a scale which greatly exceeds the size of the host building is inserted into the museum's interior. Despite its dimensions, it is only a fragment of a whole known to us, which in an imaginary way continues beyond the borders of the Museum building and which we can mentally reconstruct as a pyramid.
Domestication primarily stems from the fact that we can already imagine it based on the fragment we have at our disposal because we have become well acquainted with its form in our minds. On the entirely specific level, domestication—taming—can be seen in the possibility of walking around the pyramid from all sides, from the inside as well as from the outside; taking a look at its base from the gallery above, experiencing it from a perspective that people were to be denied. This, however, does not change anything about the fact that the essence of the form is mental, not physical. The entire pyramid is only realized through thought.
The intersection of the eastern archetypal monument—the pyramid—and its absolute geometry with'humanized' western architecture, its small details and scale, raises questions concerning the nature of our culture, whereby our stable coordinates which anchor us in the world become relative. Other pyramids have been constructed at various locations in Europe, but only in Vienna is the pyramid physically accessible both from the inside and outside; in Warsaw and Berlin the surface of the structure can be observed from the outside, which, because it is covered with volcanic ashes, evokes the feeling of a full compact mass, poured into the form of a heap. The confrontation of the eastern monument and European cultural history takes place differently each time, and yet on the same principle. The domestication of absolute architecture takes place in our minds.

Magdalena Jetelová – Domestication of Pyramids, Museum of Applied Arts Vienna, Austria

Magdalena Jetelová – Domestication of Pyramids, Museum of Applied Arts Vienna, Austria

Magdalena Jetelová – Domestication of Pyramids

Magdalena Jetelová – Domestication of Pyramids

Magdalena Jetelová – Domestication of Pyramids

Magdalena Jetelová – Domestication of Pyramids, Forumkunst Rottweil, Rottweil, Germany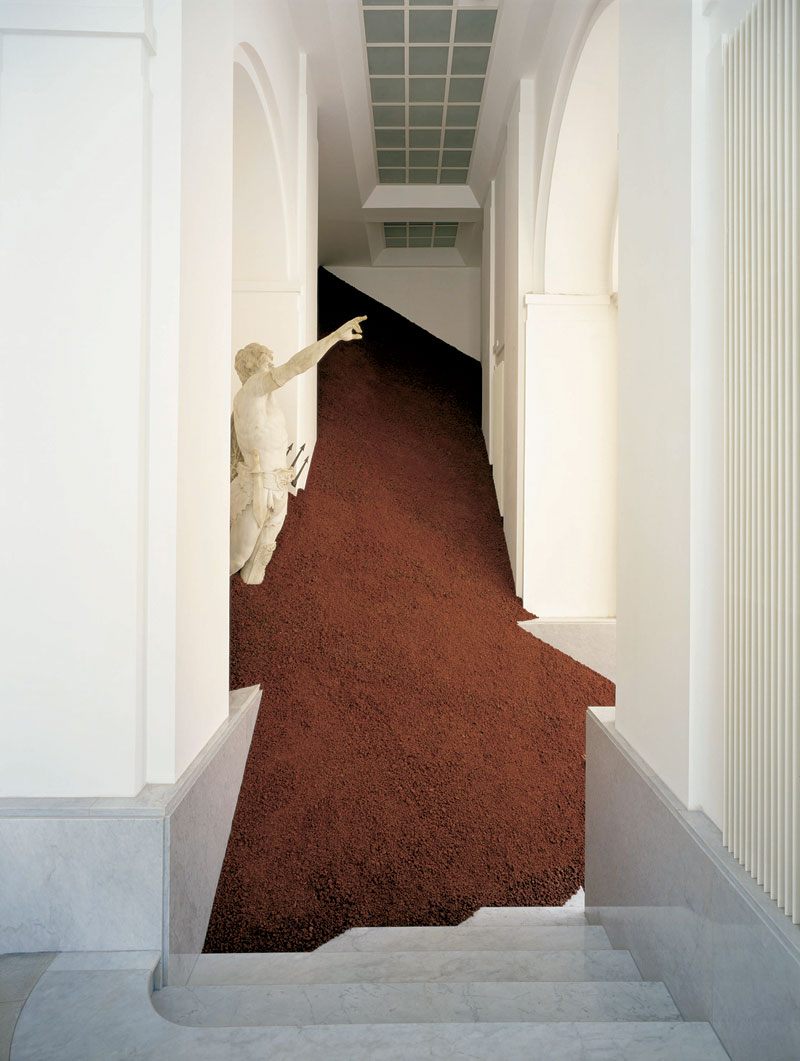 Magdalena Jetelová – Domestication of Pyramids
Posted in
Others
Tagged

1991, 1992, Architecture, Art in Austria, Art in Berlin, Art in Germany, Art in Vienna, Dublin, Forum Kunst Rottweil, Ireland, Irish Museum of Modern Art, Magdalena Jetelova, Martin-Gropius-Bau, Museum of Applied Arts, National Museum of Contemporary Art, Poland, Rottweil, sculpture, Warsaw
Leave a comment