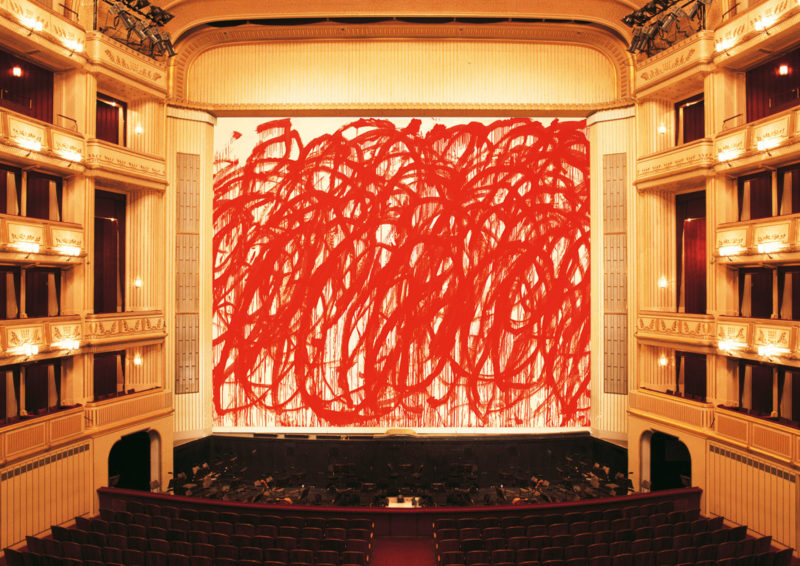 Vienna State Opera's long history of working with artists
Safety Curtain is an on-going exhibition series taking place in the Vienna State Opera, Austria. The exhibition transforms the safety curtain into a temporary show for contemporary artists every year. The Vienna Opera has been hosting art shows since 1869 and tries to find new and interesting ways to address viewers as well as attract new audiences. However, it is also well known for being a world-class destination for global opera lovers and Renaissance Revival architecture.
Collaborations with contemporary artists
For now 20 seasons, the Vienna Opera's safety curtain has included art that has been specifically made for the opera house. The Safety curtain has featured a list of impressive artists such as John Baldessari, Cy Twombly, Tacita Dean, Matthew Barney, Jeff Koons, David Hockney, and Franz West just to mention a few of the famous names.
How did the audience react?
Although the Vienna Opera's safety curtain has grown in popularity since the theater started exhibiting contemporary art, it took some time before people and audiences came to accept modern conceptual art. Despite the skepticism, the show continues to introduce new artists to society to this day.
Working with Tauba Auerbach in 2017
Last year, the safety curtain for the 2017 season was unveiled on November 30. The show, titled A Flexible Fabric of Inflexible Parts III by American artist Tauba Auerbach resembled a glowing X-Ray of modern times. The x-ray like images were created to represent the fast pace in which we are living in where people are always at risk of losing themselves and forgetting the things that are most important in life. Tauba created this piece to inspire the young generation to take a break from their screens so that they can really experience their thoughts and feelings instead of posting them as images on the endless social media platforms available.
Collaboration with John Baldessari
For the 2017/2018 safety curtain, the Vienna Opera selected internationally acclaimed American artist John Baldessari. Baldessari created Graduation, 2017 to feature in the show, much to the delight of the visitors attending.
Photos