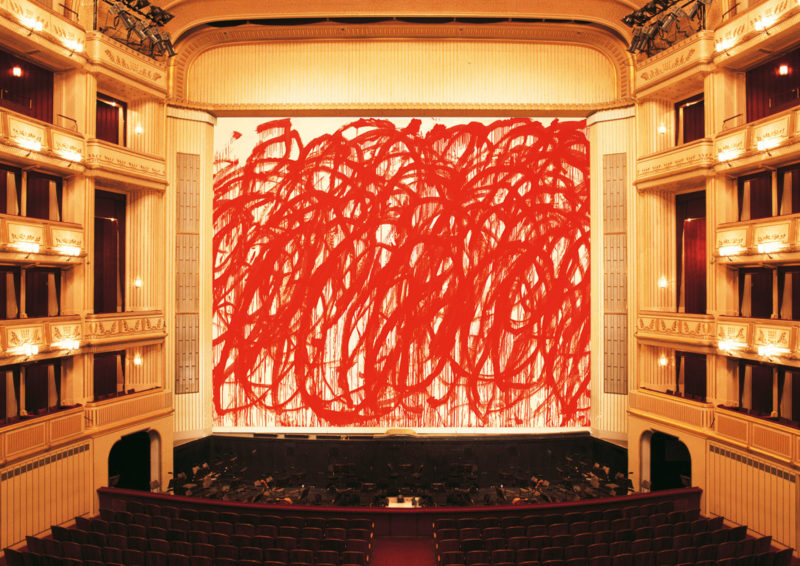 Vienna State Opera's long history of working with artists
Safety Curtain is an ongoing exhibition series taking place in the Vienna State Opera, Austria. Conceived and initiated by museum in progress in 1998, Safety Curtain has converted the firewall between the stage and the auditorium into a temporary exhibition space for contemporary artists every year.
The Vienna Opera has been hosting art shows since 1869 and tries to find new and exciting ways to address viewers as well as attract new audiences. However, it is also well known for being a world-class destination for global opera lovers and Renaissance Revival architecture.
Collaborations with contemporary artists
For now 20 seasons, the Vienna Opera's safety curtain has included art that has been specifically made for the opera house. The Safety curtain has featured a list of impressive artists such as John Baldessari, Cy Twombly, Tacita Dean, Matthew Barney, Jeff Koons, David Hockney, and Franz West just to mention a few of the famous names.
The large, 176 square meter artworks are produced and installed using innovative procedures. The original safety curtain remains untouched, hidden behind the PVC net, which is attached by using magnets. The artworks usually weigh an impressive sixteen tons.
How did the audience react?
Although the Vienna Opera's safety curtain has grown in popularity since the theater started exhibiting contemporary art, it took some time before people and audiences came to accept modern conceptual art. Despite the skepticism, the show continues to introduce new artists to society to this day.
Safety Curtains: From 2022 to 1988
Beatriz Milhazes, 2021/2022
In an interview1, Brazilian artist Beatriz Milhazes (b. 1960) claimed that she is an artist from the tropics, calling opera music and performances her passions. Chosen by the jury (Daniel Birnbaum, Bice Curiger and Hans-Ulrich Obrist), she was the 24th artist to create an artwork for the Iron Curtain. Milhazes is one of Brazil's most famous painters but has also used screen printing and sculptures.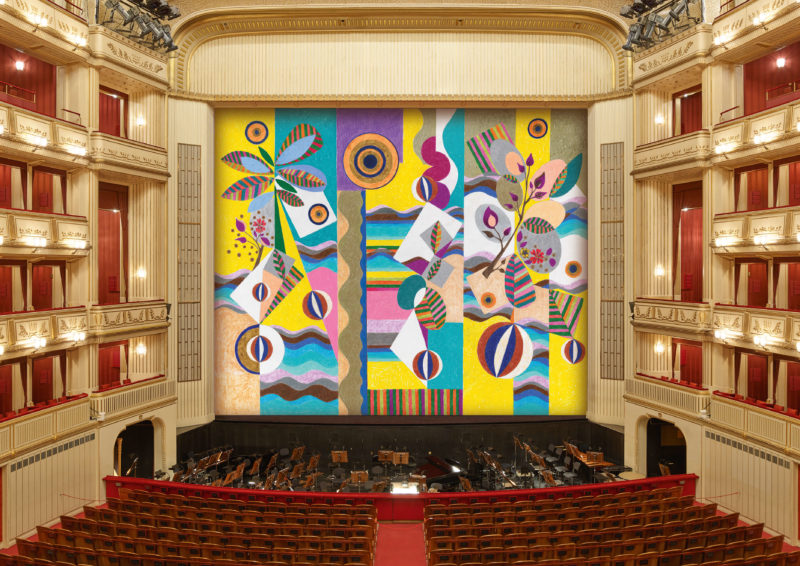 With the decorative and vibrant Pink Sunshine and its colorful geometric forms, the artist tried to produce an "atmosphere of spiritual beauty". According to curator Bice Curiger2, Milhazes's work blends folk art with classical Western modernism and reminds her of Matisse and Mondrian, Art Nouveau and Max Bill when she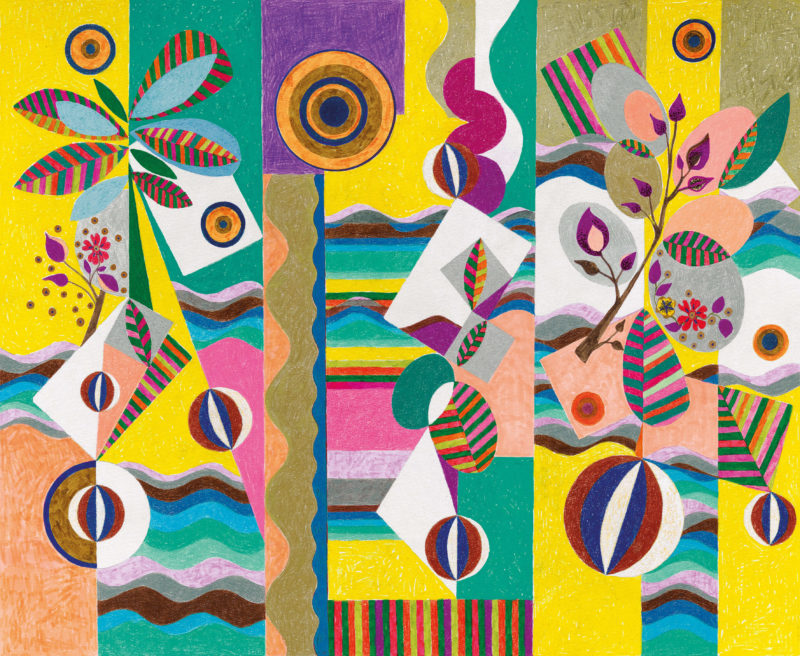 Carrie Mae Weems, 2020/2021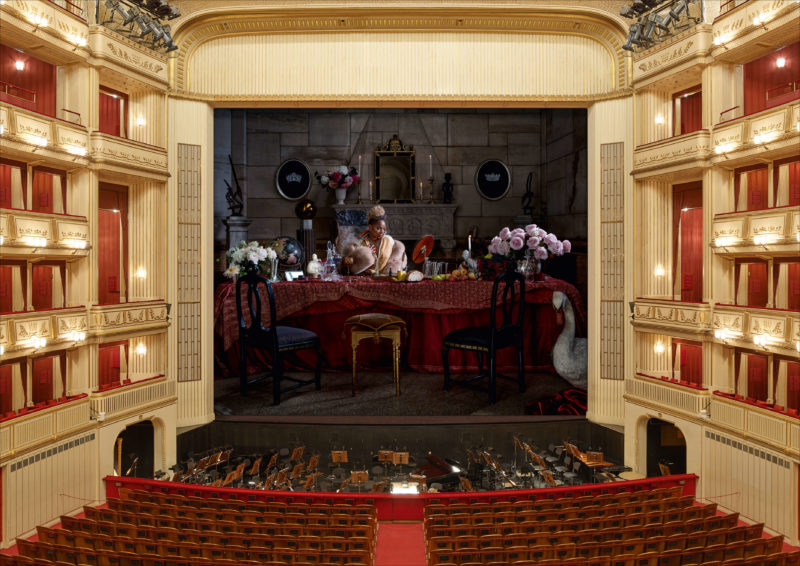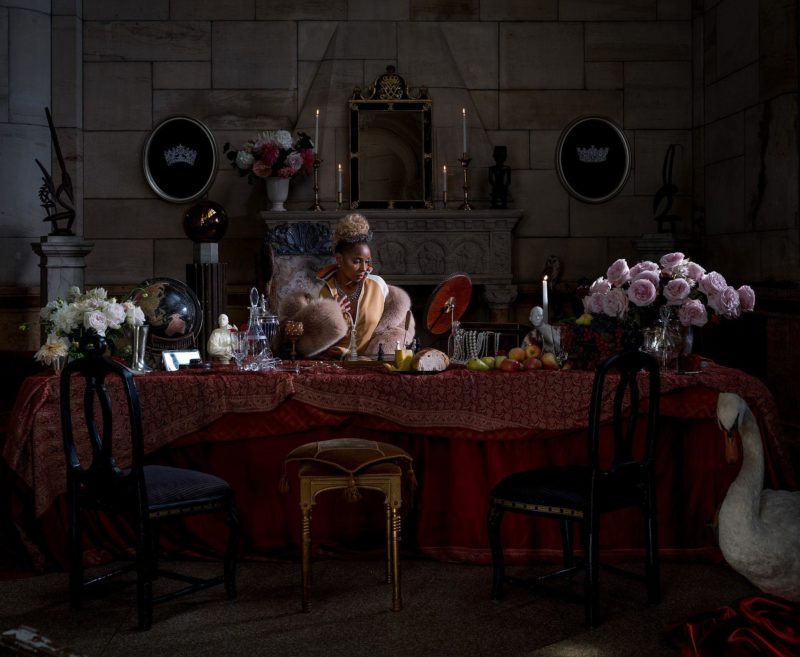 Martha Jungwirth, 2019/2020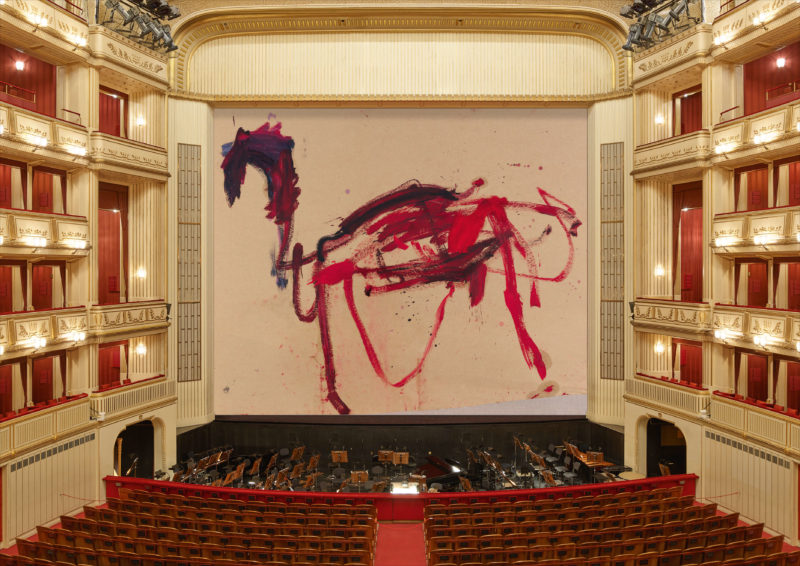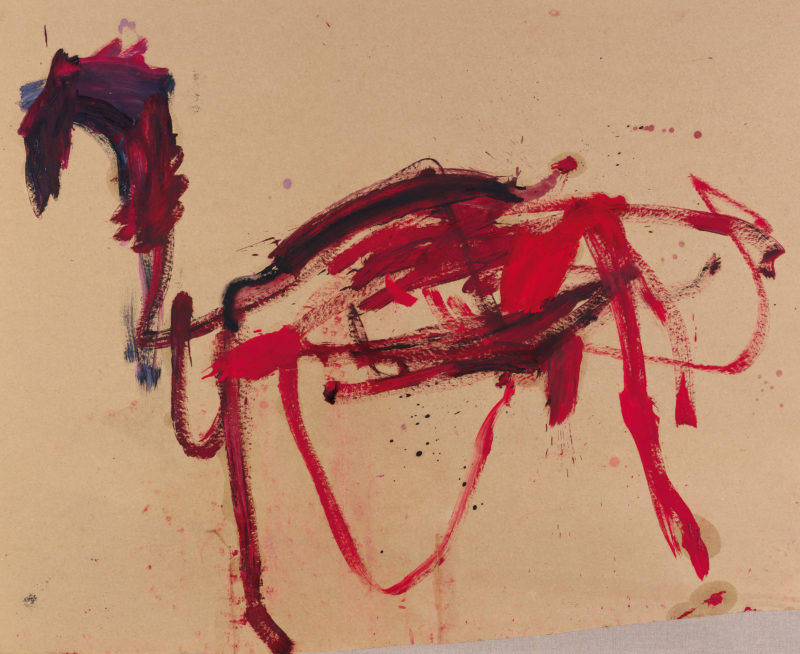 Pierre Alechinsky, 2018/2019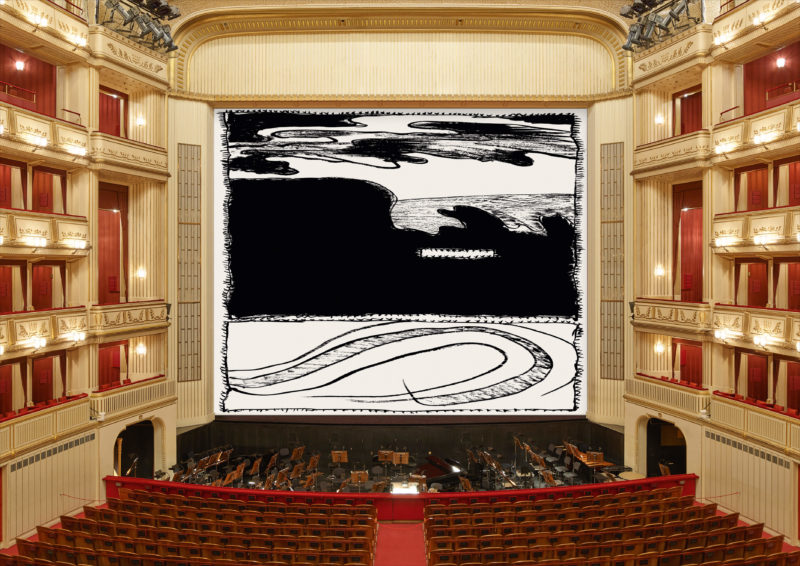 John Baldessari, 2017/2018
Internationally acclaimed American artist John Baldessari's safety curtain shows an image of a graduation celebration. The university graduates resemble a classical choir. The artist has garnished the artwork titled Graduation with his famous bright-colored splashes.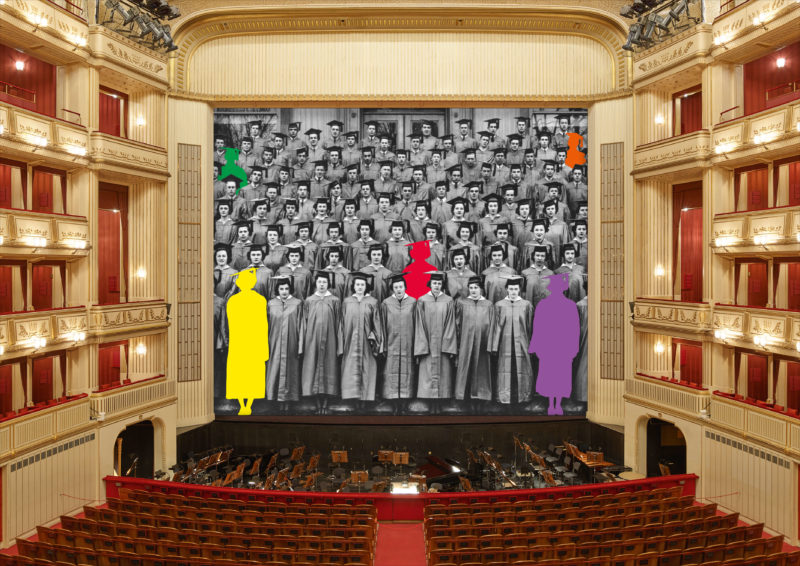 The audience is left to wonder who was covered and why? Was it a process of hiding or even eradicating? Why are some of the protagonists colored and some grey? Or have the faceless perhaps been spared while the rest is standing tightly together?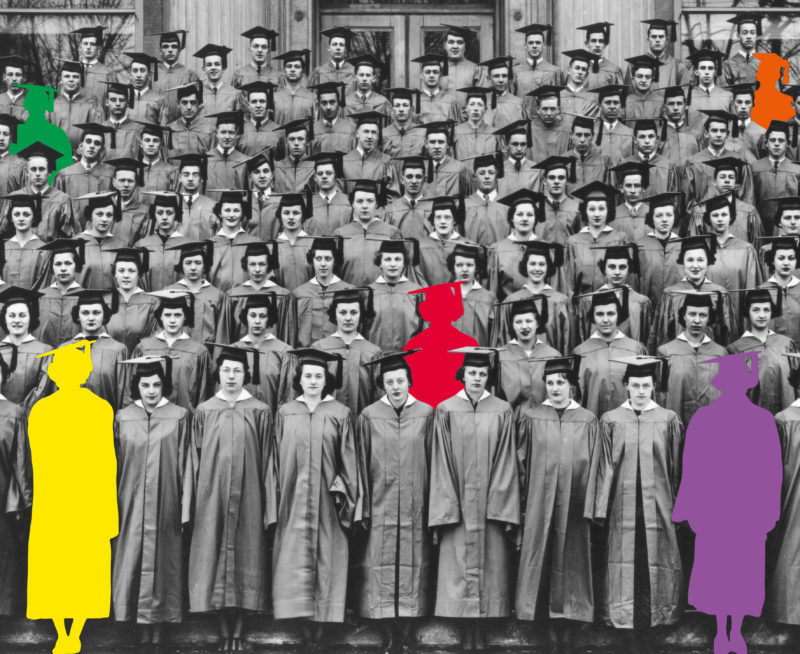 Tauba Auerbach, 2016/2017
The safety curtain for the 2016-2017 season was titled A Flexible Fabric of Inflexible Parts III. Created by American artist Tauba Auerbach, it resembled a glowing X-Ray of modern times. The x-ray-like images were created to represent the fast pace in which we live, where people are always at risk of losing themselves and forgetting the most important things in life.
Tauba created this piece to inspire the young generation to take a break from their screens so that they can really experience their thoughts and feelings instead of posting them as images on the endless social media platforms available.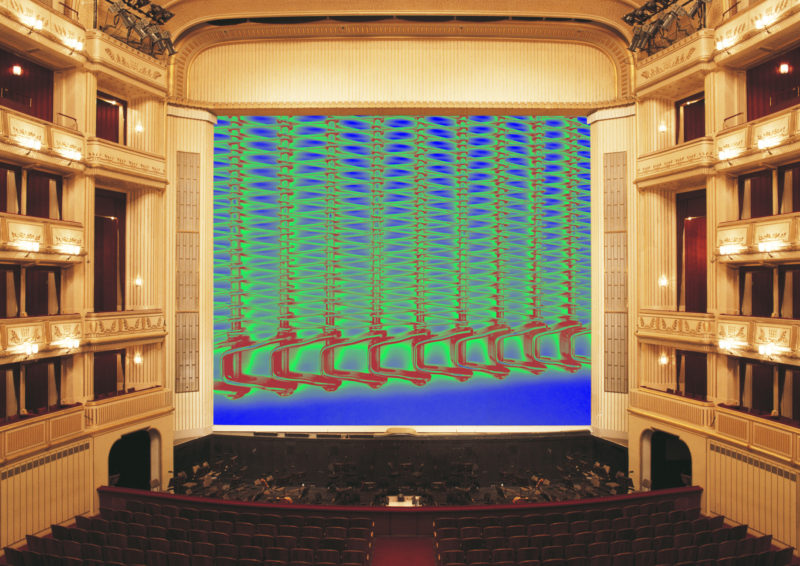 The artwork also looks as if the audience would sit in front of a flexible curtain built from metal parts. It also displays a unique choreography in which components link to create a vibrant and kinetic universe.
Critics have said that A Flexible Fabric of Inflexible Parts III could also represent the beauty and precision of the opera, including the orchestra and the performers.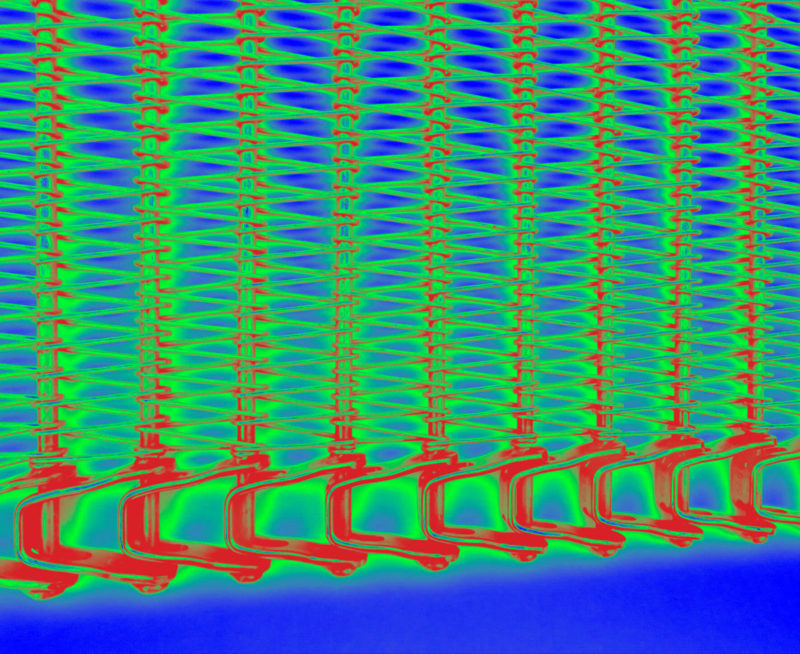 Dominique Gonzalez-Foerster, 2015/2016
This safety curtain by Dominique Gonzalez-Foerster is a tribute to a famous photo of abstract painter Helen Frankenthaler (1928–2011), taken by Gordon Parks for Life magazine in 1957. Parks's influential report presented five young female artists, all under 35 years of age.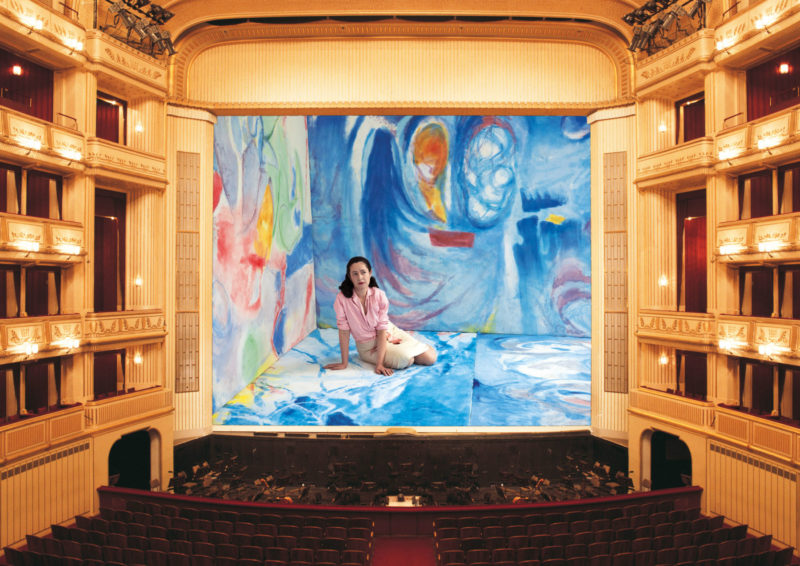 This artwork recollects the emancipation muses underwent to become a singer. Gonzalez-Foerster, seemingly staring in the distant future, perhaps pictures herself as a singer herself in the picture.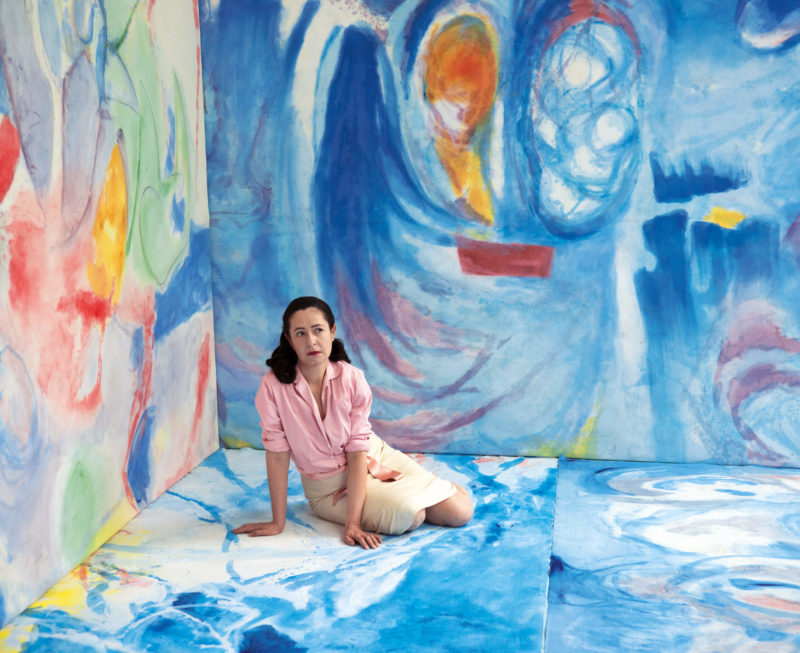 Joan Jonas, 2014/2015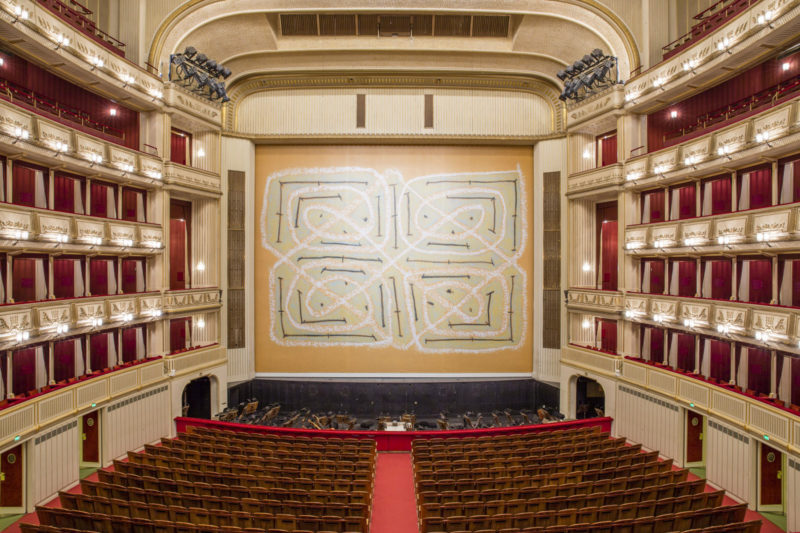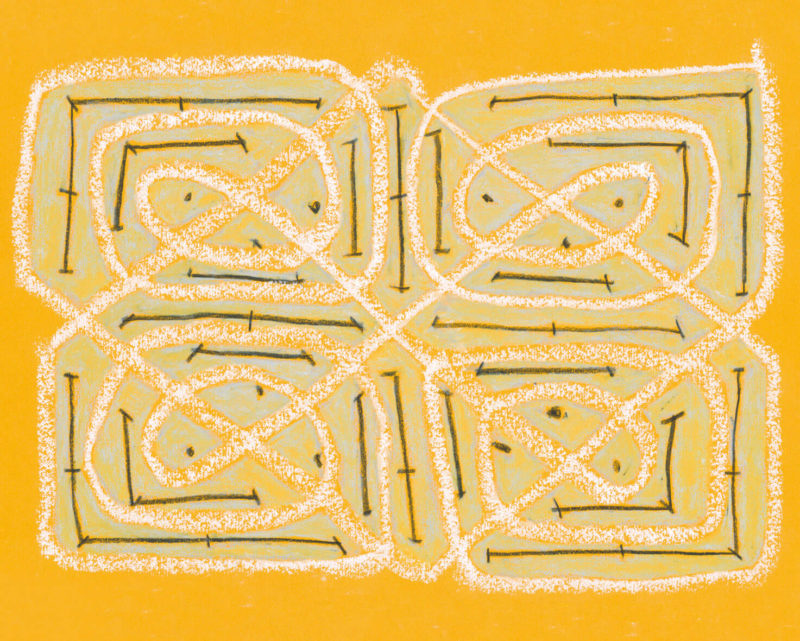 Oswald Oberhuber, 2013/2014
This artwork is based on the topic of music. There is a treble clef in the center, surrounded by curved lines and arrows reminiscent of musical movements.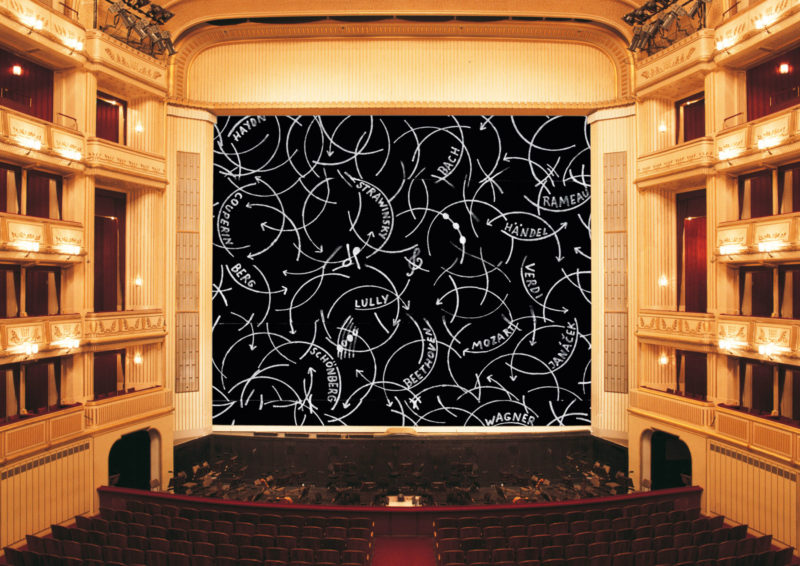 Oswald Oberhuber, the artist, shows names of legendary composers such as Bach, Händel and Mozart amongst individual notes. This minimalistic black-white abstract work conveys the artist's motto that the abstract picture has to be beautiful in order to be understood.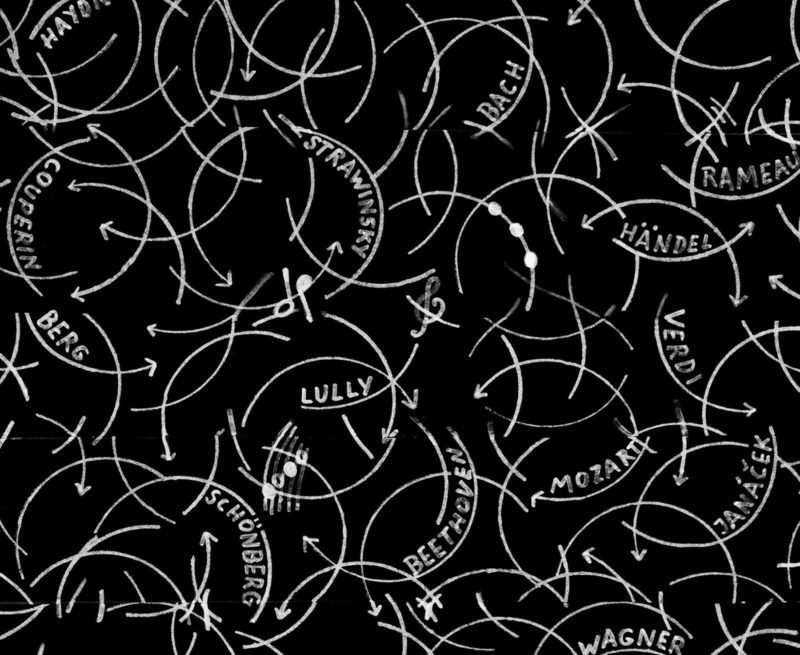 David Hockney, 2012/2013
In 2012, the then 75-year-old artist David Hockney made his artwork for the Iron Curtain on the iPad, a process he has been practicing for years. He even had all of his coats sewn around so that now, every pocket can hold an iPad perfectly. Hockney, who has a lifelong love of opera, has created numerous stage sets3.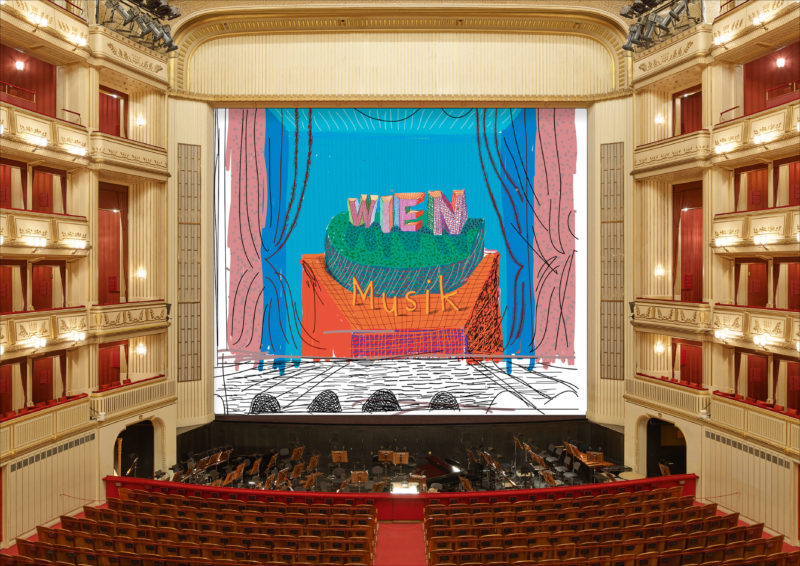 Wien Musik is essentially a sketch, with a peep-box stage at the center of the image and part of the auditorium in the front. In muted green, orange and blue, this artwork tries to expand the scope of the theater. Hockney is a very claustrophobic personality4, says art historian and independent curator Marco Livingstone.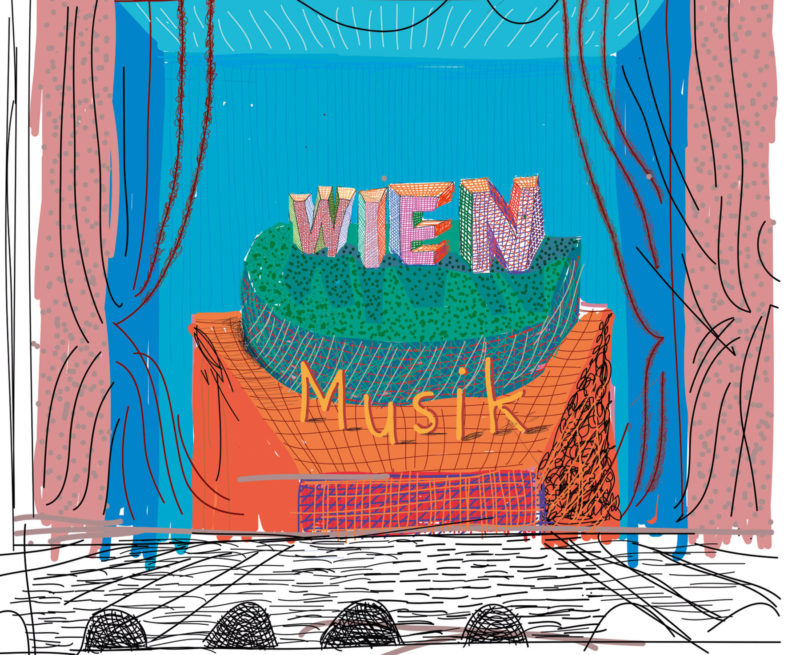 Cerith Wyn Evans, 2011/2012
With this work, Cerith Wyn Evans invites viewers to allow themselves to slip from what they are reading at the moment into another situation, into another action within the historical and psychic places where reading is happening in the here and now.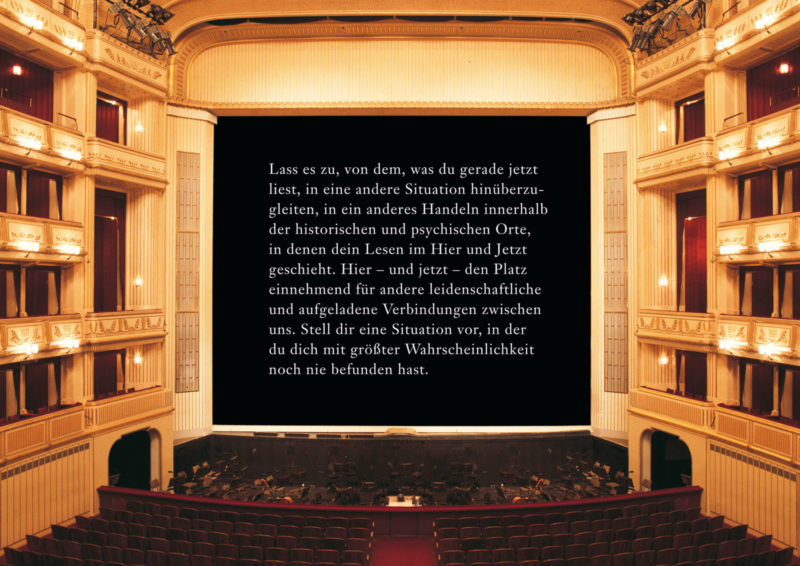 The text-based artwork is a clear instruction for the audience on their way into the unknown and also spells out the following:
Here – and now – taking the place of other passionate and energetic connections between us. Imagine a situation that you have most likely never found yourself in.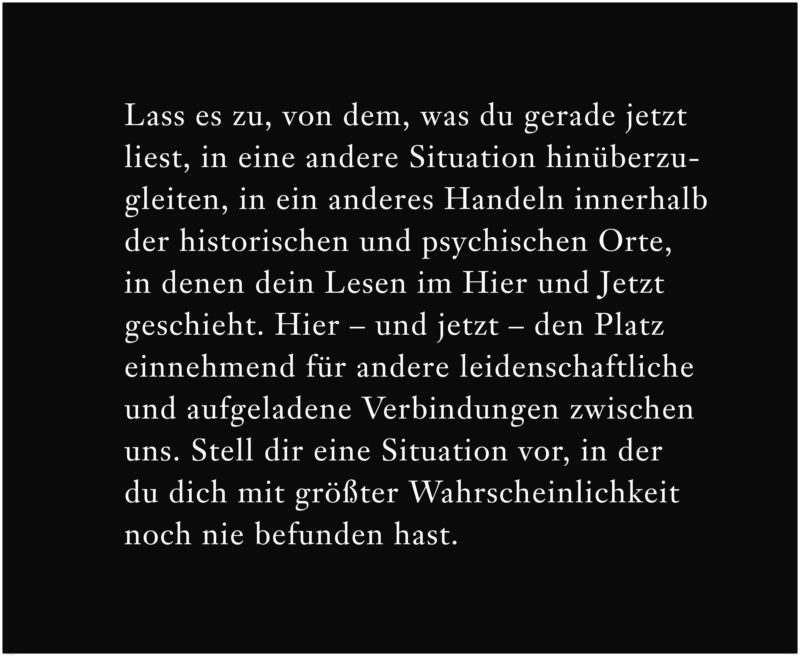 Cy Twombly, 2010/2011
Bacchus is a series of large canvases showing red spirals in Twombly's typical style, created between 2006-2008. The Roman god Bacchus has repeatedly been a motif in Twombly's works.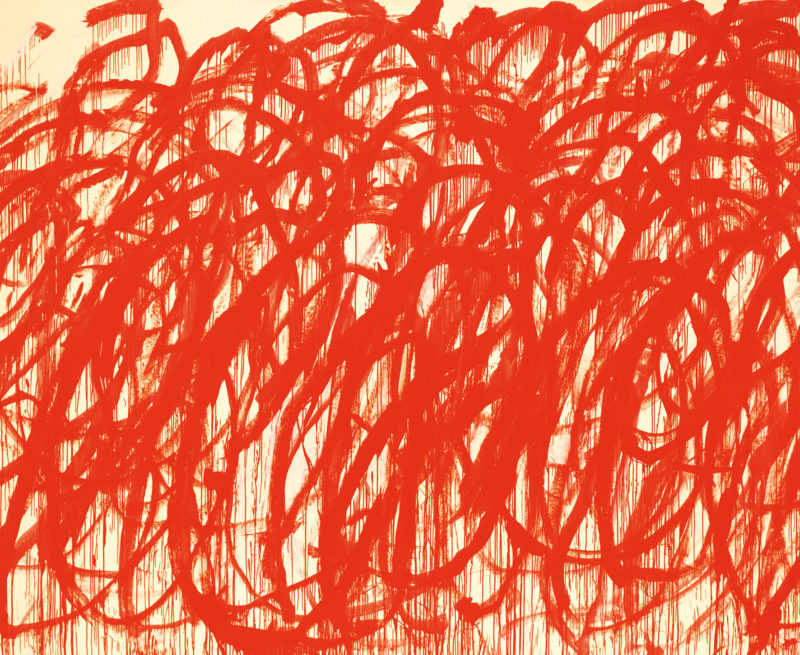 Twombly's safety curtain was installed from 2010 to 2011, the year of the American artist's passing. London's Tate Modern has dedicated an entire gallery to the postwar American painter in which the original Bacchus paintings are installed, according to Twombly's vision.
Franz West, 2009/2010
In Franz West's Drei – Vom Vorgang ins Temperament (Three – From Process to Temperament), there is one woman and two men. All of them are naked, the ground is golden-yellow, and the sky is blue. The figures are spaced out yet somewhat close by each other, giving a feeling of intimacy.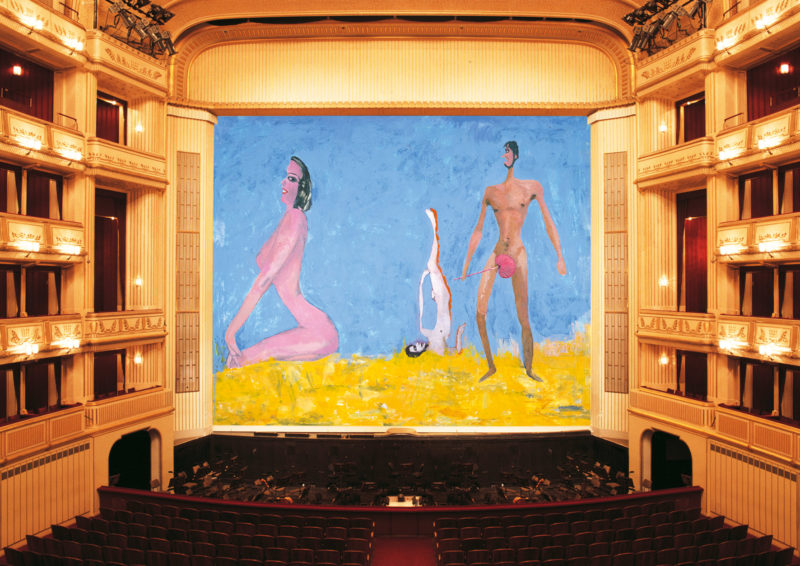 While the female on the left candidly looks back at both men, the man in the middle has his legs stretched out, pointing towards the sky. The man on the right covers his private parts with a leaf. Was Franz West alluding to stories that are common in Operas? Or was he perhaps speaking about the covering of Rudolf Eisenmenger's work?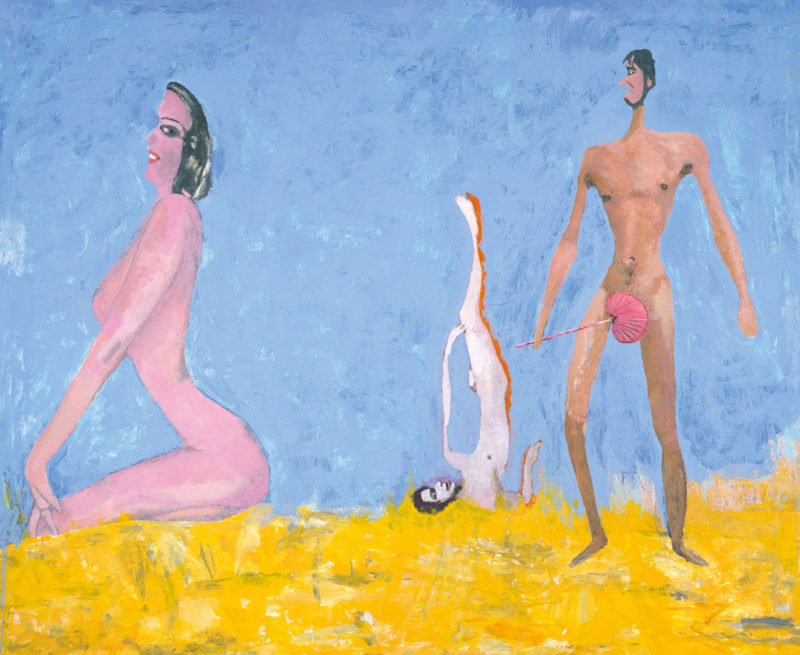 Rosemarie Trockel, 2008/2009
Rosemarie Trockel's work is a black void decorated with spider webs. This creepy image with its delicate white threads is part of a reproduction of one of her well-known black wool pictures. Some observers have said that Trockel's artwork could also show a black peepshow box.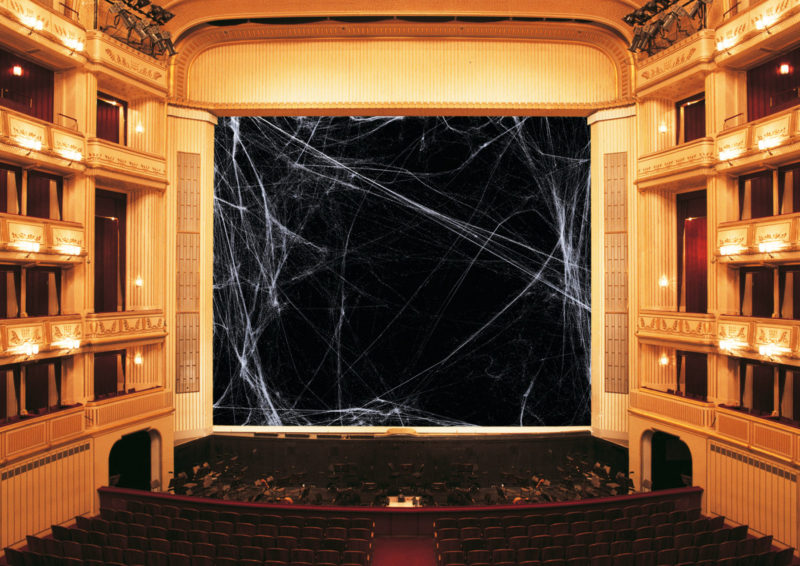 Trockel, a successor to a primarily male group of established German artists, created her first wool work in 1984. She deliberately used this woman's material5 out of context to give it a neutral meaning, reacting to tacky women's exhibitions in the 1970s that predominantly dealt with topics of house and home.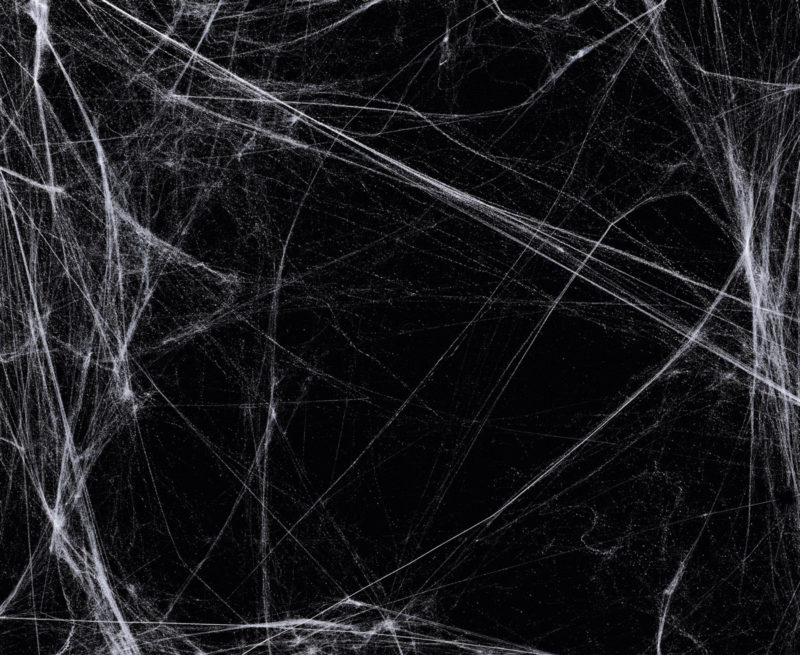 Jeff Koons, 2007/2008
Jeff Koons's Geisha is based on a large-scale 2007 oil painting by the same name and shows a 17th-century woodblock print of a geisha. This artwork displays both vitality and precision yet creates a mysterious result by mixing abstract and figurative fragments.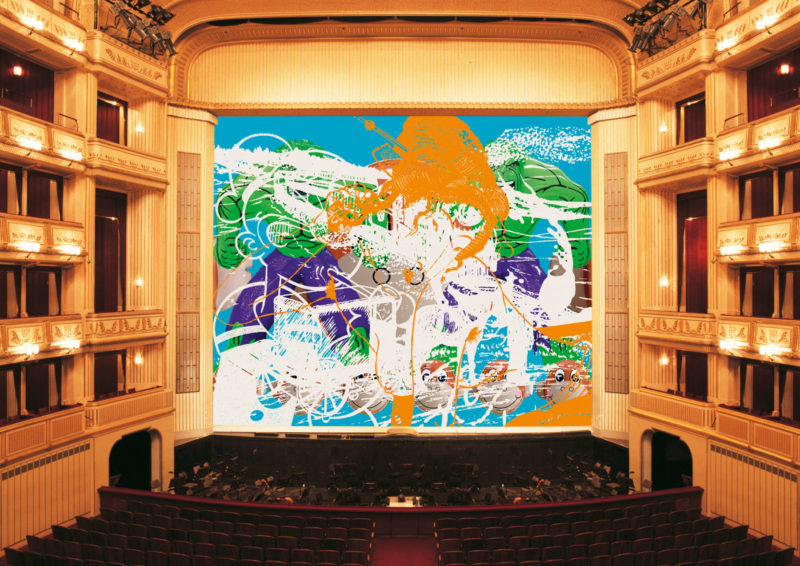 The audience is challenged to rest their eyes. The bright colors and complex layers create a dense image, resulting in a dazzling artwork. The trained observer will discover the infamous Hulk in the background of the work.
Rirkrit Tiravanija, 2006/2007
Thai artist Rirkrit Tiravanija's artwork is an enormous television test card. In broken German, "Angst essen Seele auf" (fear eat soul) is spelled out, referencing Rainer Werner Fassbinder's 1974 film masterpiece.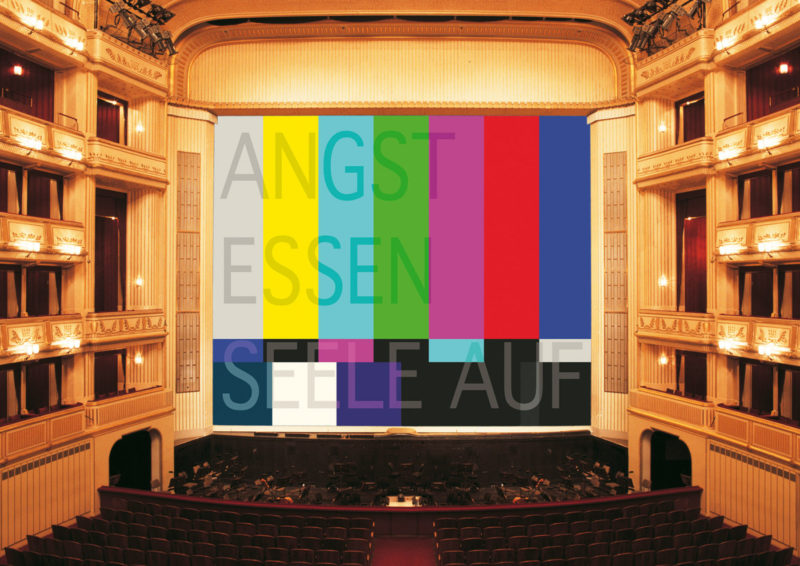 The stripes produce mental images of news, politics and horrors. They also efficiently remind the audience that art is part of reality, such as in Fassbinder's movie that deals with the romance between an elderly German woman and a Moroccan migrant worker in post-World War II Germany.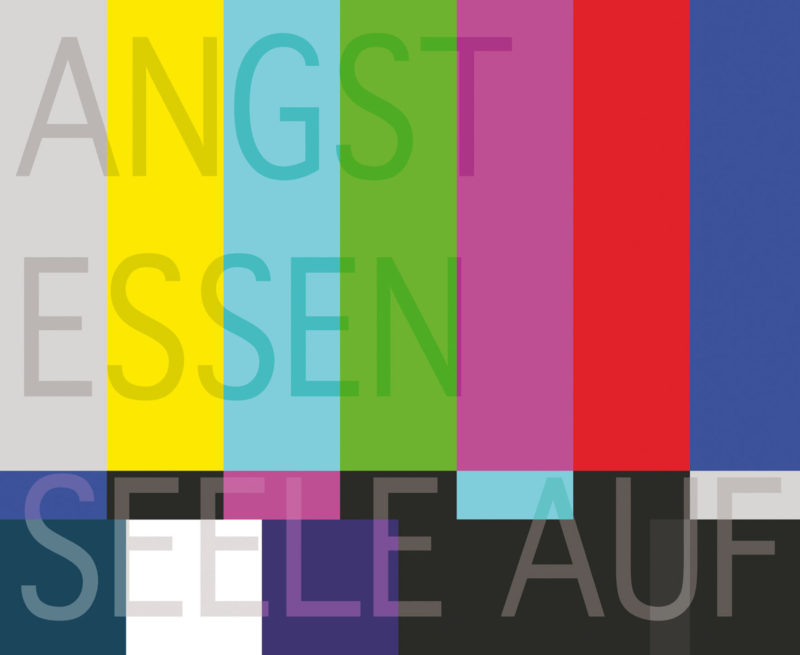 Maria Lassnig, 2005/2006
Maria Lassnig's Frühstück mit Ohr (Breakfast with an ear), 2005, shows a detached ear presented on a plate which is placed on a red cloth. Surrounded by oversized food processors, Lassnig's 1967 painting references Manet's Breakfast in the Green.
The Austrian painter decided to replace Manet's two nude women who are spending time with their lovers near the Seine with intestine-filled meat grinders, facing an eager meal. According to the artist, the ear is because of the noise, from which I have suffered again and again. Ironically, her artwork was displayed to the audience during music breaks.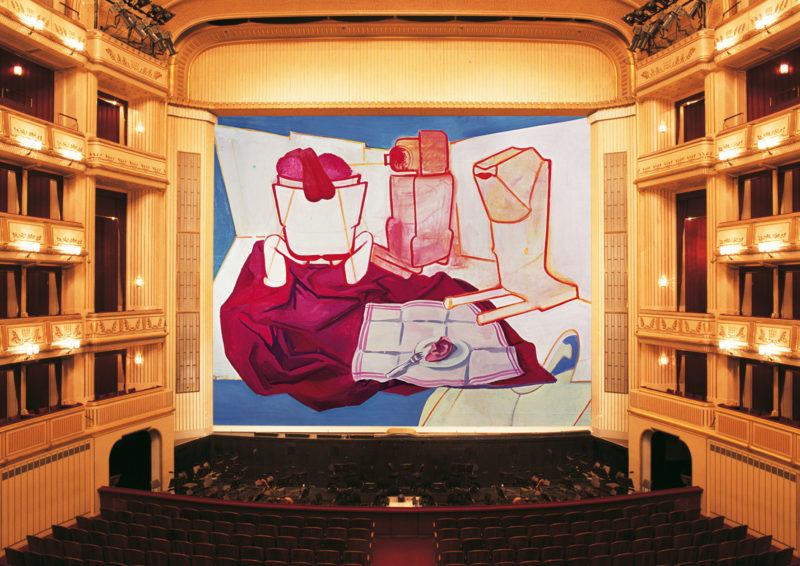 Lassnig, called Austria's most significant painter by some, is so important that even jury member Hans Ulrich Obrist almost did not dare to ask her. At first, the artist was concerned with working on such a monumental surface.
Being informed that a reproduction would suffice, she browsed her archive for artwork with an opera reference. The 1967 artwork Lassnig selected has an even older twin sister, called Breakfast with an egg, bought by composer Alfred Brendel.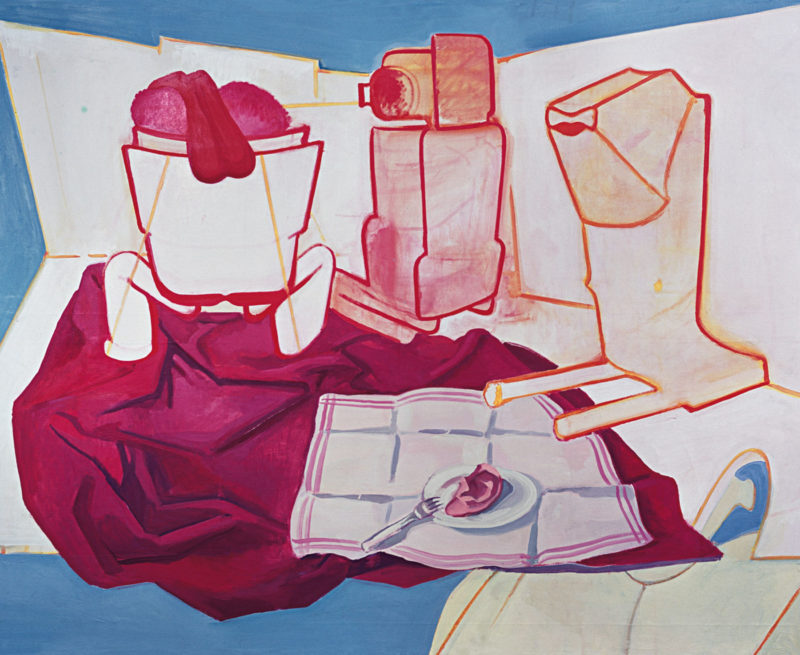 Tacita Dean, 2004/2005
Theatre plays a role in Dean's work, exemplified in her piece Merce Cunningham performs STILLNESS…(six performances, six films), 2008 amongst other artworks. In Play as Cast (2004/2005), she used an enlarged a monochrome production shot of a play.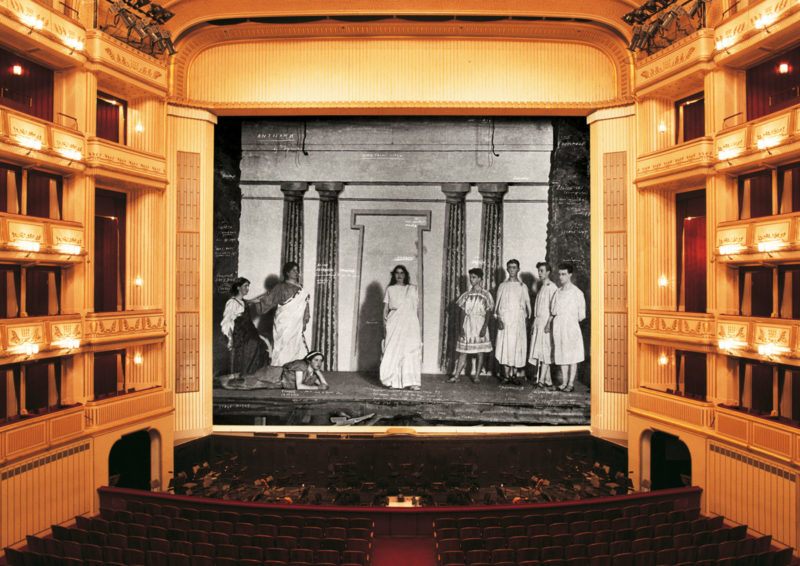 The theater theme continues to show in works such as Die Regimentstochter (2005), which are 36 vintage theatre and opera programs that she purchased on a German flea market.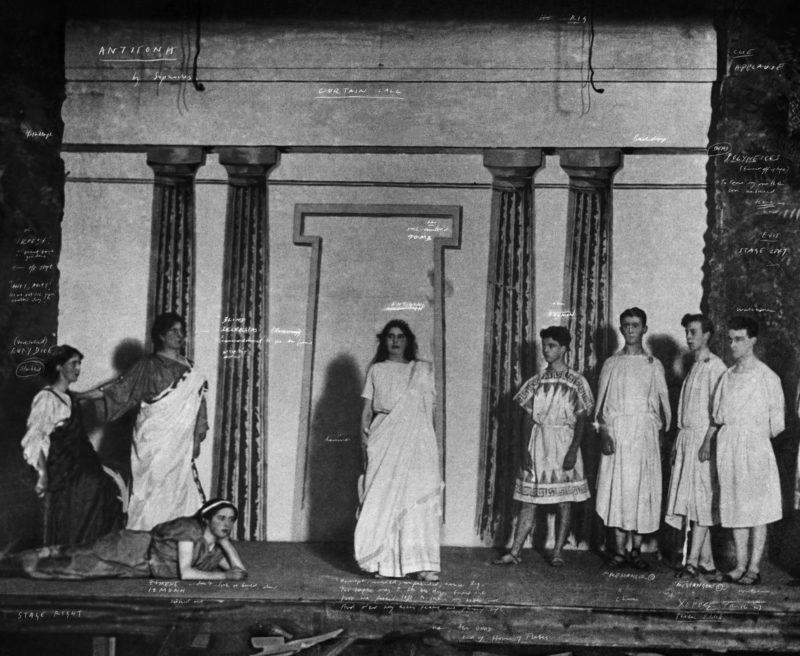 Thomas Bayrle, 2003/2004
This artwork by German artist Thomas Bayrle (b. 1937) is based on a photo collage called Himmelfahrt (Ascension), 1988, and is, according to the artist, a symbol of our times.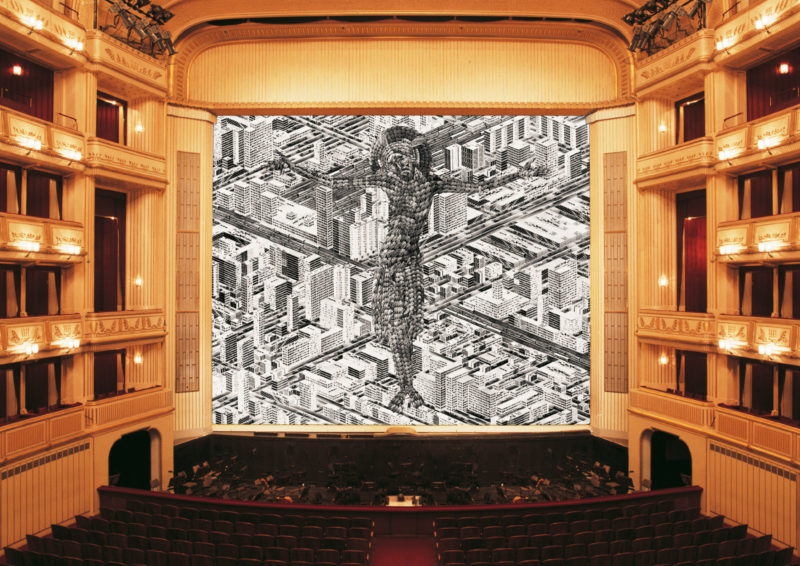 During his career, spanning over 50 years, Bayrle has focused on the consequences that technology had on humans and their surroundings, using a wide range of mediums.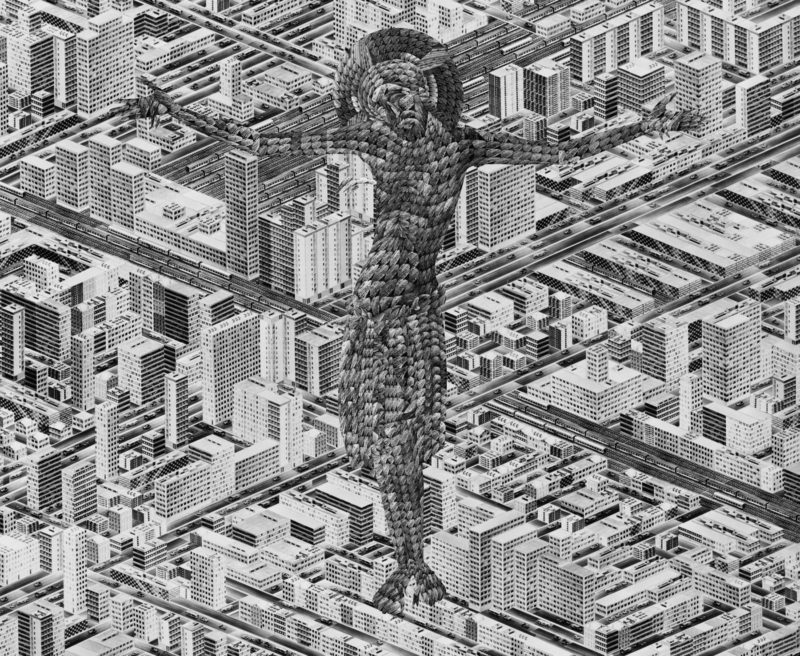 Giulio Paolini, 2002/2003
According to Italian artist Giulio Paolini, The Iron Curtain represents a border, an opaque, weighty separation that, through its materiality, hides and closes the stage.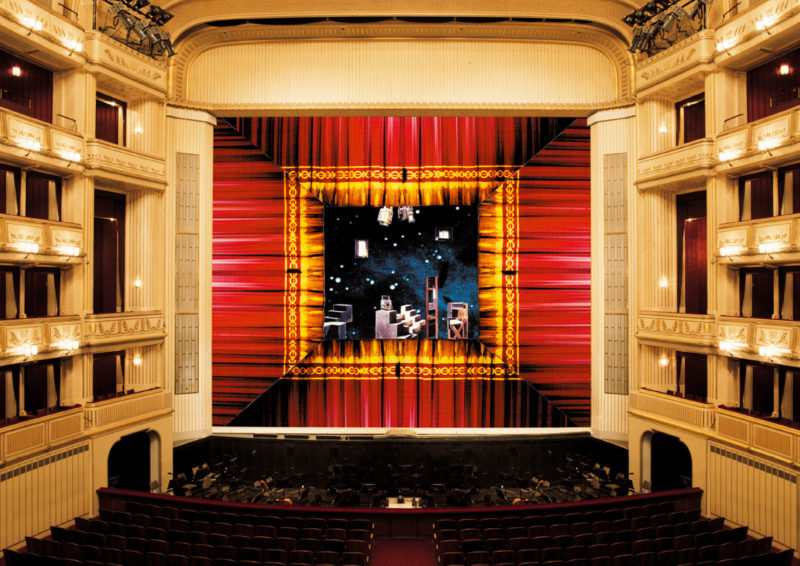 In her work, the curtain loses its firmness. Four strips run from the four outer edges to the middle so that the golden fringes form a sizeable central frame, eluding gravity. In the center, there is a night sky in which props and other items typically found on stages float, waiting for their placement and their role.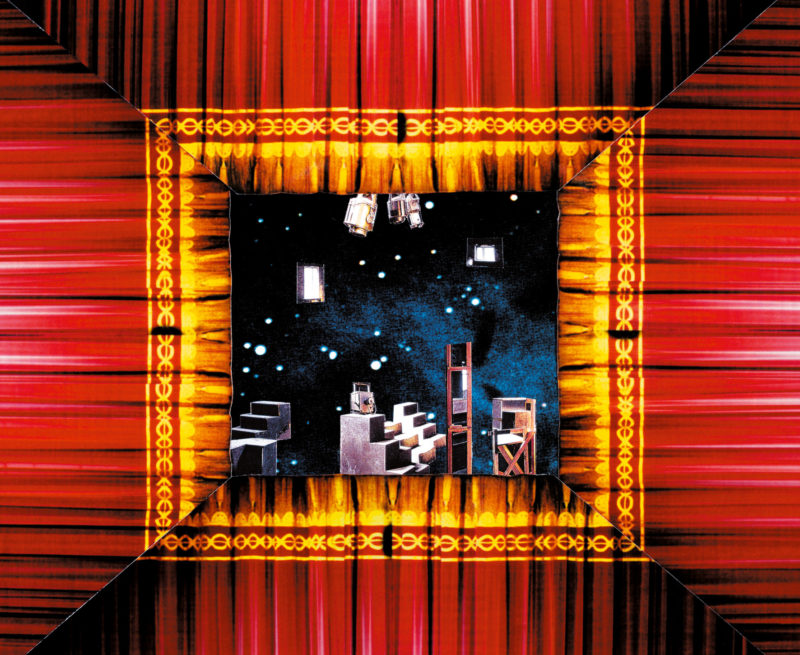 Richard Hamilton, 2001/2002
Richard Hamilton's artwork Retard en Fer (Delay in Iron) refers to Duchamp's work Big Glass (Retard en Verre). The British artist is no stranger to Duchamp's works, having organized his retrospective at the Tate Gallery in 1966, in which he also rebuilt Big Glass.
Hamilton selected a photograph of the audience, the conductor and the orchestra of La Scala Milan, who stared at the audience in Vienna, also referencing an artwork he made in the 1960s, based on a black-white photograph of La Scala. Photos of the Scala were a popular postcard motif in the 1950s and 1960s. Perhaps not coincidentally, "en fer" also sounds like "enfer" (hell).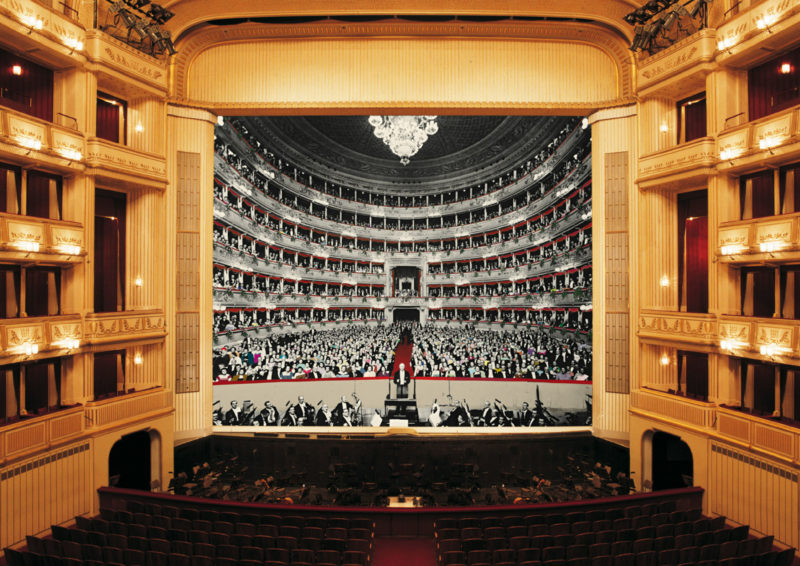 Director of the Museum Ludwig in Cologne and jury member Kasper König commented6:
The picture has been haunting me for many years. It's a wonderful photo, you can see every single personality and all the faces are turned to the camera.
He further said that Hamilton tried to give a new meaning to the photo, utilizing a computer in the process. The evolution of technology and its influence on culture is a recurring theme in Hamilton's work.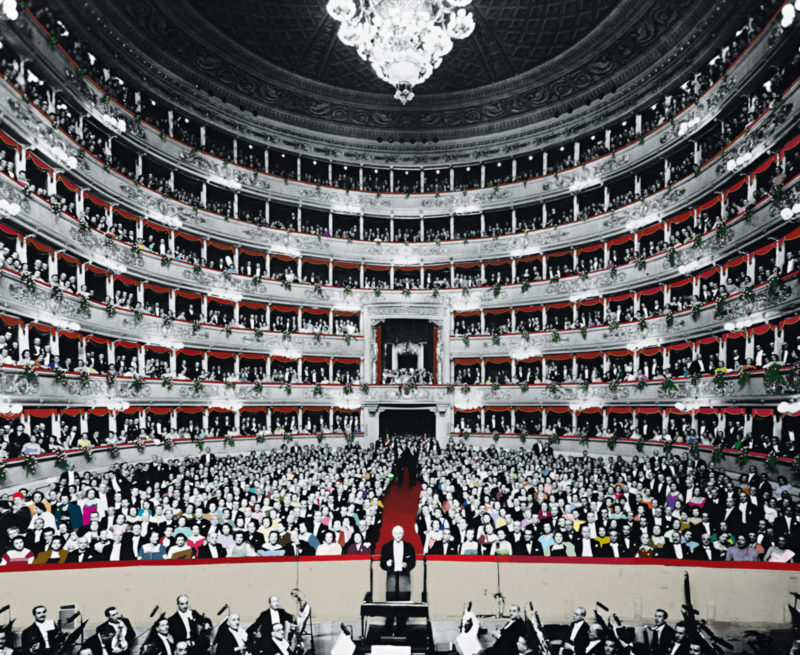 Matthew Barney, 2000/2001
Matthew Barney's artwork shows two beings holding a giant magnifying glass. Attached to the magnifying glass are yellow, blue and green bands. According to the artist, the yellow stands for the golden house, pale blue for the painted landscape in the background, and cold green for the spotlight reflected by the gilded arch over the proscenium.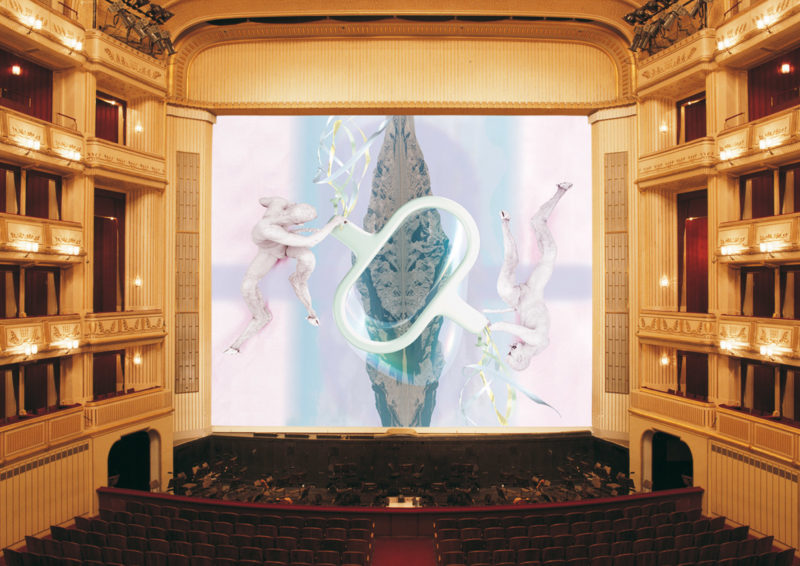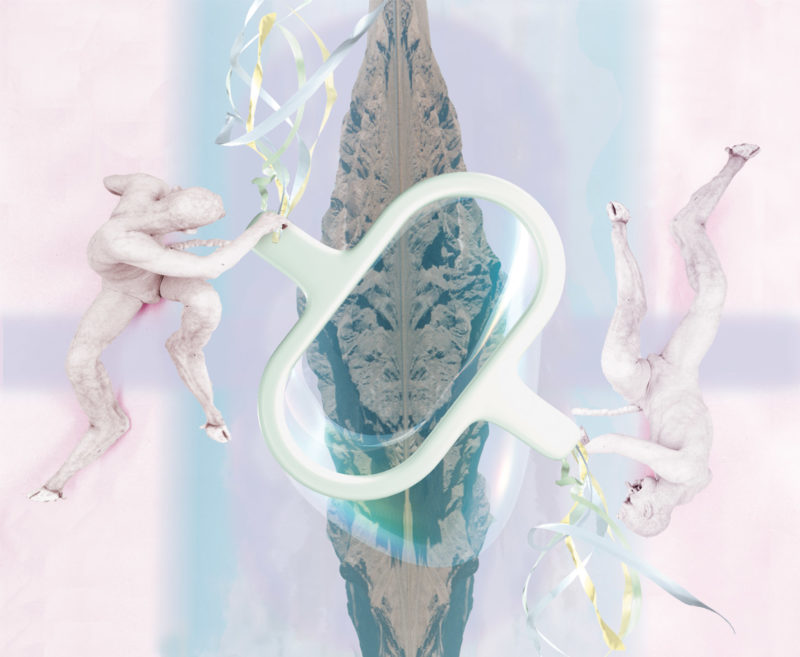 Christine & Irene Hohenbüchler, 1999/2000
In their artwork, Austrian artists Christine and Irene Hohenbüchler show a chronological list of all premieres and first performances of the Vienna State Opera, dealing with the history of the opera house.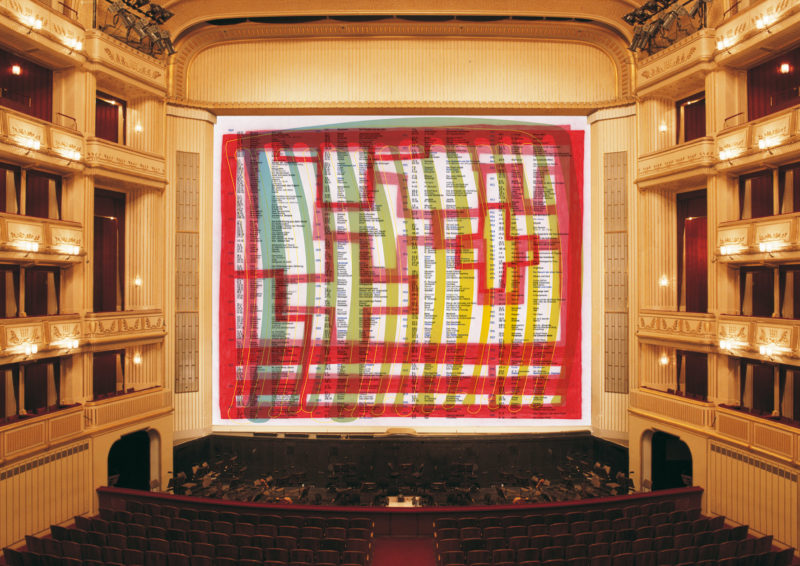 Notable is the fact that in 1945, there were no premieres or first performances, prompting deeper links with history. The red-painted crosses allude to the Kosovo war, making this work deal with different historical events.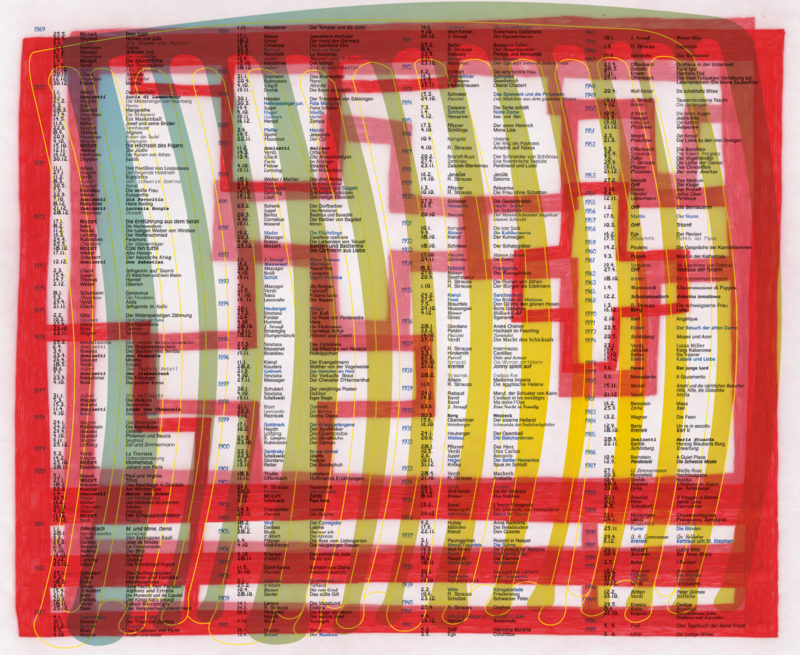 Kara Walker, 1988/1999
Afro-American artist Kara Walker was the first artist chosen to develop a large-scale artwork for the iron curtain. Created for the 1998/1999 season, her silhouette artwork examines Austria's history, and especially the history of the Vienna State Opera, in a critical, almost cynical manner.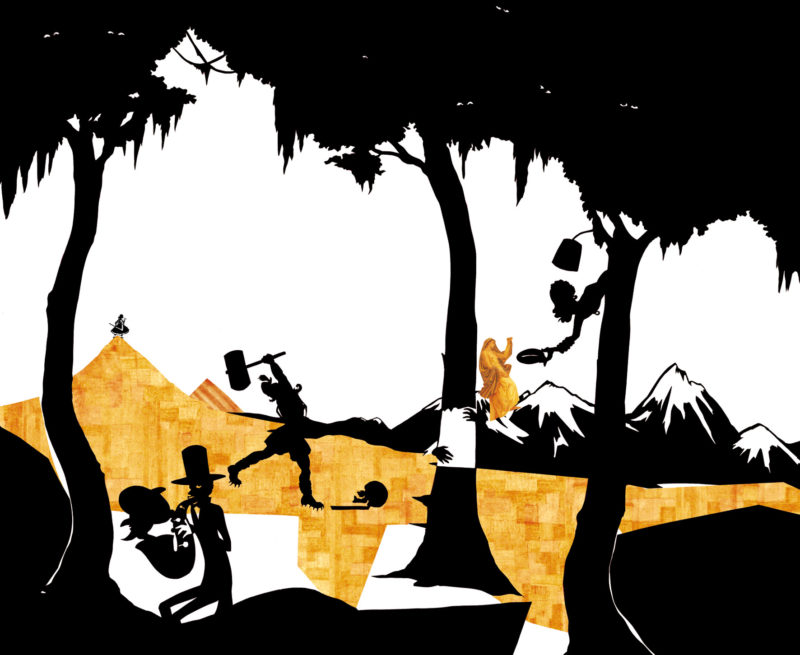 This Biedermeier cut-out work playfully explores humanity's rock bottoms. This work was chosen by an international jury consisting of Robert Fleck, Kasper König, Hans-Ulrich Obrist and Nancy Spector.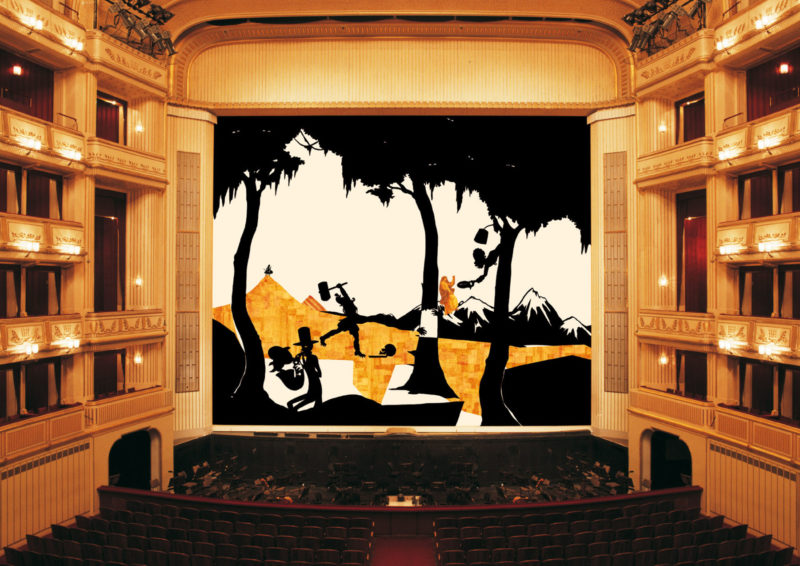 Footnotes