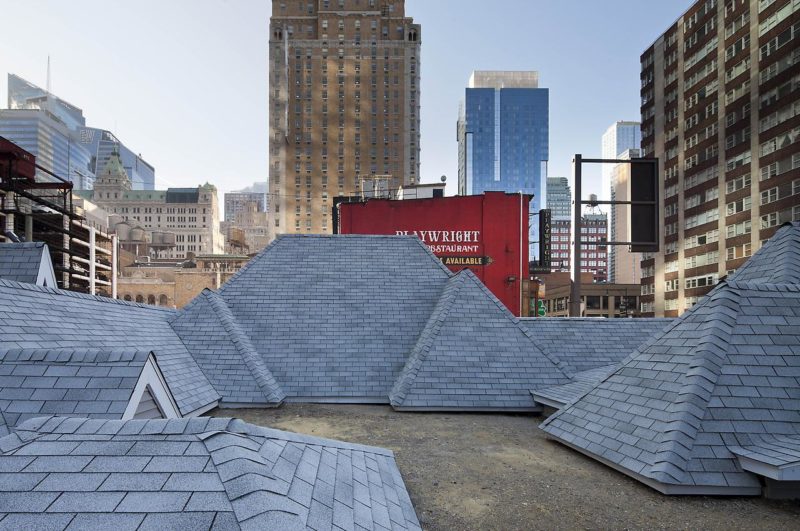 Introduction
Imagine viewing rooftops at eye level with pedestrians in Manhattan, New York? That seems nearly impossible when you consider New York has more than 300 high-rise buildings taller than 150 meters.
This means that to really appreciate the city's landscape of rooftops, one has to climb to the rooftop of another landmark building or take a helicopter tour; otherwise, many people go through their lifetime without seeing the rooftops of New York City.
But this was made possible in 2011 by artist David Brooks when he created rooftops on eye level, forming a miniature landscape of angled planes and spiked peaks. These gabled structures are covered in asphalt shingles and vinyl siding to resemble traditional suburban, single-family houses.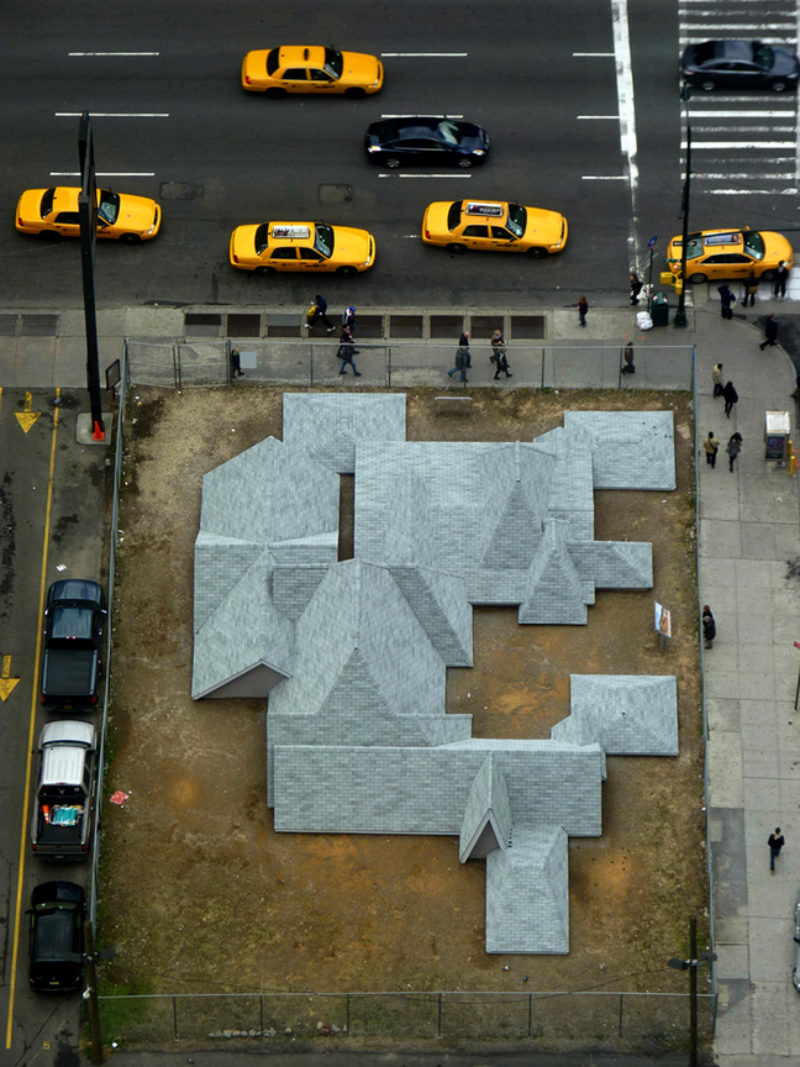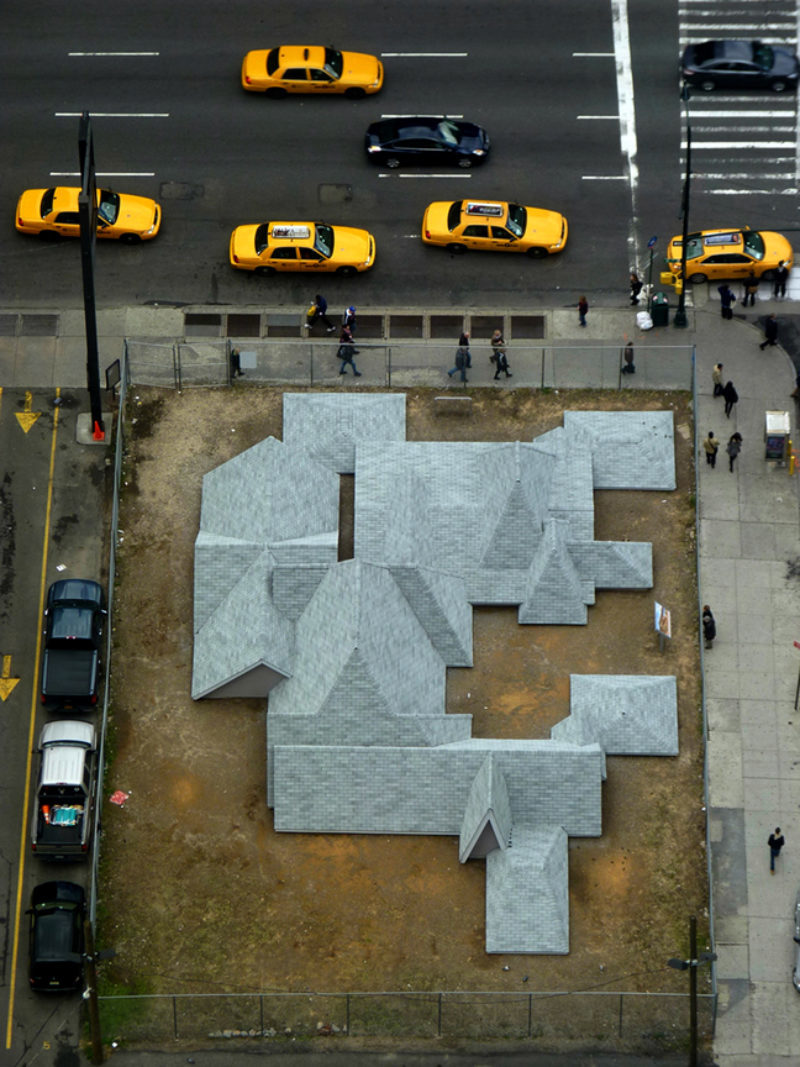 Desert Rooftops
Desert Rooftops was a 5,000-square-foot sculpture with a wavy configuration of multiple asphalt-covered rooftops similar to those on suburban developments, McMansions and strip malls conjoined to resemble a rolling, dune-like landscape.
Brooks' unnerving sculpture is an almost exact representation of a suburban house sunk into the ground. It covered the entire empty lot; its expanse was a bit too much to comprehend.
Desert Rooftops examines problems associated with a natural and artificial landscape by comparing the monoculture that emanates from unaddressed suburban and urban sprawl with that of an over-cultivated landscape- creating an installation that is "picturesque, familiar and simultaneously foreboding" according to Brooks1 himself.
The piece was installed on The Last Lot, a project space on 46th Street and 8th Avenue in New York City. It was donated to the Art Production Fund, a non-profit arts organization, by The Shubert Organization and is part of the Times Square Alliance's public art program that aims to bring cutting-edge art to Times Square.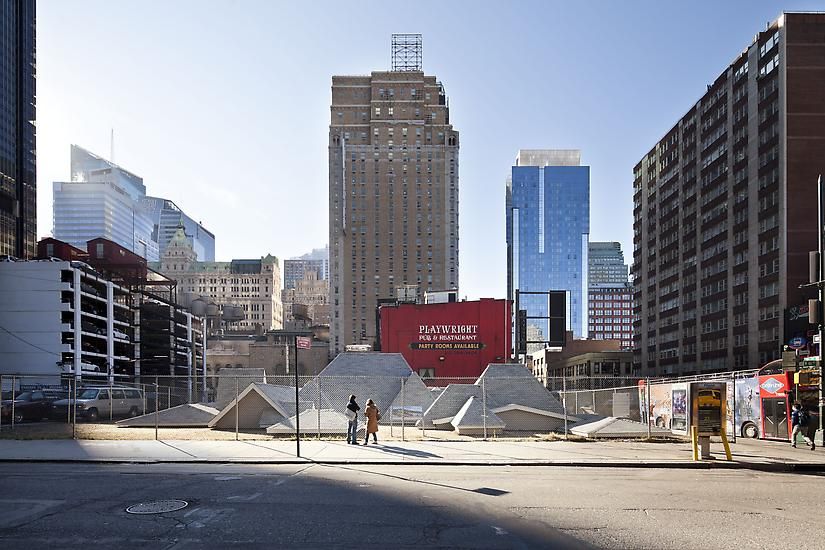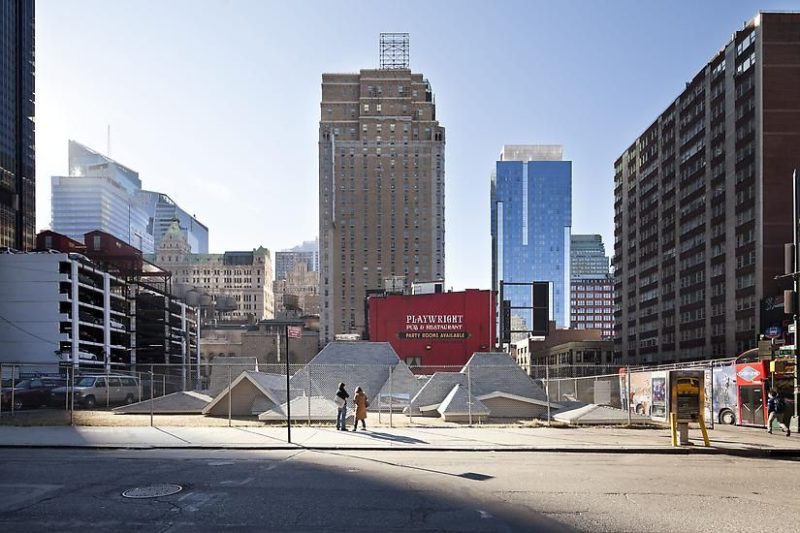 The meaning
Brooks' sculptural approach gives a nod to Robert Smithson's earthworks2 and Gordon Matta-Clark's building cuts3 while offering a much-needed sense of humor to help digest today's somber environmental issues.
The concrete industry is the third worst emitter of carbon dioxide today. It is detrimental but makes modern life possible.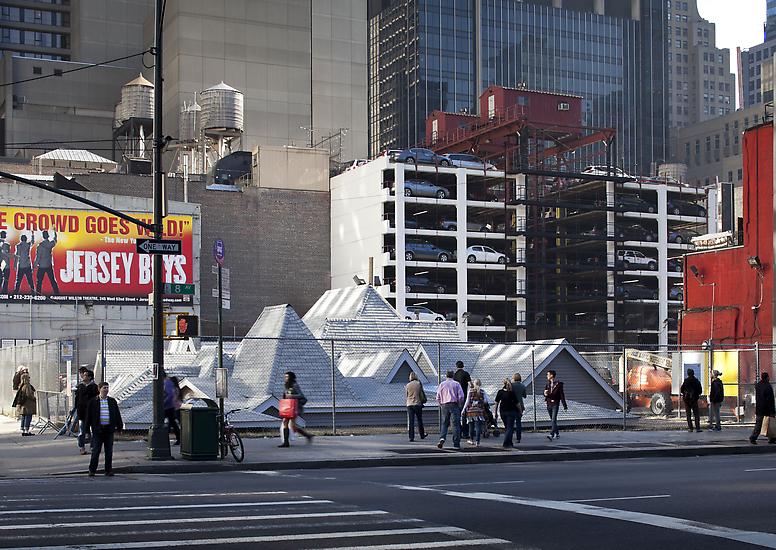 The Art Production Fund, on the other hand, maintained5 that "as housing, communities devour more and more land and resources each year the outcome is equivalent to the very process of desertification.
The United Nations Convention to Combat Desertification defines desertification as land degradation into arid and dry sub-humid areas resulting from various factors, including human activities and climatic variations derived from over-development, over-grazing, and overworked land. The result is often a depleted landscape inhospitable to other life.
Each year, more than 20,000 square miles of land are desertified; plants get destroyed, the ground turns to dust, and life becomes unbearable. In this piece of art, the act of desertification is compared with suburban sprawl.
Video
What happens when a suburban roof is transplanted to an urban block? In this film, artist David Brooks and a team of fabricators construct Desert Rooftops (2011-2012) on the last undeveloped lot in Manhattan's Times Square neighborhood.
David Brooks Tears the Roof Off | "New York Close Up" | Art21
Who is David Brooks?
David Brooks (b. 1975) is an American sculptor and installation artist whose work considers the relationship between the individual and the built and natural environment. He is known for his knack for flattening the materials of human growth with complex natural phenomena, like in Preserved Forest6.
Brooks has exhibited large-scale installations at Dallas Contemporary, Miami Art Museum, Nouveau Musée National de Monaco, Bold Tendencies London, American Contemporary and the Sculpture Center in New York. Brooks was featured in the 2010 Greater New York at MoMA PS1 and lives and works in New York.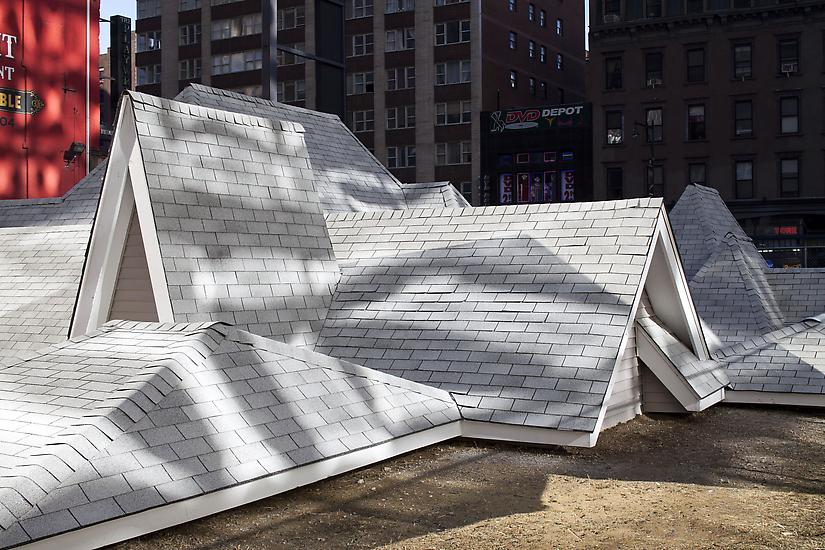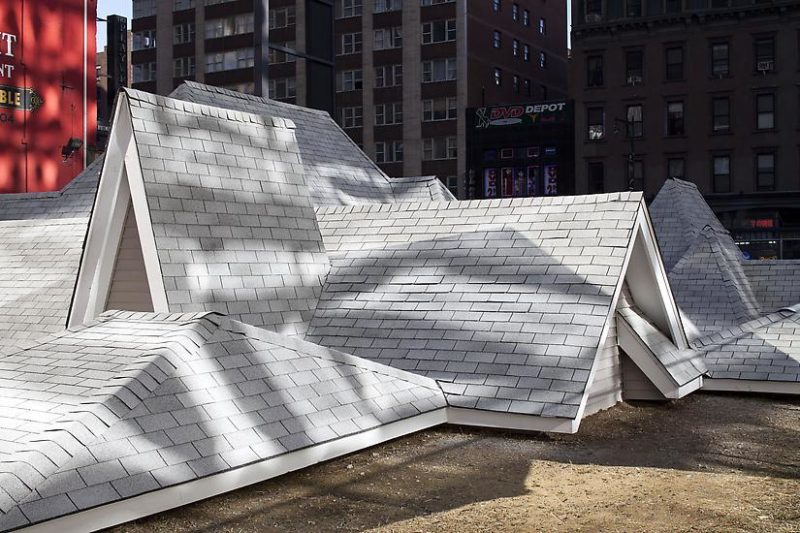 Final words
This installation was created to explore issues of the natural and built landscape by comparing the monoculture that arises from unchecked suburban and urban sprawl with that of an over-cultivated landscape.
It makes formal and conceptual comparisons between the building vernacular of suburban sprawl and the biological process of desertification – land degradation from over-development and over-cultivation, resulting in arid and depleted landscapes inhospitable to other life.
Footnotes