Introduction
Andreas Angelidakis is an architect known for creating giant foam sculptures, digital realms, and intriguing objects that touch on memory, society, consumerism, and other massive topics.
His works give the audience something to think about and play with, all at once. It conjures the audience to ask the question, "Where are we and how did we get there?"
His works are based on the experience of being located – In Greece, in climate change, in architecture, in psychoanalysis, on the internet, in a body. One of his important works is Polemos, which was created for documenta 14 in 2017.
Polemos
Named for the Greek spirit of war and battle, Polemos comprises 136 foam blocks covered in various camouflage fabrics. Together, the blocks of foam and vinyl seating modules create a massive tank, which can be disassembled and reassembled in other formations.
It was used as seating for the audience at the Fridericianum Museum, where the artwork was exhibited during documents. The work can be used anywhere, even just the parts.
Speak about Polemos, Angelidakis commented1:
I'm interested in the idea of contradiction. I see the fact that these installations can be assembled into iconic shapes, but that anybody can change them into something else, as a kind of end of design. Even if all the pieces are just left on the floor, not touching each other, it's still the same project.
The meaning
In 2018, the work was transported to Freudenberg Castle in Wiesbaden, Germany, to be used as a temporary architectural building block that does not interfere with the overall structure of the building, thus preserving such a historical monument.
The coexistence of artwork and humans can change and transform – architecture shapes society. And as the trigger of events, the art is in itself an event.
The work clearly comments on the uncertain nature of war and results from Andreas Angelidakis's multidisciplinary practice in art and architecture.
Being in a location is linked to facets of time, haunted by past and future as well as by the present and its consequences. As an architect, Andreas Angelidakis has stopped constructing buildings, giving up architecture as a profession, and instead focusing on architecture itself where he can defy its limitations.
The artist allows his work to be subverted by the audience and cultivates contradiction and uncertainty. Angelidakis said in an interview2:
Maybe we just don't need any more new buildings. Maybe reconfiguring existing ones is enough.
Angelidakis compares Diogenes living in a barrel with his dog to contemporary times, stating, "We all sleep next to our dogs in our screens."
Did life in the barrel shape Diogenes or did his hour turn into a barrel in response to his persona? The artist is known to have "always treated building and objects like personalities, like emotional beings".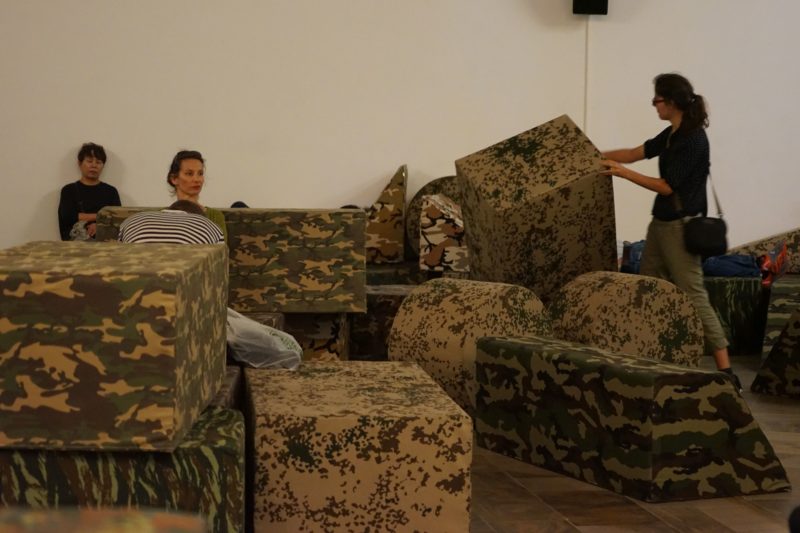 Biography of Andreas Angelidakis
Andreas Angelidakis (born in 1968) studied architecture and lived in Los Angeles for a long time. Angelidakis switches roles between artist, curator, architect and teacher. His multidisciplinary practice often focuses on the internet and the perceptive and behavioral changes it has brought about.
Back in Athens, the city is "sexy", he says – and above all, not boring. He shows us how the migration flows of the last century had influenced the growth of the city when in the 1920s, Greeks were expelled from Anatolia and were looking for a new home.
Angelidakis has consistently challenged the expected end-product of architectural practice by reversing the representation to the realization sequence of the production of buildings. He often starts with an existing building, producing models, films, ruins, installations or alternative histories, blurring fact and fiction, smoothing out the borders between the real and the virtual.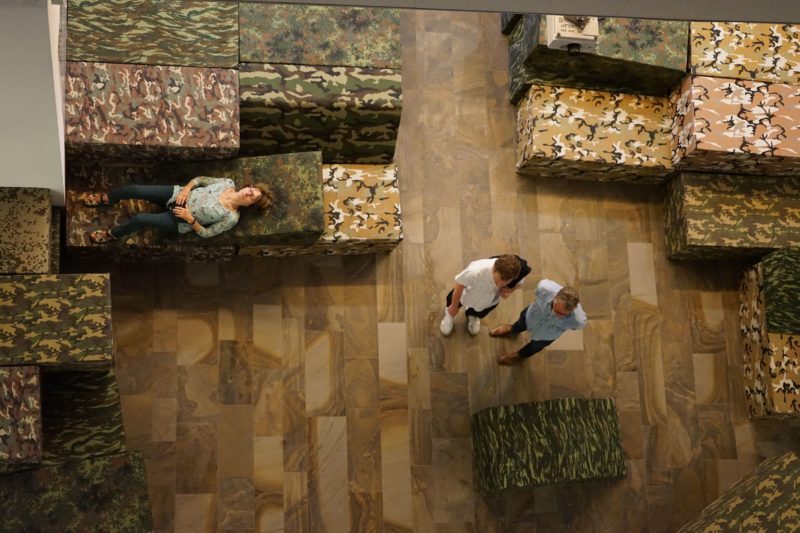 Footnotes