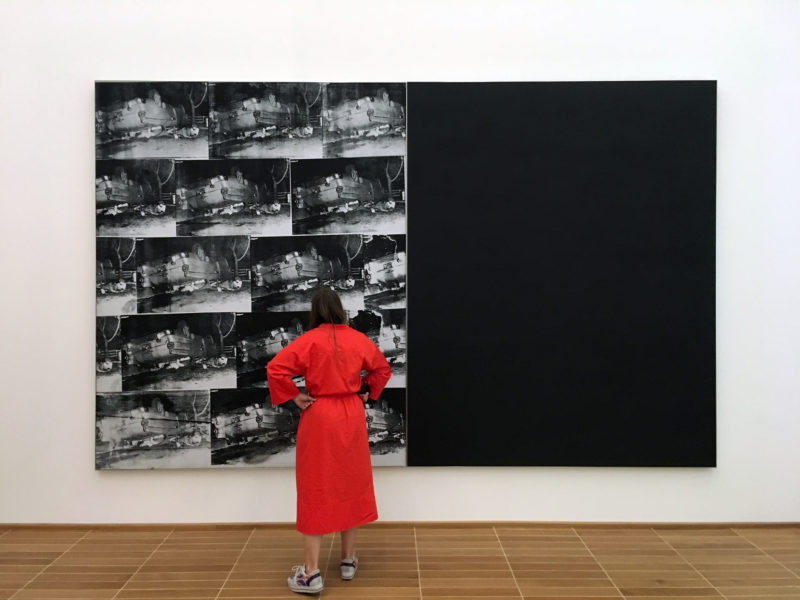 Introduction
Andy Warhol created a series of artwork with a distinctive act of discrepancy, which he named Death and Disaster. Death and Disaster show images in one color, a reproduction of the same images, or the same images with no color entirely.
Andy Warhol majorly used repetition to communicate his ideas. He successfully employed this technique with a range of subjects over the years. The series started in 1962 and consists of a collection of around 70 slightly similar works. The artist used the element of repetition in Death and Disaster to bring out both motivated and non-motivated purposes of art.
From his Death and Disaster series, Andy Warhol clearly brought out the motivating functions of art: art for propaganda, political change, communication, entertainment, and others. At the same time, the work also brings out the non-motivational functions, including rhythm and balance, the instinct for harmony, the expression of imagination, the mysterious experience, symbolic, universal communication, and ritualistic functions.
Video: The Death Paintings
How the paintings came about
As pointed earlier, most Andy Warhol paintings were from newspaper cuttings. In the 1960s, the country was riddled with tragic and disaster news such as tragic death of suicides, executions, and crashes. The Death and Disaster series contains images with only one hue of color or a repetition of the same photograph, or had a replication, with or without color. The images typically enlarge the portrayed tragedies and disasters, which are more often reported in newspapers. Andy Warhol used Death and Disaster work to try as much as possible to desensitize the masses into accepting death, disasters, and tragedies as part of their lives.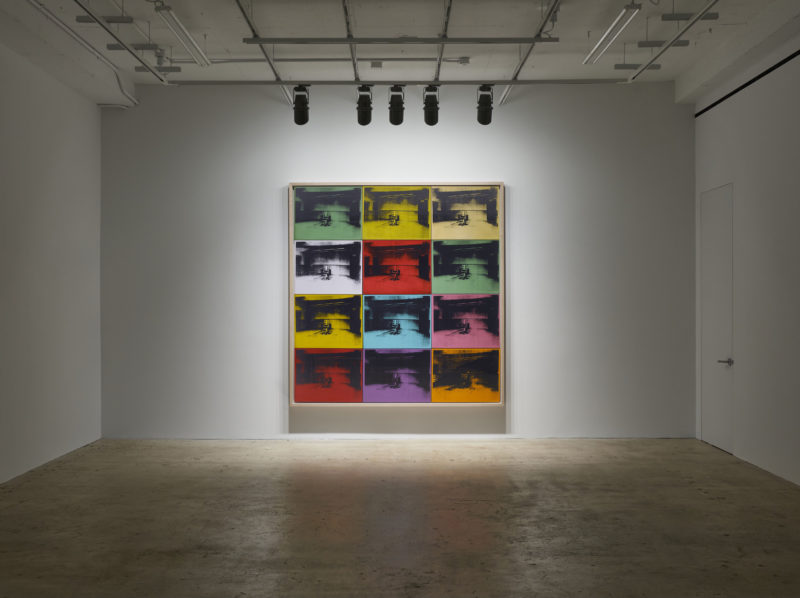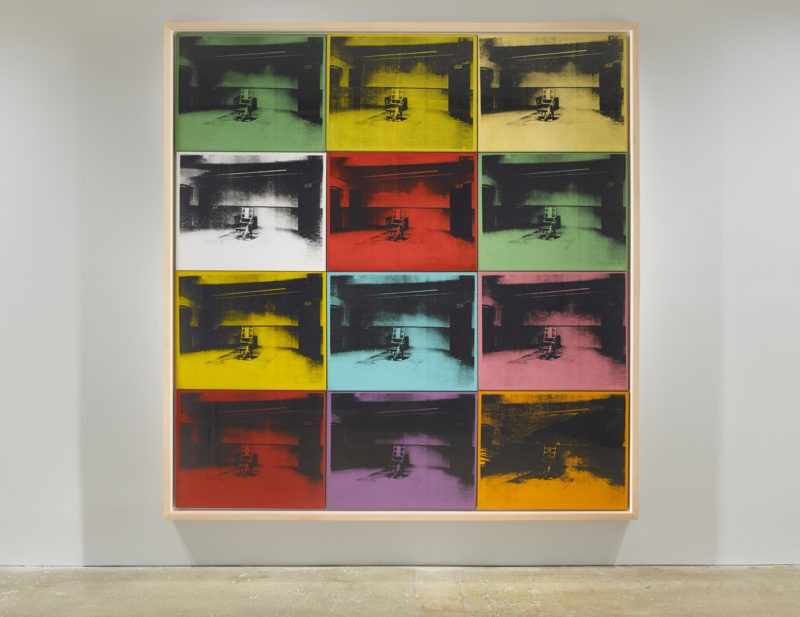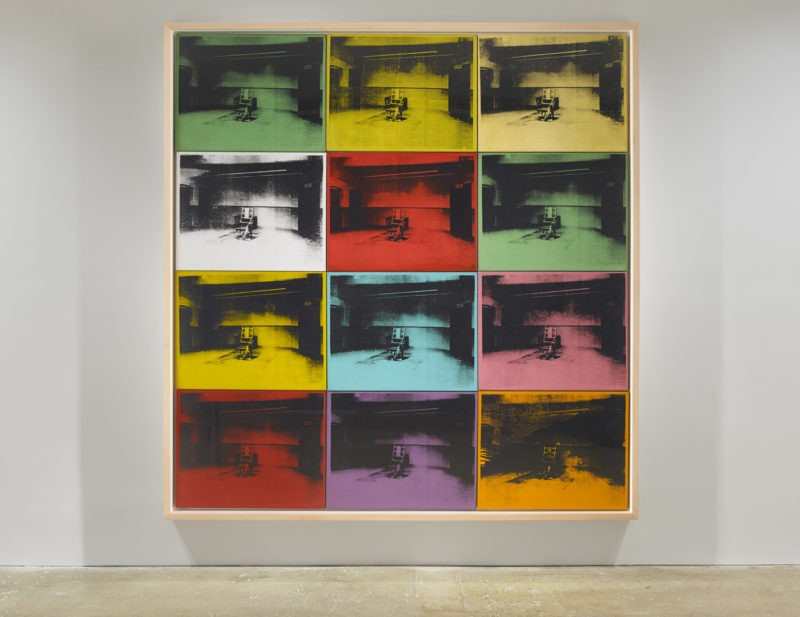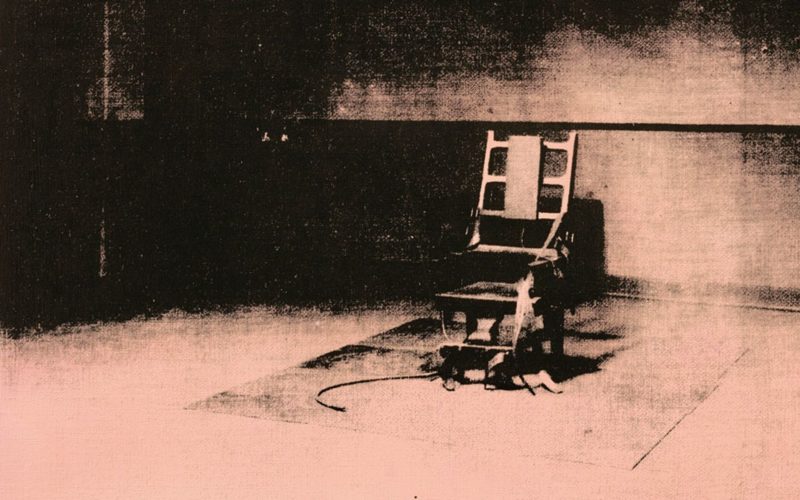 Warhol's inspiration
According to Andy Warhol, when you see a gruesome picture over and over again, it really doesn't have any effect. He started painting death images because his head was preoccupied with tragic news from radios, newspapers, and television.
In his interview with Gene Swenson in 1963, Andy Warhol revealed after being asked why he started with "Death" pictures:
I guess it was the big plane crash picture, the front page of the newspaper: 129 dies. I was also painting the Marilyns1. I realized that everything I was doing must have been Death. It was Christmas or Labor Day – a holiday- and every time you turned on the radio, they said something like '4 million are going to die.' That started it. But when you see a gruesome picture over and over again, it really doesn't have any effect.
Video: Warhol's Factory studio manager about Death & Disaster
Analysis
Each image in the series is supposed to be understood and appreciated differently because they possess each separate uniqueness and freedom. The difference in each painting is gleaned by a unique act of distinction. Death and Disaster paintings draw on the viewers' intellect to be understood. Andy Warhol used different colors to propagate the variation when people can appreciate on their own free will. For example, the artist's green car accident and orange disaster are completely not accidental. They both offer viewers a chance to interpret them as they wish.
Conclusion
Death and Disaster is closely linked to Andy's personal life, making it more relatable to the viewers than other pieces of repetition art. While works from Death and Disaster were never going to be as appealing as other art pieces, it has become one of the most admired pieces of art.
Works from Death and Disaster
The Orange disaster, 1963
This painting by Andy Warhol is a replica of fifteen photographs of an electric chair. The painting indicates the artist's unnatural fascination with death and his rare and unique ways of appreciating nature. Andy Warhol had a unique way of making distressing images into something pleasing to the eye by adding colors, in this case, orange tint, which reduces the somber mood. While the resulting images have some tones of brightness and happiness, some viewers still find them disturbing.
The reason behind the replication of images is to have them inscribed in the minds of the viewers for as long as possible. But the Orange disaster had a major deeper meaning. It was Andy Warhol's way of voicing his opinions on capital punishment, which he was totally against. The painting had bright contrasting colors along with deeply darkened areas that created the design. Andy Warhol's paintings appealed to some audiences because of their simplicity and the familiar message they conveyed. The artist believed that art is the modest form of communication, with each message being goal-oriented and may be used to reveal emotions, moods, and feelings.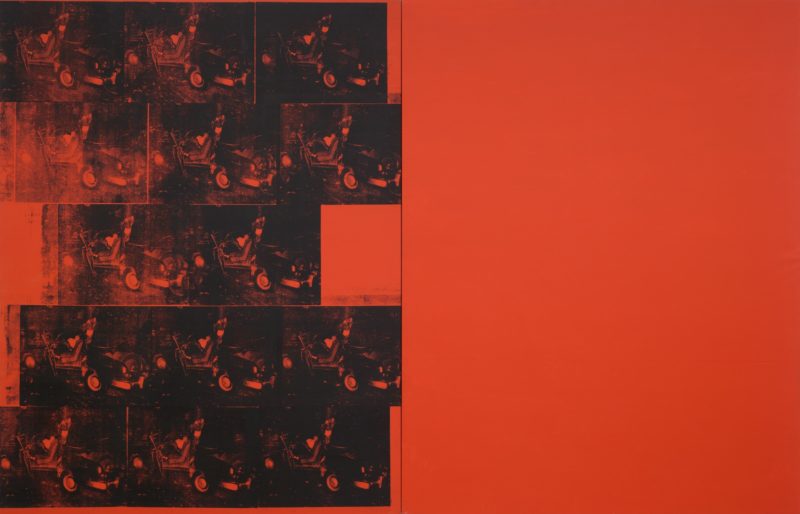 Green Car Crash, 1963
The use of the automobile in the paintings resulted in viewers questioning the originality and neutrality of Andy Warhol. Green Car Crash indicates the artist's repetitive use to drive home a message. He used bright colors to reduce the goriness portrayed.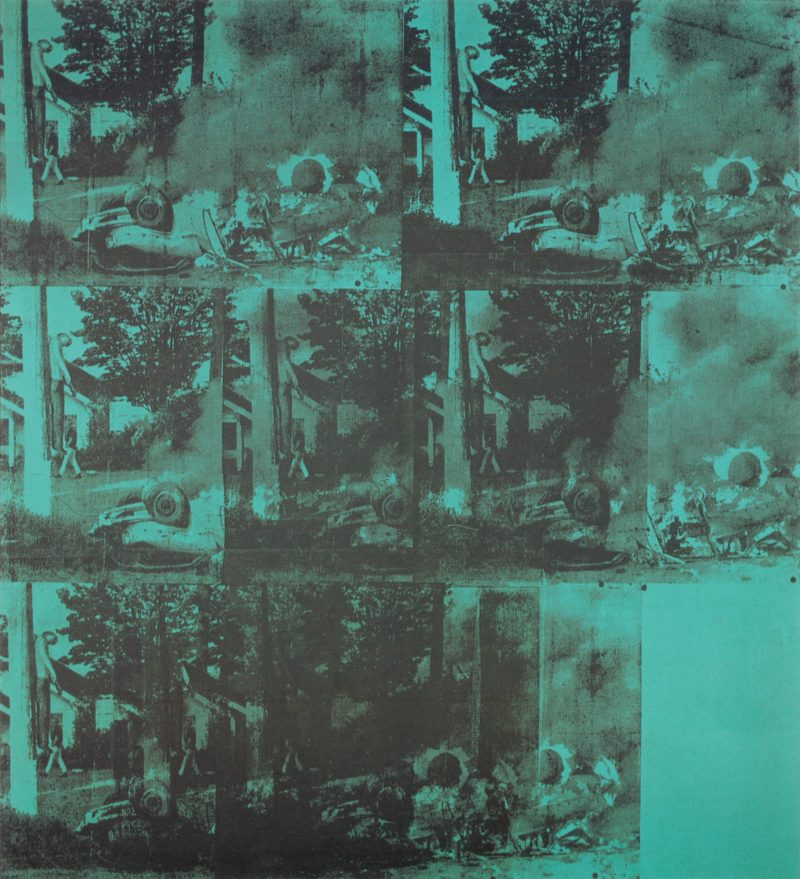 Suicide (Fallen Body), 1962
In this painting, Andy Warhol incorporates the image of the fallen body of Evelyn McHale into his work to communicate his thoughts on suicide. The original image was a photograph taken by student photographer Robert Wiles just moments after Evelyn has fallen to death on a black limousine from the 88th floor of the Empire state building. He also used the replications of the image to show how the community churned celebrities.
Tuna Fish Disaster, 1963
Tuna Fish Disaster was created by Andy Warhol to depict the darker side of society in America. The painting includes the repetition of an image of two women who died from eating tuna fish, alongside them the tuna cans. This portrayed the idiosyncrasies of American retailers who vowed to protect consumers from harmful products.
The painting shows that disasters like Tuna Fish can happen to any human being at any time. Andy Warhol replicates the image to ensure that it is etched on the memories of viewers for a long time. It also captures the imagination of the viewer and makes them think deeply about the painting.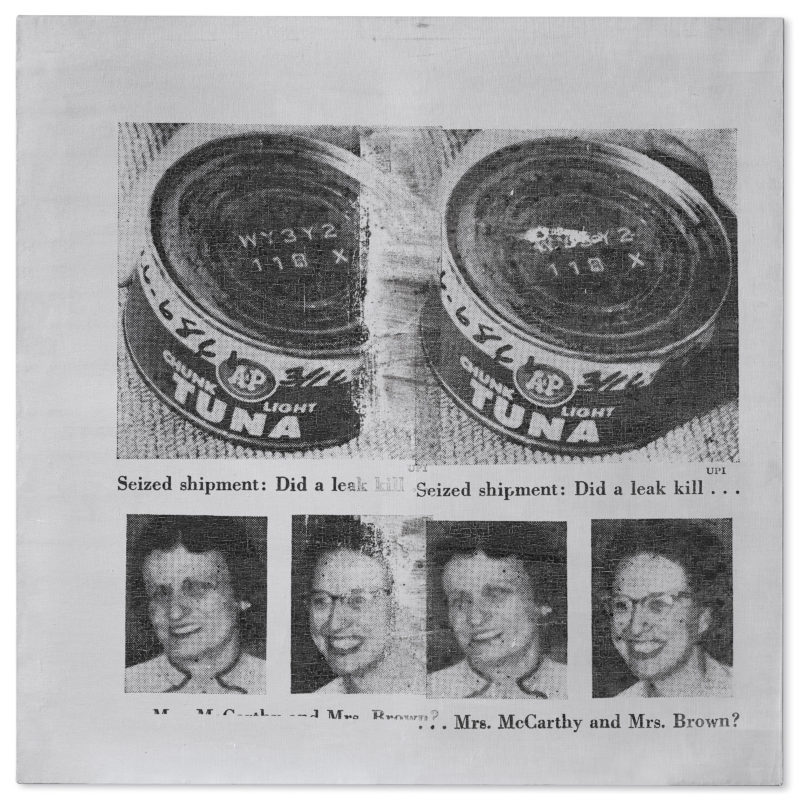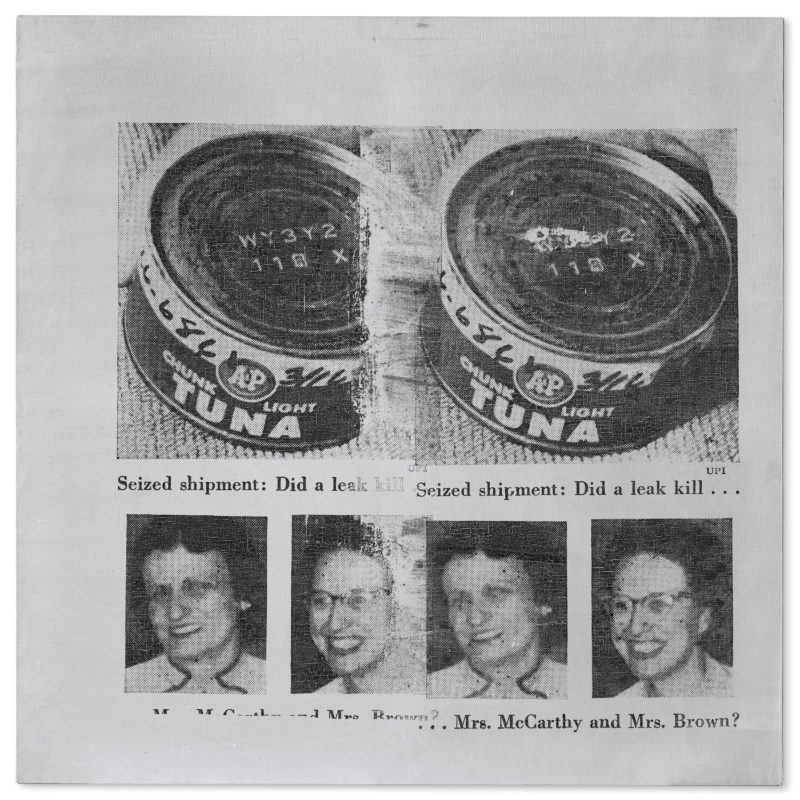 Race Riot, 1963-1964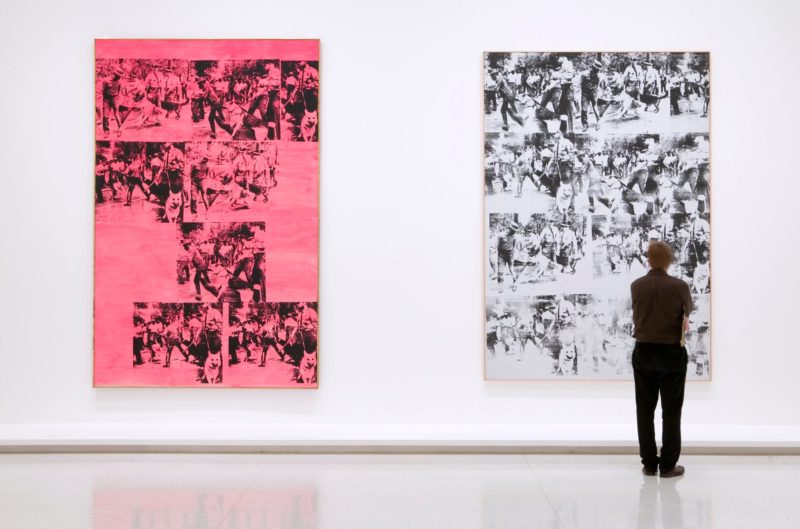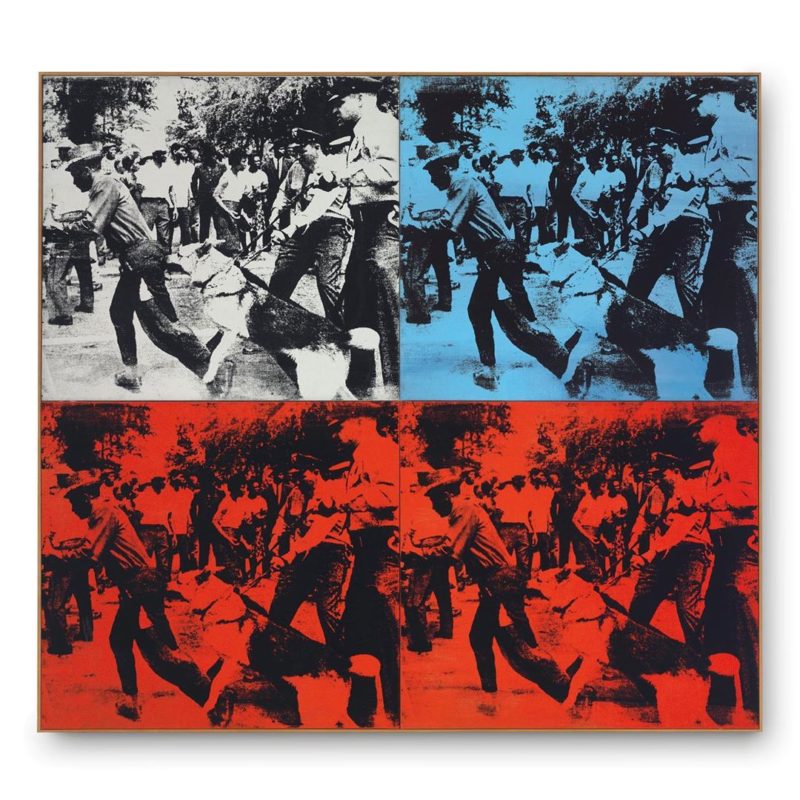 More
More by Andy Warhol
Footnotes