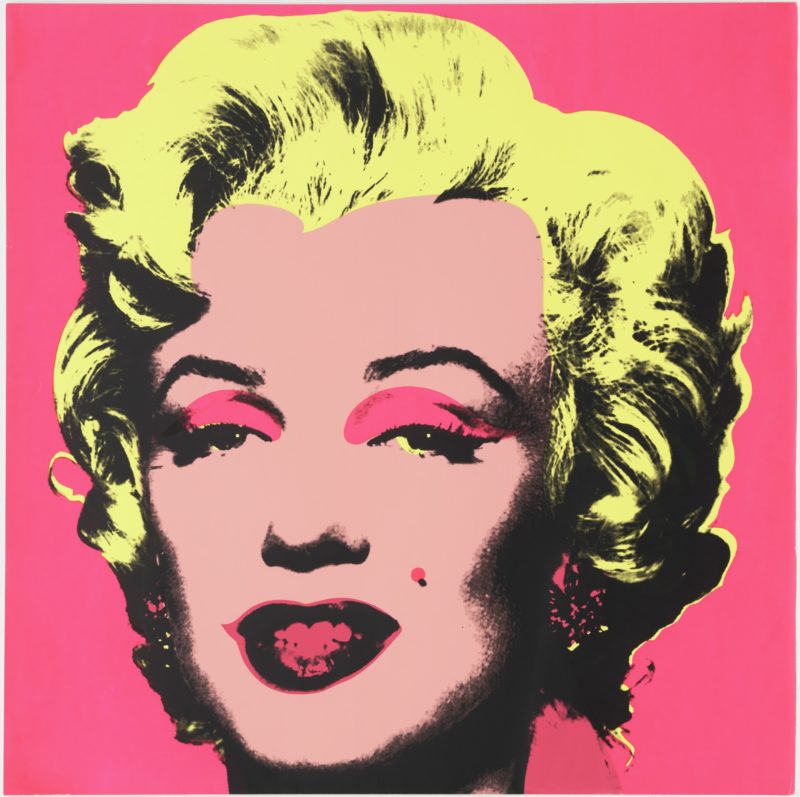 Introduction
During his lifetime, Andy Warhol was always allied with the notion of celebrity. Andy Warhol understood the allure of global celebrity and its effects on contemporary society long before gossip blogs were even a thing. Even more pointedly was his fascination with starlets, it-girls, and famous actresses of that time whom he would often immortalize in his now timeless artworks1.
Although Warhol's early work focused on post-war America's love affair with consumerism (which explains his obsession with Campbell's soup tins and Coca-Cola bottles), Warhol's most highly-priced pieces featured female celebrities. By relying on his signature screen-printing techniques to scribble over the iconic features of famous female faces, Warhol was responsible for making these celebrities even more popular even in death.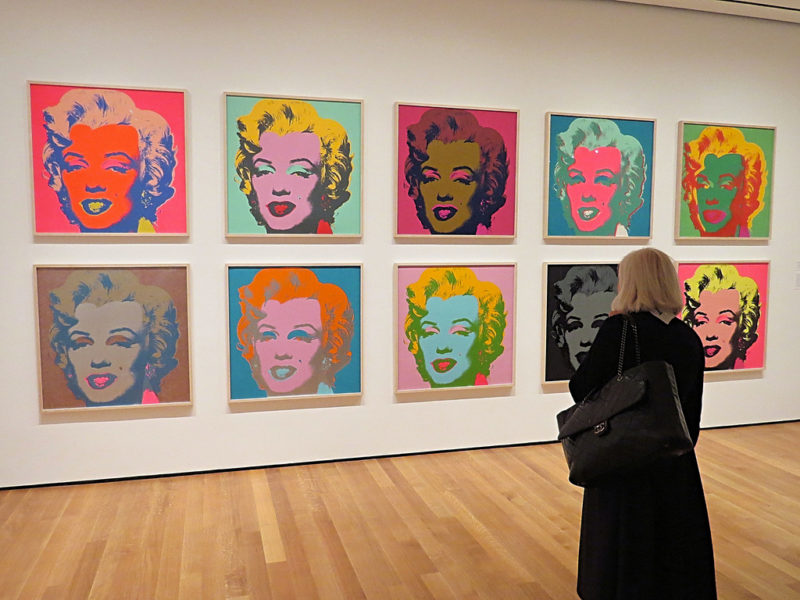 The most notable and obvious crowd-pleasers are obviously the Marylyn Monroe portraits. Still, Warhol also featured other women such as Liza Minelli, Liz Taylor, Debbie Harry and Joan Collins in his artworks2. It was in Studio 54, the ultimate Manhattan nightclub that made headlines during the 1970s, that Warhol found many of his celebrity sitters. Still, none were ever as famous or as seemingly important as Marylin Monroe was to Andy Warhol and his career.
Warhol & Pop Art
Warhol's Marilyn Diptych exemplified everything that Pop art was, thanks to its explicit reference to Marilyn Monroe, who was an icon of pop culture. Pop art started its movement in London thanks to an independent group of artists attracted to advertisements that depicted American mass culture and materialism.
In this regard, everything mass culture, whether music, ads or dance became the primary subject of British pop3 art. Warhol's Marilyn Diptych would therefore not have existed without British pop art to inspire it.
Warhol's depictions of women and starlets explored the relationships between consumer society, fashion, fame, sensationalism and death. It is also said that through his distinctive style of work, Warhol referred to a society in which individuals were seen as mere products rather than human beings.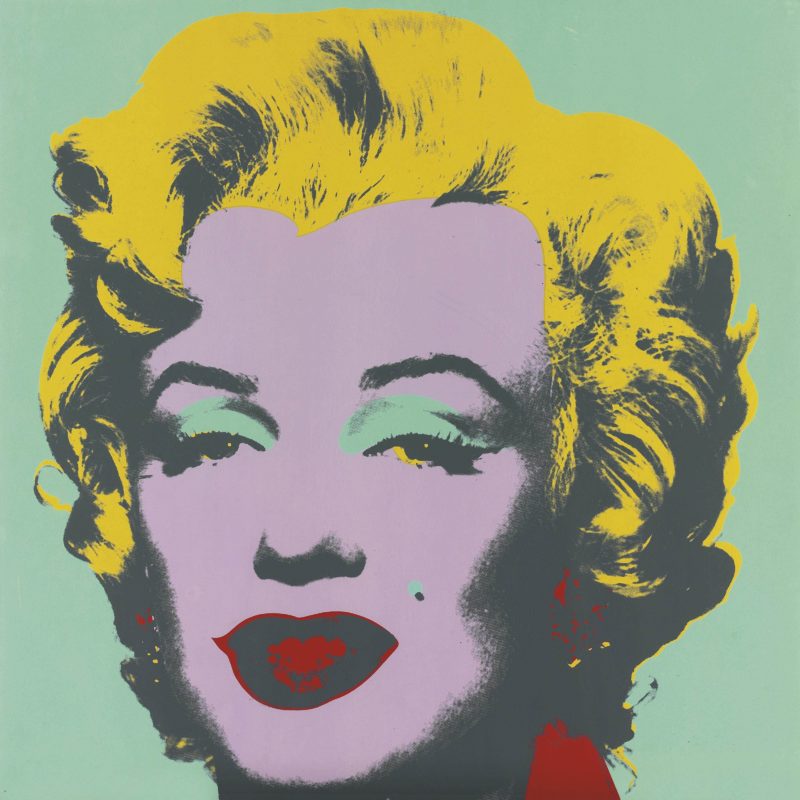 Andy Warhol & screen-printing
Andy Warhol was a major figure in art. It is because of Andy Warhol and his contributions to art that the world is still fascinated by pop and modern art styles. Andy Warhol has become such a mainstay of modern art that in 2013, one of his pieces sold for 105 million dollars4 at a Sotheby's auction.
Born to Slovakian immigrants, Andy did not have a normal childhood. He suffered from Sydenham's chorea, which caused a host of medical issues that would often force Warhol to miss school. As a child, Andy was often away from his friends and was thus heavily influenced by his stylistic choices and personality.
His style was further impacted by the people he saw on TV. Still, it was not until he joined the Carnegie Institute of Technology that commercial art (promotions and advertisements) started to direct his work.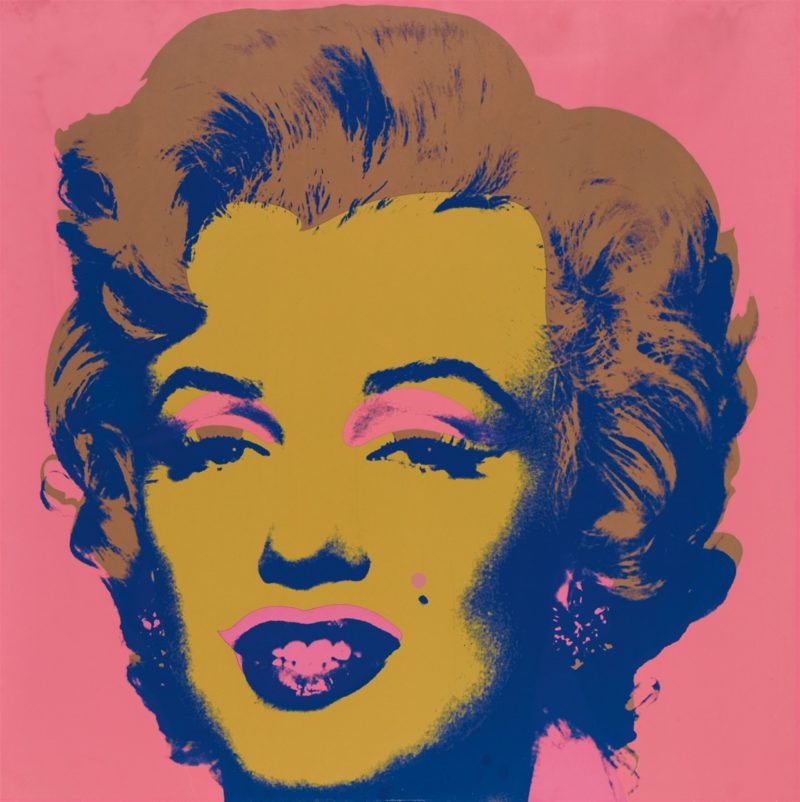 The print screening5 was an integral feature of Warhol's style. It mainly involved using mesh screens to transfer ink onto the canvas, leaving the areas that had been stenciled out without ink. He would repeat this process using different colors and stenciling patterns several times until he had fully saturated the canvas.
Andy Warhol, along with other commercial artists, was fond of using this technique as it was the most effective way of producing mass prints long before laserjet printers came into view. Screen printing defined Warhol's style and career; he rarely used any other medium in his work. He also applied this style to the recognizable prints, 'Marilyn', which he created as an intense reflection of his thoughts towards celebrities and other social figures.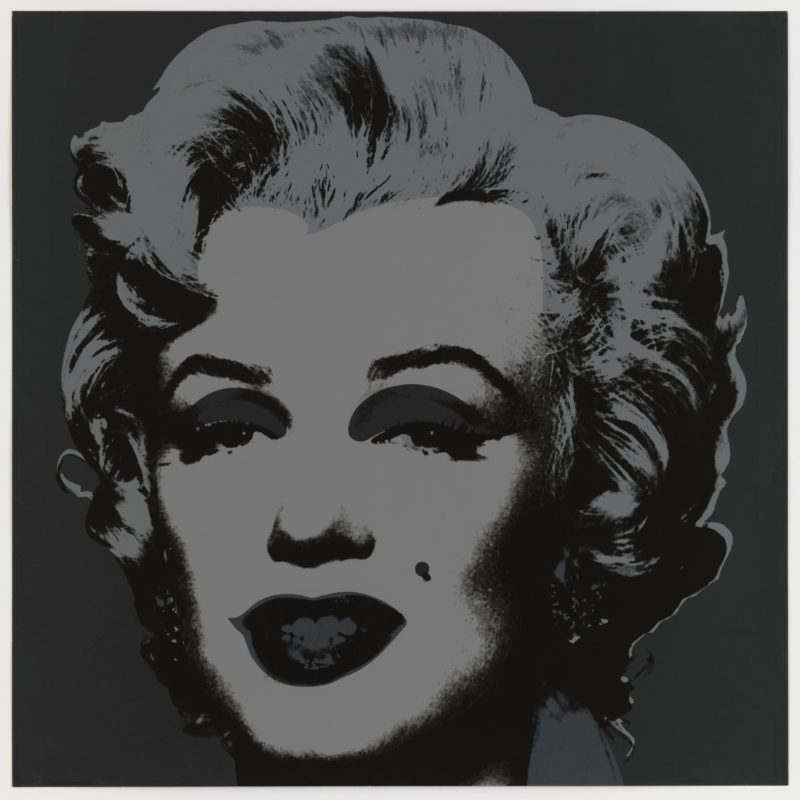 Just as Warhol's fetishistic use of consumer-produced packaging was often the source of many debates and discussions, so was his obsessive rendering of famous females. Warhol loved women. As a gay man, he appeared to appreciate their form more than other artists in his circles, and he chose to value these women by turning them into icons of beauty and sophistication.
Because there was something otherworldly about celebrities like Liza and Marilyn, Warhol always wanted his women to look like true beauties. As such, there were never under eye circles, any acne, or any furrowed6 foreheads for his beauties as he had to present them as society saw them (perfectly) in his silkscreens.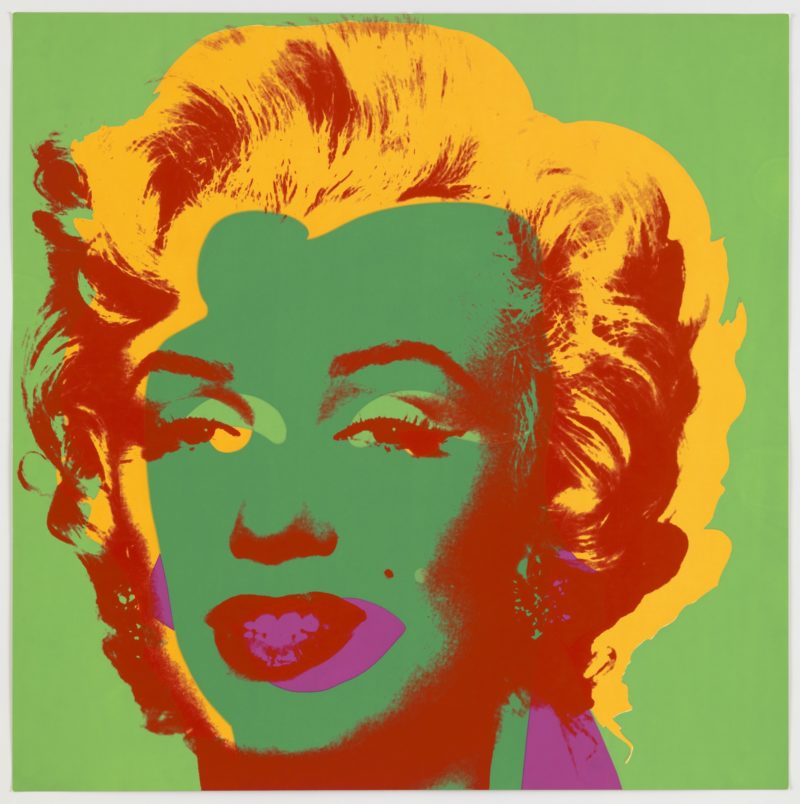 Warhol's Marilyn Monroe portrait
Marilyn Monroe was and still remains one of the biggest sex symbols of all7 time. When she was alive, her personal life was more interesting than her professional one. She had already been married several times. Like many of her fans, Warhol had become fascinated by the idea of popular figures such as Monroe who lived unimaginably glamorous lifestyles and who had attained an almost mythical status as Hollywood icons.
It was pure coincidence that Warhol chose Monroe to feature in his earliest and possibly most famous works of pop art. Although she had already ended her life at the time of the painting, her face and her fame provided Warhol with an excellent basis for his repetitive print and animation-like work in the future.
As stated above, Warhol's photographic silkscreen printing had already come of age by 1962 and had even started to become his defining style. Warhol even considered retiring from painting8 altogether.
For his Marilyn portrait, Warhol portrayed the famous movie star from a publicity photograph that he knew almost nobody would recognize from the movie Niagara, which was released in 1953, rather than draw an image of her face or paint it. Warhol's Marilyn Diptych was created from 2 silver canvases on which Warhol silkscreened a picture of Monroe 50 times.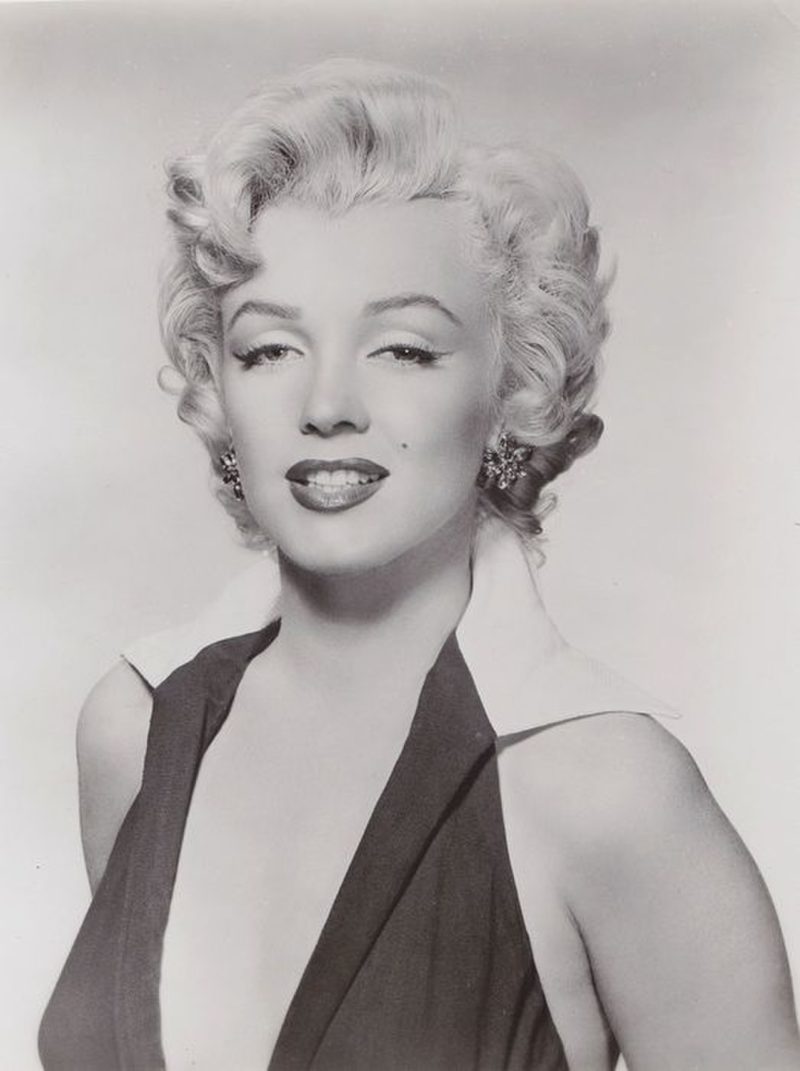 In his Marilyn Monroe series, contrary to normal expectations, Warhol created the Monroe diptych by painting the canvas first using different colors9 before he screened the now-famous image of Marilyn on top of the canvas. The misregistration of the screen-print and painting resulted in a dynamic surface that he then enhanced using a spectrum of colors.
This act of printing and painting in several variations allowed Warhol to play and explore the range of graphic possibilities that that single image of Marilyn could produce. Warhol demonstrated his extraordinary use of color by adding day-glow colors and metallic paints that were not commonly found in contemporary art, which further helped it stand out.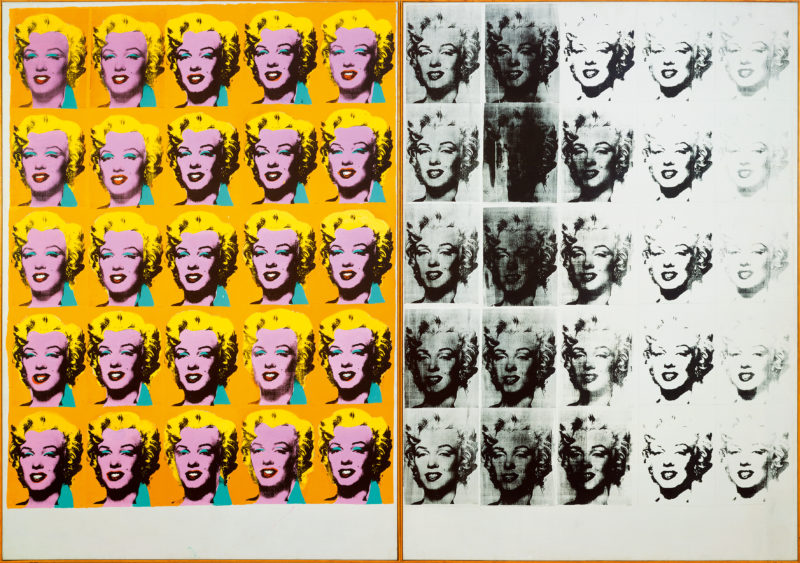 The surprising meaning behind Warhol's portrait of female superstars
The five rows of the diptych resemble the movielike strips that acknowledge her status as an icon. The repetition of her image symbolized mass production, while the diptych style used in the portrait was inspired by the Byzantine icons of Christian saints.
By placing Marilyn Monroe's portraits in the diptych, Warhol was commenting on the saint-like nature that fans assign celebrities, which in turn causes the public to approach celebrities with some sense of holiness and immortality.
Of course, the images of his female sitters are among Warhol's most striking, and they form a considerable body of his work. Many have called his series of female celebrity portraits reductive and anti-feminist because of his emphasis on his subjects' lips, hair, and eyeshadow, making them appear one-dimensional and superficial as people, even when they are anything but.
Although deeply fascinated by their professional lives, Warhol was also just as interested in the struggles and suffering these women endured behind their painted-on smiles. Case in point, Warhol painted Marilyn just two weeks after she had committed suicide. In his other piece, Liz Taylor was created when she was gravely ill10. On the other hand, Red Jackie was painted after JFK's death while another one, Blue Jackie utilized an image from the funeral.

Warhol's art was created to remind audiences and fans that there is actually a real person behind all the fame and glamour. Perhaps he wanted to depict that these famous women were regular human beings who experienced pain and suffering, despite their celebrity.
This diptych can also be said to have been a celebration as well as a satire of the world's obsession with materiality and fame. It was both worship and analysis that criticized and encouraged a culture that had become obsessed with money and fame. At the same time, Warhol also used Marilyn to criticize himself, as he was also after the same fame and celebrity that his famous subjects enjoyed.
Although he was careful to conceal his faith throughout his career, it is believed that the Marilyn Monroe diptych was also explicitly religious: Marilyn Monroe appears in the canvas as a superhuman and is almost saintly-like. Therefore, Marylin was used to represent a martyr that has to this day remained unchanged and immaculate even as the rest of contemporary society continues to rot and waste away.
Zach Miner of Phillips about Four Marilyns, 1962
Andy Warhol 'Four Marilyns', 1962
Christie's about Four Marilyns, 1962
Andy Warhol's 'Four Marilyns'
Andy Warhol's Marilyn Diptych at Tate Modern
Anatomy of an Artwork: Andy Warhol's Marilyn Diptych at Tate Modern
Original price & Worth & Auction records
Warhol produced 13 almost identical portraits of Marilyn Monroe, each with a different colored background for his first one-person exhibition. In November 1962, three months after Marilyn Monroe passed away, these works sold for $250.
On May 14, 1998, Orange Marilyn was auctioned at Sotheby's evening sale of contemporary art. Estimated at $4-6 million, it set a new record at $17.3 million for the highest price paid for a Warhol11.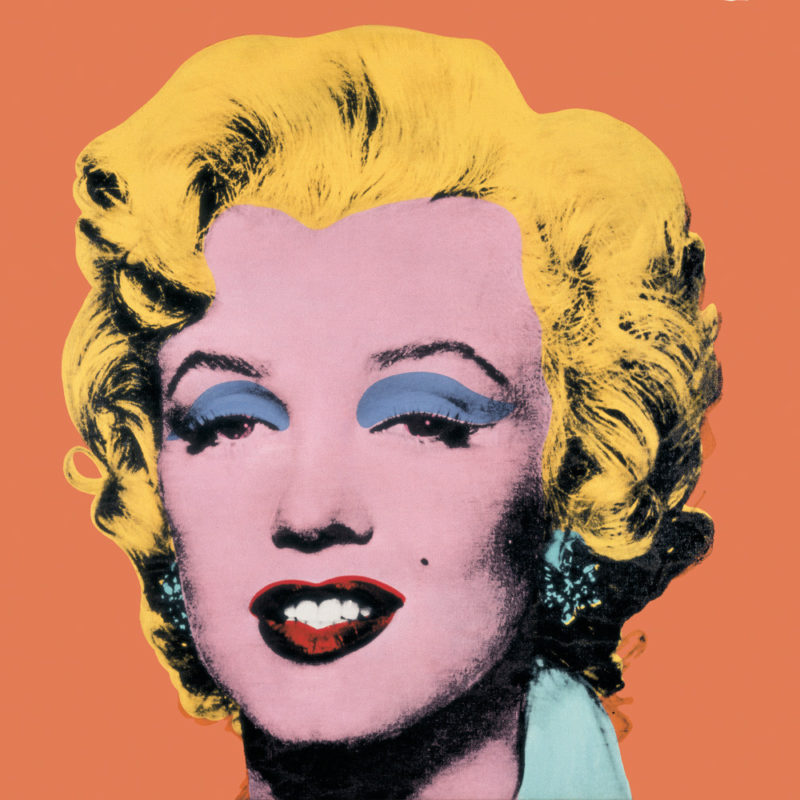 On May 16, 2007, Lemon Marilyn sold for USD 28,040,000 at Christie's12, 112,160 times its original price.
On May 13, 2014, White Marilyn, 1962 sold for $41 million at Christie's13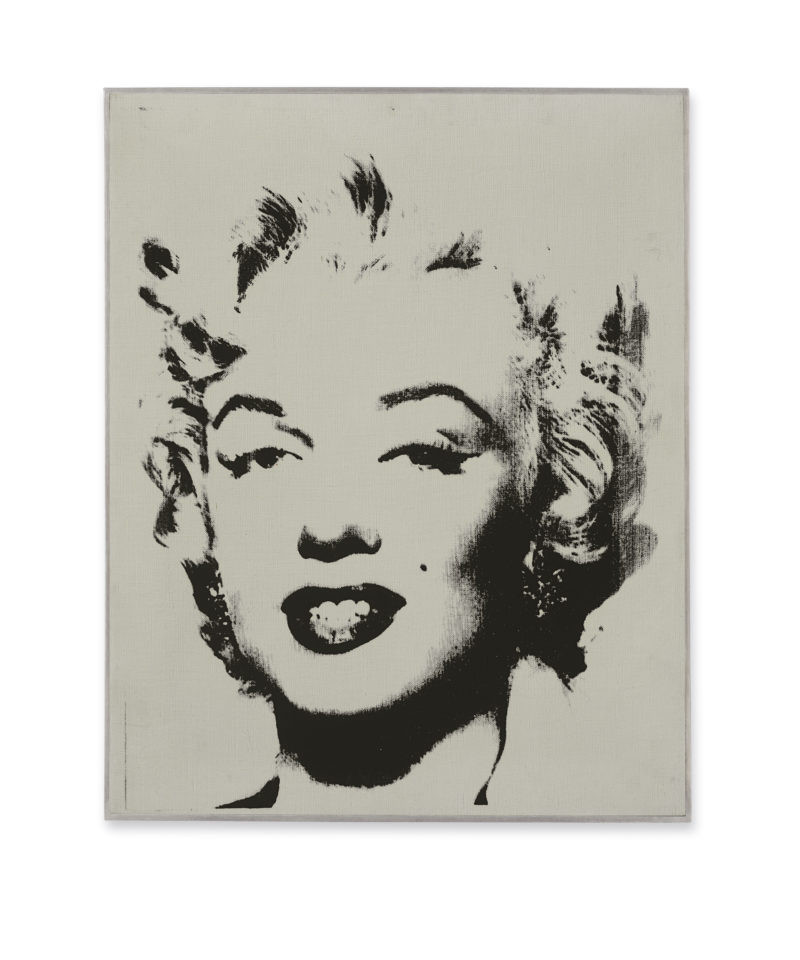 Shot Sage Blue Marilyn (1964)
On May 9, 2022, Warhol's Marilyn portrait Shot Sage Blue Marilyn (1964) broke yet another record for the artist. Sold at Christie's for a whopping $170 million, the work set a new record for Warhol, surpassing the pop artist's previous auction record of $105 million paid for his Silver Car Crash (1963) in 2015.
Shot Sage Blue Marilyn is now the most expensive 20th-century artwork and the most expensive artwork of an American artist sold at an auction.
The artwork is based on a press image 1953 noir film Niagara, which starred the famous Hollywood actress. It shows her in front of a turquoise-blue background with yellow hair, red lips and turquoise eye shadow. Warhol's Marilyn portraits represent the peak of American pop and the promise of the American dream, symbolizing optimism, fragility, fame and iconography at the same time.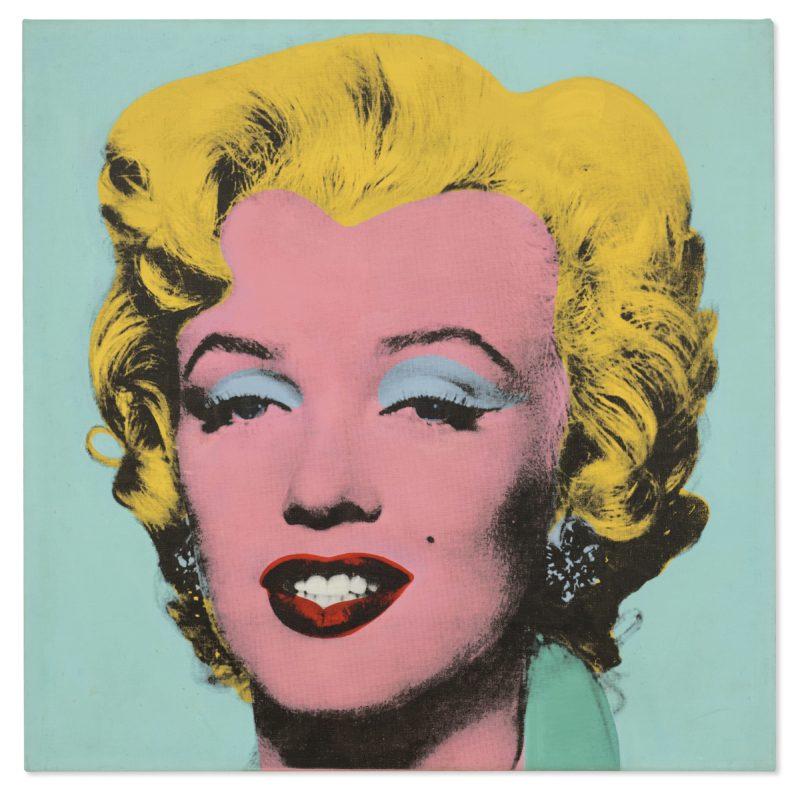 The lucky bidder was none other than Larry Gagosian. It is unclear if he sold the work for himself or a client. The price stayed $30 million below the expected $200 million. According to ARTnews14, another Shot Marilyn was privately sold for $220 million.
The painting originates from the Thomas & Doris Ammanns collection. The siblings held the work for almost five decades. Now, after their passing, Thomas died in 1993 and Doris in 2021, 36 artworks previously owned by the Zürich-based art dealers got sold, with proceeds going to a foundation that invests in healthcare projects for underprivileged children and young adults.
Conclusion
When the audience and the public needed to see the modern world they had created through new eyes, Warhol was always ready to engage in honest representation and assessment. Indeed, the world's obsession with Marilyn Monroe has never wavered and it is almost as though Warhol could see into the future.
If he was here today, who knows who he would have opted to focus on? With socialites ruling the day today, the likes of Kim Kardashian would have made great subjects for Warhol.
More by Andy Warhol
Footnotes