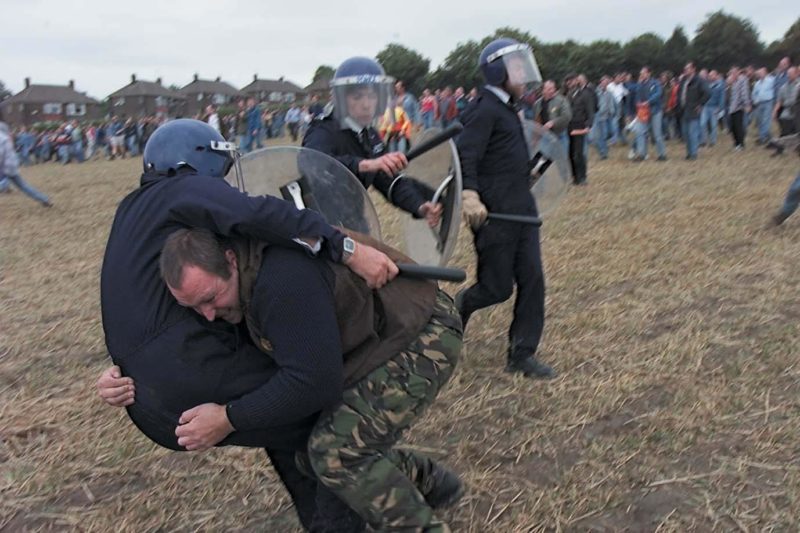 Jeremy Deller – Battle of Orgreave, 2002
The big strike of 1984
In 1984 the National Union of Mineworkers went on strike1. The dispute lasted for over a year and was the most bitterly fought since the general strike of 19262, marking a turning point in the struggle between the government and the trade union movement.
On 18 June of that year, the Orgreave coking plant3 was the site of one of the strike's most violent confrontations. It began in a field near the plant and culminated in a cavalry charge through the village of Orgreave.
Why did Jeremy Deller react the famous clash?
Jeremy Deller's The Battle of Orgreave, staged seventeen years later, was a spectacular re-enactment of what happened on that day. It was orchestrated by Howard Giles, a historical re-enactment expert and the former director of English Heritage's event programme. More than 800 people participated in the re-enactment, many of them former miners, and a few former policemen, reliving the events from 1984 that they themselves took part in. Other participants were drawn from battle re-enactment societies across England.
The documentary 'The Battle of Orgreave'
The Battle of Orgreave aired on Sunday, 20 October 2002. The film intercuts dramatic photographic stills from the clashes in 1984 with footage of the clashes re-enacted in 2001, together with moving and powerful testimonies, to tease out the complexities of this bitter struggle.
Mac McLoughlin, a former miner and serving policeman on the field that day, reveals details about the build-up within the police force prior to the stand-off; David Douglass (NUM) talks about the meaning of the confrontation in relation to the trade union movement in England; Stephanie Gregory (Womens' Support Group) reminisces about the effects on family life; Tony Benn talks about the media's role in covering up the truth about the strike in 1984; and Jeremy Deller contextualises this event and highlights its contemporary cultural relevance.
1h 3min 15 sec
Photos

Jeremy Deller – Battle of Orgreave, 2002

Jeremy Deller – Battle of Orgreave, 2002

Jeremy Deller – Battle of Orgreave, 2002

Jeremy Deller – Battle of Orgreave, 2002

Jeremy Deller – Battle of Orgreave, 2002

Jeremy Deller – Battle of Orgreave, 2002
All images by Jeremy Deller/jeremydeller.org unless otherwise noted.
Video: Full-length documentary
Miners recount their own history, their economic and political struggles over decades and the trial they endured for 48 days in Sheffield when charged with the riot at Orgreave – facing life imprisonment.
52min 32sec
Related works
Related readings
Discover more ..