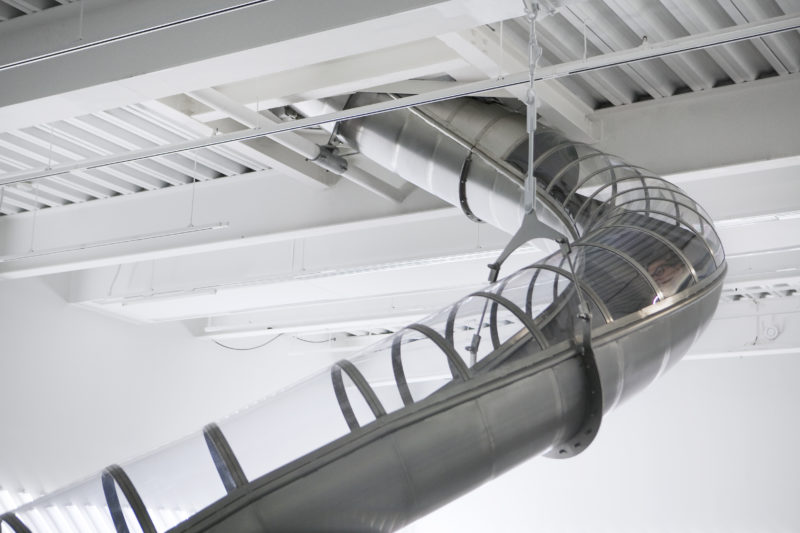 Carsten Höller & his work
Carsten Höller is well known for playfully including his slide installations in major museums across the world. Höller, formerly a scientist with a degree in agronomy, is famous for repurposing real-world components, such as slides, for art spaces.
The majority of his works feature aesthetics that are relational, meaning that the projects created are inspired by the relationship that people have with their social contexts. The result of Höller's incredible work is an experience that resembles part playground and part lab, which is a crowd-pleaser.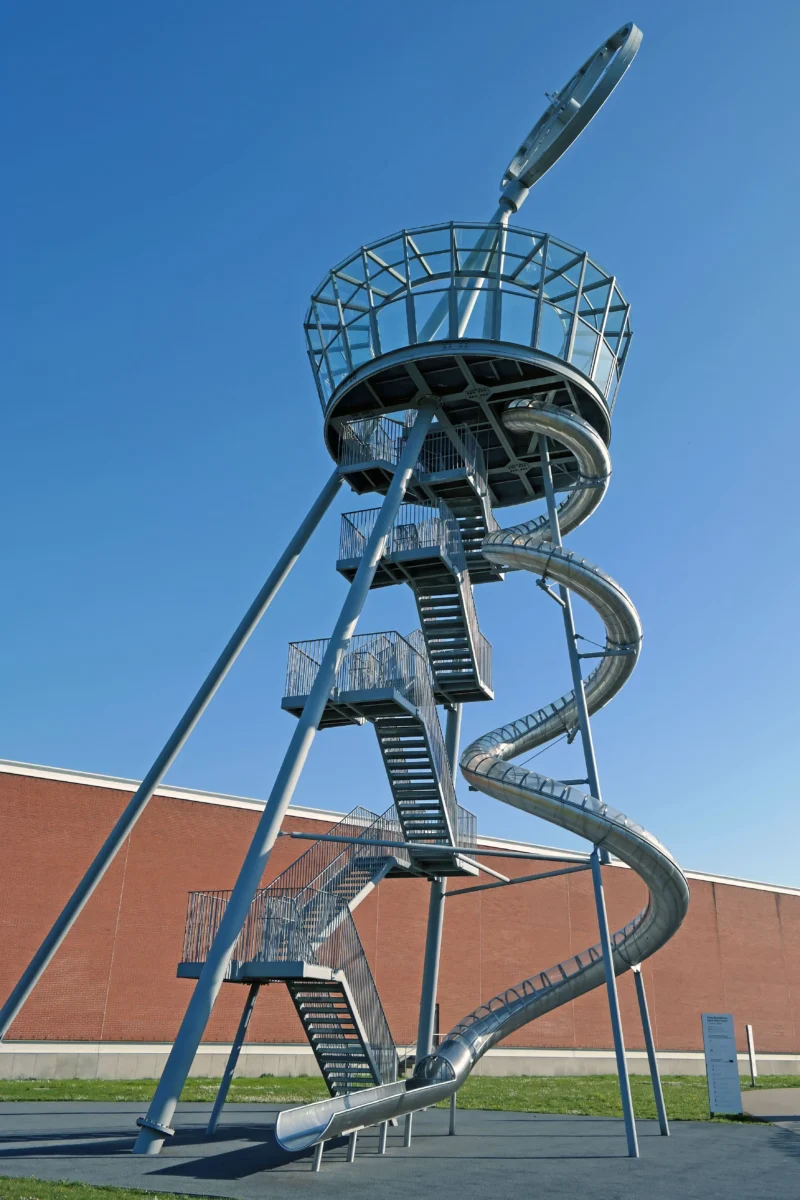 Höller's slides: Playful & dissident
Höller stages quasi-scientific experiments that affect the audience's state of perception; his slides cause participants to question their relationship with ordinary things that surround them, with other people around them and with themselves. As such, all of the slides are both playful and dissident, creating an enjoyable and unnerving experience.
Carsten Höller said in The Guardian1:
There must be a reason why we don't remember early childhood. Maybe it is genetic, maybe it is something else…"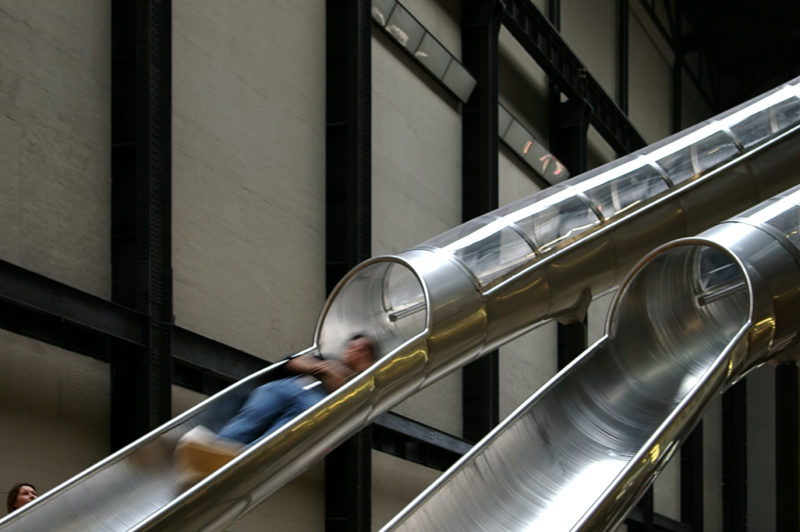 Video: Carsten Höller introduces Left/Right Slide
Carsten Höller introduces 'Left/Right Slide'
Transforming museums into anarchic and utopian environments
By opening up places that were traditionally considered to be serious, Carsten Höller creates an anarchic and utopian environment that enables people to relate to each other and the art situated in the gallery freely.
Because of the fascinating slides, people are reborn and are able to create new human relations in a space that suspends social order. Undoubtedly, the experience of sliding down the humongous pieces of art is exhilarating in itself; however, audiences do not have to grasp the significance of the slides by sliding down them.
Video: Carsten Höller speaks at the NGV Melbourne
Meet the artist: Carsten Höller
Höller's slides
| Country | City | Space | Year | Status |
| --- | --- | --- | --- | --- |
| USA | New York | New Museum | 2007 | temporary |
| Italy | Florence | Palazzo Strozzi | 2018 | temporary |
| UK | London | Hayward Gallery | 2015 | temporary |
| Croatia | Zagreb | Museum of Contemporary Art | 2009 | permanent |
| UK | London | Turbine Hall, Tate Modern | 2006 | temporary |
| Italy | Milan | Prada headquarters | 2000 | permanent |
| Australia | Brisbane | Gallery of Modern Art | 2010 | temporary |
| Germany | Weil am Rhein | Near Vitra-Design-Museum | 2014 | permanent |
| UK | London | Olympic Park, Stratford | 2014 | permanent |
| USA | Aventura, Florida | Aventura Mall | 2017 | permanent |
| Denmark | Copenhagen | Danish Architecture Center | 2020 | permanent |
| Germany | Berlin | Berlin Biennale | 1998 | temporary |
| Germany | Bonn | Bundeskunsthalle | 2018 | temporary |
| USA | Boston | Institute for Contemporary Art | 2002 | temporary |
The Florence Experiment, 2018, Florence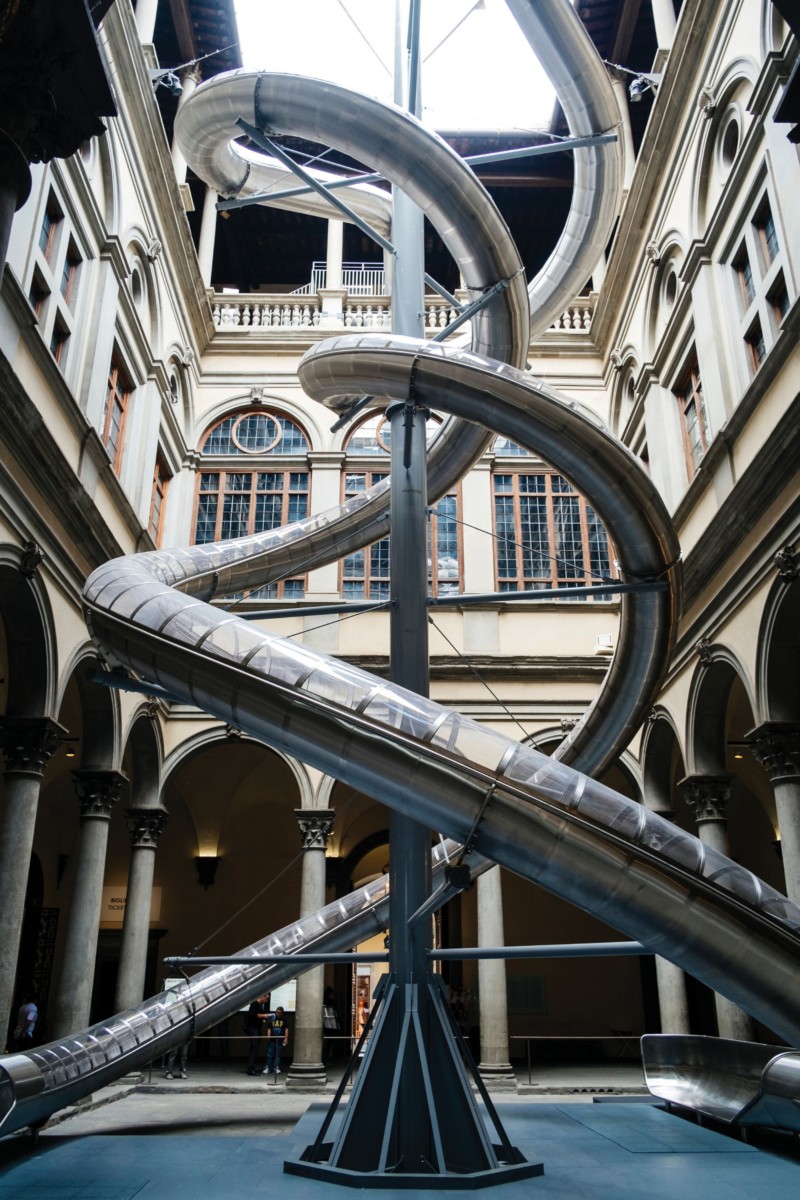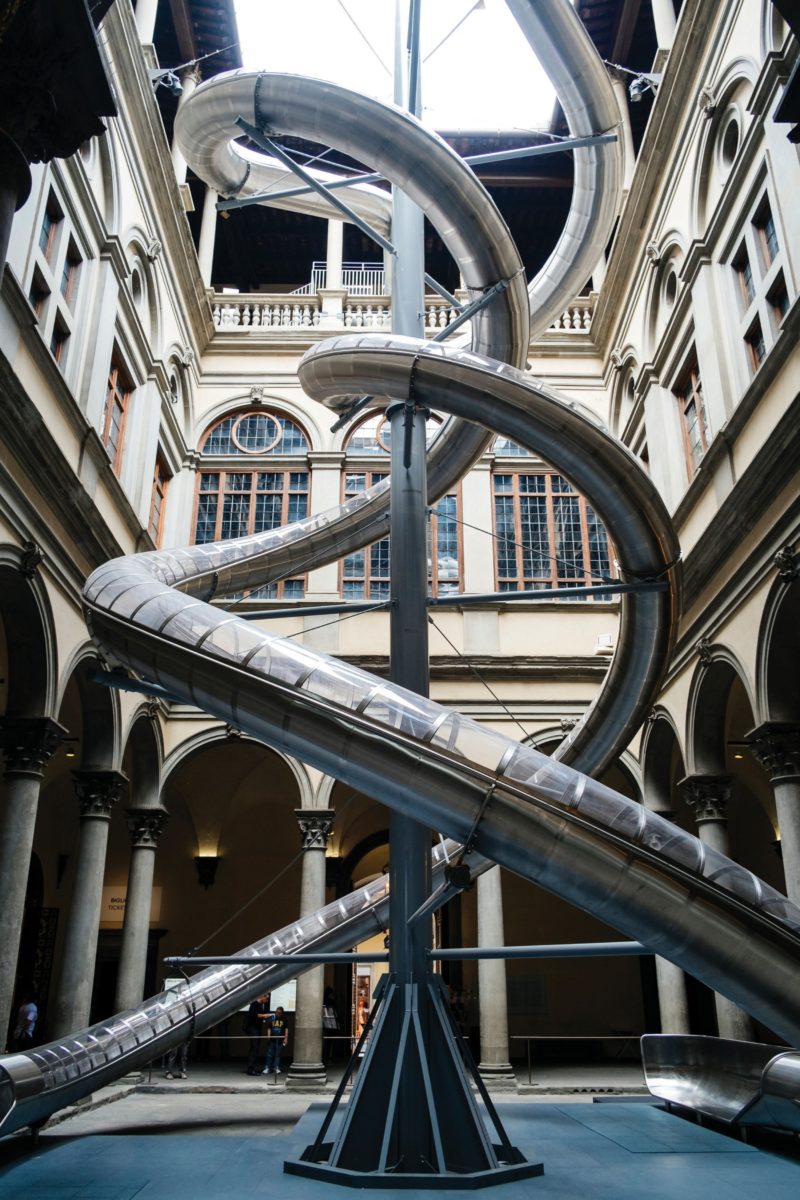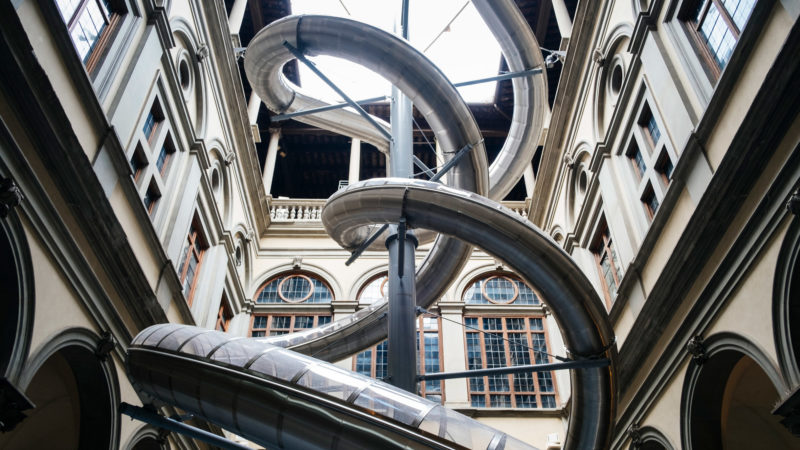 Aventura Slide Tower, 2018, Miami
Crossing the Atlantic, Carsten Höller takes his gigantic slides to Miami, precisely at the Aventura Mall. The imposing slide features two tunnels through which visitors can race against each other down the 93-foot slide.
Accessed only through its corkscrew staircase, located on the opposite side of the slide, visitors can descend at 15 miles per hour.
This installation was meant to help the Aventura Mall increase the number of visitors and help it ride through the challenging retail industry. This is also the second-largest mall in the United States.
Aventura Mall slide is one of Höller's few installations that are not around or in a museum.
The artist said in an interview with Artnet News2:
I like artworks that are not necessarily only an artwork. I like the idea of putting work into the context that is not a museum.
According to Höller, the slide took two years from idea to completion. He collaborated with a team of engineers to design and build it according to US safety regulations.
Isomeric Slides, 2015, Hayward Gallery, Southbank Centre, London
For his second London installation, Höller filled the Hayward Gallery with a pair of spiral slides. Both the indoor and outdoor structures allowed visitors to ride over the Waterloo Bridge and experience the London landscape through upside-down goggles.
Besides the slides, the exhibition also features several interactive installations that offer new ways to experience the gallery space.
Speaking about Höller's work, the director of Hayward Gallery, Ralph Rugoff, said3:
Almost every piece in this exhibition has a wonderful, mischievous playfulness to it (…) It is trying to give us the chance to have a fresh way of experiencing and perceiving the phenomena we encounter in the world around us.
In addition to Höller's earlier work Upside-Down Goggles, the gallery's terraces also feature several installations called Two Flying Machines, which propels visitors above the Southbank Center, and the newest installation titled Decision Corridors.
Vitra Slide Tower, 2014, Weil am Rhein, Germany
Höller also helped Vitra add to its burgeoning collection of spectacular buildings and structures within its campus.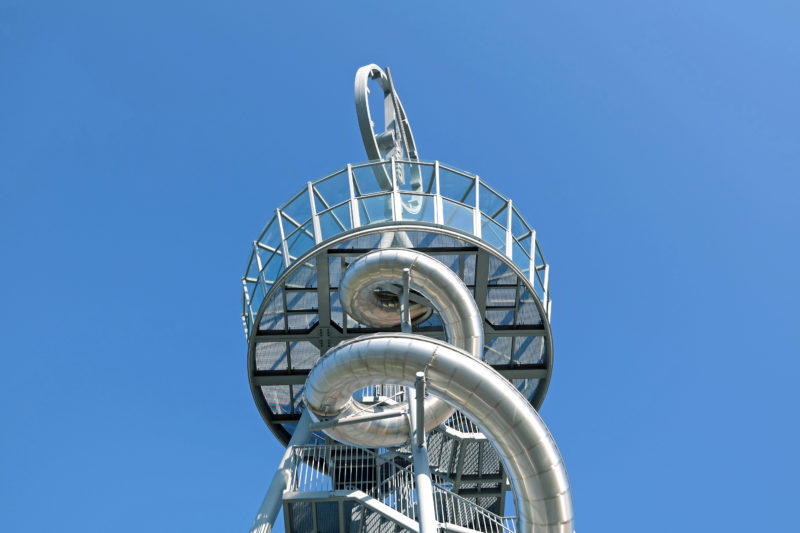 This new structure offers two ways to view Vitra Campus – from the top deck, where you stand and enjoy the vistas of the surrounding and from dizzying descent through the slides, where everything is whisked up in a dizzy cocktail before you are shot out at the base. Standing at 30.7 meters, this slide comprises a slanted trivet of columns that support the glass-roofed slide.
In addition to an observation deck, the top of the slide also has a clock-like object high above, indicating time, or maybe it is just an extrapolation of one of the columns. Either way, every twelve hours, the hand in the clock forms the Vitra logo. That, along with the fact that it also rotates on its axis, symbolizes time without actually enabling a practical reading.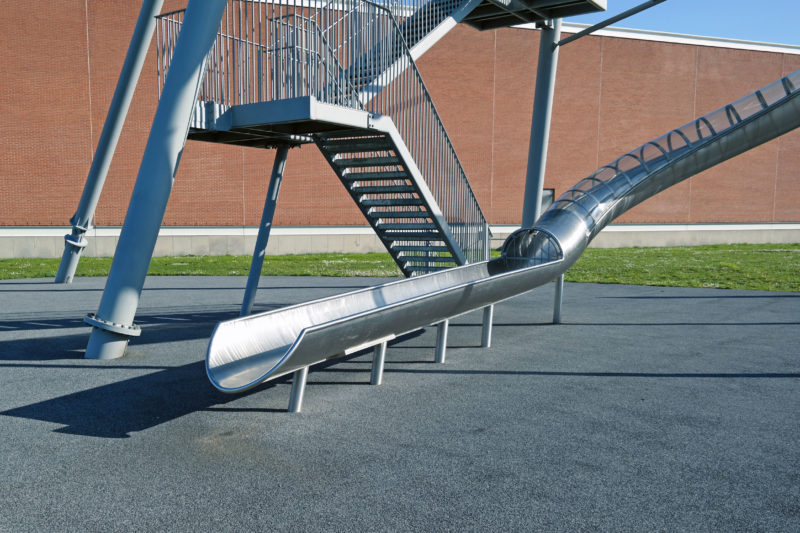 ArcelorMittal Orbit, 2012, London
Billed as the tallest and longest tunnel slide on the planet, ArcelorMittal Orbit was designed by Höller at the request of Anish Kapoor. It comprises 30 sections measuring between 16 and 30 feet and spirals down 12 times at 15 meters per hour in 40-second descent.
The slide is located in Queen Elizabeth Olympic Park and was completed in 2012.
Unsurprisingly, this was not the first time Höller installed a slide in London, having placed one at the Hayward Gallery and another at Tate Modern.
The slides are a way of hurling visitors into a state of "simultaneous delight, madness, and voluptuous panic."
When the idea for this slide was conceived, it was supposed to help increase the Olympic Park's earnings. The park authority even projected revenue of 1.2 million pounds annually. Instead, the slide was quite a flop and cost an additional ten thousand pounds a week to maintain.
Nevertheless, visitors are promised an adrenaline-infused experience when they descend on this gigantic metal steel. The transparent sections of the slide's roof allow you to catch hazy glimpses of London's skyline.
Left/Right Slide, 2010, Gallery of Modern Art, Brisbane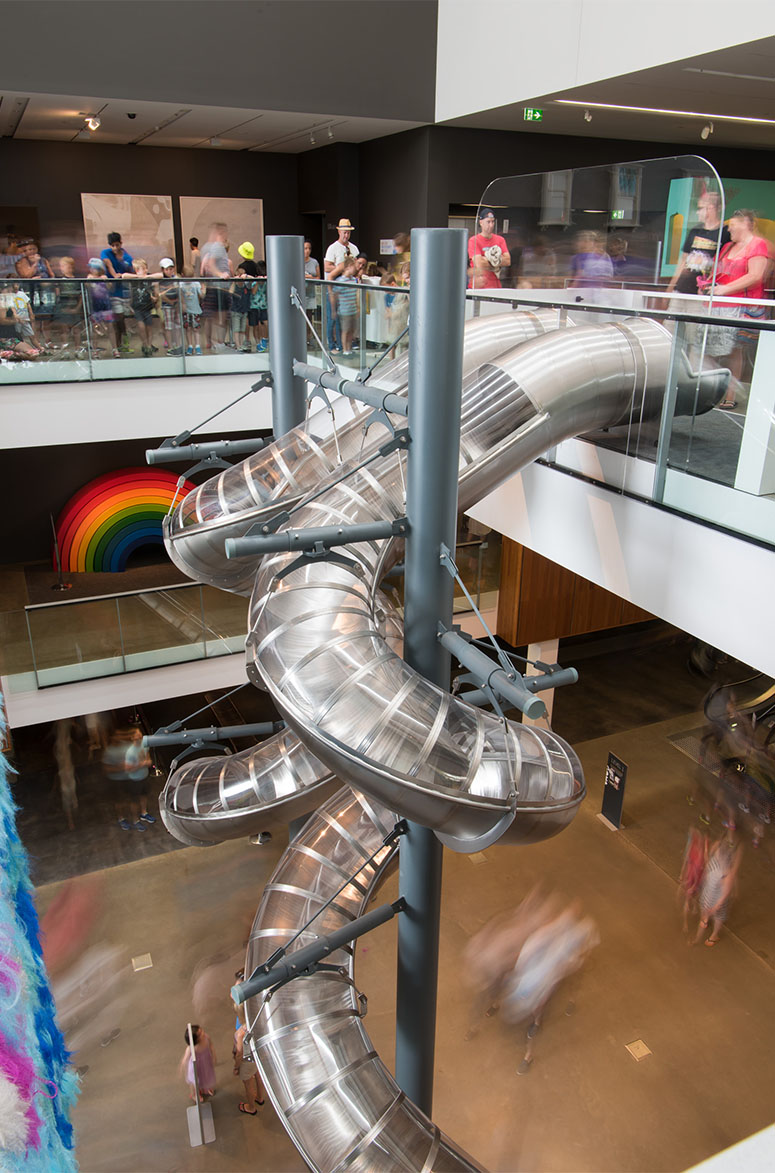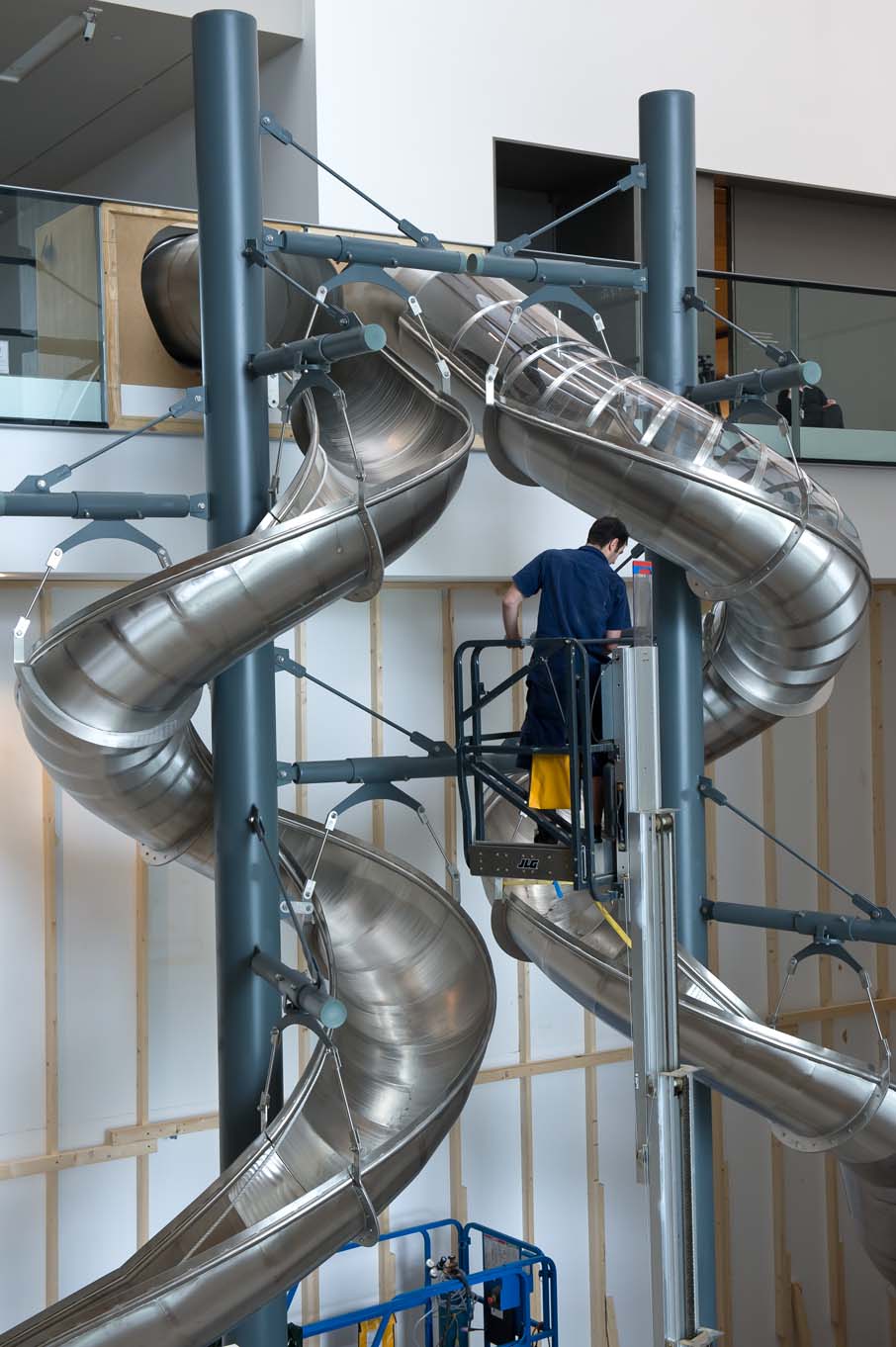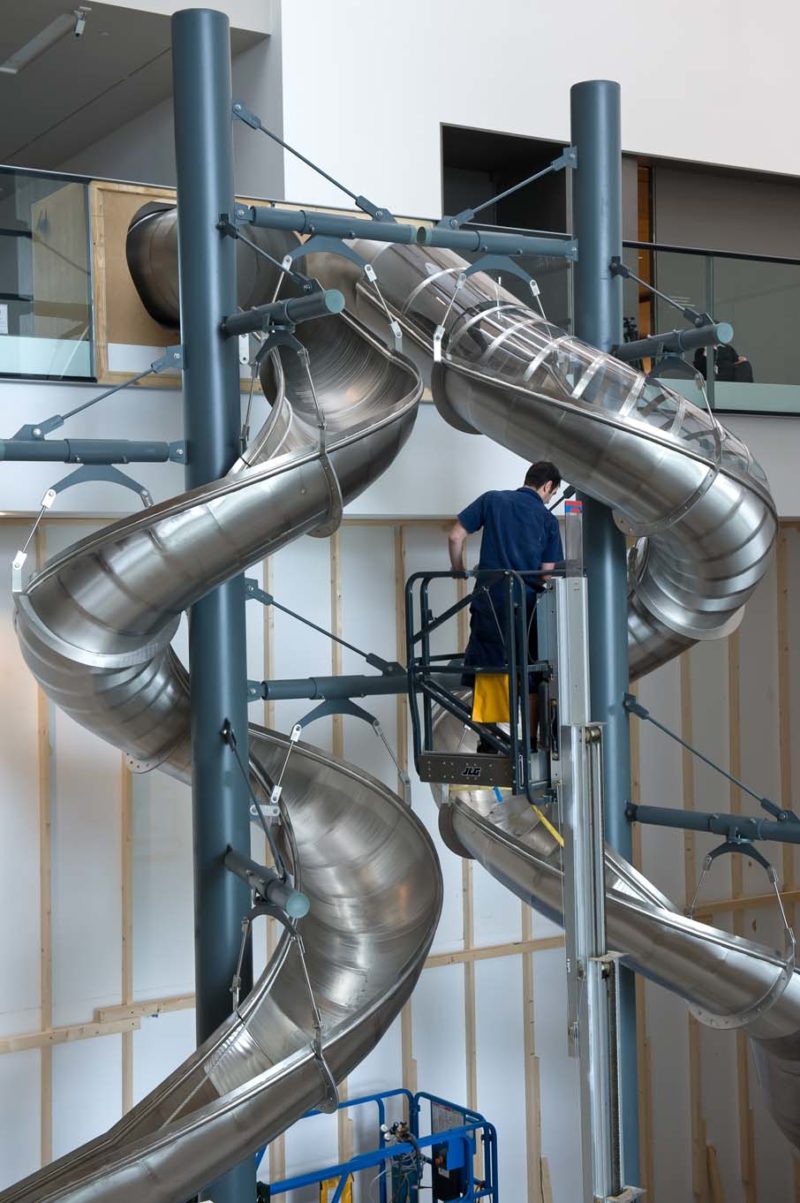 Double Slide, 2009, Museum of Contemporary Art, Zagreb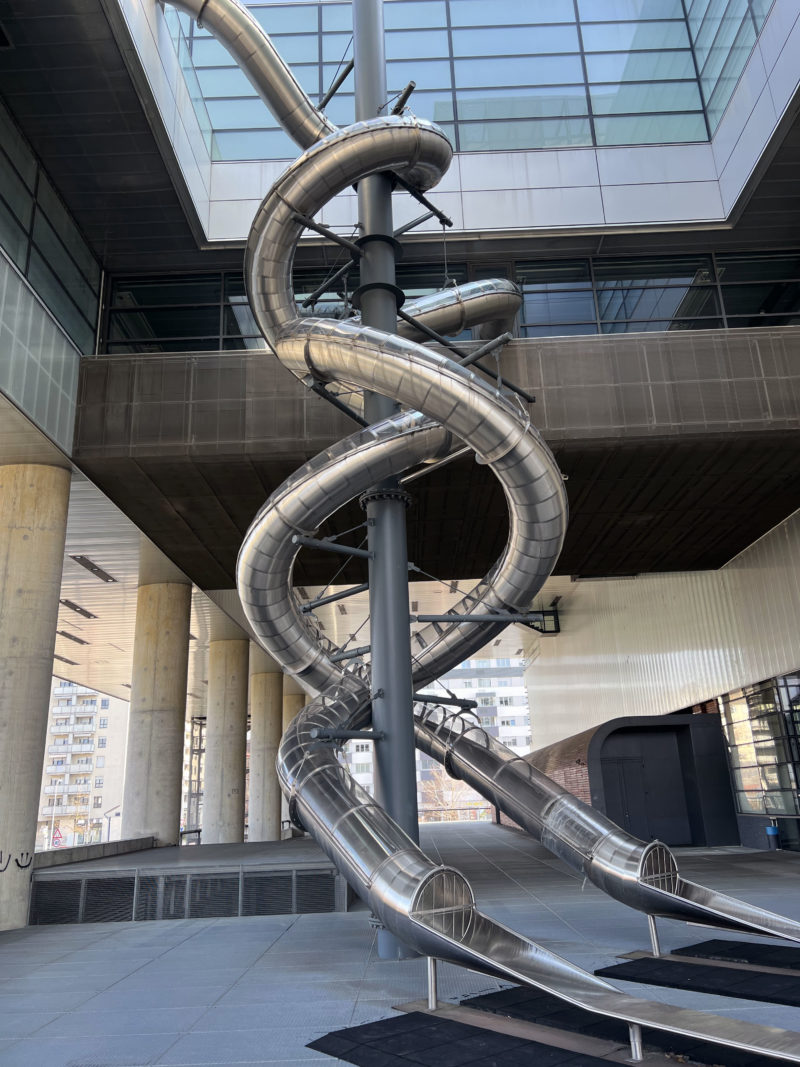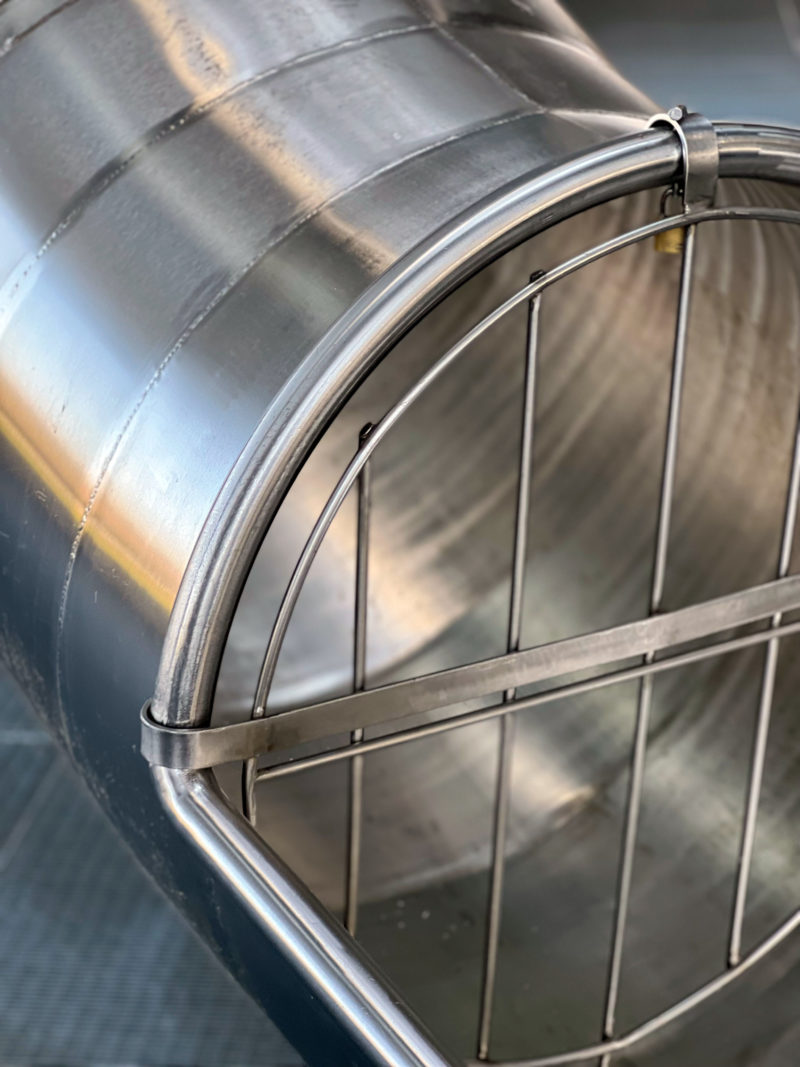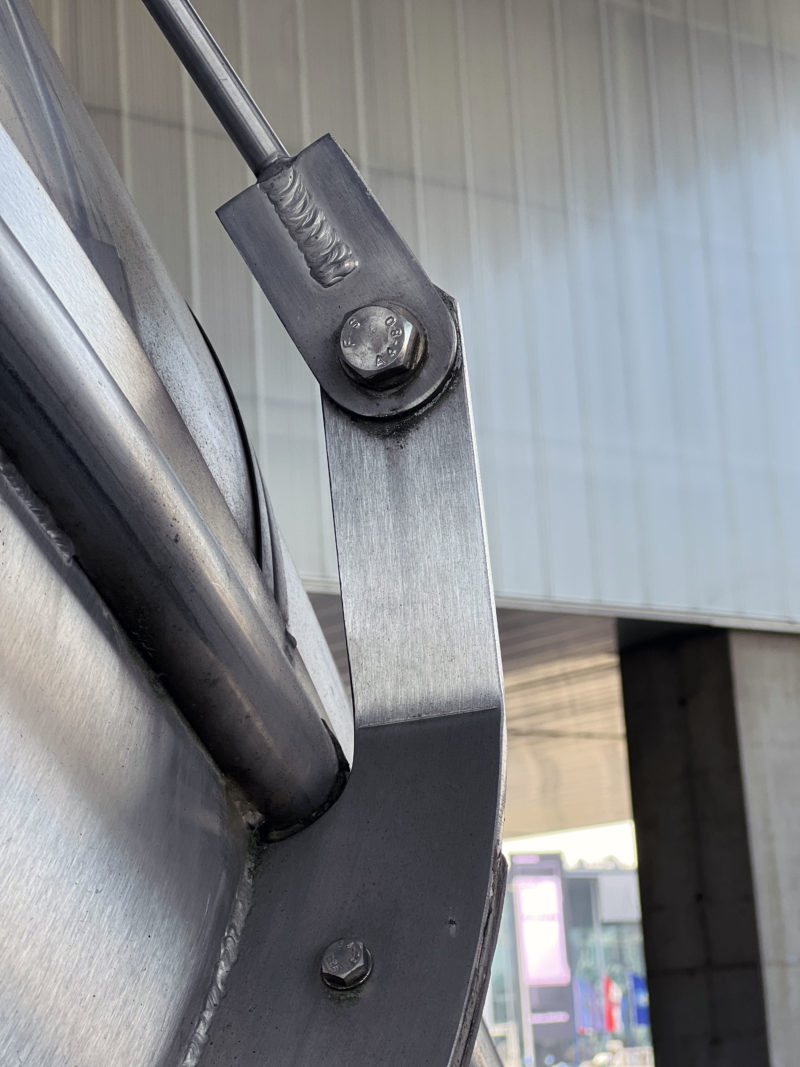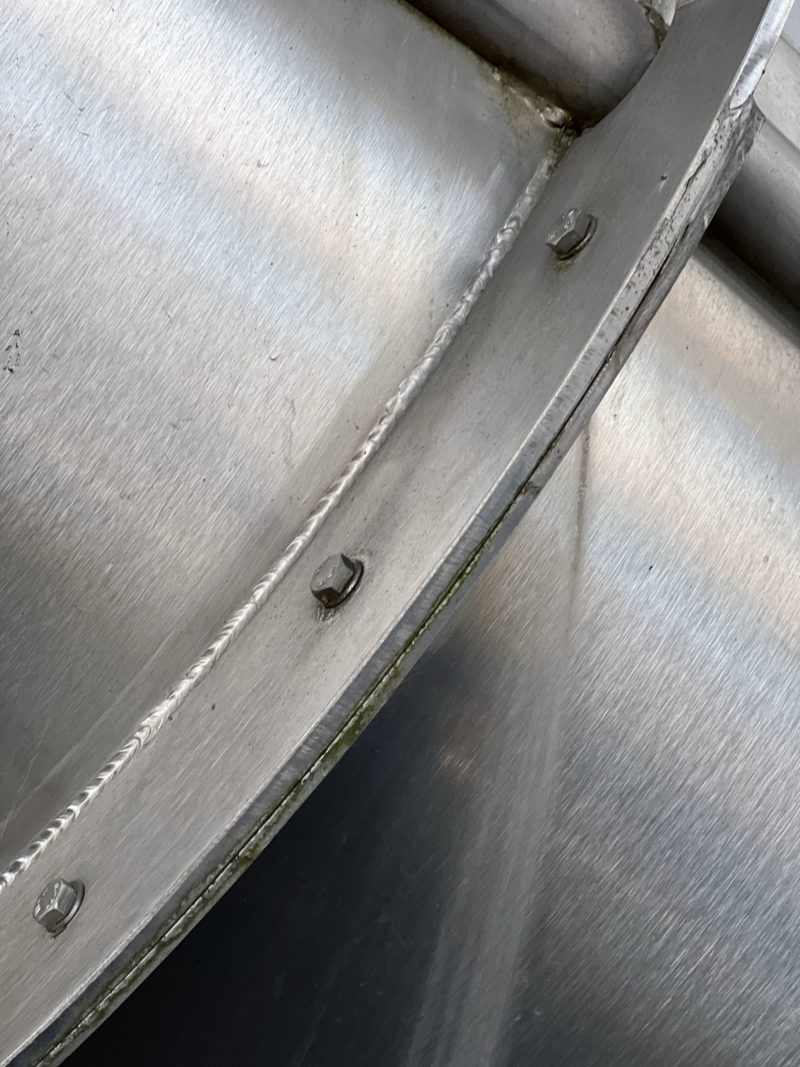 Test Site, 2007, New Museum, New York
In 2007, Höller turned the New Museum into an amusement park in a bid to take the New York museum lovers on a thrilling ride. It was so packed with adrenaline that you had to sign a waiver first at the entrance before you experience the ride.
"The artworks are recreational," that is the stern warning that welcomed you. Choosing to interact with them comes at your "own risk, even though such interactions are potentially hazardous."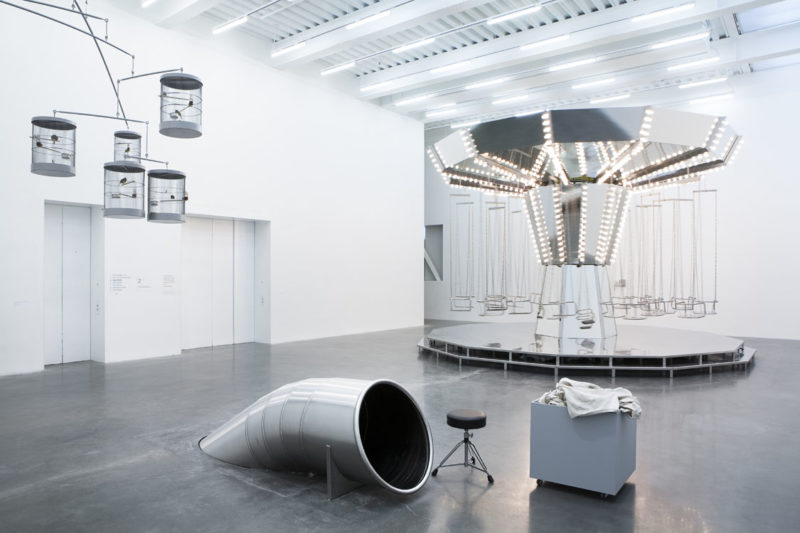 Nevertheless, that caution did not prevent people from having fun on this gigantic 102-foot slide. The funhouse attractions here included a tubular steel spiral that began at the fourth level of the museum and ended on the second floor, Upside-Down Goggles ride, and a slightly rotating mirror carousel.
Carsten Höller - Experience // Slide at The New Museum
Test Site, 2006, Turbine Hall, Tate Modern
Test Site was an installation from 2006 that mixed spectacle, childishness, and sculpture, located at Tate Modern's Turbine Hall. This time, Höller installed five gigantic stainless steel slides lunging down the museum hall, one of which descends from five stories above.
While the previous slides were installed outdoors, Test Site was located indoors, which, according to Höller, posed some logistic and mechanical problems.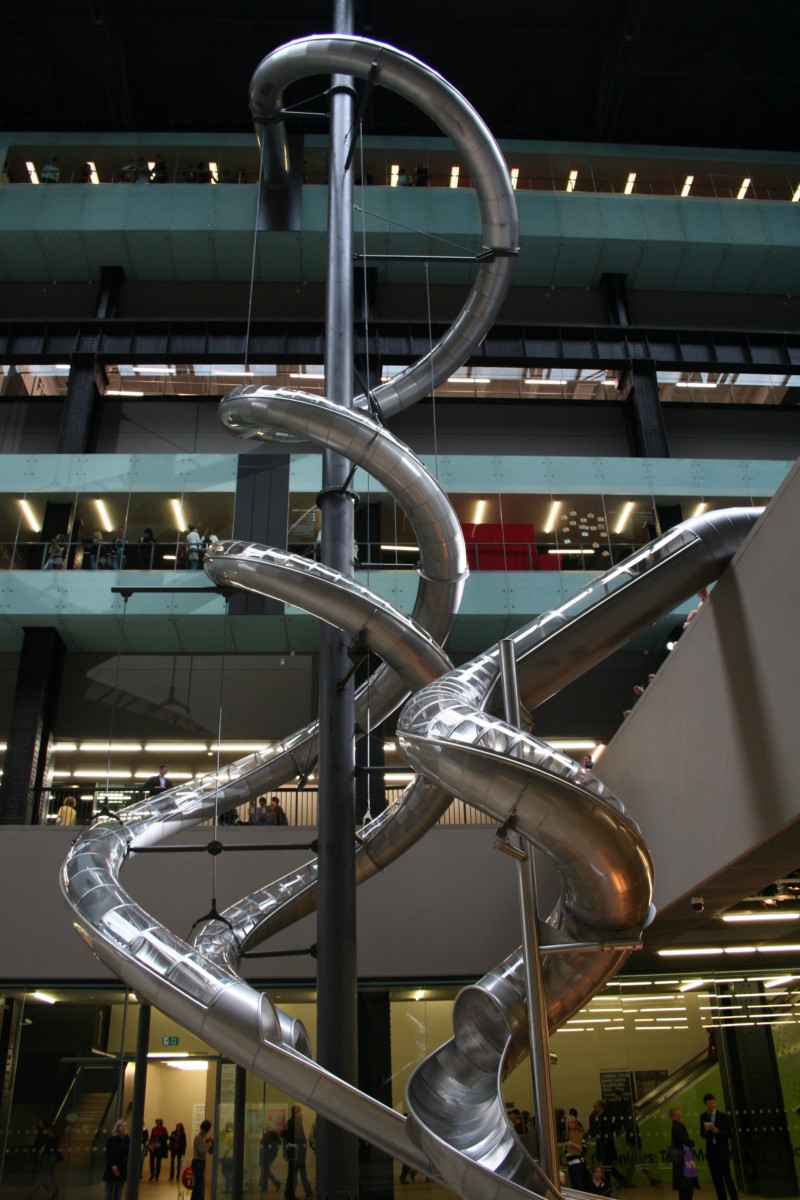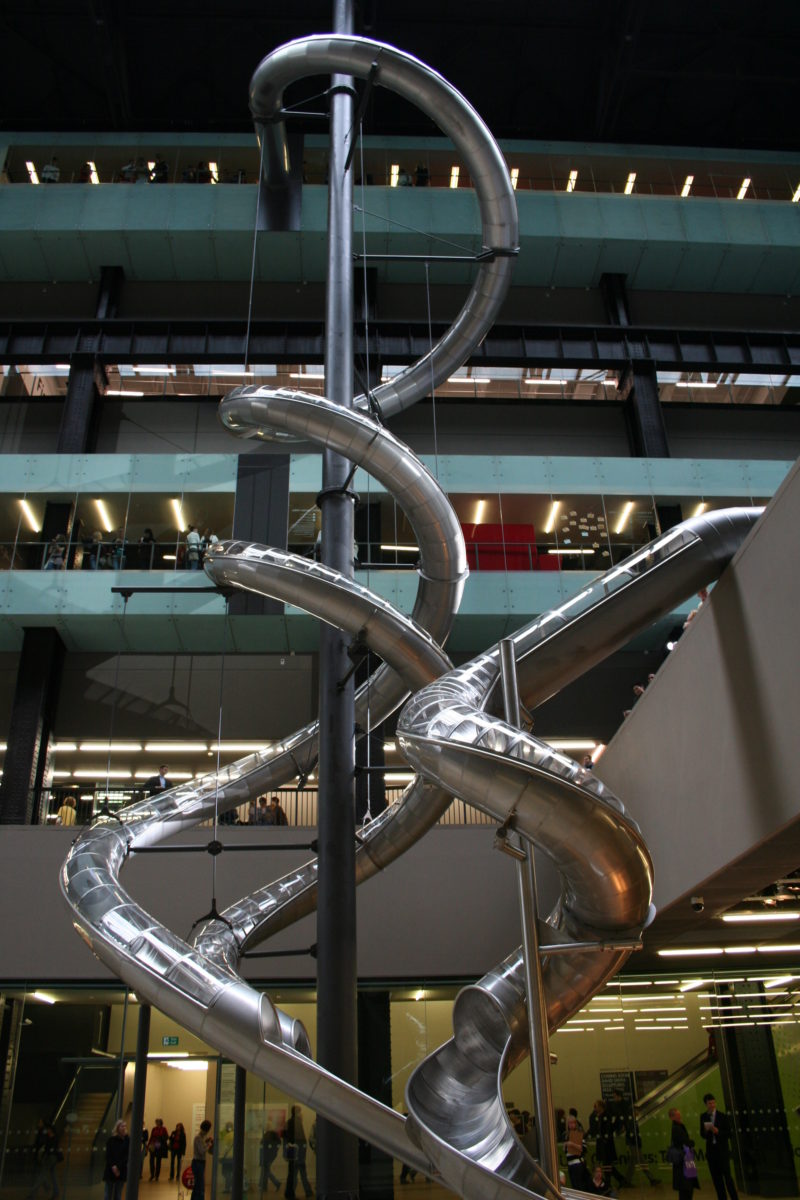 The expansive size of the Turbine Hall and the presence of the ramp and bridge made it difficult for Höller and his team to work on this project. But while other artists have found a way to work around the problem, Höller was not keen to copy what they have done. Höller commented4:
You cannot work with sound because [Bruce] Nauman had done it; you cannot make a big light at the end because [Olafur] Eliasson has done it. I decided right from the beginning that I wanted to work with the height of the hall, not so much the length. And I was confident with slides because I have done them before. But the bridge is a problem, in the middle of everything. For Rachel Whiteread's Embankment, for instance, it was somehow in the way. But we will have all the slides landing under the bridge, to wake up this space. At the moment, it looks as though the architect forgot about it, but I will make it very special.
In the end, Höller managed to pull off a masterclass. The slides were wide enough for people of all sizes and the roof was translucent to allow spectacular vistas of the surrounding landscape.
Slide at Prada, 2000, The Milan headquarters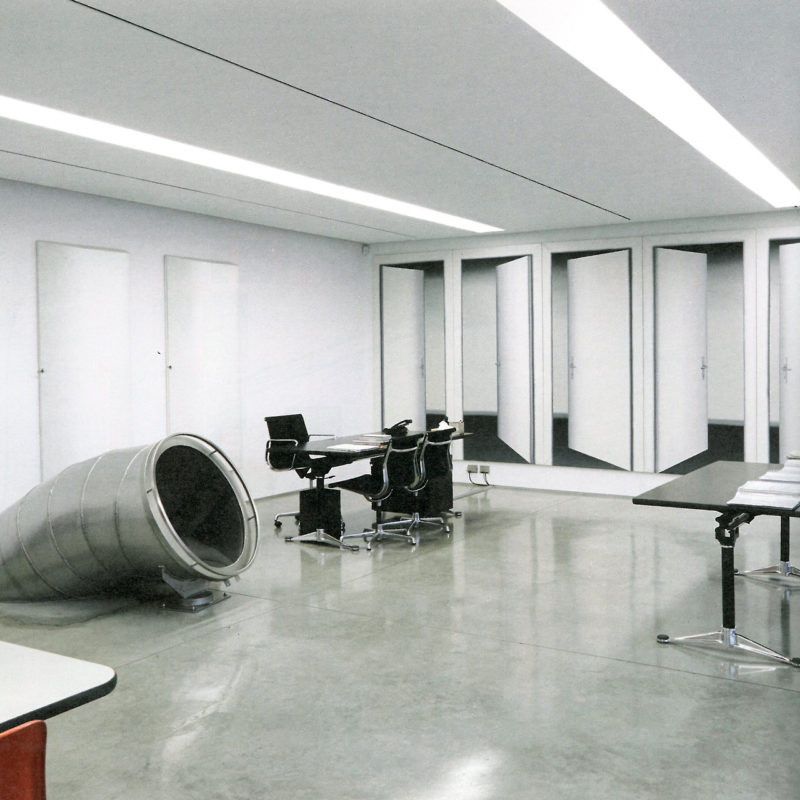 Following Höller's first slide, designed for the Berlin Biennale in 1998, he created another work for the Fondazione Prada in Milan in 2000. The construction reaches from Miuccia Prada's office straight to her car park. This is just one of Prada's several collaborations with contemporary artists.
In a 2022 interview with Harper's Bazaar5, the head designer of Prada spoke about her first fascination with the artwork, saying that "The idea of cutting is a rebellious gesture," but that installing the slide was done to "something very normal. Classic. Usual."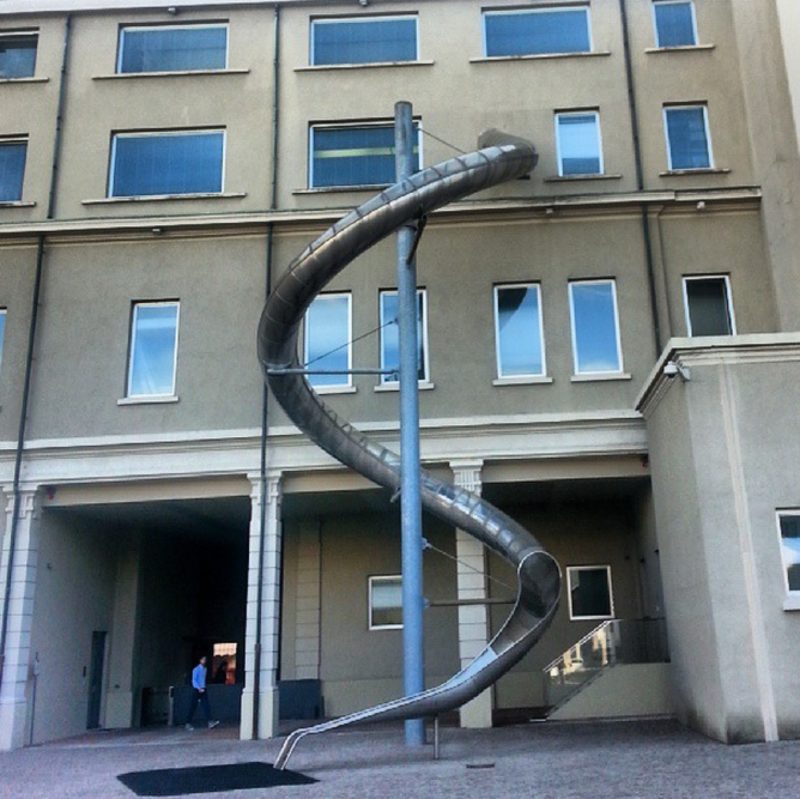 When asked about the last time she had used the slide, Prada said:
It's a long time. At the beginning, it was exciting. I get bored very quickly. That is why I like fashion.
Slide at the Danish Architecture Center
In 2018, the Danish Architecture Center moved to its new location as an effort to boost the architecture scene in the Danish capital, Copenhagen. In June 2020, the Danish Architecture Center unveiled a four-story slide to mark its grand reopening. The 40 meters (130 feet) long tube slide spirals down inside DAC's boxy, an OMA-designed BLOX home, built under Ellen Van Loon's supervision.
German-Belgium artist Carsten Höller is known for his slide installations at art galleries around the world. For this piece, the Danish Architecture Center was looking for a way to appeal to a wider audience and extend its range beyond just the professional architecture community.
Speaking about his latest installation, Höller said6:
Why don't we use slides in architecture as a supplement to stares, elevators, and escalators? They are fast, safe, and energy-savvy and they produce a sensation in the user that has been described as 'kind of voluptuous panic upon an otherwise lucid mind, somewhere between delight and madness.
The spiraling slide was designed specifically for this location. Weighing whopping 4 tons, it took the artist and his team 21 days to install it, probably due to many required components. It features 13 slide sections, 159 screws, and 94 Plexiglas pieces.
Höller's slide is one of its kind in the region of Scandinavia and it is supposed to give the audience a unique sensation in space dedicated to art and culture. It is funded by the New Carlsberg Founding and supported by philanthropic association Realdania. The chair of the New Carlsberg Foundation, Christine Buhl Anderson, said7:
Carsten Höller's creations merge art and the observer – playfully and unpretentiously. But, in addition to the spontaneous experience, his works give us new perspectives on the world and our routines. Höller and Danish Architecture Center are therefore a perfect match, and it's already hard to imagine BLOX without DAC Slide.
Final words
His body of work is popular with audiences and attracts large groups from different parts of the world. Visitors seem to delight in his artworks because it allows them to experience art that can be looked at and touched.
The works created are all-encompassing, meaning that it is also possible to experience the pieces through other attendees. Alternatively, the pieces can also be enjoyed through contemplation or from an outsider's view.
Footnotes