What is Marina Abramović known for?
It is undisputed that Marina Abramović is one of the most renowned and impactful performance artists of our time. She dabbled in performance and feminist art at a time when the concept of shame and the nature of this type of art was considered radical.
Her brand of performance art involved the use of her body as her art's subject and medium. As such, she ruffled quite a few feathers. Marina's body of work ranges from solo pieces to pieces in which she collaborated with other artists such as Ulay. These include Rhythm Series, 1973-1974, Rest Energy1, 1980, and The Lovers: The Great Wall Walk2, 1988 among others.
An Artist's Life Manifesto
Marina Abramović - An Artist's Life MANIFESTO (2011)
Introduction
Her manifesto dubbed An Artist's Life Manifesto is a collection of her rules on life, silence, and solitude. The manifesto is a portrayal of what Abramović drew meaning from her experiences as an artist, as well as being torn between rebellion and guidance, all of which she wrapped up in a chapter of her memoir, Walk Through Walls.
Moral & ethical standards
The first part of the manifesto deals with an artist's conduct in his life. This includes Marina's observations that "an artist should not lie to either himself or others, steal other artist's ideas, compromise for himself for the art market, kill others, make himself into an idol or fall in love with another artist ('An Artist's Life Manifesto')."
These show that Marina felt strongly about fundamental values and hence emphasizes the artists' required moral and ethical standards.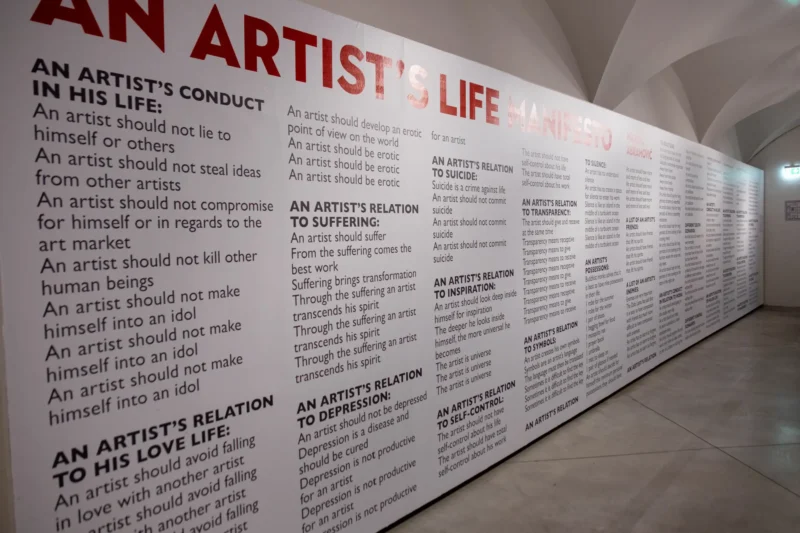 Love & egocentrism
The following lines regarding the artists themselves and the art market are rhythmic. They reinforce her belief that moral standards are important. Therefore, the noise that egocentrism brings degrades the artist's work while also limiting their abilities.
As a result, notions of superiority should be abandoned. Marina also got romantically involved with other artists such as Ulay. Hence, in her experience, she may feel that falling in love with another artist while resulting in passionate pieces in some cases may be a distraction to your work as an artist.
The artist & silence
The second part is Marina's ideas on an artist's relation to silence. These observations include the fact that "an artist should understand silence, create a space where they can allow silence to enter their work, and she represents silence as an island in the midst of a turbulent ocean (An Artist's Life Manifesto)."
This shows that in her life, Marina had discovered the power of silence both as a sanctuary from the noise and as a way to gain insight and hence, the inspiration to create.
The importance of solitude
Finally, Marina's last thoughts are an artist's relation to solitude in which she emphasizes the importance of solitude. As such, "an artist should make time for solitude away from home, the studio, family, and friends. He should seek it at waterfalls, at exploding volcanoes, looking at fast-running rivers, looking at the horizon and gazing at the stars glittered in the night sky (An Artist's Life Manifesto)."
Here, Marina understands that while many people and indeed, even artists are scared of being alone, solitude is essential for the artist to gain insight, reflect and criticize their work to improve upon their craft.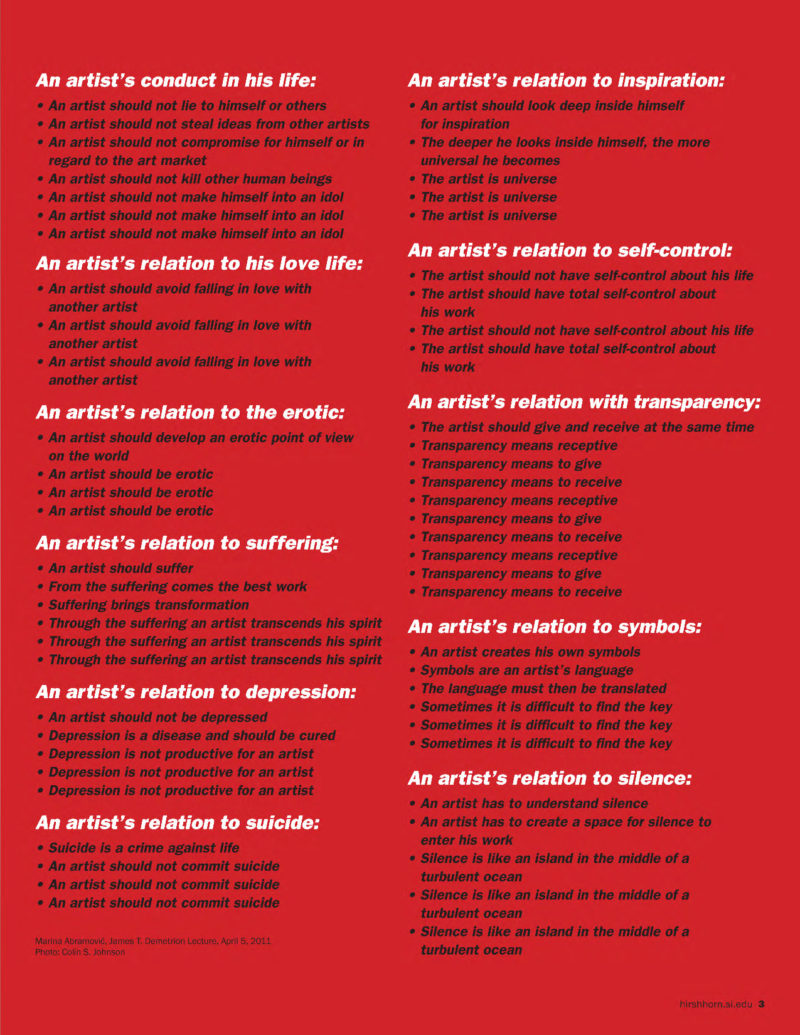 Conclusion
The story behind An Artist's Life Manifesto is also fascinating, seeing as it also channels the artist's sincerity and experiences in her work. She established it, having discovered what worked for her and what did not, especially when creating art that was defiant, fresh and new. Indeed the manifesto itself is a performance art that includes the value of rhythm and organization.
About Marina Abramović
Marina Abramović, the undisputed queen of performance art, is well-known for the radical pieces that propelled her to worldwide fame. She was born in Belgrade, Yugoslavia, in 1946 and dedicated her life to creating pieces centered on performance and feminist art. She is especially renowned for using her body as a medium and as a subject when creating her art.
More by Marina Abramović
Footnotes