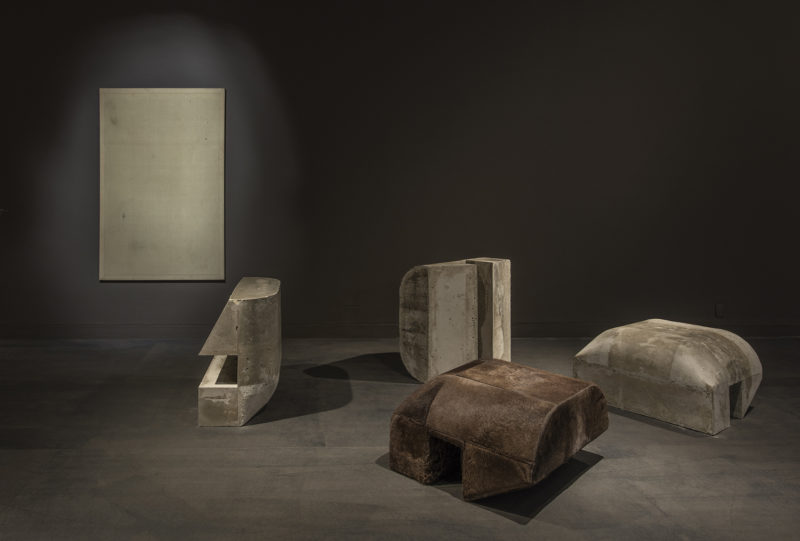 Introduction
When asked to speak about his art, Rick Owens appreciates designers who make hand beads or ball gowns, but he loves his style more. By using rare materials and working with highly skilled artisans, he can create unique items. With an emphasis on art instead of lifestyle, Owens creates massive monuments with little assembly work compared to the carving involved.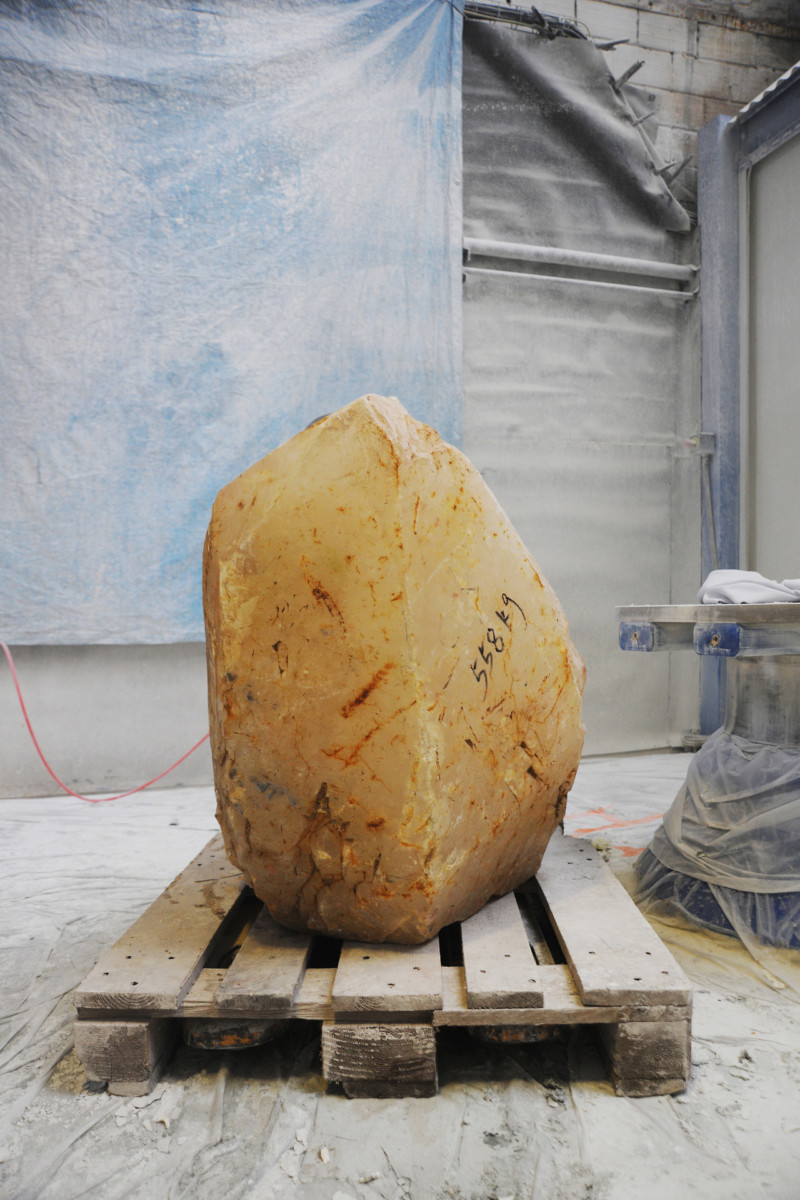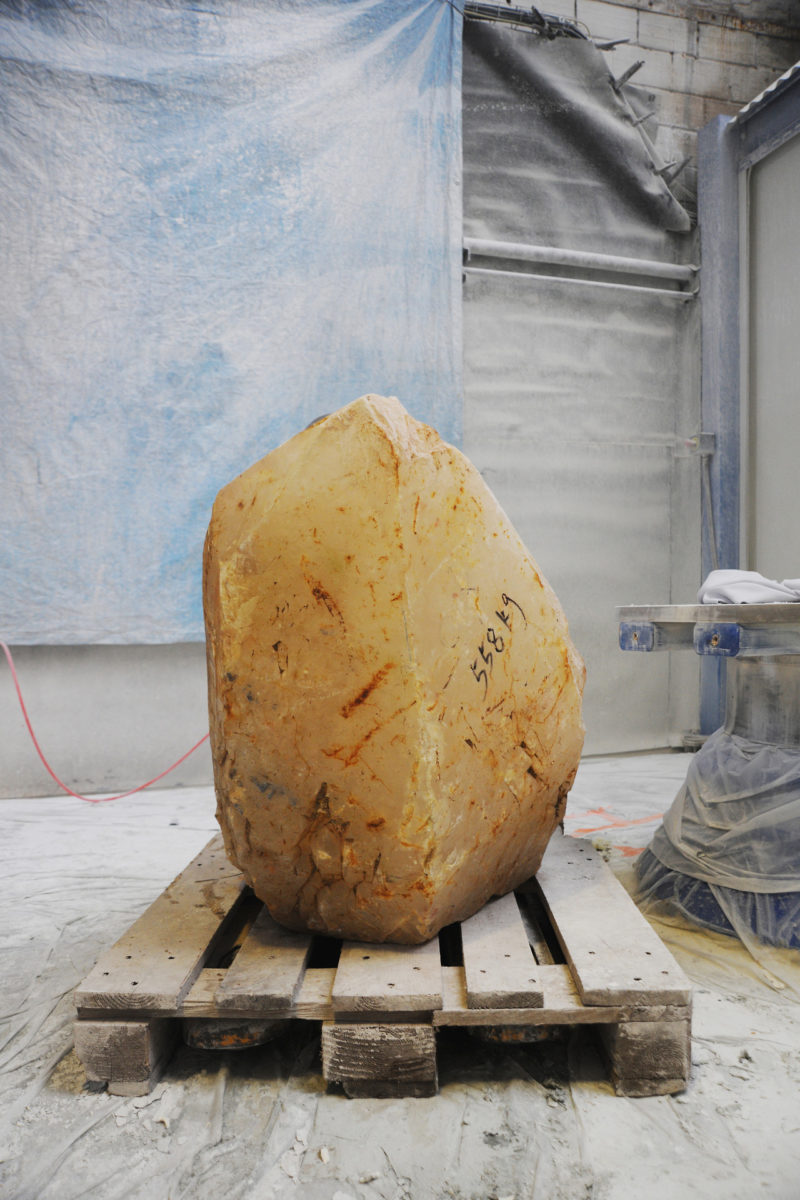 Rick Owen's furniture
Owens is fascinated by the contrast created when different materials come together to create expensive-looking furniture pieces. He began this line of his work in 2007. Since then, some pieces have traveled the international art circuit and as new shows come up, more designs are born. Every year there is a bit of a stray from the original artistic vision. In the first year when he began, Owen imagined a rock covered in fur and placed next to a fireplace; from this vision, the boulder signature was created.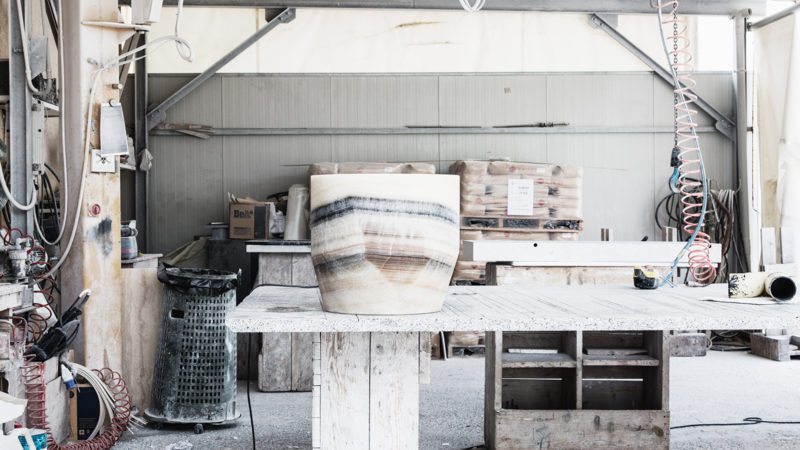 The birth of brutalism
To date, this original block has undergone various versions of transformation to create benches, chairs and daybeds. As can be seen at MOCA, the latest version of the block gets its shape from German bankers that were made from concrete and used during the Second World War. In his own words, Owens describes these bankers looking furniture pieces as images of futuristic temples. Since they have no ornamentation and are too square, with rounded corners that look weird, he thinks of them as the birth of brutalism.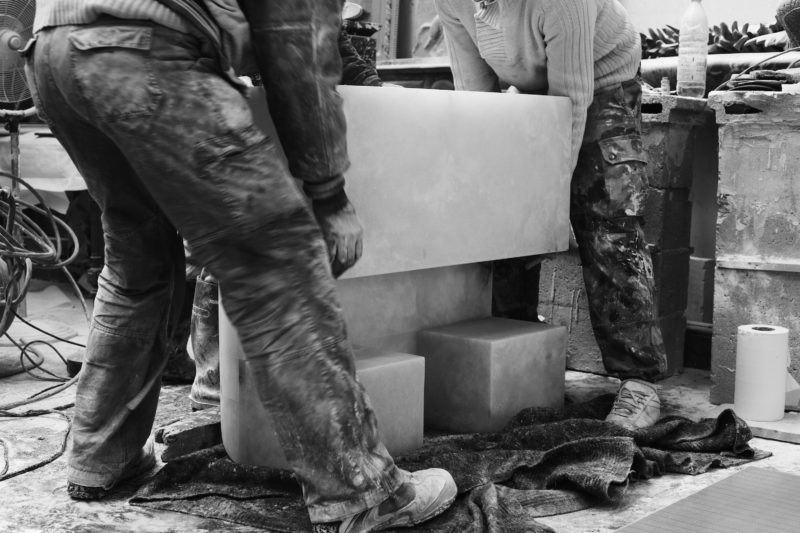 Teamwork with his wife Michèle Lamy
Much of what Owen does and his level of recognition in art circles is due to his creativity. Still, much of what he has achieved would not be possible without his wife Michèle Lamy, who is also his creative partner. The teamwork begins at prototyping after Owen had already drawn the designs on paper.
At this stage, their main tools are a passion for art, a kitchen knife and two pairs of loving hands. They then use the services of a dealer who travels the world sourcing for elements and unique materials.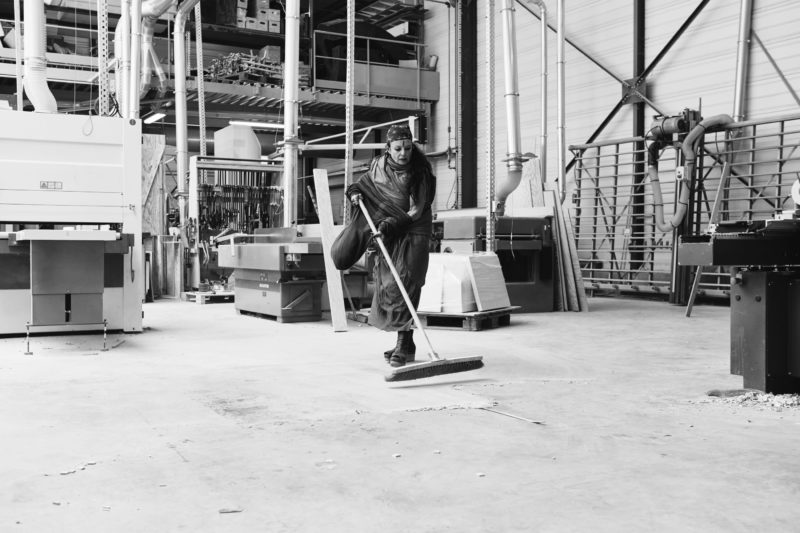 Armed with a prototype and unique elements, the team gets into action to supervise the production team. Did you know that colossal slabs made out of stone weigh up to 2 tons? These are the bases on which carvings are made by cutting through them using laser before being polished.
For people who only know Rick Owens as a fashion designer, it comes as a pleasant surprise that he makes furniture with such magnificence.
Influences
Owens has stated that he is passionate about interior designs and often leans towards Art Deco style with influences from Finnish Art Nouveau, Mayan temples, religious buildings, crude style and architects such as Le Corbusier and Marcel Breuer.
Though he has leaned towards Art Deco and Art Nouveau style, as well as characterizing his designs as spawning from crudeness and brutalism, Owens nevertheless ensures that his furniture pieces are pretty modern too. He does this by integrating technology such as lighting, Wi-Fi and charging ports for phones and other electronic devices.
Exhibition at MoCA Los Angeles
His eye-catching pieces quickly propelled the designer into the popular world of exhibitions and shows in the art world. He is particular about furniture and interiors and often reimagines what interiors could look like when creating his designs.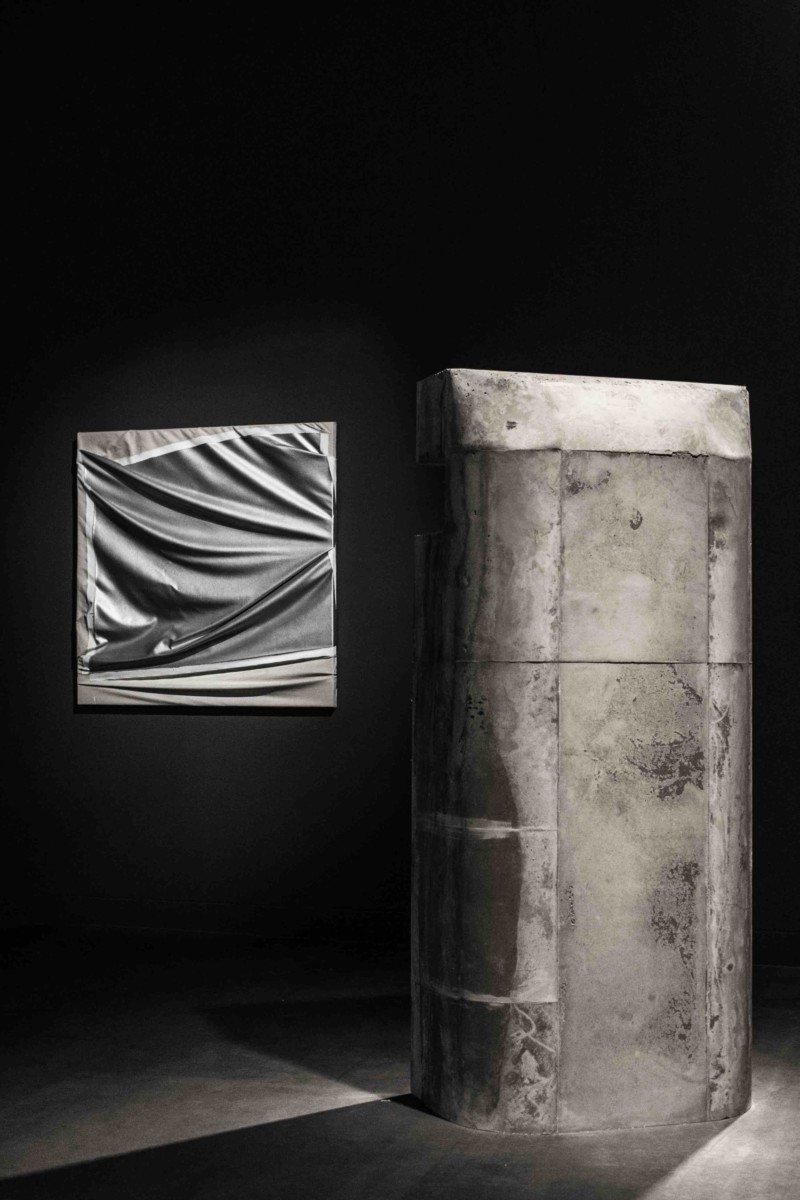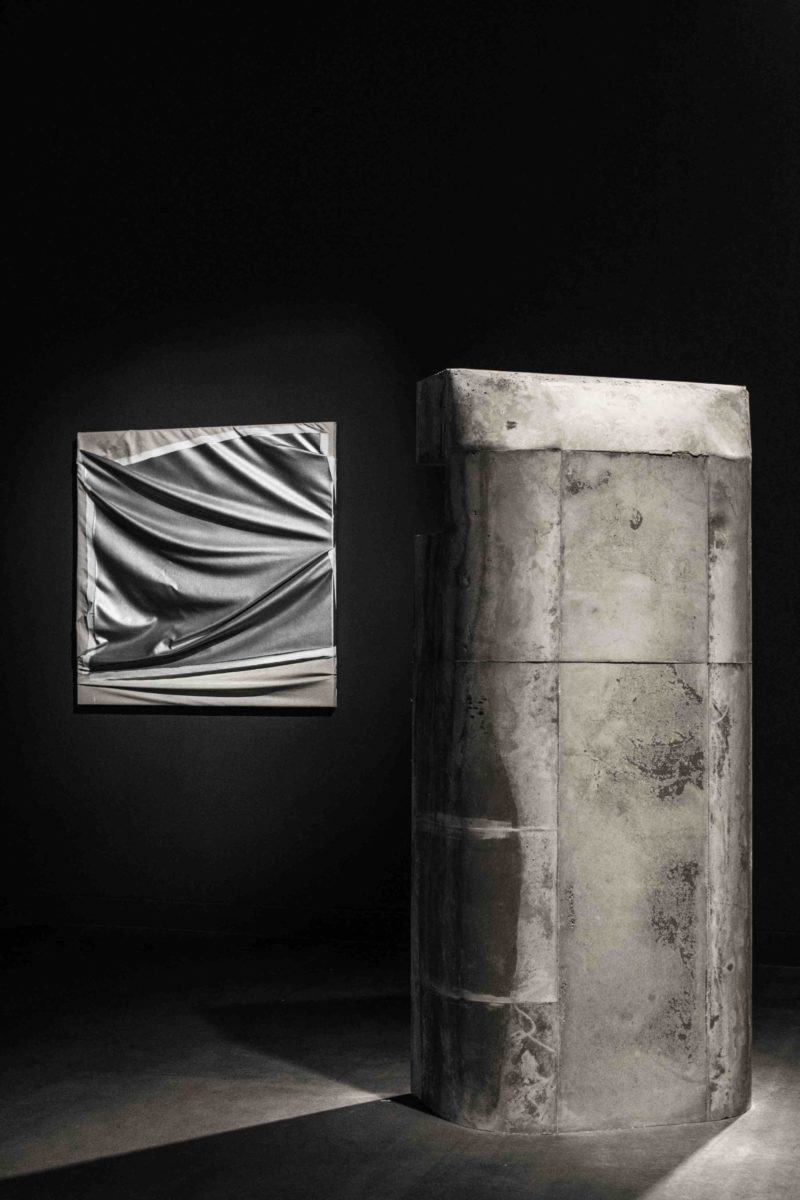 Owens' exhibitions have always paid a nod to his influences rooted in the history of art and design. Based on his previous creations, he often creates furniture pieces that are brutalist and oversized, varying in color and texture, as well as having a stark modern feel in combination with luxe-minimalism.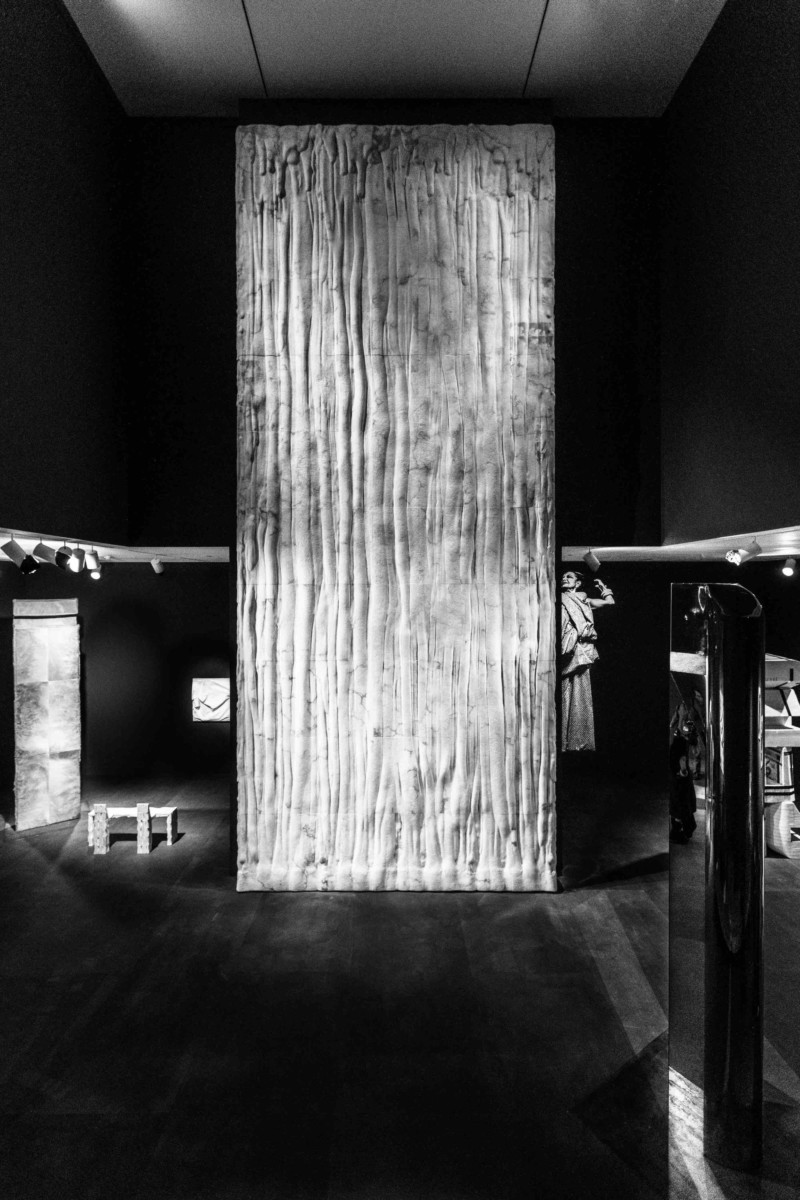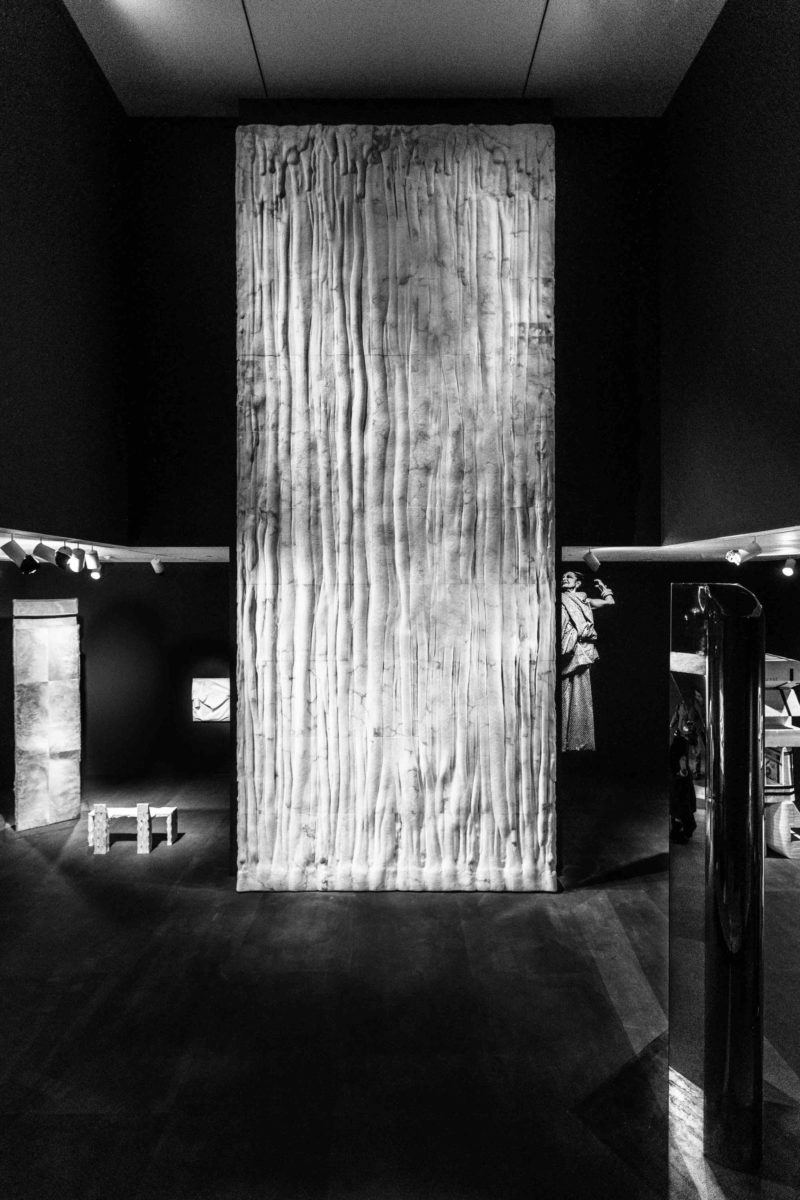 Each of his exhibitions has showcased furniture pieces that make use of different materials and with an artistic form that draws one's eye to them. By creating using cold materials such as alabaster, concrete, marble, fiberglass, etc., as well as adding warmth using wood, fur, foam, hide and other organic materials, Owens has succeeded in creating vibrant designs that make for statement pieces.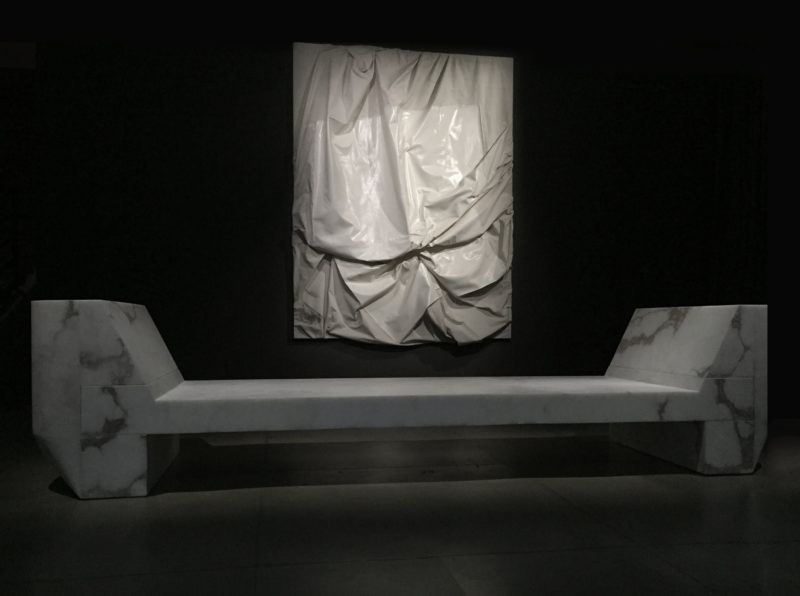 Video: Exhibition walkthrough
Rick Owens 'Furniture' Exhibition Walkthrough
Curators Rebecca Matalon and Marcelyn Gow discuss Owens' architectural and artistic influences in his furniture designs.
Furniture
If you spot limited-edition furniture that makes use of juxtaposing shapes and a combination of unusual materials such as bone, resin, antlers, concrete, fiberglass and wood, chances are you are looking at some of Rick Owens' furniture designs.
Owens creates lighting, chairs, and sofas. Having experimented with fashion design before, the artist entered the world of furniture design in 2007, with the assistance of Parisian dealer Philippe Jousse, introducing his pieces to the public. Before that, Owens started experimenting with designing furniture pieces for his home.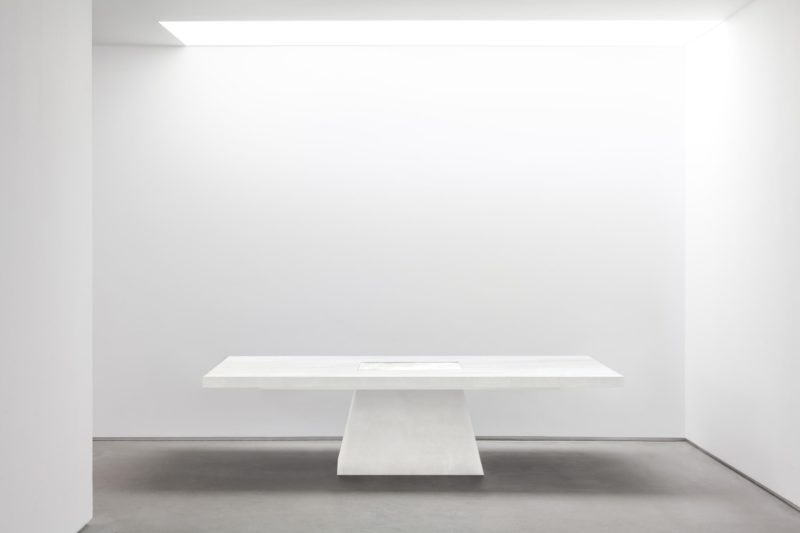 Owens's furniture design leans towards a dark, monochromatic and minimalist style. His creativity is exhibited through the plan, cut and volume, as well as his choice of subtle and rare materials.
His bespoke furniture pieces are three-dimensional and focus on his aesthetic and creative style. Indeed, most of Rick Owens's early pieces resembled sculpture-like installations, mainly edging towards monolithic black pieces that combined organic materials such as deer antlers and graphic shapes.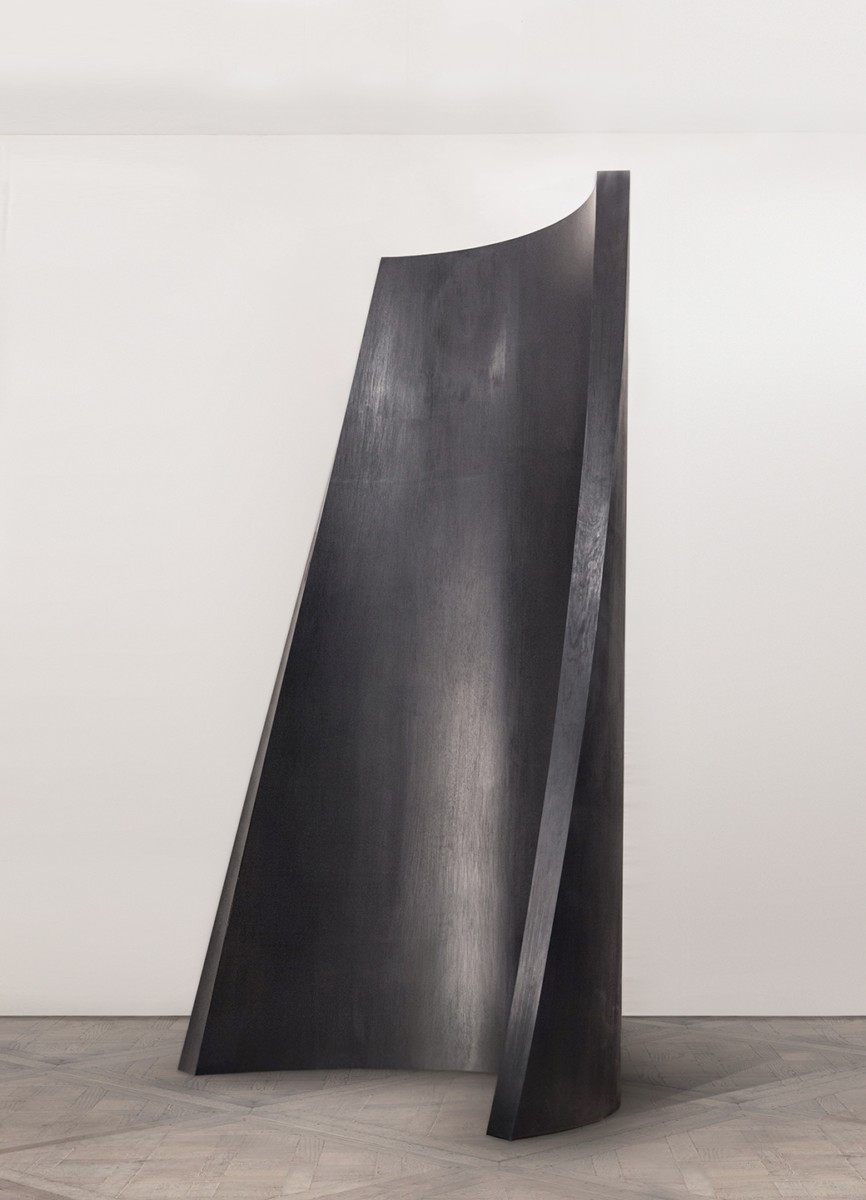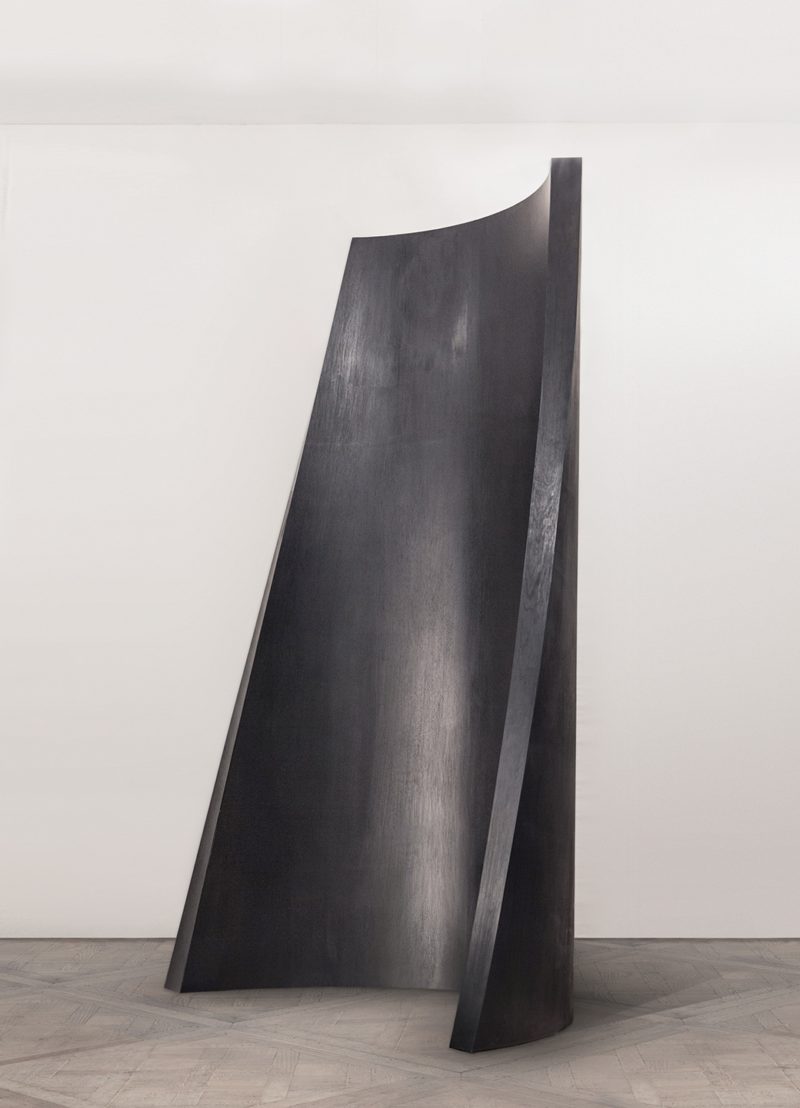 Owens was born in California in 1961. He studied fine arts at Otis College of Art and Design in LA, after which he graduated in 1981. He entered the industry of pattern-making and draping, worked in a knock-off garment industry, launched his fashion label that specialized in grunge and glamour before entering the world of furniture design. He has not looked back since.
Looking at his portfolio, it is not hard to see that Owens really does have a creative mind. Indeed, it is evident, especially since he has been able to cross from fashion design to furniture design in a trail of success.
Owens is able to create inventive furniture designs and though he has completely steered away from the cozy designs style, instead favoring only furniture pieces that are monolithic with a number of shapes and from rare materials crafted with a monochromatic color palette.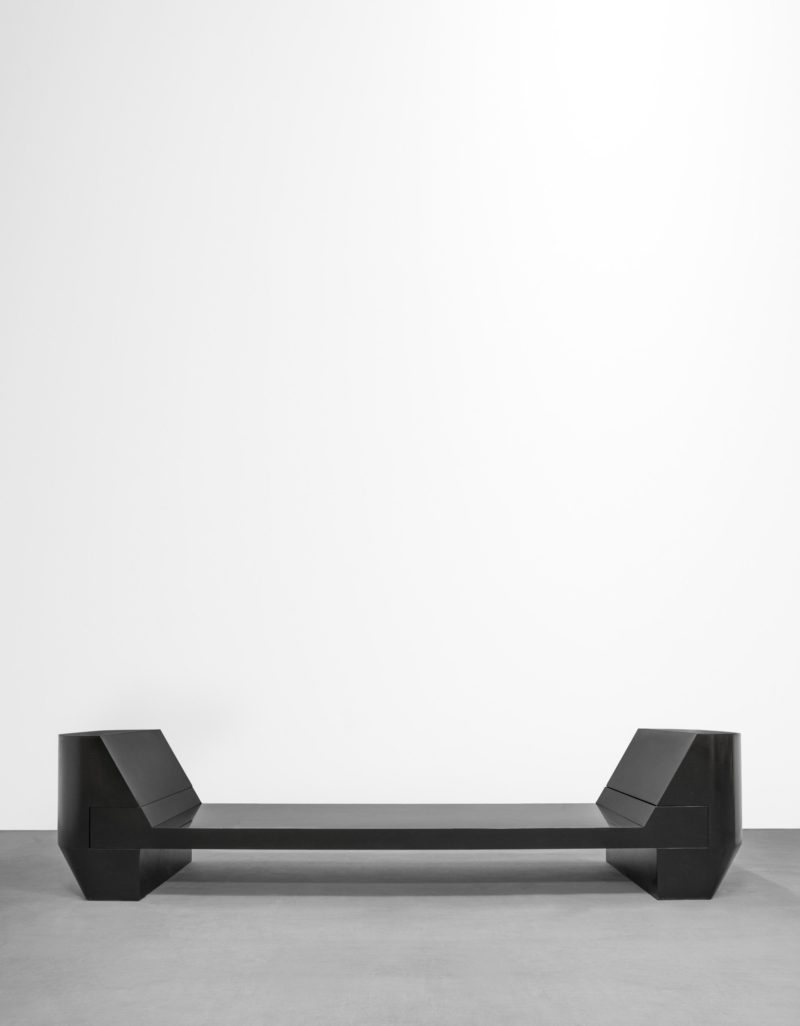 Owens has described his furniture design process as being rigid and reflecting his love for antiques. His furniture stays faithful to this design process and is hence anti-cozy, solid and heavy. Coupled with his passion for juxtaposed shapes, it can tend to look a bit less practical and more formal.
However, Owens is quite familiar with this assessment, stating that he mostly has people buying a piece or two that they fall in love with and then incorporate in their homes as a bit of an attractive statement piece to stand out amidst the rest of their furniture pieces.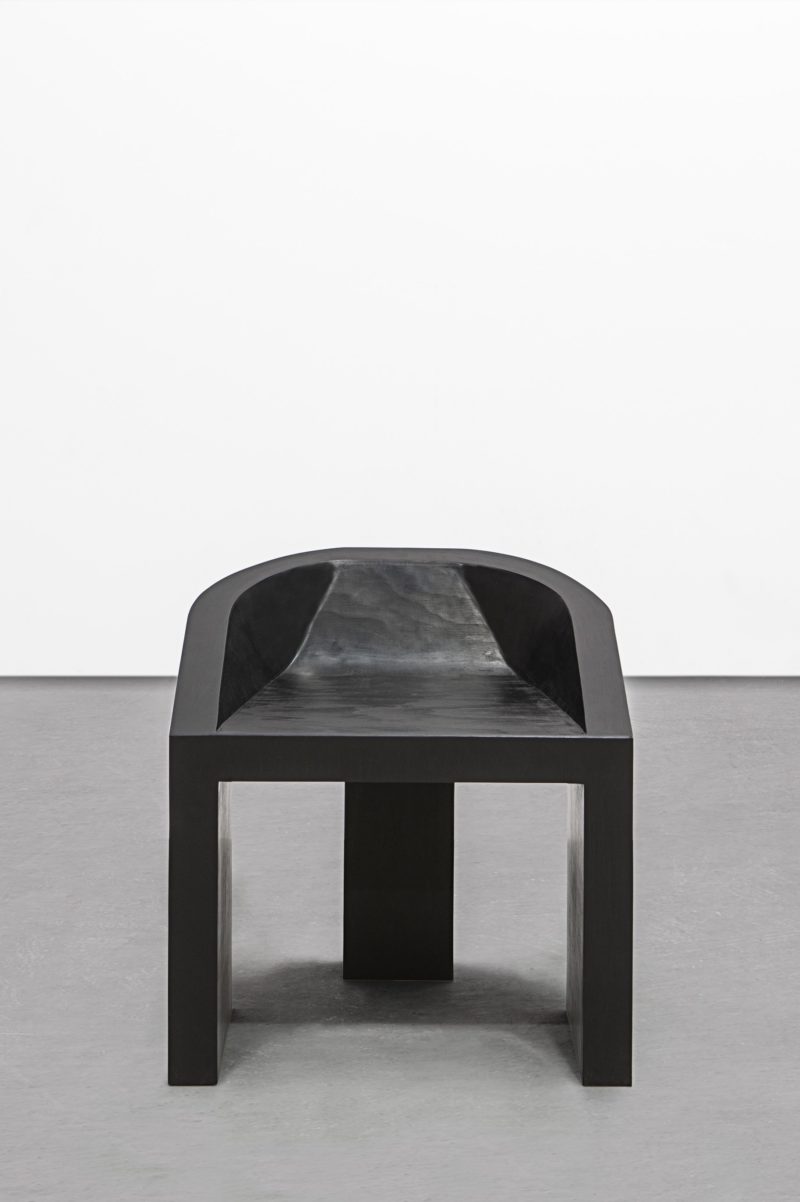 His SoHo store showcases many of his creations ranging from rock crystal benches, benches covered with camel hair, marble chairs in a variety of graphic and geometric shapes, side tables, bark tables, marble plinths and antler chairs, among others.
He seems to model his furniture in combination with minimalism and punk as if they are imitations of his fashion pieces. Since Owens' fashion line is a combination of glamour and grunge styles resulting in a style he terms "glunge", it follows that his furniture designs are just as uniquely, defying the modern trends of coziness and warmth.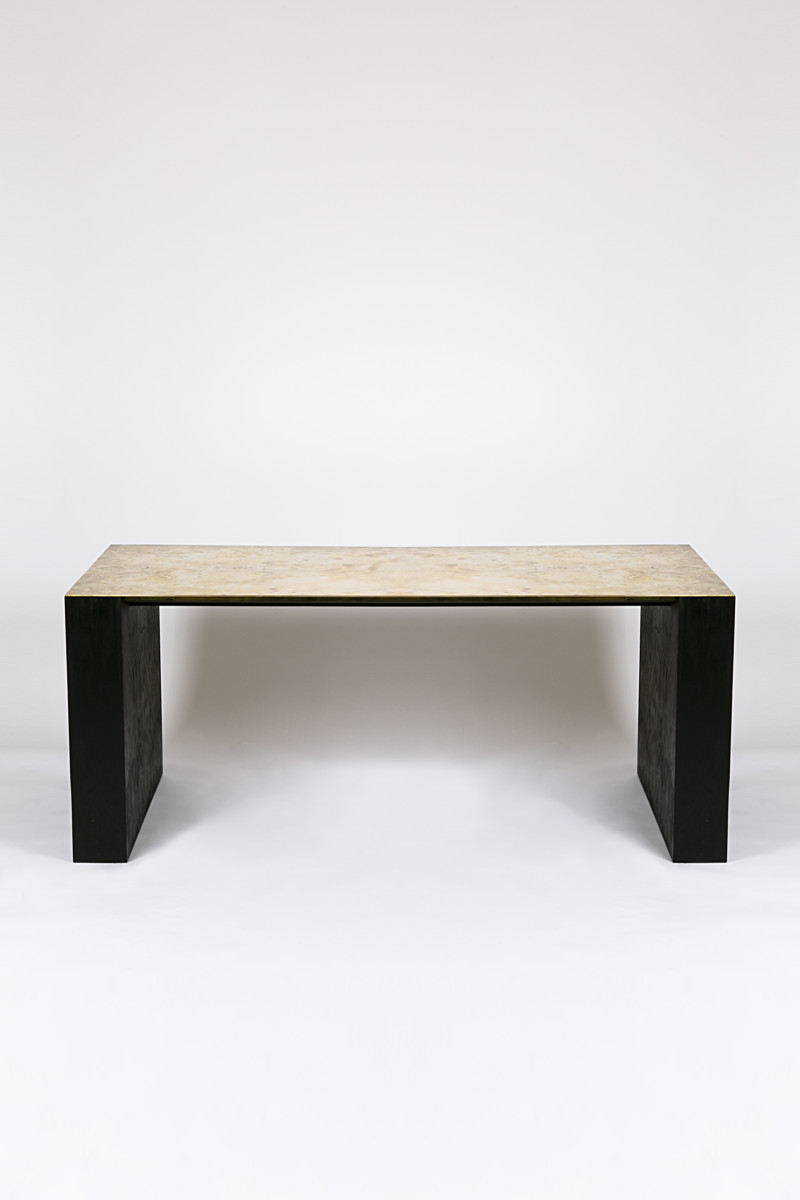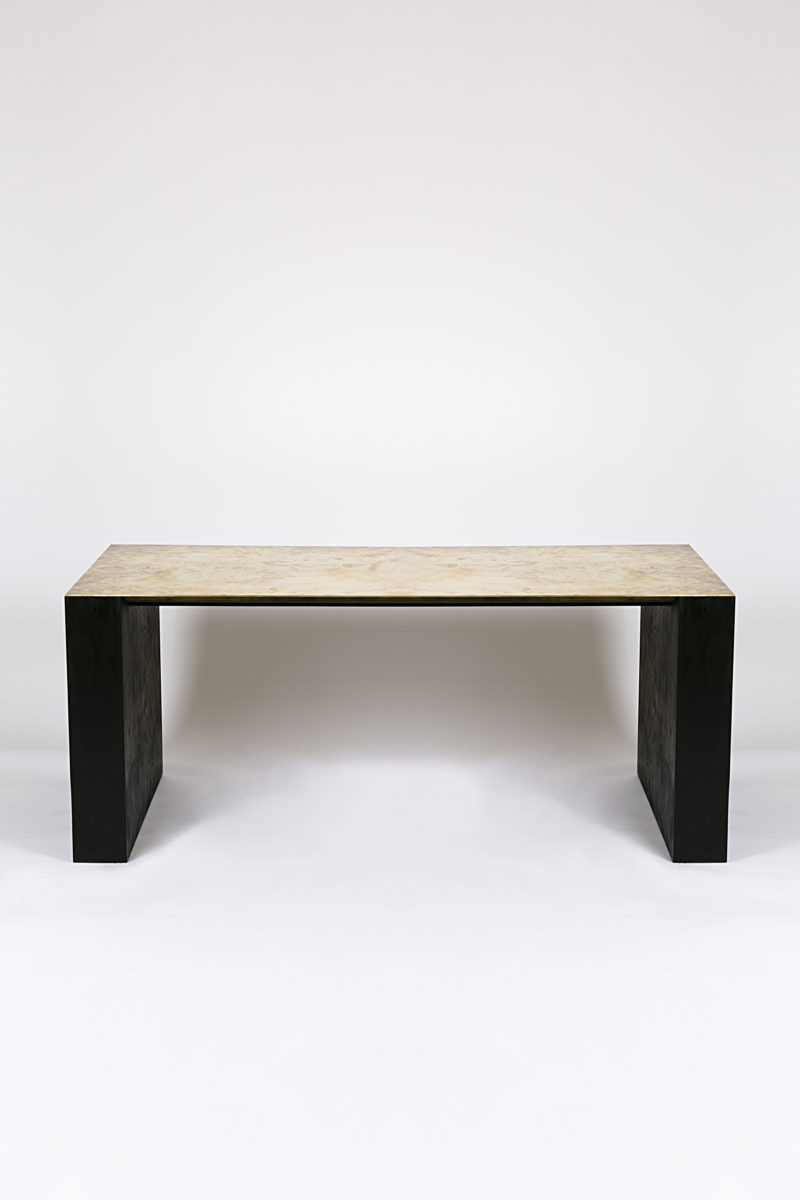 Instead embracing starkness and formality, his furniture pieces nevertheless end up feeling warm, especially due to his combination of organic materials with cold materials in many of his designs.
When creating his designs, Owens also takes special care to include signature materials such as bone and concrete. He has also used a textured French wool army blanket in his creations as a symbol of the fragility of peace.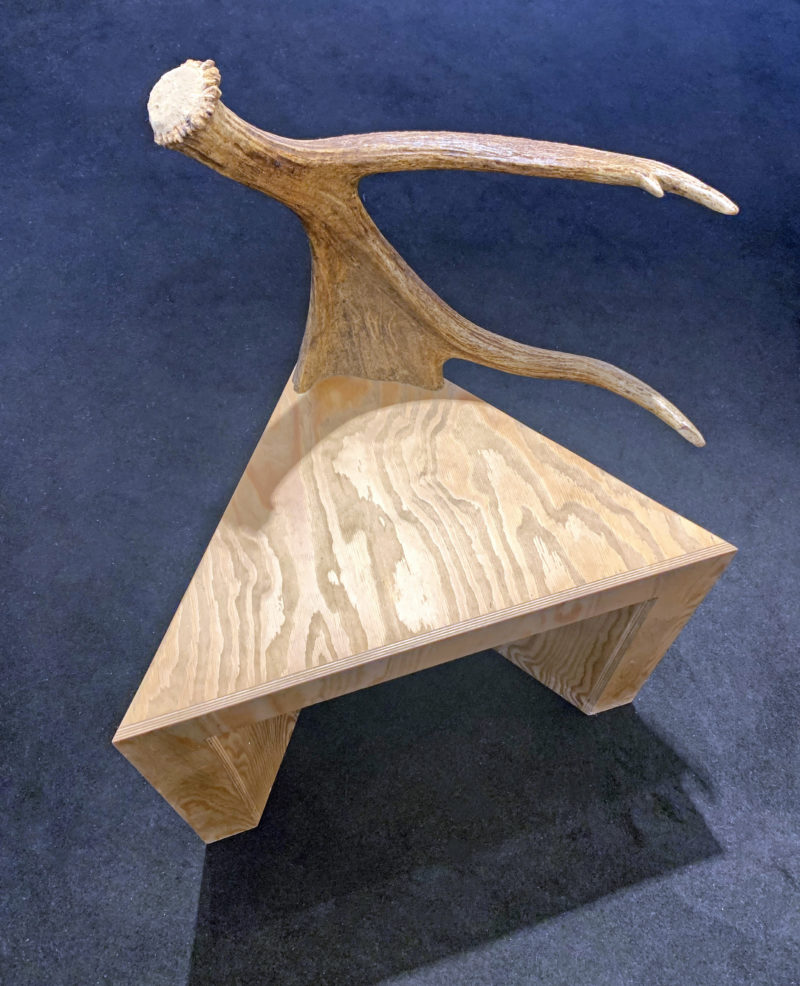 His creations push the boundaries of furniture design, seemingly challenging the viewer to determine where the design begins to take form as a furniture piece instead of just a statement art installation piece.
Besides, his juxtaposition of shapes and materials in his furniture designs yields pieces that are a resistance to the usual. He has therefore chosen to express minimalism in a way that is contradictory to its very essence.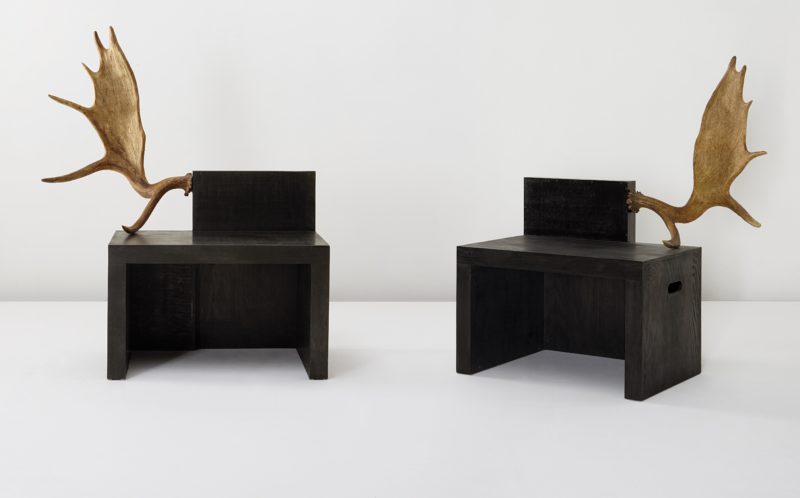 Benches
For instance, his camel skin benches come to mind. The low benches covered in camel hairs loo sensual and also feel cozy in a hard way evoking a sense of warmth, intimacy and visual aesthetic. In this manner, Owens's furniture pieces exhibit a kind of radical chic that he pulls off effortlessly.
Owens' Prong Camel Bench is also modeled in his typical manner. With simple yet orthodox shapes, it takes on the form of a prong, with the prongs acting as the lengths of the bench. It is a combination of wood and camel skin where the camel skin is upholstered to cover the entire bench and mostly comes in either tan or earthy brown colors.
Additionally, there are Double Prong Camel benches created in the same manner. The result is a warm piece of furniture that not only serves the purpose of acting as a bench but also acts as a statement piece that gives a nod to Owens' creativity and original approach to his furniture design process.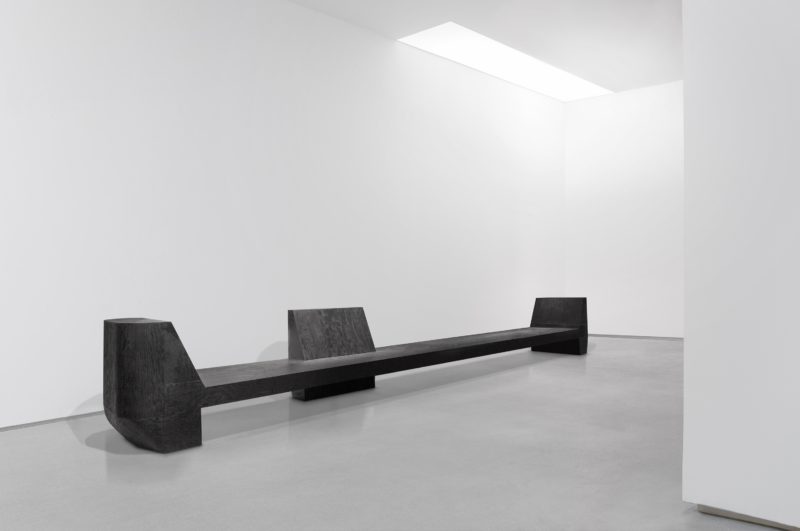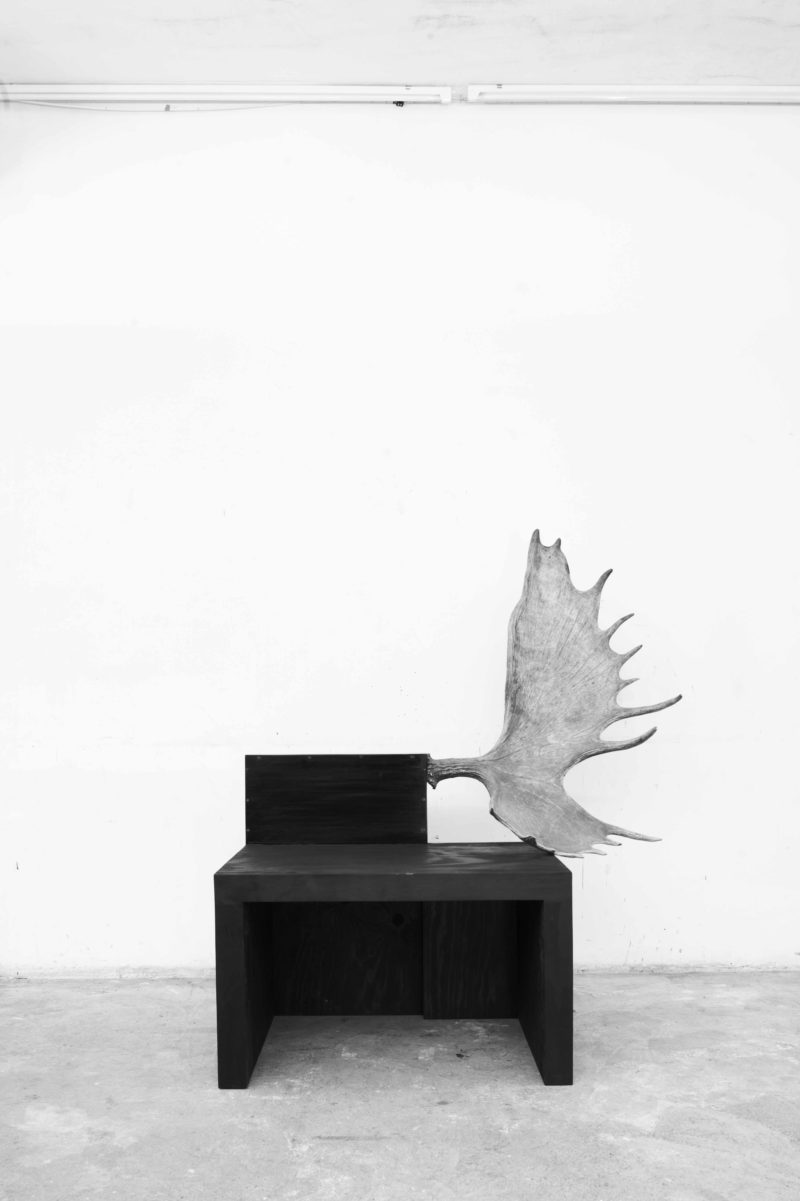 Daybed
Some of Owens's most famous designs have been on display at the Museum of Contemporary Art (MOCA) and these include the famous bed that he originally made for his Paris live-work space. Owens' Day Bed is made with plywood and petrified wood and is from his 2012 collection.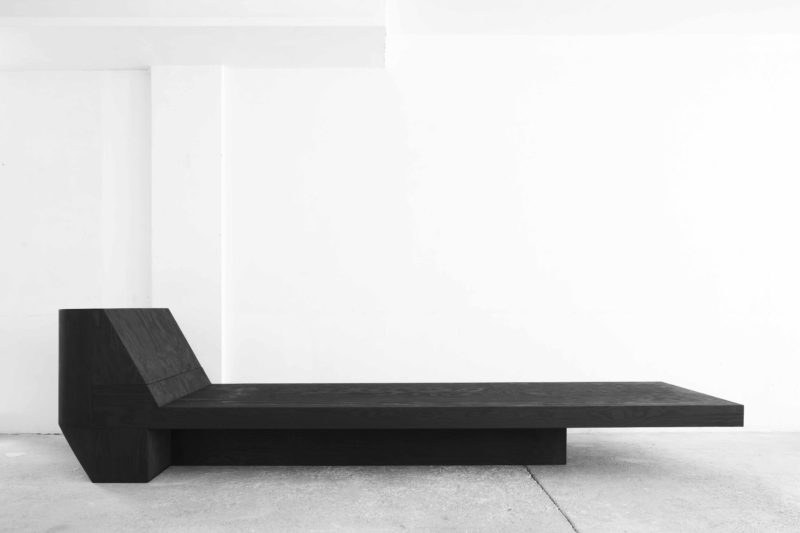 Measuring over ten feet long, the bed is dark in color and has a shiny finish. With a solid, heavy-looking headboard, the platform body of the bed smoothly connects to the solid headboard, with its spine ending a couple of feet just before the foot of the bed.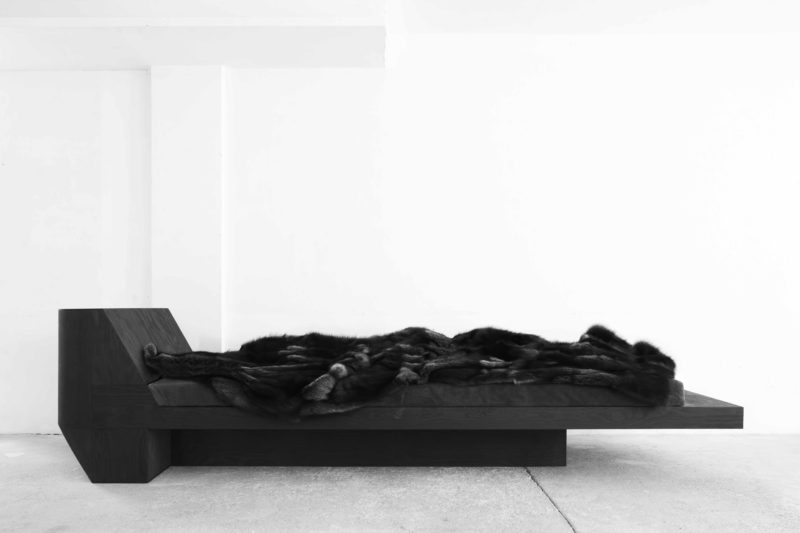 Tables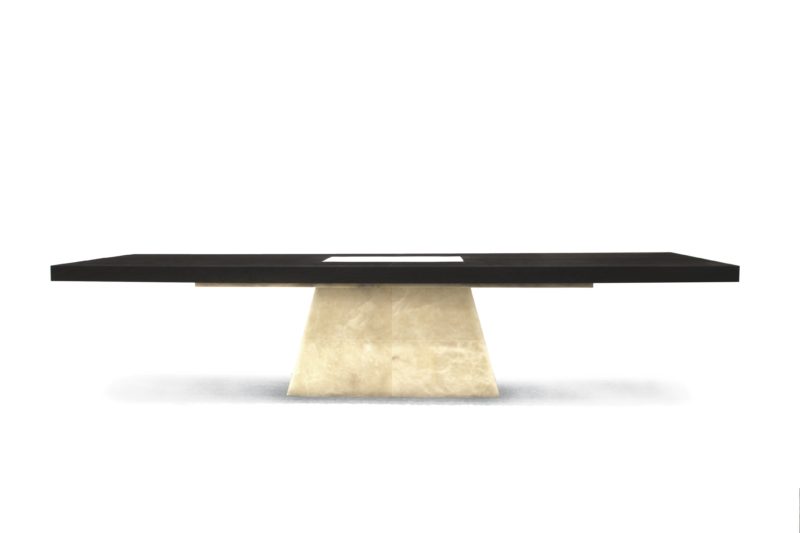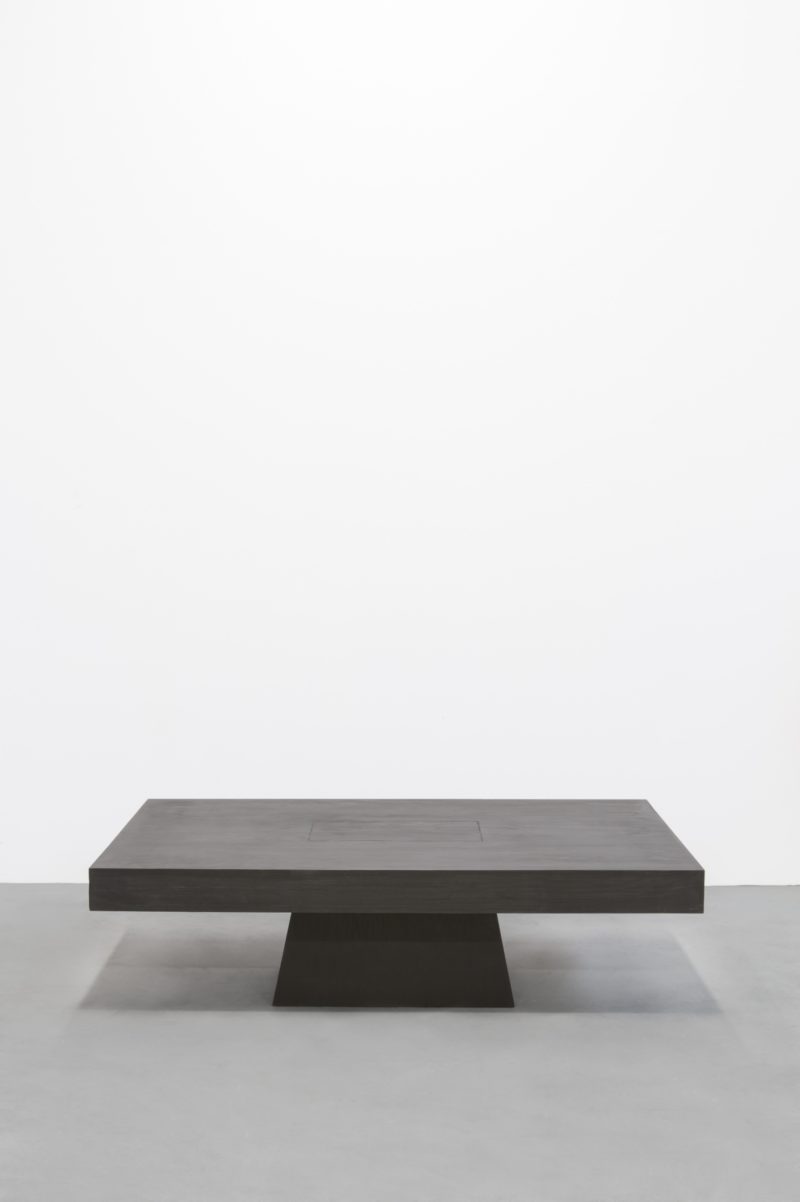 Chairs & Stools
While he has created many furniture pieces, from tables to chairs, stools and more, he has a few pieces that he relishes more as some of his more iconic signature pieces. For instance, Owens identifies the "prong seat", a chair with a curved shape and protruding lines made from aluminum, as one of his signature pieces. But that's not all.
The Tomb chair is a mixture of wood and antlers. It consists of two separated wooden benches with a black finish and boxy, elongated form. There is an antler that is tan in color sitting on each of the benches.
Owens' Wooden Curial chair is thirty-two inches and has a boxy form and a curved back. The chair's legs are bulky and form a boxy shape with the seat and smoothly join the curved back. The entire finish of the chair is in an earthy wooden brown color in line with Owens' style.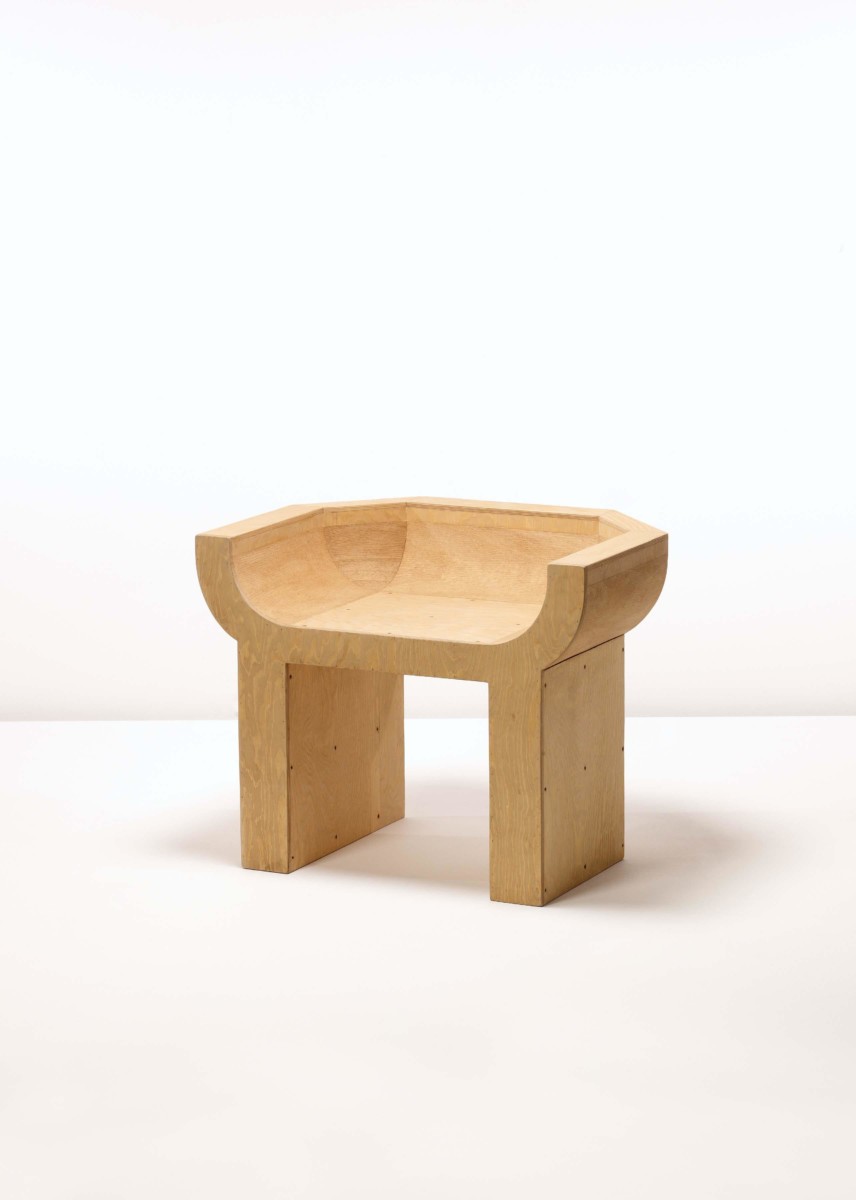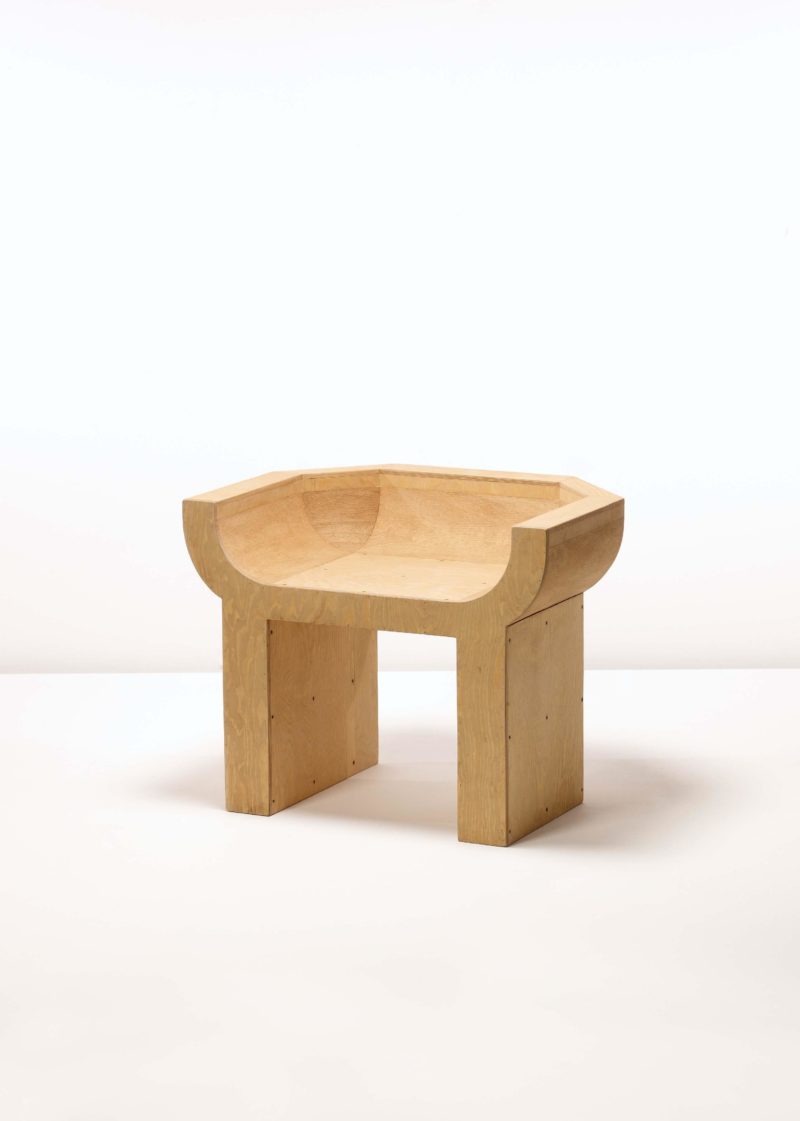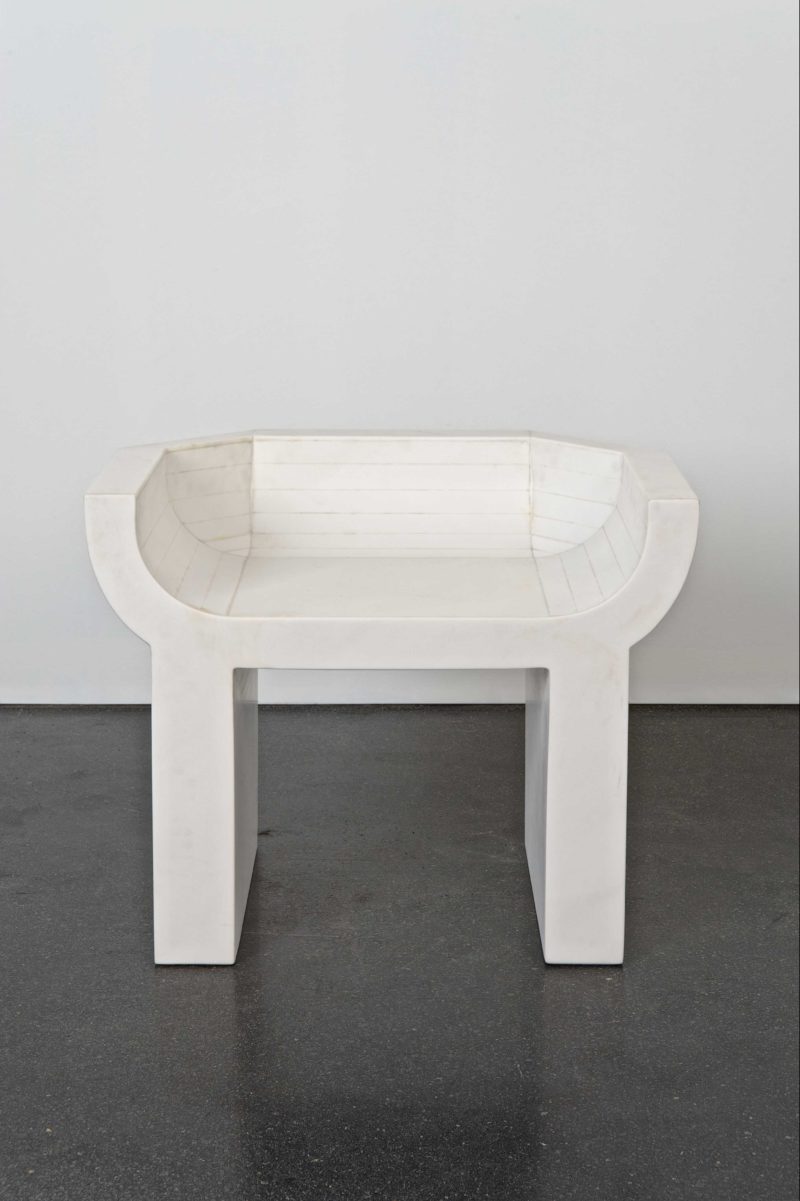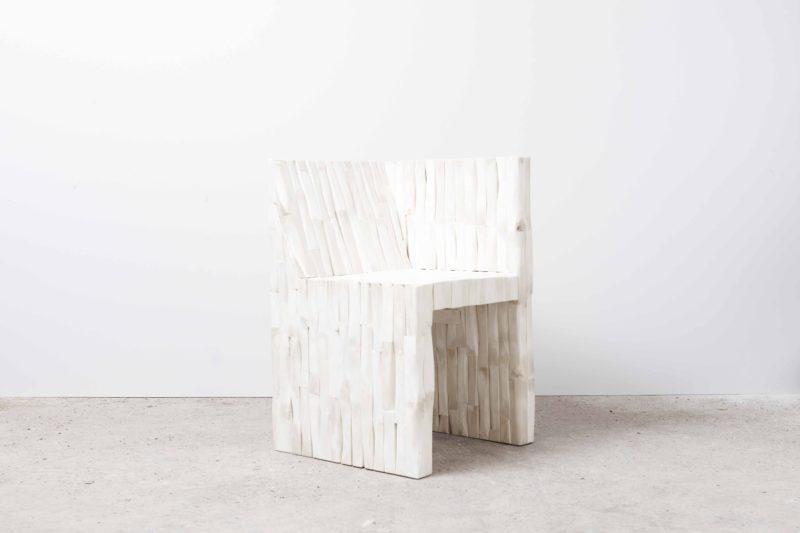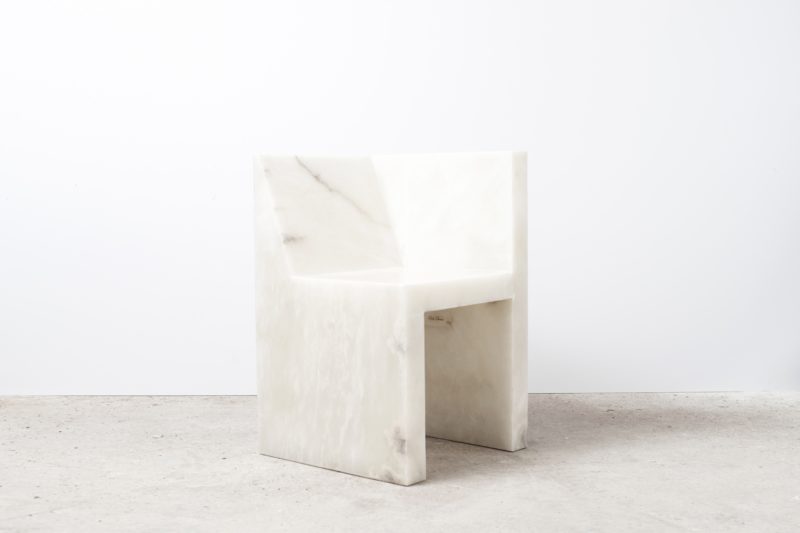 Owens' designs are many and varied. For instance, his Alchemy chair is a favorite piece with collectors, designers, buyers and critics alike, and there are different versions in this series. There is a Desk Alchemy chair, a square alchemy chair, an alchemy bench and an alchemy bar stool.
These are built using bronze and camel skin, achieving a luxe-minimalist look and feel. The frames of the alchemy chairs are made with bronze, while the upholstery for both the seats and the back cushions are made of camel skin in a smooth yet luxurious finish.
This achieves an erotic feel where one can sit on the chair while petting the fur on the camel's skin, making it feel and look sensuous whether in private or in an institutional space. Owens has also created several light fixture designs, such as a plywood wall lamp, a bronze lamp as well as a concrete lamp.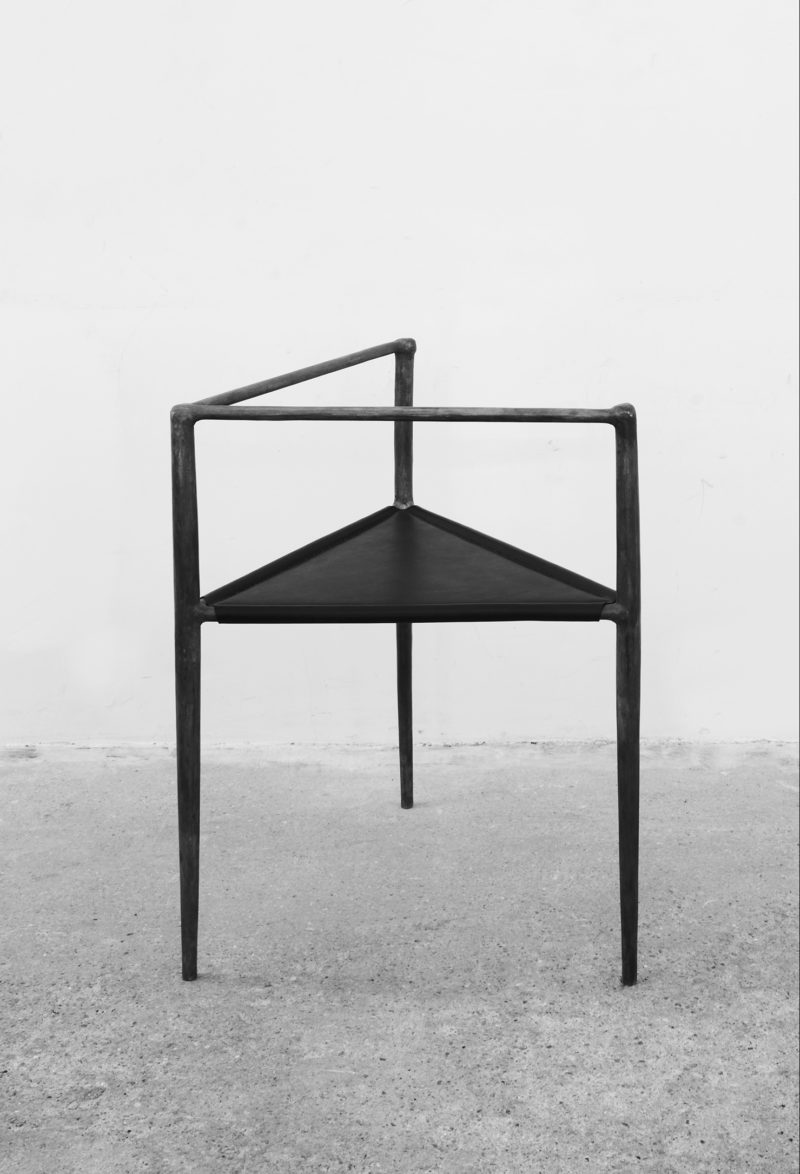 Sofa
Not restricted to chairs, beds and benches, Owens' 2013 collection also featured one of the most revered sofas in his designs yet, the Double Bubble – Natural Plywood.
With this furniture piece, Owens continues to pay homage to his brutalist style and has utilized natural plywood together with Orso leather to construct a piece that gives comfort to the viewer while allowing them to marvel at its artistic form.
A cross between history and modernity, the sofa is low platform nesting on three curved supports. It is curved like an old bathtub that has its sides chopped off, with the plywood in a natural finish.
The cushions that form the seating area and the ends of the sofa are upholstered using dark leather, giving the entire piece a luxe-minimalist look and a cross between a warm, comfortable couch and a beautiful sculptural installation. It is indeed like all Owens' creations, a masterpiece of brutalist furniture design.
Another famous design is a modular sofa landscape created for Carpenters Workshop Gallery made of large plywood units and is furnished and upholstered using the aforementioned French wool army blankets.
It is not only a nod to Owens's aesthetic and monochromatic minimalist style but also functional since it consists of a C-shaped profile that can create a lounge area that is big or small in size, conveying a sense of privacy and intimacy.
As mentioned earlier, Owens does a great job of incorporating technology into his furniture pieces, giving them a modern touch. In this modular sofa, each unit has lighting, a phone charging point as well as an internet conduit and can stand alone. However, cushions can be added to the bench units for a cozier lounging spot.
Book – Rick Owens: Furniture
Rick Owens has a book illustrating his designs, Rick Owens: Furniture. This book catalogs his most remarkable pieces while also acting as a love letter to his wife, with whom he has collaborated severally, Michele Lamy.
This gives insight into Owens's creative process and makes the viewer feel as though they are interacting with his furniture pieces, not just mere viewing.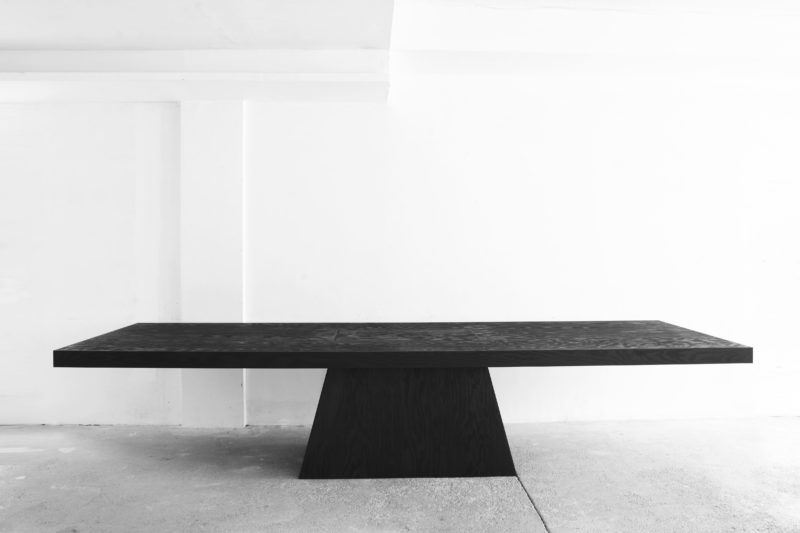 It turns Owens's aesthetic, which leans towards the dark, monochromatic, edgy, hard and anti-cozy, into pieces that evoke desire and the need to be cherished. The book is a summary of Rick Owens's design process and his universe, as well as his interpretation of interiors.
The 200-page hardcover volume has many high-quality photographs, including those that depict his and Lamy's magnificent Parisian home as well as furniture pieces specifically designed and constructed for his exhibits.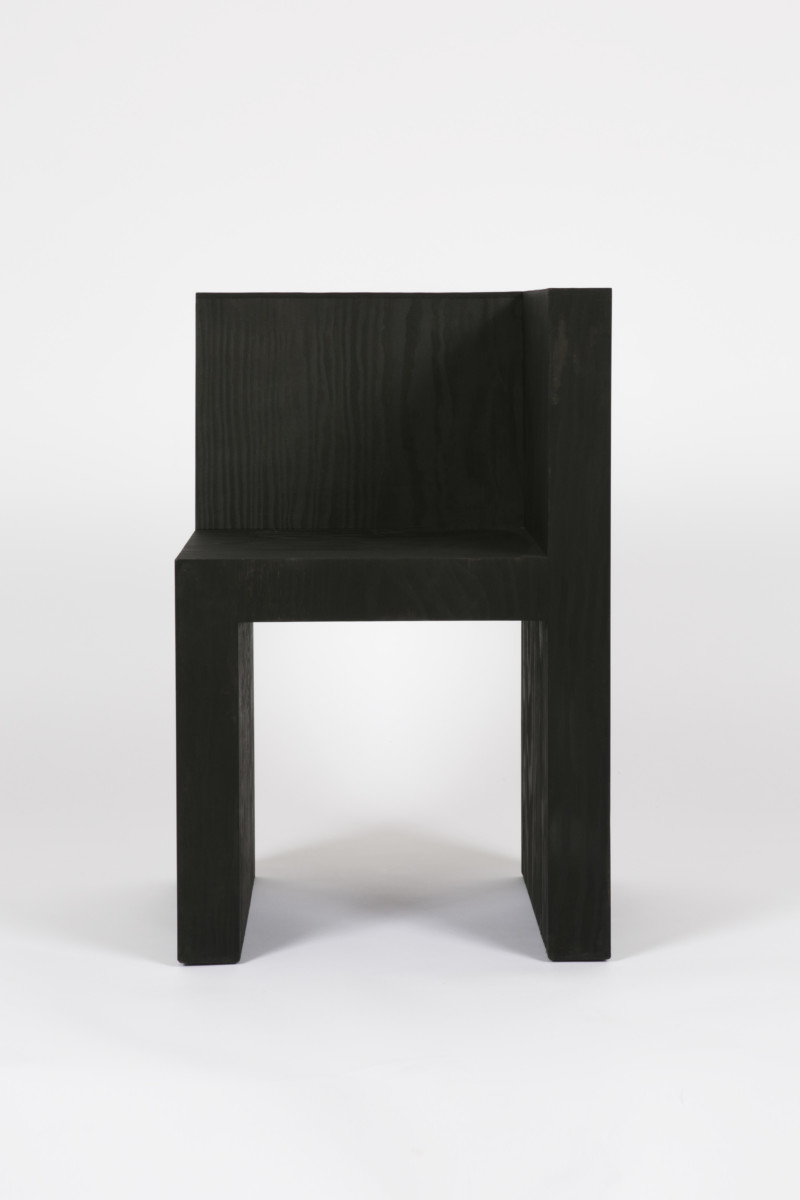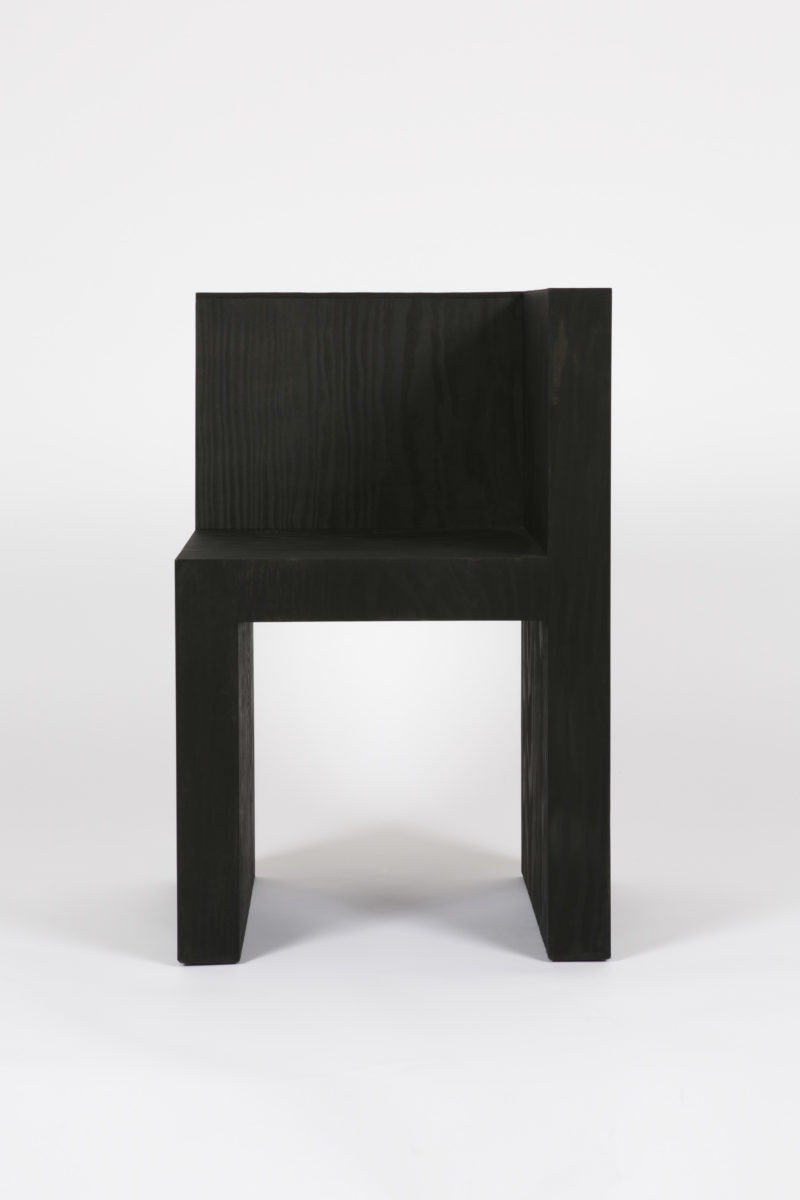 With quotes from both Owens and Lamy, it is a charming description of how the two have managed to strike a balance in the face of extremely opposite design interests. As the furniture designer has stated before, his pieces are not warm and cozy but instead convey rigor, a sense of discipline and formality.
He has created a wide variety of furniture designs ranging from chairs, tables, stools, benches, lounge chairs, cocktail tables and coffee tables. He has also developed other pieces such as vases and vessels, table lamps, sculptures, bowls and baskets, all in a bid to express a different but personal style in interior spaces. They are gorgeously displayed in this book.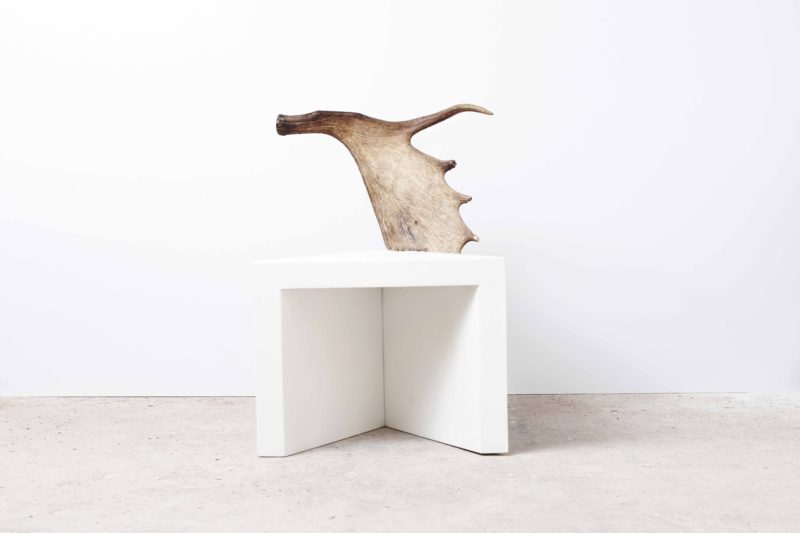 Influences
He has also stated that he is passionate about interior designs and often leans towards the Art Deco style with influences from Finnish Art Nouveau, Mayan temples, religious buildings, crude style and architects such as Le Corbusier and Marcel Breuer.
Though he has leaned towards Art Deco and Art Nouveau style, as well as characterizing his designs as spawning from crudeness and brutalism, Owens nevertheless ensures that his furniture pieces are pretty modern too. He does this by integrating technology such as lighting, Wi-Fi and charging ports for phones and other electronic devices.
Final words
In a nutshell, while Owens's furniture designs tend toward anti-cozy, they are made livable when incorporated into interiors as statement pieces that are functional too. They indeed do give off the feeling that they are sculptural art installations with a purpose.
Owens has demonstrated his creativity and inventive mind across the arenas of fashion, design and art. As he maintains that furniture is an extension of one's personal expression, he continues to create stunning furniture pieces for people who want to customize their designs and add more beauty and a statement to their interiors.