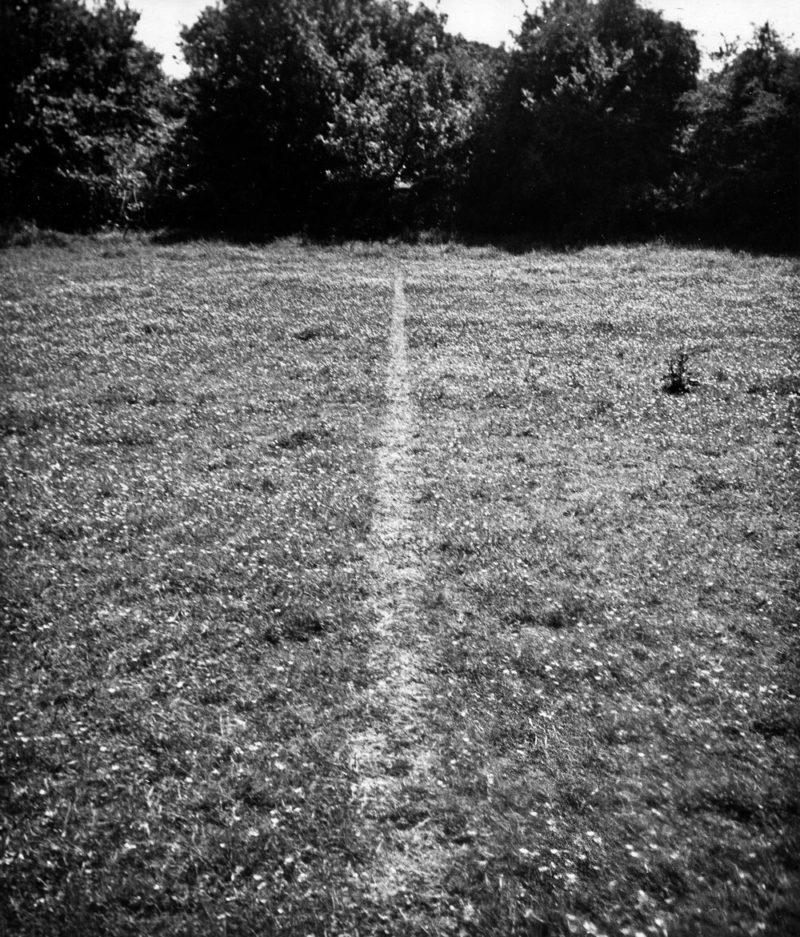 Introduction
The photograph reveals a straight line receding towards tall bushes and trees. It is a straight line of trampled grass that appears in a field. Below the image, the writing says A Line Made By Walking and England 1967.
The whole artwork is a documentation of Richard Long's land artwork. It documents his work: The creation of a short line in nature. Long created this work by repeatedly walking back and forth in a field made of grass. After that, Richard Long photographed this from an angle at which light enhanced the look of the line.
The line in his work was made by walking across an irrelevant field. This also served as his path, in fact, a path of going nowhere. The straightforward and precise walks were photographed to create a new art form, which was also a new way of walking and made walking an art form.
A Line Made By Walking, 1967
When & Where
When Richard Long was doing this work, he was an art student at St Martins School of Art in London. His classmates and friends were Hamish Fulton, Gilbert & George, and also Barry Flanagan.
Long described how he took a train from London's Waterloo station to Southeast Britain in 1967. After about twenty miles, he found an uninspired field that was perfect as the site of his artwork. Long then created the first of his many works that were made by walking outdoors.
The role of nature
Nature has been a target by many artists. Richard Long, too wanted to make nature the subject of his artwork but in a way that many wouldn't imagine. For this reason, Richard started working outside with natural materials such as water and grass. This eventually induced the idea of making something by walking.
What does the photo not show?
It is clearly noticeable that there was no human figure in the photograph though it presented a trace of corporeal presence and bodily action. For a long time, Long has been identifying himself as a sculptor. A line made by walking has been identified by some writers with austere sculpture, especially because of its pared-down aesthetic.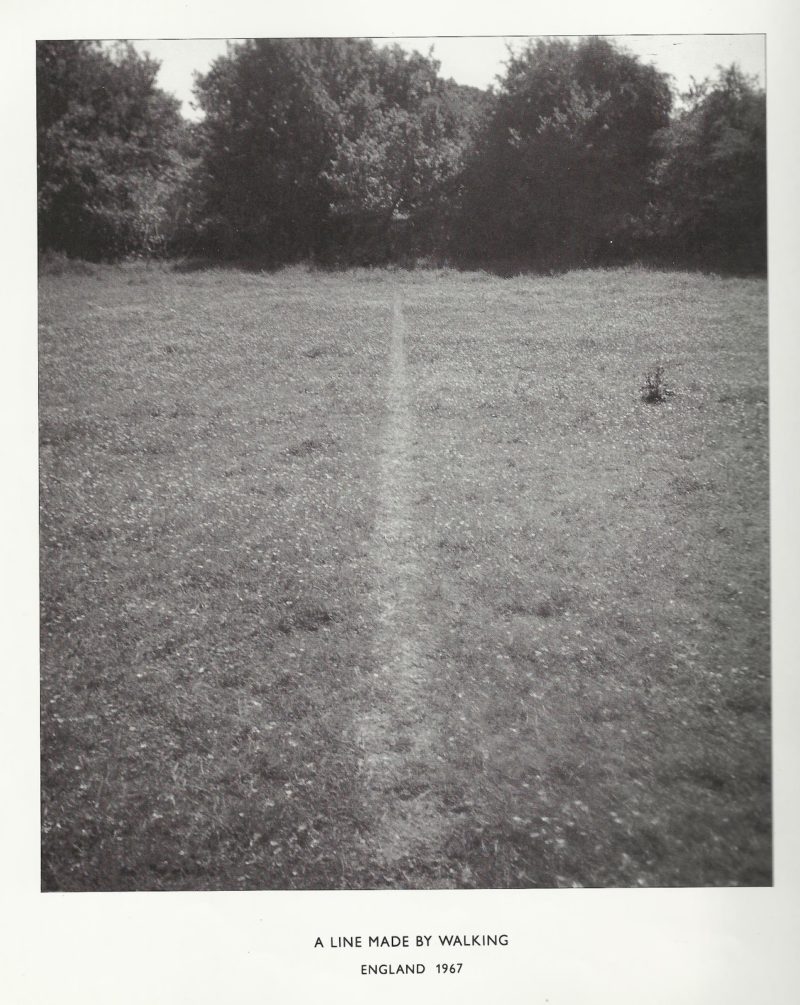 Analysis
Why does this work matter?
The whole project may seem very simple, but it was a breakthrough for Long's artistic career. It also anticipated the practice of performance art that was not yet common. Though, after this practice, it became more and more widespread. A Line Made by Walking was not just a breakthrough in his career but also an entry point into land art1. It was a landmark for the coming new kind of art form that emerged from Europe and America during the late 1960s. Land art integrates the aspects of minimalism and with a direct rendezvous in the landscape.
Long & Land Art
Earlier in the 1960s, monumental and laborious permanent works were widely popular with North American land artists such as Robert Smithson and Michael Heizer. In comparison, Long's intervention was humble and brief.
Long was also uneasy about being classified as a Land artist. Unlike conventional artworks, A line Made by Waking wouldn't portray a permanent occurrence. Over time, the trodden grass would return to its natural state. This shows the anti-materialist mode of practice. It also chimed with what conceptual artists were doing in the United States, including Sol LeWitt2, Douglas Huebler, and Lawrence Weiner.
Recognition
Richard Long rose to fame over the next decades and been recognized severally for his exemplary artwork; he received the prestigious Turner Prize3 in 1989. His works make him stand apart from much of the popular British sculptors today such as Antony Gormley4.
Materiality
You may wonder why Long was introducing dematerialized art. Though, by doing so, he was to critique the materialists' value of consumer society. For most of Long's artworks, materiality was created by photography. At the same time, the documents or records of the work would become the art object, later to be exhibited or bought.
The artist's prescene
A Line Made by Walking underplays the artist's physical presence but at the same time forestalls how Long had some interests in performative art run-through. It shows how long he had already found a pictorial language for his lifelong apprehensions with realism, motion, and transience.
Conclusion
Long's artwork offered a critique of the art system and forms, values and language. For this reason, it was a radical piece at that time. A Line Made by Walking also ends up commenting on the linear progression of human life. The artist himself suggested this to be a key theme in his artwork. He wrote, saying that his work has become a simple allegory of life.
Footnotes