Yoshitomo Nara – Yellow in Blue, 1994, acrylic on canvas, 180 x 150 cm
About Yoshitomo Nara
Yoshitomo Nara was born in Hirosaki, Japan in 1959 and is a Japanese artist whose work has been exhibited around the world. He lives and works in Tokyo, and Japanese popular culture plays an influential role in his world. Nara studied at the Aichi Prefectural University of Fine Arts and Music where he received his B.F.A. (1985) and an M.F.A. (1987). He also studied at the Kunstakademie Düsseldorf, in Germany between 1988 and 1993.
Influences
The work has several influences including manga and anime of the 1960s as seen in Nara's large-eyed figures. He challenges these characteristically cute images by juxtaposing them with dark and frightening imagery. This infusion of horror changes the image altogether, the contrast of the innocent large eyed child with the imagery of human evil may be a response to Japan's strict social conventions. Other influences of Nara's work include punk rock music, Renaissance painting, ukiyo-e and graffiti.
Childhood
The artist grew up in post-World War II Japan, and the sociocultural environment at this time certainly affected his mindset and artwork. During his childhood and youth, Japan was being barraged by Western pop culture. Nara was raised in the countryside, fairly isolated, and as the child of two working-class parents, he was often left alone while his parents were at work. This time alone with his imagination played a significant role in his artistic development.
Why is Yoshitomo Nara relevant?
His first major New York Exhibition "Nobody's Fool" in 2010 at the Asia Society featured over one hundred works from the 1980s to his current works. His work features ceramics, drawings, paintings, sculptures, and large-scale installations. Nara is one of the leading artists of Japan's influential Neo Pop art, and has become infamous for his portrayals of children and animals. Although the children and animals he creates are adorable they are often menacing, causing viewers to contemplate the feelings and concepts behind his work. Underneath the popular appeal of the dark but adorable characters in his work are the somber social, political, and personal elements of his work: darker emotions of loneliness in a rigid society, rage, fear, and helplessness. Nara uses soft pastels and the apiece of cute and vulnerable children and animals as opposed to punk rock imagery. He also takes inspiration from the positive values of Japanese tradition and combines traditional with contemporary. The subjects of his work, the wide-eyed children and animals, whose vulnerability and in addition to the nightmarish features of his paintings can easily stimulate distressing feelings. He often uses soft hued, pastel colors with bold lines as seen in anime characters in popular culture. The children featured in Nara's works sometimes wield weapons such as knives and saws; their expressions are haunting, their eyes giving viewers accusatory looks. It is with his use of contrasting images, colors, and emotions that Nara's work has captured the imaginations of generations around the world.
Works on canvas

Yoshitomo Nara – No Means No, 1995, acrylic on canvas, 55x65cm

Yoshitomo Nara – Sleepless Night (Standing), 1997, framed acrylic on canvas, 120 x 110 cm

Yoshitomo Nara – & Hiroshi Sugito, Marianne, 2004, framed acrylic on canvas, 66 by 60 cm

Yoshitomo Nara – White Night, 2006, 162.5×130cm

Yoshitomo Nara – Night Walker, 2001, acrylic on canvas; 228 by 182 cm (89¾ by 71⅝ in)

Yoshitomo Nara – Pale Mountain Dog, 2000, acrylic on canvas, 132 by 198.1 cm (52 by 78 in)

Yoshitomo Nara – The Little Judge, 2001, acrylic paint, cotton cloth, 194.3 x 162.2 cm

Yoshitomo Nara – Itchy and Scratchy, 2000, acrylic on canvas, 89.9 x 99.7 cm (35 3/8 x 39 1/4 in)

Yoshitomo Nara – Miss Spring, 2012, acrylic on canvas, 227 x 182 cm
Works on wood

Yoshitomo Nara – One Foot in the Groove (For Donnie Fritts), acrylic on wood, 221.9 by 352.7 by 8.9 cm (87 3/8 by 138 7/8 by 3 1/2 in)

Yoshitomo Nara – ROCK YOU !, 2006, framed acrylic on board 162 by 162 cm

Yoshitomo Nara – Untitled, 1995, acrylic on canvas laid on plywood, 46.5 x 46.5 cm (18.3 x 18.3 in)

Yoshitomo Nara – Mumps, 2015, acrylic and pencil on wooden board, 48.3 x 40.6 cm (19 x 16 in)
Works on paper

Yoshitomo Nara – OH! MY GOD! I MISS YOU, Synthetic polymer paint and pencil on printed paper. 20 x 14 1/4″ (50.8 x 36.2 cm)

Yoshitomo Nara – Nobody's Fool, 1998, Acrylic, ink, coloured pencil and graphite on printed paper, 34.3×25.4cm

Yoshitomo Nara – Standing Innocent, 1995, acrylic on paper 49.5 x 36 cm

Yoshitomo Nara – Star Island, 2003, screenprint in colors on wove paper, 300 x 300 mm

Yoshitomo Nara – We Are Punks, 2011, color pencil on paper, 41.9 x 29.5 cm

Yoshitomo Nara – After the Acid Rain (Day Version), 2010, woodcut in colors on wove paper, 555x445mm

Yoshitomo Nara – Big Eyed Cat, 2003, acrylic and pigment on printed paper, 76.2×55.9cm

Yoshitomo Nara – I Don't Want to Grow Up, 2010, woodcut in colors on Japon paper
© Christie's Images and Yoshitomo Nara

Yoshitomo Nara – Life is Only One, 2010, woodcut in colors on Japon paper, 420 x 295 mm

Yoshitomo Nara – Moe No Suzaku, 1997, acrylic, coloured pencil on paper, 36.6x30cm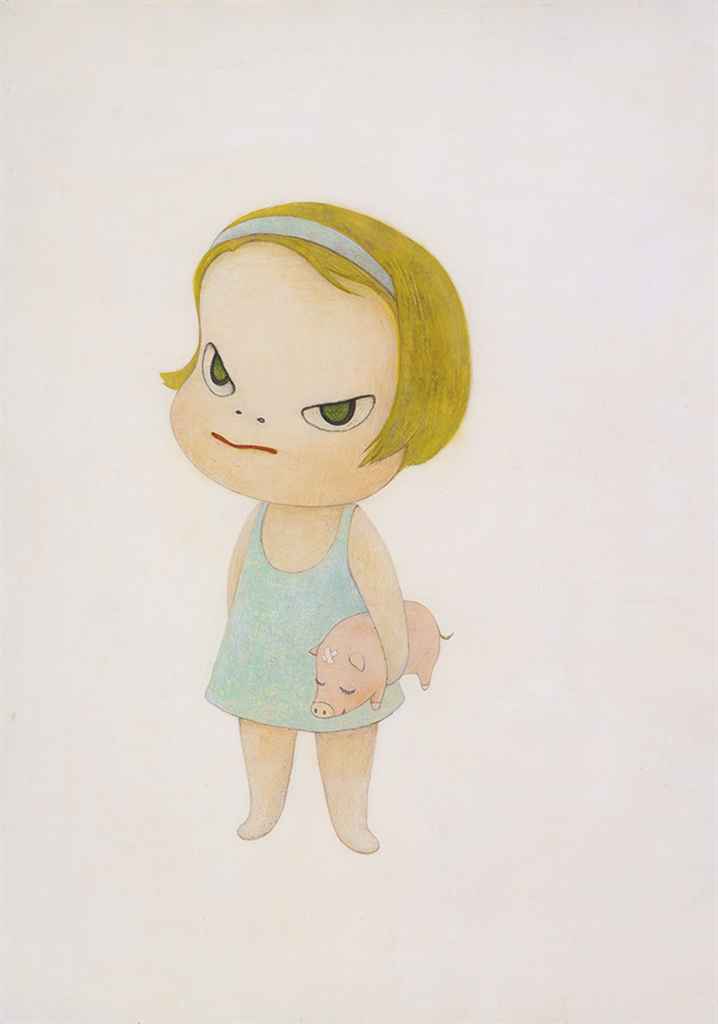 Yoshitomo Nara – Lotta Leaves Home, 1999, acrylic, colour pencil on paper, 72.5×51.5 cm

Yoshitomo Nara – After the Acid Rain (Night Version), 2010, Japanese woodcut, Ukiyo-e style
Courtesy: Pace Gallery

Yoshitomo Nara – Balance girl, 2014, Woodcut

Yoshitomo Nara – Standing alone, 2002, acrylic and coloured pencil on paper, 72.5 x 51.2 cm (28.5 x 20.2 in)

Yoshitomo Nara – Untitled, 2004, coloured pencil and gouache on paper envelope, 34 x 26 cm

Yoshitomo Nara – Cosmic Girl, Eyes Open & Eyes Closed (two works), 2008, offset lithograph in colors, 71.1 × 50.8 cm (28 × 20 in)

Yoshitomo Nara – Guitar Girl, 2003, lithograph on paper, 65 x 50 cm
Toys & Sculptures

Yoshitomo Nara – Sleepless Night (Sitting), 2007, mixed-media multiple in colors, height 290mm

Yoshitomo Nara – Wicked Looking

Yoshitomo Nara – Setsuko the Cat, bronze, 2012
Related works