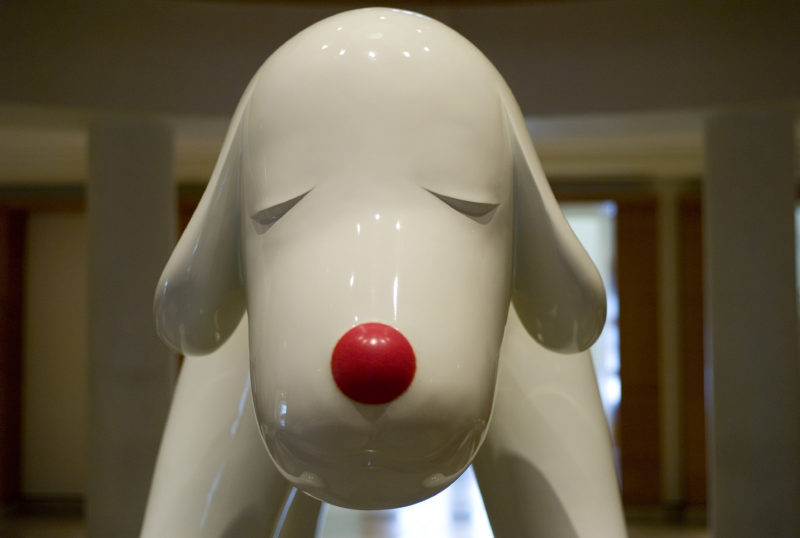 Introduction
Yoshitomo Nara is a well-known and influential Japanese contemporary artist who lives and works in Nasushiobara. He grew up in post-Pacific War Japan. For some reason, throughout his work, he usually channels memory of his lonely childhood into his sculptures and paintings, evoking the viewers to revisit their own childhood memories.
His projects and artwork represent a new wave of pop aesthetic in the Japanese art scene and challenge the tradition of figurative painting.
Nara's dogs
He is known for his cartoonish doodle-like drawings, sculptures, and paintings of animals and children. His most celebrated and iconic works feature an adorable white dog with a red nose.
In the exhibition catalog for his show at the CAC Málaga1, Spain in 2007-2008, Nara said:
Seeing the children or animals as my other self, it signified me, leaving the familiar confines of Japan and liberating myself from my surroundings.
Nara has featured the dog prominently in his works, often referred to as feature "Pup" or "Doggy", taking the shape of giant public sculptures, paintings, or toys. He even authored a children's book featuring the same dog, titled The Lonesome Puppy.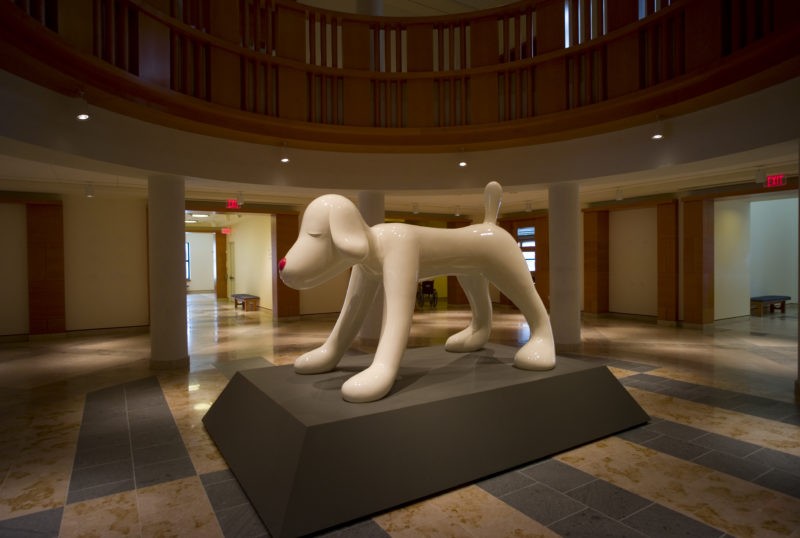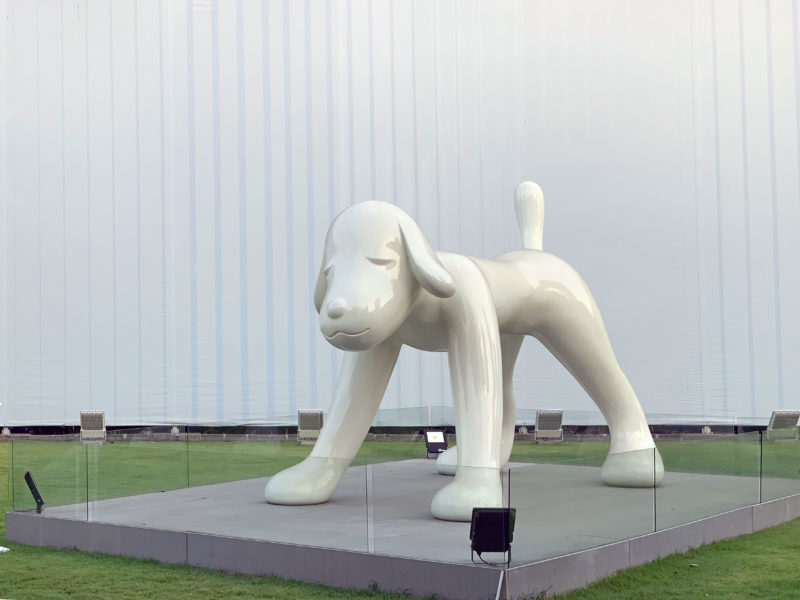 What makes his dog artworks special?
One of his well-known works from 1997 is titled Dog from your Childhood (Prototype), which was a model for the 1999 Model from your Childhood.
The later version of the work includes three white dogs standing on wooden lifters in a complete circle framed by a clay food bowl. The dogs pose with their heads slightly bowed and legs wide apart, thus inviting the audience to join them in probably a game of fetch. Coupled with their bright pin noses and colorful green collars, they resemble a childlike version of man's best friend.
Looking at the dogs, we are instantly drawn in by their wholehearted and welcoming smile, yet we are prompted by the perception of our childhood dreams with the unfriendliness of traditional sculpture and fine art.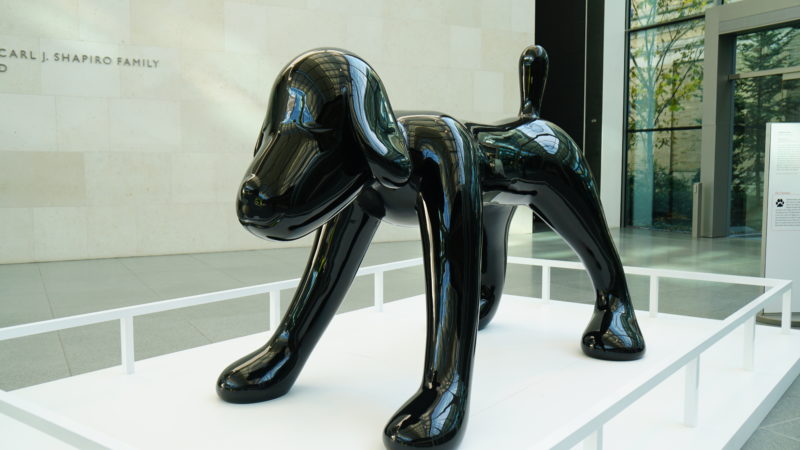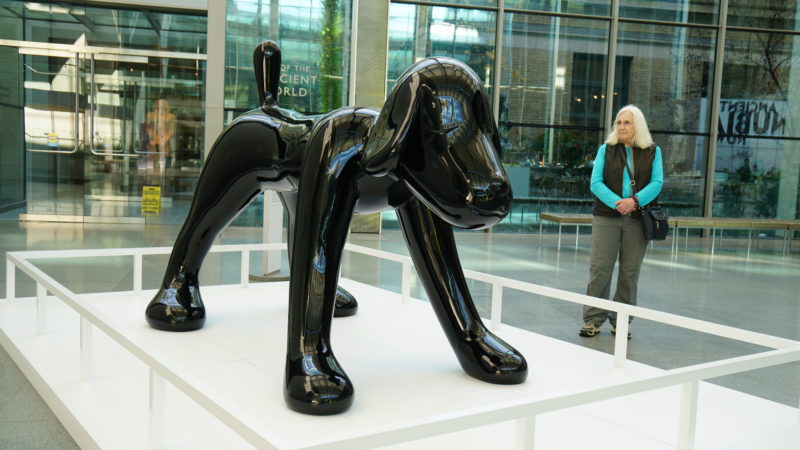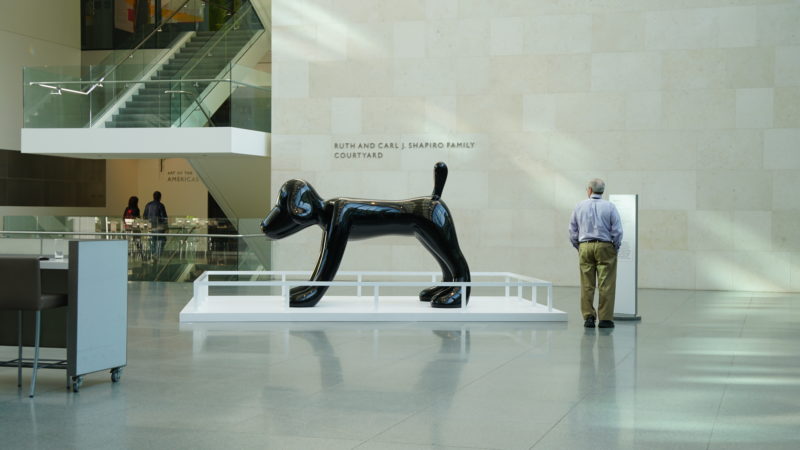 Material
Nara's large fiberglass sculptures are usually glossy white and resemble komainu, a mythical lion-like animal statues commonly placed at the entrance to shrines in Japan as guardians. All versions of the dog are hand-constructed with Styrofoam and painted cotton. It is easy to see the artist's working process, which adds to their "home-made" quality.
The friendliness of the material used to construct them and the subject matter contrasts with the large-scale installation of the work on the wall, which is beyond children's reach.
Through the blend of the nonsensical and sentimental, the concept induces the propinquity of children's feelings. It demonstrates the artist's aptitude to create art that deeply connects with the viewer.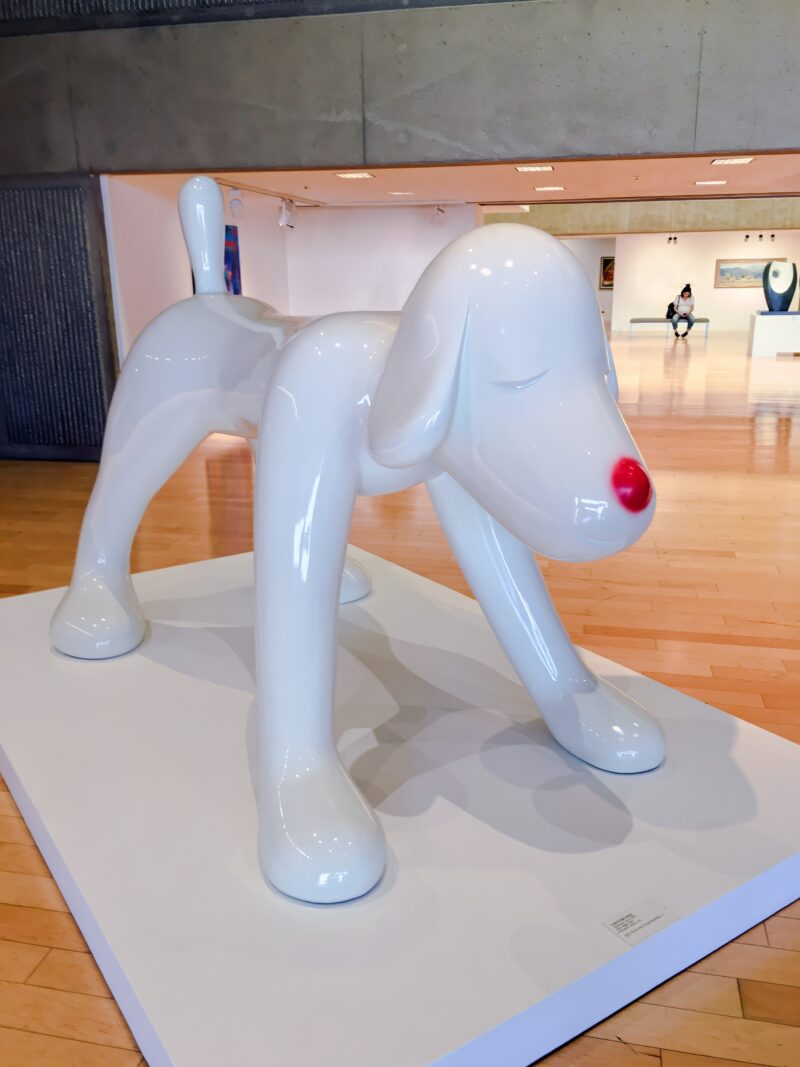 Limited Edition Doggy Radio
Nara's iconic puppy was transformed into a limited edition doggy radio in the form of functioning art. This FM radio comes with a famous Yamaha speaker, a USB port, Bluetooth, a headphone jack and a universal power supply adapter.
The dog can be turned on and off by touching its chin, an action that will illuminate it. To change the FM radio stations, turn the nose and pet the chin-up or down to control the volume. A metal dog tag shows the limited edition serial. Doggy Radio was only produced 3,000 times.
The Lonesome Puppy book
With The Lonesome Puppy, the artist aimed to engage young children, who were a different audience from the adults and teenagers who are typically his fans. Though the Dog from your Childhood (Prototype) and other dog sculptures evoke feelings of melancholy and bittersweet nostalgia in teens and adults, the book is written for children summons up a whole different perspective.
One is retrospective and conjures the audience to recall their own perchance lonely youth. At the same time, the other appears idealistically toward the future and offers the children encouragement to deal with and, probably, eventually transcend their loneliness.
The Lonesome Puppy by Yoshitomo Nara
White Ghost, 2010
The artist who often uses dogs and children as subjects in his work sometimes combines both, like in his work White Ghost.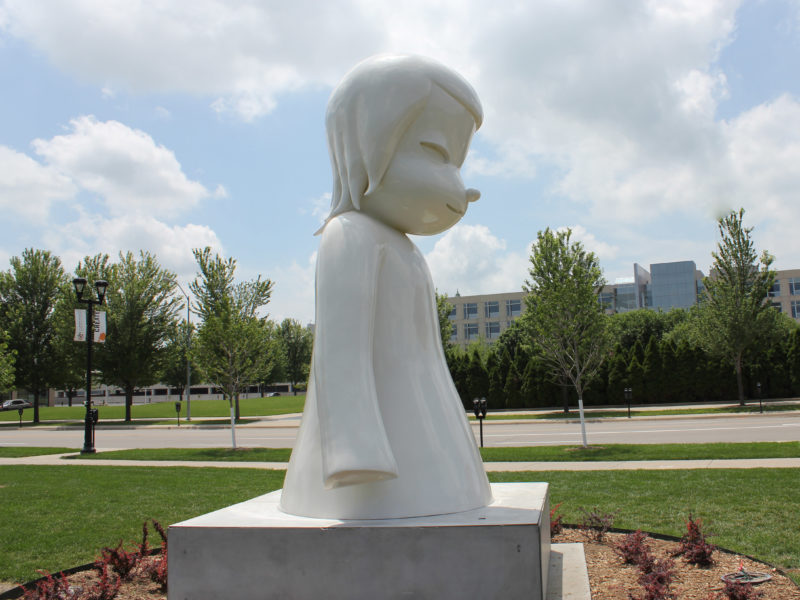 Analysis
To fully understand the reason behind Nara's use of puppies in his work, one must first comprehend the inseparable relationships between identity and memory. Memories, both collective and personal, have been essential in shaping Nara's artistic identity.
Throughout his career, Nara has cited the potent influence of his post-Pacific War Japan childhood upon his work. He grew up as a loner in the then small village in the western Aomori Prefecture in Japan. Nara's childhood can be construed as suggestive of the puzzling and rapidly changing times. In Melissa Chiu's book A Conversation with the Artist, In Yoshitomo Nara: Nobody's Fool2, he said:
My generation in Japan came at the cusp of a shift in family structure, from a large to a nuclear family. The large family consists of grandparents, parents, and their children… My generation grew up in this transitional period.
The shift in the family dynamic is an important factor when talking about Nara's work, particularly his dog sculptures, paintings, and installations.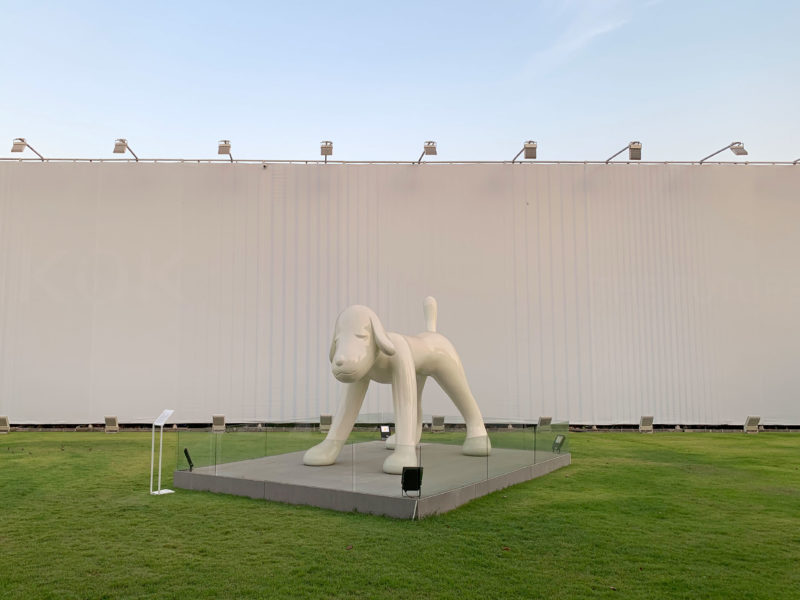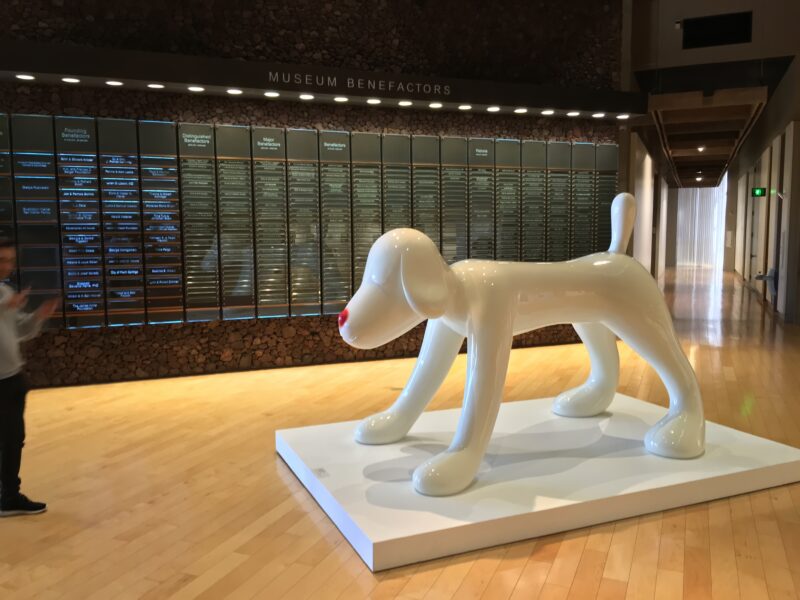 Influences
Nara graduated from Aichi University of the Arts in 1987 with a master's degree. He then continued with his studies in Europe at Düsseldorf, Germany, between 1988 and 1993 before moving to Cologne in 1994. His time in Europe was a pivotal influence on his artistic career as he began to synthesize the Japanese and Western pop culture.
His work is influenced by childhood memories, current events, and punk rock. Although he once denied that only punk was the music to influence his art.
He was quoted by the Financial Times in 20143, saying:
It is a big mistake to connect my art to punk alone. I like folk music. My work is always linked to recognizable punk album covers, but folk music record covers are really important. There was no museum where I grew up so my exposure to art came from the album covers.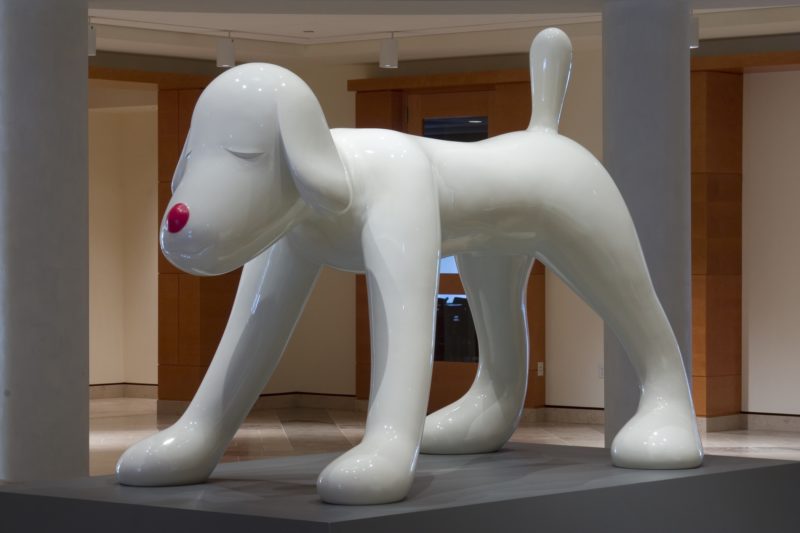 Accomplishments
Since the Japanese pop movement in the 1990s, Yoshitomo Nara has received international acclaim with his distinct figurative style. His drawings, paintings and sculptures art in the permanent collections at MoMA, New York, CAC Malaga, the Queensland Art Gallery, Australia. His largest sculpture, a 27' tall concrete dog, is permanently installed at the Aomori Art Museum, Japan.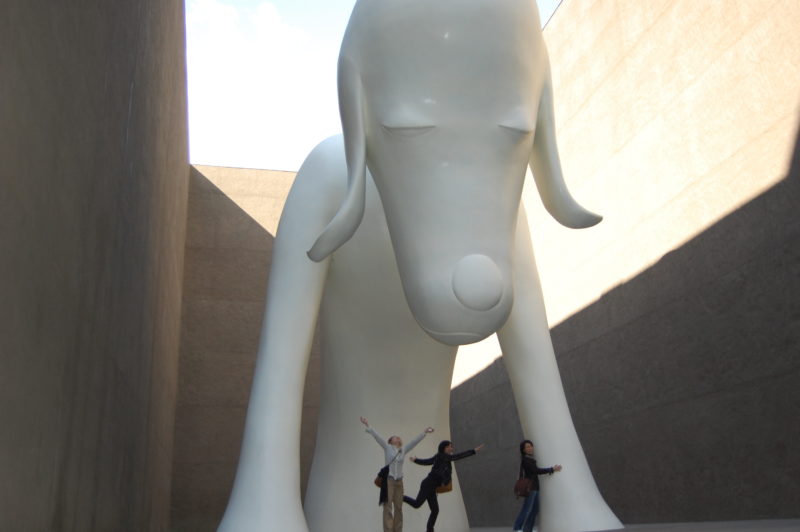 Final words
Yoshimoto Nara's dogs evoke a myriad of emotions in the audience, including joy, anxiety, fear, insecurity, hope, playfulness, and confidence. His figures seem to exist in only a dream-like state where reality becomes what you make of it. His mixture of vulnerability, rebellion and hopefulness within his artworks connects intimately with people worldwide.
Throughout his career, he has incited a deep sense of childhood memory and the allure of youth while concurrently leaving a relentless reminder of the fundamental issues and problems of adulthood. This figure symbolizes a defiant spirit associated with youthful hopefulness and belief that we have what it takes to change the world.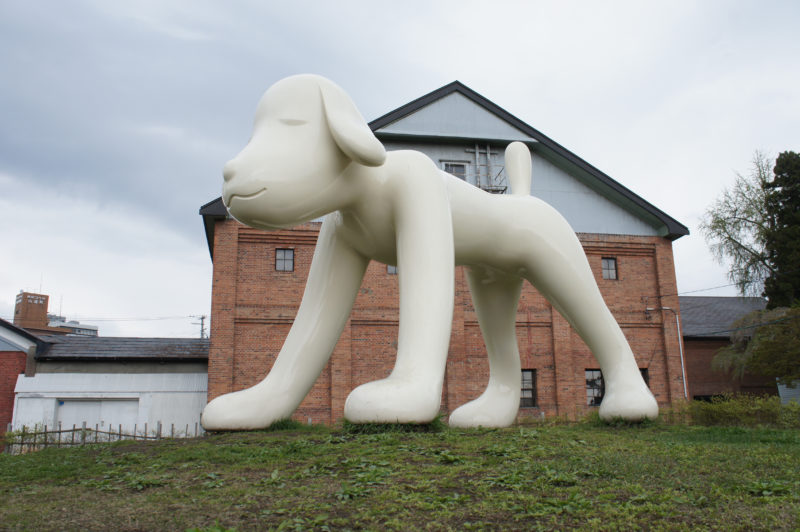 More by Yoshitomo Nara
Footnotes