Last updated:

Alighiero Boetti – Untitled, 1989, embroidery on canvas, 108 x 116 cm (42½ x 45 5/8 in.)
"It would be nice to be two people – one all aware and real, the other all dreamy and unconscious – who go hand in hand, without ever mingling," – Alighiero Boetti.
Published: June 27, 2019
Last updated:
Biography
Childhood
Alighiero Boetti was a prominent Italian Conceptual artist and Arte Povera1 movement member. As he grew up in Turin, Italy where he was born in 1940, Boetti expressed creativity from an early age even though he did not receive any formal art training and became intrigued by the harmony of dualism and the duality of life.
Education
In his youth, Boetti fed his profound eclectic mix of theoretical interests by studying diverse topics such as music, esotericism, alchemy, philosophy and mathematics. He used the knowledge he gleaned from these topics of interest to feed his artistic fire. He then attended the University of Turin's business school before dropping out to work as an artist. While no orthodox training that he received has been recorded, he, however, studied engraving in Paris at age 20 and formed relationships with renowned artists such as Michelangelo Pistoletto, Luciano Fabro and Mario Merz who influenced his early artistic silhouette paintings and objects of ordinary and familiar items. The fascination with the qualities of ordinary materials originated from his childhood.
Boetti's work
Boetti's work while retaining his artistic hand evolved throughout his life. In his teen years, he created oil paintings reminiscent of Nicolas de Stael2, a Russian painter. In his twenties, after he got married in 1964, he worked in Turin with Giulio Paolini, Michelangelo Pistoletto, and other Turinese artists and here, he established himself as one of the best Arte Povera movement artists. Besides using his theoretical interests and passion for non-western cultures, Boetti's work was also poetic, enchanting, and drew influence from his extensive travels.
Starting to create map works
The Conceptual artist used a wide-ranging variety of materials to create his art such as postage stamps, ballpoint pens, and textiles to make world maps and graphical charts. For instance, in 1967, he created the Twelve Shapes Starting from 10 June 1967 in honor of the Israeli Six-Day War. This artwork depicted the political crises that were present in the conflict, through the use of maps.

Alighiero Boetti – Dodici forme dal 10 giugno 1967 (Twelve Forms From June 10, 1967 / Twelve Shapes Starting From 10 June 1967), 1967-1971, engraving on copper, in twelve parts, each: 59 x 43cm (23¼ x 16 7/8in.), overall: 118 x 258cm (46½ x 101 5/8in.)
Other mixed media works
Employing mathematics, logic and a touch of randomness, Boetti's work allowed the enchanting qualities of maps, grids, postal system, lists and workday institutions, rather ordinary things, to shine through. His wide variety of artwork employing the use of familiar items and systems are a testament to this. Untitled – Victoria Boogie Woogie, was one such piece of art that was made from 42 framed collages of envelopes each of which bore seven Italian stamps with a range of rich color. The result is a mix of color and elegance one would not particularly expect from envelopes and postage stamps.

Alighiero Boetti – Left: Mappa del Mundo, 1972, Right: Victoria Boogie Woogie, 1972, 5040 envelopes, 35,280 stamps, installation view, Dia Beacon, Dia Art Foundation, New York, 2013
Photo: Cathy Carver
First trips to Afghanistan & Pakistan
Boetti further incorporated the methodical arrangement of word and text in his work. He is also known to have enjoyed collaborating with others such as the artisan embroiderers in Afghanistan and Pakistan for his Mappa3 series, and the Italian postal system to create Postal Dossier. Due to his love of using various materials, when he first visited Afghanistan in 1971, he adopted the local embroidery traditions as his artistic medium. Once he had the design in mind, Boetti would then give the precise instructions to embroiderers in Afghanistan and Pakistan to recreate drawings with silk thread on fabric.

Alighiero Boetti – Dossier Postale, 1969 – 1970, 181 numbered sheets paper, (35 x 25 cm (13.8 x 9.8 in.)
Arazzi works
Introduction
Of these embroidered artworks, the embroidered arazzi which are word squares are regarded as the most intensely vivid Conceptual art that catches one's eyes. Incorporating a grid-like mosaic of block letters whose meanings were often hard to decipher was the artist's way of contrasting order and disorder. While the design was Boetti's own, he, however, gave free rein for the embroiderers in choosing the colors to use. These were made in the 1980s and 1990s and often combined Italian and Persian texts and contrasted the geometric vs. the flowing patterns that formed sayings, poems, titles and the artist's name as well as his collaborator's home cities.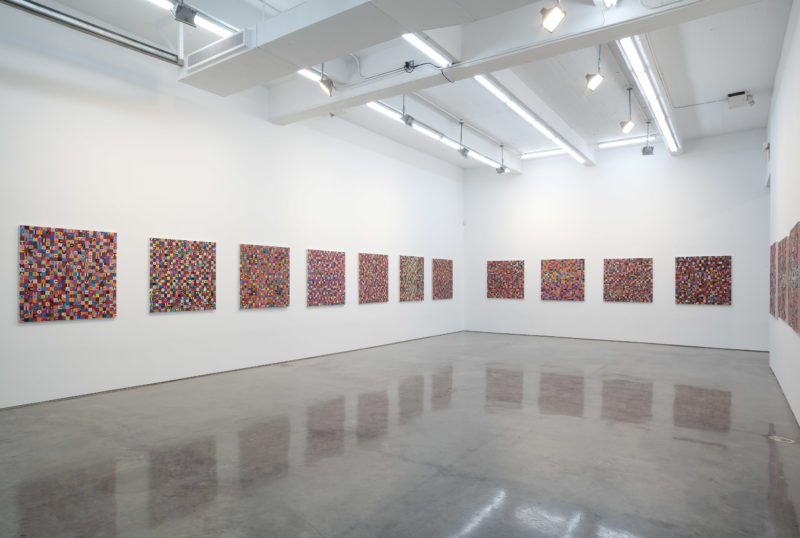 Alighiero Boetti – Installation view, Gladstone Gallery, New York
Photo: David Regen
Persian, Farsi & Italian phrases
The Afghan craftsmen who had fled their country to Pakistan used Persian text and Farsi script to lament about their nostalgic feelings of missing Afghanistan and express anti-Soviet sentiments as well as incorporating some empowering sayings from well-known Afghan poets. The smaller embroideries of arazzi however comprised of common Italian phrases arranged to fill a square grid. Such phrases included 'II silenzio e d'oro' which translates to 'silence is golden' and 'Fuso Ma Non Confuso' (melted but not confused), among others.

Alighiero Boetti – Oggi trentunesimo giorno dell'ottavo mese dell'anno 1000nove100ottantotto…, 1988, embroidered tapestry, 115.7 by 108.7 cm (45 1/2 by 42 3/4 in.)

Alighiero Boetti – Alternandosi e Dividendosi (Positivo-Negativo), 1988-1989, embroidered tapestry, 106.5 x 106.5 cm (41.9 × 41.9 in)

Alighiero Boetti – Senza titolo (nero su bianco, bianco su nero) (Untitled [black on white, white on black]), 1989, embroidered tapestry, 108 x 108 cm (42 1/2 x 42 1/2 in.)
The meaning of the tapestries
Besides the arazzi artworks, Boetti also employed the expertise of embroiderers in creating earlier work such as square tapestries featuring embroidered flowers and dates of which one was Boetti's 100th birthday and the other, a death prediction date (July 11, 2023). Other embroidered art included the map series such as one tapestry that filled continent areas with national flags as a representation of fragile global politics. He considered the embroidered maps to represent 'supreme beauty' and also was a way of making the basic idea of the world map and the individual countries' existing flags combine in an artistic concept that illustrated individuality and patriotism. Such was the thought process of this great Conceptual artist

Alighiero Boetti – Oggi il primo giorno dodicesimo mese, 1988, embroidery, linen, 108,6 x 107 cm

Alighiero Boetti – Oggi ventisettesimo giorno settimo dell'anno mille nove 100 ottanta otto all'amato Pantheon immaginando tutto (Today the twenty seventh day of the seventh month of 1988 to the beloved Pantheon imagining everything), 1988, embroidered tapestry, 108 x 116 cm (42 1/8 x 45 5/8 in.)

Alighiero Boetti – Senza titolo (tra l'incudine e il martello), 1988, embroidered tapestry, 114,5 x 118 cm
Conclusion
Up until his premature death in 1987, Boetti was in the process of creating his most complex and biggest tapestry yet, Tutto that he devoted his time to depict the world's cultural diversity. Together with his assistant, Iranian Mahshid Mussari, they collected a wide variety of motif patterns to include in this canvas that is also a representation of the world's complexity. Sadly, he died without getting to complete this piece. What sets Boetti's art apart is the importance of his work's social dimension, his use of mathematical logic, esoteric, different Eastern cultures, the concept of order vs. disorder and finally, his regard of art as a game that draws the audience's participation in deciphering the writings, the code, and the theme behind each piece.

Alighiero Boetti – Tutto, 1992-1994, embroidery, linen, 255 x 595 cm (100.4 x 234.2 in.)

Alighiero Boetti – Tutto, 1989, embroidery, linen, 442 × 637.5 cm (174 × 251 in.)

Alighiero Boetti – Tutto (Everything), 1987, 116.4 x 103.6 cm (45 7/8 x 40 3/4 in.)

Alighiero Boetti – Tutto, 1988
Photo: VG BILD-KUNST Bonn, 2018. Courtesy Hauser & Wirth and Sammlung Goetz, München, Genevieve Hanson

Detail of Alighiero Boetti – Tutto, 1992-94, embroidery on canvas, 254 x 594 cm (100 ⅜ x 234 ¼ in.)
Accolades
Since his death, Alighiero Boetti has been honored posthumously. Large-scale exhibitions of his work were shown in museums such as Vienna's and Frankfurt's Museum fur Moderne Kunst in 19997 and 1998 respectively. In 2001, an exhibition was organized by the Gagosian Gallery in collaboration with Rome's Archivo Boetti and was accompanied by a completely illustrated catalog of Boetti's full works. His last work, Tutto is now one of Frankfurt's Museum of Modern Art's collection.

Alighiero Boetti – Tutto, 1994, embroidery on canvas, 245 x 657 x 3 cm (96 7/16 x 258 11/16 x 1 3/16 in.)
More
More by Alighiero Boetti
Related articles
Related readings
Discover more ..