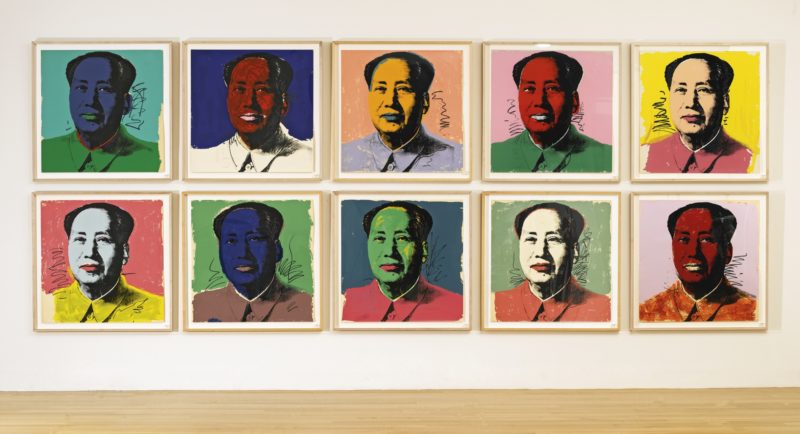 Introduction
It is a well-established fact that Andy Warhol achieved celebrity and was recognized by a vast majority of artists as being one of the pioneers of the pop art movement. Not only was he celebrated for his unique ability to transform day to day objects such as Campbell soup cans into works of art1, but he also managed to mark his status as a public figure in society.
Granted, though his celebrity and fame took off notably as his career was winding down, it is clear that his fascination with ordinary things, be it soup cans, movie stars or Coca-Cola bottles was unlike any other that society had encountered. Andy Warhol's subject matter often paid focus to things and people that were famous in the public such as Mao Zedong2 and Marilyn Monroe3. Not only did Andy Warhol's work include famous people and things, but it also included famous events.
About Andy Warhol
Warhol & political relevance
This trend persisted throughout his career and it is what helped to set him apart from other contemporaries. Although it is a well-accepted fact that Warhol created a vast body of work that is often considered within different cultural interpretations, it is also acknowledged that his artwork bore a lot of political relevance that has not always been discussed to the degree with which it deserves.
Through deeply political pieces such as Andy's Mao portrait series, Warhol's work grew to become deeply politically relevant. Through Warhol's insistence on visual expression and power, pieces such as the Mao portraits were representative of the political, which probably helps explain why Andy Warhol's name will live in the annals of contemporary art forever.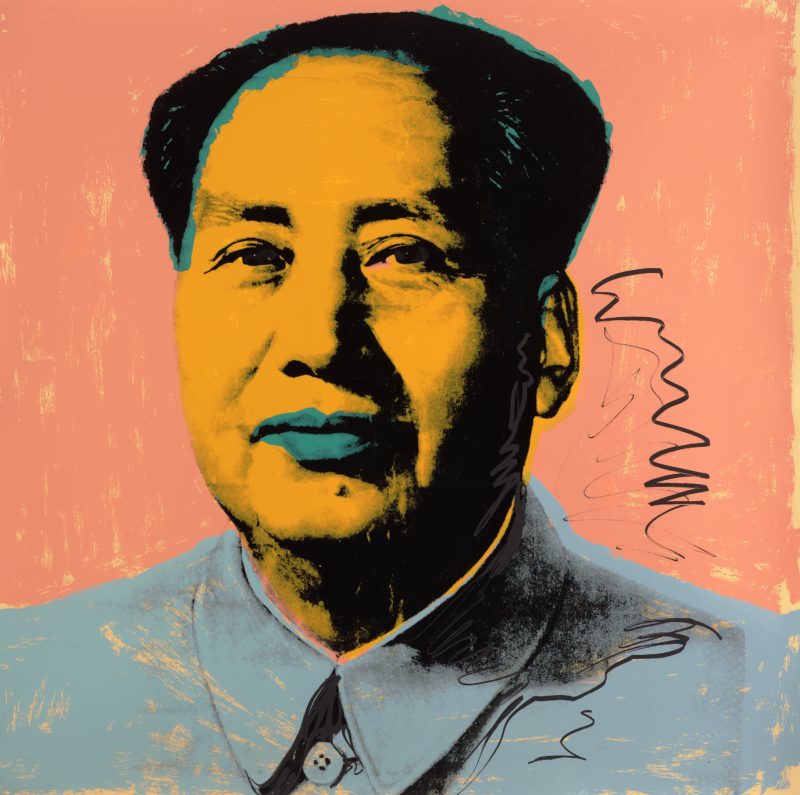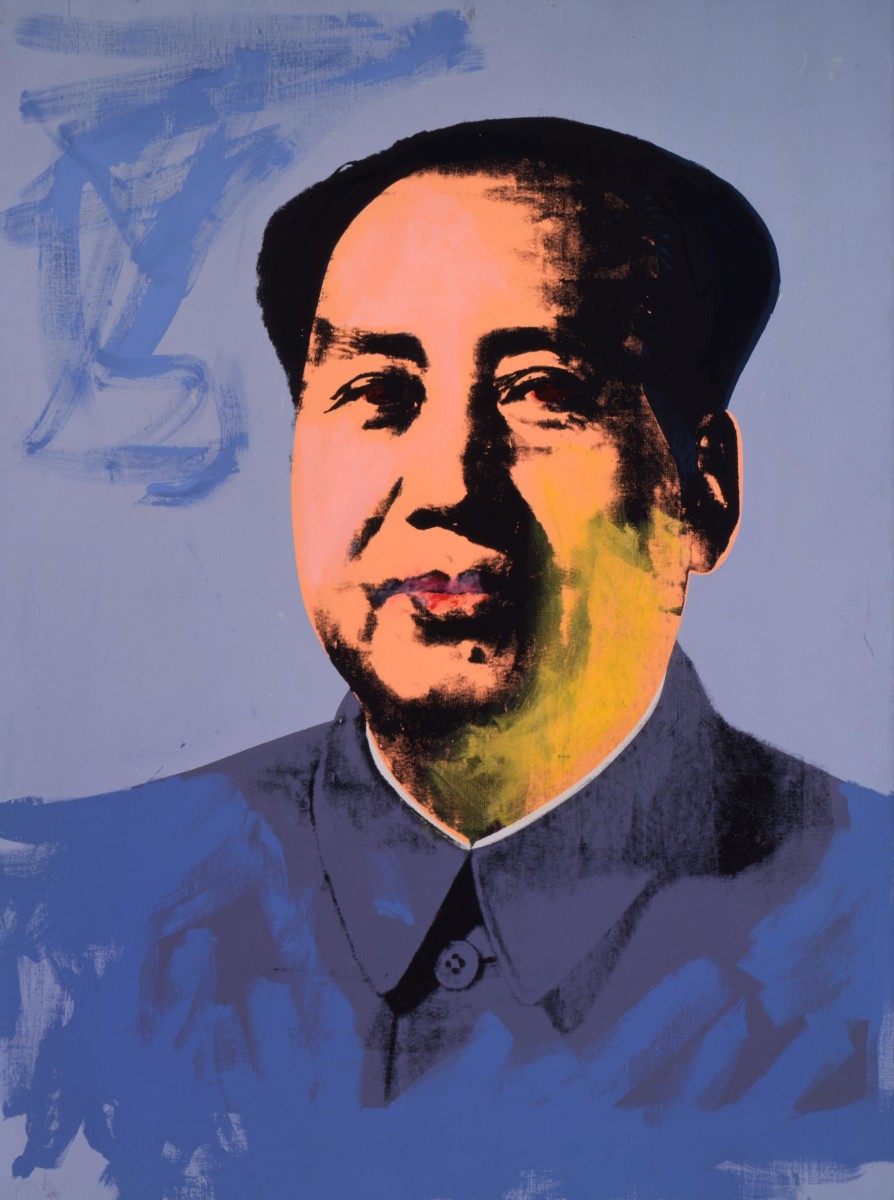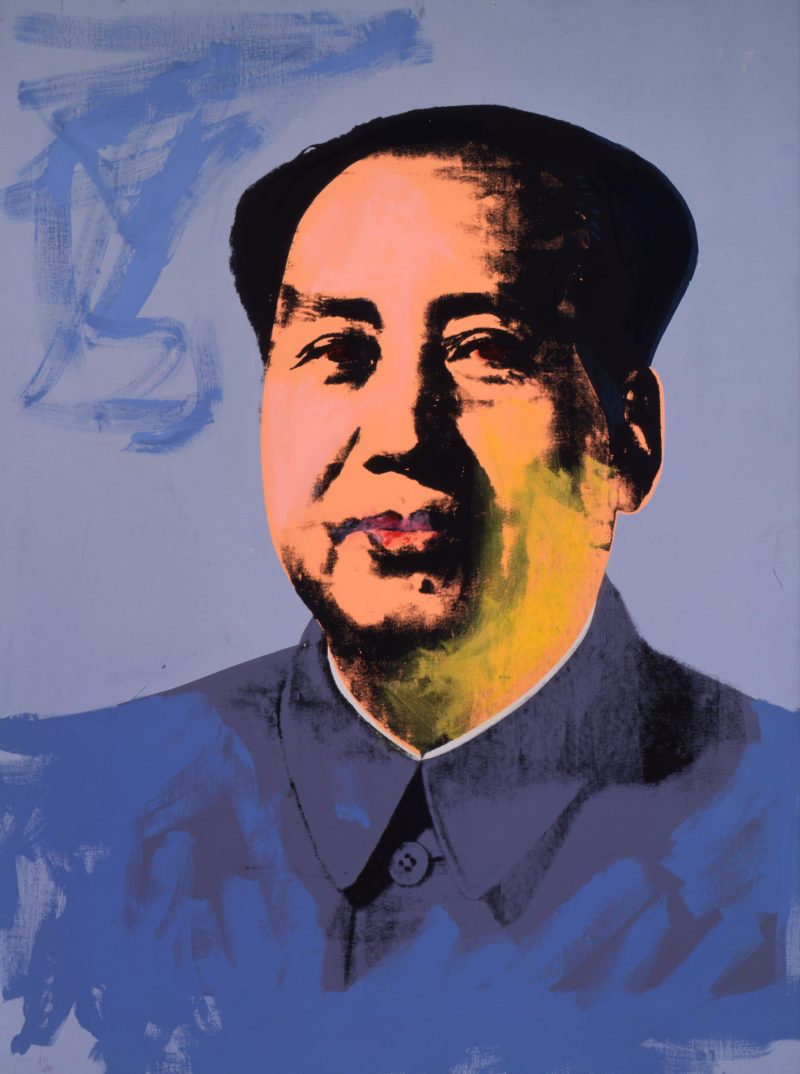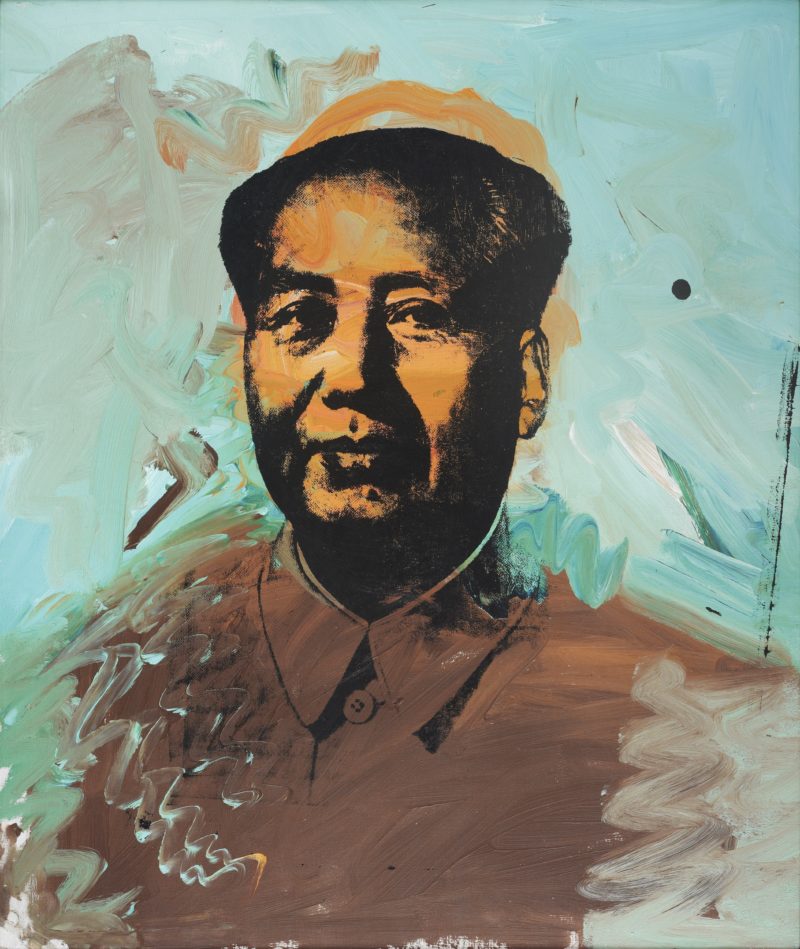 Who was Warhol?
Andy Warhol was one of the most prolific artists of his generation. Both his art and lifestyle were deeply representative of the rapidly changing society and culture of his time. As a young child, Warhol had always been impressed and fascinated by the idea of fame and the glamour that came with it. He would often read magazines that featured Hollywood stars, and he even amassed a collection of autographed pictures and newspaper clippings of his favorite celebrities.
As he grew older, Warhol was able to turn his obsession with fame and celebrities into art. When he graduated from his school in 1945, he opted to study pictorial design at the Carnegie Institute of Technology in Pittsburgh. After graduating with a Fine Arts degree in June 1949, he relocated to New York to pursue his art more seriously.
Contemporaries in New York & Pop Art
When he arrived in New York, commercial artists were in great demand during the 1950s, which is largely what helped Warhol to launch his career. It was also during the 1950s that the growth of the consumer society began. By the time the 1950s were coming to a close, a group of modern artists that included Warhol, Roy Lichtenstein, Tom Wesselmann and Claus Oldenburg were already creating popular artwork that was inspired by the pop art movement.
This movement, which emerged in the 1950s, drew a lot of its inspiration from the images of consumer society and pop culture, such as cartoon strips, television and film, pop music, magazines, billboards and advertisements. Some artists in the movement used their art to criticize the sudden growth of consumer society, while others like Andy Warhol simply reflected the on-goings around them.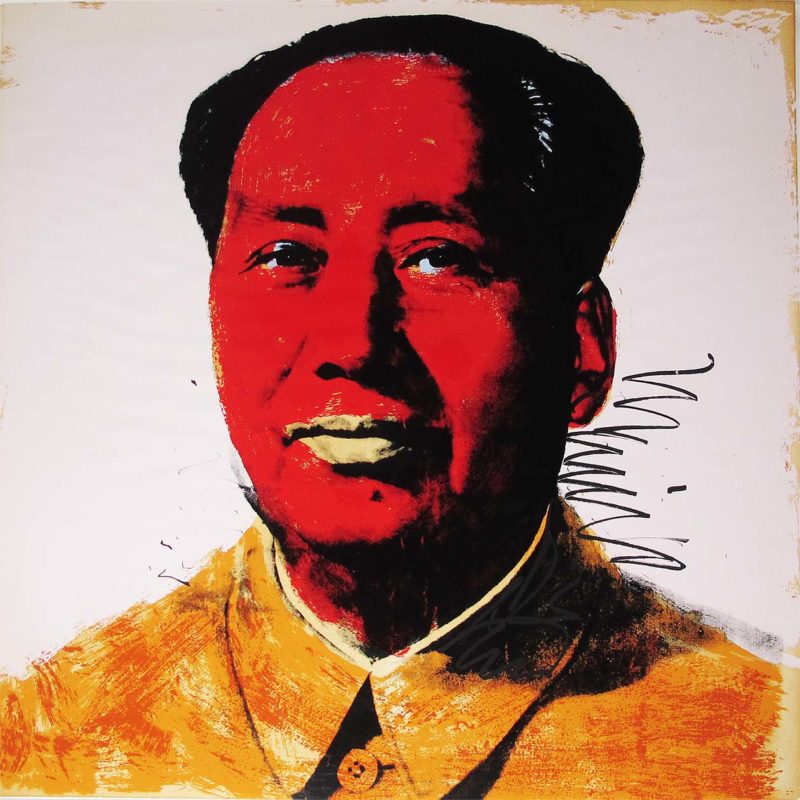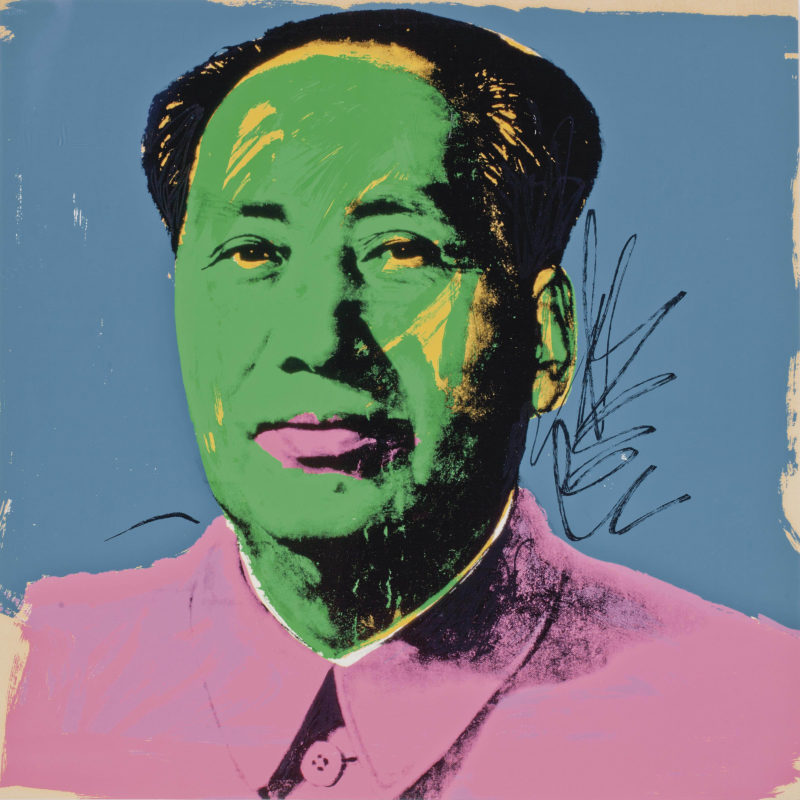 Warhol's first works
Warhol first started by painting everyday products like Coke bottles, soup cans and Brillo pads with an evident brand design before moving on to celebrities and events. To produce his works, Warhol and other pop artists relied heavily on commercial mass production methods such as screen printing to create art that could be understood and loved by audiences from all walks of life.
Warhol & Mao
Who was Mao Zedong?
Along with other communist leaders such as Joseph Stalin and Vladamir Lenin, Mao Zedong or Mao Tse-tung is considered one of the most important communist figures of the cold war. Mao Zedong served as the leader of the communist forces in China and he was responsible for leading one of the longest revolutions in history that began in 1927. He ruled China's communist government from the time it was established in 1949.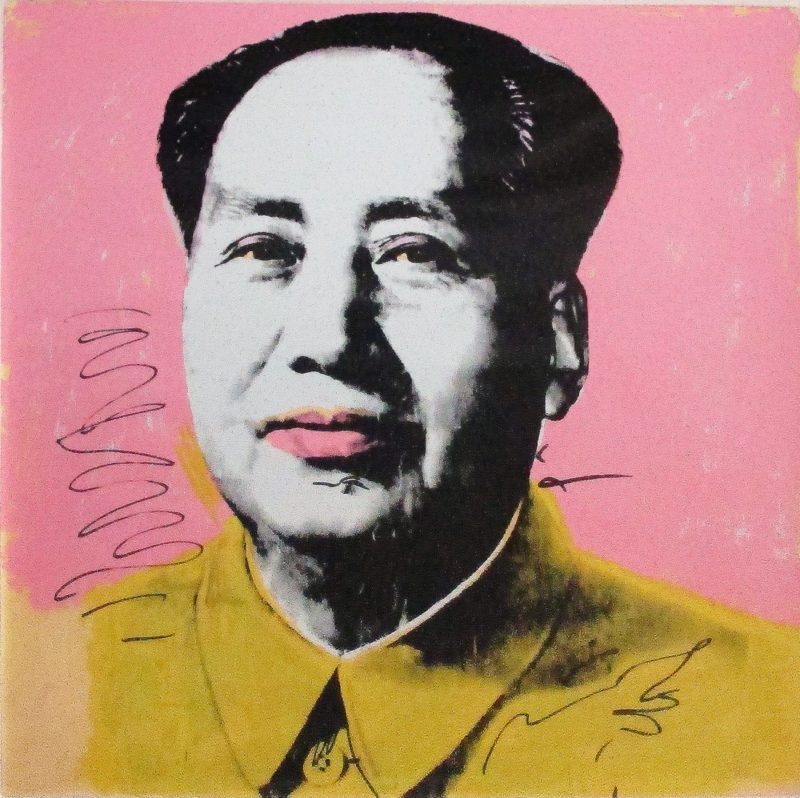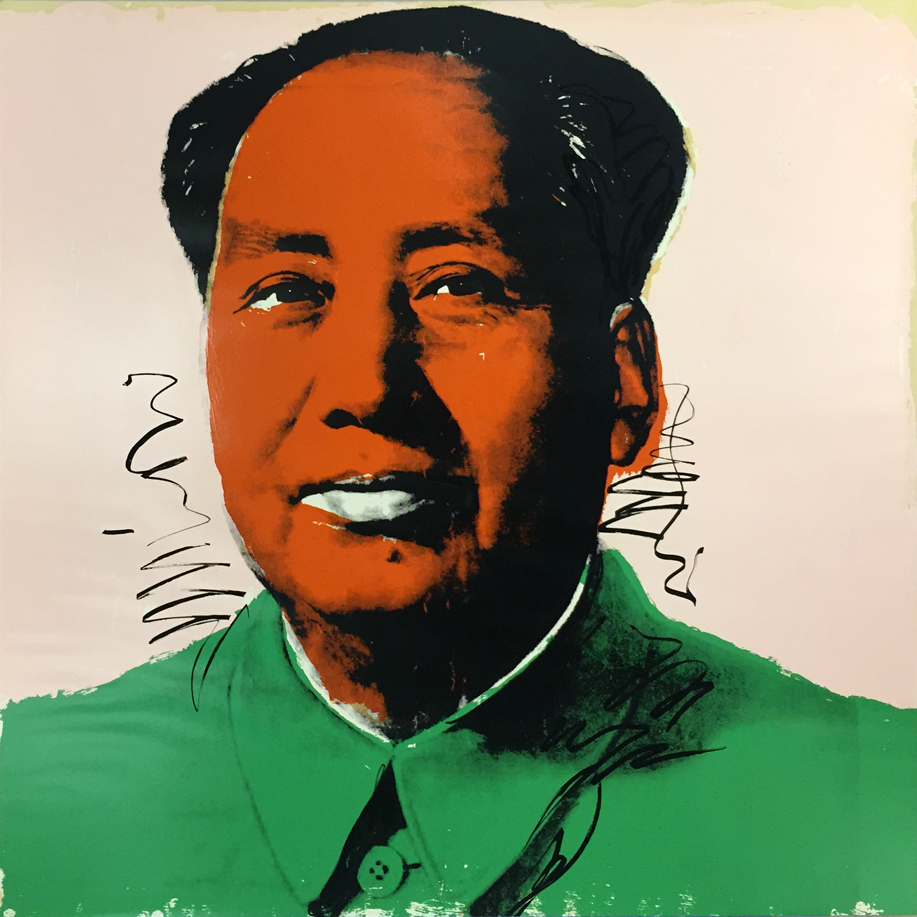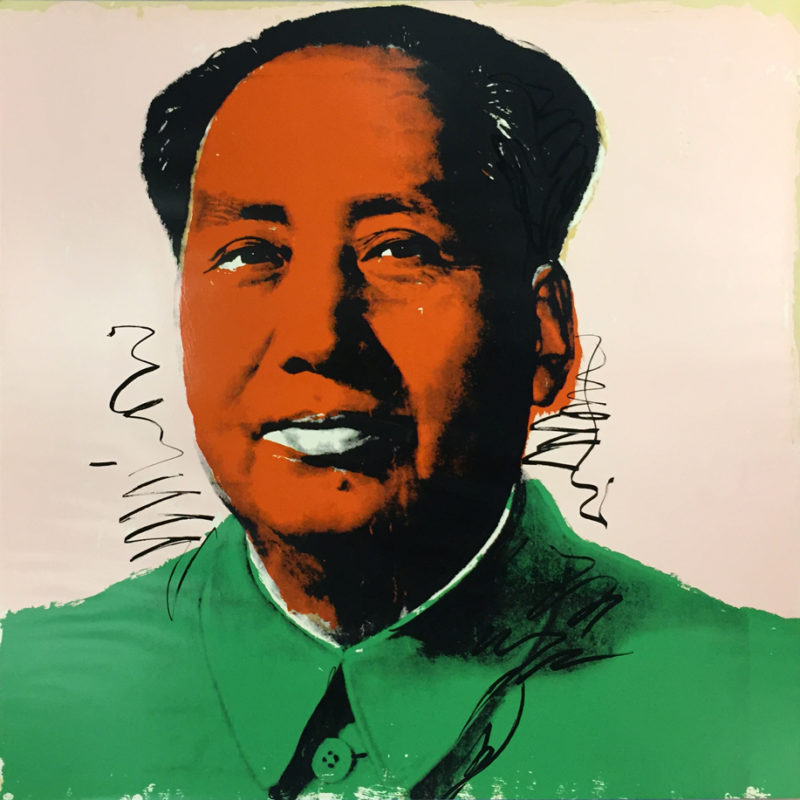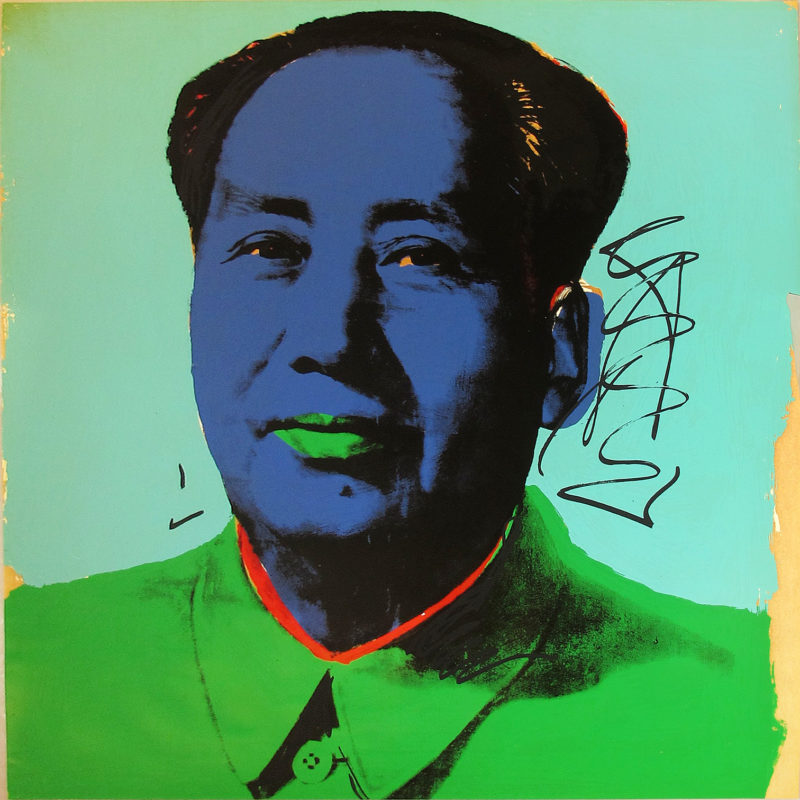 Why did Warhol choose Mao as a subject?
Warhol's idea for creating the Mao portraits was inspired and heralded by his long-time dealer and supporter Bruno Bischofberger4. Bruno suggested that Andy return to the medium of painting by featuring portraits of the most public and important figures of the 20th century. At the time, Mao had already risen to become the most famous man in the world. His images were available everywhere in China and because most of the images resembled a silkscreen, Warhol was immediately fascinated by the idea of reproducing them. Since Mao was a public figure whose face and appearance were acknowledged and respected by the public as a protagonist of public interest and because his cold war movement had also become an issue of public interest, Mao easily became a subject matter of Andy's work.
Mao's value & prints
Andy Warhol remains an art market darling, with a steady demand for collectors. Just in 2010, 1,646 Warhol pieces were sold at auction. At Christie's New York on November 2006 a record was set for a 1972 Warhol Mao painting; it sold for $17.4 million5. Another 1972 Mao, previously owned by Steven A. Cohen, sold at Sotheby's for $47.5 million6. Yet another 1972 Mao sold for $32.4 million7 at Sotheby's on 16 November 2017.
Numerous prints are widely available for sale throughout the secondary art market.
Warhol's first ever political pieces
While Warhol's initial works mainly focused on the persistent consumerism of American society, Mao's portraits can be said to be Warhol's first-ever political pieces. Warhol created the ten portraits that constitute the Mao series of portraits as a way to openly state his political views and comment on the controlled propaganda machine of Chinese communism at the time. The mass ideology known as Maoism8, as well as Mao's cult-like following in China, is what is said to have instantaneously attracted Warhol to Mao.
Mao Zedong: The ultimate political symbol at the time
It was not until President Nixon9 announced that he was making a visit to China in July 1971 that Warhol started painting the Mao portraits. Originally, it had been suggested that Albert Einstein10 be used as the subject matter of the paintings. However, because fame and appearance were always central to Warhol's work, he opted to go with a public figure with more power; and Mao Zedong was the ultimate political symbol. Between 1972-73, Warhol embarked on creating a series of Mao paintings. The image of Mao that Warhol used was acquired from a publication known as the Little Red Book11. At the time, the Little Red Book contained ideologies from Mao and was considered the cornerstone of the dictator's ideology.
Warhol's Mao series
Andy Warhol's interpretation of Mao resulted in developing a portfolio containing ten brightly colored portraits that illustrated Warhol's deep fascination with the clash of images between communist publicity stunts and American kitsch. By creating a glammed-up version of Mao, Warhol could transform an otherwise intimidating and mysterious image of a powerful political figure into a glamourized pop icon of the 1970s, which was reminiscent of Warhol's previous works.
Andy Warhol's history with portraits
When Warhol decided to reproduce the Mao portraits, he had already set a precedent of selecting portraits that he found in magazine publications and newspapers. The images he used of Mao were reproduced using screen print before being arranged in a serial manner on canvas; endless editions of the image used were then created. This methodology of acquiring visual content for his masterpieces and the use of famous faces such as Mao is something that Warhol maintained throughout his illustrious career.
Mao's face was well-known to the US public
A desire to be close to public figures could be interpreted as Andy's need to be close to the protagonists of the public sphere. As an example, in this case, Mao was a figure that often appeared in international newspapers and on TV, which meant that his face was extremely well known and recognizable. Andy's series on Chinese dictator Mao was created as a response to the Communist Party propaganda tool that represented China with a half-smiling image of their leader. This image was replayed over and over again throughout the US in the news coverage of President Richard Nixon's revolutionary visit to China in 197212.
Warhol's trip to China in 1982
Andy Warhol: Made In China (clip)
The impact of Warhol's work on politics
By producing an extensive series, in which Andy replicated the images of Mao and presented them in various colors to come up with a large variety of the same image shown in one moment, Warhol was able to present Mao with specific imagery that connected the public to the political. This is what allowed Warhol's portraits of Mao to become crucial to modern politics.
Warhol's iconic images of 20th-century leaders such as Mao-inspired spirited a debate regarding the pairing of politics and pop culture. A commentary of the social-political climate, the Mao portraits were created to echo society's increasingly mass-marketed world and its effect on the thin line between political status and stardom.
Mao's portraits pointed to how political figures are often forced to shape their image in the public eye so that people can accept them and their messages. His use of repeated images suggested that the journey to stardom and celebrity had and has always been characterized by relentless public relations campaigns.
Although Andy's official position always suggested political neutrality, his work greatly illuminated the political and social issues that were happening at that time, such as America's involvement in the cold war.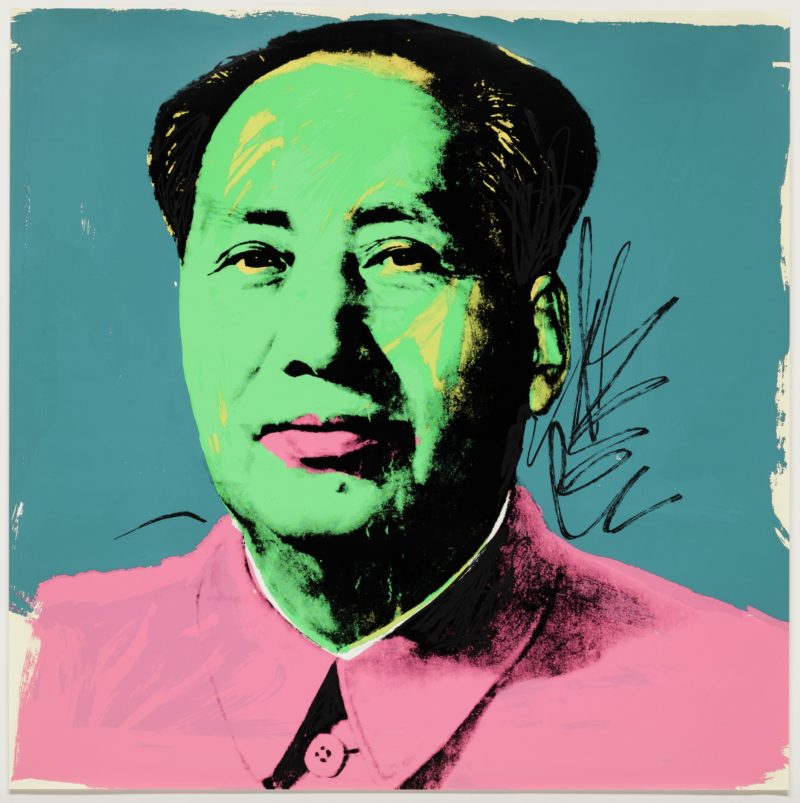 More by Andy Warhol
Footnotes