Last updated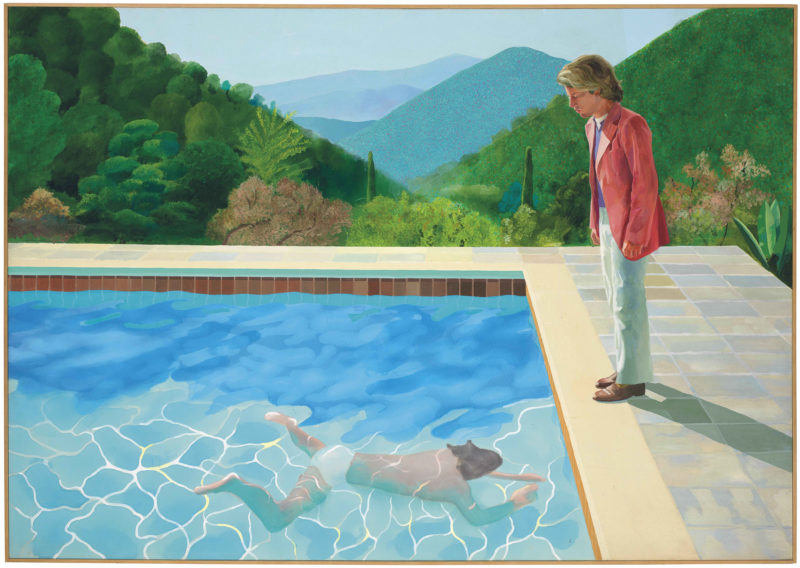 David Hockney – Portrait of an Artist (Pool with Two Figures), 1972, acrylic on canvas, 213.5 x 305 cm (84 x 120 in)
Published on: Friday July 5, 2019
Last updated
David Hockney & pools
David Hockney's Roosevelt Hotel pool mural
David Hockney is one of Britain's most influential artists of the 20th century. Hockney is well known in other parts of the world as well, thanks to his internationally recognized works. For instance, the Hollywood Roosevelt Hotel, which has long been the meeting spot for the stars and celebrities, has a mural created by the artistic genius himself that helped to make the hotel popular in the 1990s. In 1988, Hockney was commissioned to complete a multi-million dollar mural that was painted on the bottom of the hotel's Tropicana Pool. The painting has long been hailed as one of the city's greatest artistic and architectural wonders.

David Hockney – Pool mural, Roosevelt Hotel, Los Angeles
Photo: Sarah/imagineandgo.com

David Hockney with his pool mural, Roosevelt Hotel, Los Angeles

David Hockney painting his pool mural, Roosevelt Hotel, Los Angeles
Hockney's obsession with pools
Hockney's obsession with swimming pools started very early on in his career. On one of his initial trips to California, Hockney observed that there were countless numbers of pools as he flew over LA. Hockney then realized how rare pools were in England owing to the harsh climate and without knowing it; he had unearthed a great subject that would be featured in countless of his paintings in the 1960s and 1970s.

Portrait of David Hockney in his house on the West Coast and a pool painted by himself
The happy & dark side of LA depicted in the paintings
His paintings of LA seemed to cover a true representation of LA to the rest of the world as they portrayed a life of excess, leisure, sexual openness and many other elements that were unfamiliar or unheard of in England. The dark side of social optimism was also highlighted in many of his works because the life of relaxation could end at any moment as a result of the war in Vietnam.
Meaning of the pool paintings
Hockney's pools series and his images of LA depict utopian bliss in which everyone looked beautiful and no one ever needed a serious job. Most of his initial compositions in the Pools series were based on private pool settings that included images and views of naked men showering. For example, his 1963 painting known as Domestic Scene, Los Angeles showed two men showering. Although Hockney started out painting swimming pools, he soon became fascinated by the complex challenge of painting water and the way that the sunlight hit the water in order to produce interesting elements such as ripples, flickers, and wobbles in the water.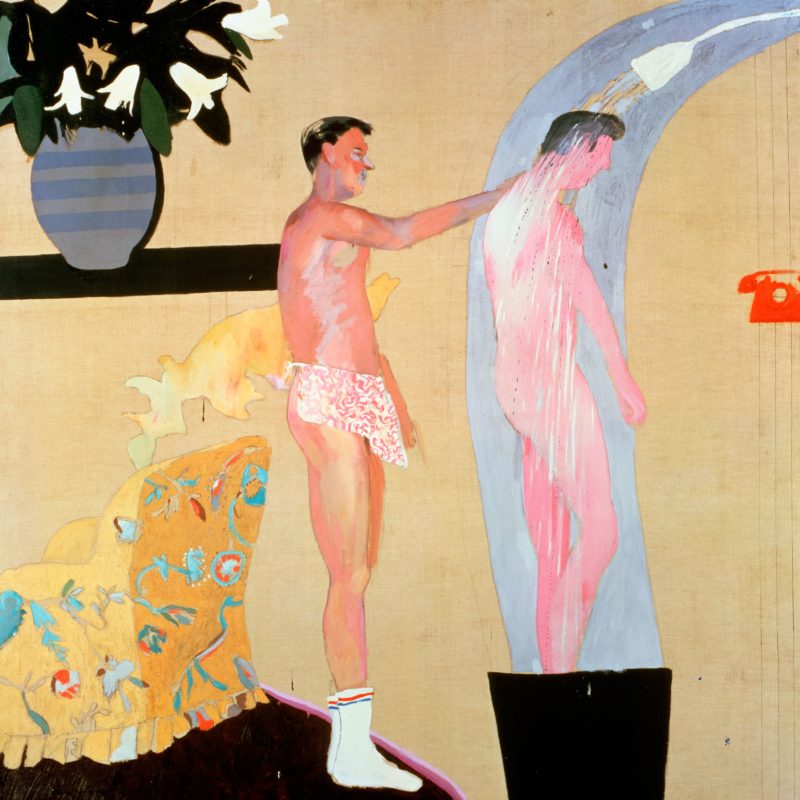 David Hockney – Domestic Scene, Los Angeles, 1963, oil on canvas, 152.4 x 152.4 cm (60 x 60 in.)
Important works by Hockney
Working in a wide range of media, Hockney examined, probed and managed to capture the perceived world of space and time in 2D. His paintings such as Portrait of an Artist, the pool at Hollywood's Roosevelt Hotel, Peter getting out of Nick's pool, 1966, and the Splash, 1966 are still as important today as they were when they were created.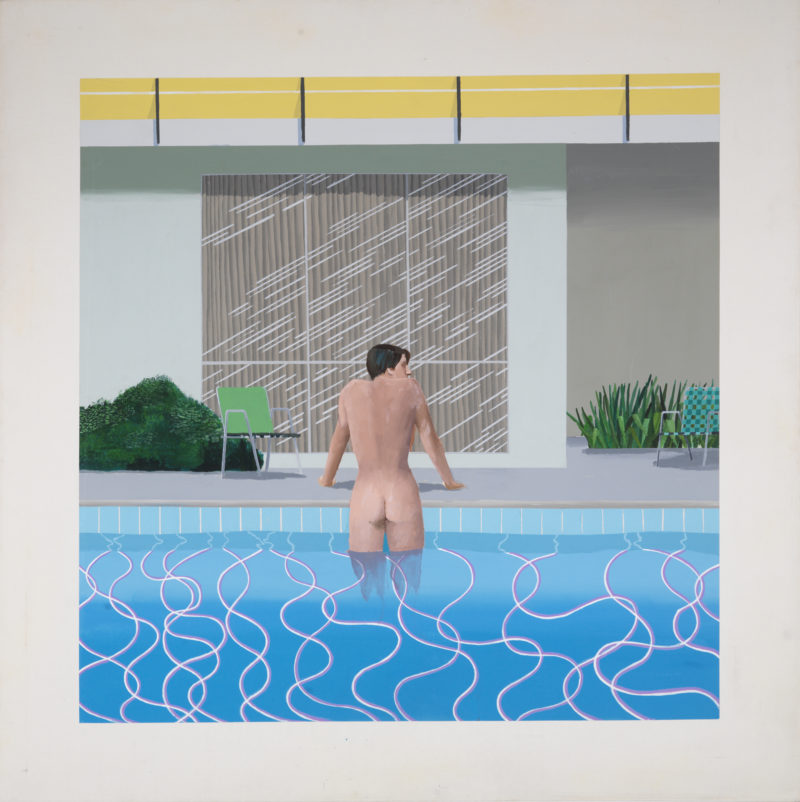 David Hockney – Peter Getting our of Nick's Pool, 1966, acrylic on canvas 213.4 x 213.4 cm (84 x 84 in.)
Photo: Richard Schmidt/liverpoolmuseums.org.uk

David Hockney – The Splash, 1966, acrylic on canvas, 183 x 183 cm (72 x 72 in.)
The 'Pool with two figures' painting
Introduction
Pool with Two Figures, which is otherwise also popularly referred to as Portrait of an Artist is one of David Hockney's most extensively recognized pieces. Pool with Two Figures has a long and interesting story behind it regarding its composition. Initially, the work was inspired by a juxtaposition of two portraits featuring a figure that was swimming underwater and the other of a young boy that appeared to be staring at something on the ground.
The history of the work
Although he began painting the two figures as soon as inspiration struck, Hockney eventually abandoned and destroyed the venture after a couple of months of working and reworking the piece. It was not until 1972 that Hockney returned to work on the piece, weeks ahead of a scheduled exhibition that was to be held at the André Emmerich Gallery in New York.

Hockney worked 18 hours a day non-stop for two weeks to finish Portrait of an Artist (Pool with Two Figures), finally completing it the night before it was due to be shipped to New York. Film still from A Bigger Splash, 1974
Photo: Jack Hazan / Buzzy Enterprises Ltd
How Hockney came up with the motif
Using a Pentax camera, Hockney embarked on the process of staging pictures inspired by his initial concept and composition in Saint-Tropez. Upon returning to his studio in London, he continued to compose his poolside photographs featuring images of his former lover Peter Schlesinger1. Working day and night, Pool with Two Figures was completed a night before it was meant to be transported for the exhibition at the André Emmerich Gallery.

In London Hockney took photographs of his partner, Peter Schlesinger, in Kensington Gardens, from which he also worked to create the pink-jacketed figure standing at the pool's edge. Film still from A Bigger Splash, 1974
Photo: Jack Hazan / Buzzy Enterprises Ltd
Composition
Pool with Two Figures combined two of Hockney's most popular themes from his work during the 1960s and 1970s- swimming pools and the double portrait concept. Pool with Two Figures displays a man dressed in white trunks swimming underwater, as well as Hockney's former lover Schlesinger dressed and standing at the edge of the pool gazing down on the underwater swimmer. Pool with Two Figures was set in the South of France.

Preparatory photograph for Portrait of an Artist (Pool with Two Figures), Le Nid-du-Duc, France, 1972
Analysis of 'Pool with two figures'
Hockney's technique of utilizing several pictures taken ay different times and locations before being reorganized into a coherent order is a system of careful manipulation and trickery of the eye that is often utilized by the artist. Experimenting with the audience's perception as well as misrepresenting perceptions have always been an important element of the artist's repertoire.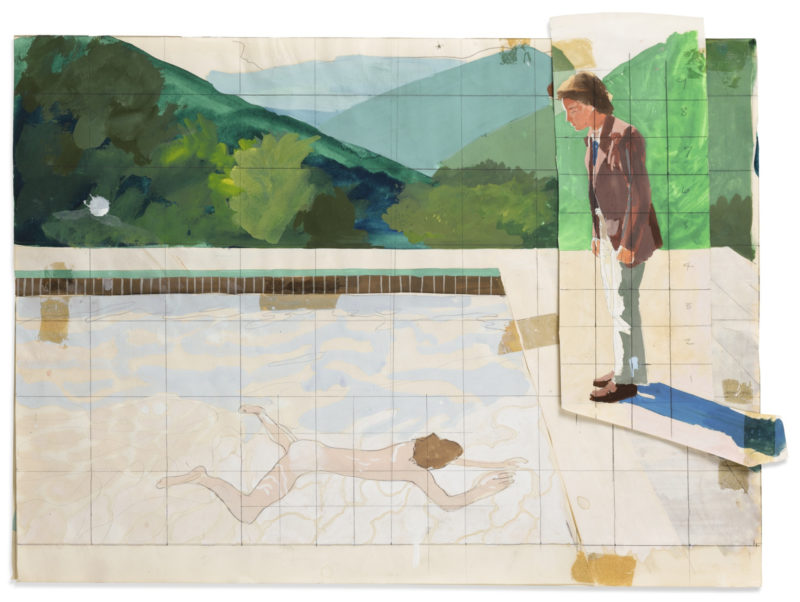 David Hockney – Study for Portrait of an Artist (Pool with Two Figures), 1972, gouache, collage, pencil on paper, 35.2 x 47.6 cm (13.85 x 18.74 in)
Price
On November 15, 2018, Study for Portrait of an Artist (Pool with Two Figures) sold for $90,312,500 million at Christie's2. This auction result made it the most expensive work ever sold at auction by a living artist, selling for 5,000 times its original price. The previous record was Jeff Koons's Balloon Dog (Orange)3, which sold for $58.4m in 2013.
Conclusion
The painting also bore an ominous sense that was made even more magnified by the idyllic surroundings in the painting. It is reported that the artist's lover, Schlesinger, moved out of the residence that the two shared before the painting was even completed. Pool with Two Figures was therefore inspired by Hockney's troubled relationship with his then lover. It stands out from all his other works, which are typically infused with a sense of wonderful tranquillity and peace.
All images: The David Hockney Foundation/thedavidhockneyfoundation.org unless otherwise noted.
Related readings
https://www.christies.com/lotfinder/paintings/david-hockney-portrait-of-an-artist-6171867-details.aspx
Discover more ..