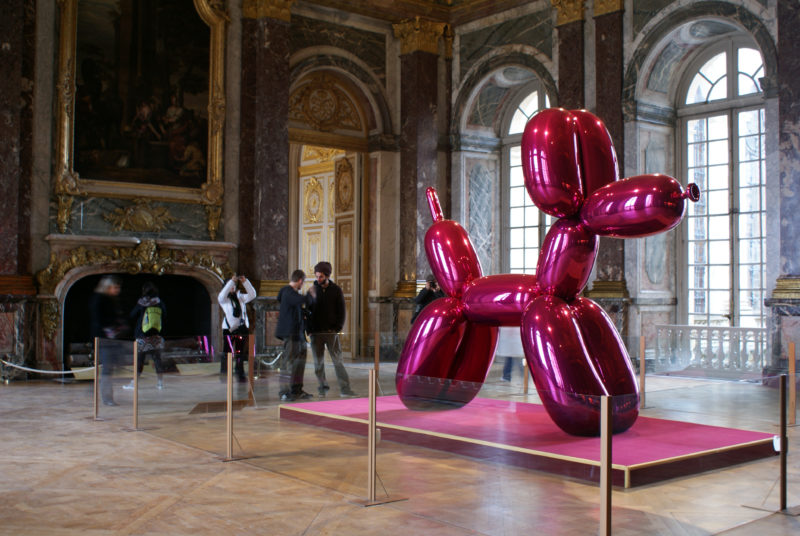 Introduction
Inspired by the likes of Salvador Dalí and Andy Warhol, Jeff Koons is a recognized artist known for his work in pop culture. As such, his sculptures often depict everyday objects.
He is currently among the most popular contemporary artists and is generally considered one of the most important, influential, and most controversial pop artists of the postwar era.
He is so popular that even those who are not art enthusiasts or do not pay attention to modern art have heard of him.
Pieces created by Jeff Koons are usually sold for millions of dollars in the art market. In addition to being very creative, the artist is known widely for his reproductions of mundane objects like balloon animals.
Our focus today is on Koons's famous balloon dogs. This collection of sculptures was part of the well-known Celebration series, which was conceived in 1994. They have been exhibited worldwide, and sold for large sums at different auctions.
The Balloon Dogs
The sculptures in this series include different colors, but the artist prominently used five colors – red, blue, magenta, yellow, and orange.
The Balloon Dog sculptures have been the most successful pieces in the Celebration series. They have been displayed worldwide, from the roof terrace of the Metropolitan Museum of Art in New York City to the Grand Canal in Venice.
When asked by Christie's to comment about the Balloon Dog series, the artist replied1:
When I made Balloon Dog, I wanted to make a piece that reflected the joy of celebrating a birthday or a party. The Balloon Dog is materialism and monumentality. In many ways it is like the Trojan horse.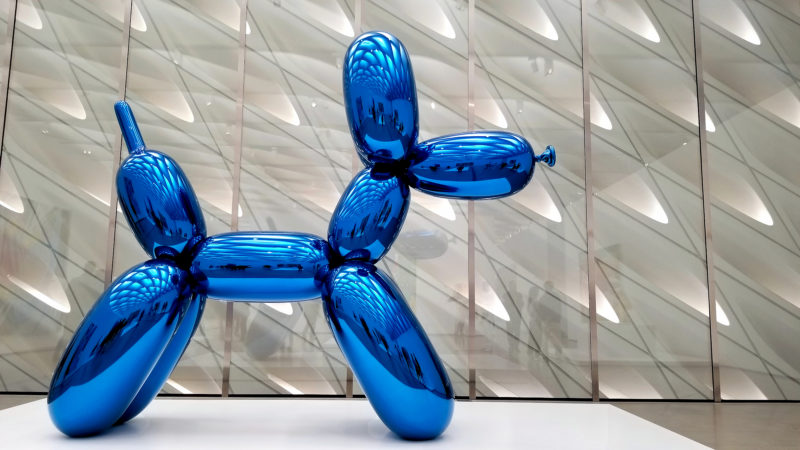 In a separate interview with Time Magazine, Koons said2:
I've always enjoyed balloon animals because they're like us. We're balloons. You take a breath and you inhale, it's an optimism. You exhale, and it's kind of a symbol of death.
Because of this series, Koons became the creator of the most expensive artwork by a living artist sold at auction.
Here are sculptures from Balloon Dogs:
Balloon Dog (Orange), 1994
This is perhaps the most famous sculpture from the series. Balloon Dog (Orange) broke the records seven years ago when it was sold for $52 million. As a result, it went into the record books by being the most expensive artwork by a living artist.
The price was the highest by any Koons piece of artwork, breaking the previous record of $33.7 million. It also set the record of the most expensive artwork by a living artist, held by Gerhard Richter when his 1968 paintings titled Domplatz, Mailand3 was sold for a cool $37.1 million in May 2013 at Sotheby's4.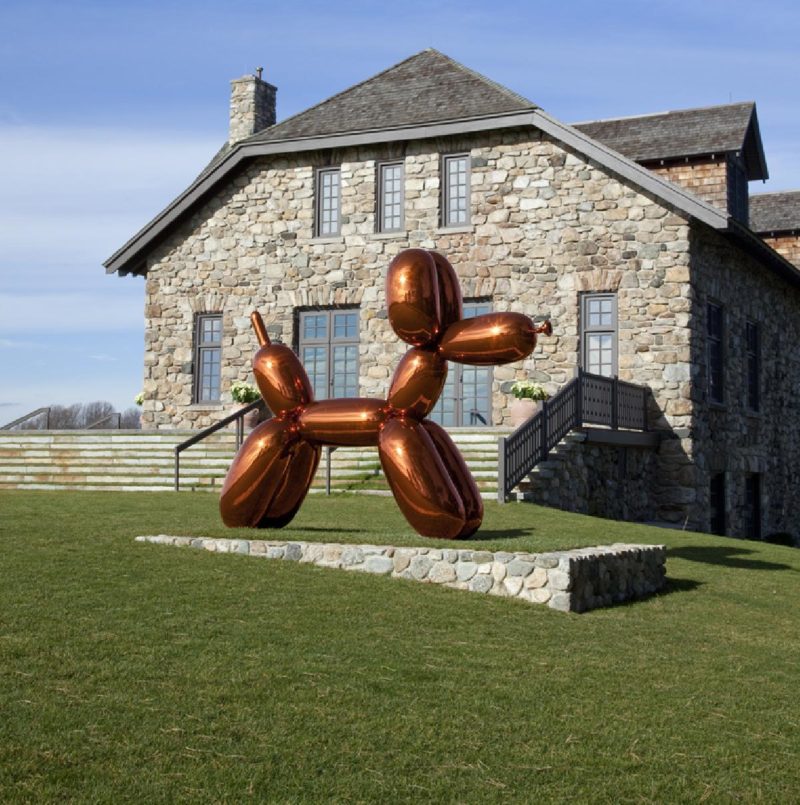 Balloon Dog (Orange) has also been used in popular culture. In 2017, rap mogul Jay-Z (Sean Carter) performed in front of 85,000 fans with a 40-foot inflated orange balloon dog. The rapper is among the celebrities Koons count as his fans, and he even got mentioned in Jay-Z's track called "Picasso Baby". A verse in the song goes5:
Oh, what a feeling, f*** it. I want a billion/Jeff Koons balloons. I just wanna blow up.
It is not surprising that the rapper chose the orange balloon dog to feature behind him, as it serves symbolic purposes; Balloon Dog (Orange) cemented Jeff Koons's legacy in the art world.
Many people in the art world consider Koons as more of a businessman than a real artist. Koons's studio commented on collaboration with the rapper, "Jeff has always been a fan6," but they remained tightlipped about additional details of the sculpture.
Balloon Dog (Yellow), 2008
Balloon Dog (Yellow) was created as part of the exhibition Jeff Koons: On the Roof7 at the Metropolitan Museum of Art in New York.
The yellow balloon dog is made from steel material and yellow mirror-polish, gleaming in reflective. It is the latest edition of the series of a limited edition of Jeff Koons's pieces of artwork.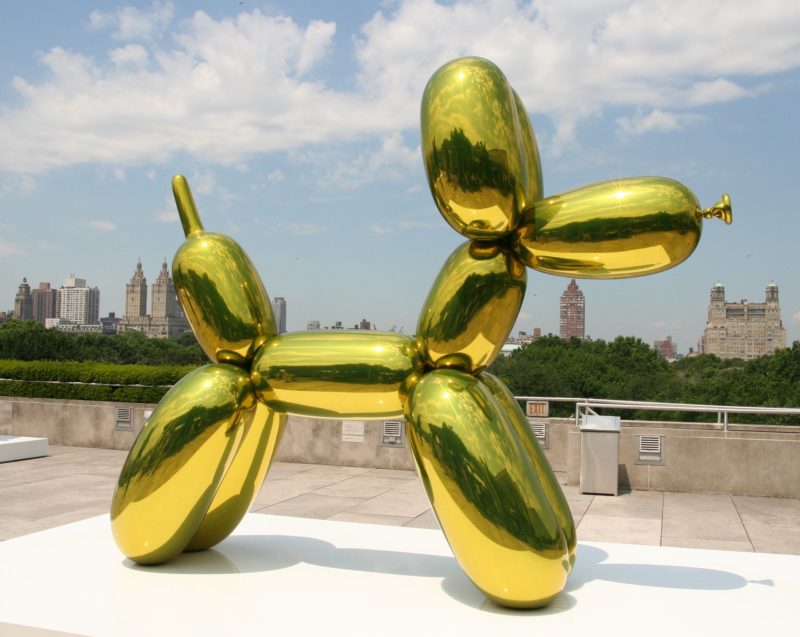 The price
Controversial or not, his works have been immensely successful. In fact, he sold one of his much-acclaimed works – the Balloon Dog (Orange) – at Christie's Post-War and Contemporary Art Evening Sale in November 2013 in New York for a whopping $58,405,0008.
This blew beyond the estimated value of $55 million to set the world record auction price for an artwork by a living artist. That's no small feat for an artist known for using banal and pop-related objects. Previously, Jeff Koons had sold another artwork for $33.7 million9.
Koons said he only wanted to create a piece that showed the joys of celebration when he created the sculpture. As much as his ideals were different, his work, the Balloon Dog has gone on to make him the creator of the most expensive artwork sold at auction by a living artist.
The meaning of Koons's Balloon Dogs
These balloon dogs are quite literally large-scale, hollow, stainless steel reproduction of balloon animals similar to what clowns make for children at carnivals.
Koons firmly maintained that his balloon animals do not have any hidden meanings. He views them as empty, yet they are full of allegory. They have "this interior energy… it's having a dialogue with interior life and exterior life.10"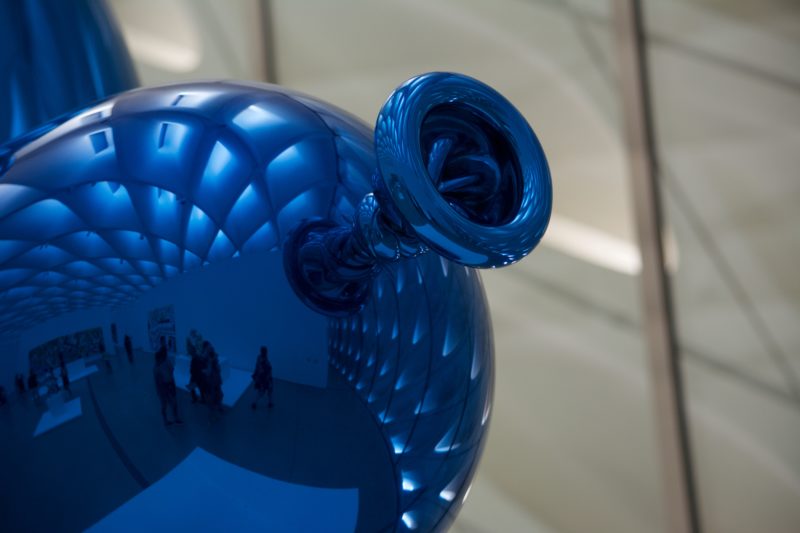 Dogs are among the most popular domesticated animals and have been used to represent connection and companionship with humankind for a long time. They are known for being loyal, trustworthy, and dedicated and have become our best friend and lasting allegory of our connection with animals.
By creating them in balloon form, Koons evokes profound connections with our individual recollections of childhood play and fun – and experiences that can be both mutual and deeply personal at the same time.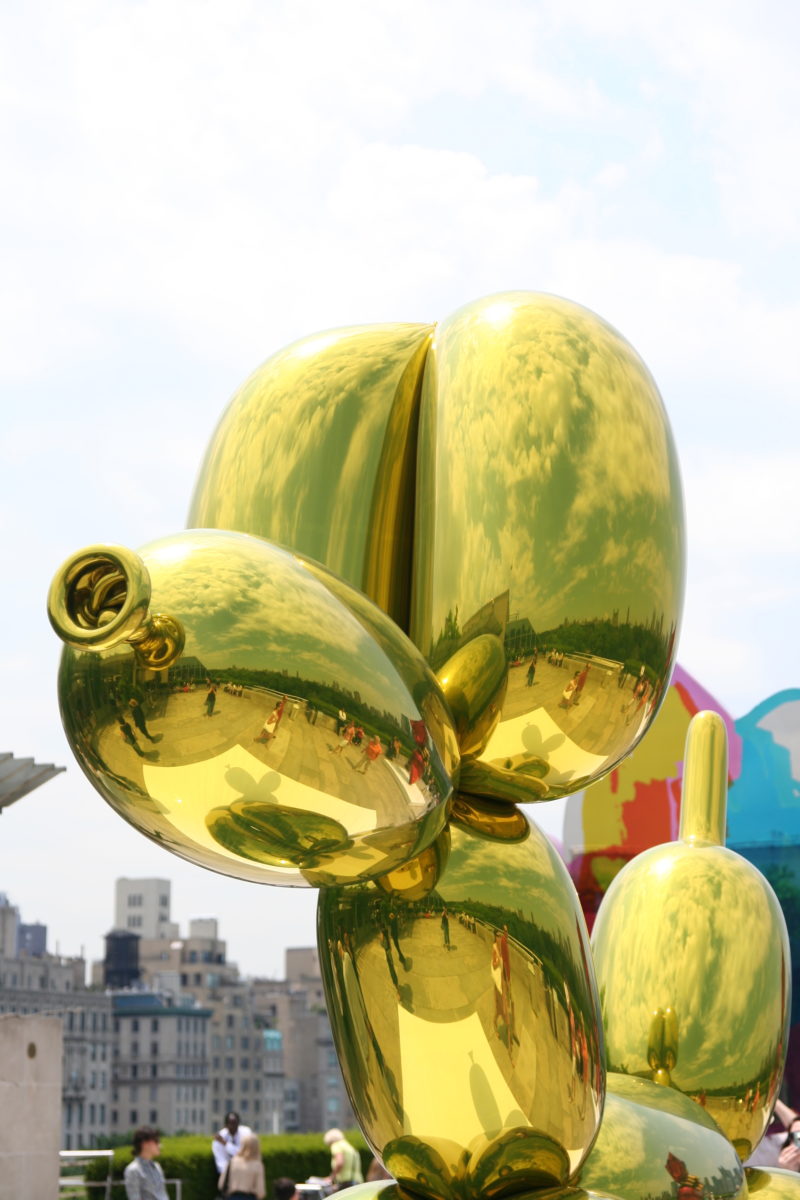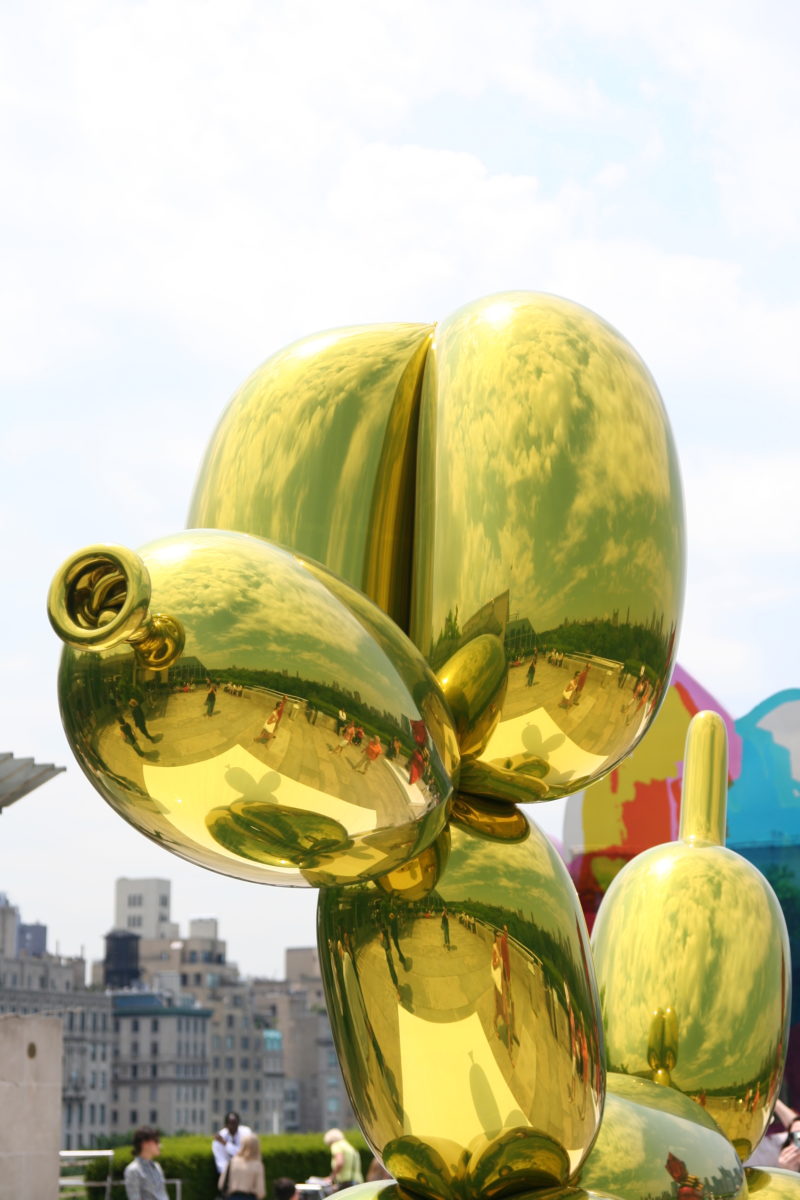 Balloon animals are a reusable representation of our materialistic youth and our fascination with impermanent symbols and sculptures. In addition to the small balloon dogs, Koons has also produced large 10-foot versions of the sculpture, which writes our childhood mawkishness large, trampling our memories.
The metallic surface of the balloon dogs appears to defy our memories and expectations, toying with the form and capturing our own reflection as we stop to look at it.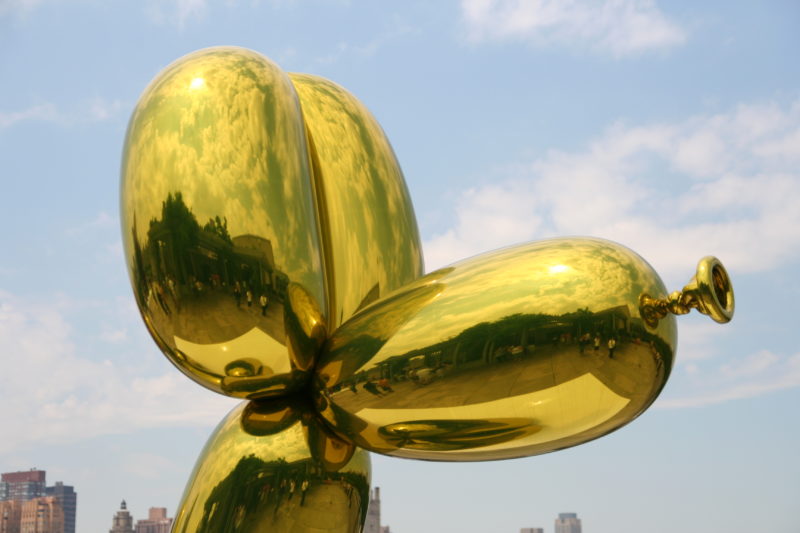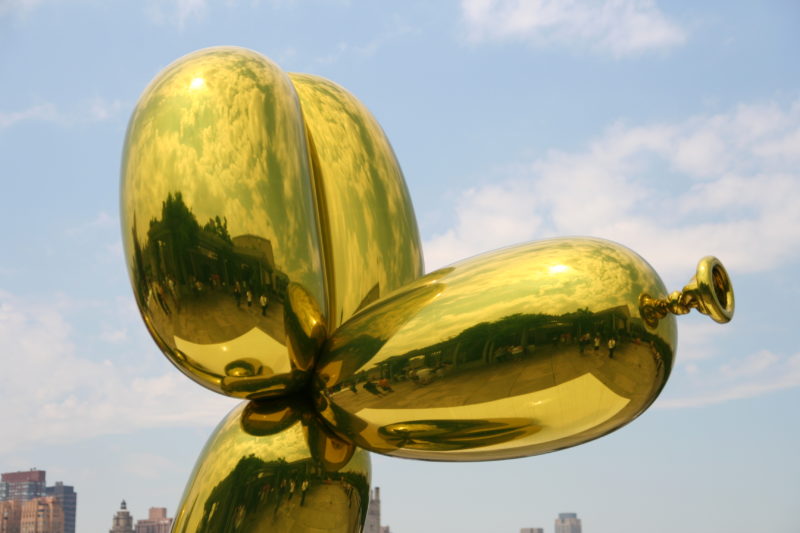 These sculptures tap into our emotions and memories. They represent the unnervingly conversant and trustworthy form of a party favor, an exciting representation of our close animal companion, yet somehow subverting the form to make it suddenly unfamiliar and irrefutably commercial crass.
The theme of sexuality can also be seen in Koons's balloon dogs. For instance, a super freak mind can imagine a condom when looking at these inflatable animals. After all, Koons was once quoted saying, "My work is about using sexuality as a tool to communicate."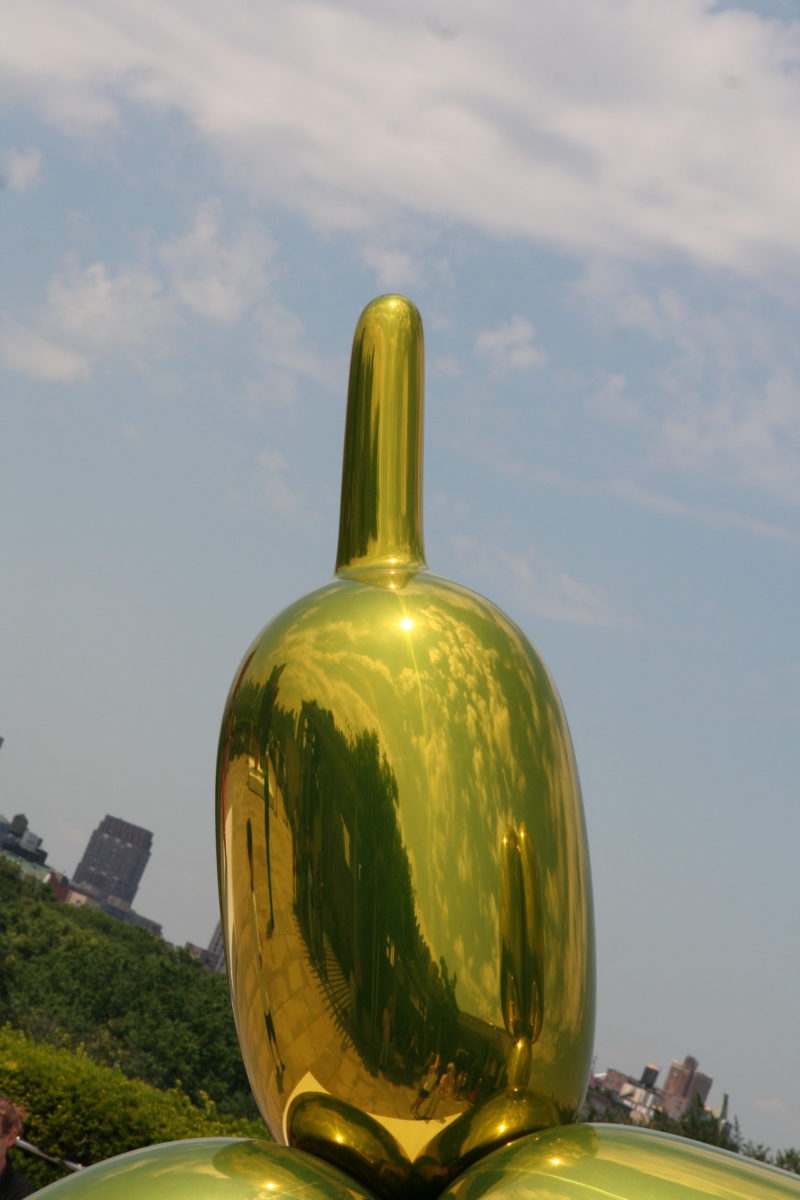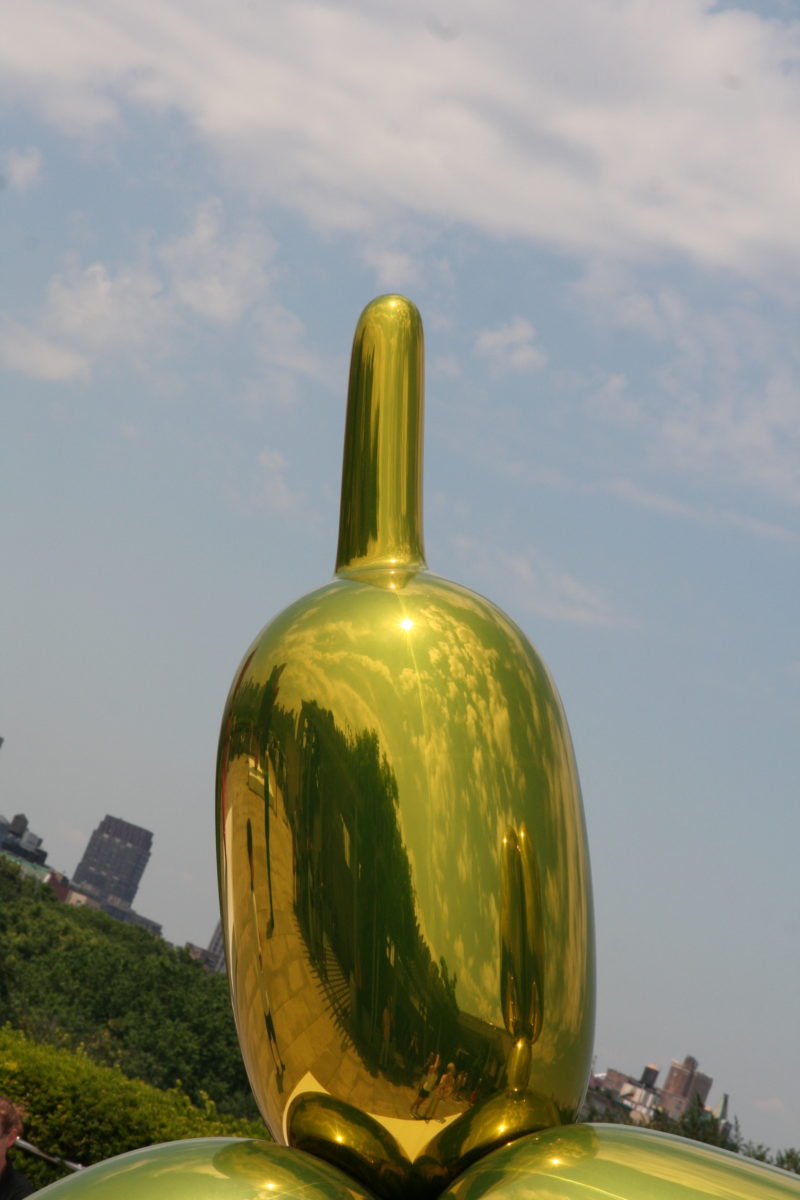 There is also plenty of Koons's work that carries the theme of sexuality, for example, the Doctor's Delight from 1986 and the series Made in Heaven (1989/1991).
When he compared his Balloon Dogs with a 'Trojan Horse', he could have implied that the steel, mirror-polished sculptures are designed to suggest a latex condom material.
While generally, the balloon dogs are cartoonish and devoid of any genitalia, Koons assured that they are "…still prepared to have sex11," referring to the dog's phallic nose and tail as well as the vagina-like legs.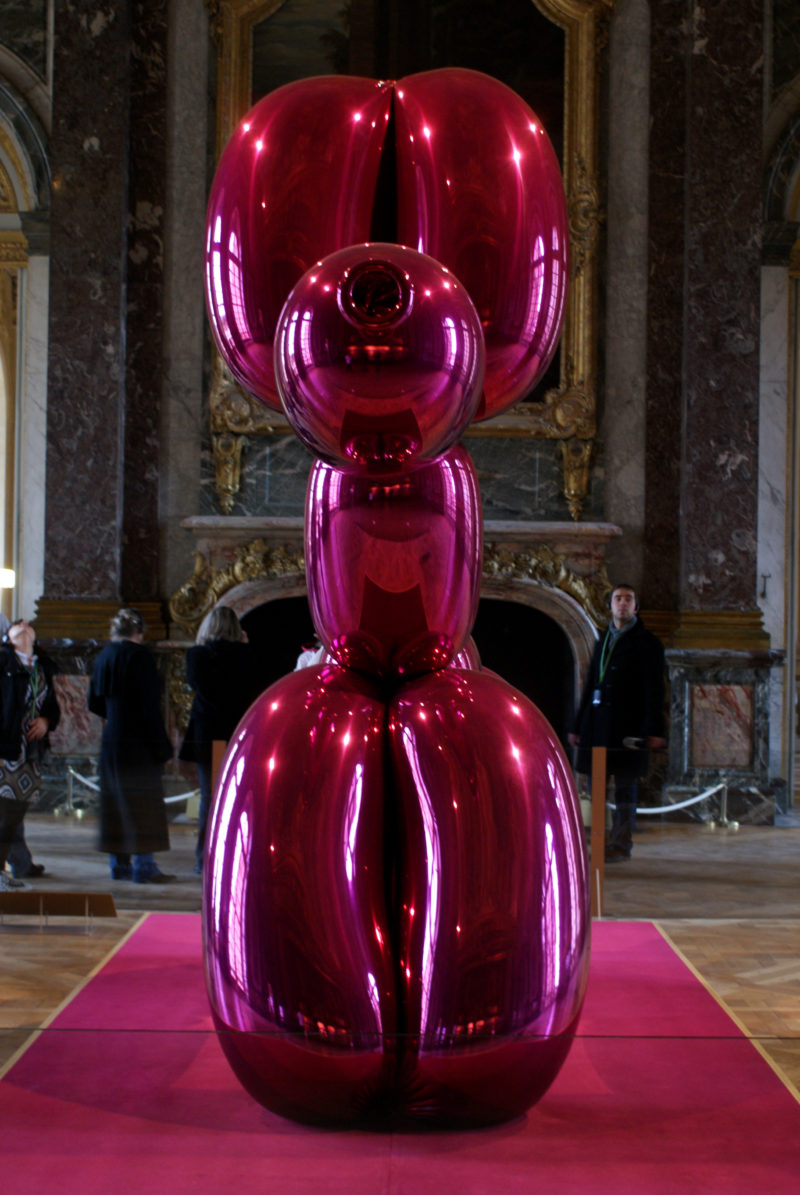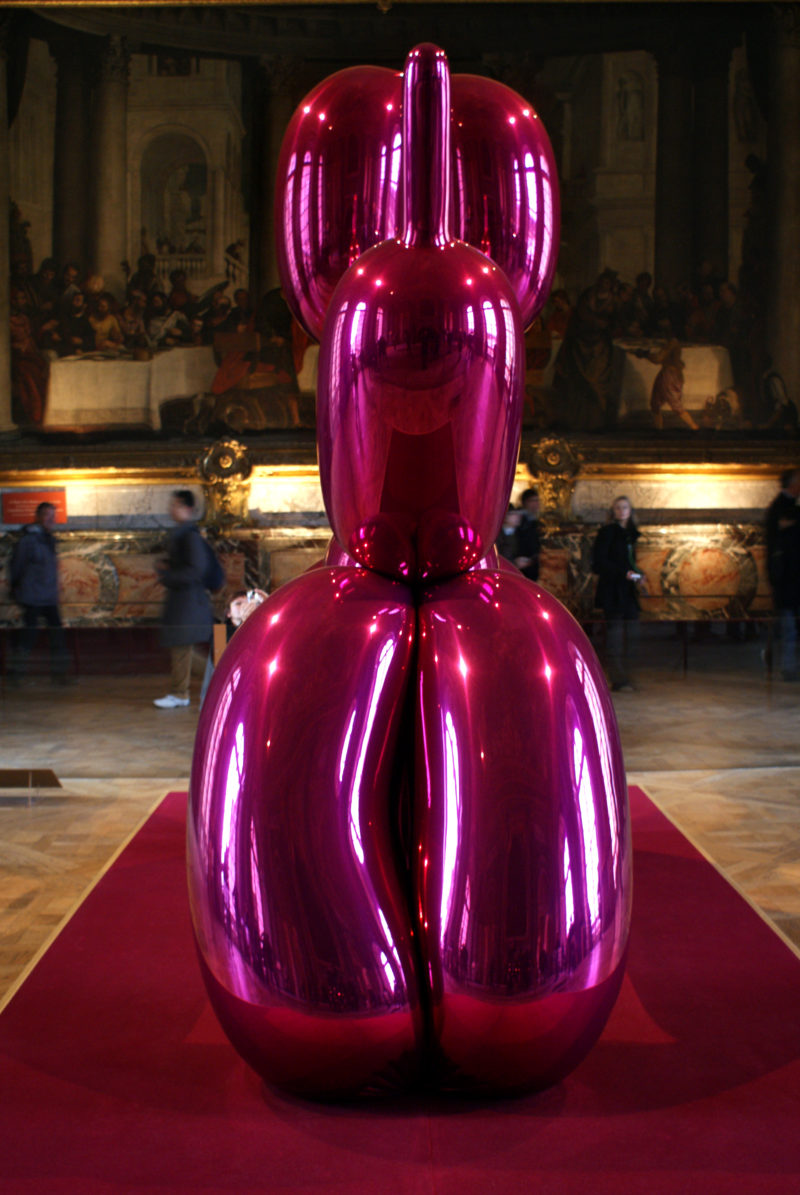 It is quite a compliment to Koons, especially with the stick he usually gets about his artistic prowess, that these innocently looking balloon dogs are actually incredibly perverse.
How were the Balloon Dogs created?
The Balloon Dog by Jeff Koons is about the celebration for different purposes and times; A simple artwork which in its elegance would evoke a cheery scream from children if showcased at a children's party.
The Balloon Dog sculpture is made from elementary materials – stainless steel and covered in different colors: blue, magenta, orange, red and yellow. There was nothing left out of the creation, even though it stands ten feet and weighs a ton. The artwork looks like a balloon twisted to shape to form a dog.
The Balloon Dogs have a stunning color on a giant swollen body that has a reflective surface. These sculptures depict weightlessness despite their colossal size and heavyweight of one ton. The balloon form was made while paying the utmost attention to precise details.
A knot serves as the nose, the twists and crimps that show the limbs are well placed. The dog's tail is erect and yet looks like rubber. The artist is known for making use of exact standards in his work, and his Balloon Dogs are no exception.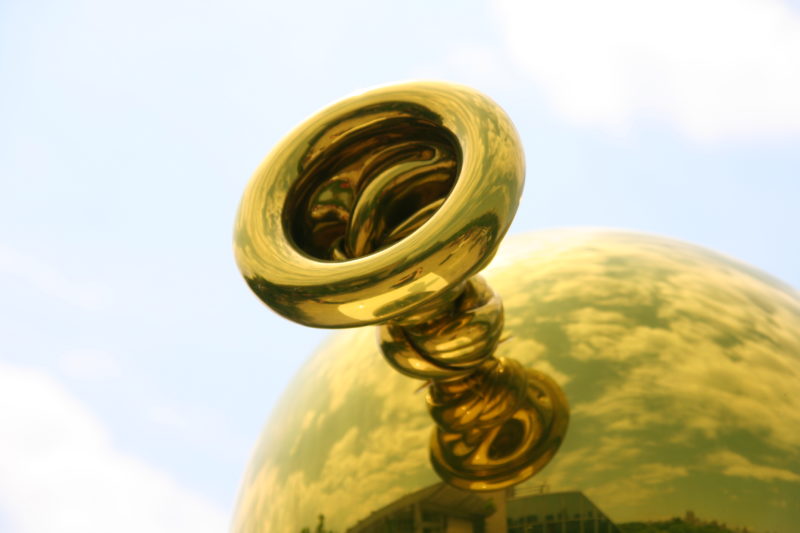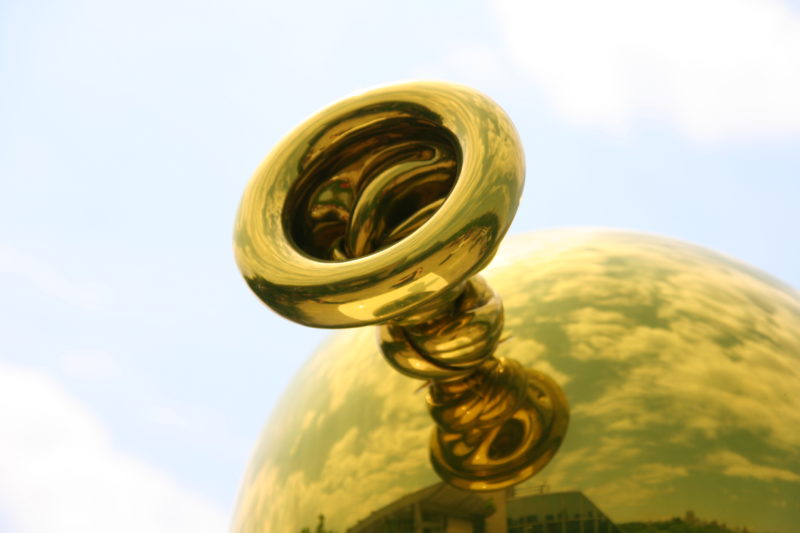 Conclusion
This faultless and flawless creation is admired and loved by the audience. As much work was put into the sculptures, the result is a stunning sculpture that is pleasing to the eyes.
The originality of inspiration is clearly not part of his recipe, but when creativity in the classic sense is a non-issue, where does he get his inspiration from? The answer to this question is incidentally the bone of contention among many in the world of contemporary art.
About Jeff Koons
In the past three decades or so, Jeff Koons has unveiled one gem of artwork after another. His well-known work, Michael Jackson and the Bubbles12 – a banal sculpture based on the king of pop and his famous chimpanzee, has been very popular and equally controversial. But that's what he's known for: a knack for genre-bending.
Crass & gimmicky or pioneer?
When it comes to the critique of Jeff Koons' work, there are often two schools of thought. On one side, a small group of naysayers thinks that his artworks are crass and more of marketing gimmicks than art. On the other hand, most critics and sharp minds in the art scene consider him a pioneer of the neo-pop art movement.
In his defense, Koons has asserted that there's "no hidden meaning"13 in his works. Nonetheless, no one can dispute that Jeff Koons is one of the most important contemporary artists of our time.
Jeff Koon's first steps in the art world
While he made his debut in the art arena with The New14 series at the onset of the 1980s, it wasn't until 1986 that he sprang into the limelight. Together with colleagues Ashley Bickerton, Peter Halley, and Meyer Vaisman, Jeff Koons made major headlines (including the front page of New York Times) when they jumped from International With Monument gallery to Sonnabend Gallery.
In 1988, Koons cashed on his fame by unveiling his much-acclaimed Banality series. And that's when his career really took off.
Awards and Recognition
Controversial, effusive, and captivating, Jeff Koons' artworks have not gone unnoticed. He has received many honors, accolades, and awards in recognition for his contribution to the world of contemporary art. In 2000, he was awarded the BZ Cultural Award from the City of Berlin and a year later received the Skowhegan Medal for Sculpture.
In 2002, he was designated a Chevalier of the French Legion of Honor before being elevated to Officier five years later (2007). In 2008, he received the Wollaston Award from the Royal Academy of Arts in London and the Medal of Arts from the US State Department in 2013.
Finally, Jeff Koons received the annual Honorary Membership Award for Outstanding Contribution to Visual Culture from the Edgar Wind Society, the University of Oxford, in 2017.
More by Jeff Koons
Footnotes