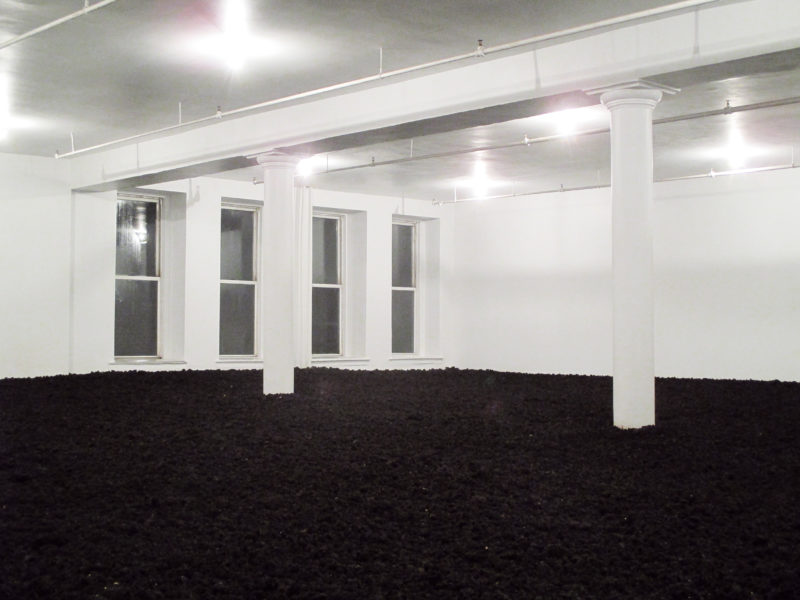 Who was Walter de Maria?
Walter de Maria was one of the most influential artists of the 20th century having participated in four popular movements including installation art, minimalism, land art, and conceptual art.
He was an astute artist who drew upon elements of sublime and mathematical absolutes in some of his installations and large-scale sculptures. Walter de Maria revolutionized art in profound ways. He always sought to connect people and nature using a wide range of interactive sculptural installations.
Two Earth Rooms in Germany
The artist has successfully created three Earth Rooms, the first one being in Munich, Germany, in 1968. The other Earth Room was installed in 1974 at the Hessisches Landesmuseum in Darmstadt, also in Germany.
De Maria first toyed with the concept of Earth Room in Germany before installing one in the United States. The ones in Germany no longer physically exist. However, there are black-and-white photographs that can give you ideas about how they looked like. His early versions of Earth Room were supposed to evoke thoughts about light, darkness, and time.
Earth Room, New York, 1968
His works are still revered to these days, whether indoors or outdoors. One of his most celebrated pieces is the Earth Room, located in one of the most sought after districts in New York, SoHo's Wooster Street aloft.
New York's Earth Room is a permanent installation of 250 cubics of soil covering 3,600 square feet of space and 22 inches deep. Earth Room, on long-term public view since 1980, is among his influential pieces that aim at exploring the links between art and the natural environment.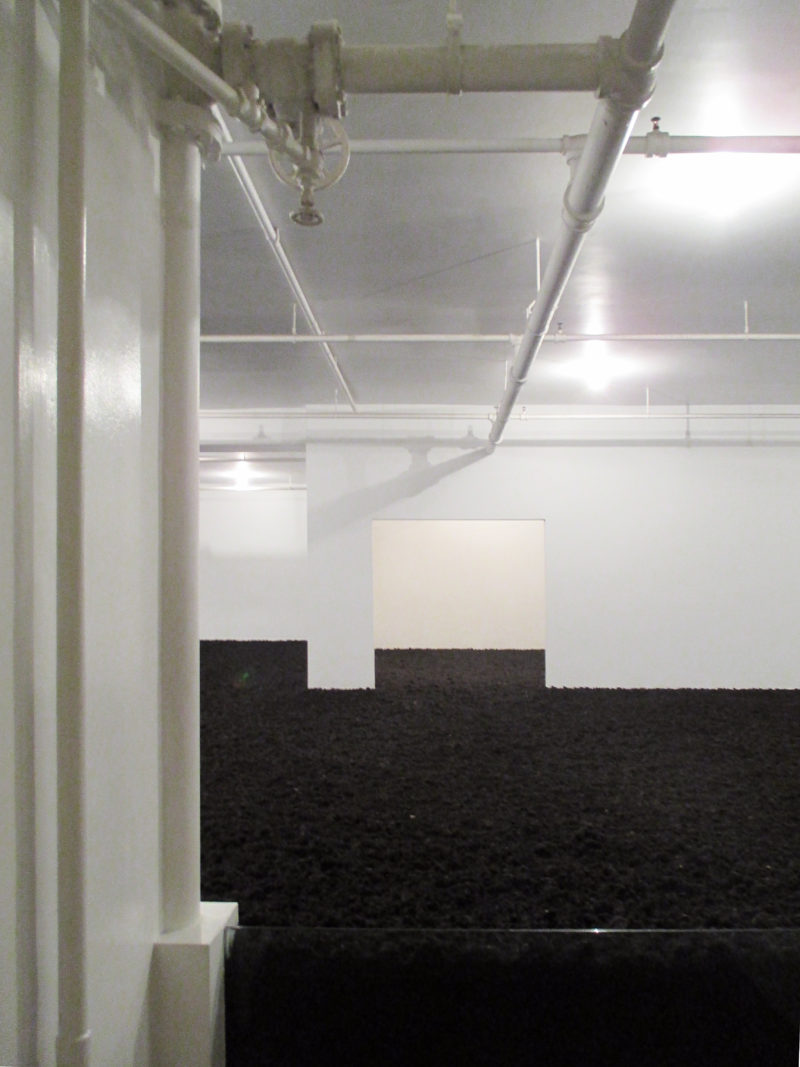 How the works look like when you visit
When you enter the room, you can feel the rich smell of well-preserved soil and sense the warm humidity of the breezing. The installation of the Earth Room occupies three gallery rooms, with a knee-high sheet of Plexiglas boxes placed off the viewing stage so that visitors can see how deep the dirt is.
The New York Earth Room is installed in a white-painted room, and the dirt itself appears warmer or cooler depending on the hour of the day. The viewing area is fixed because the soil covers the floor from wall to wall. Visitors are allowed to take photographs of the Earth Room. Although de Maria himself was against it at first, he eventually caved in and let people savor the art by taking pictures.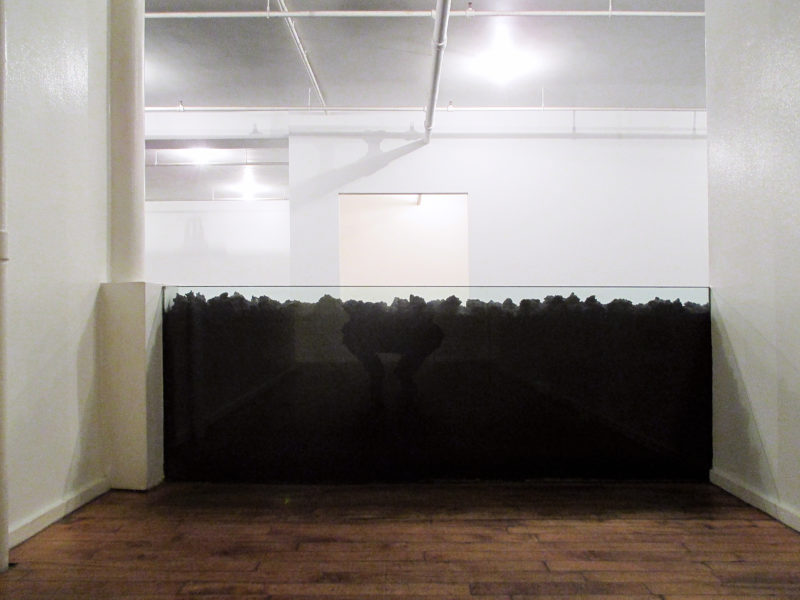 The same caretaker for the last 23 years
The New York Earth Room has had the same guy as a caretaker for the last 23 years, Bill Dilworth. He claims that he finds its appearance and its guests so variant that he continues to find new pleasures in his job, day after day, year after year. Talking to one of the visitors to the Earth Room, he said1:
People look at the Earth Room and they think nothing is growing, but what is increasingly evident is that time is growing there. The fact that it doesn't change means that time is constantly accumulating.
A Loft Filled with Dirt, the Man Who's Cared for it for 19 Years
Maintenance of the work
Bill Dilworth explains that the Earth Room is the same as forty years ago, and he tries to maintain and keep it clean to look like it is the first day. As a caretaker, Dilworth waters, weeds and rakes the Earth Room's dirt once every week while alternating directions to maintain the level of the earth. He also scrubs the walls to keep off molds.
During his first months as a caretaker, about dozens of mushrooms would pop up every week, but he says that now, the nutrients that supported them were consumed as time passed.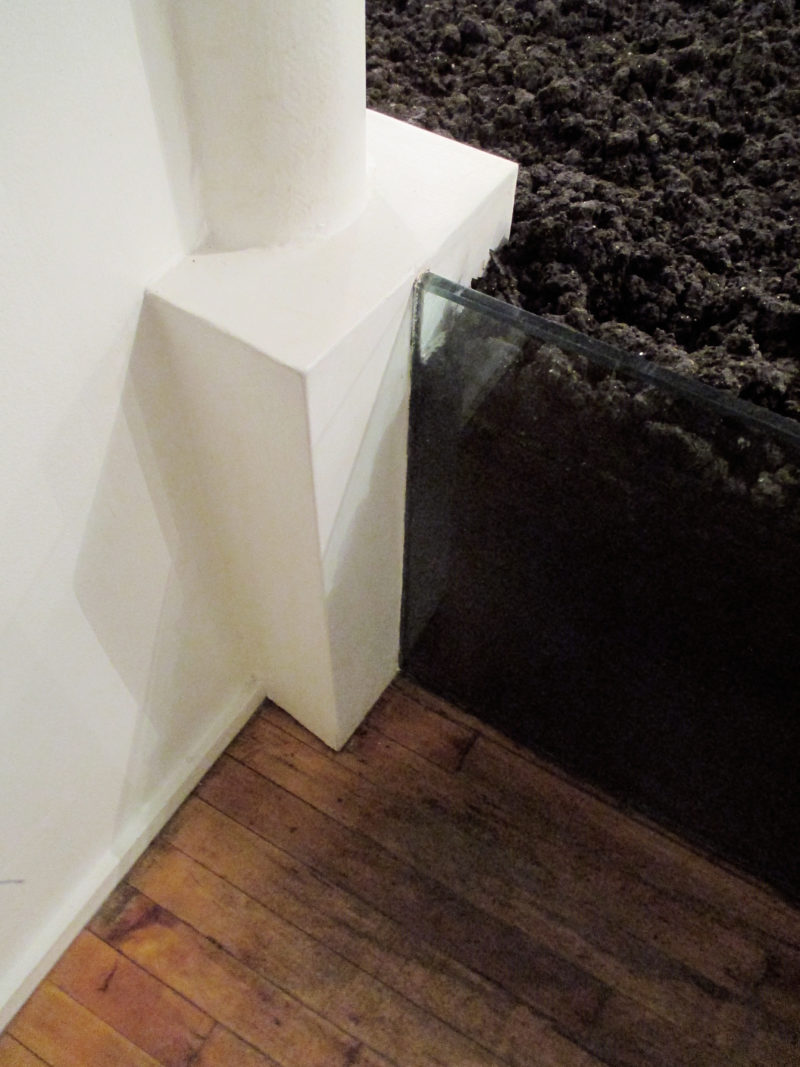 Growing impact over the years
Although it is economically useless, Earth Room has managed to see an explosion of visitors day by day. Yet, many people still don't get the installation. According to Dilworth, people would sometimes walk right by it, not knowing that that is the art.
Over the years, Earth Room has successfully impacted its viewers to rethink their relationship with nature. Walter de Maria once said that every good work should have at least ten meanings, and if you stand and stare at the Earth Room gallery, there is no doubt you can come up with a bunch of meanings you think it represents.
Location
Located in the most vibrant city in the world, it depicts the dirt on display as more valuable, just as the real estate surrounding the Earth Room. Whereas to some, it can mean the silent triumph over "the man" or what Soho – once a famous location for countless artists' lofts and art galleries, has become, or a defeat against "capitalism."
Recently, Pottery Barn and Fitch have been stalking the area surrounding the Earth Room, praying to see if there was a glitch in Dia's lease so that they can take over the place and turn it into corporate offices.
141 Wooster St, New York, NY 10012, USA
Open: Wednesday-Sunday: 12-3pm, 3.30–6.00pm
Closed: Monday-Tuesday as well as Thanksgiving Day, Christmas Eve, Christmas Day, New Year's Eve and New Year's Day.
Admission: Free
Official site: Dia Art2 (check for holiday & other closing days)

Entrance to Walter de Maria's The New York Earth Room, 141 Wooster Street, New York City, photo: CC BY-NC-SA 2.0 by trevor.patt
The meaning of the work
To date, nobody knows the intentions behind the New York Earth Room, except Walter De Maria. He only describes it as "a minimal horizontal interior earth sculpture." Yet, it is the very absence of pinned meaning that makes the Earth Room an exquisite site. Even its caretaker, Dilworth, used less than ten words to describe the Earth Room, saying in an interview3:
It's art, it's earth, it's quiet, and it's time.
The piece communicates our fundamental search for stability between the city and nature, and that alone is reason enough to make the Earth Room as precious and any other piece of artwork in the world.
Conclusion
Earth Room is a fascinating artwork that is pleasant to look at and easy to like. It is meant to remain unchanged, but it is evolving over time. The work is permanent and unchanging, yet the city that is situated is constantly changing.
It is an artwork that for decades has escaped the clutch of the art industry and stands in defiance of the now-trendy commercialization of fine art.
Walter de Maria – who passed away in 2013, stretched the boundaries of what art could be by setting up something so simple and mundane into a gallery setting. Whatever you think the Earth Room stands for, hopefully, it continues speaking to us for many years to come.
More by Walter de Maria
Footnotes
https://www.artsy.net/article/artsy-editorial-artist-masterpiece-involved-filling-apartment-140-tons-dirt