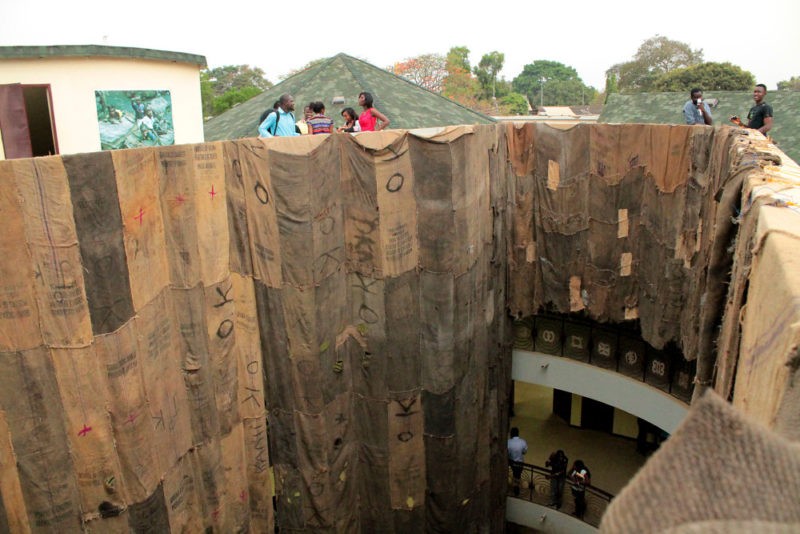 About Ibrahim Mahama
Ibrahim Mahama, not to be confused with the businessman Ibrahim Mahama, is a Ghanaian artist and author known for his monumental installations. He was born in the northern region of Ghana in the town of Tamale. Mahama is perhaps known for his peculiar artistic methods, including taking discarded items from his homeland Ghana and placing them in different art spaces.
Mahama has become one of the most prominent African voices in the art world. In his early thirties, his works have already been exhibited at the Biennale of Sydney, the 56th International Art Exhibition of the Venice Biennale in Italy and documenta 14 in Kassel, Germany and Athens, Greece. Mahama was named in the list of the most influential Africans for the 2019/2020 edition by The Africa Report.
Accomplishments
He has created large-size installations worldwide, including Milan (in collaboration with the Trussardi Foundation in 2019). His work has also been shown at the Norval Foundation in Cape Town in 2019 and the Eli and Edythe Broad Art Museum at Michigan State University in 2015. In addition to making art, Mahama also founded and run a non-profit cultural organization and exhibition space called the Savannah Center for Contemporary Art (SCCA), which launched in 2019 in his hometown, Tamale.
Mahama is currently an artist in demand worldwide, even more than in Africa. There is a huge banner with his image outside the Whitworth Museum. "It is very strange to appear that way," the artist says of his banner. Moreover, he is under the UK-based White Cube and became the youngest artist to showcase in the first Ghanaian pavilion at the Venice Biennale in early 2019.
Inspiration
What inspires Mahama's creation is material, precisely jute sacks, and items that have lost their meaning. He has also created art out of wooden boxes discarded by shoe shiners.
The older the objects, with the decay and the strains, that's what I find a value in. The memory and the pattern is something that speaks to use – rather than when a thing is very new, and it almost has no soul to it.
Mahama was a student of Kari Kacha seid' ou. He credited him for giving him (Mahama) an extensive sense of international art history and theory and an obligation to move beyond "the mere symbolic and philosophical aspects" of art.
References in his work
All of Mahama's artworks advocates for revolution in Africa. When his Parliament Ghost was taken down in September last year (2019), it was packed up and shipped to Ghana, installed in Tamale.
I'm an artist who wants to work in Africa. And I am also tired of producing work that gets exported to Europe and America. I want local people to experience art made in Ghana, as well as to experience what you experience.
Coal sack installations
For his famous Jute sacks installation, Mahama reappropriated material he had purchased from markets: first cocoa sacks and then coal sacks.
The works are the result of his investigation of the conditions of supply and demand in African markets. Torn, patched, stamped with PRODUCT OF GHANA, and written over with owners' names, the bags are variously marred, marked, and transformed.
These installations are displayed in Ghanaian markets and galleries, thus defying the artifacts' intrinsic value system. Ibrahim uses coal sacks as a device to explore process, material, value, and meaning. He creates an artistic vision out of commonplace material, repurposing them and exhibiting them in the very marketplaces from which they came.
The use of sacks also tells a story of how Ghana, as the largest cocoa producer in the 1950s and 1960s, used a lot of its proceeds from exportation of the produce in infrastructural projects that were then abandoned after the 1966 coup. The message in these flags is similar to the message in the Parliament Ghost installation.
Ghana was the largest producer of cocoa in the world in the mid-20th century, and a lot of the money that we made from cocoa was actually used in creating social infrastructure – roads, bridges, things like that.
Even in unremarkable materials like a sack, Mahama sees the history knitted into it and uses it to question value, industry condition, globalization, and economic exchange.
Jute Flags
Mahama continued with the repurposing of discarded objects from urban settings when he created Jute Flags. During the 2019 Frieze New York's opening of Sculpture initiative at the famous Rockefeller Center, Mahama used old rags to reconstruct the legendary United Nations flags around the prominent plaza's skating rink. The commission decided to replace its 192 flags with the 50 jute flags handmade in Ghana.
These flags were made from a combination of a wide range of materials used conventionally in the transportation of commodities worldwide, such as food. According to Mahama, these sacks evoke many memories from the past since they encounter different forms of labor, mostly unaccounted for once the item reached its destination because of the global trade system.
The installation is also about the disparities in income and resources that exist around the world. Mahama said that his coal sacks were initially supposed to signify "how the body could be looked at" and create a link between how people appreciate global carriage of goods and the labored bodied responsible for the transportation.
Flags sometimes are supposed to represent the idea of freedom, but they can also be a symbol of oppression. I am interested in the combination and how it manifests itself in the character and experience of the artwork. All the flags are handmade and sewn. Each flag has two different sides and is animated by the wind within the architecture of the Rockefeller Center. I simply wanted to make a decaying flag out of objects that manifest our 21st-century condition, but that also holds a sense of hope.
Frieze Sculpture curator Brett Littman released a statement saying that the [2019] Frieze Sculpture would be "an immersive campus-wide installation that is responsible to the architecture of Rockefeller Plaza," and will include fourteen artists from 4 continents who were creating individual work that "respond to our global political moment." The exhibition included notable artists such as Walter De Maria, Nick Cave, Jose Davila, Sarah Sze, Kiki Smith, and many more.
Collaborating & Creating
Collaborating with other artists suits him, as he considers himself as a part of society.
I'm not a solitary artist, but a part of a community and I have a vision of art that can effect change rather than being about producing beautiful commodities for sale on the market. Perhaps that distinguishes my work – it departs from the European tradition.
What also makes him the approval of working with others is that he was raised in a polygamous family, meaning he has many fathers and mothers and hundreds of siblings.
In his creation process, the scale doesn't seem to pose any drawbacks. Instead, it inspires him. Another one of his work involved completely covering the angular external of Ghana's National Theater with a patchwork of jute sacks imported from South East Asia for storing cocoa before being turned into containers for maize and rice.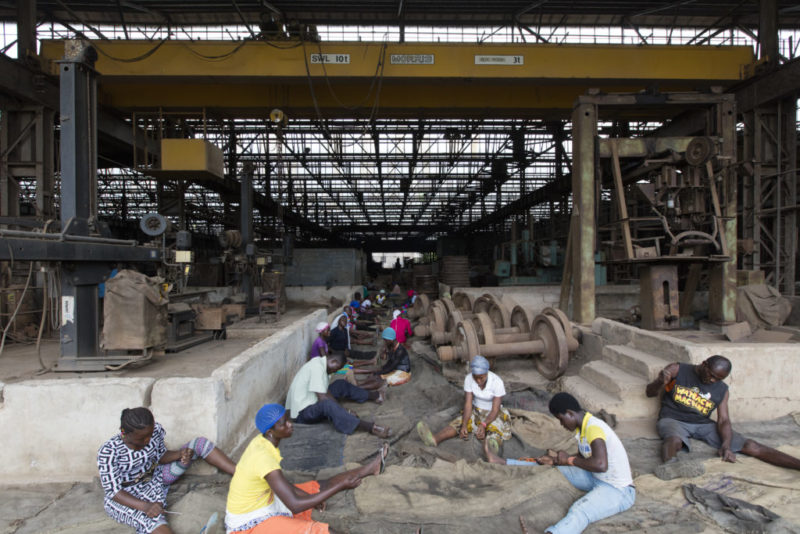 Final thoughts
Through his artistic skills, Mahama manages to disrupt and undermine the politics of spaces by offering them a new form and meaning and stripping them of their original purpose. Using almost decayed sacks, the artist presents physical evidence in his exploration into the worldwide exhibition of the capitalist economy, revealing local connections among the global working class.
The workers that weave the sack, those that package products inside them, those that load, and those that transport the items leave their names, sweat, dates, and other coordinates on the sacks. As a result, the sacks become crusts with branding that betray their economic and sociopolitical legacies.
Mahama speaks about his installation at the Tel Aviv Museum of Art, Israel in 2016
Video: Ibrahim Mahama interview
Selected works
Installations in Accra, Ghana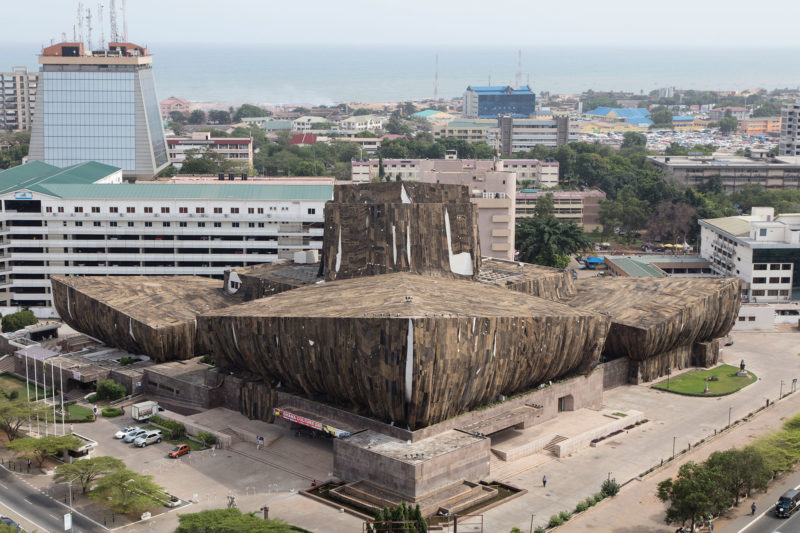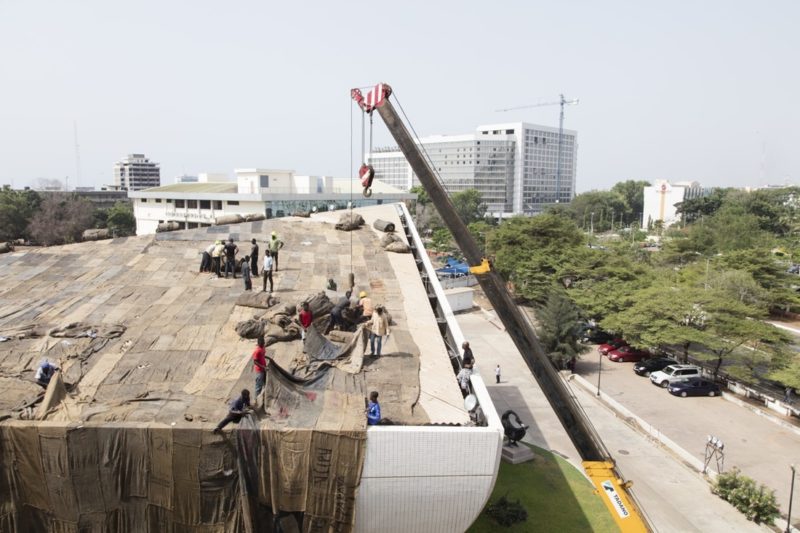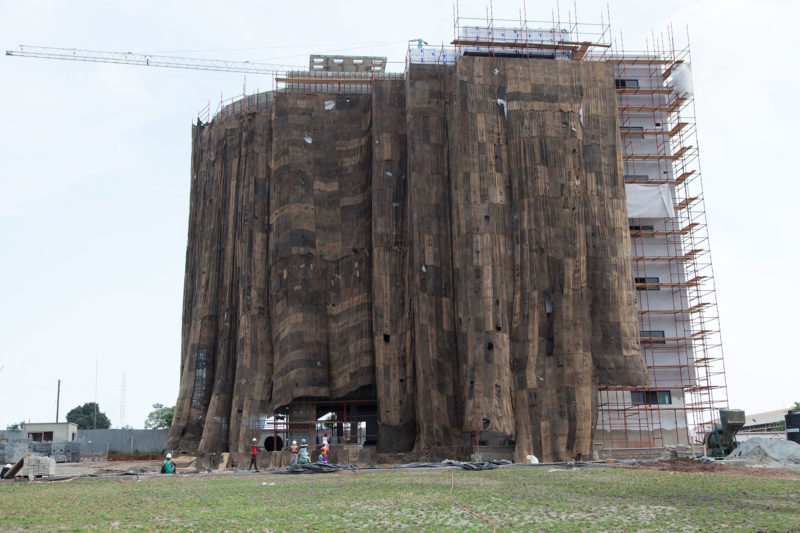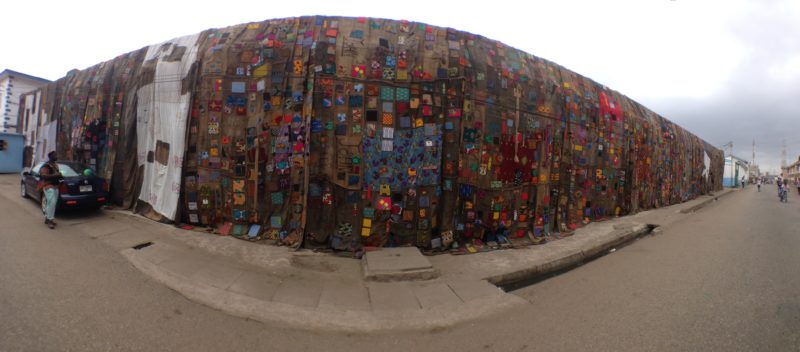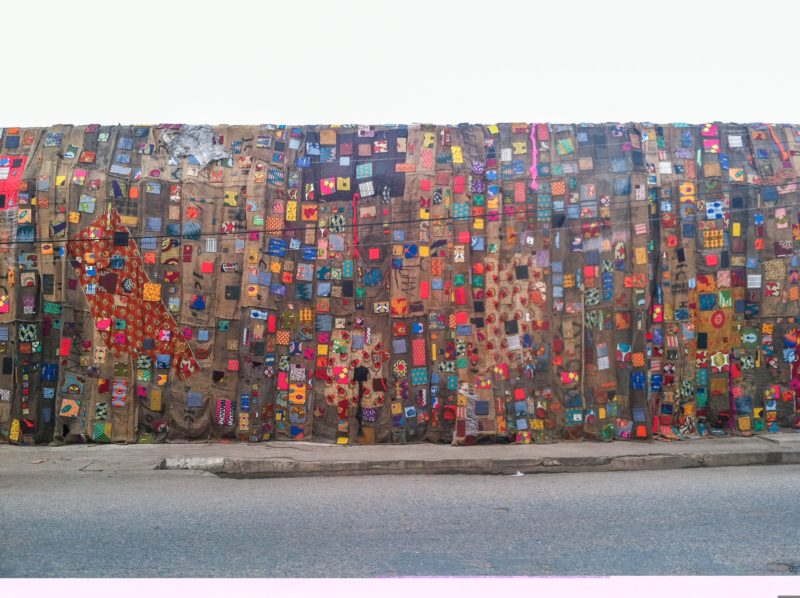 Kunsthal Charlottenborg, 2016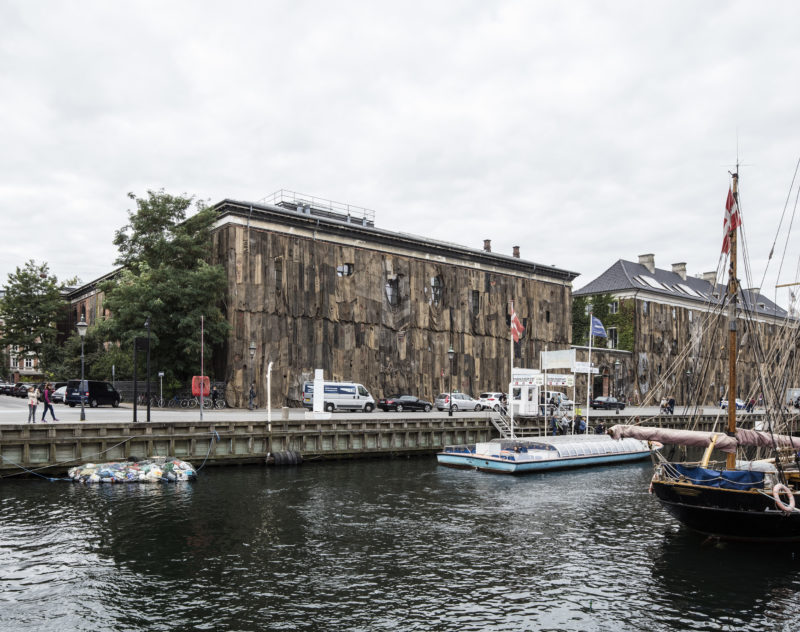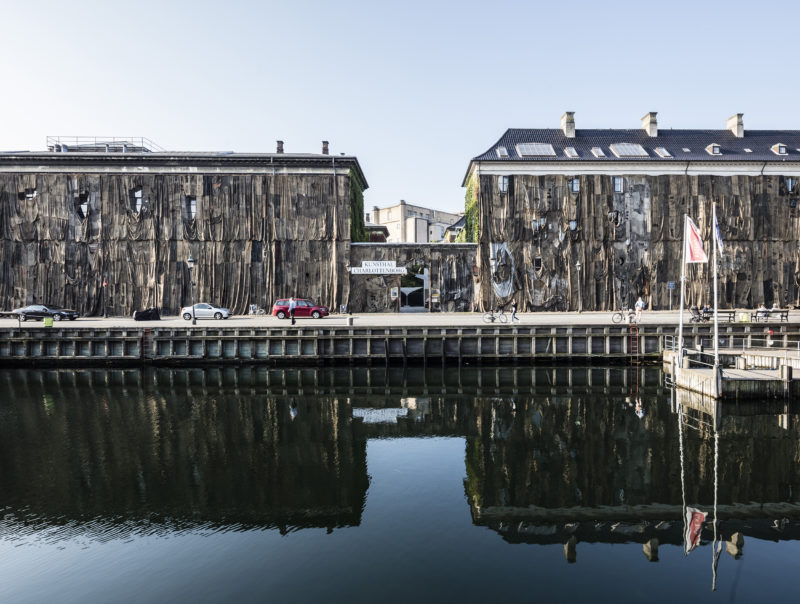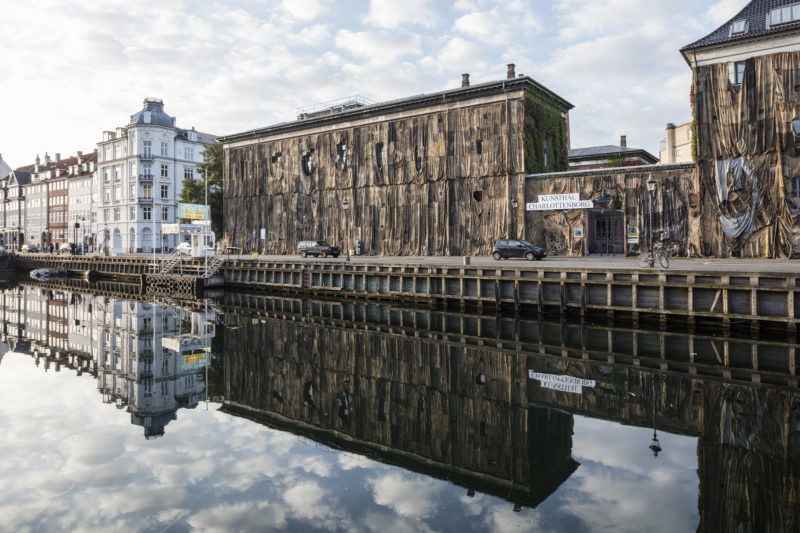 Adum Railway Station, Ghana, 2013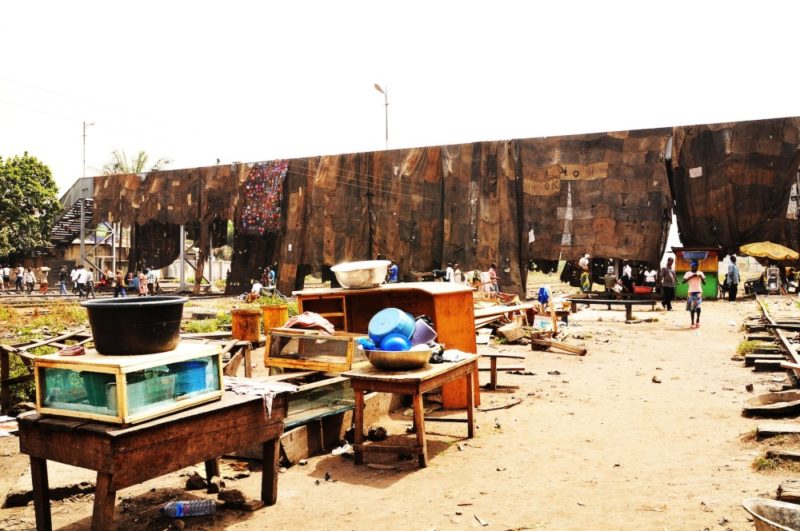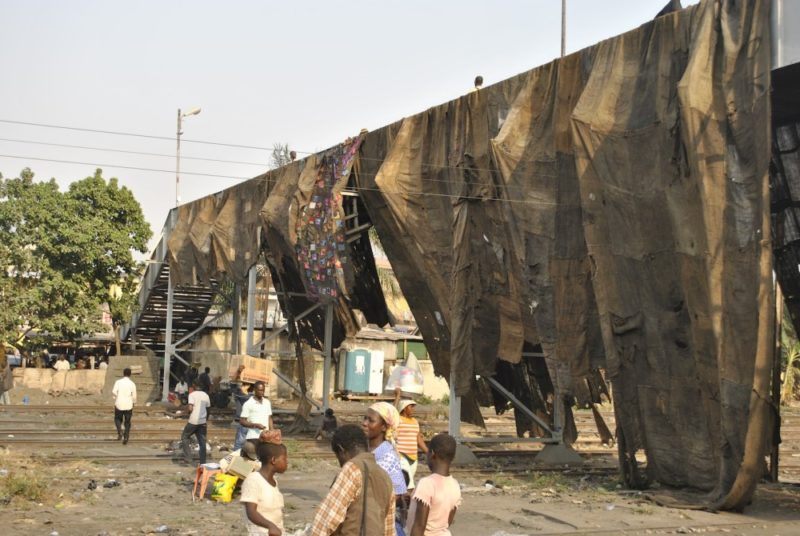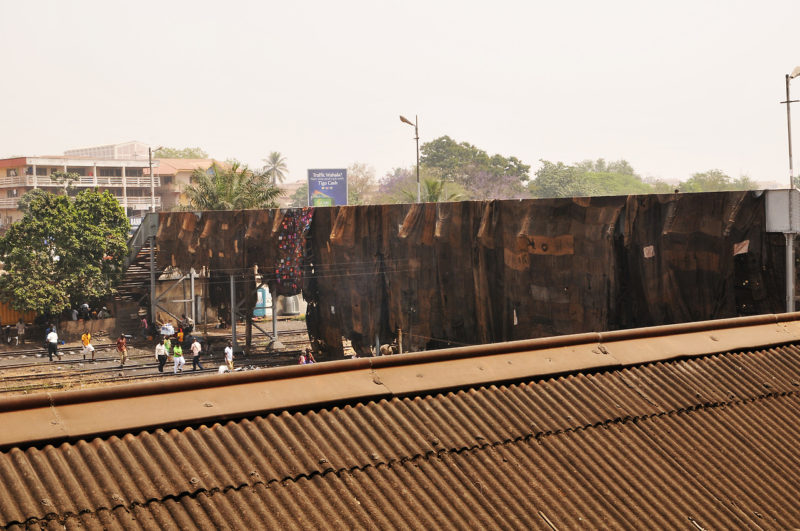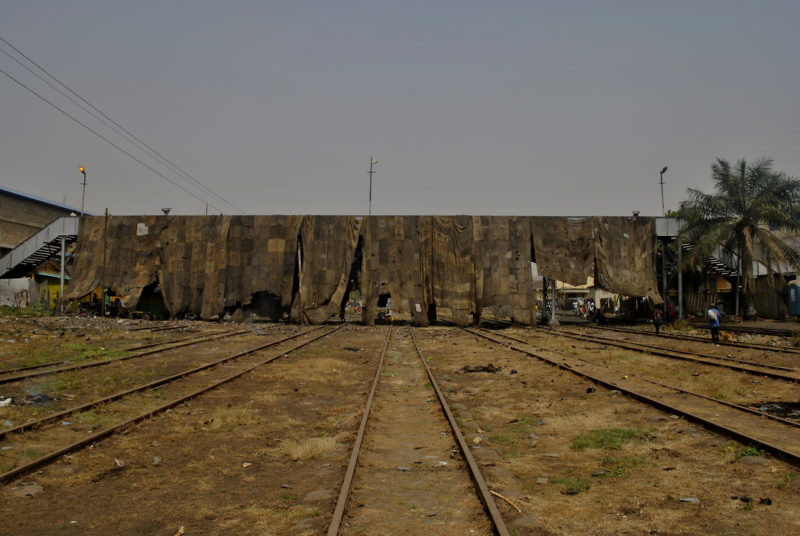 K.N.U.S.T Library, Kumasi, Ghana, 2014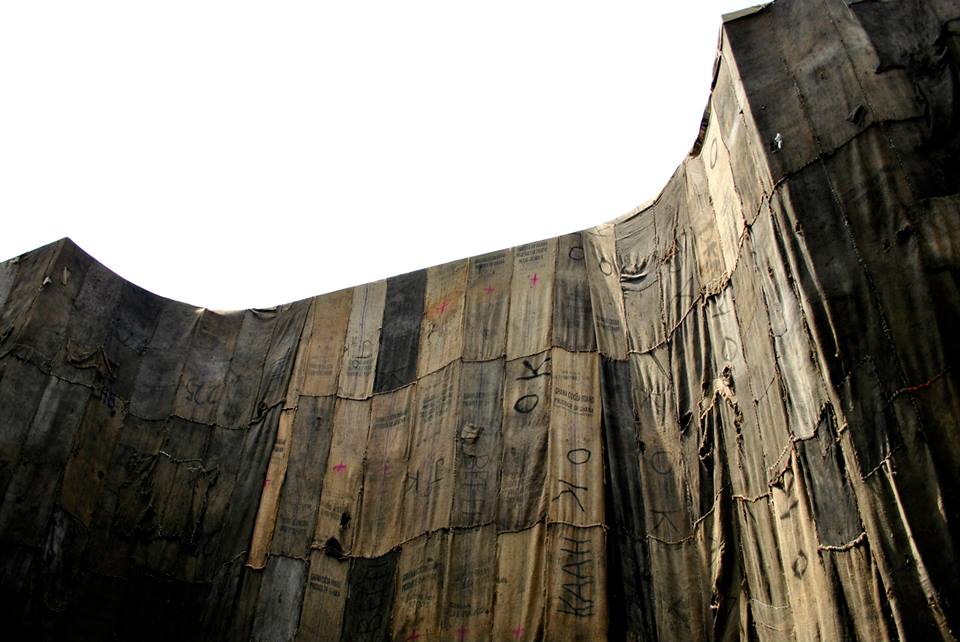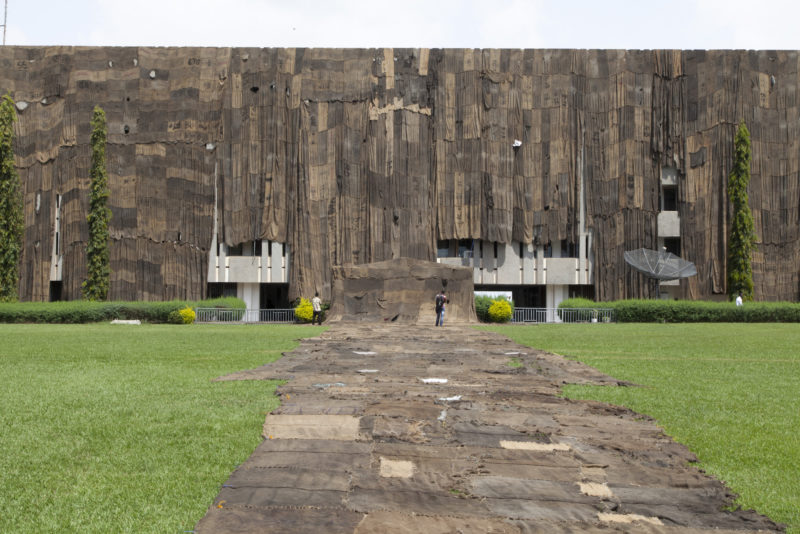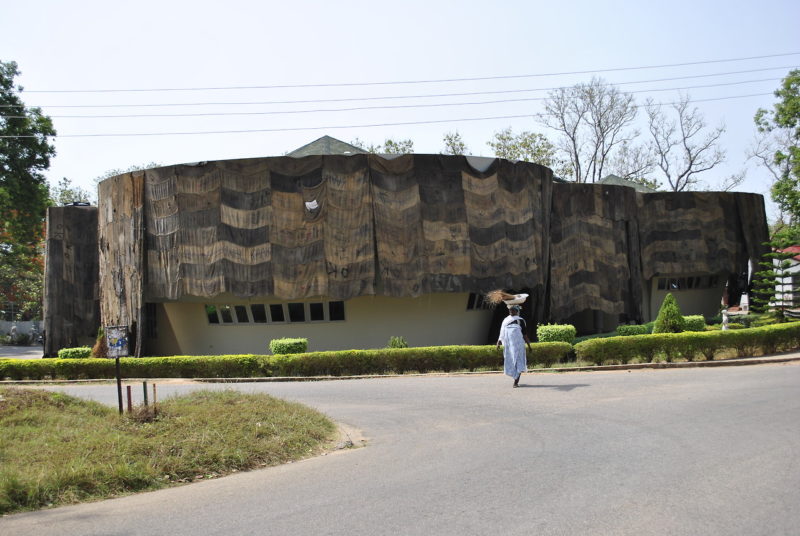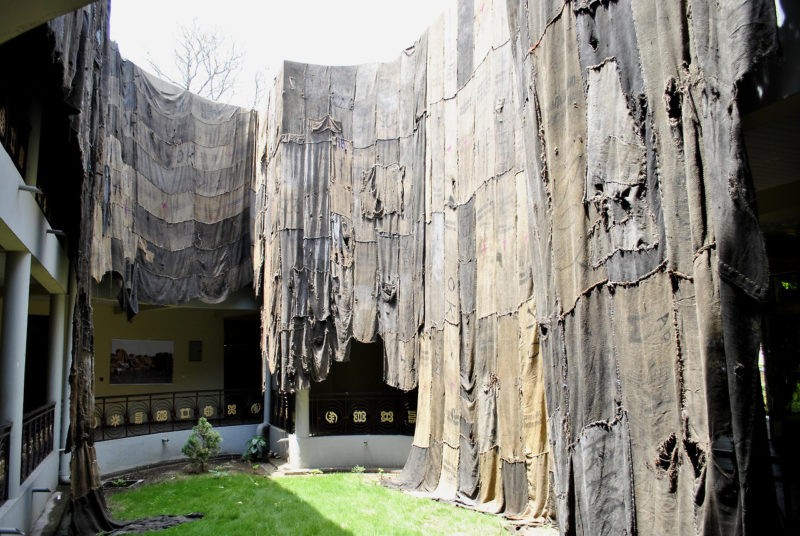 Other installations