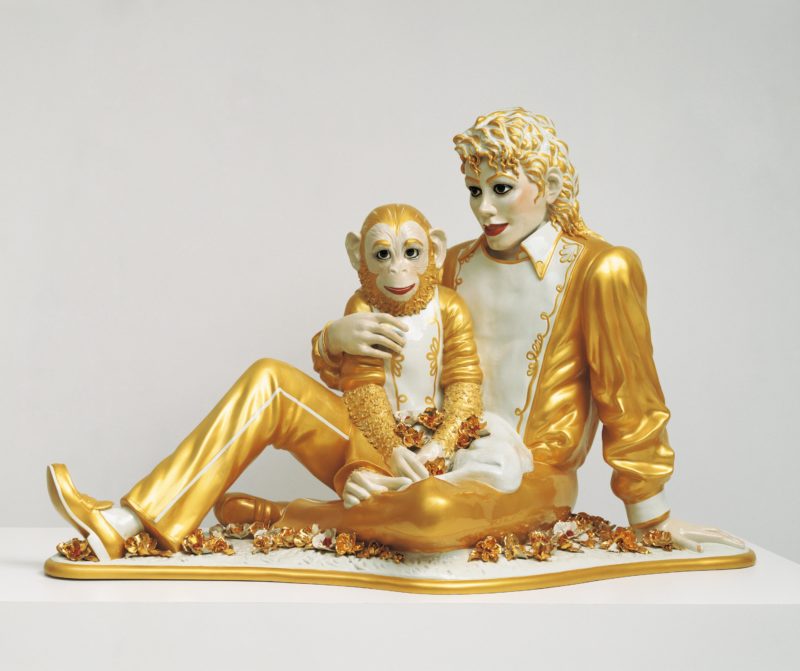 Introduction
Michael Jackson and Bubbles is a larger-than-life-sized gilded porcelain rendering of the late king of pop, Michael Jackson, and his chimpanzee pet, Bubbles. It's based on a press photo of the two, and it is nearly indistinguishable from that image.
Just like in the vacuum cleaner series, Jeff Koons reimagines the pop star as a god-like creature and depicts the essence and culture of celebrity worship in the pop space.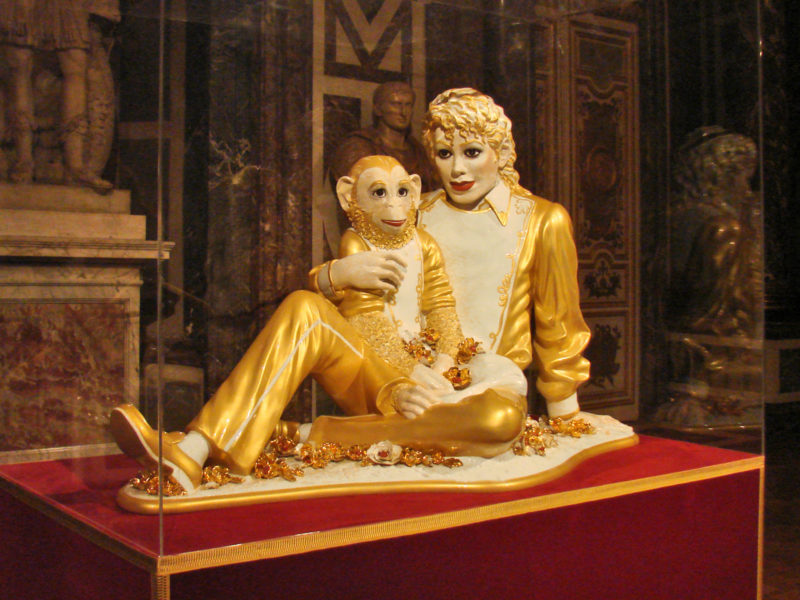 The importance of Michael Jackson
There have been many stars and singers that have contributed to music in many progressive ways. Yet, no one comes close to the influence that the iconic Michael Jackson has left on the music industry. The imagery of him is fairly well known. The pop-culture icon has been seen in various stages of his life and career, physically ever-changing in front of our eyes.
How did Michael Jackson get his chimpanzee Bubbles?
Bubbles, the real-life chimpanzee, was purchased by Jackson from a Texas research facility in 1985. He was a significant figure in Michael's eyes and became a constant sight at almost all of Michael Jackson's performances and concert arenas and cities.
What the sculpture shows
The famous life-sized porcelain sculpture shows the now-late and legendary Michael Jackson leaning back on a flower bed while on his lap rests his pet chimpanzee Bubbles, who holds a white cloth. Jackson and Bubbles wear similar clothing and are colored similarly while parts of their bodies mirror each other.
What inspired the composition
While the sculpture can be interpreted in many ways, Koons still maintains that there's little or no hidden meaning behind his work. Be that as it may, he claims that he found inspiration from the triangular composition of Pietà, a masterpiece by Michelangelo.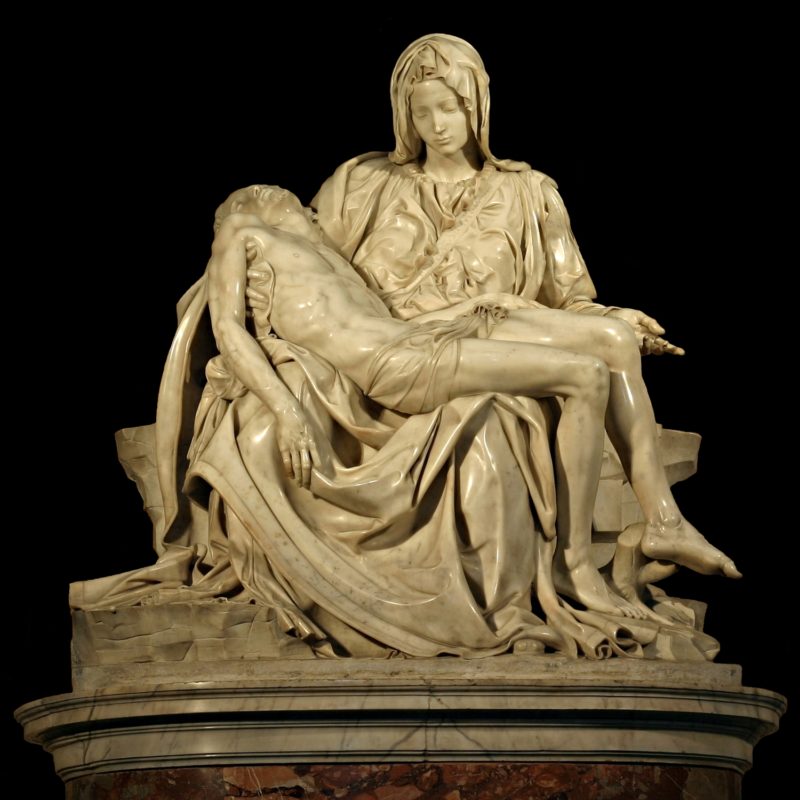 What critics say
For some critics, the sculpture is a religious portrayal that's much akin to most larger-than-life Catholic saints figures often sculptured from gold leaf and porcelain. Some critics also say that it symbolizes the human fantasy for self-exploration and discovery.
How fans reacted
Many of Jackson's fans were offended by how the porcelain made Jackson appear white and feminine (although there doesn't seem to be any complaints about his hair being gold). However, Koons really doesn't care about the complaints and criticism over Jackson's gender-neutral appearance within this piece. The art, he believes, transcends gender- as Koons explains, Jackson is the contemporary Apollo.
Reception & exhibitions
As mentioned earlier, the larger-than-life banal sculpture has, over the years, been one of the most controversial works ever created by Jeff Koons. Even still, Michael Jackson and Bubbles has been featured in myriads of solo and group exhibitions. Koons also created a porcelain set using a photo of the artwork.
Three editions were made
In total, three editions of Michael Jackson and Bubbles came into existence. All three can be found separately at the new Eli and Edythe Broad Art Museum, in the San Francisco Museum of Modern Art and another in Athens.
In June 2018, it was the central feature of Jeff Koons: A Retrospective, a solo exhibition at the Whitney Museum. The artwork was also exhibited in Centre Pompidou in Paris before it traveled to the Guggenheim Bilbao in Spain.
Analysis
In this piece, Jackson is that of a Greek god, beautiful and golden- considering that this was created in 1988, it is ironic considering the way that M.J. has been immortalized as pop royalty, who may have passed physically, but has transcended in space and time through his music and dance. Bubbles looks wise and all-knowing as he sits on M.J.'s lap and gazes at the audience while Jackson gazes lovingly at his companion.
Conclusion
This piece now is a beautiful representation of Jackson's younger days before he was othered by some and worshiped by others. The gold almost depicts a time when anything M.J. touched turned to gold.
Other notable work
Balloon Dog (Orange), 1994-20001, is the most well-known work so far by Koons. As aforementioned, it sold for a stunning $58.4 million at a New York auction. It looks like a twisted balloon dog, much like the one a clown can create at a birthday party, but it's a trojan horse at the same time.
Paul McCarthy's Michael Jackson & Bubbles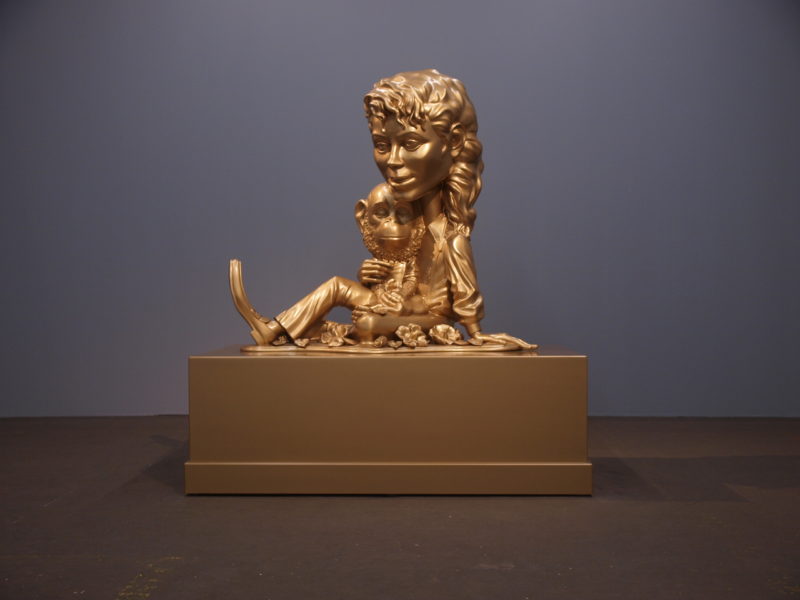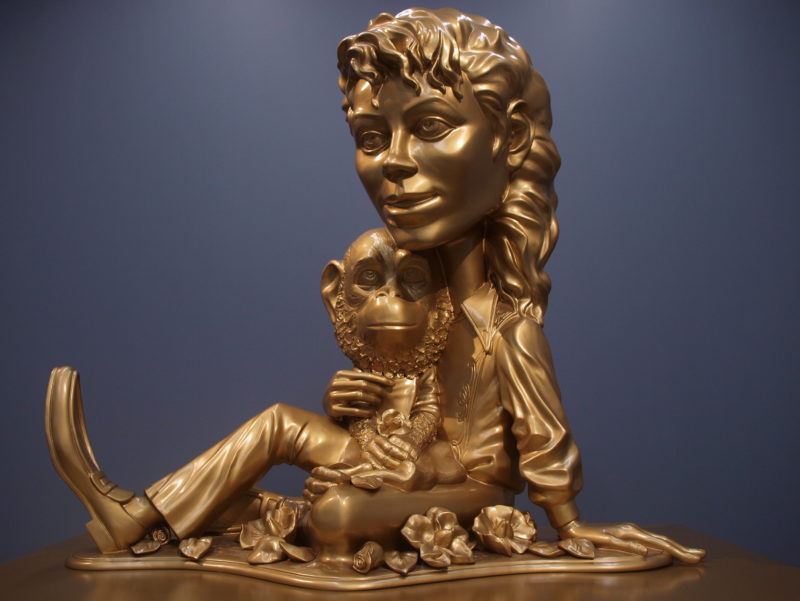 Jeff Koon's biography
Early Life
Jeff Koons is unquestionably one of the most established Neo-Pop artists, an increasingly famous clique of artists who draw inspiration from pop culture, entertainment media and pop artists.
Born in 1955 in York, Pennsylvania, Jeff got his feet wet in the world of art at the tender age of 8, when he started creating copies of old-master paintings. What's even more interesting is that he managed to sell a few of them at an antique store that belonged to his father.
Jeff Koon's art education
After completing high school, he got admission to Maryland Institute College of Art in Baltimore, where he studied painting. Coincidentally, this was also when he began creating neo-surrealist paintings, following in the footsteps of his surreal art godfather Salvador Dali.
In 1974, Jeff Koons had the pleasure of viewing one of Jim Nutt's2 exhibition at the New York's Whitney Museum of American Art. He was so taken by Jim Nutt's work that he decided to transfer to the School of Art Institute in Chicago, where the imagist taught.
Mentorship & graduation
While studying under Jim Nutt In Chicago, Jeff also received mentorship from other professional imagists at the institution, most notably Ed Paschke3 and Karl Wirsum4. Ed Paschke, for one, made a big impression on Jeff while working as his studio assistant.
After a year in Chicago, Jeff Koon transferred back to Maryland Institute College of Art, where he finally graduated in 1976 with a B.A. in Fine Arts. Some three decades later, the School of Art Institute in Chicago deservedly awarded him an honorary degree.
Moving to New York
Soon after graduating from Maryland Institute College of Art, he took a job at the Museum of Modern Art in Manhattan. He was responsible for selling museum memberships. In the late 1970s in New York City, he frequently visited the Mudd Club and CBGB, the two best-known clubs for the explosion of early Punk and New Wave music.
It was while at the Museum of Modern Art that his career as an artist took off. In fashion with his role model Salvador Dali, he dyed his hair red and started creating his signature inflatable sculptures. While exploring the New York music scene, he met Julian Schnabel and David Salle, two legendary artists who played a crucial role in his formative years as a surreal artist.
From stockbroker to artist
In 1980, he left the Museum of Modern Art and became a licensed mutual funds broker. He was brought in by First Investors Corporation as a stocks and mutual funds broker, an experience that helped him build robust marketing skills. Moreover, the money he earned as a stockbroker went to financing his first body of work: The New series.
First success in the art world
At this juncture, nothing was standing in Jeff Koons' way from budding as an artist. He made a foray into the art world with a bang by debuting The New series. This rather outlandish artwork at the time comprised three vacuum cleaners contained in plexiglass vitrines. It was featured in the storefront window of the New Museum on 14th Street.
It wasn't long before his work got tongues wagging – so much so that art critic Roberta Smith proclaimed Jeff Koons as one of the most unique and "strangest" modern artists. The rest, as they say, is history.
More by Jeff Koons
Footnotes