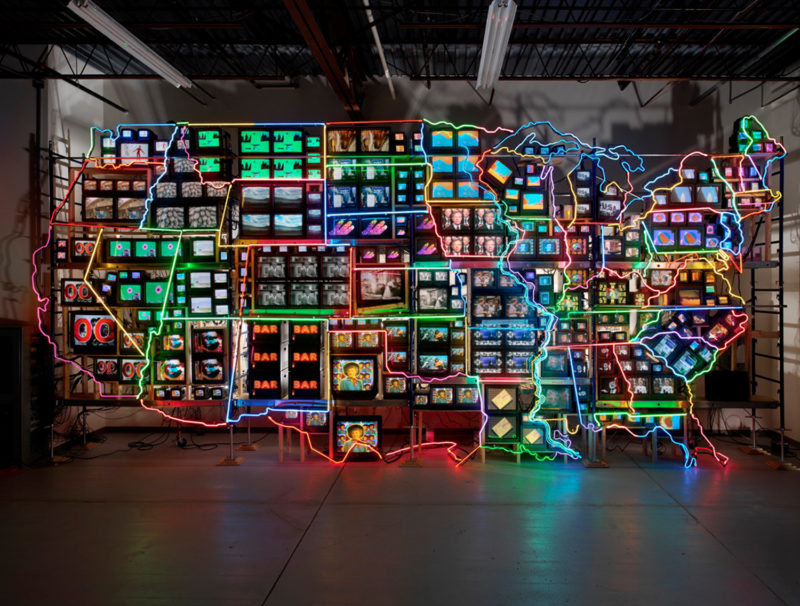 What is Nam June Paik's Electronic Superhighway?
Electronic Superhighway is one of the most noted works of Korean Nam June Paik artist. It illustrates how he interpreted a diverse nation through media technology. The Electronic Superhighway is a large installation, constructed with 336 televisions, 50 VHS players, 3750 feet of cable, and 575 feet of multicolored neon tubing.
The impact on visitors
Electronic Superhighway creates an overwhelming impact on visitors when they first see it. The wave of audio and visual media, along with flashing neon lights, make it awe-inspiring. It becomes challenging to concentrate on any state that the neon lights border or the video dialogues that play for each state.
Nam June Paik - Electronic Superhighway
Paik's idea of the US states
Through this huge techno-sculpture, Paik not only articulated how he saw a diverse and multi-cultural country like the USA but also our future. Each state is represented through a video clip that conveys his understanding of it. Paik shows how our concept of the different states has been formed by film and television. While some states are represented by popular TV series or books, he uses his personal connections to depict some states. Kansas is represented by the Wizard of Oz1. To Paik, Oklahoma is all about potatoes, while composer John Cage2 represents his idea of Massachusetts, Arkansas shows footage by performance artist Charlotte Moorman3 and Washington shows choreographer Merce Cunningham4.
Missouri plays the movie "Meet Me In St. Louis5", Kentucky scenes from the Kentucky Derby6, and Indiana scenes from the Indy 5007. In Iowa, the observer can see politicians campaigning during the Iowa caucuses8, while Illinois shows rapid scenes of Chicago with an occasional photo of Lincoln9. Colorado plays amateur sports, Mississippi scenes from the civil rights movement10, while Rhode Island only has a little tiny television. Lastly, scenes from the South Pacific11 are shown for Hawaii, Alaska is represented by ice and snow and South Dakota displays George McGovern12 and not Mt. Rushmore13, which arguably might be more recognizable.
These scenes and more were picked by Nam June Paik and show the US through his lens.
Paik's vision for the future
Paik named this video installation Electronic Superhighway to express his vision for the future. He envisioned that in the future, communication would be boundaryless due to advanced technology. It would be pertinent to mention that what Paik envisaged has now been manifested through the internet. In fact, the term is universally used today.
Inspired by the American highway system
On another level, America's highway system, which connects the nation, inspired Paik to create the Electronic Superhighway. The video clips run very fast to imitate how one sees the country through a moving car.
Conclusion
The Electronic Superhighway continues to amaze people due to its sheer size and various interpretations. It draws our attention to how our world is defined by technology and also the problems it creates, like stereotyping our ideas or information overload. In a nutshell, through this video art, Paik has successfully represented our time.
Location

Smithsonian American Art Museum
F St NW &, 8th St NW, Washington, DC 20004, USA
+1 202-633-1000
Video: Nam June Paik's Art & Revolution
Arirang Special(Ep.312) Nam June Paik's Art and Revolution 1 _ Full Episode
More by Nam June Paik
More neon artworks
Footnotes