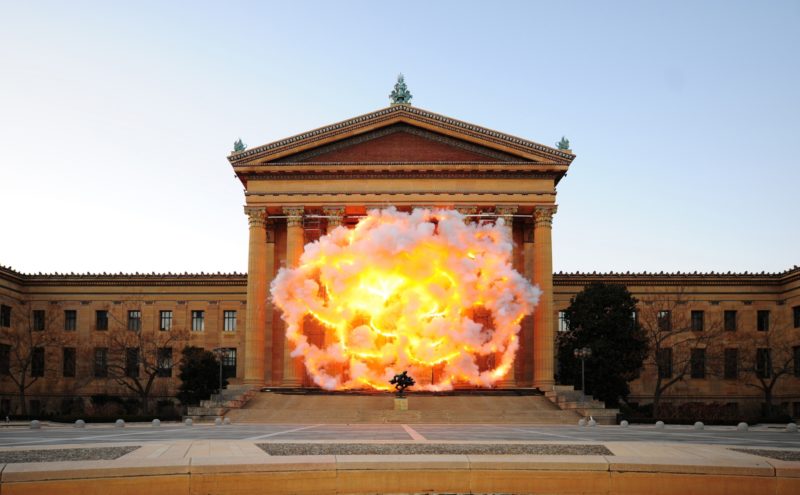 What is Cai Guo-Qiang famous for?
Cai Guo-Qiang is certainly one of the most prolific artists of his generation. Throughout his career, Cai has made a name for himself as the artist that uses gunpowder and explosives in his works.
His exhibitions, which tend to consist of two parts, attract visitors from all over the world. The first part typically involves a performance event, which is where Cai typically ignites the fireworks or the gunpowder on his canvases.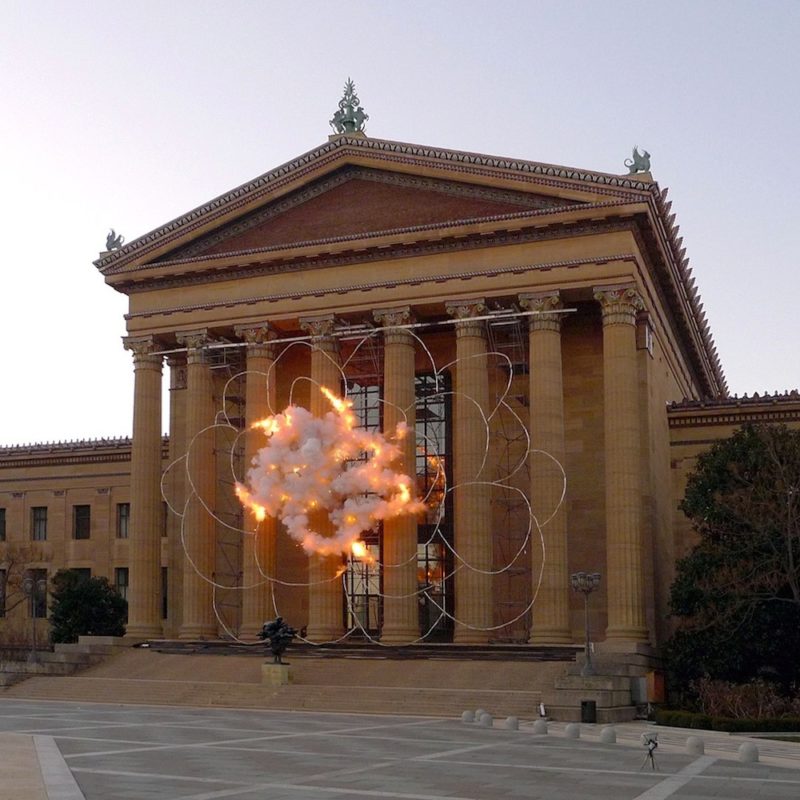 Using explosions to paint on canvases
The second part usually involves revealing the canvas that has been marked by the resulting explosion. Habitually, these canvases tend to resemble powerful forces of nature such as earthquakes and volcanoes.
His assistants are always on standby during these events to make certain that the flames from the explosion are extinguished to not ruin the ragged stencil on the canvas.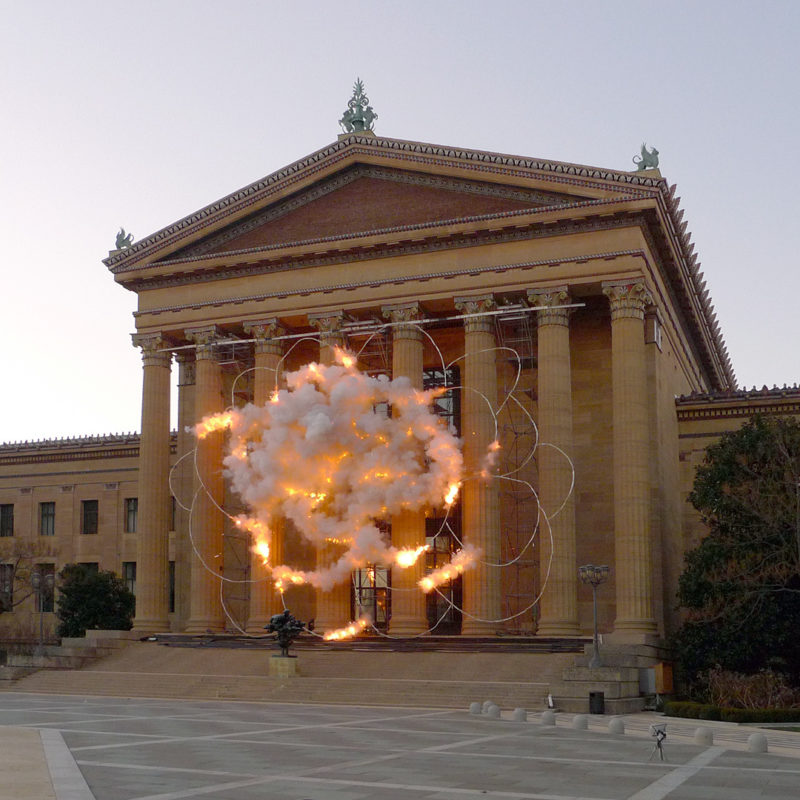 Cai's fire piece at the Philadelphia Museum of Art
Cai was commissioned to create his explosive piece Fallen Blossoms back in 2009 by the Philadelphia Museum of Art. The performance element of the exhibition was displayed in the front of the museum and featured a massive blossom pattern that was then set on fire.
To create the blossom, Cai used a metal net and scaffolding, as well as a gunpowder fuse, to set the entire design ablaze for exactly sixty seconds.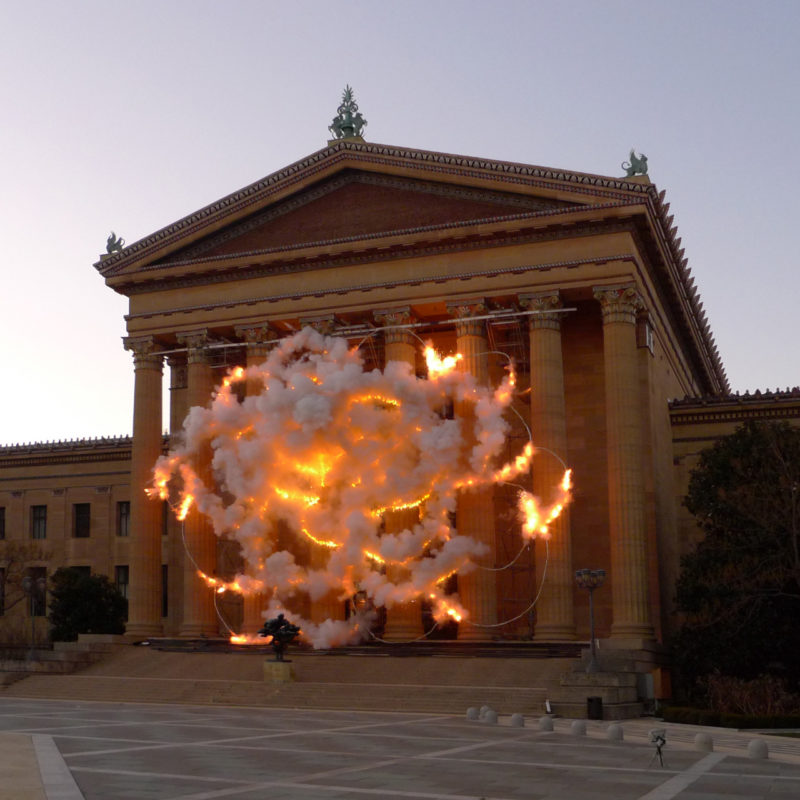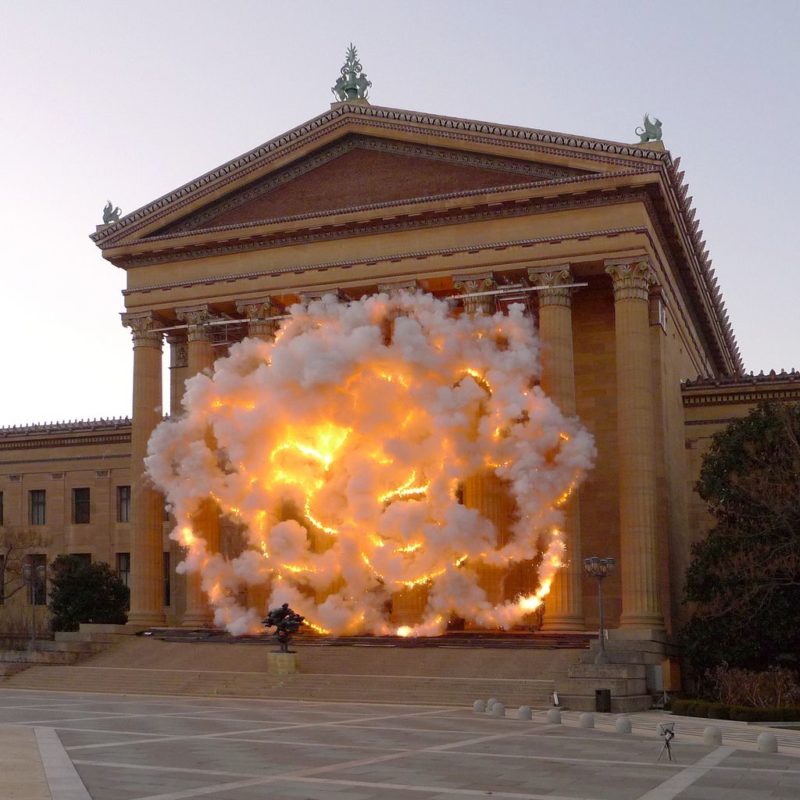 What inspired this work?
The blossom that was set on fire was inspired by an old Chinese proverb 'hua kai hua luo' or 花開花落 (literally, "flower blossoms, flower falls") that comments on the pain that comes when a life is taken unexpectedly.
The title of the event and the exhibition were also selected to pay homage to the Philadelphia Museum of Art's director, Anne d'Harnoncourt, who had just unfortunately passed away.
How the explosion unfolded
The momentary explosion that occurred successfully traced the form of the blossoming flower that had been there before the explosion, starting from the inner petals before radiating towards the outer areas. After the explosion, the canvas was published by the Fabric Workshop and Museum in early 2010.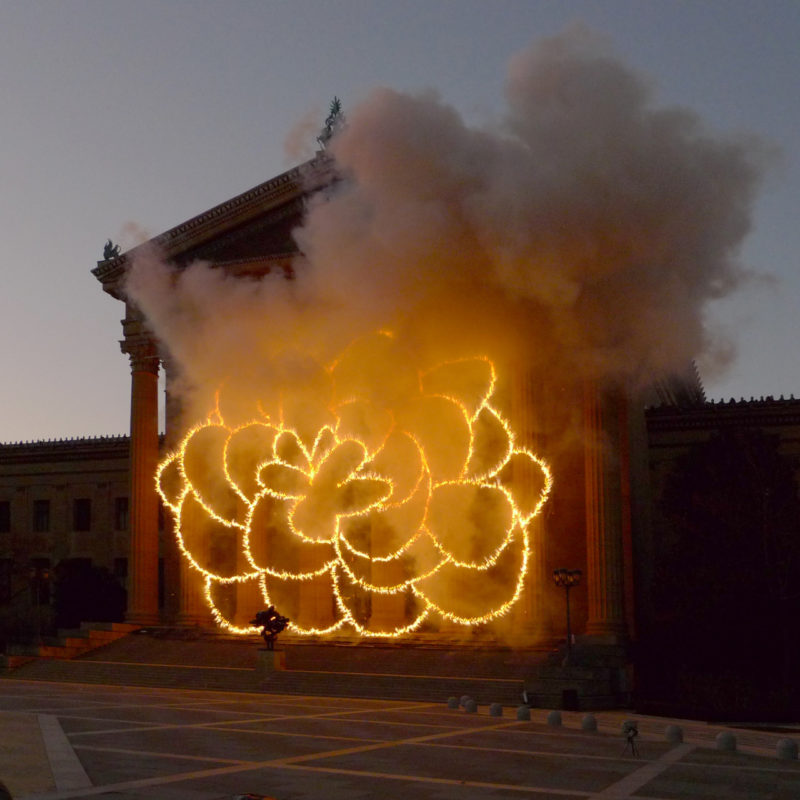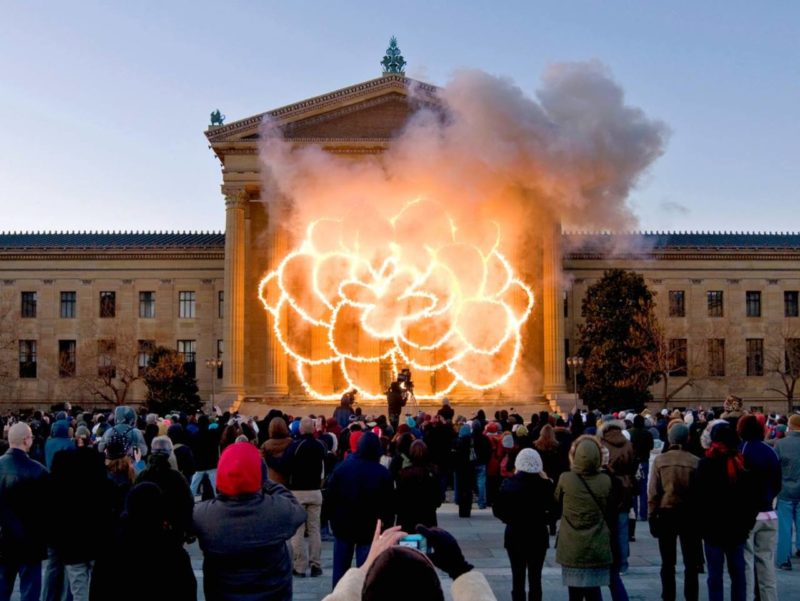 Analysis
Unlike most of his explosive installations, which tend to center their themes on the connection between nature and technology, Fallen Blossoms was inspired by loss, time and memory.
In Chinese culture, flower blossoms symbolize the passing of time. They are often featured in Chinese poetry and sayings to express the profound feelings associated with the brevity of life.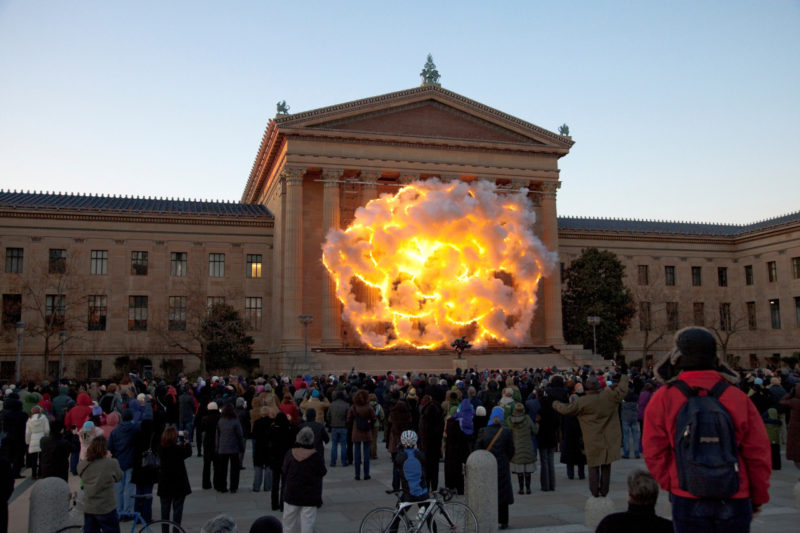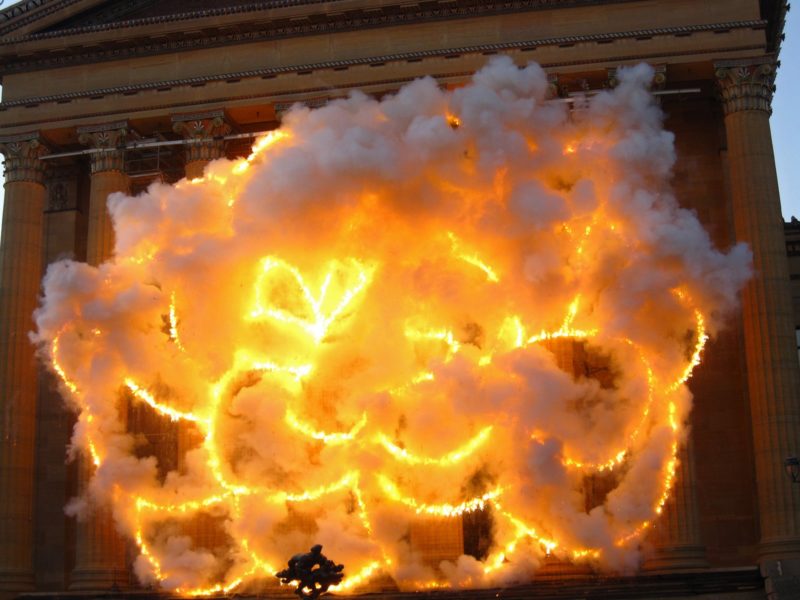 Conclusion
Additionally, although Cai's provoking installations require months of preparation to pull off successfully, the canvases created from the explosion are entirely spontaneous. As such, his exhibitions are always accompanied by a sense of uncontrollability, which is a lot like death and life.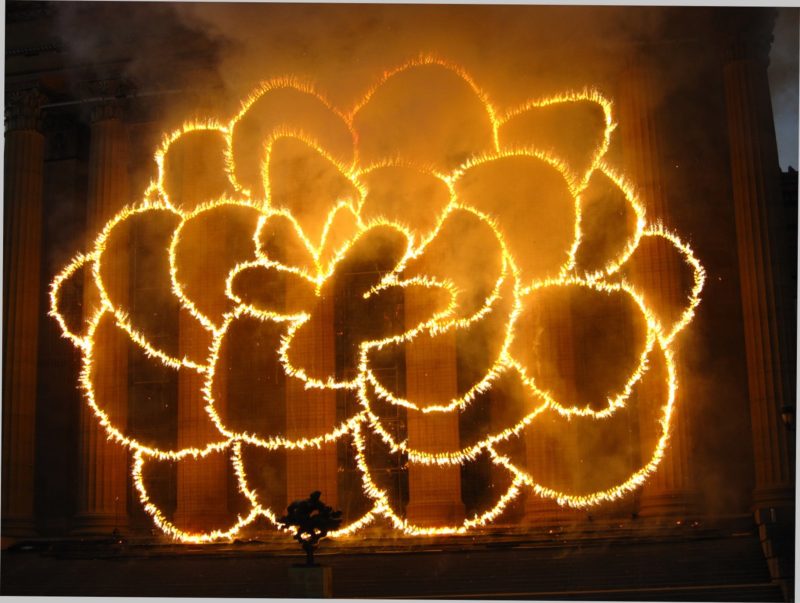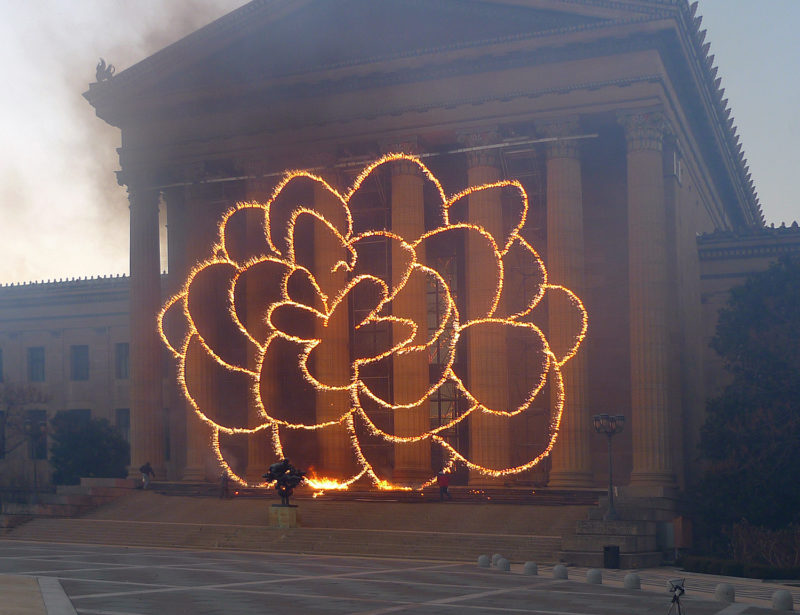 More by Cai Guo-Qiang