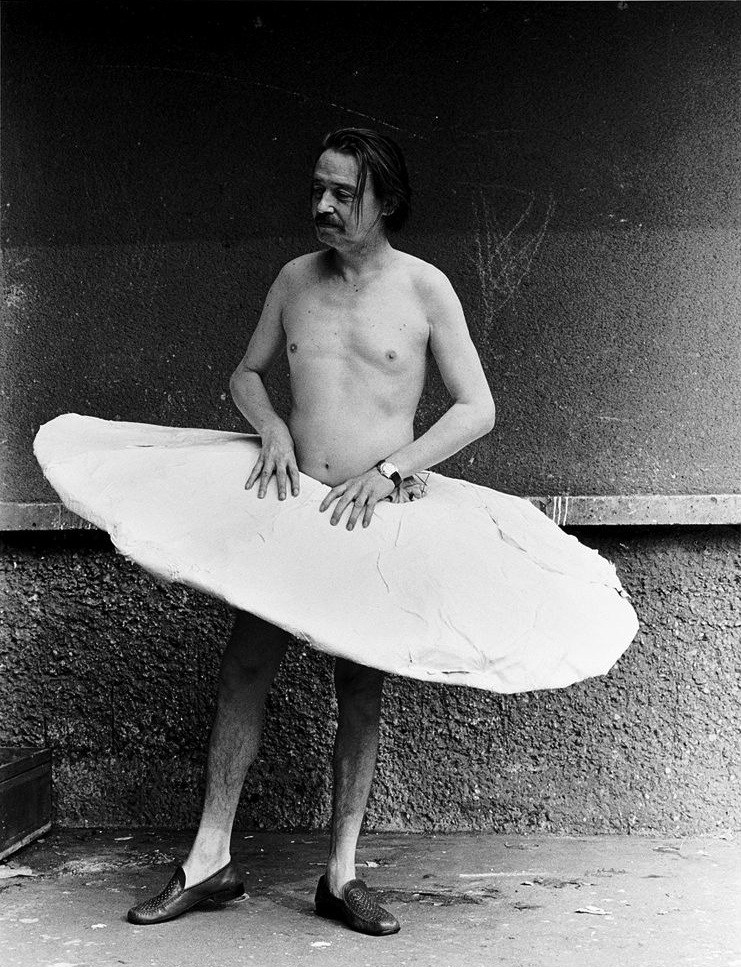 Who was Franz West?
The Austrian Franz West (1947-2012), one of the most important postwar-artists, died less than two weeks ago on July 25, 2012. He left a career and a vast body of work spanning over several decades.
Childhood
Franz West was born on February 16, 1947, in Vienna, Austria. His father was a coal dealer and his mother, a dentist who would take West and his siblings to Italy for art-viewing. Even though he was introduced to art when he was still young, West did not seriously study art until he was 26 years old. He joined the Academy of Fine Arts Vienna, where he studied with fellow artist Bruno Gironcoli.
Early works & Finding his artistic path
West began creating drawings in the 1970s before shifting to painted collages featuring magazine photos showing the influence of Pop Art. The making of these magazine images was a reaction to the Viennese Actionism group, a movement from Vienna that was active between 1961 and 1970.
After moving from painting and magazine cut-outs, West started making sculptures from paper-mâché, plaster, wire, aluminum, polyester, and other common materials. West stopped entirely to make paintings and focused on collages, furniture, sculptures, environment art, and portable sculptures called Fitting Pieces or Adaptives.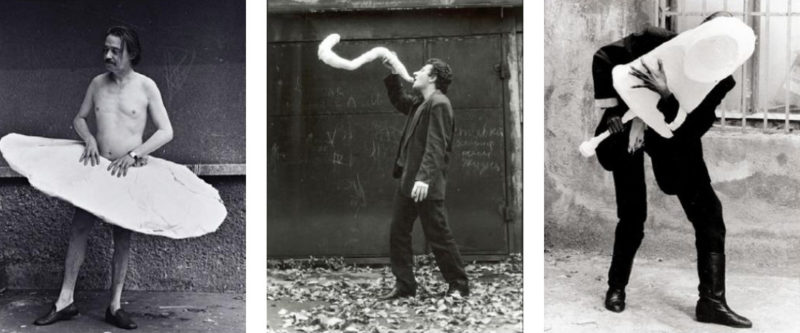 Rise to fame
West's breakthrough moment of his career was the participation at the documenta IX in 1992. Several of his art pieces were distributed around Kassel, Germany, and served as chairs and sofas. Due to their affordable price, they quickly spread within the art world and finally became a mass-product
Though not appreciated by everybody, it made West's approach to art clear: Creating accessible art. In an interview with Robert Fleck1, he also said,
Best of all, I like art in the streets; it doesn't demand that you make a special journey to see it, it's simply there. You don't even have to look at it – that is probably the ideal art.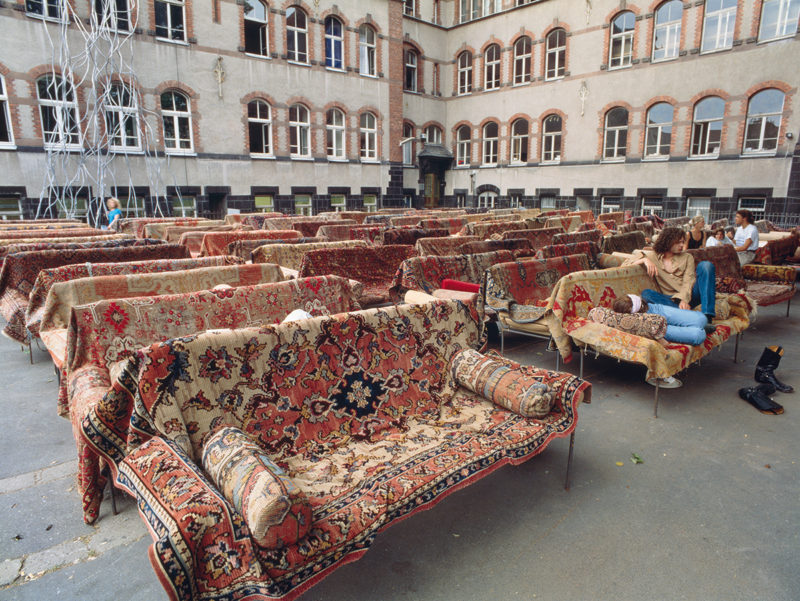 For Auditorium, West visited every single dry cleaner in Vienna, asking for old, worn-out, abandoned Persian carpets. The scruffy rugs were then enveloped over a metal frame draped with foam to make a makeshift sofa. Franz West created a total of seventy-two Auditorium sofas. They could accommodate 72 people. The work was exhibited for the first time at documenta IX's parking space.
This move showed West's anti-establishment approach to art as many people ended up sprawling on dirt rugs outside the main event.
Materials commonly used
His early sculptures involved ordinary objects such as machine parts, bottles, pieces of furniture, among many other everyday items, covered with plaster and gauze. He used anything that fell on his path. He enclosed everyday objects in plaster and paper-mâché using old telephone directories. Sometimes, the audience could not recognize the items.
Throughout his career, West used readily available materials to create his sculptures, including lumps of polystyrene, paper-mâché, old flip-flops, a pile of hats, cardboard tubes, and in one instance, his childhood bed as well as his mother's old washing machine. He used this machine to create Eo ipso [On its own account] (1987), a love seat with nacreous industrial green painting.
Recognition & Death
Franz West has influenced many contemporary artists, including Richard Prince, whose atrocious collages of obscenity and reproductions of de Kooning drawings resemble West's early collages. West also influenced Rachel Harrison, who worked with him closely and created tastefully intuitive sculptures and assemblages. One can seem some resemblance of West's performative works in Erwin Wurm's One Minute Sculptures2.
West's work has been repeatedly exhibited at documenta and the Venice Biennale. His pieces are housed in several significant museum collections, such as the Albertina Museum, Vienna, Bonnefanten Museum, Maastricht, CAC Centro de Arte Contemporaneo, Malaga, Spain, and Museum Boijmans van Beuningen, Rotterdam.
David Zwirner, one of the world's leading galleries, has presented several significant solo exhibitions at their spaces. In 2014 they organized a show that focused on some of the West's works from the 1990s.
Throughout his life, West won numerous awards, including the Otto Mauer Prize in 1986, City of Vienna Prize for Visual Arts in 1988, Sculpture Award at the General Foundation in 1993, Wolfgang-Hahn-Preis, Museum Ludwig, Cologne in 1998, Golden Lion for Lifetime Achievement, Venice Biennale, and Austrian Decoration for Science and Art, both in 2011.
West died on July 26, 2012, aged 65, in Vienna, Austria. Franz West was married to fellow artist Tamuna Sirbilaze, with whom they had two children. Sirbilaze died of cancer in March 2016, aged 44.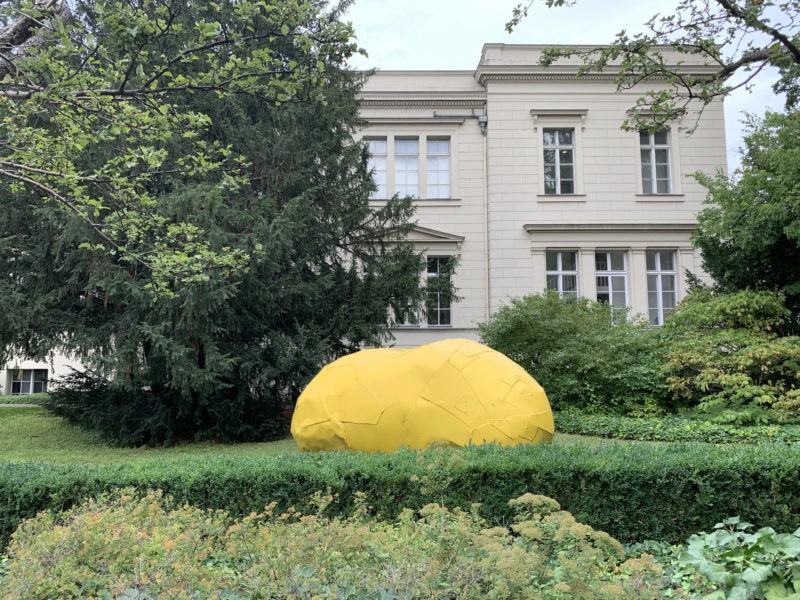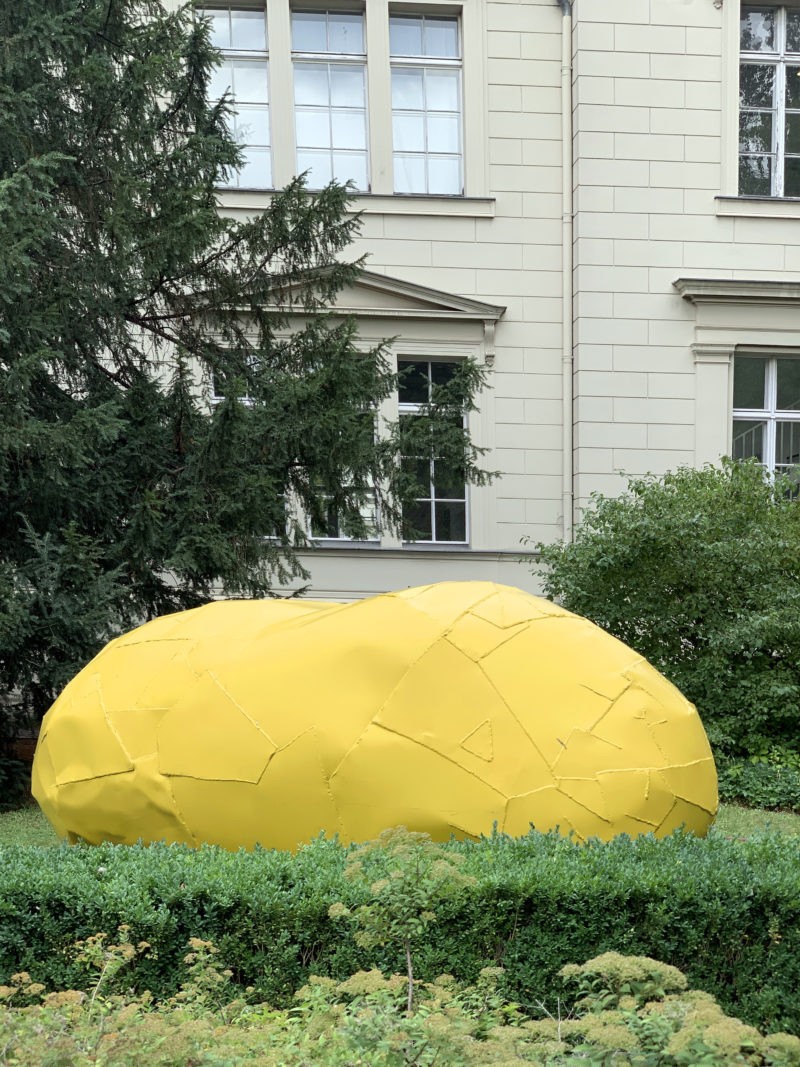 Analysis
Most of West's works are influenced by his childhood and teen years. He was a drug addict, and most of his early drawings were vile and obscene. West was adrift and unknown in the Vienna art world. He wanted to be famous and prove people wrong and himself as an artist. His desire for fame and recognition was typical of many young artists of his generation.
Through his success, Franz West showed that artists sometimes don't have to be moderate or reasonable. For West, art was interaction, an intellectual challenge and a sublime aesthetic experience, a combination that made his works both radical and uniquely appealing. West also always remembered the relationship between sculptures and the human body.
West's art and furniture seemingly emphasize a democratic spirit. Both the artwork and the furniture convey a "de-skilled" appearance that expresses the idea that virtually anyone can be an artist. And by conflating art and furniture, he invokes the fantasy of a holistic world of creative, all-embracing cordiality.
All this makes the artist and his artwork extremely likable, but behind the populist mask, West is just a canny hipster. Franz West's art is not for everybody, nor is it an art that completely faults the institutionalized art system. Still, instead, it is somewhat shallow but very awkward and intriguing.
Video: Franz West: Where is my Eight?
Furniture
The artist began creating furniture sculptures in the early 1980s, installing them in tiny, room-like settings that featured accessories and pieces mounted on the walls. This meant that the audience could no longer carry them around or pick them up, but they could lounge or sit on them. The quirky-looking sofas and chairs often were cast metal draped in plaster, textiles, foam, and other common materials. Some of his chairs and divans were minimally padded and upholstered in raw linen.
His pieces were often arranged so that when a viewer sits down, their back is to the wall. This way, the viewer is both a participant and a conspicuous object of contemplation. Some of his furniture installations are large and ambitious, marshaling large crowds to engage in relaxed interactions.
West's furniture is socially awkward, ontologically loose, and novel. Some describe them as lumpy, grungy, dirty-white objects. The end products were not that appealing to the eyes, but West was not bothered: "It doesn't matter what the art looks like but how it's used." They were not meant to be functional like most furniture, but to subvert the audience's expectations of how to conduct themselves in public places. West took delight in making his audience uncomfortable and enjoyed seeing how they navigated these awkward situations.
Chairs
Franz West's chairs are as nutty, subversive, and fascinating as all his furniture. The artist did not intend for them to be "good design3."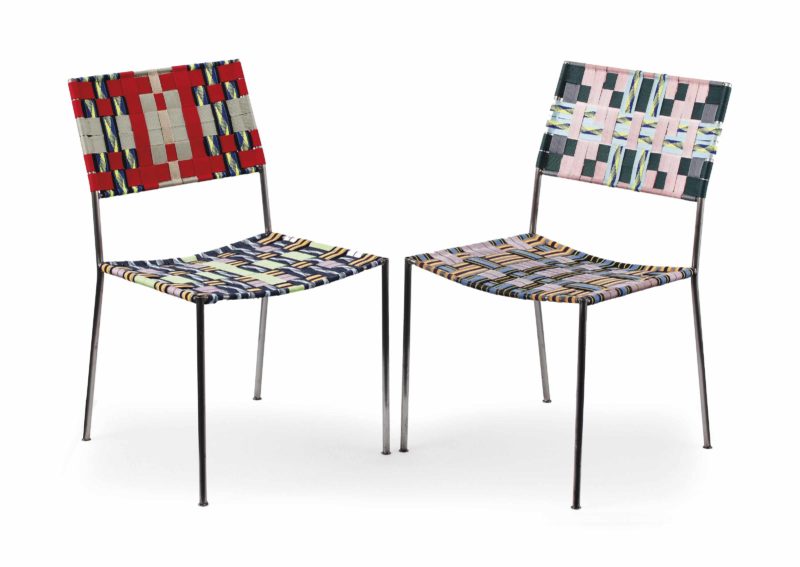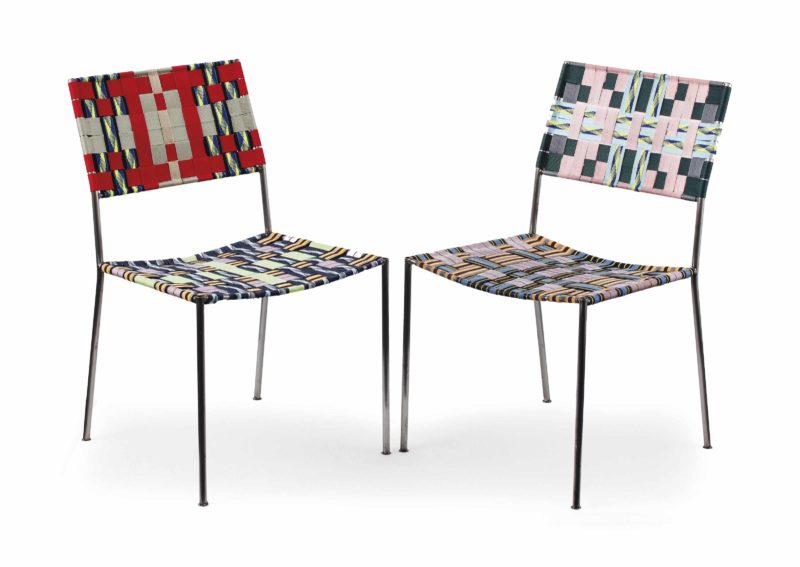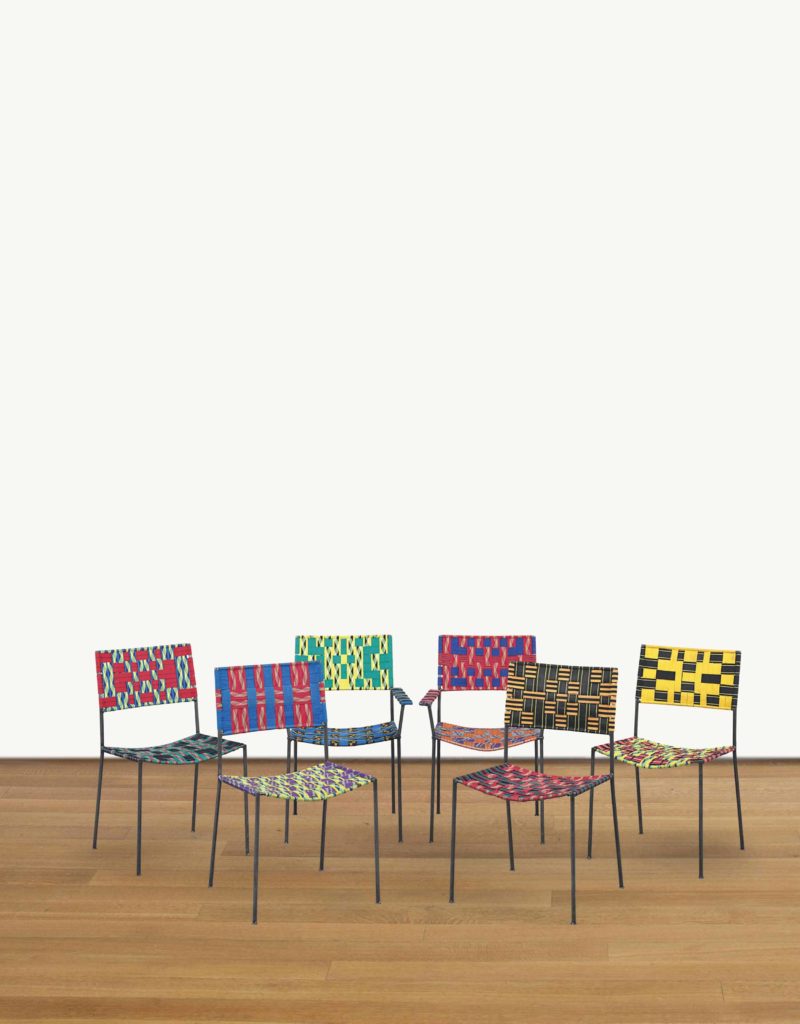 Lamps
These works allowed West to invade the privacy of the owner's individual, physical space. He used an anthropomorphic artwork that shades light into West's disquieting art style, with a piece of art that is actually useful.
Lamp: Private Lampe des Künstlers II, 1989
The Private Lampe des Künstlers II is one of the many lamps created by Franz West in a bid to allow the opportunity to adorn a private residence with bizarre yet delightful West's metal object.
This lamp was fabricated by an unwieldy-looking iron chain, making it ascetic in its appearance. The lamp, however, contains a distressing raw light bulb as its sole embellishment.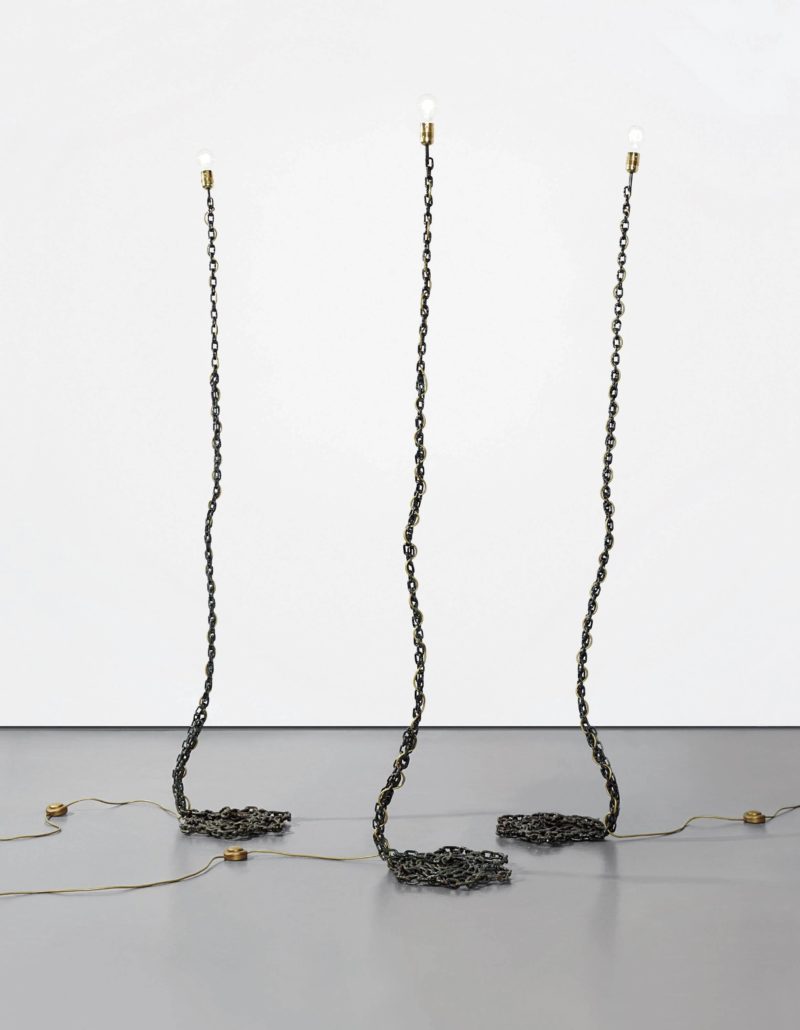 Sofas
Some of West's outstanding furniture creations are his sofas. The artists created the furniture in such a contingent manner that charms viewers. Each of his sofas appears to come together almost random, haphazardly, as most furniture rarely does. Franz West, as its creator, included elements of his minimalistic and casual intervention.
Sofa: Curaçao, 1996
Sometimes the furniture would be surrounded by wall labels featuring literary texts, calls, and instructions inviting the viewers to perform various actions or remove articles of apparel or, in some cases, defecate. One of his works, Curacao (1996), includes the instructions, "If you want to take a seat, you should remove your clothing as far as possible, but at least your shoes. A museum guard will give you a glass of curacao every hour, on the hour. However, don't serve yourself!" In most cases, the azure drink is inserted into a blue paper-mâché pod-like shelf at one end of the sofa fitted lightly with yellow fabric.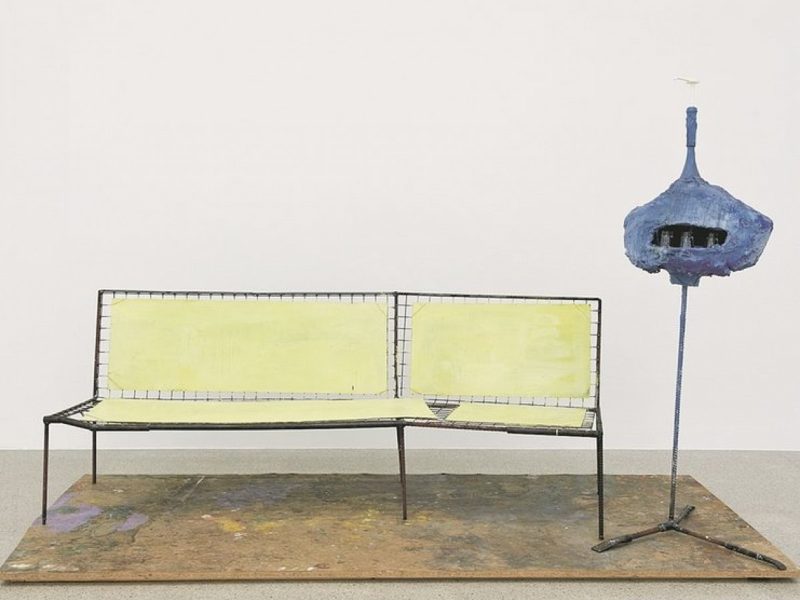 Sofa: Eo Ipso, 1987
One of the most talked-about sofas by West is Eo Ipso (1987). This piece is made by combining two elongated love seats that are so far apart that you cannot have a smooth conversation with the other person. The artist went further in making your life uncomfortable; he made it so that exposed to onlookers. The seats are not practical, and anyone who sits on them will inevitably end up looking stupid.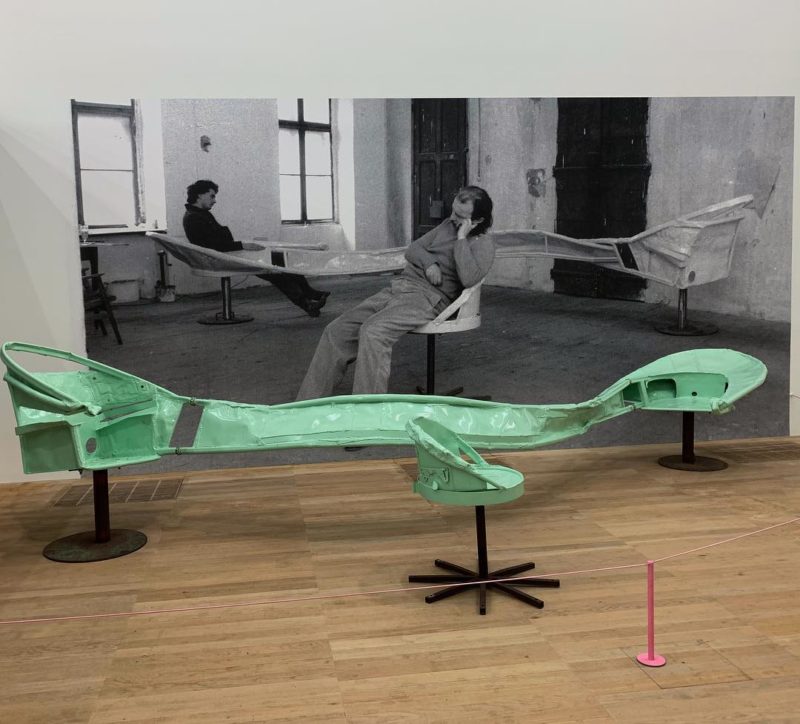 Sculptures
From 1996, West's sculptures were installed in museum plazas, parks, and sculpture gardens. He shifted to making single-color sculptures, including tangerine, pink, sky blue, and other hues of pastels. This was a homage to his beloved half-brother, who died suddenly in 1995. As the artist states4, the colors "really seemed to me like a bunch of flowers for his funeral."
The sculptures seem to have an ambivalent appearance. The audience cannot tell if they are menacing or hospitable, scatological or benign, sickly, or color friendly.
1970s
Passstücke (Adaptives), 1974
In the 1970s West created Adaptives, small, portable sculptures. For this series, West would use objects like an old golf club bent to create a Passstücke or Adaptives sculptures. They were supposed to be hung from the shoulder, danced with, or slung around the waist. Other materials commonly used by West were plaster and gauze. He then painted them with dispersion paint.
"The Passstücke represent a new aesthetic that eschews all idea of perfection or beauty in favor of the dirty, the wonky and even the deceptive. Despite this anti-aesthetic intention in which the 'ugly' ends up producing a feeling of attraction – a reversal at which West always excelled – their haptic nature encourages grasping, engendering gestures that are sometimes awkward or grotesque, far from any notion of perfection." – Christine Macel5.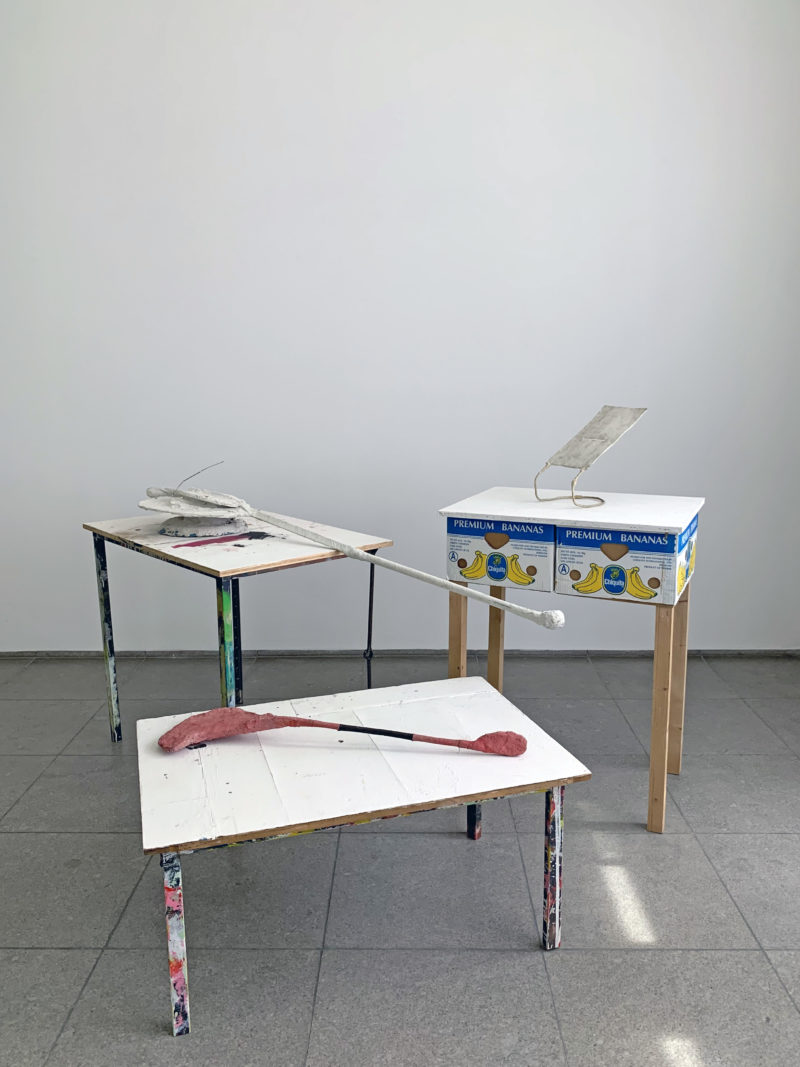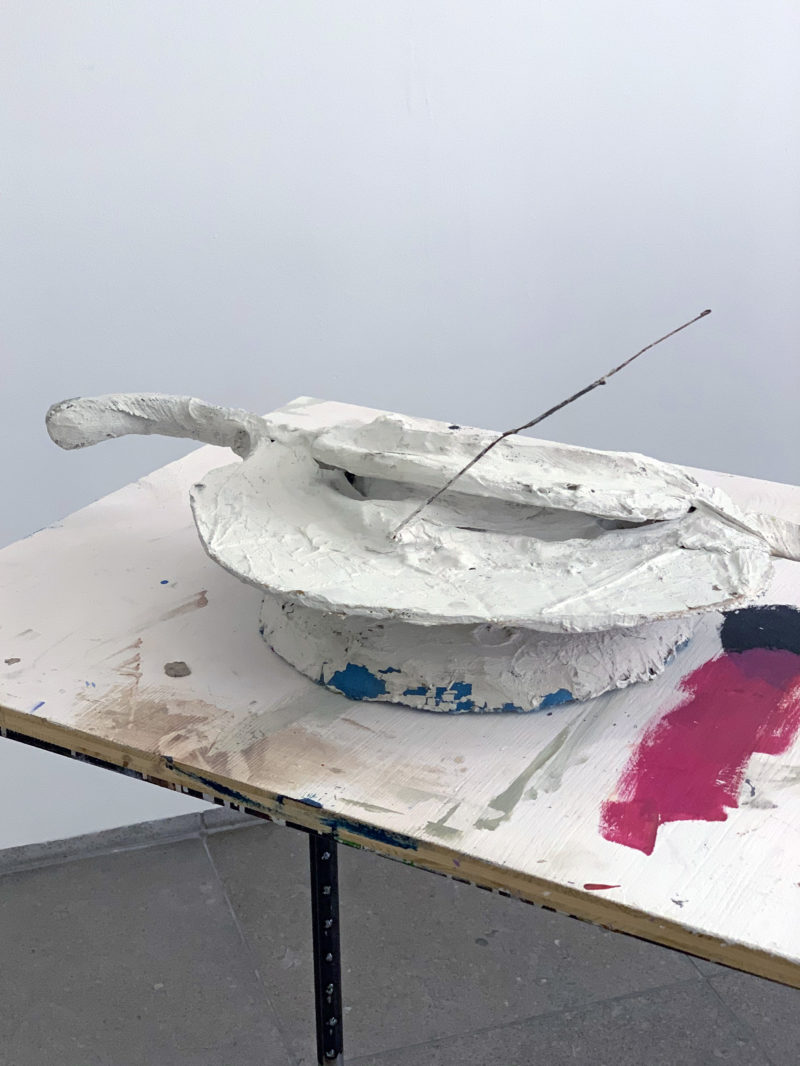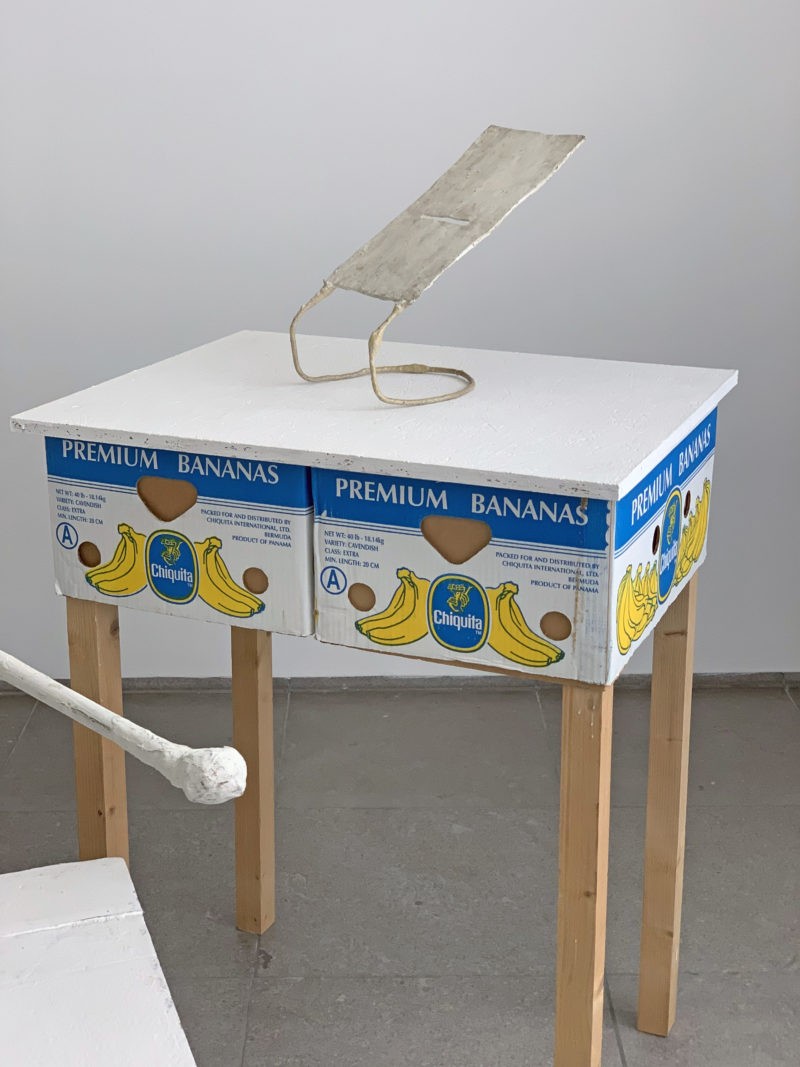 1980s
Labstücke (Refresher Pieces), early 1980s
Some of West's works can be found and handled in secluded rooms in galleries, with videos demonstrating how to use them. Many of these sculptures are from a series called Labstücke or as they have come to be commonly known as Refreshment Sculptures. Labstücke is built around whiskey and beer bottles, with protruded necks from their coagulated masses. These sculptures would stand on several bases or lean like drunks.
Speaking about using the beer bottles, the artist said6:
I was drinking quite heavily at the time, but I didn't want to throw away the empty bottles because their form reminded me of their contents… I had poured it into myself and it was now my own.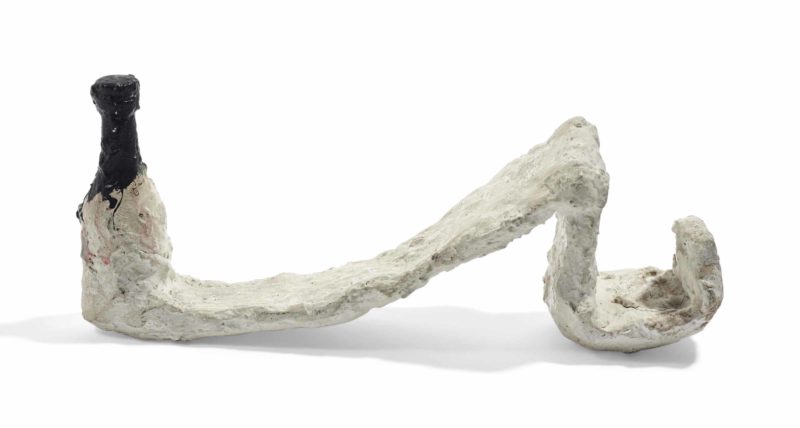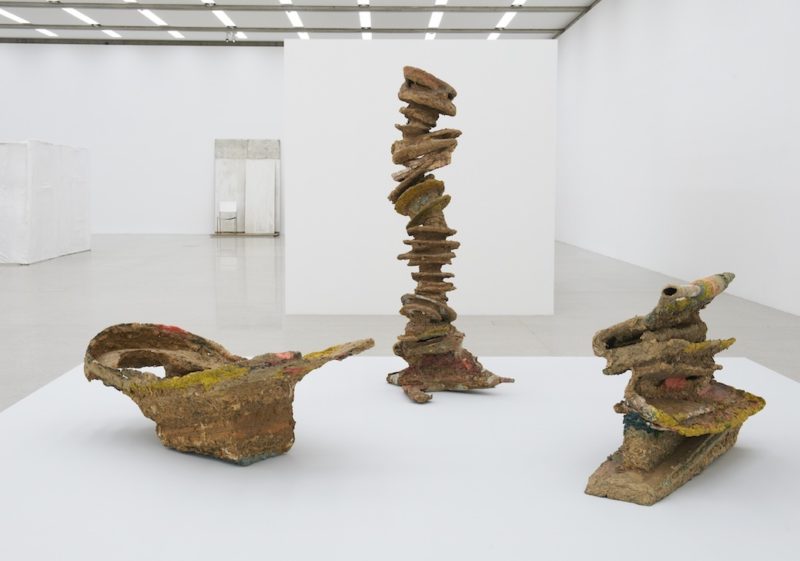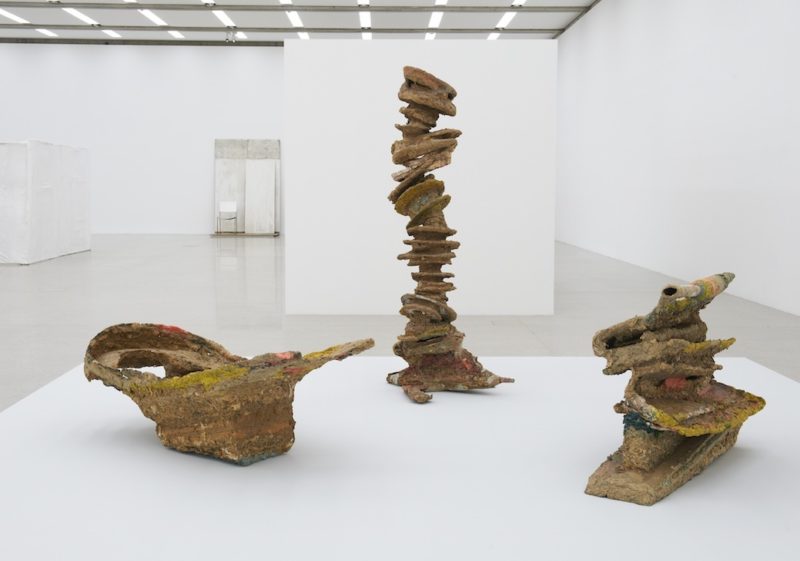 Redundanz (Redundancy) (1986) consists mainly of three huge, jaggedly modeled paper-mâché elements, painted carelessly, just as many of his sculptures with this material tend to be.
1990s
Legitimate Sculptures, 1996
In the 1980s, West realized that his Adaptives works posed display problems in museums and galleries. For this reason, he started making nonportable, self-sufficient sculptures that he termed "legitimate sculptures." Just like Adaptives, he created these sculptures with found objects.
In 1996, his Legitimate Sculptures transformed into the human-sized figures riveted aluminum projects that have come to represent West's public face as an artist. Two such sculptures were completed posthumously; one is blue flourish, rising over 18 feet tall, resembling the letter W in a loose cursive.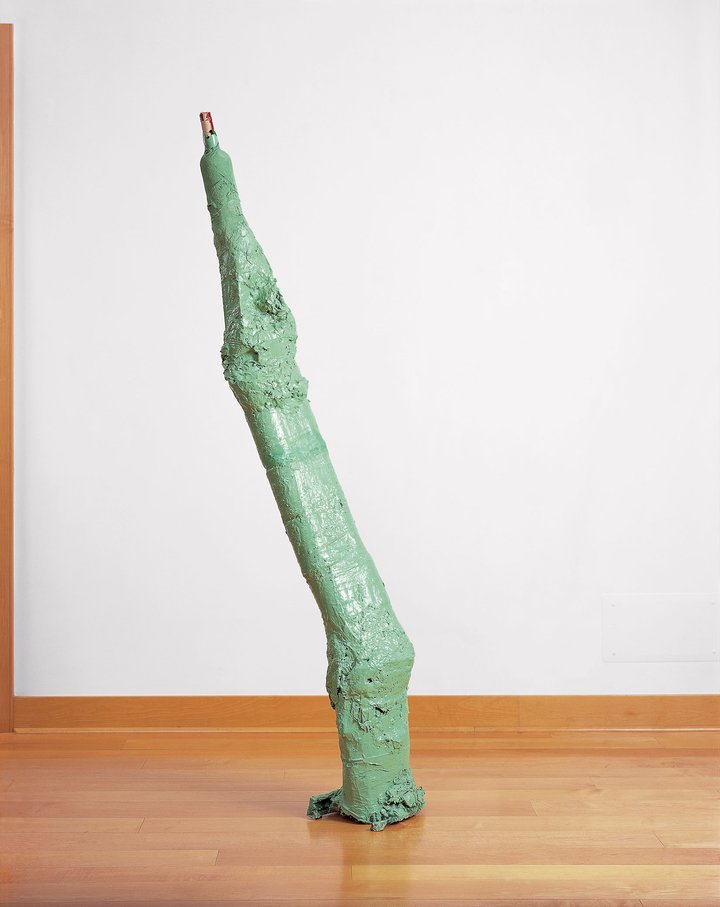 2000-2010
The Ego and the Id, 2008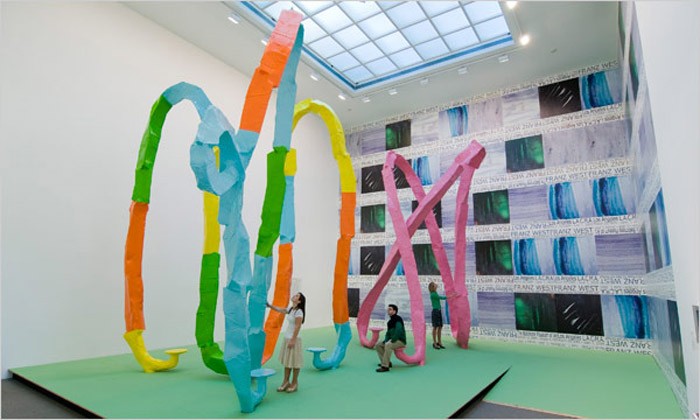 The Ego and the Id is a two-piece aluminum sculpture made from rumpled, ribbon-like loops rising some 20 feet high. The first is painted in bright pink, while the second has a colorful mix of green, yellow, blue, and orange. It featured six chairs that were built into the artwork and offered seating opportunities to viewers. The title of the art piece refers to one of Sigmund Freud's most famous texts in which he describes the Id, ego, and super-ego as the three parts of the psychic apparatus. Franz West designed the Ego and the Id for his retrospective at the Baltimore Museum of Art.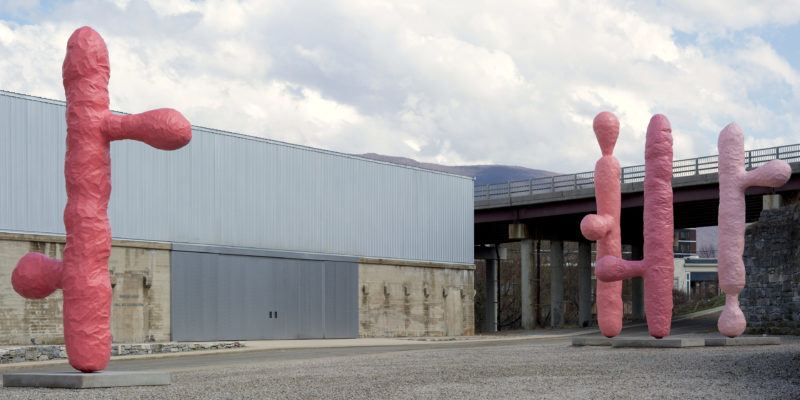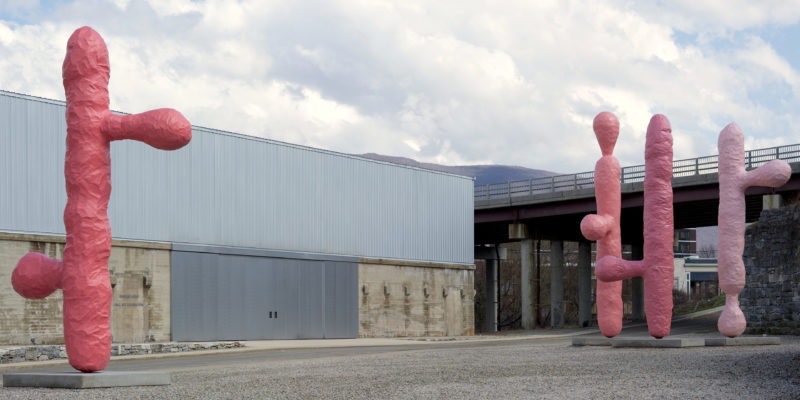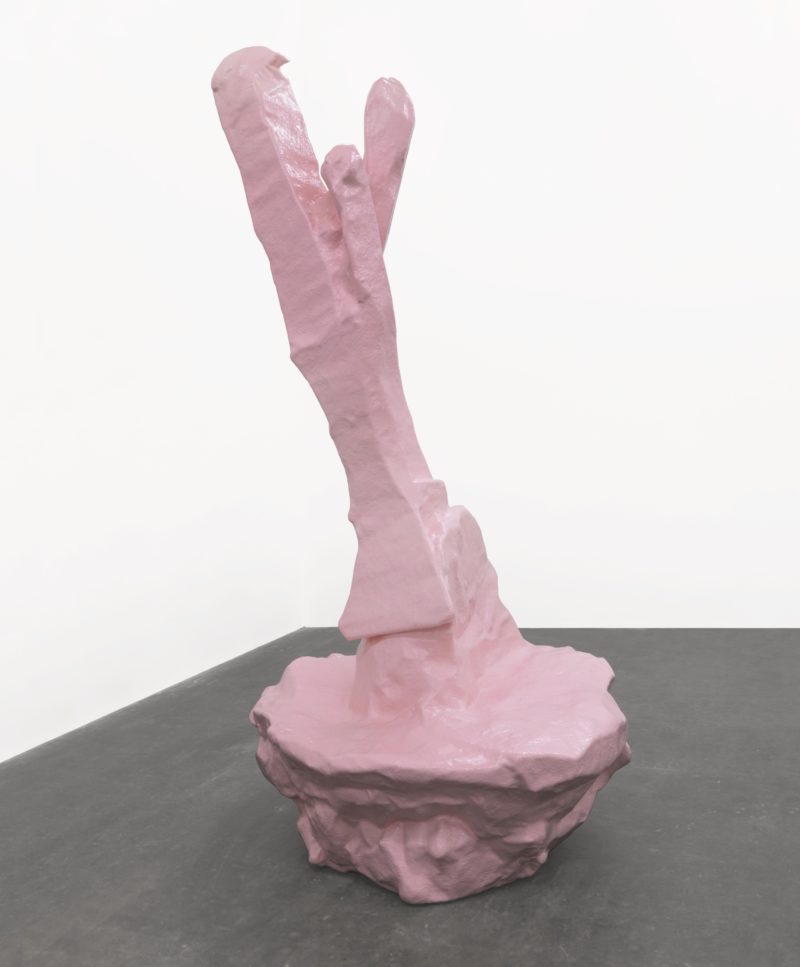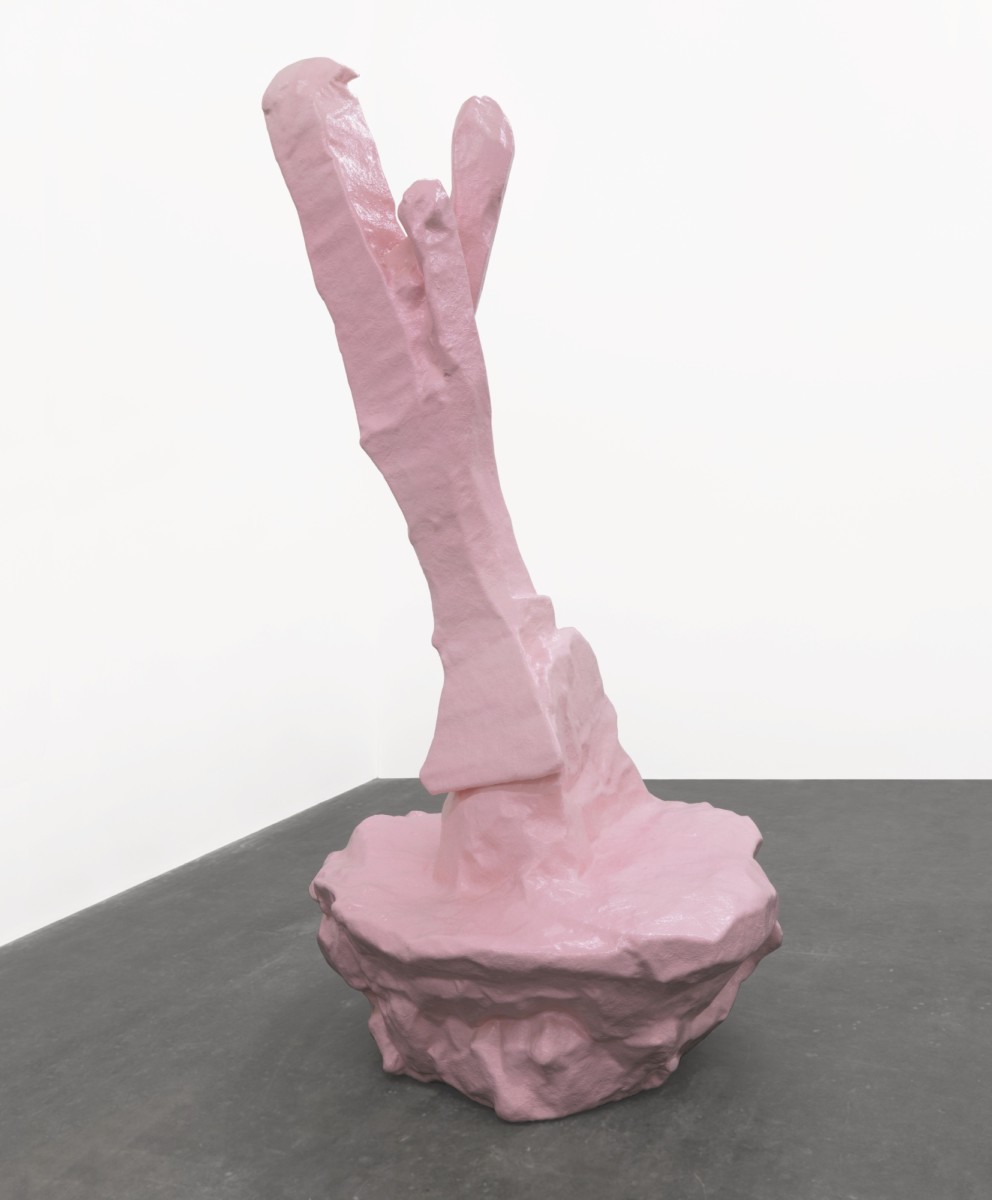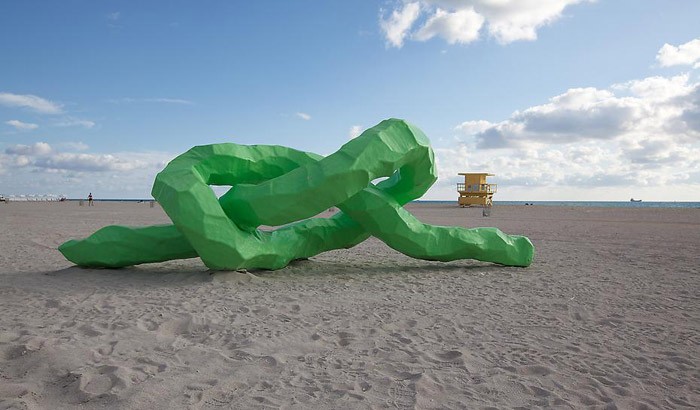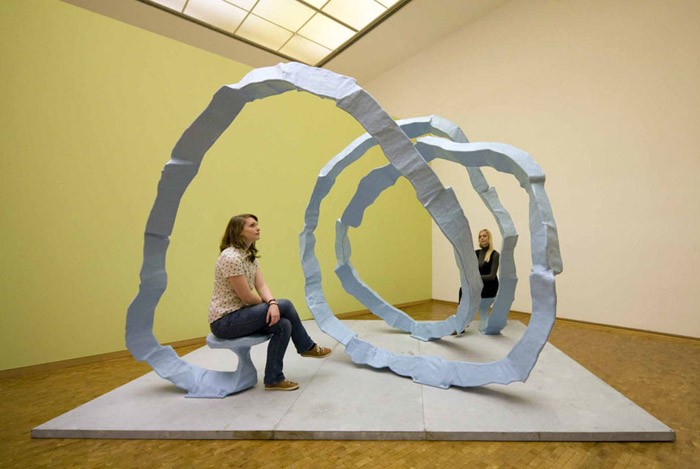 2010-
Parrhesia (Freedom of Speech), 2012
West usually shaped paper-mâché into large, belligerently modeled unites that look loosely like heads. For example, his work Parrhesia (Freedom of Speech) from 2012 consists of seven head-like figures mounted with spikes of wooden cartoons, with their animated surfaces and singular profiles depicting a noisy gathering.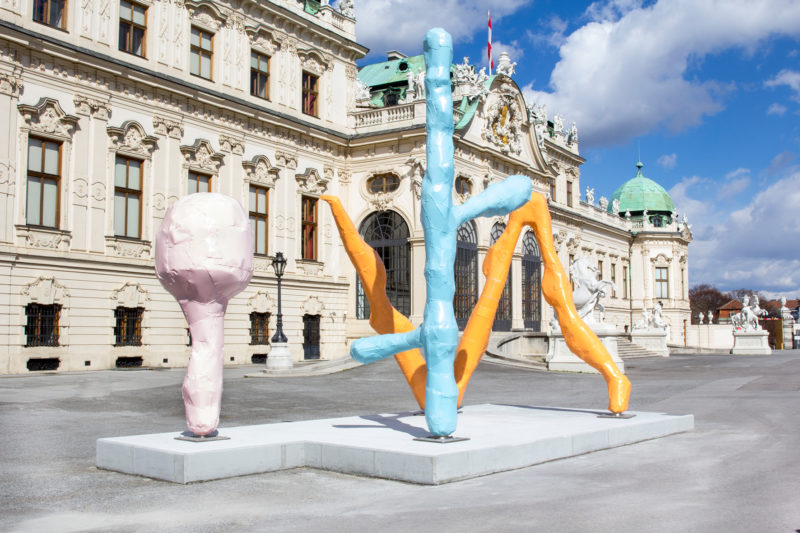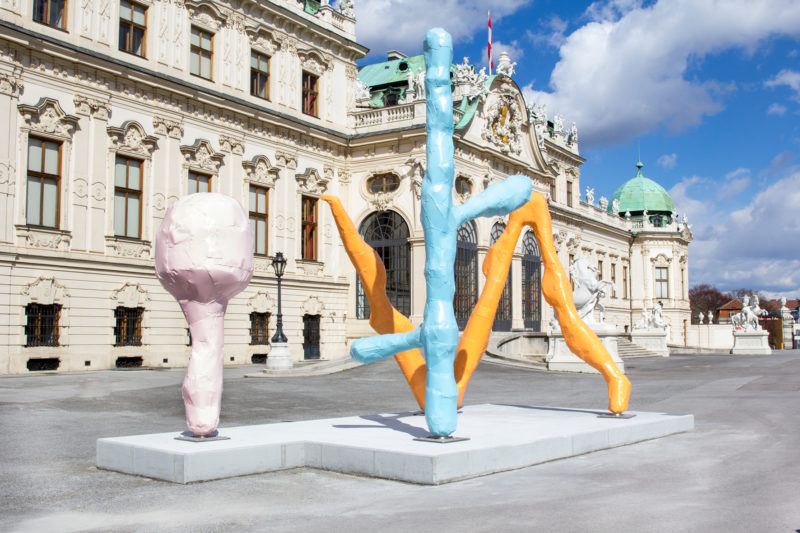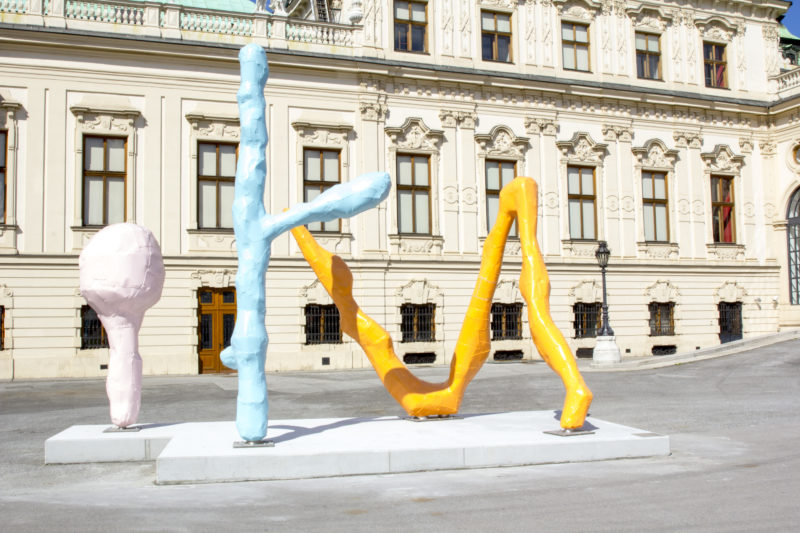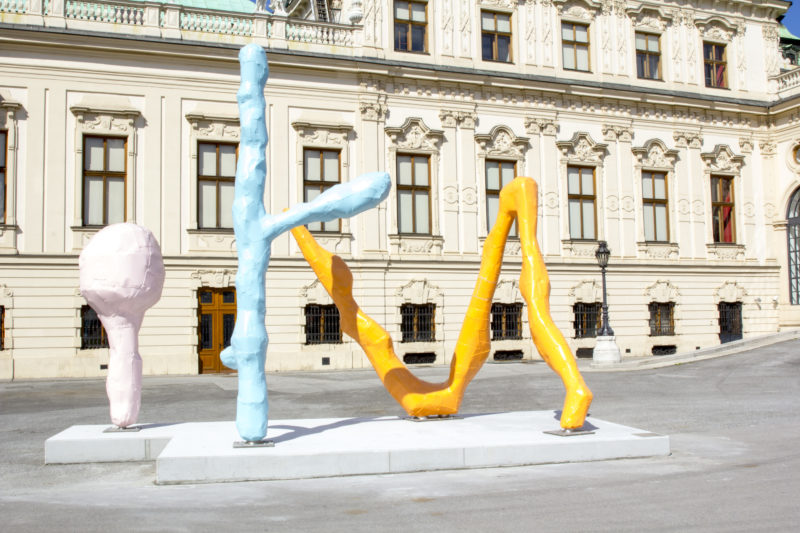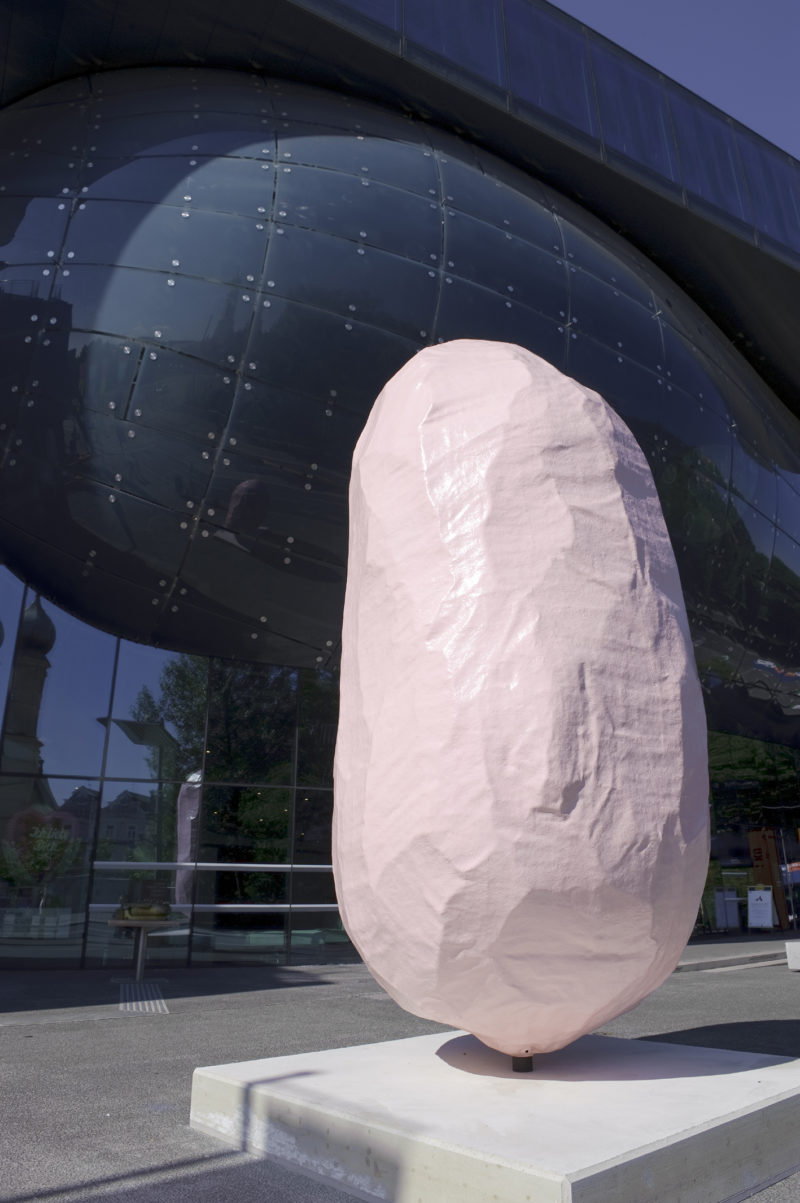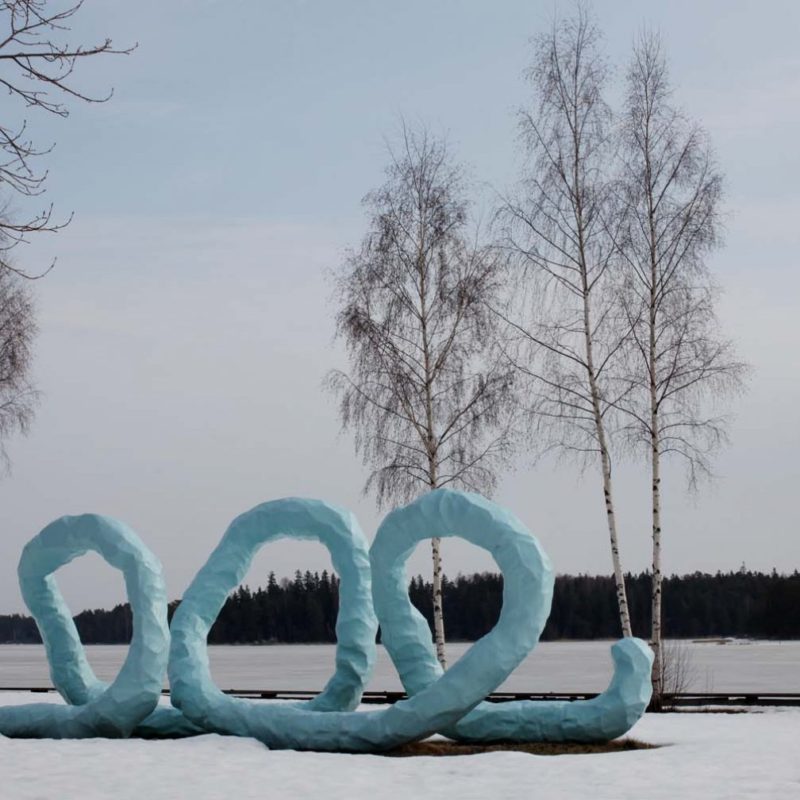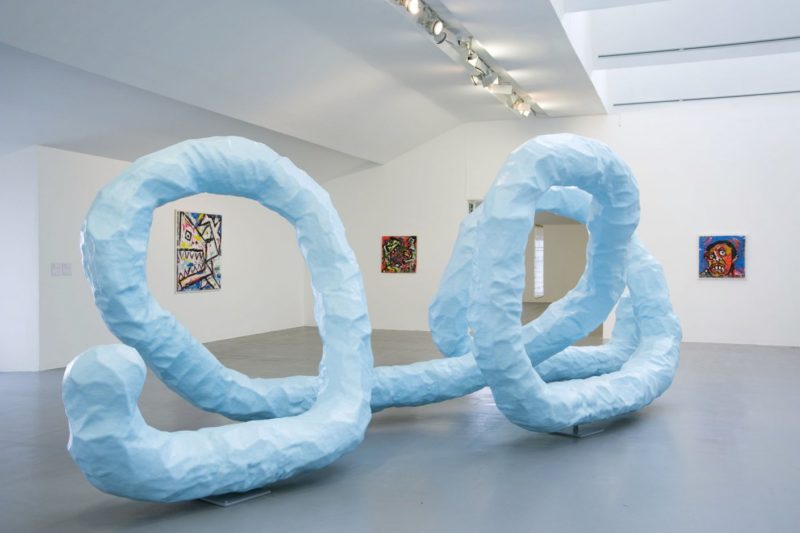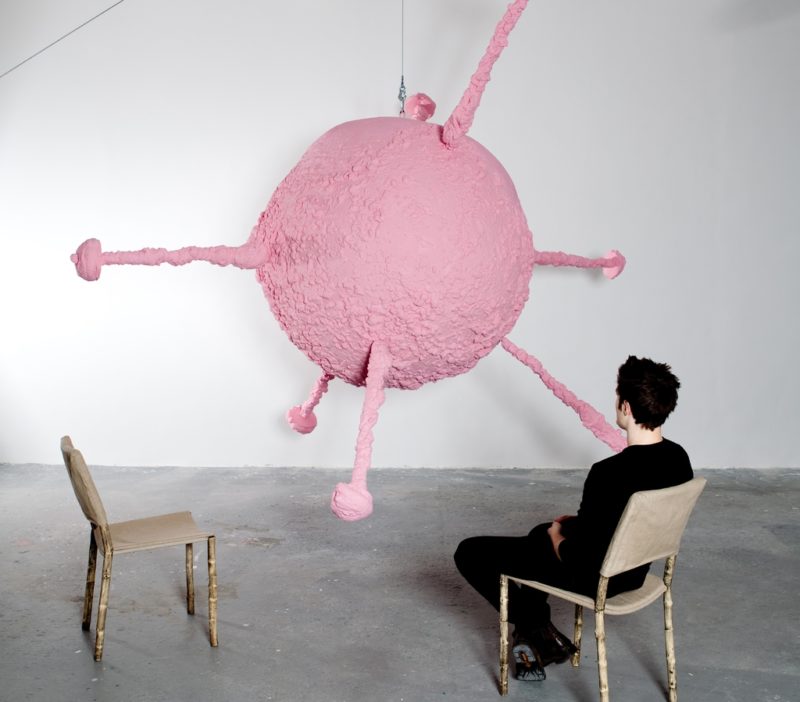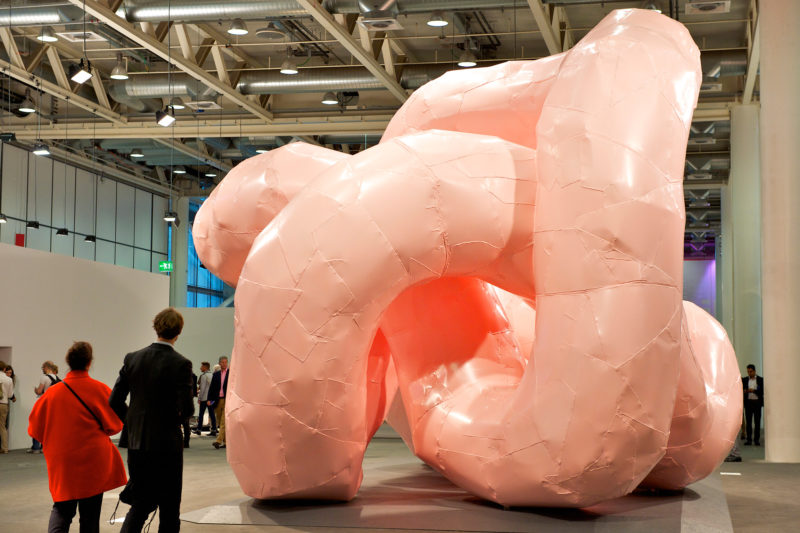 This sculpture, Gekröse, 2011, was one of the most notable works shown at Art Basel Unlimited in 2011, last year by Gagosian Gallery. It was West's largest outdoor sculpture and sold for a seven-digit figure a few hours after the opening.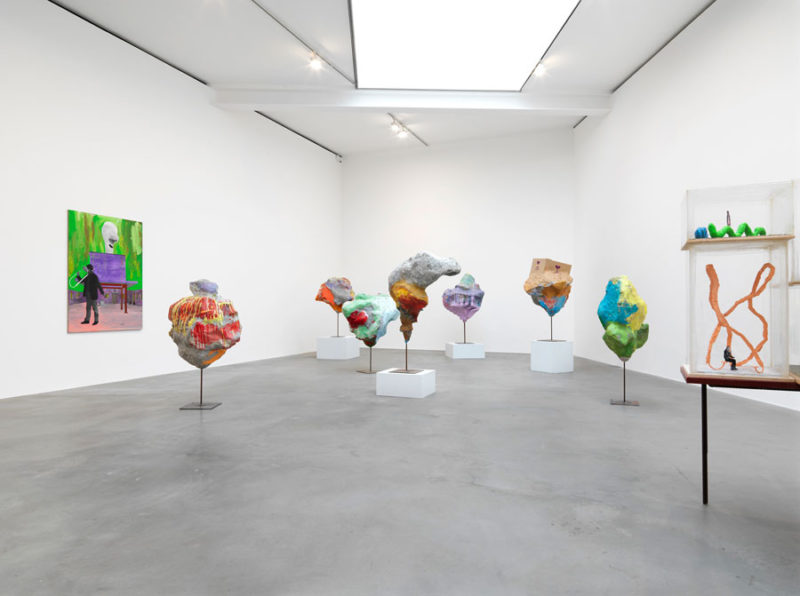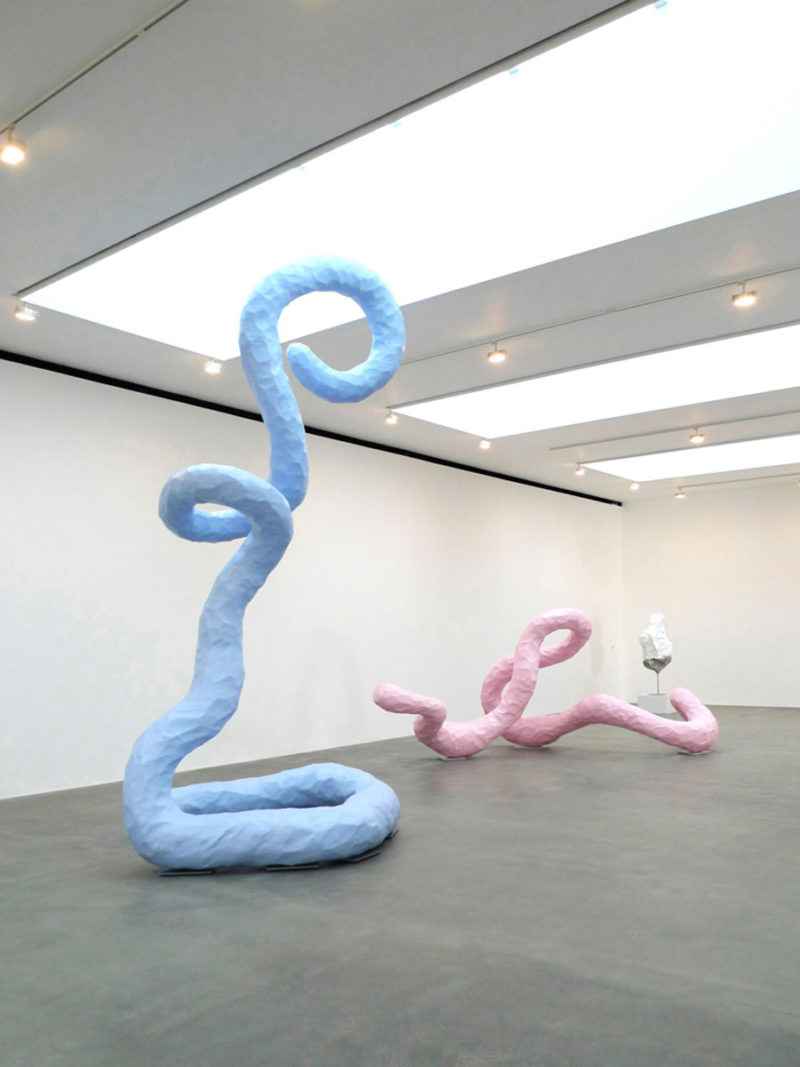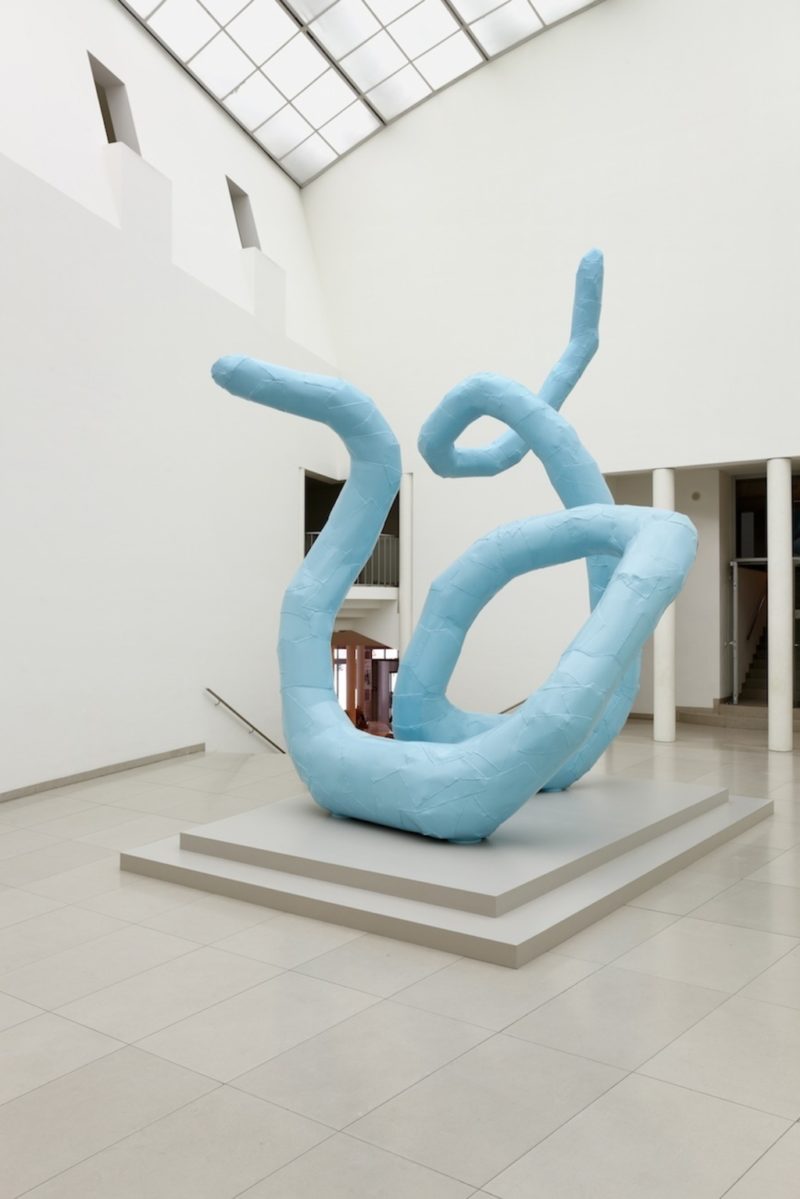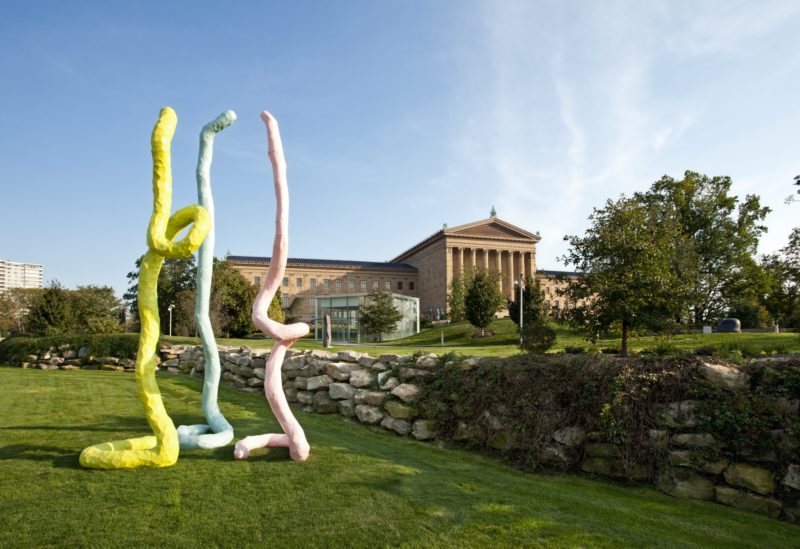 Footnotes