Drama (Modell), 2001 at Kunsthaus Bregenz
Photo: apa /Franz West / Kunsthaus Bregenz / Rudolf Sagmeister
The Austrian Franz West (1947-2012), one of the most important postwar-artists, died less than two weeks ago. His work has been repeatedly exhibited at documenta, the Venice Biennale and in 2011 was awarded the Golden Lion at the Biennale di Venezia in recognition for his life's work.
Internationally he got famous through participating at the Documenta IX in 1992: Several of his art pieces were distributed around the area and served as chairs and sofas. Due to their affordable price they quickly spread within the art world and finally became a mass-product. Though not appreciated by everybody, it made West's approach to art clear: Creating usuable art. In an interview with Robert Fleck he also said "Best of all I like art in the streets; it doesn't demand that you make a special journey to see it, it's simply there. You don't even have to look at it – that is probably the ideal art."
In the 1970s West created Adaptives, small, portable sculptures. The following large artworks, made from plaster and gauze and painted with dispersion paint (see below) are directly based on them.

Photo: Art Basel
This sculpture, Gekröse, 2011, was one of the most dominant pieces shown at the Art Basel Art Unlimited last year by Gagosian Gallery. It was West's largest outdoor sculpture and sold for a seven digit figure a few hours after the opening.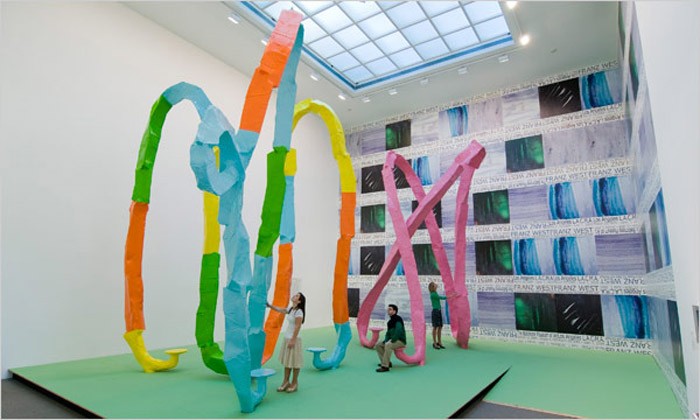 Photo: Mitro Hood/Baltimore Museum of Art)
The Ego and the Id, 2008, a 20 feet high aluminum sculpture was installed at the Franz West retrospective at the Baltimore Museum of Art. It featured chairs that were built into the artwork and invited viewers to interact with it. The title of the art piece is a reference to one of Sigmund Freud's most famous texts in which he describes the Id, ego and super-ego as the three parts of the psychic apparatus.
Afterwards the same sculpture previously shown in Baltimore got exhibited at the Doris Freedman Plaza in Central Park and was on display until March 2010 while some of his smaller sculptures could be seen at the MOMA.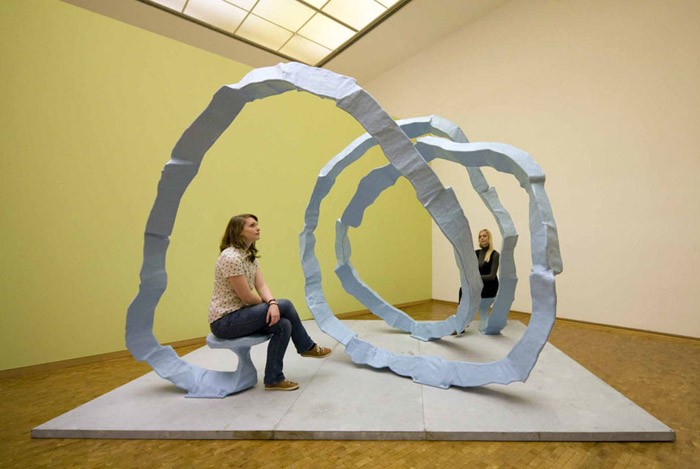 (photo: Museum Ludwig)
Ergebnis, 2008 at Museum Ludwig

Franz West – Room in Vienna, 2010
Photo: Österreichische Galerie Belvedere

Franz West – Room in Vienna, 2010
Photo: Österreichische Galerie Belvedere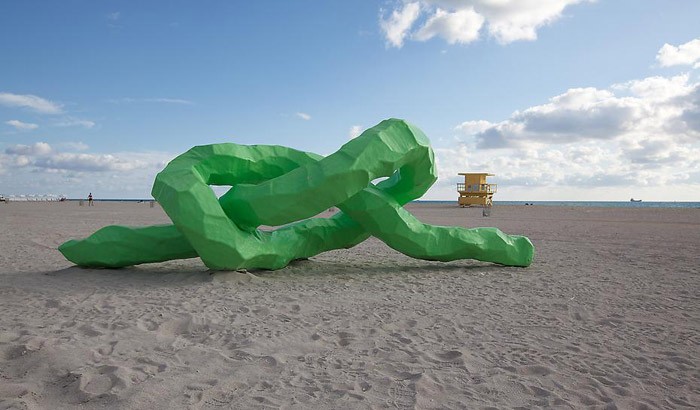 Photo: Gagosian
Lying Not, 2008 for Gagosian New York at Art Basel Miami Beach Art Projects, 2009

Franz West – Les Pommes D'Adam, 2007, Epoxy, metal, paint and concrete, dimensions vary with installation
Courtesy of the Hall Art Foundation

Franz West – Kugel, 2006
Photo: Jon Benjamin Tallerås

Franz West – Omega, 2008, Meeting Point, 2010 – Cour de Bibliothèque historique de la ville de Paris (BHVP)

Franz West – Rose/Drama, 2001, Beaubourg, Centre Georges-Pompidou, Paris, France

Franz West – Drama and Kantine, Merciless exhibition at MAK, Vienna, Austria, 2001/2002
Archive of Peter Noever

Franz West – The Unconscious Sculpture

Franz West, Gartenpouf, 2007, styrofoam, epoxy resin and synthetic resin varnish, 290 x 160 x 160 cm

Franz West

Franz West – Man with a Ball
Photo: Mike Bruce

Franz West – Man with a Ball
Photo: Mike Bruce

Franz West – Ein Hod, 2010, Epoxyd, lacquered, 450 x 220 x 220 cm, Installation at Kunsthaus Graz, Austria, 2010
Photo: UMJ / N. Lackner

Franz West – Endlich zwei gute Skulpturen, 2002, Installation consisting of two sculptures, poster design and stool photo
Galerie Meyer Kainer, Wien

Franz West – Epiphanie an Stühlen, 2011
Photo: Michaela Obermair, Courtesy Galerie Eva Presenhuber, Zürich © Franz West Privatstiftung

Franz West – Ohne Titel, 2012, Completion posthumously, Installation view at MMK Frankfurt, Germany
Photo: Axel Schneider © Franz West Privatstiftung/mumok

Franz West – Schlieren, 2010, installation view, Suvikunta, Sarvisalo, Finland
Photo: David Bebber

Franz West – Schlieren (Smears), 2010, installation view, 2010 at Tate Liverpool, UK

Franz West – Lips, 2012, aluminum, epoxy resin.
Photo: JASON WIERZBICKI/PHILADELPHIA MUSEUM OF ART/INSTALLATION VIEW: PHILADELPHIA MUSEUM OF ART

Installation view at Gagosian Rome, 2010
Photo: Gagosian
Discover more ..