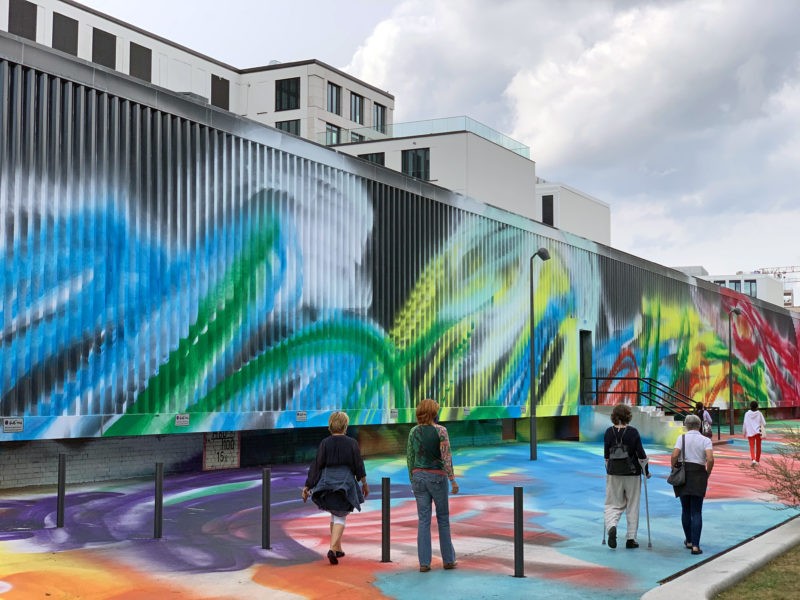 Biography
Born on October 2, 1961, in Freiburg im Breisgau, Katharina Grosse is a German artist. She uses architecture, painting, and sculpture in her artworks, which tend to be large-scale, site-related installations.
Grosse attended art academies in Düsseldorf and Münster. After her education, she taught at the Art Academy Berlin-Weissensee for more than a decade between 2000 and 2010. From 2010 to 2018, Grosse was a painting professor at the Düsseldorf Art Academy. She currently lives and works in Berlin.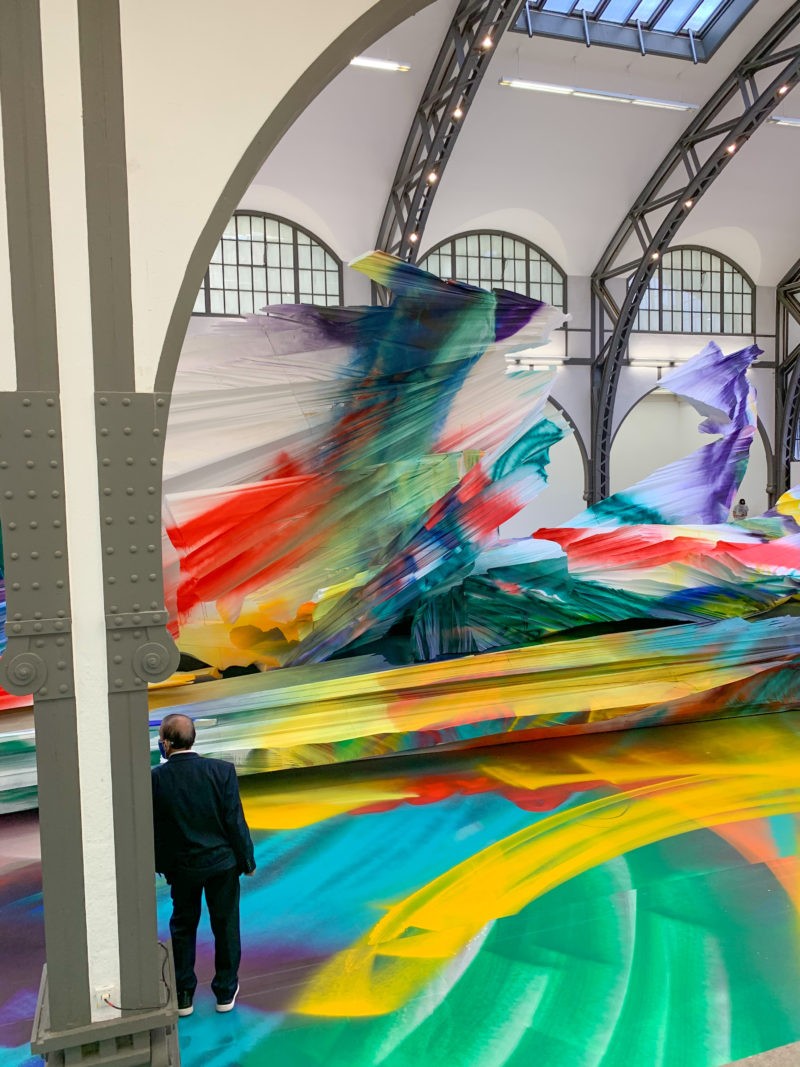 Early life
You can think of Grosse as a late bloomer; at least that is how she describes herself. At 20, she went on a road trip upcountry with her mother, printmaker Barbara Grosse along with a couple of artist friends. She remembers:
I was sitting in a field, and I painted a willow tree. It took about eight hours.
Having been hooked to painting, she spent the following year with a paintbrush in her hand and eventually joined the Kunstakademie Düsseldorf, where she graduated in 1990. Despite that, she still had to gradually climb the ladder through the "whole panorama of art history" before landing in abstraction.
In 1998, she started using spray paint techniques, which provided her with physical gestures to parody sight.
The way the eyes move up, look down, grasp the space – spray paint is very equal to that movement.
Before that, Grosse states that she was initially drawn into painting when she was still a child.
She explains:
As a child, I would play a game with myself where before I got up, I had to first erase the shadows on the wall. I invented an invisible paintbrush to paint over the shadows of the windowsill or the lamp of whatever was there. It became like an obsession. For me, looking at the world has always been connected to doing something in it, on it, or with it at the same time. Painting facilitates the synchronicity of acting and thinking in the most amazing way because there's no transmitter between the tools and me.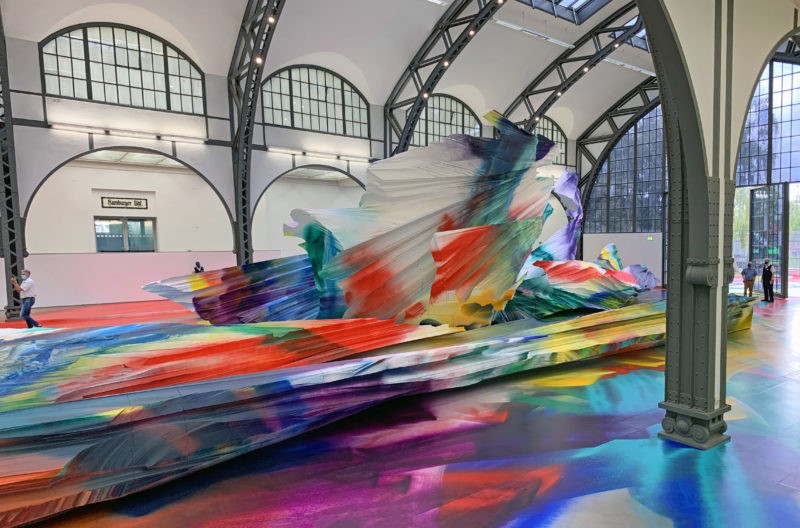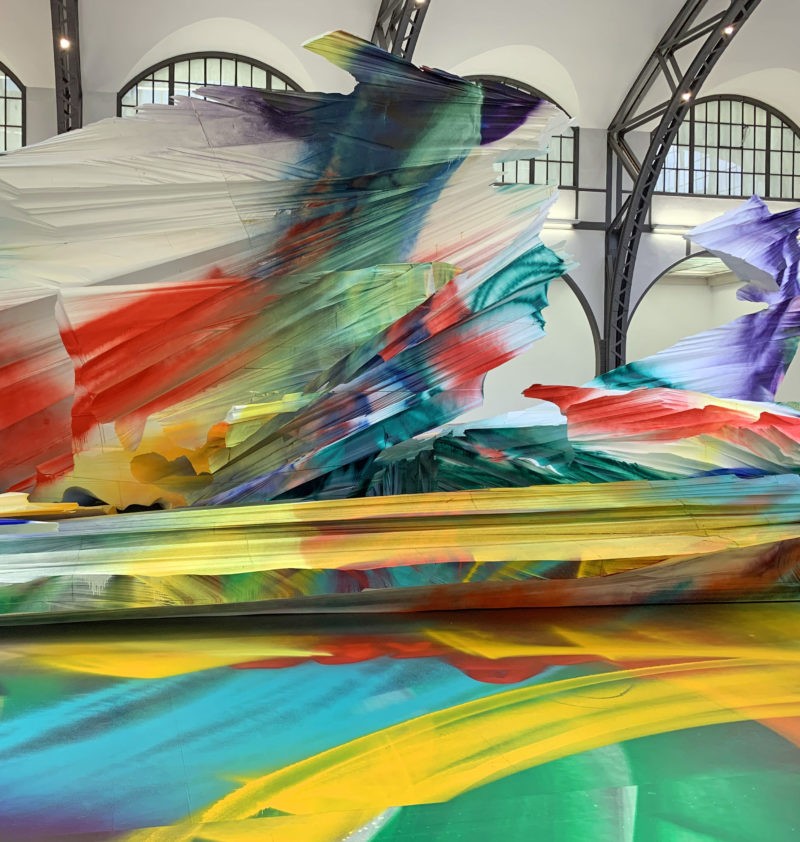 Early works
Her interest in color was piqued at a very young age. In her early paintings from the 1990s, Grosse juxtaposed colors of different temperatures and densities with recurrent vertical and translucent brushstrokes.
Later, she began splashing color directly to the wall and other surfaces, where she filled lobbies and stairways in inspiring fields of synthetic color.
Katharina is also credited for introducing a spray gun as a painting tool. Her first work was created using this technique in 1998 – it involved spray painting of the upper corner of a museum in a solid green color that extended moderately onto the ceiling and down two adjacent walls.
Review
Technique & Process & Material
Grosse is known for her in situ paintings, which typically include explosive, prismatic colors sprayed directly onto different surfaces to create an interacting visual experience.
She uses an engineering paint-sprayer to apply a prismatic array of color to surfaces and bright and unmixed sprayed-on acrylic paints to develop both massive sculptural components and smaller wall works.
At some stage in her career, Grosse began to mix the intersecting streaks of her past works with mists and cloud-like forms created by using a spray gun.
As she continued to explore the liquidity and wide-reaching possibilities of the medium, her in-situ paintings also expanded in scale. For instance, in 2004, Grosse spray-painted the interior of the Contemporary Art Museum in Houston along with cons, papers, clothing, and papers scattered across the floor.
A year later, at the Palais de Tokyo in Paris, she hung two large-scale canvases on the wall – one covered in paint and the other blank, but then painted it on the side along with the wall on which it hung. Later, she took down the painted canvas and put it on the ground, leaving a blank white rectangle of the gallery's wall.
When she is working with pigments, Grosse says she is usually removed from the process. But what does this mean? Where is she perceptually transported to while painting? This is her thoughts on that:
Concentration doesn't necessarily mean I'm steering towards one specific point. Rather, it is a sort of clarity combined with openness, like being there and not being there at the same time. It is a total paradox. Like imagining one thing and materializing something completely different simultaneously. A little bit like feeling hot and cold at the same time. Or while repairing your motorbike, imagining yourself doing five somersaults in the air wearing an orange silk cape. It's astonishing to see how many things can happen simultaneously, even though they seem to exclude one another. Once you disconnect their relationship from causal reasoning, an infinite fabric of possibilities opens up.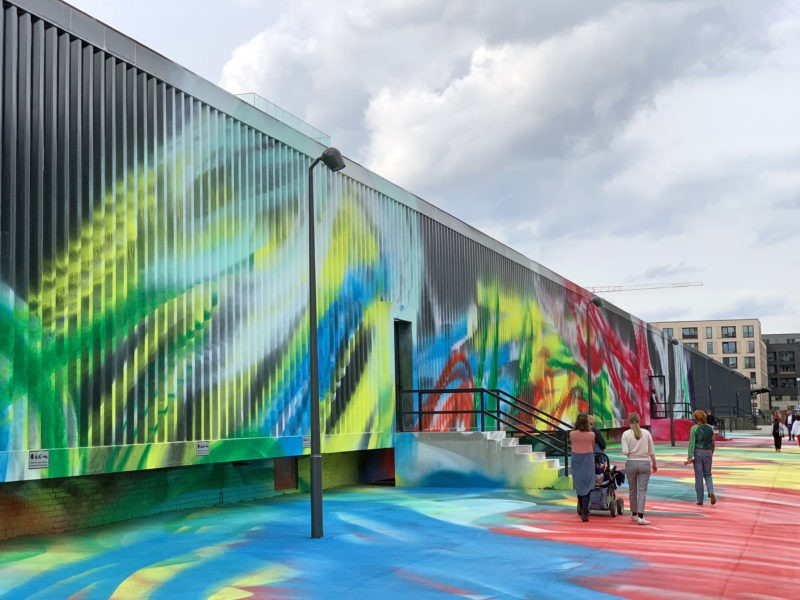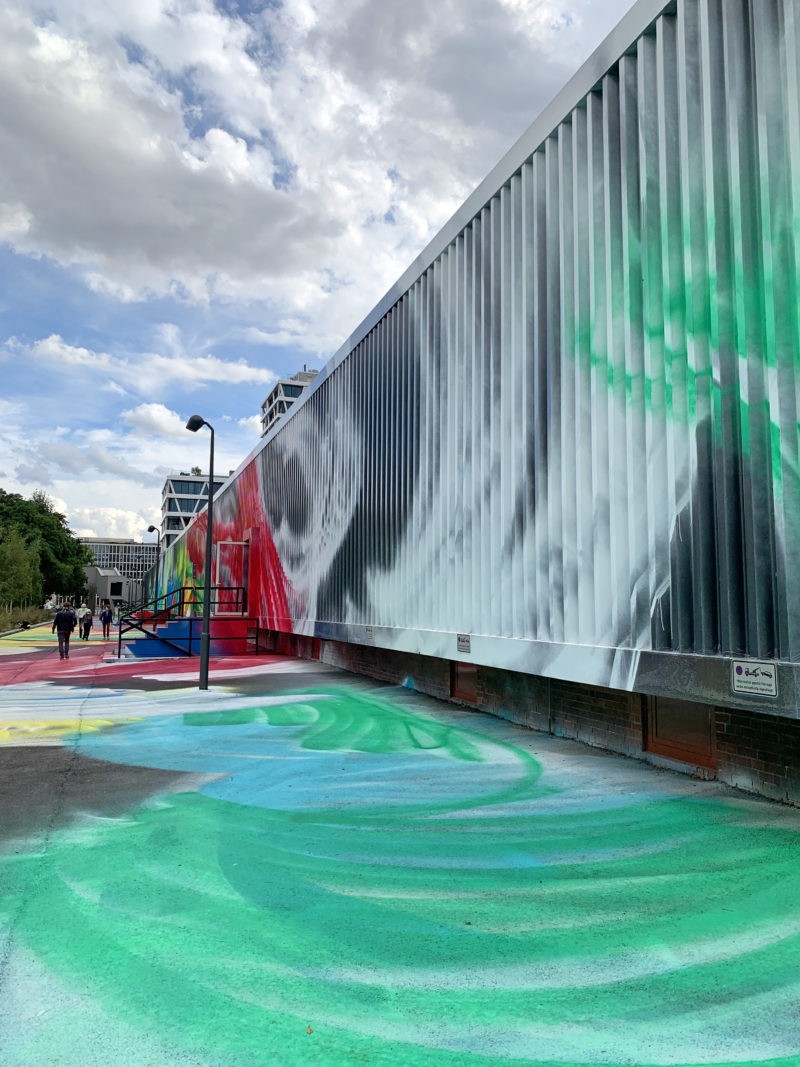 Developments
After working majorly with pigment, Grosses later introduced debris and soil into her work. She began to spray paint over different surfaces of the canvas, surrounding settings, and architecture.
For instance, in her solo exhibition Construction a cru at Palais de Tokyo in Paris in 2005, she installed heaps of dirt along with the gallery's white walls, painting them together with the floor and walls.
In an interview in 2019, Grosse said that she usually paints over "the border of objects and architectural settings to expand the area rather than close it off." According to her, borders are "spaces of negotiations that have to be created again and again". Her pieces offer means to rethink the obstructive landscape of those boundaries.
Over the years, Grosse's works have come to embrace the natural and urban landscape as their canvases. For example, in 2014, the Mural Arts Program in Philadelphia commissioned Grosse to change the city's train tracks into the scenery. As a result, psychylustro was born.
She spray-painted pink, orange, and green in a graffiti-type manner over the heaps of rubble, weeds, warehouses, iron trestles and other objects in the vicinity.
Her hues border included both the exterior and interior of a structure in 2016 when she painted derelict army naval facilities in Fort Tilden Beach in New York.
The use of color
Though color is an aspect of art that tends to be dismissed as secondary in the concept-heavy modern art era, Grosse is not perturbed.
She says:
Color is very intimate. It triggers your responses right away. I also use it to retrace my thought structure, which is what I think a painting basically is.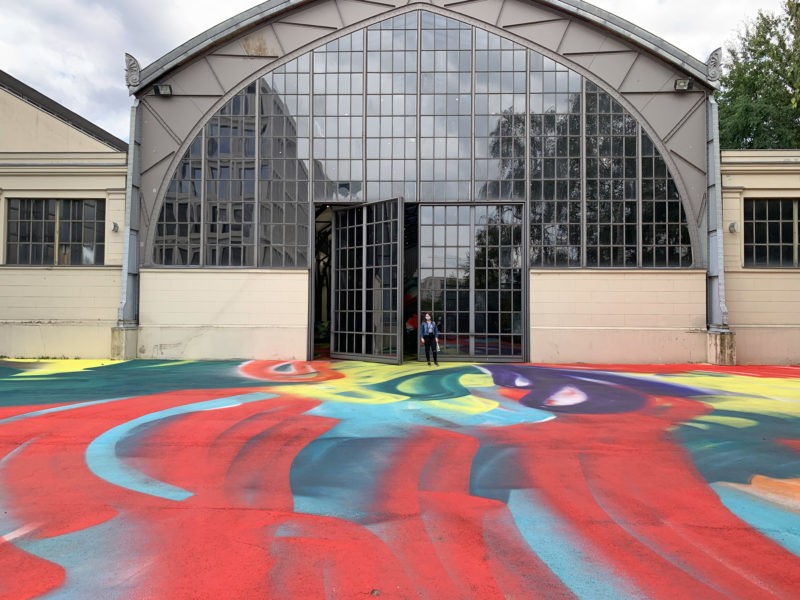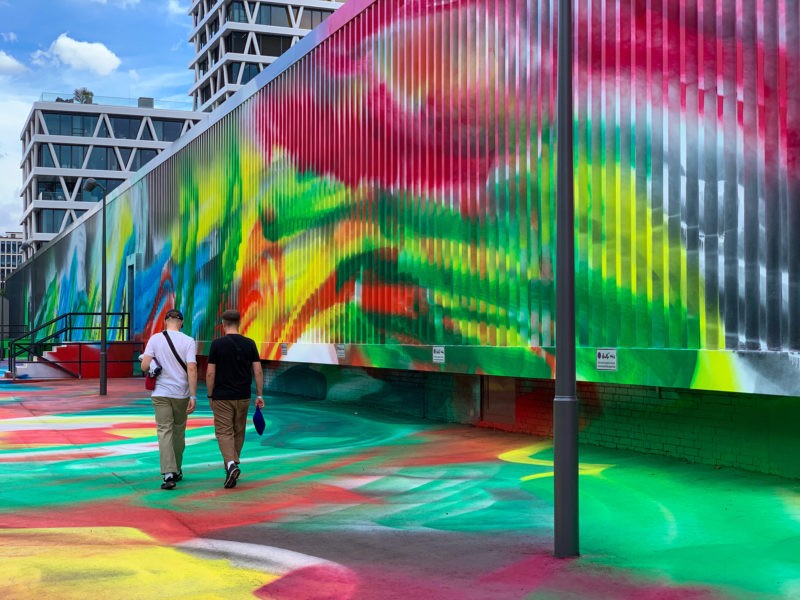 Studio work
With her outdoor and site-specific installations, one would be forgiven to think she doesn't spend much time in the studio. However, the studio work also plays an essential role in her signature spray-gun method. Still, there is a telling difference between them (studio works) and her outdoor installations, which, according to her, is time.
She notes:
The intensity with which I do the site-specific pieces is always very strong because I work, like, ten days straight; there is nothing that interferes with my activity.
When it comes to studio sessions, Grosse may have a maximum of 15 canvases at different stages of completion, allowing her to create each one slowly over several months, often with the help of stencils made from foam, foil, and cardboard.
A painting is simply a screen between the producer and the spectator where we can both look at the thought process residing on the screen from different angles and points in time. It enables me to look at the residue of my thinking.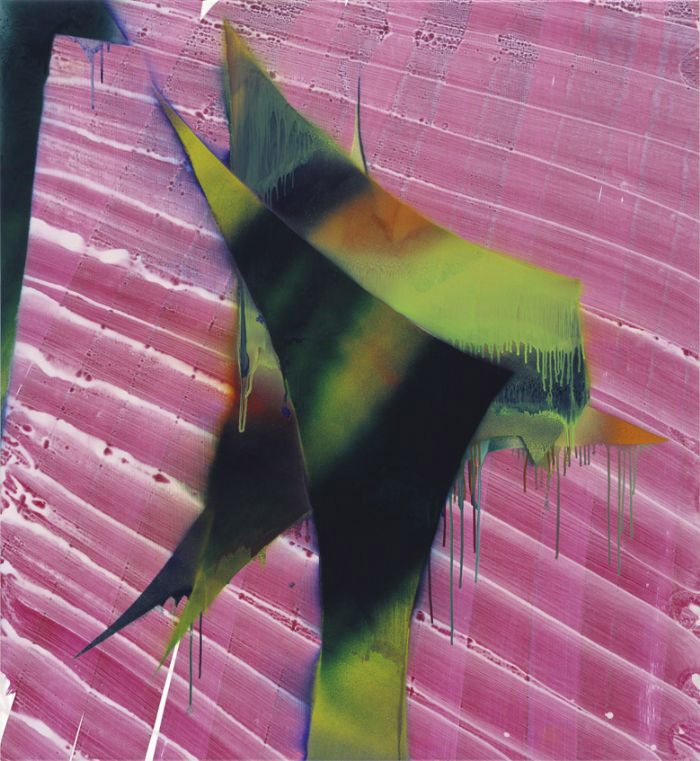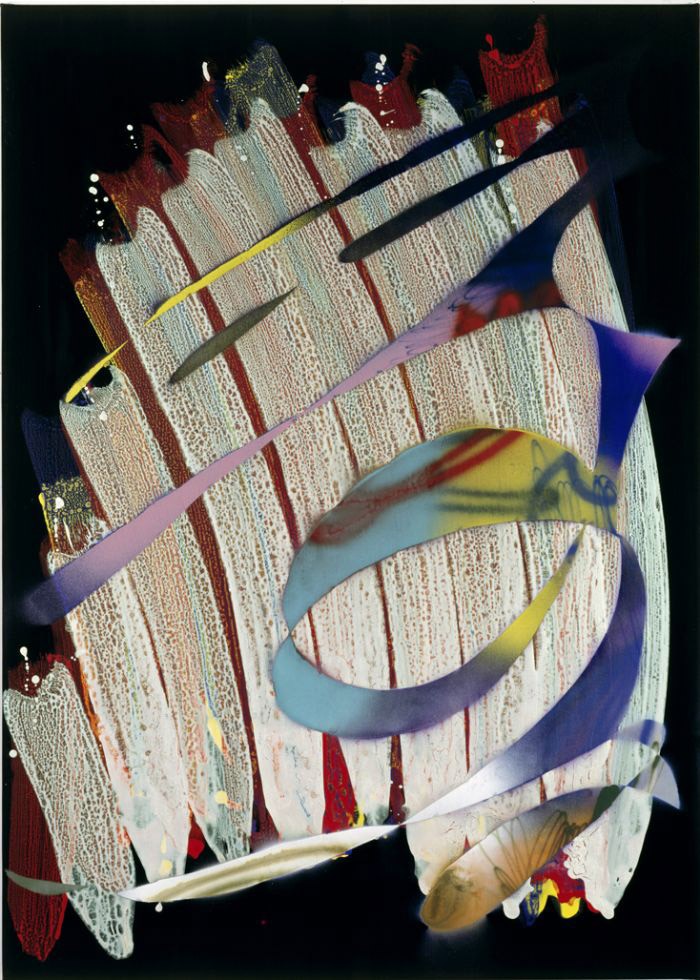 Artist statement
According to Grosse, there are no discernible dichotomies between her three pillars of art: sculpture, architecture, and painting. Besides painting on canvases and onto surfaces of buildings and other objects such as trees, Grosse also creates large-scale Styrofoam, polyurethane, and cast-metal sculptures that serve as abstract frameworks for her paintings.
I totally enjoy to look at things, and I want something cool to look at, so I make this for myself. I amuse myself. I entertain myself.
Katharina Grosse.
She has a rare kind of directness, simplicity, and honesty, which is not common in art.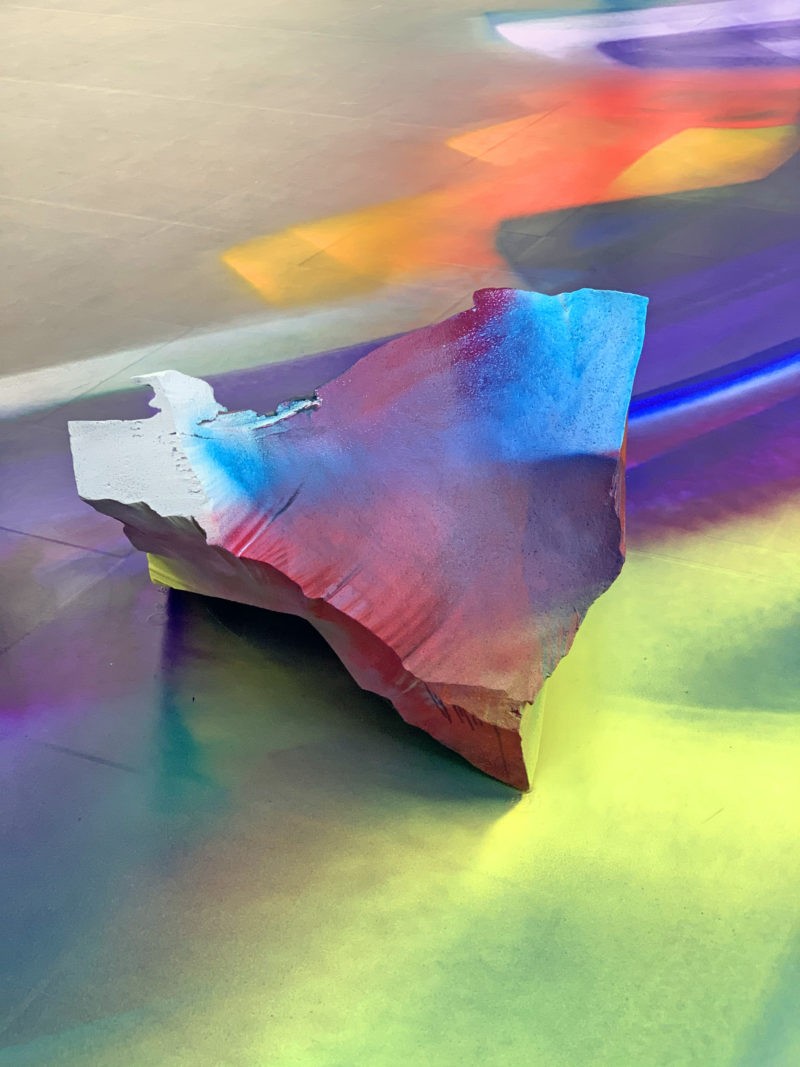 Das Bett (2004) – Breaktrough in Germany
In 2004, Grosse had a shift in her career, with an intensely private, site-specific project in the name of her Düsseldorf bedroom.
I spray-painted everything – the bed, the clothes, my writing desk, my music, an open suitcase, she recalls, adding that that was the first time she ever incorporated found items into her paintings.
The first house painted by Grosse – Untitled, New Orleans (2008)
Despite her success in the European market, Grosse was widely unknown in the US. That changed with her installation Untitled (2008).
In 2008, the American art world took note of Grosse's work. As part of the opening of Prospect New Orleans triennial, she transformed a derelict house in Lower Ninth Ward after Hurricane Katrina had ravaged the region into a sublime orange buoy amongst the twaddle. The director of MoMA PS1, Klaus Biesenbach, recalls how the installation hoisted him:
She painted a painting onto the house. She didn't paint the house.
Rockaway (2016)
After the devastations left behind by Hurricane Sandy in New York City, Biesenbach knew he needed to enlist once again Grosse's help for another project in the neighborhood – the famous Rockaway installation in Queens, New York.
In it, she splashed red and white color on an abandoned building and a heap of sand that had collected around the site since Hurricane Sandy destroyed the doors and windows of the structure in 2012.
The pileup sand, the sea and the sky and conjured both a rescuer's uniform and the striking magenta sunsets that illuminate the beach.
Breakthrough in the US
Ever since her inception in the American market, everything began to fall into place. She joined Gagosian's star list in 2016 and debuted on January 19, 2017, with a show of fresh canvases, some of which were as tall as 13 feet, at the institution's West 24th Street gallery in Manhattan.
Like her outdoor sculptures and installations, these canvases were also unashamedly about pigment, as they are inundated in a layered color that twirl, bleed, and trickle.
Selected works
Some of Katharina Grosse's most popular works include:
It wasn't us exhibition – Hamburger Bahnhof, Berlin (2020)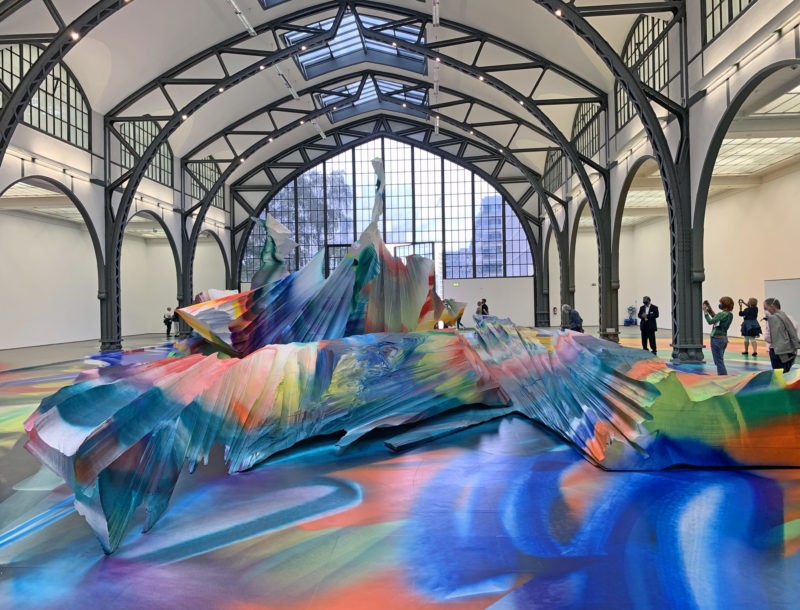 Rockaway installation – Queens, New York (2016)
On July 3, 2016, Katharina Grosse unveiled this monumental work titled Rockaway. The installation comprises the transformation of an abandoned Army naval facility in Fort Tilden Park into a whirling parfait of pink, white, and red.
Grosse's first installation in the city and part of Rockaway!, a biennial series including outdoor art sculptures commissioned by MoMA PS 1, was introduced in response to the 2012 Hurricane Sandy.
In this installation, Grosse managed to connect her work with that catastrophic event and turned the derelict building, destroyed by the hurricane, into a sunset-inspired place of surreal beauty. Thanks to the bright colors, the installation simultaneously stands out and bends into the neighboring fields and the seaside landscape.
The Rockaways were among the regions that were struck by Hurricane Sandy. Afterward, the director of MoMA PS1 and the chief curator at the Museum of Modern Art, Klaus Biesenbach, who also happened to have a home there, initiated a plan to assist the local community through his work with MoMA PS1.
Creating the painting used for this project was a painstaking process. Before starting, Grosse had to barricade the area first using giant tarps to avoid painting the adjacent areas. The building was heavily tagged and had several graffiti pieces, so Grosse started with a layer of white paint to conceal them. She then applied spurts and streaks of magenta and red on top of the white coat. Some areas include up to nine layers, which are each carefully overlapped.
Grosse intended to create an effect of a wave washing over a house. Looking at the installation, it is hard to miss the building's windswept look, as the paint ostensibly spilling onshore.
She said:
The painting comes flowing through the air and lands on the structure.
To successfully paint a full-sized structure, Grosse had to use a cherry picker, uplifting herself aloft the roof of the building and keeping the spray nozzle at least a foot and a half from the surface.
Grosse had designed two models at her Berlin studio. However, she had to abandon her initial plan for the installation since the model had only focused on the building itself while leaving behind the surrounding environment.
The National Parks Service, one of the projects' partners, sees Rockaway as an essential step towards restoring the natural habitat in the region, which saw its protective dunes washed away by the hurricane.
The building had been abandoned since 1974. After hosting Grosse's temporary outdoor installation, the park service razed it down as a symbol of the next step in its recovery program in the aftermath of Hurricane Sandy.
Rockaway project, therefore, served as a farewell celebration.
Exhibition at South London gallery (2017)
To mark her first solo gallery exhibition in London, Grosse created the work titled This Drove my Mother up the Wall, painted in situ at the South London Gallery. This installation swamped both the exterior and interior spaces, unrestricted by the conventional limits of the pictorial frame.
In the main show, the artist made the void the intense center of the exhibition, covering the ground with an expansive foam stencil and painting over it and the adjacent walls.
Upon removing the paint from the floor, a bright, white area was exposed, untouched by the masks of color and far-reaching, propulsive marks scattering to all sides.
Looking at the painting, the filtering technique is quite evident to see. Grosse placed stencils over the canvas areas during certain stages of the painting process, leading to the formation of chromatic layers representing her actions and thoughts.
Two documentary films were used to accompany the installation and were screened on the first floor of the galleries. The purpose of the films was to frame Grosse's research interest and creative practice.
The first documentary is Women Artists (2016) by Claudia Müller. It shows how Grosse and other eight female artists curate fantasy exhibition. It also discusses her choice of artwork and artists, connects their practices, and guides the audience through a virtual understanding of her concept of a group exhibition.
Video trailer: Femmes Artistes Katharina Grosse (2016) (French)
https://vimeo.com/206356757
The second film is titled The Gleaners and I (2000) by Belgium director Agnes Varda. Grosse credits this film as the source of inspiration for her London exhibition, which involves the marginal, the residual, and the invisible.
Video trailer: The Gleaners and I (2000) (French)
The Horse Trotted exhibition – Carriageworks (2018)
The exhibition called The Horse Trotted Another Couple Of Meters, Then It Stopped was commissioned by Carriageworks and included a multilayered painting over more than 8,000 meters of fabric swathed and tangled in direct response to Carriageworks' architecture.
In this work, Grosse has defied the traditional rules of paintings in a new style that is sculptural and classic. She is obliged by the infinite possibilities that painting holds, the space it can occupy in our lives, and the numerous ways it lives in the world.
Wunderbild exhibition – Prague (2017/2018)
Grosse also created an installation for the National Gallery in Prague. She elaborated a large, site-specific painterly installation, which dramatically redefines painting as a performative and architectural medium.
Titled Wunderbild, the installation is an architectural painting and a three-dimensional image that the audience can experience with their body and mind. The color of the artwork adds volume to the piece. Simultaneously, the flat surface gives it sculptural characteristics as the pictorial field goes beyond the limits of the visual.
Speaking about the work, Grosse said:
I'm a painter. I'm interested in the space generated by the painted image and how it can appear in any kind of existing field, be it architecture or the mundane situations of everyday life. For me, painting isn't restricted to a canvas or a wall.
Moscow exhibition (2015)
Yes No, Why Later was Grosse's first exhibition in Russia. The large, site-specific installation transformed the 800 square-meter Garage Museum of Contemporary Art hall into a spectacular, interactive environment.
The artworks were created specifically for the gallery. The material connects the architecture of the building and Gorky Park. The resulting work comprises trees and soil molded into astounding formations and swathed in vivid, raw color.
Mumbling mud exhibition – K11, Shanghai (2018)
Mumbling Mud is the title of Grosse's Shanghai installation, in which she collaborated with the K11 Art Foundation and K11 Art Museum. It is also her first solo exhibition in China.
She continued using her signature spray paint gun in this installation, applying multicolored bands of paint across the gallery walls, an entire house including her own bed, the surrounding and placed objects such as tree trunks heaps of soil to create large-scale site-specific paintings.
As a result, Grosse manages to liberate the use of paint from its close connection to the painter's body and the programmed surfaces of the traditional western painting norms.
Mumbling Mud is divided into five zones and leads the viewer through an interactive labyrinthine passage. When you enter the first zone, you will find yourself surrounded by a contemporary landscape made of a pile of soil and rubble, covered in paint. The audience is invited to walk through all the five zones via the painterly traces the artist left when she was working.
One Floor Up More Highly exhibition – Mass MoCA (2010)
Grosse continued using multicolor on surfaces when she worked on her installation at the MASS MoCA. She applied distinctive masks of paint over four heaps of soil, which appeared to escape from the balcony above. Grosse also used stacks of Styrofoam shards to create seductive mountains of color that match the gallery's white walls.
While this spilling piece may suggest connections with a patterned, glacial landscape, the installation is not emblematic. On the contrary, Grosse's electric and often jarring palette is intended to invoke the reader's impulse to take the work as a recognizable image.
The viewer is allowed to walk around and on top of the undulating fields of colorful rocks.
Final Thoughts
Katherina Grosse's artistic style usually stimulates the viewer to the point of frenzy. By covering her compositional spaces, whether it be a singular canvas or an entire room with its surroundings, Grosse has taken painting as an artistic medium to the next level.
She opens up spaces and surfaces to the infinite visceral possibilities. The all-inclusive sensation created by these spaces can overwhelm the audience in a good way if experienced at its most elemental level.
Grosse builds on the legacies of the color field and abstraction painting from the 20th century to reintroduce a powerful way, the influence of artistic performance, in which colors clash. That energy is diffused to the audience, who can glean from chaos a sense of mystical rejuvenation.
Installation photos