Nabana no Sato
Japan & light festivals
Japan seems to be way ahead of the rest of the world when it comes to experimenting with lights. It is a culture throughout the country to have impressive light festivals over winter. Other than showcasing the creativity of new talent every year, such festivals give life to the boring weather of winter. It is no wonder that most people love to extend these displays well into spring.
The Nabana no Sato light festival
First-time visitors will find the numerous festivals captivating, but natives and frequent visitors will agree that the Nabana no Sato is the highlight of them all. The festival is a creation of the Nagashima hot spring resort located in Mie prefecture. Setting up the light display takes a record four months and involves thousands of workers to fix the over 8 million LED lights. The most outstanding feature of this festival is the stunning tunnel of lights, which spans 100 meters. Every year, to make it feel like a new experience for visitors, a detail of the tunnel is magnified and this year is no different. If you were in Nabana no Sato in any other year, you would not see the red, green and orange color change at the tunnel of lights. The flower park itself is one of Japan's largest garden and location for one of the largest Japanese flower festivals.
Winter illumination
To someone who has never been to Japan over the winter season, it is hard to imagine that the flowers on display in the various festivals are real. It is easy to get lost in the marvel of the seasonal flower shows but even more captivating are the winter illuminations. Every year, there is an increase in visitors who tour Japan for the winter illumination festivities. In 2017 alone, it is estimated that 2 million visitors will tour the Nabana no Sato for the festivities.
h
How to get there / Access
Nabana no Sato is within proximity to the Nagashima Spa Land and for visitors traveling by public means, the location is accessible by bus or train services. This is an excellent location for a weekend away from the busy city life; a great stress relief activity is strolling through the grounds that are alive with shrubs and seasonal flowers. Many people find that there is something new to see regardless of what season it is. The next time you are close by over November to March, do not forget to drop by and when you do, you better have your camera ready to snap away. The beauty of the winter illumination festival is nothing to describe in words but a picture will capture it all!
By bus
There are busses from downtown Nagoya (35min) and Chubu International Airport (50min). The closest stops are Nabana-no-Sato of Mie Kotsu Bus or the Meitetsu Bus. During the Winter Illumination, there is a nonstop bus of Kinki Nippon Railway from Nagashima Station to Nabana-no-Sato.
By car
The correct exits of the expressway are Nagashima Interchange and Wangan-Nagashima Interchange. It takes 15 minutes from Wangan-Nagashima IC on the Ise Wangan expressway. Parking lots are provided for 13000 regular cars and buses.
By train
Kuwana Station of JR Tokai, Kinki Nippon or Yoro railway are the closest stations.
Information
Dates
End of October to Early May
Entrance fee
2300 yen. The fee includes a 1000 yen gift certificate to be used inside Nabana no Sato. Updated Dec 2018.
Opening Hours
Tuesday – Friday: 9am to 9pm / Saturday – Monday: 9am to 10pm
Closed ⋅ Opens 9 AM
Hours of operation may vary by the season.
Restaurant
The garden has many restaurants, a beer garden and gift shops.
Contact
Phone: +81 594-41-0787
Official website: nagashima-onsen.co.jp1 (in Japanese)
Maps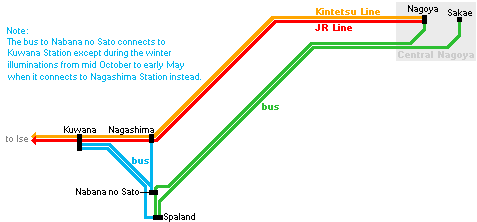 Bus and train map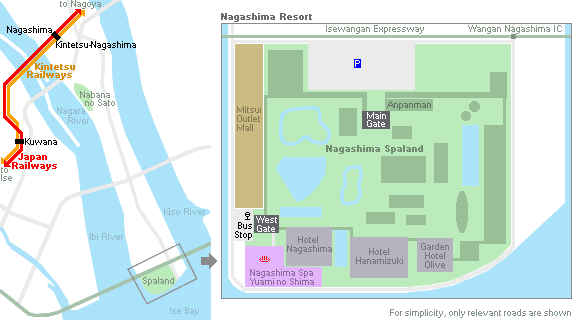 Nagashima Spa Land map

Address: 駒江漆畑-270 長島町 Kuwana, Mie Prefecture 511-1144, Japan
Links
Footnotes