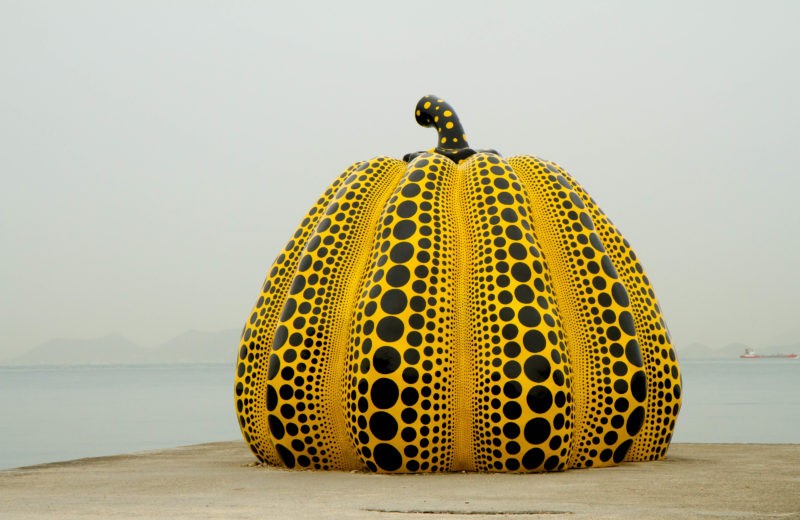 About Yayoi Kusama
Celebrating her 90th birthday in 2019, Yayoi Kusama is a leading Japanese artist and legend as far as art is concerned. While she deliberately makes unique pieces that can withstand the wear and tear of the outdoors, she is renowned for reproducing her art on a monumental scale when need be. Her career spans over 6 decades and during this time her works have managed to enter the collection of museums such as the New York MoMA, LACMA, Tate Modern and others.
Yayoi Kusama is widely known for being a precursor of pop art and an influencer to many great artists such as Andy Warhol.
Kusama's sculptures
Yayoi Kusama made her first sculpture in 1994 which was a solid yellow colored pumpkin with a clear spot pattern. While this first and a couple of other projects would be installed in Japan, many others would be scattered all around the world. Some of these famous works are The Visionary Flowers of 2002 to be found in the Matsumoto City Museum of Art in Nagano, Japan; the Tulipes de Shangri-La of 2003 to be found in, Eurolille, Lille, France; the Tsumari in Bloom of 2003 to be found in Niigata, Japan; and The Hymn of Life: Tulips of 2007 situated in Beverly Hills City Council, Los Angeles.
Yayoi develops a certain work overtime to sort of tell a story. Many people must have noticed the pumpkin sculptures and how they appear in her work create a signature effect in her works. However, that is not all she does, although many plant-like sculptures are made purposefully for institutions. To preserve the paintings and protect them from outdoor elements, highly durable plastic that has been reinforced with fiberglass is used for casting. This is then painted over with urethane for perfection.
Artworks
The iconic yellow pumpkin on Naoshima Island
The large yellow pumpkin dotted in black on the Naoshima Island located in the Japanese Kagawa Prefecture has soon become an icon. It's so distinctive and contrasts the natural environment. It's located very close to water, and the reflection makes this sculpture stand out even more. It's also located close to the Naoshima Port Terminal, so most visitors to the island will pass by the artwork.
Kusama's pumpkin became one of the reasons why the Naoshima community is focused on art and there are quite a lot of interesting projects spread all over the island. It's safe to say that simply installing the sculpture transformed into something inspiring and particular. Yayoi Kusama's unique vision and sculpture have become a true icon that will make the island famous for years to come.
Kabocha by Yayoi Kusama in Naoshima 4K
Polka dot sculptures & tree wrappings
According to Wikipedia, Yayoi Kusama has experienced hallucinations and severe obsessive thoughts since childhood, often a suicidal nature.
To some art critics, her use of polka dots in her work could translate to her relieving her suicidal nature. Her statement further intensifies this point:
If it were not for art, I would have killed myself a long time ago.

Polka dots can also be seen as her source of energy, which is also supported by her comment:
A polka-dot has the form of the sun, which is a symbol of the energy of the whole world and our living life, and also the form of the moon, which is calm. Round, soft, colorful, senseless and unknowing, polka-dots become movement… Polka dots are a way to infinity.
She began covering surfaces such as canvases, floors, walls, household objects, and nude assistants with polka dots. Eventually, they became the signature of her work.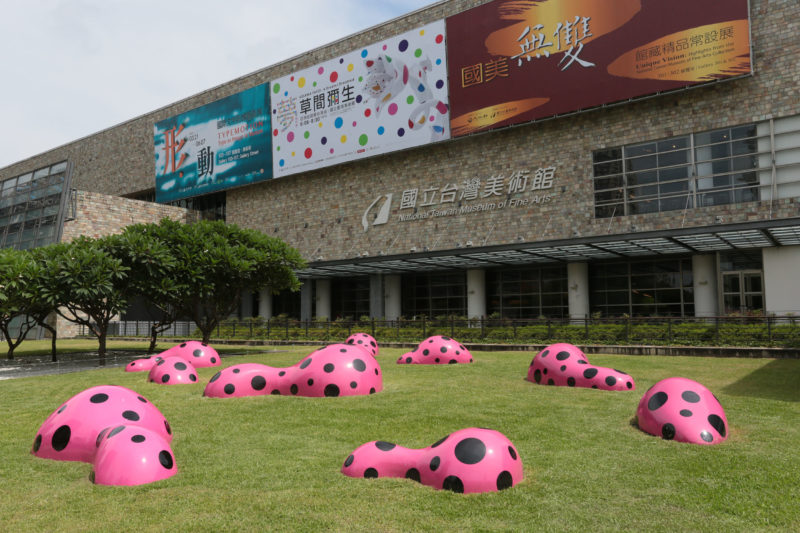 The majority of the infinity nets or polka dots were derived directly from her phantasms, which were ultimately influenced by Surrealism, a movement that originated from Paris in the mid-1900s.
Surrealism was closely related to Dada, its principal source, each of which was conceived as a revolutionary mode of thought ad action – a way of life rather than a set of stylistic attitudes. The central idea of the movement was to release the creative powers of the unconscious mind.
– Chilvers, 2003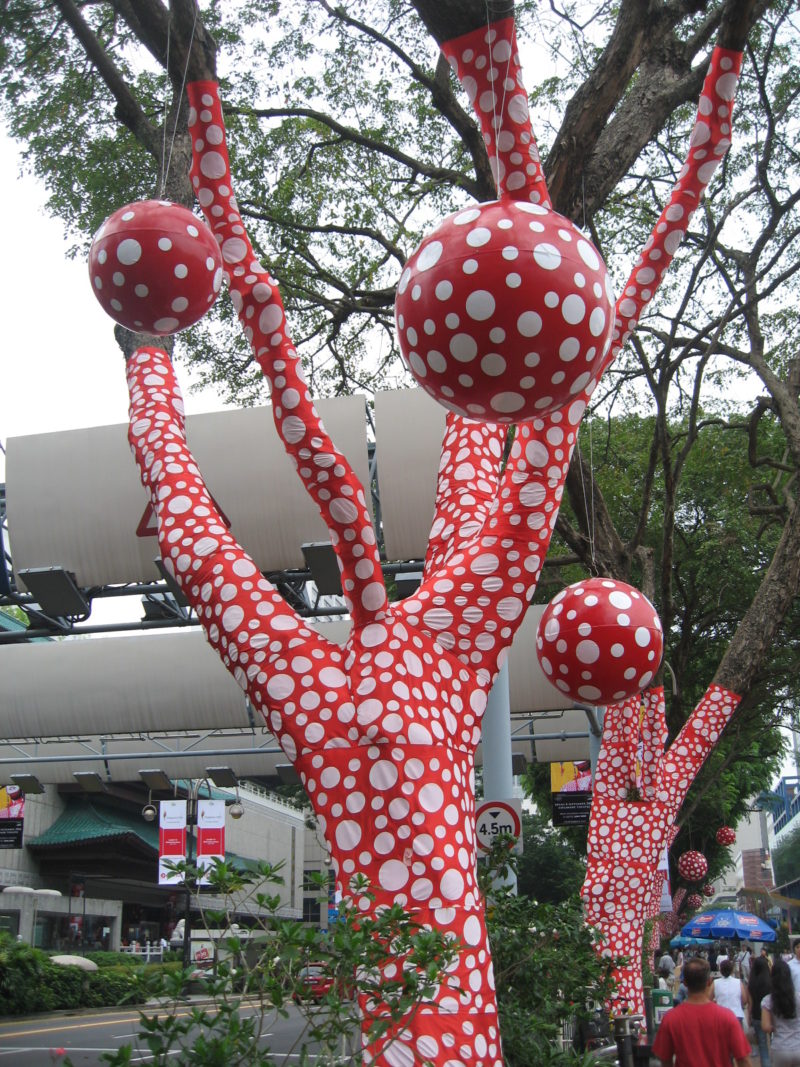 Looking at the polka dot pieces, we can see that it was painted in only two uniform colors on the surface and no highlight or tone. This painting style originated from the United States in the late 1940s and early 1950s. It was pioneered by the likes of Mark Rothko and Barnett Newman, the two artists whom Kusama's work has also been compared to.
Yayoi Kusama's Installation: Helsinki Esplanadi Park
Pumpkin sculptures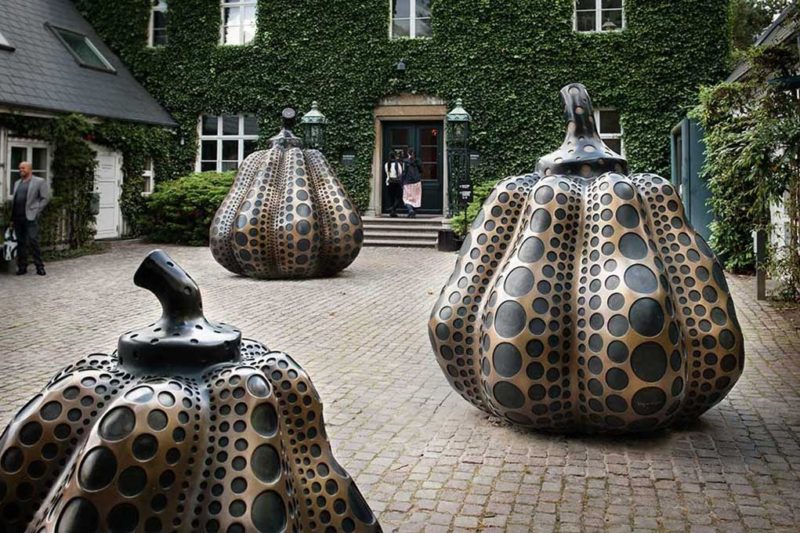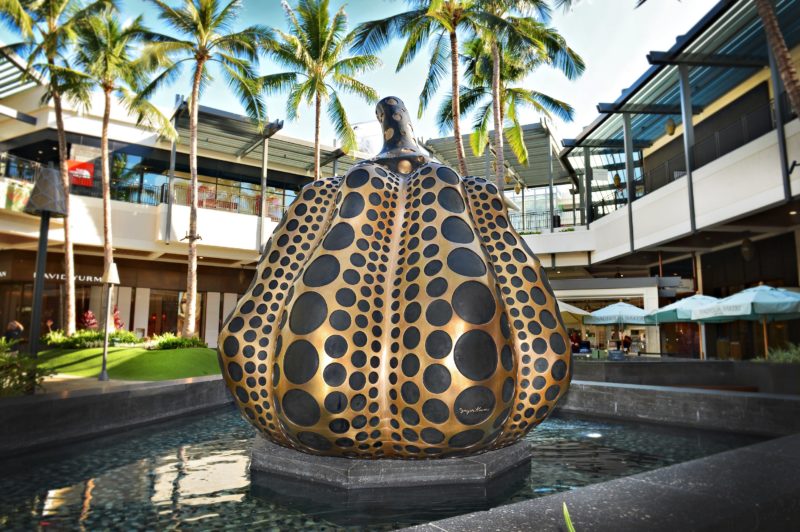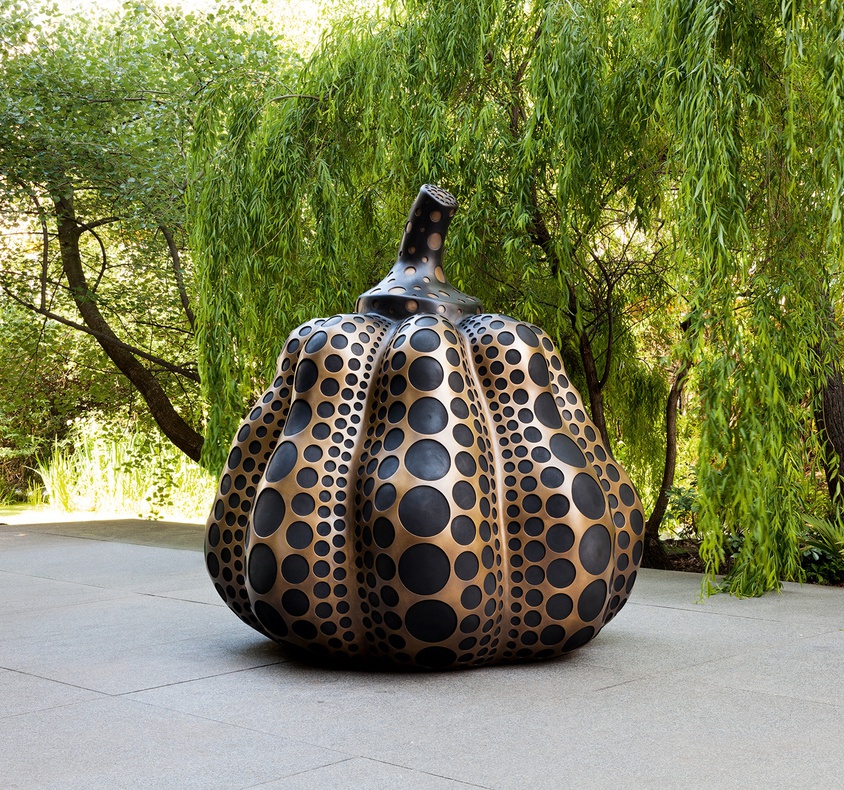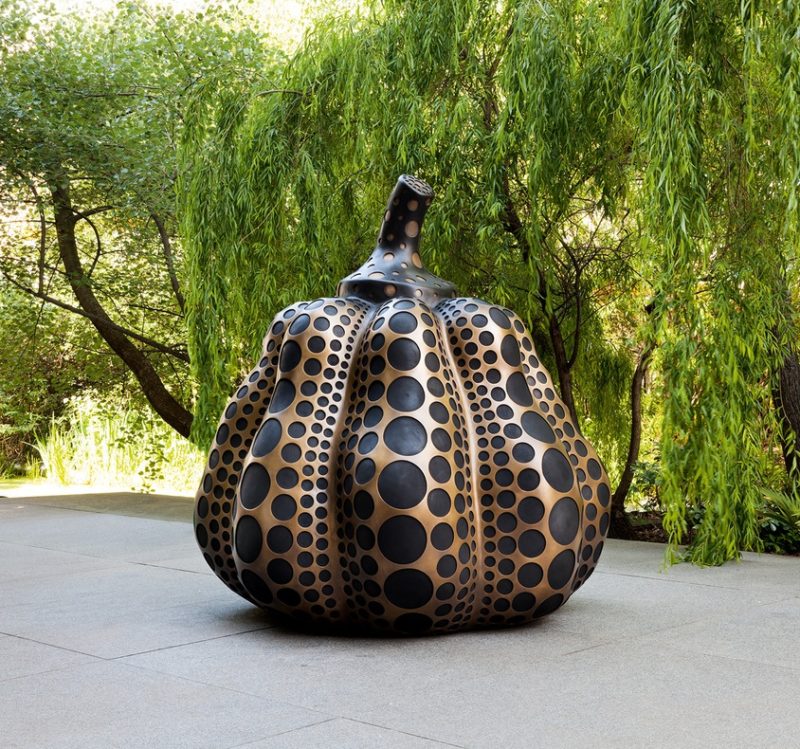 Japanese Artist Yayoi Kusama Brings Her "Dots Obsession" to the Glass House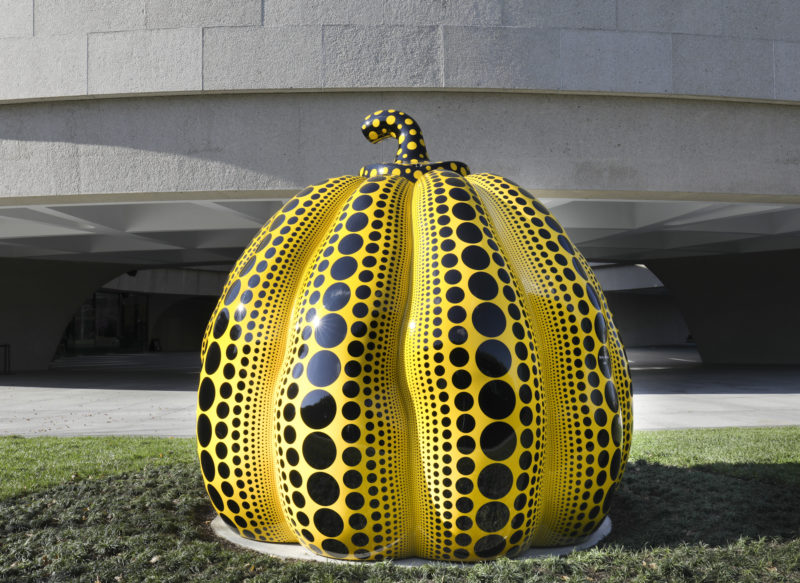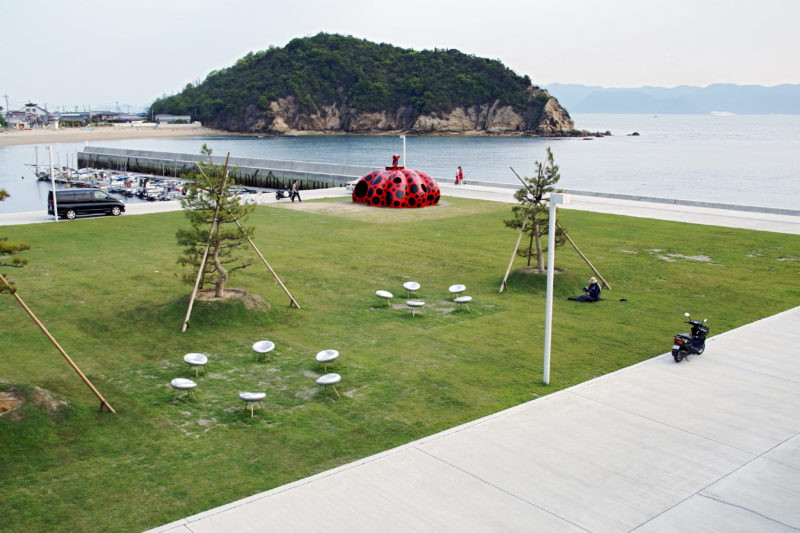 Flower sculptures
Flowers that bloom at midnight is a series of large scale sculptures, each with its distinct boisterous color scheme. Flowers have, for a long time being an essential part of Kusama's oeuvre. She uses their metaphorical properties to reflect many of her conceptual preoccupations, along with her disregard for dichotomies.
Kusama's flowers symbolize life and death, masculinity and femininity, and celebration and mourning. Their complex form – fragile, organic, finding uniqueness through repetition – finds resonance throughout her work.
Since she was a kid, Kusama has been around flowers thanks to her family's nursery business. As a means of instinctively working through her early experiences, flowers get featured in plenty of her first drawings and paintings. In one of her earliest photographs, she could be seen almost obscured by large chrysanthemums.
From a very young age, I used to carry my sketchbook down to the seed-harvesting grounds. I would sit among beds of violets, lost in thought. One day I suddenly looked up to find that every violet had its own individual, human-like facial expression, and to my astonishment, they were talking to me… They were all like little human faces looking at me.
– Kusama Yayoi, Infinity Net, the Autobiography of Yayoi Kusama. Tate 20011. pp. 62).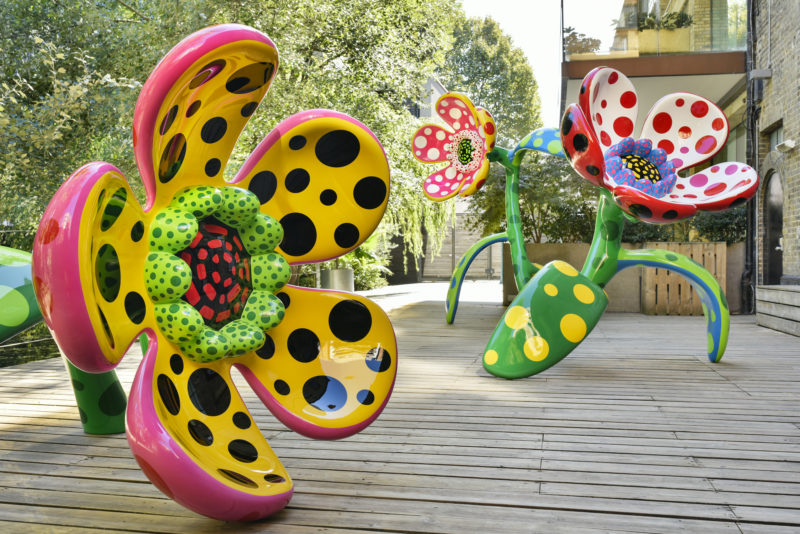 In another excerpt, she says:
One day, when I was a little girl, I found myself trembling, all over my body, with fear, amid flowers incarnate, which had appeared all of a sudden. I was surrounded by hundreds of violets in a flower garden. The violets, with uncanny expressions, were chatting among themselves like human beings. No sooner had they and I had spiritual dialogues than I became infatuated with them, drawn into the glitter of illusion, away from this world.
– Kusama Yayoi. "The Struggle and Wandering of My Soul" .1975, in exh. cat. Yayoi Kusama, Phaidon. pp. 118).
She first started incorporating flowers in her works in the late 1990s, which also marked her departure from a painter or colorist to a sculptor.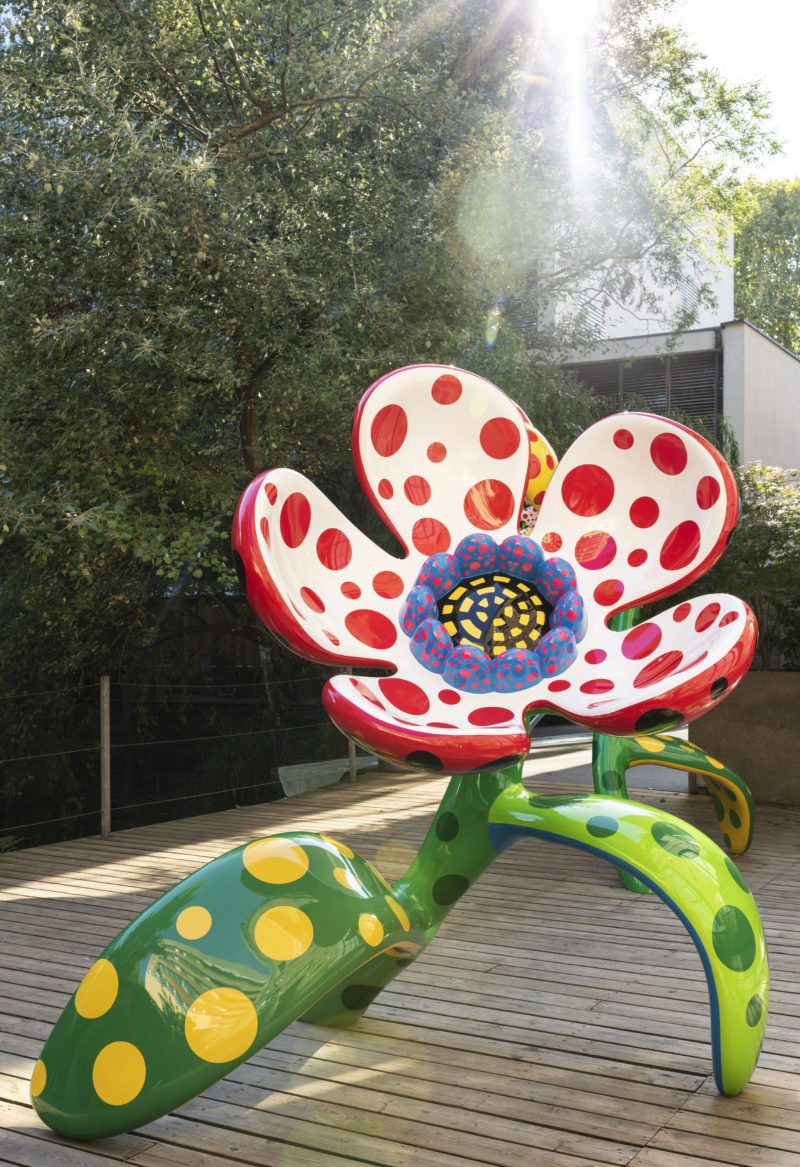 Each flower measures between four and six feet high and cast in long-lasting fiberglass-coated plastic and metal. They are hand-painted in gallant opaque subtractive colors with the artist's signature polka dot she refers to as infinity nets.
Looking like an intoxicating science-fiction object, Flower that Bloom at Midnight is an incredible manifestation of the artist's deliria embodying one of her most quintessential and customary motifs, the flower. In her childhood, Kusama would experience hallucinations in which a large number of flowers would blossom, fill the space around her, and communicate with her.
Featuring large scale and corporeal physicality, this series compels the audience to participate and interact with it by walking around its outcrops. The giant flower appears animated, with its vertical and outward twisting and stretching of leaves. It seems eager to get up and come to life. Its form is uniquely anthropomorphic, with a stem resembling a neck, leaves the limbs, and the blossom the head. The capitulum is swapped with a giant eye.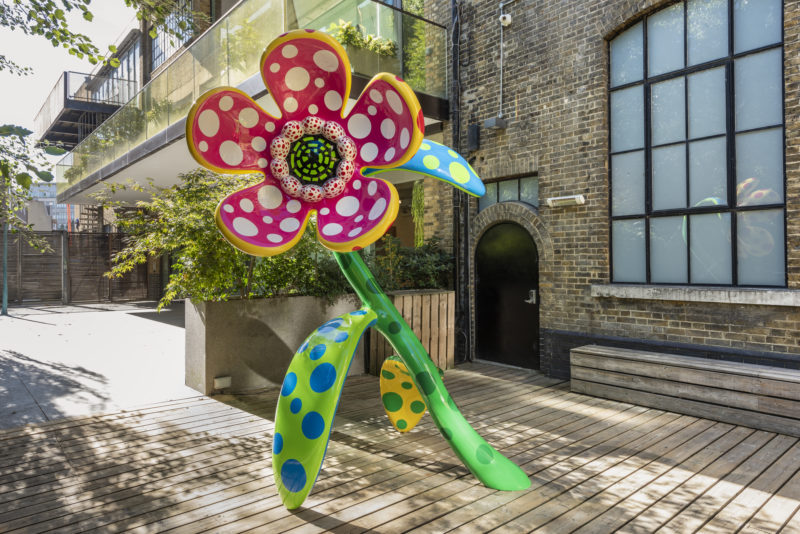 Exhibitions
To honor Kasuma's 80th birthday, Gagosian Gallery facilitated her first exhibition in Los Angeles since the major LACMA/MoMA survey Love Forever: Yayoi Kusama, 1958/1966 in 1998. The centerpiece of the show was the sculptural ensemble Flowers that Bloom at Midnight.
The piece was also displayed at the Queensland Gallery of Modern Art in Brisbane, Australia, in 2011. In Paris, the Tuilleries Gardens showed five flowers to resemble an artificial garden in collaboration with the Louvre. The latter exhibition overlapped with her first French retrospective at the Center Pompidou in 2012.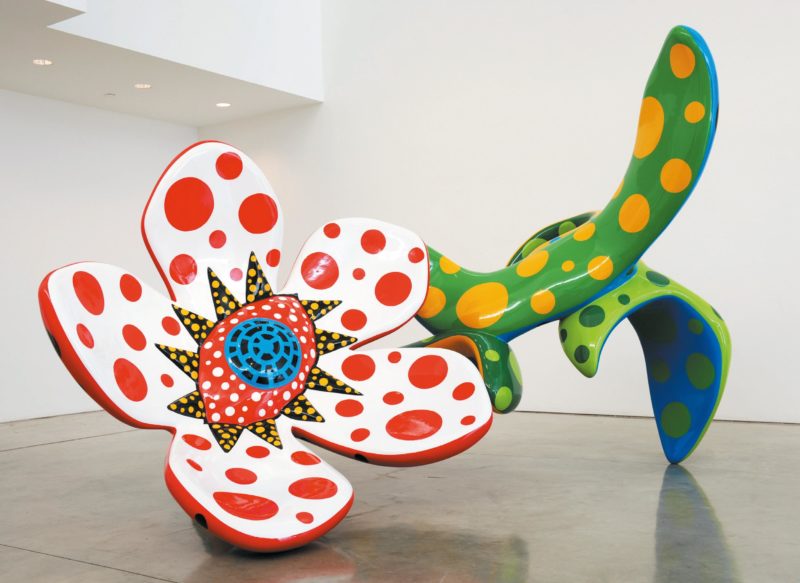 Influences
The flowers' subtractive colors and infinity nets are believed to have been influenced by color fielding painting. This is a type of abstract painting in which the whole picture or surface consists of large expanses of more or less unmodulated color, with no strong contrasts of tone or obvious focus of attention.
Flowers that bloom at midnight might have also been influenced by pop art, a movement based on the imagery of consumerism and pop culture, which was prominent in the late 1950s to early 1970s, mainly in Britain and the United States.

Tentacle sculpture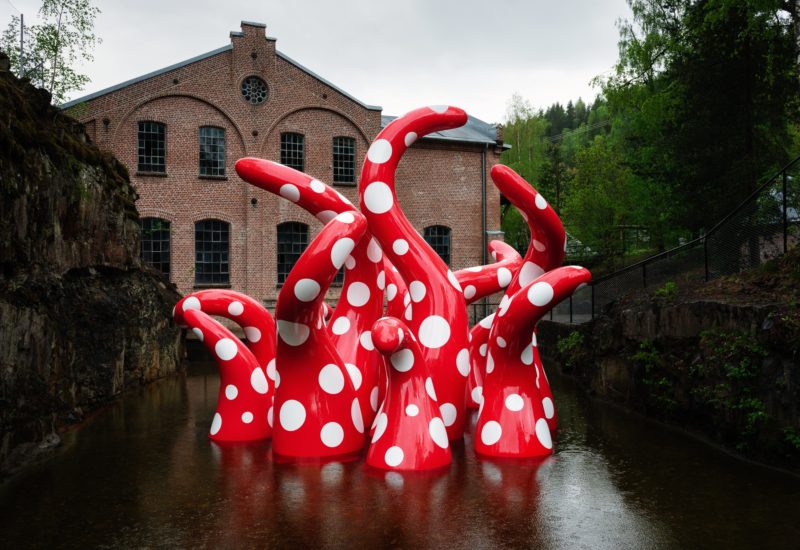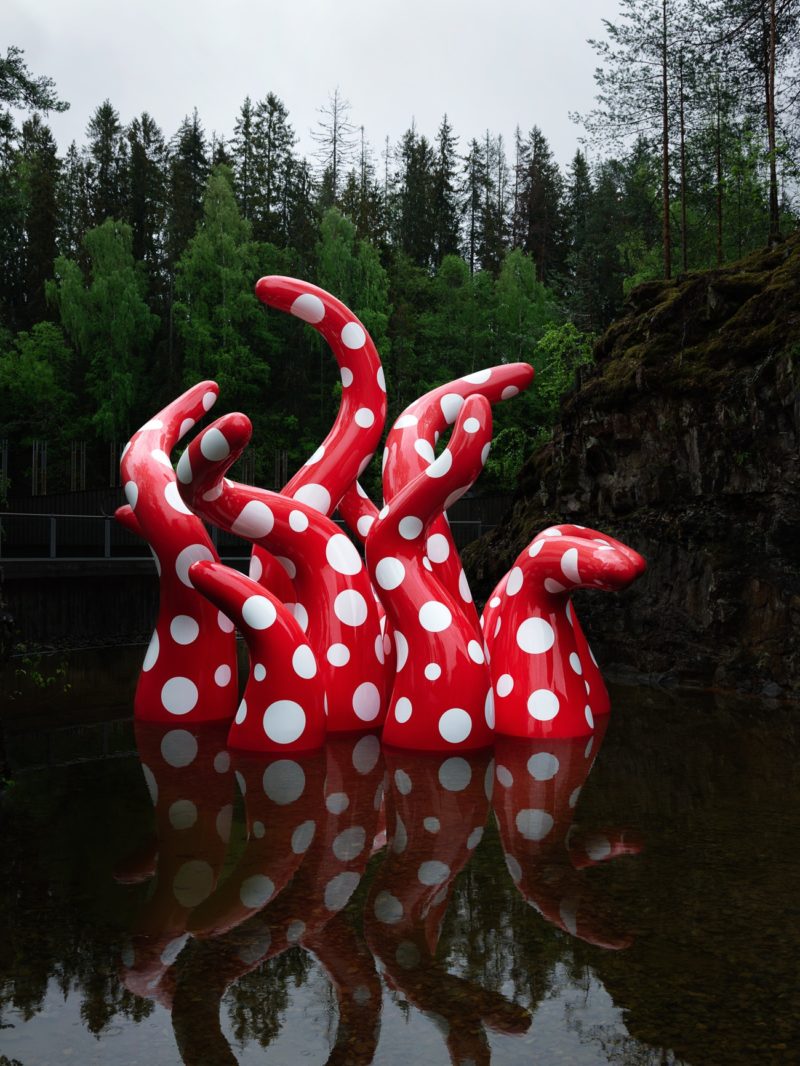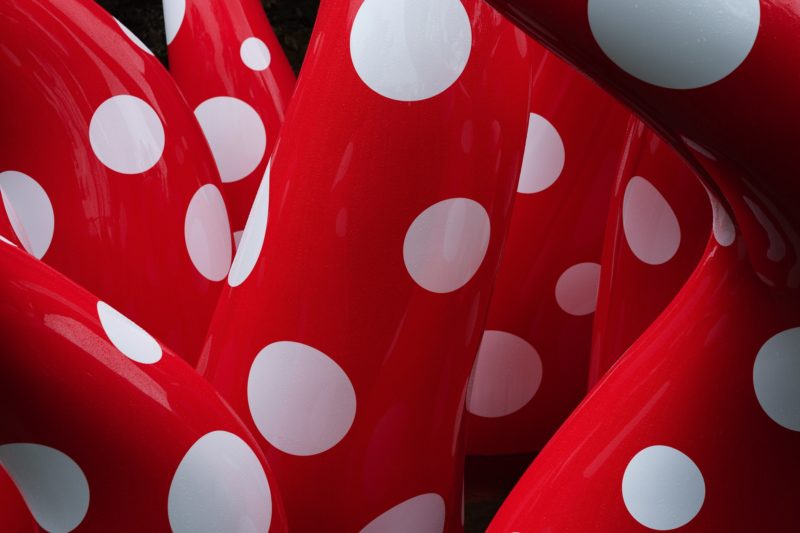 More by Yayoi Kusama