Mallam Galadima Ahmadu with Jamis, Nigeria 2005
About Pieter Hugo
Pieter Hugo is one of South Africa's most recognizable photographers most notably known today for his Hyena and Other Men series. Pieter has made a habit of photographing African landscapes and its marginalized people, so it does not come as a shock that his body of work consists of peculiar subjects such as albinos, the blind and even AIDS victims lying dead in their coffins. Pieter has never been afraid to push boundaries and it shows in his photographs. The end goal of many of his celebrated works has been to address the complex realities of race and identity issues in marginalized African societies through his photographs.
The Hyena and Other Men
Case in point, Hugo's the "The Hyena and Other Men" (2005-2007), which is by far one of his most talked about project was not planned and was serendipitous in many ways. It all started after Hugo received an email from a friend containing images of Nigeria's Gadawan Kura, or hyena handlers in 2003. These hyena handlers were later to become the primary subjects of the "The Hyena and Other Men" series. As well as being displayed in numerous exhibitions from all over the world, the photographs of the Hyena Men have been converted and posted as memes all over the internet, appropriated by world-class performers such as Beyonce and been published into a now rare book.
Conclusion
It is easy to see why the Hyena Men from Nigeria garnered so much critical acclaim. The pictures were photographed during the Hamattan season, which helped to bring a dusty and raw quality to the photographs. The dusty quality was important in helping to highlight the staggering kinship between these beasts and the people that live comfortably around them. Because hyenas are typically not found communing with people side by side, it is almost impossible for anyone to look away at the trans-species relationship unfolding in what appears to be a community marginalized by poverty and rural life.
The photographs play a critical role in raising questions of how and to what extent animals and humans can live together. Although Hugo captured the images of the men and their hyenas during their moments off stage, it remained clear that the men were still performing in a sense, in complicity with the photography, while the hyenas remained tamed and chained. This helps to point out that although the men and hyenas communed together, it is still very evident that one species has more power over the other, a state that will most likely never change.
Photos with hyenas

Mallam Galadima Ahmadu with Jamis, Nigeria 2005

Mallam Mantari Lamal with Mainasara, Nigeria 2005

Mallam Mantari Lamal with Mainasara, Nigeria 2005

Mohammed Rabiu with Jamis, Asaba, Nigeria 2007

Mohammed Rabiu with Jamis, Ibusa, Nigeria 2007

Mummy Ahmadu and Mallam Mantari Lamal with Mainasara, Abuja, Nigeria 2005

Abdullahi Ahmadu with Mainasara, Nigeria 2005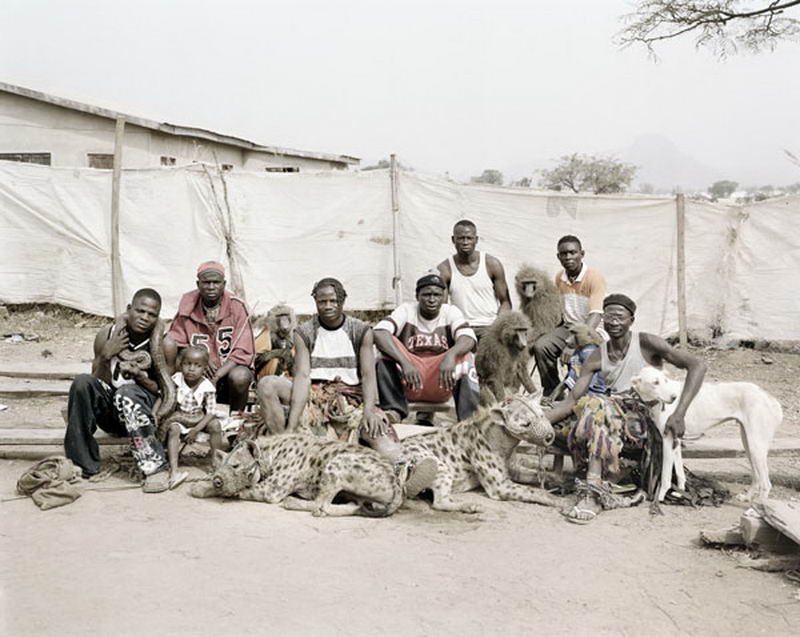 The Hyena Men of Abuja, Nigeria 2005, II

The Hyena Men of Abuja, Nigeria 2005

Abdullahi Mohammed with Gumu, Ogere-Remo, Nigeria 2007

Abdullahi Mohammed with Mainasara, Lagos, Nigeria (smoking) 2007

Abdullahi Mohammed with Mainasara, Lagos, Nigeria 2007

Abdullahi Mohammed with Mainasara, Lagos, Nigeria 2007

Abdullahi Mohammed with Mainasara, Ogere-Remo, Nigeria 2007

Abdullahi Mohammed with Mainasara. Ogere-Remo, Nigeria 2007

Jatto with Mainasara, Ogere-Remo, Nigeria 2007

Jatto with Mainasara, Ogere-Remo, Nigeria 2007

Jatto with Mainasara, Ogere-Remo, Nigeria 2007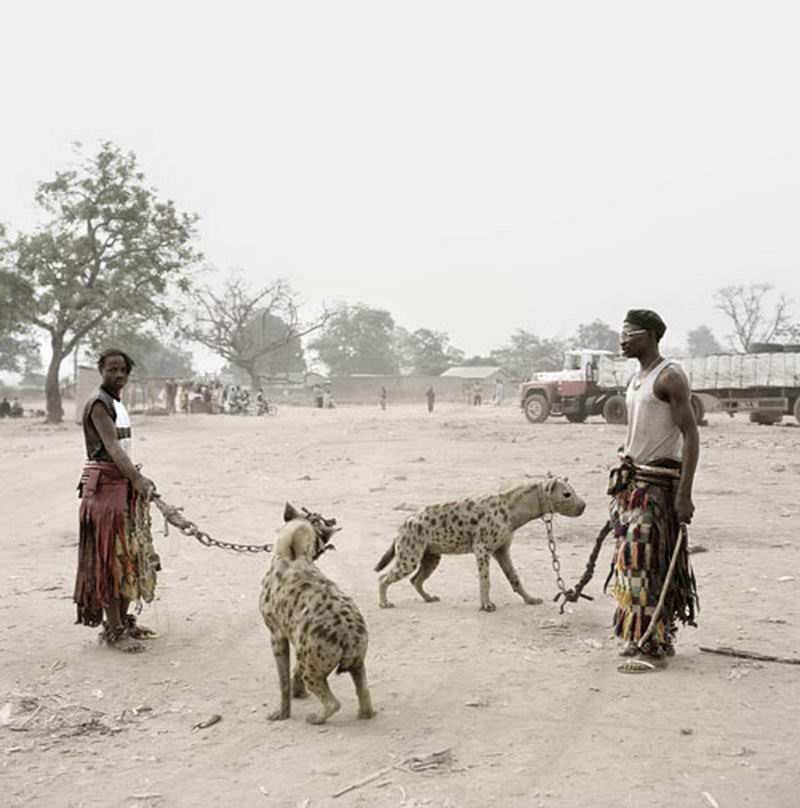 Mallam Galadima Ahmadu with Jamis and Mallam Mantari Lamal with Mainasara, Nigeria 2005 II

Mallam Galadima Ahmadu with Jamis, Abuja, Nigeria 2007
Photos with monkeys

Mallam Umaru Ahmadu with Amita, Nigeria 2005

Mora, Ajasco and handler, Lagos, Nigeria 2007

Motorbike rider with Amiloo, Nigeria 2005

Nura Garuba and friend with their monkey, Abuja, Nigeria 2005

Umoru Murtala with School Boy, Asaba, Nigeria 2007

Umoru Murtala with School Boy, Asaba, Nigeria 2007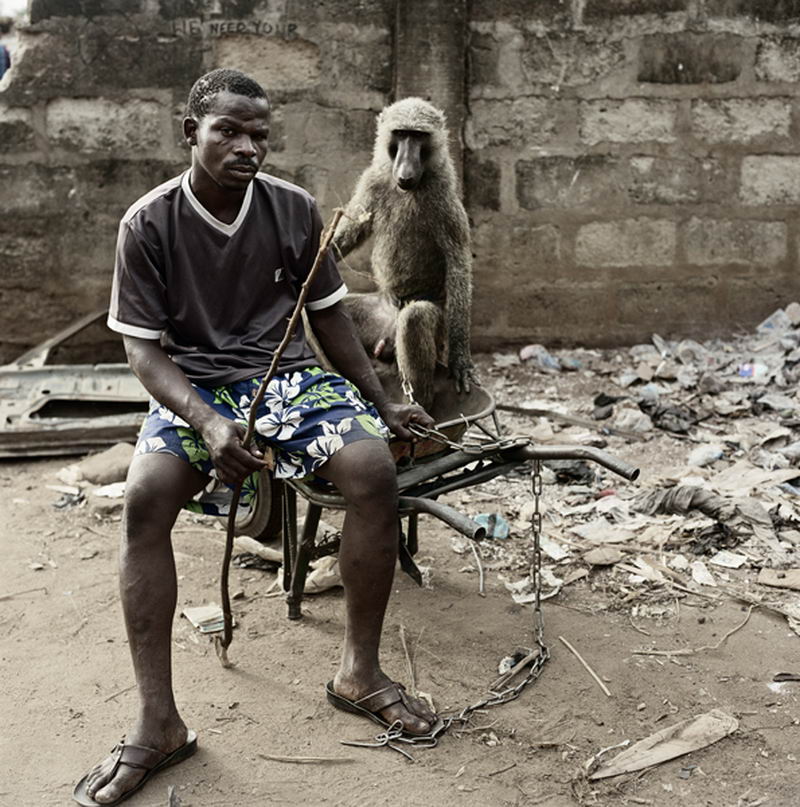 Abdullahi Ahmadu with Emeka, Ibusa, Nigeria 2007

Abdullahi Ahmadu with Emeka, Ibusa, Nigeria 2007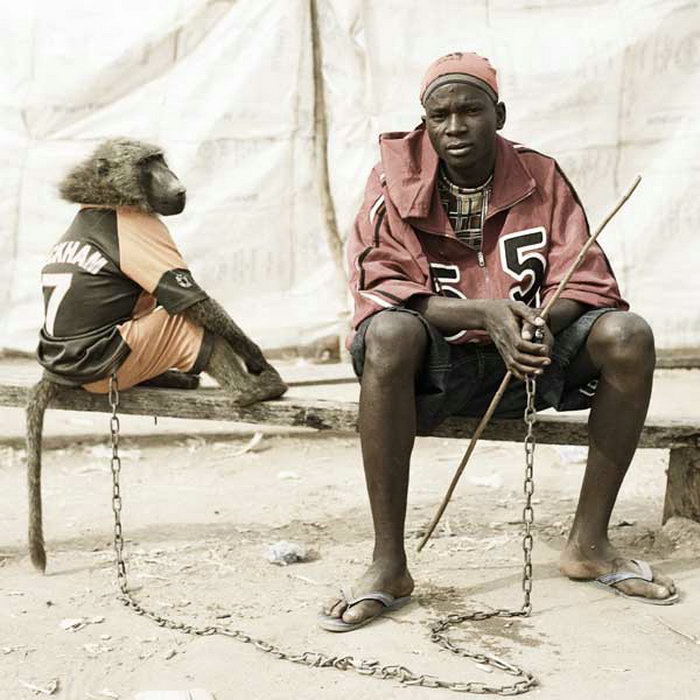 Abdullahi Galadima with the monkey Amiloo, Nigeria 2005

Abu Kikan with Ajasco, Asaba, Nigeria 2007

Alhaji Hassan with Ajasco, Ogere-Remo, Nigeria 2007

Amiloo and Clear, Abuja, Nigeria 2005

Animal handler with Ajasco, Lagos, Nigeria 2007

Dayaba Usman with the monkey Clear, Nigeria 2005

Emeka, motorcyclist and Abdullahi Ahmadu, Asaba, Nigeria 2007

Garuba Yaku with Rando, Nigeria 2005

Garuba Yawu with Mora, Ogere-Remo, Nigeria 2007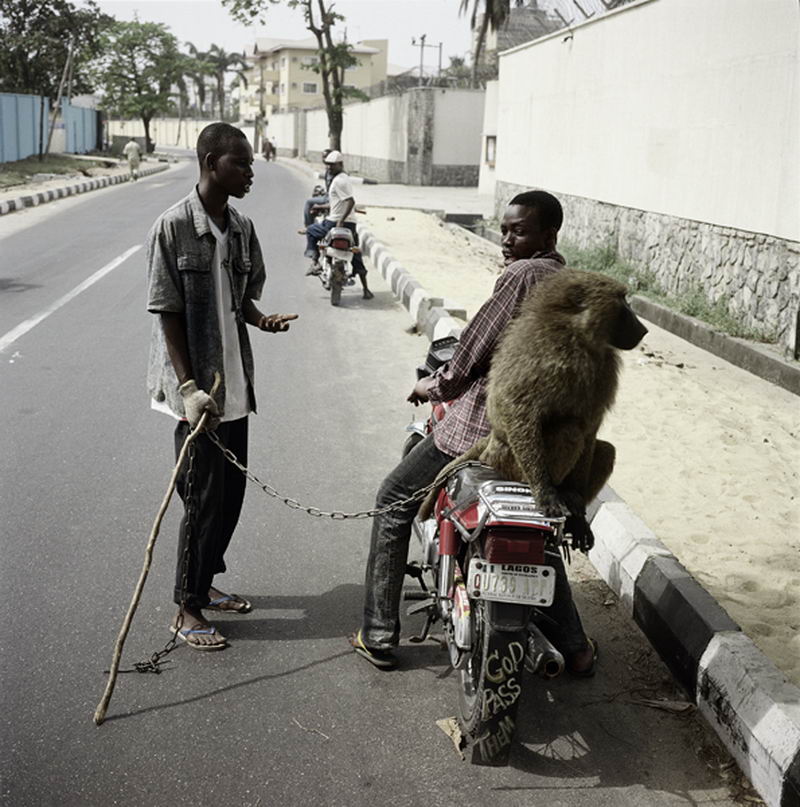 Handler with School Boy, Lagos, Nigeria 2007
Photos with other animals

Mummy Ahmadu and a snake charmer with a rock python, Abuja, Nigeria 2005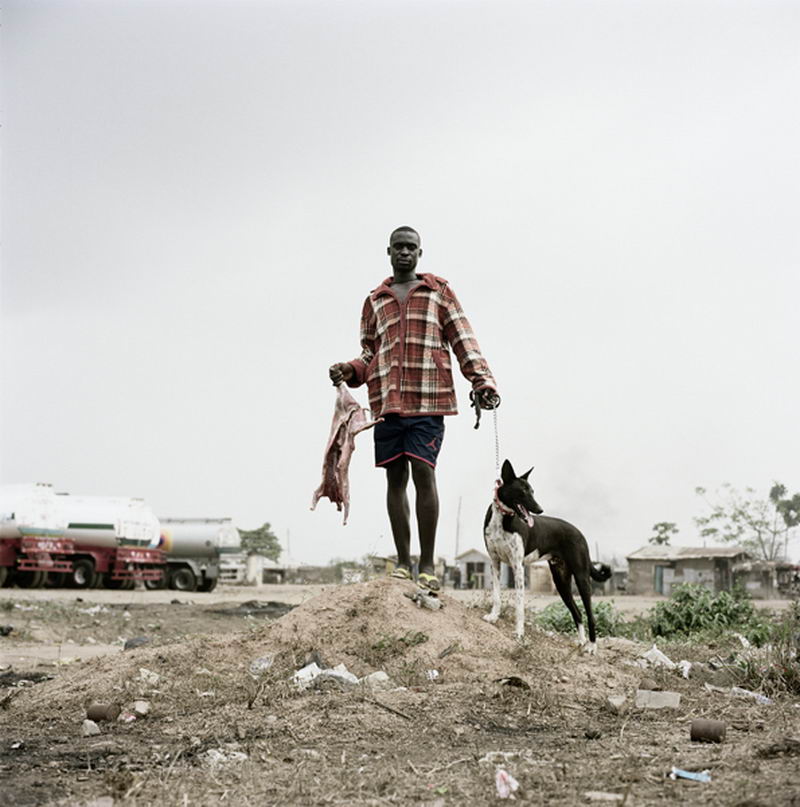 Abdullahi Mohammed with wild dog and antelope carcass, Ogere-Remo, Nigeria 2007
Related works