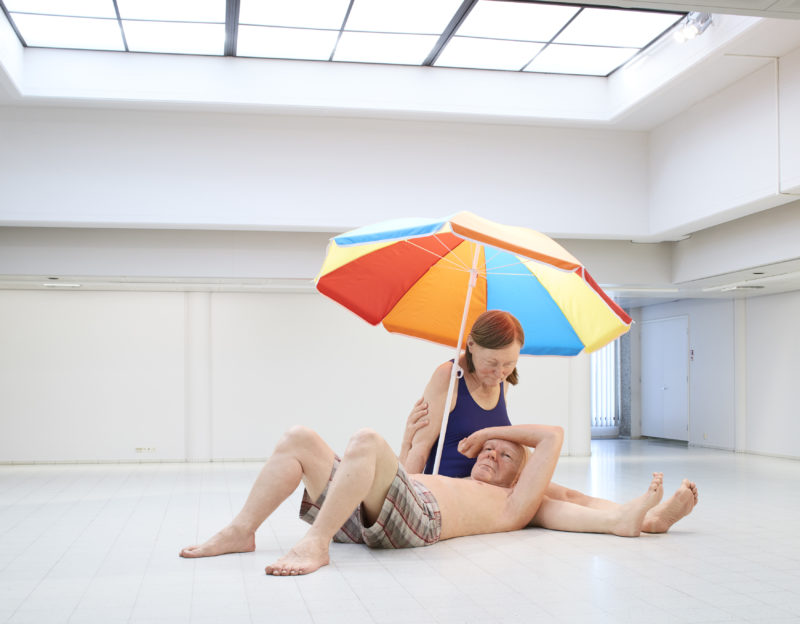 Introduction
At first glance, especially from a picture, it is easy to assume that the Couple under an Umbrella sculpture is a real-life image frozen in time. In a world marred by conflict and competition, everybody appreciates the display of affection by people.
The couple in question is quite elderly, and the artist must have chosen to use this age because of its ability to influence multiple generations. The sculpture tells the story of love at the Fondation Cartier pour l'art contemporain in Paris, France where it rests on a pavilion designed by Jean Nouvel1.
Documenting Mueck's work
This work marks a departure from the normal as far as previous works by the artist are concerned. The coupling of art subjects is the stage that Ron Mueck has set for an intimate documentary by Gautier Deblonde. To bring to life the effort and time spent creating such a piece, an exhibition must include photos to complement the still life.
Viewers can see the life that the sculpture takes from nothingness to wholeness. The artist does seem oblivious to the presence of cameras around him because he can be seen beginning his work by first drawing a pencil sketch, then preparing the wax or clay maquettes.
It is interesting to see how each of the forms to be used is sculpted, then molded, at times appearing as if it is losing its form beneath the rubber, shellac, and plaster used.
Ron Mueck - Still Life: Ron Mueck at Work - 2013
Details of the sculptures
If you think that laying molds is easy, wait until Mueck starts adding the details: body hair, wrinkles and skin blemishes, which must then be sanded down and painted to reality colors. The level of concentration says a lot about what the artist thinks of his abilities, and this is emphasized in instances where he appears to make a mistake.
Making of video
Ron Mueck - Making-of - 2013
Conclusion
We live in an era where everyone wants to be a celebrity, and those we consider influential in our lives, receive the glamor. Mueck draws inspiration from the world at large, finding content for his work from the intensity of everyday life.
His career has evolved from making films and puppets designed for children. In the new film, Still Life: Ron Mueck at Work, the artists get to be exposed for 50 minutes. Visitors to the museum will not only have the tangible sculpture to marvel at but also the film that sheds more into the life of its creator.
Footnotes