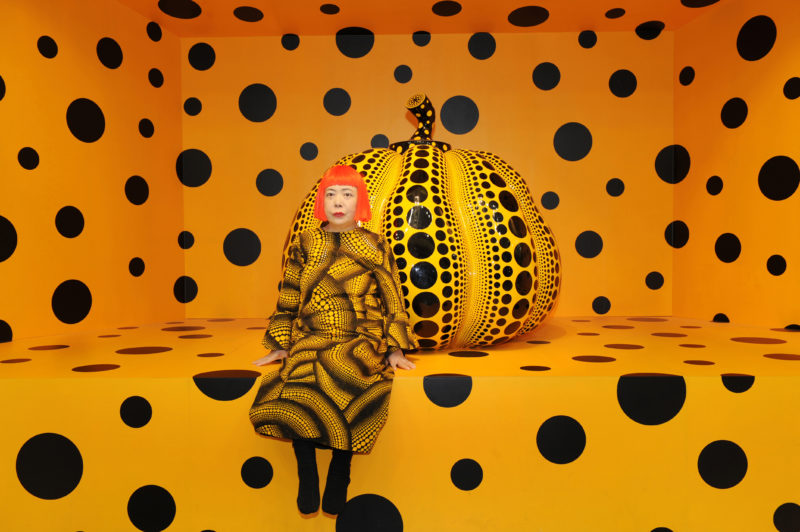 Introduction
A life without art would be soundless, tasteless, and shapeless; essentially, an abyss. A life without art would be dull because art is beneath the structure of everything and anything that matters. No one recognizes its fundamental need to society and audiences more than artist Yayoi Kusama does.
The global success of Kusama
Yayoi Kusama has consolidated a name for herself for her genius and innovation. As one of the most highly sought after artists of her generation1, this Japanese artist has been long known for attracting massive masses to her incredible exhibitions. The demand for tickets to her various global shows and exhibitions is so great that fans are often forced to book their tickets months in advance. Not only is the 90-year-old artist a hit with the crowds, but she also enjoys great success in the red-hot art market, which is a fact that has been enhanced even further due to her famous international retrospectives. Also regarded as the most expensive artist of the years 20142 & 2016, Kusama's contribution does not just stop in the art world.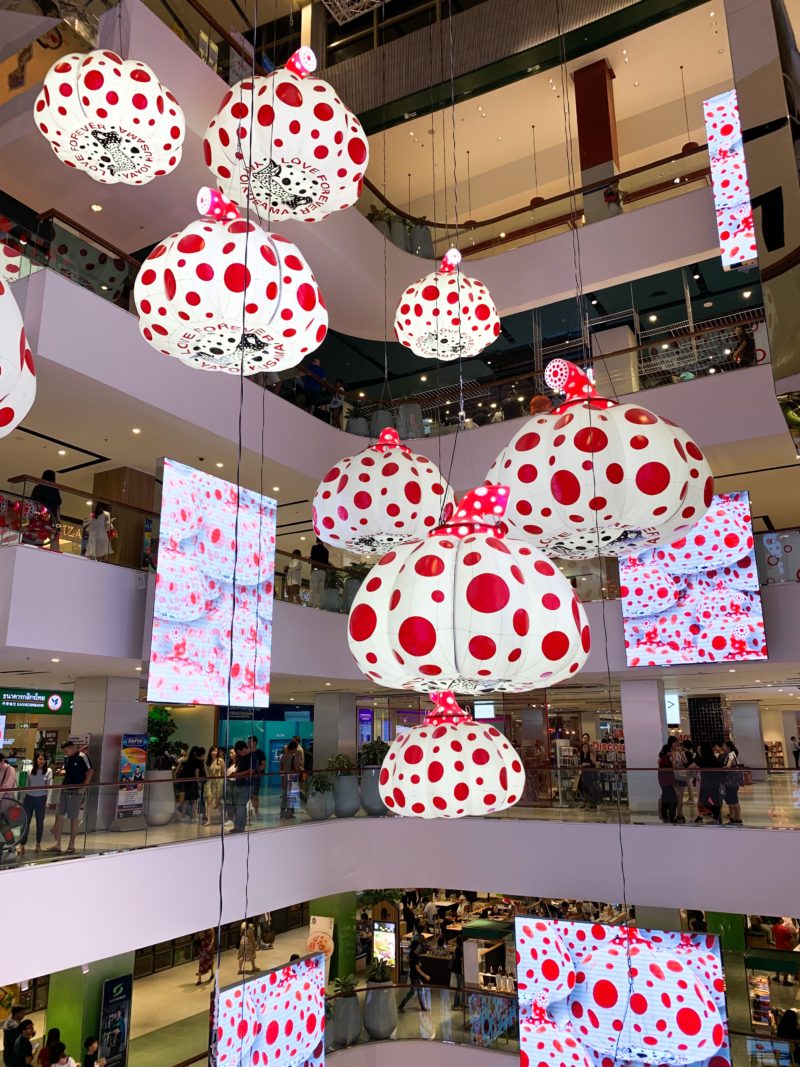 Evening out the gender imbalance of the art world
Because of her immense talent and accomplishments, she continues to even out the gender imbalances that characterize the art world so that more living female artists can reach new heights in art-market appreciation. Today, her works can be found in enviable collections of the Los Angeles County Museum of Art, the National Museum of Modern Art in Tokyo, and The Museum of Modern Art in New York.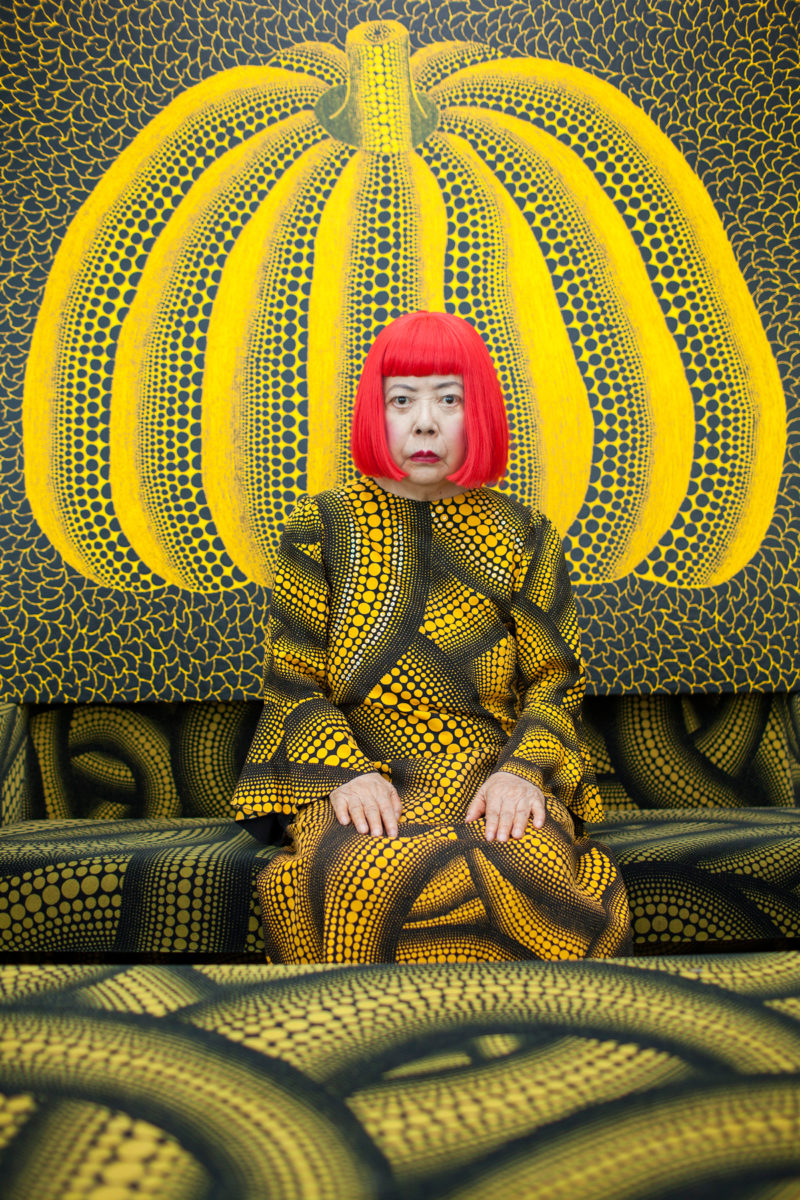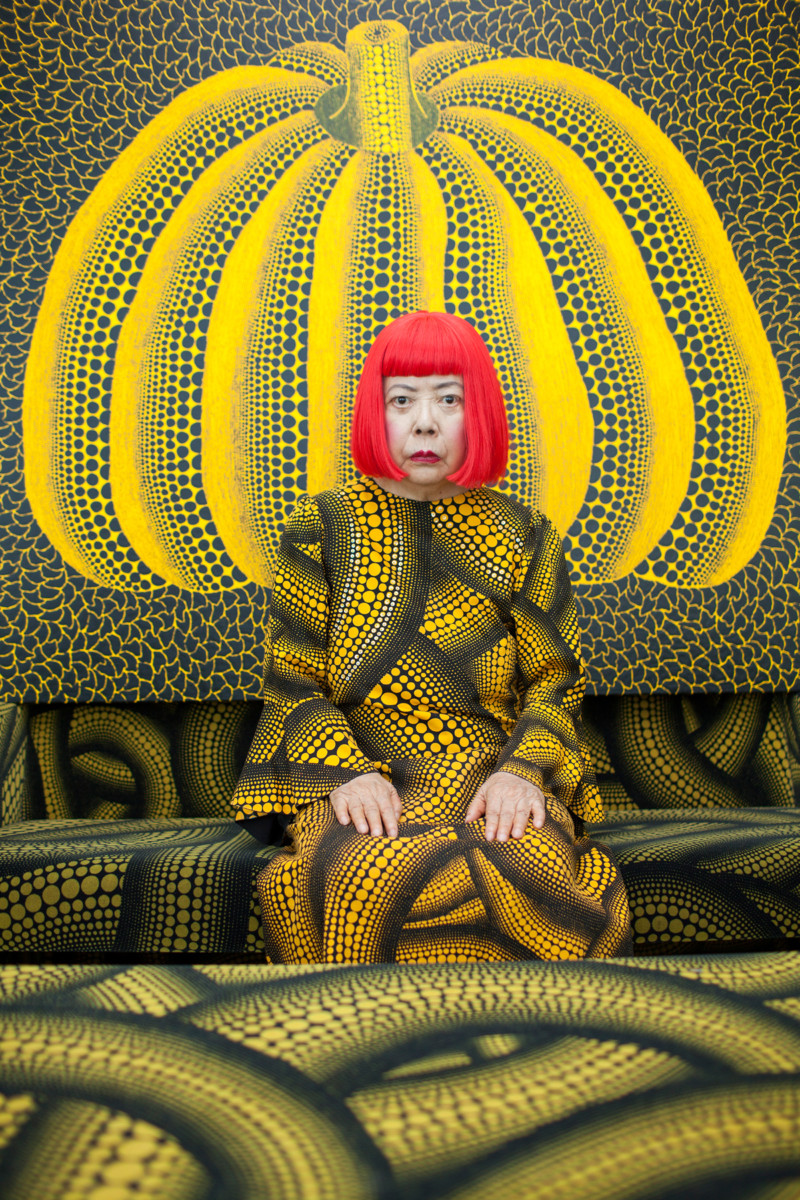 A little about Yayoi Kusama
Yayoi Kusama was born on March 22, 1929, in Matsumoto City, Japan. She was born into a family of affluent merchants that operated a seed and plant nursery farm. Although she grew up in an area characterized by immense natural beauty when World War II had torn up everything, her family life was deeply troubled. As a kid, her mother was physically abusive and often rebuked her for painting while her father was a known philanderer.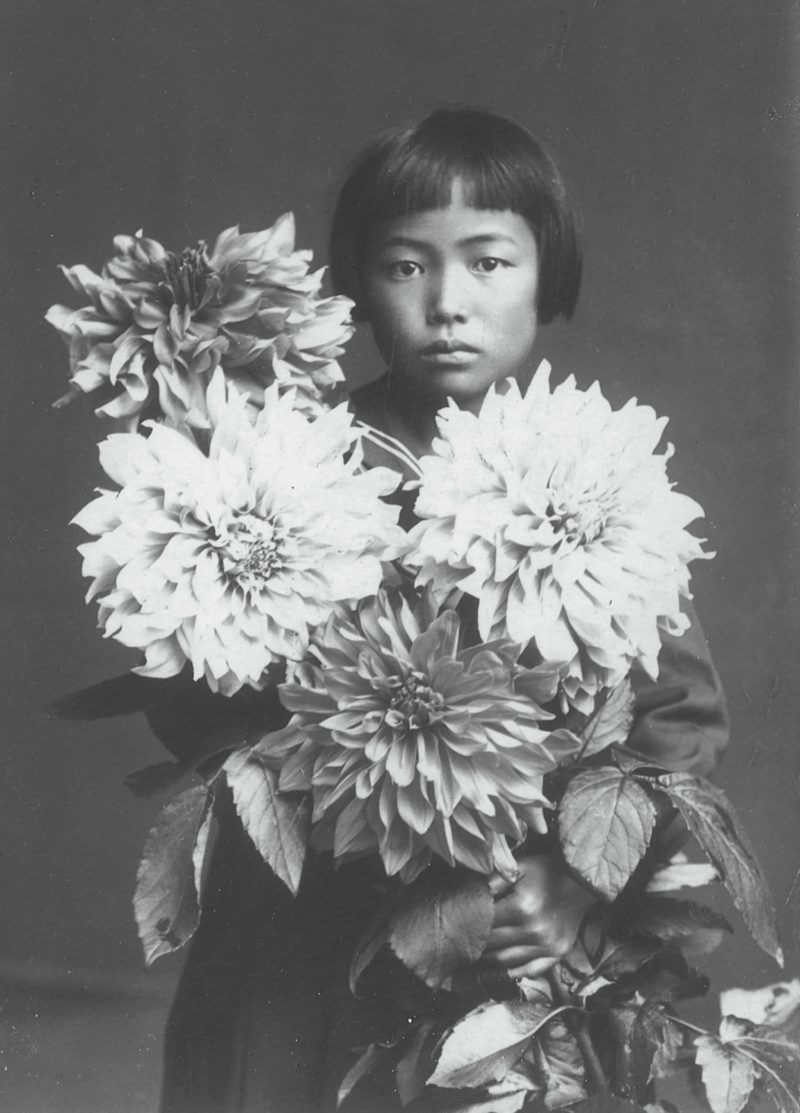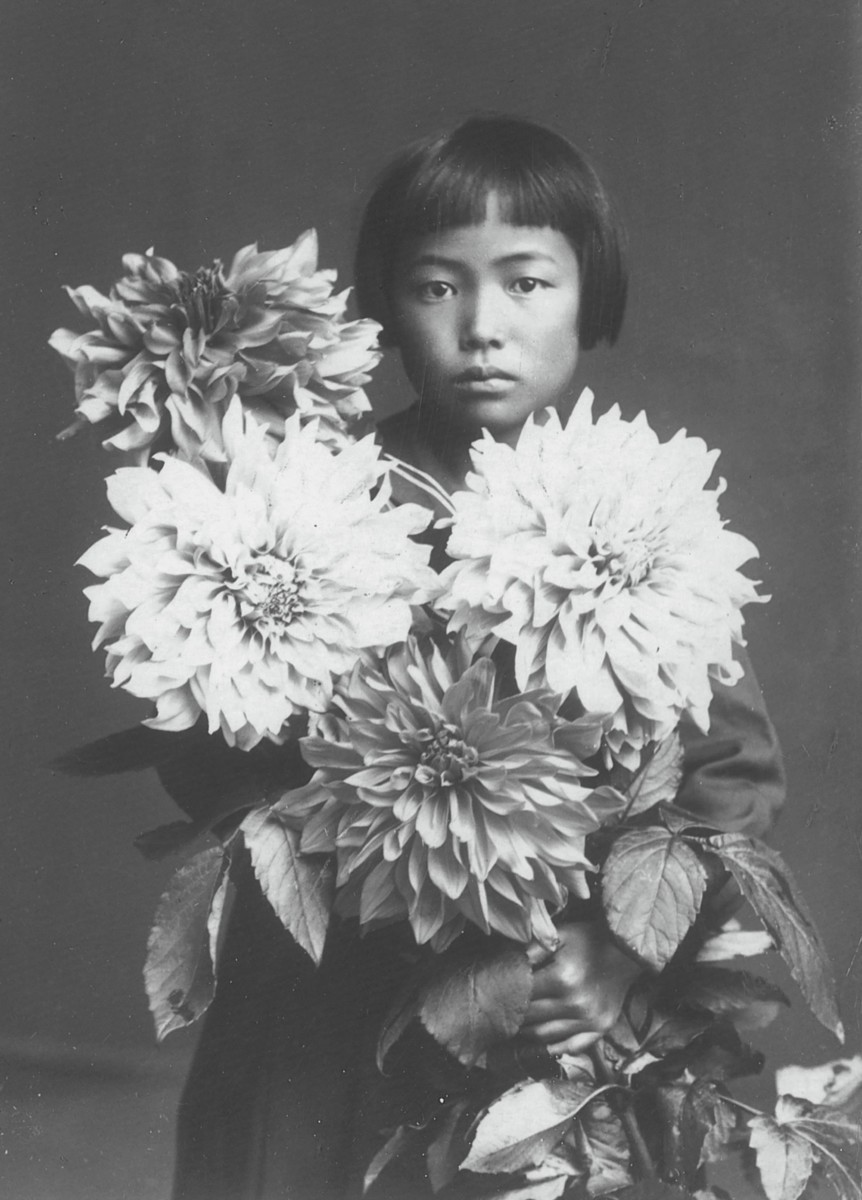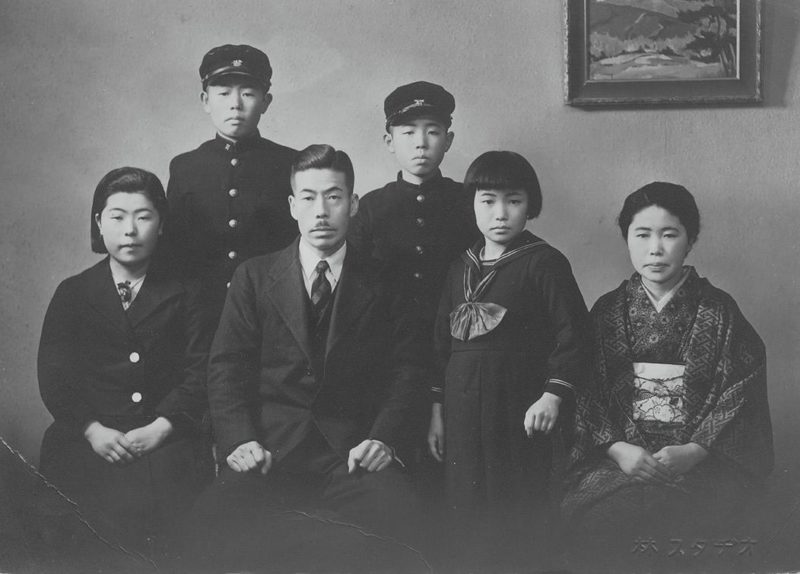 Childhood: Hallucinations & first painting
At the age of 10, she began experiencing hallucinations that would often involve flashes of light, fields of flowers, dots, and pumpkins speaking to her3. These hallucinations would appear so vividly to her that they would seem to come to life and engulf her. Around this time, she began to paint, probably as a psychological response to her hallucinations and fears. Her first ever painting featured an image of a Japanese woman in a kimono that had completely been covered in a sequence of dots and nets. This polka dot patterning was to be featured a lot in her artwork later on for decades to come and later even covered entire buildings4 or museums5.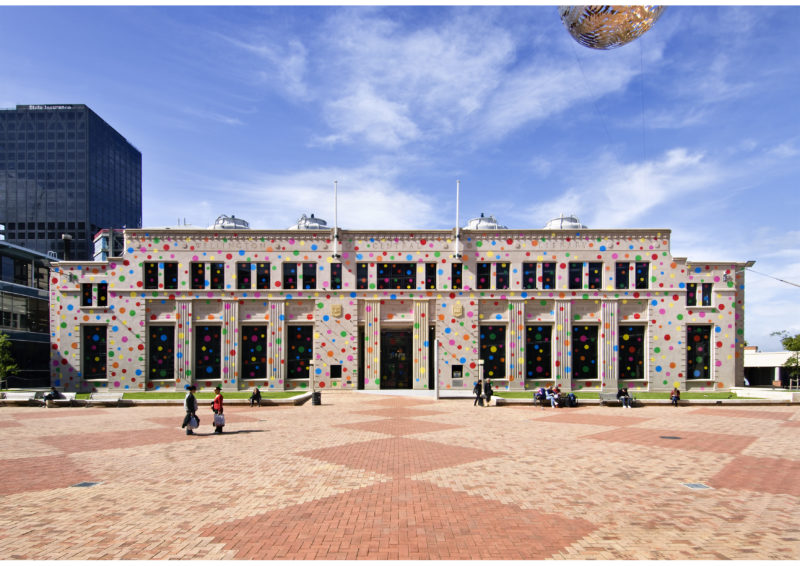 Education in Kyoto & New York
As an adult, she studied painting in Kyoto but moved to New York as a means of advancing her craft like most ambitious artists before her. In New York, she proved herself a formidable force among well-known and revered artists of the time such as Claes Oldenburg and Andy Warhol. Her works were primarily hallucinatory at the time, but she also worked on installations like 1965's Infinity Mirror Room.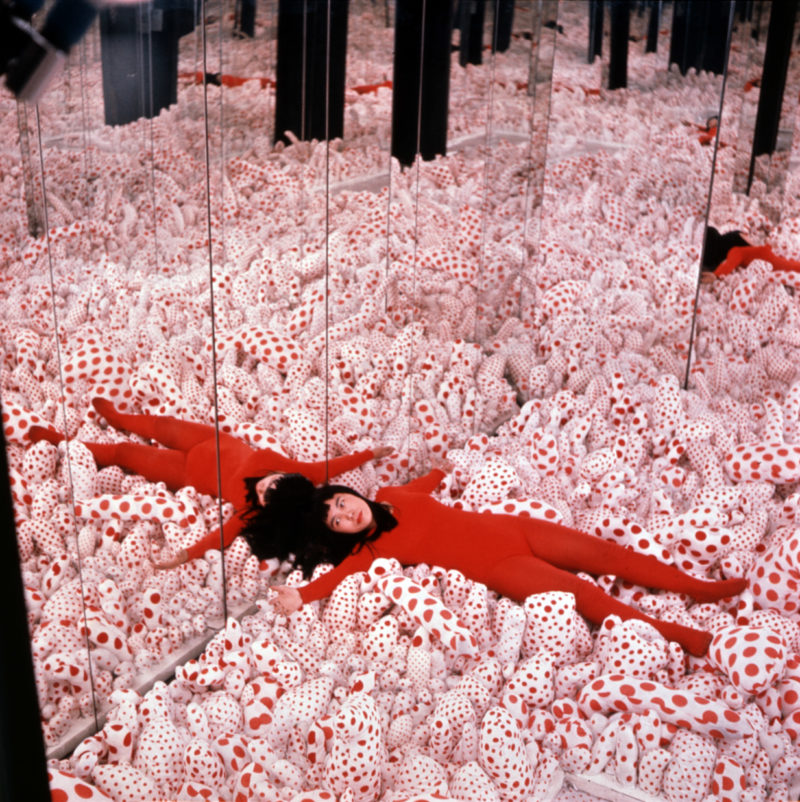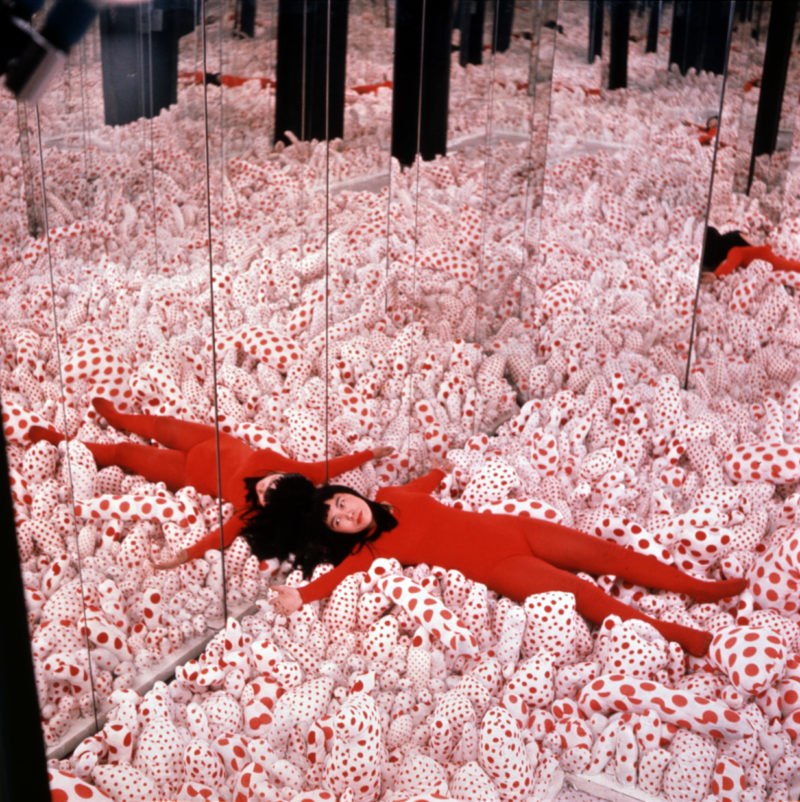 Return to Japan in the 1970s
Although she found initial success in America, she was forced to return to Japan during the 1970s to deal with some mental health issues and remained relatively obscure for many years after that. It was not until 1993 in Venice, Italy, in the Venice Biennale inauguration when she was seen again in public.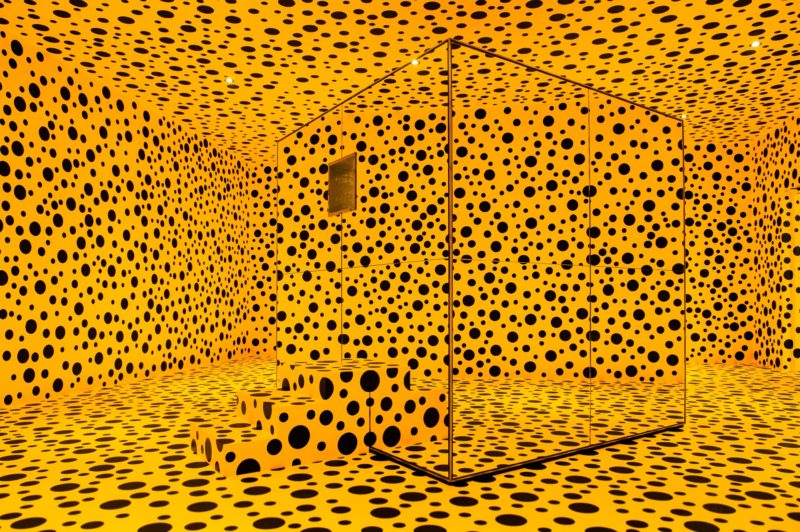 Rise to global fame in the 2010s
Throughout the years after her Venice Biennale, she continued to work and gain critical acclaim. The year 2017, however, can be considered to be one of her best. It included the inauguration of her museum6 in Tokyo, as well as a number of other exhibitions at the Hirshhorn Museum and Sculpture Garden (Yayoi Kusama: Infinity Mirrors"), the National Gallery Singapore ("Yayoi Kusama: Life is the Heart of Rainbow"), and two concurrent shows that were held at David Zwirner in New York ("Yayoi Kusama: Festival of Life" & "Yayoi Kusama Infinity Nets").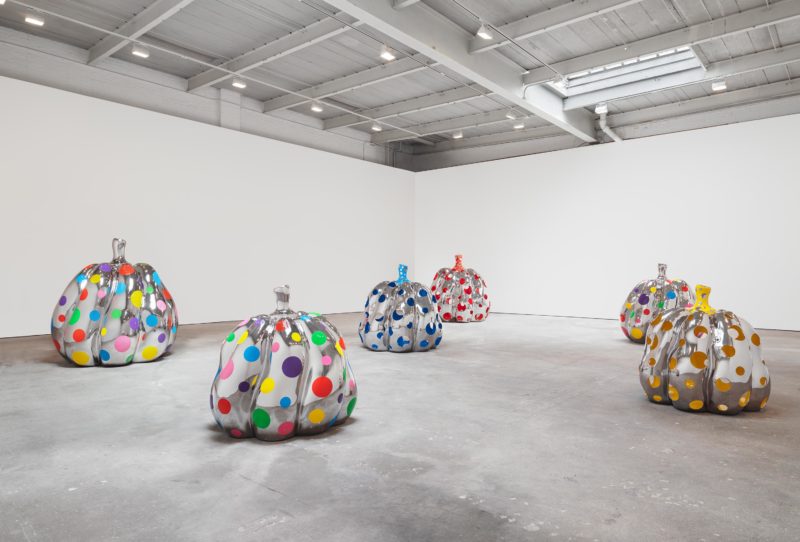 What is Kusama known for?
Yayoi Kusama produces art that ranges from paintings and sculptures7 to film and art installations. Her body of work is typically unified by her repetitive utilization of dots, mirrors, and pumpkins. Although she started with pencil drawings as a young girl, Yayoi's style has grown. Today, she is known mainly for her Instagram-worthy installations that feature color, pattern, and of course, pumpkins.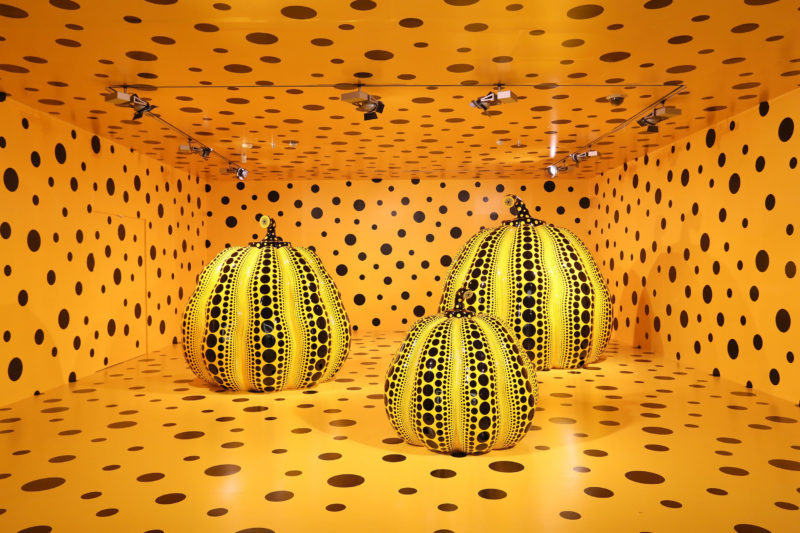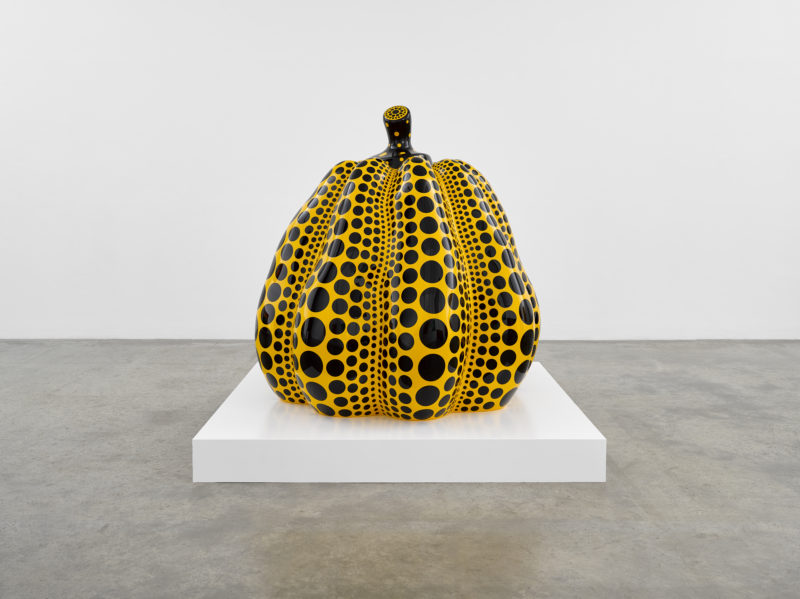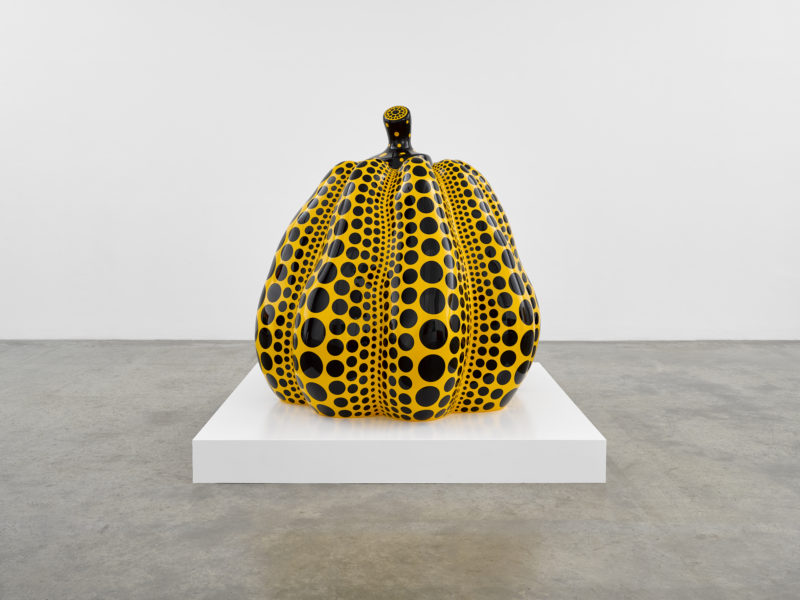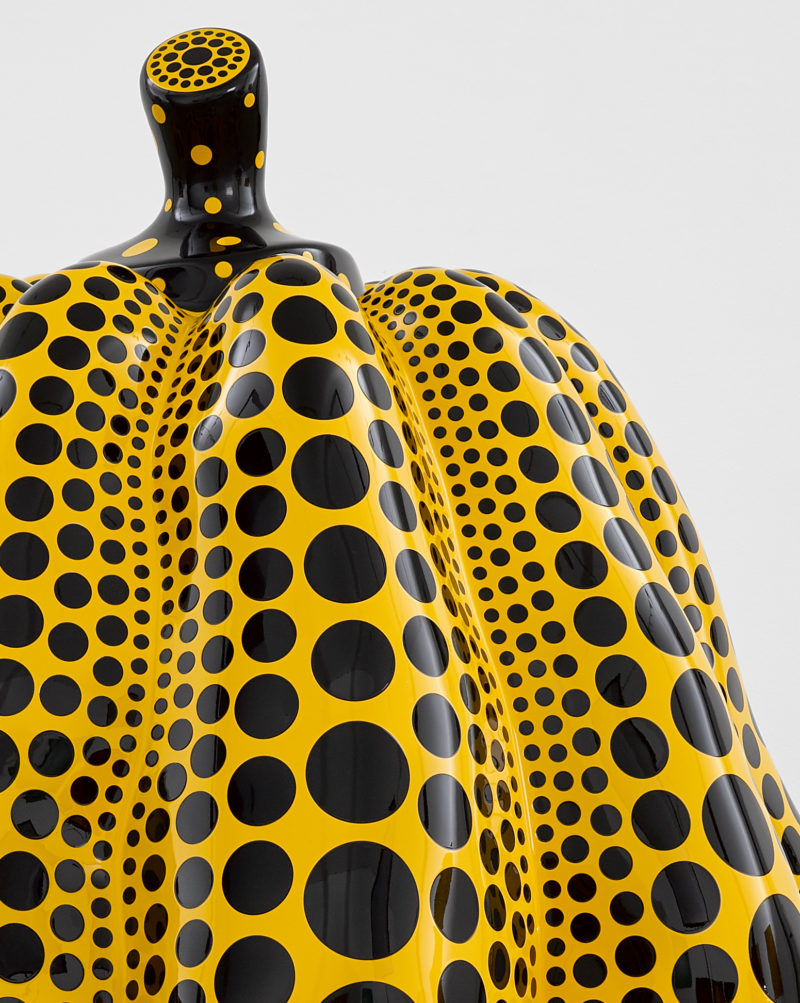 Kusama & pumpkins
Kusama's first pumpkin painting
Her fascination with pumpkins can be traced to her childhood. However, the pumpkin first appeared in Kusama's artwork back in 1946 when she exhibited it in a traveling exposition in Matsumoto, her childhood town. This first piece was painted in the Nihonga8 style of traditional painting that was developed in Japan around the 19th century. After this first piece, Kusama did not feature pumpkins in her artwork again until she re-emerged them in the 1970s.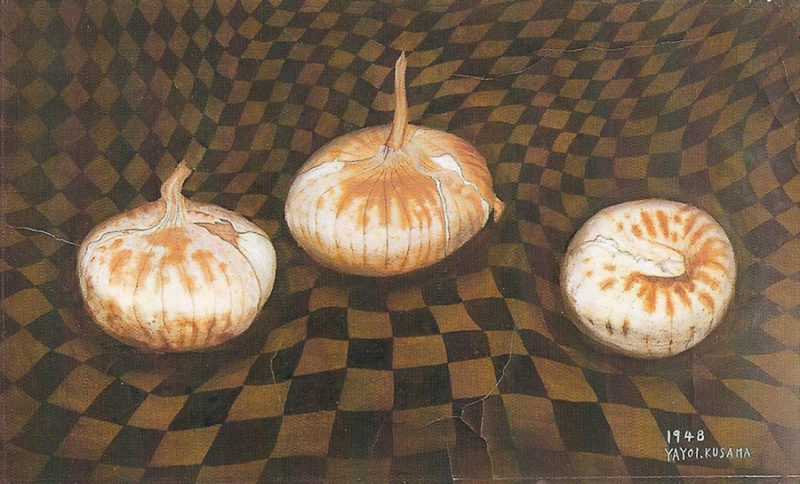 Pumpkins in prints & the Mirror Rooms
In the 1980s, Kusama began incorporating them in her dot motif drawings and paintings, as well as in prints and her environmentally conscious installation Mirror Room, which she created in 1991 for an exhibition at the Fuji Television Gallery and the Hara9 Museum in Tokyo. Subsequently, the Mirror Room was also exhibited in the Japanese Pavilion at the 1993 Venice Biennale, which is also where she re-introduced herself publicly to society after dealing with a mental breakdown years before. At this Venice Biennale, Kusama even handed out small pumpkins to attending visitors to take away.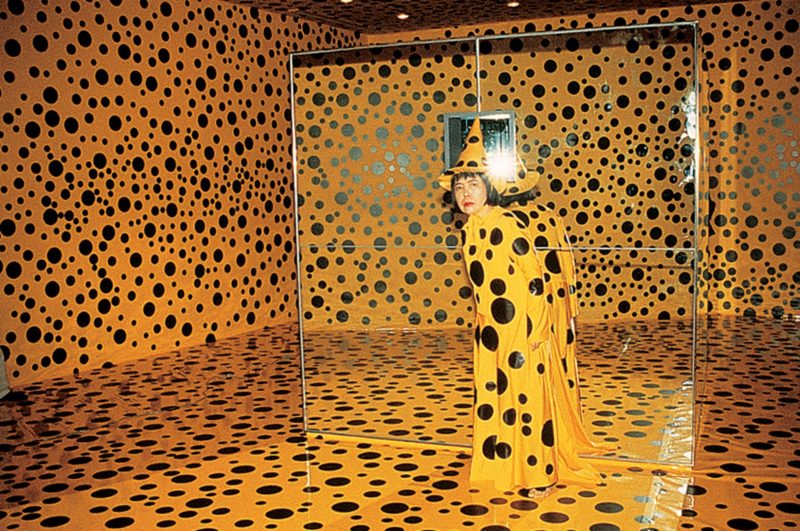 The famous yellow pumpkin on Naoshima Island
Later on, that year in 1994, she created another massive pumpkin installation that consisted of a huge yellow sculpture10 with black dotted patterns that was exhibited at Naoshima Island in Japan's Seto Inland region. Today, this large sculpture can be found at the end of a pier at the Benesse Art Site, where it hovers over the water, blending in nicely with the surrounding landscape.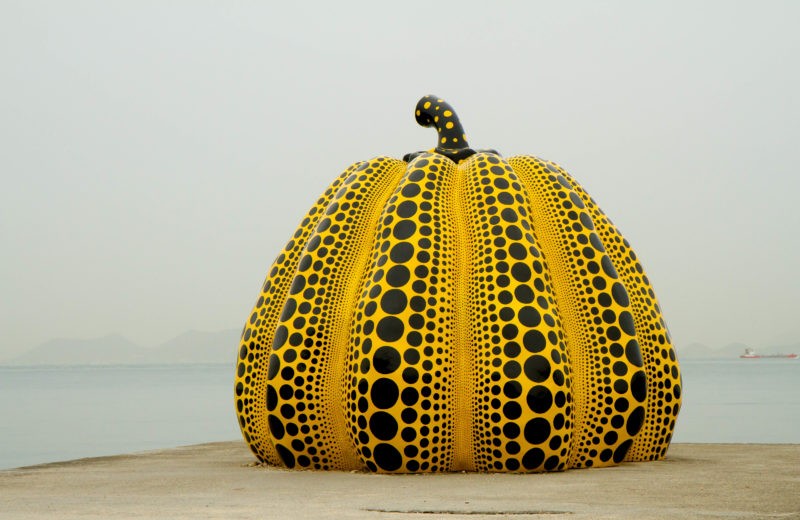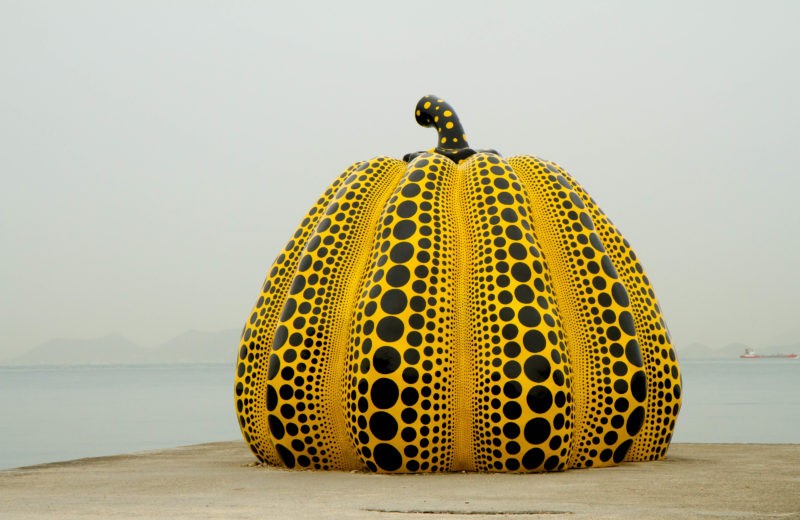 Pumpkin outdoor sculptures
The 1994 sculpture was the first of many open-air installations11 that she would display all through the 2000s in various international venues such as Matsudai Station in Tōkamachi, the Lille Europe Train Station in Lille, and the Beverly Gardens Park in Beverly Hills, just to name a few. Kusama's pumpkins are often cast in stainless steel, mosaic and bronze. Apertures are typically cut out of the surface of the pumpkin so that the dot pattern can be created to play with light and shadow.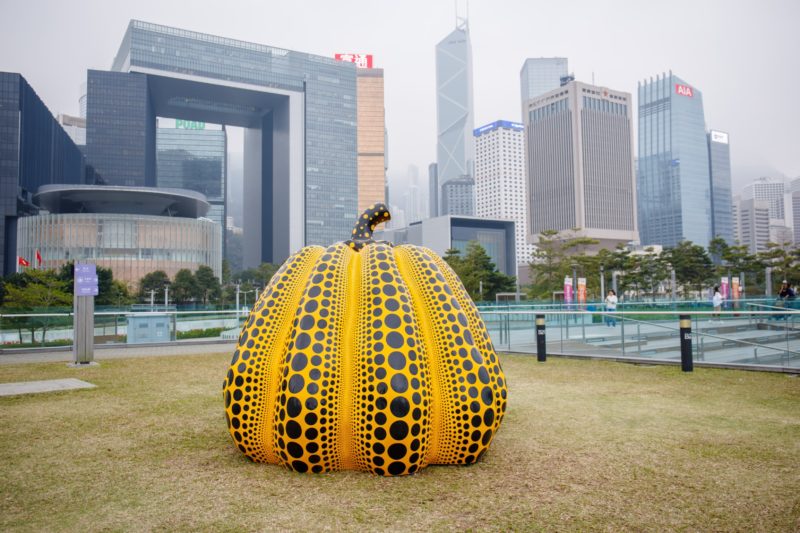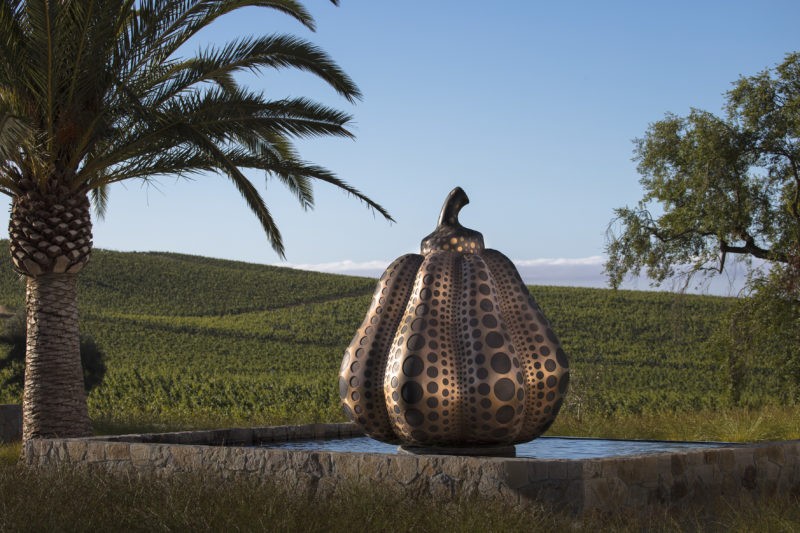 The symbolism of the pumpkin in Kusama's art
Known in Japan as Kabocha, Pumpkins are positive images to Kusama because they represent a cheerful piece of her troubled childhood in Matsumoto. As a young girl, Kusama spent hours drawing pumpkins. To her, pumpkins are representative of stability, comfort, and modesty12. According to Kusama, she prefers to use pumpkins because not only are they attractive in both color and form, but they are also tender to the touch. Therefore, the inclusion of pumpkins in her artwork can be said to be due to the childhood memories that the vegetable triggers.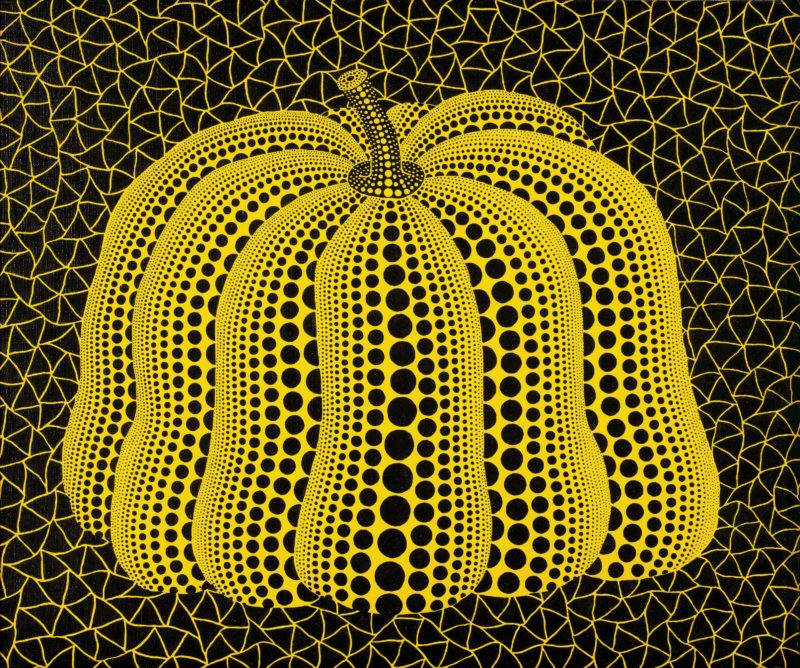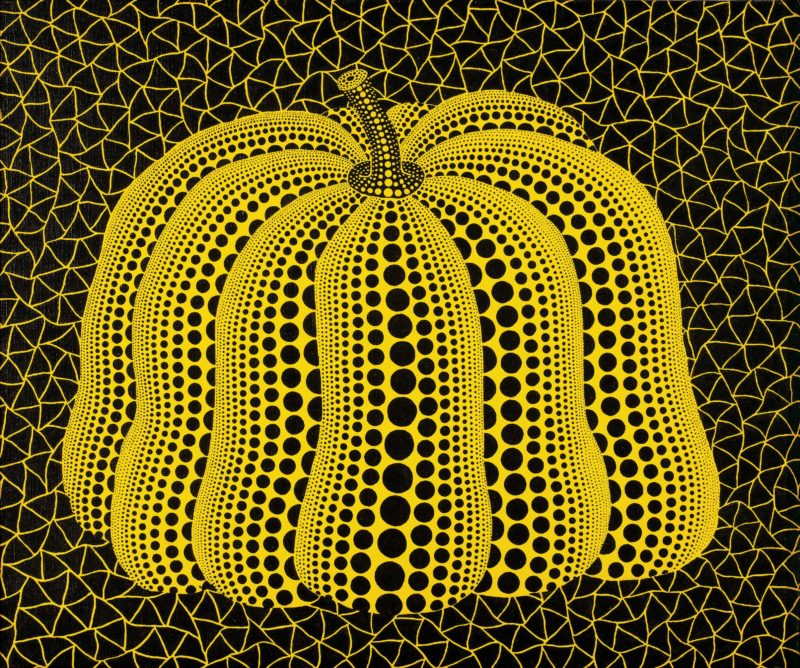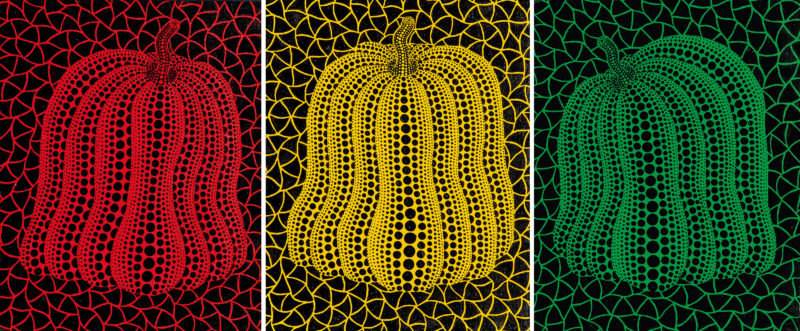 Yellow pumpkins in her black Mirror Room
For example, in one of her more current installations, "All the Eternal Love I Have for the Pumpkins", Kusama featured her signature polka dots on large yellow kobocha sculptures. Upon entry into the closed room full of black mirrors and hallucinogenic lighting, the visitor was immediately transported to a world full of imagination and fantasy. Standing among the many pumpkins, one should have been confronted by infinite energy, comfort, and warmth as that is what the pumpkins symbolize.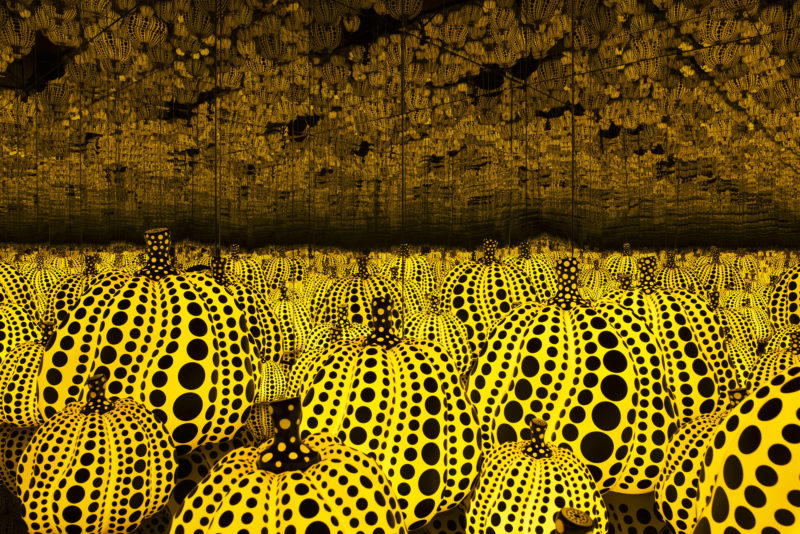 Kusama's fear of sex
Case in point, her Installation appropriately named Phalli's Field13, 1965, featured an infinity field of phallus shapes to help her get over her fear of sex. As a child, Kusama's mother would often send her out to spy on her cheating father and she has reported saying that seeing her father in these sexual encounters as a child traumatized her and made her afraid of sex. Her use of phalluses in Phalli's Field, just like her continued usage of pumpkins, has therefore been an obsession that has helped her overcome her uncertainties.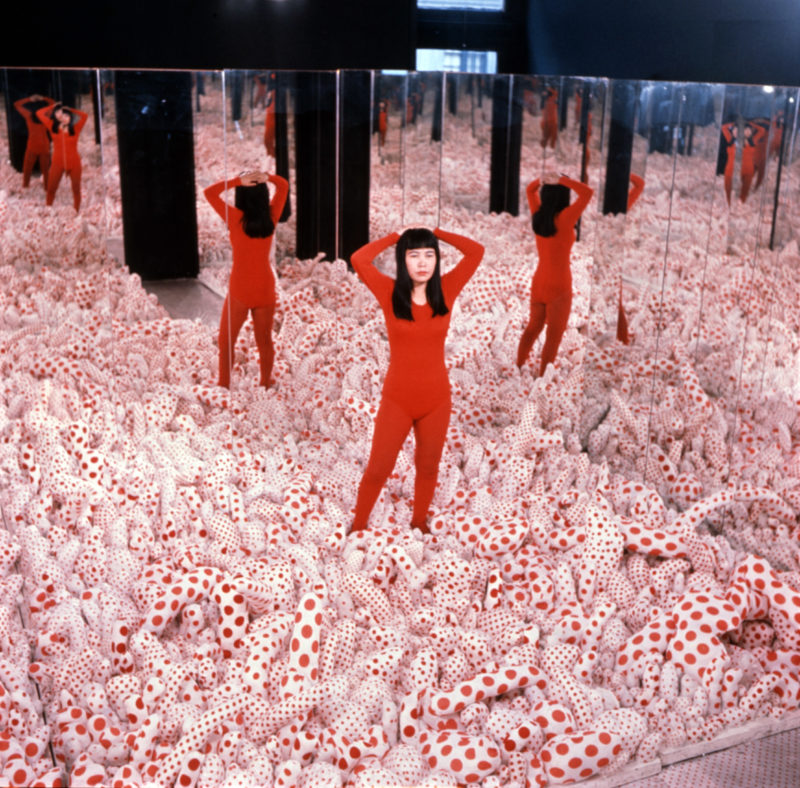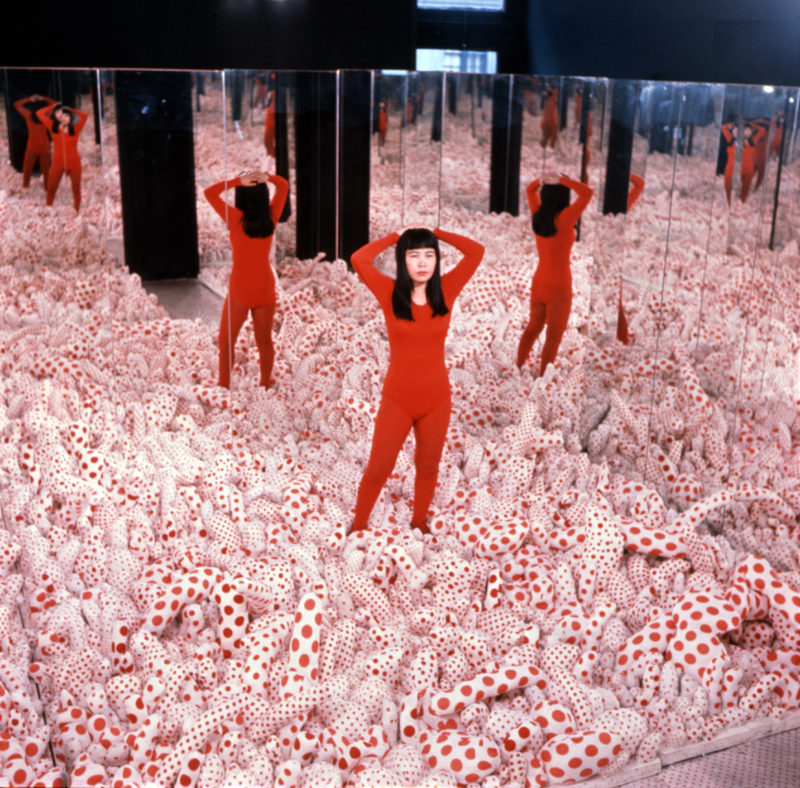 The meaning of the pumpkins
Commonly repeated through her artwork and installation, Kusama started using this repetitive theme of pumpkins to overcome her fears, make some sense of her hallucinations, as well as gain control over her feelings and emotions. As such, she uses pumpkins and other components such as dots and phalluses as a tool to re-experience something that once instilled fear in her.
By reproducing the forms of things that terrify her in real life, Kusama has been able to find a technique that has allowed her to suppress her fears14 thereby turning something frightening into something amusing and inspiring.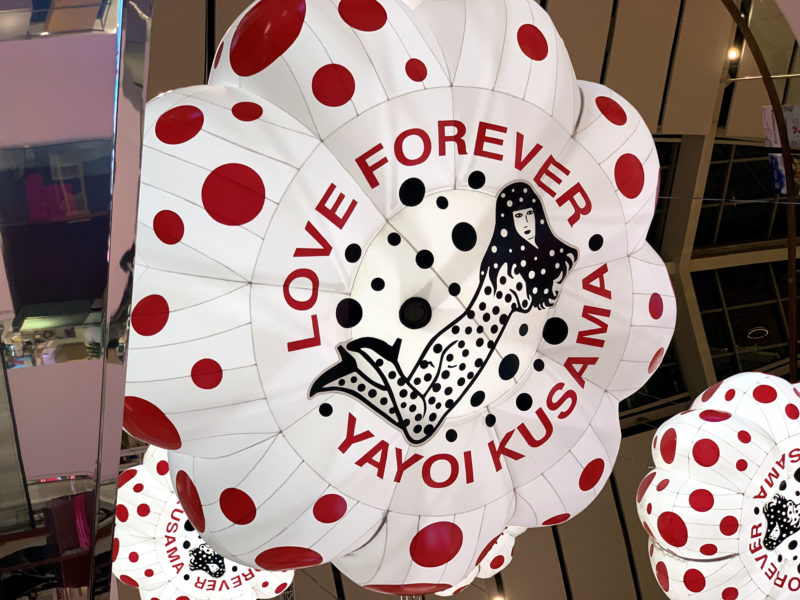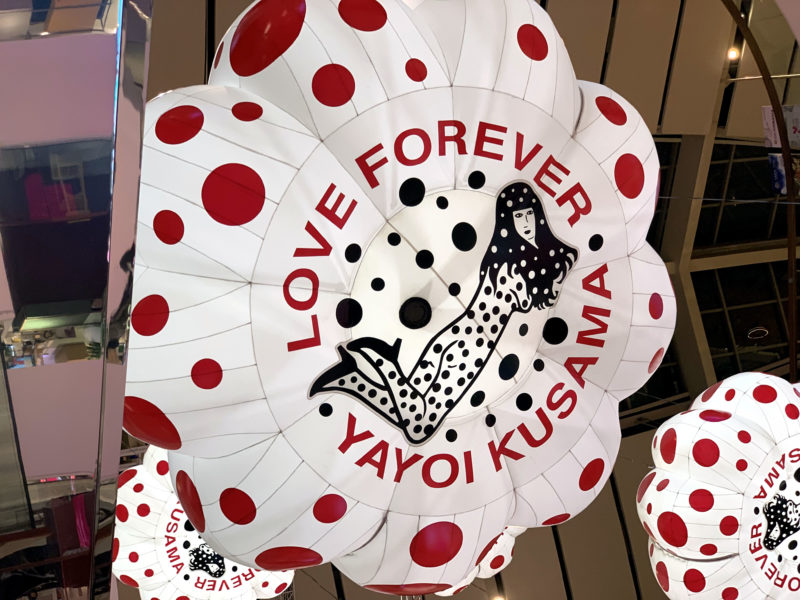 The pumpkins & pop culture
The pumpkins have been widely commercialized, with products ranging from t-shirts, pillows, clutches, coin purses and more.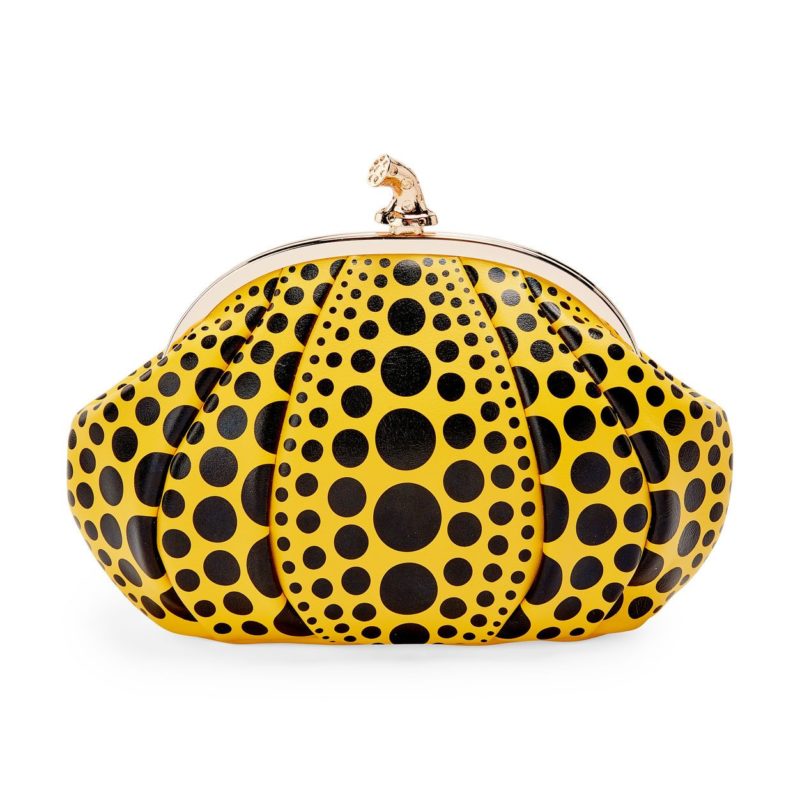 Video: Yayoi Kusama – Obsessed with Polka Dots
Conclusion
That gender imbalances exist in the art world is a matter of fact. However, the world would be remiss to overlook the progress made thanks to remarkable artists such as Yayoi Kusama. Among living female artists, there is undoubtedly none like Yayoi Kusama and among male artists, her name has become elevated to the top during auctions.
Kusama's work, which typically tackles depersonalization or, instead, the phenomenon of experiencing a loss of personality, serves as a much-needed reflection of today's society. Her distinctive motif and use of pumpkins have allowed Kusama to make an easily recognizable artistic statement that has helped her become a legend and one of the best there is or ever will be. At almost 90, she still actively pains with no signs of slowing down, which is a testament to her influence and brilliance.
More by Yayoi Kusama
Footnotes