Archive: Yayoi Kusama
Pumpkins & Tulips – Yayoi Kusama's most outstanding public sculptures

Yayoi Kusama – Pumpkin, 1994, Benesse Art Site, Naoshima, Japan
About Yayoi Kusama
Celebrating her 90th birthday in 2019, Yayoi Kusama is a leading Japanese artist and legend as far as art is concerned. While she deliberately makes unique pieces that can withstand the wear and tear of the outdoors, she is renowned for reproducing her art in monumental scale when need be. Her career spans over 6 decades and during this time her works have managed to enter the collection of museums such as the New York MoMA, LACMA, Tate Modern and others.
Posted in
Blog
Tagged

Ala Moana Center, Art in Asia and by Asian artists, Art in Japan, Art in Los Angeles, Art in Paris, Art in Singapore, Echigo-Tsumari Art Triennale, Hayward Gallery, Hirshhorn Museum, Hirshhorn Museum and Sculpture Garden, Honolulu Biennial, Louisiana Museum of Modern Art, Matsumoto City Museum of Art, Naoshima, NYC MoMA, outdoor, public art, sculpture, Singapore Biennale, Tate Modern, Victoria Miro, Yayoi Kusama
Leave a comment
Yayoi Kusama covers whole museum with her dots

Yayoi Kusama, Dots for Love and Peace, 2009, City Gallery Wellington, New Zealand
ABOUT DOTS FOR LOVE AND PEACE
Dots for Love and Peace (2009) was one of only three temporary public art projects worldwide designed by iconic Japanese artist Yayoi Kusama. It was installed on the exterior architecture of City Gallery Wellington, New Zealand. Dots for Love and Peace is an intense and unexpected public artwork, and reflects Kusama's obsessive interest in repetition, pattern and colour says Gallery director Paula Savage. The scale of the work is immense, covering the entire 52 metre frontage of City Gallery Wellington. Working from the 1930′s architectural drawings of the Gallery façade, Kusama created a detailed plan for the public artwork, with exact specifications of colour, size and placement of each individual dot.
One print covers whole building in New York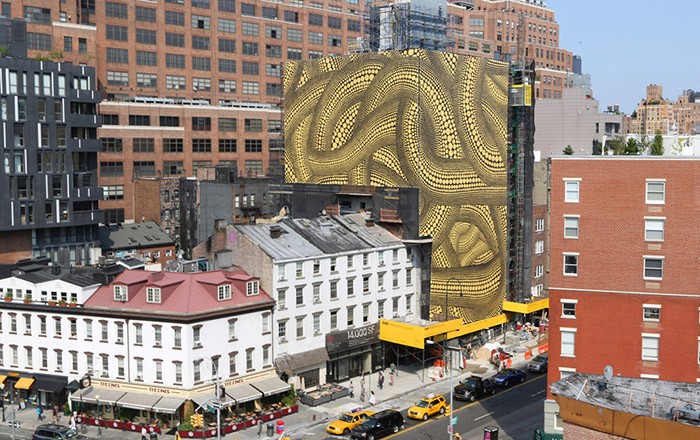 Yellow Tree by Yayoi Kusama (rendering)