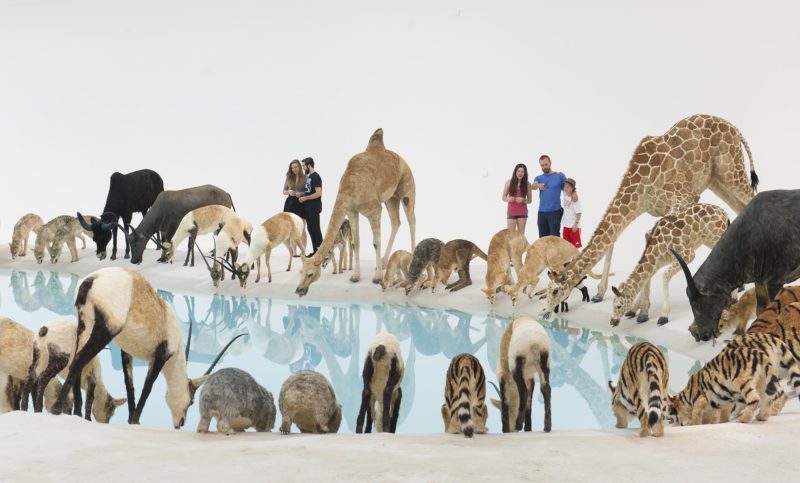 Heritage
What was it?
Cai Guo-Qiang's first solo exhibition in Australia was staged at Brisbane's Gallery of Modern Art (GOMA) from November 2013 to April 2014. Spanning the ground floor galleries of GOMA, this exhibition presented a large-scale installation by the Chinese artist.
A centerpiece of the exhibition was a dramatic new commission, Heritage (2013), which featured 99 life-sized animals. Heritage presented a seemingly utopian world based on trust and tolerance, where all kinds of animals from different trophic levels of the food chain have come together to share a common space.
The artwork involved diverse, life-sized, artificial animals drinking from a large pond enclosed by primeval white sand. Located in Brisbane, Heritage is was influenced by North Stradbroke Island in Queensland and had a powerful symbolism that moved visitors when they walked by.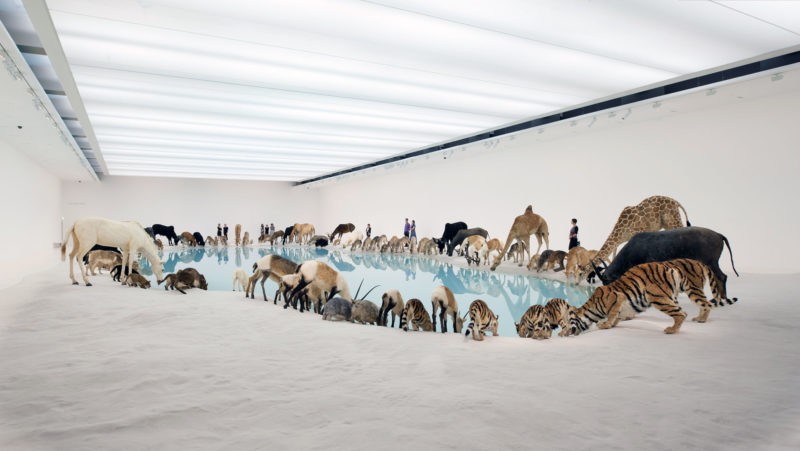 This dramatic installation was realized in faux-taxidermy, meaning each animal was carved from polystyrene and covered in appropriate dyed goat hide.
Also featured was Head On1, 2006, with its stream of 99 life-sized wolves leaping through the air and crashing into a glass wall.
This was the first time that the entire 3,000 square meters of GOMA's ground floor was devoted to an exhibition of work by a single living artist.
The work in the exhibition was inspired by the artist's experiences in Australia, drawing upon local landscape, history and culture. The artist also devised a special project for children.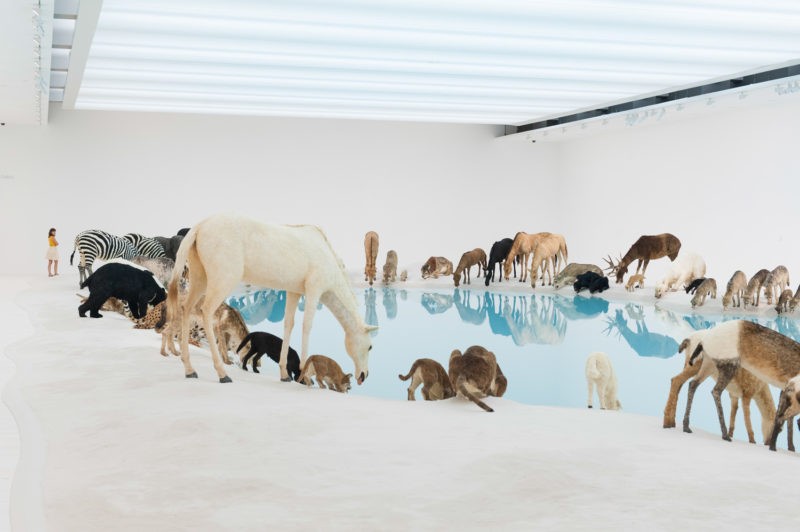 Background
Cai got the idea for this installation during a research and site visit in Queensland in 2011. During his trip, he visited Lamington National Park and Stradbroke Island, southeast Queensland and received professional advice on the natural flora and fauna of the area.
While on the island, Cai saw a series of pristine freshwater lakes, including Bummeira or Brown Lake, which is credited2 to trigger the artist into creating Heritage.
As a result, the installation is a crafted balance between spectacle and physical experience, imbued with unique qualities of the region and underpinned by a subtle conceptual experience.
In notes from a meeting in 20123, Cai says that the objective of the installation is to present an eccentric but poetic space with a touch of Australian identity, symbolizing the diversity of Australia's culture and heritage as well as a sense of a storybook paradise.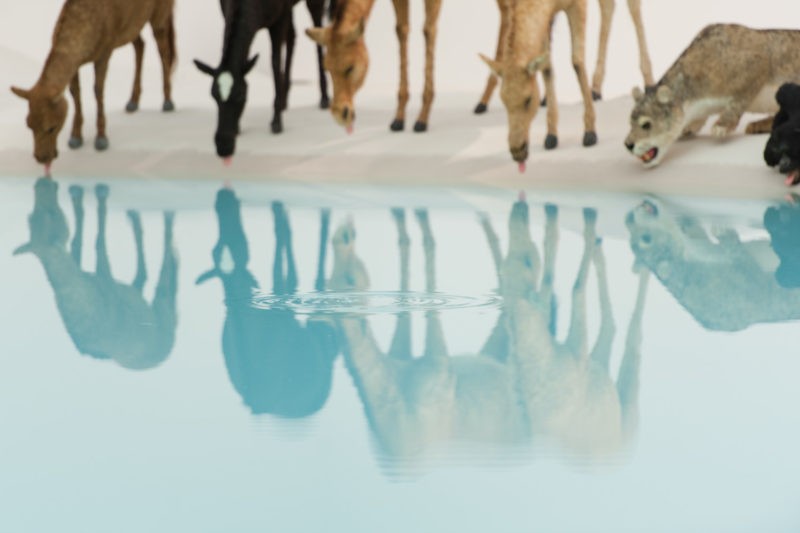 The animals in Heritage
Heritage consisted of 99 life-sized animals from all over the world, converging at a waterhole and covering around 1,104 square meters.
Cai decided to use a wide range of familiar animals from around the world, comprising a variety of colors, sizes, and shapes, to create visual drama.
The animals included tigers, pandas, giraffes, bears, and kangaroos, among others, drinking water together on a lake enclosed by white sand to resemble the islands of Moreton Bay.
By using 99 life-size animals, the artist remains consistent with his use of numerals 9 and 99 that he repeatedly uses in his work. The number signifies 'incomplete' instead of a round number, indicating something more to come in addition to referencing Chinese numerology in which the number 9 is highly auspicious and means long-lasting.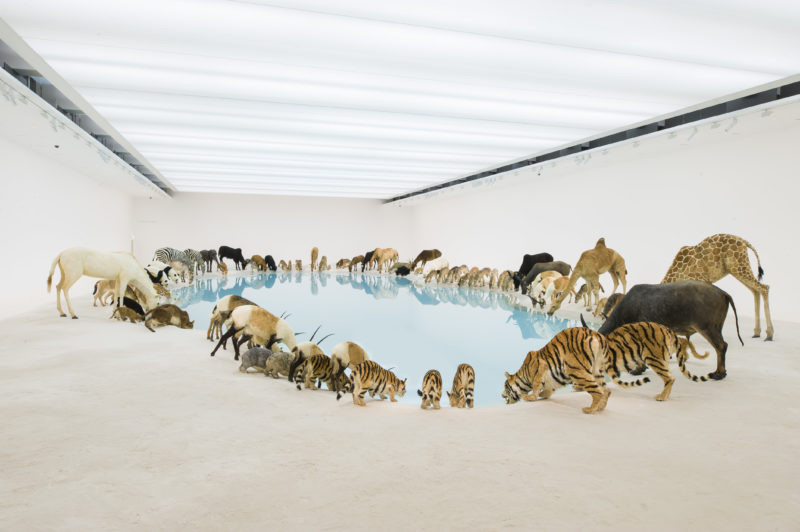 Production process
The materials used for building the installation were crucial from a conservation point of view. This was not the first time Cai has created synthetic animals with straw cores, and thus alternate core material was to be considered for this project.
Just like most of his work, the production of the 99 artificial animals was done at the Quanzhou Xinwen Craft Co. Ltd factory, located in Fujian province, China. Cai Guo-Qiang was present in Fuzhou to inspect the production and fabrication process of the work.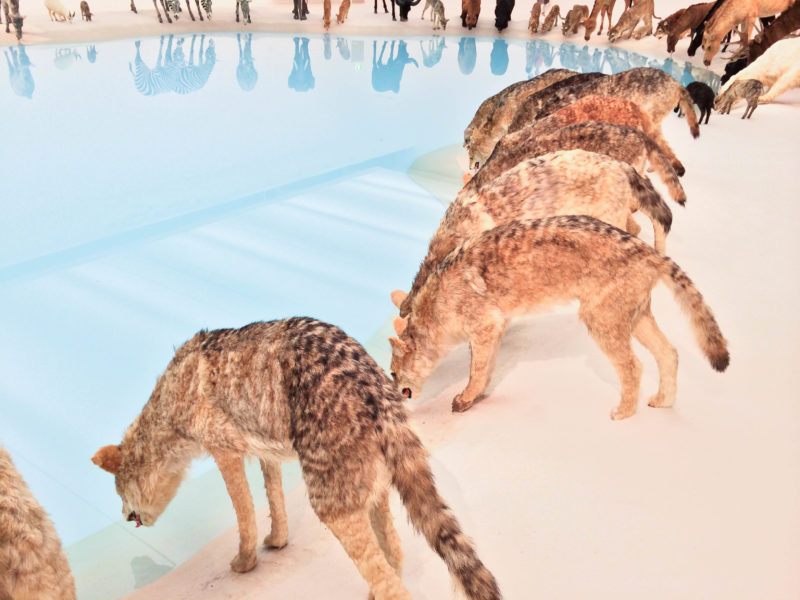 It was actually the gallery's request to have the work made of alternative core material, and thus Cai and the fabricators settled on using polystyrene.
Before the commencement of full-scale production, two prototypes of panda and kangaroo were made for evaluation. The production process involved modeling polystyrene foam into the required shape and inserting steel wire into the legs to strengthen all adhesive joins.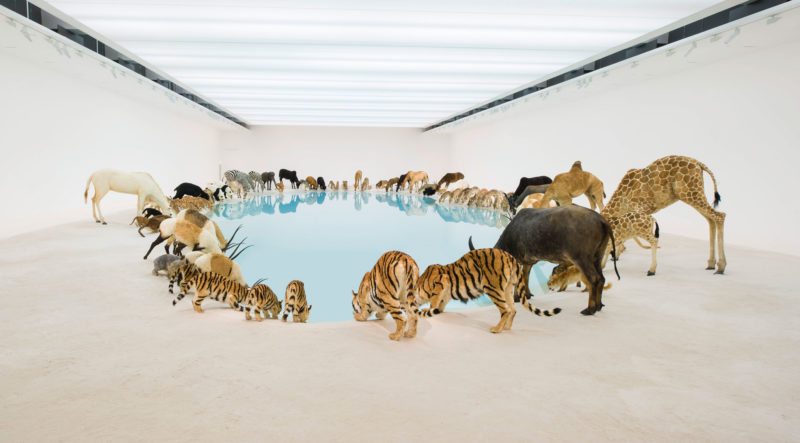 To help secure the animals during display, the steel was left protruding from the underside of the feet and paws. The material was covered in cotton gauze fabric and covered in a PVA adhesive to offer a hard and rigid exterior.
The artist's studio supplied a range of images of animals in their natural setting that depicted the effects that they hoped could be achieved, including details such as soiled fur, muddy spots, and true-to-life tongues.
To create a natural environment in the space at the gallery, the artist recommended the use of quality acrylic and gloss media and acrylic paint applied with brushes and by airbrushing.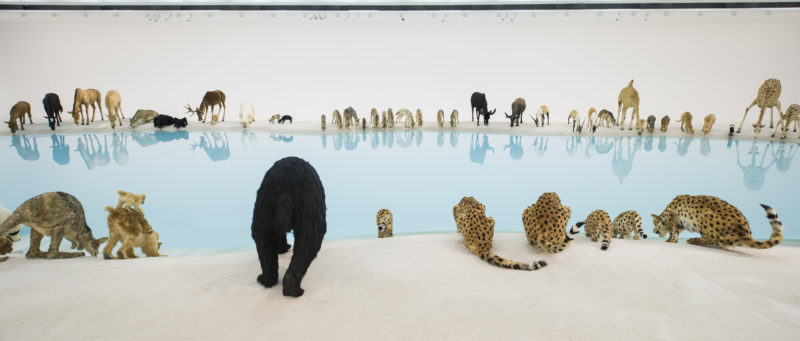 Installation
Before installing the work, the artist requested that the museum apply painted finishes to all the 99 animals so that the final installation will have a life-like quality that resembles real animals but also large toys.
Since Cai wanted to create a natural setting, the museum designed the space to achieve a daylight effect. As a result, 420 fluorescent lamps were fixed in the ceiling and covered with purpose-made diffusers over which was stretched a high-quality shade that removed the UV light.
The mock animals were transferred to the walkway around the perimeter of the gallery space. The artist coordinated the installation of each animal around the waterhole, which was built with a slanted edge so that the pool would have sufficient depth.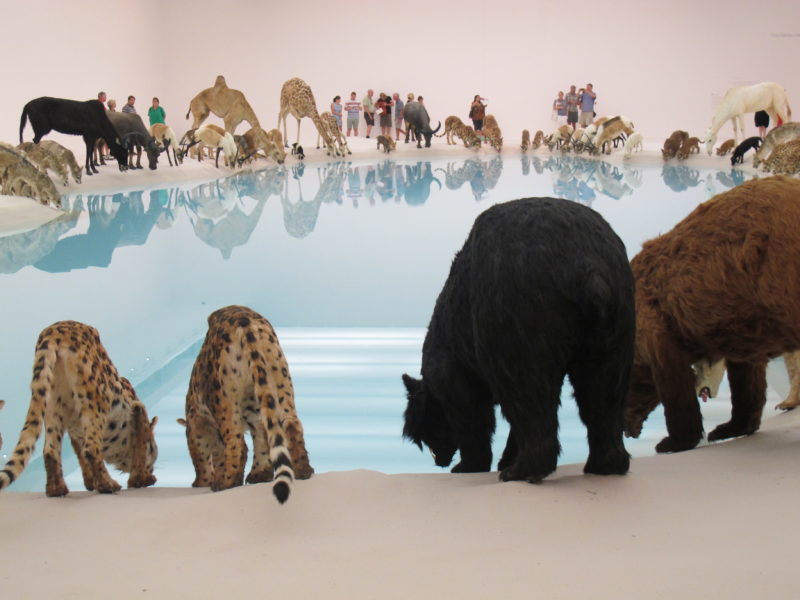 Conclusion
Heritage imitates a utopian based on tolerance and trust, where animals of all types – carnivorous, herbivores, omnivorous, and tertiary – come together to share a common space.
The installation symbolizes the artist's view of Queensland as a paradise on earth, where pristine, ancient landscapes still exist and cultural diversity is promoted.
Heritage conveys a message of hope through Cai's romantic vision, but the work can also represent a sense of hopelessness, depicting animals who, despite their instincts, must share this water pond to survive.
Go behind-the-scenes of Cai Guo-Qiang's Falling Back to Earth
About Cai Guo-Qiang
Born in China and based in New York, Cai Guo-Qiang draws from Buddhist philosophy, Chinese history and mythology, and contemporary social issues to create spectacular installations and events of astonishing scale and beauty.
His works reflect upon the globalized nature of our world and appeal to broad audiences: he is best known for his awe-inspiring firework displays (featured at the 2008 Beijing Olympics opening and closing ceremonies).
Cai's recent solo exhibitions and projects have included:
The Metropolitan Museum of Art, New York, 2006
His record-attendance retrospective at the Solomon R. Guggenheim Museum, New York
The National Art Museum of China in Beijing in 2008
The Guggenheim Bilbao in 2009
Fallen Blossoms: Explosion Project4, a firework project for the Philadelphia Museum of Art in 2009
His first exhibition in the Middle East at Mathaf: Arab Museum of Modern Art in Doha, Qatar, in 2011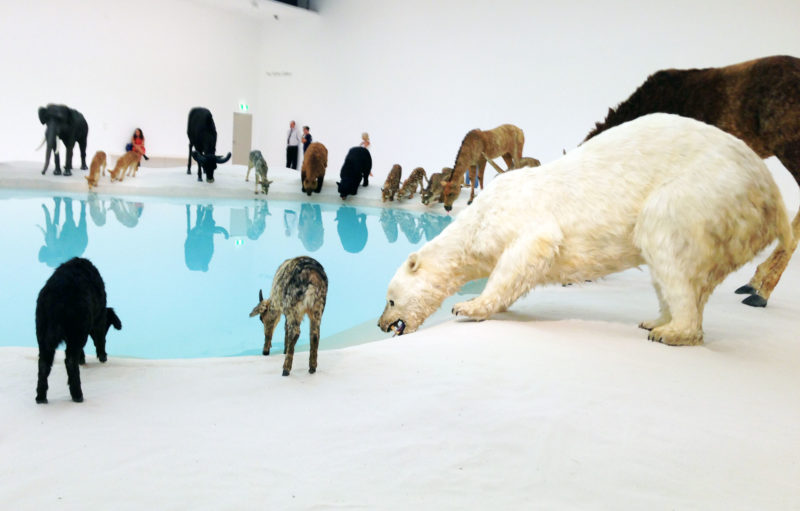 More by Cai Guo-Qiang
Footnotes