Last updated:

Fan Ho – Inferno, 1962
Published: February 8, 2017
Last updated:
Fan Ho biography & triology
Photographer Fan Ho was born in Shanghai, China in 1931 and immigrated to Hong Kong in his teens where he then began to photograph the drama of city life, ranging from the teeming markets to desolate alleyways. A Hong Kong Memoir completes Ho's trilogy that he began with Hong Kong Yesterday and The Living Theatre, in which he introduced viewers to Hong Kong during the 1950s and 1960s, using his exceptional eye for light, structure, and his patience, waiting for the right moment to take the photo.
Why is Fan Ho important?
Fan Ho holds a significant place in the art history of China. He was an award-winning Chinese photographer who won over 200 awards throughout his career. He was one of those people whose work was based on talent more than it was based on experience or relevant education. His body of work is considered very strong, showing his fascination with candid street photography. Ho believed that no form of art can truly capture the essence of any given moment more than a photograph. His portfolio contains photographs that depict slums, urban life, explored alleys, markets, streets, street vendors, children playing on streets, children and much other similar content. His work started gaining a lot of prominence in the 1950s and 1960s.
Fan Ho photography style
He always took photos that had a story behind them. The photos reveal a lot of Hong Kong's urban life in the mid 20th century. Fan Ho believed that black and white photographs let him express himself in a better way. He always took photos from a certain distance where he wasn't too close or too far away from his subjected photograph target. In the early years of his photography, he used his family's bathtub to develop photographs.
Nothing was off-limit for Fan Ho, he could even produce splendid pieces of art by taking photographs of fisherman, stall vendors, buses, building and many more. His main source of content was the streets of Hong Kong.
Social inequality highlighted in 'A Hong Kong Memoir'
His photo book, A Hong Kong Memoir, illuminates the differences in Hong Kong during different times, and highlights the differences in well-being when so many different people were immigrating to Hong Kong, many fleeing Shanghai due to the Nationalist-Communist Civil War1, serving to create an assortment of cultural diversity and language barriers, and of course social inequality. The government provided those who were born in Hong Kong with housing and education2, the incoming refugees were not provided with the same opportunities by any means. This discrepancy is highlighted in Ho's photos, as you can see the distinct differences between precarity and affluence, while the use of light and dark emphasizes the dualistic nature of life in Hong Kong in the 1950s and 1960s.
Conclusion
The influential photographer Fan Ho shows the beauty of life while also showing disparity that accompanies social and economic inequality- using light and dark to contrast the images.
Photos
Workers

Fan Ho – Works, 1964

Fan Ho – Man Carrying Box, 1954

Fan Ho – In a Chinese Street, 1959

Fan Ho – Coolies and Hawkers, 1958

Fan Ho – Construction, 1957

Fan Ho – Between Showers, 1962
Children

Fan Ho – Obsession, 1964

Fan Ho – Mother's Helper, 1967

Fan Ho – Her Study, 1963

Fan Ho – Danger, 1965

Fan Ho – Childhood, 1959
Stairs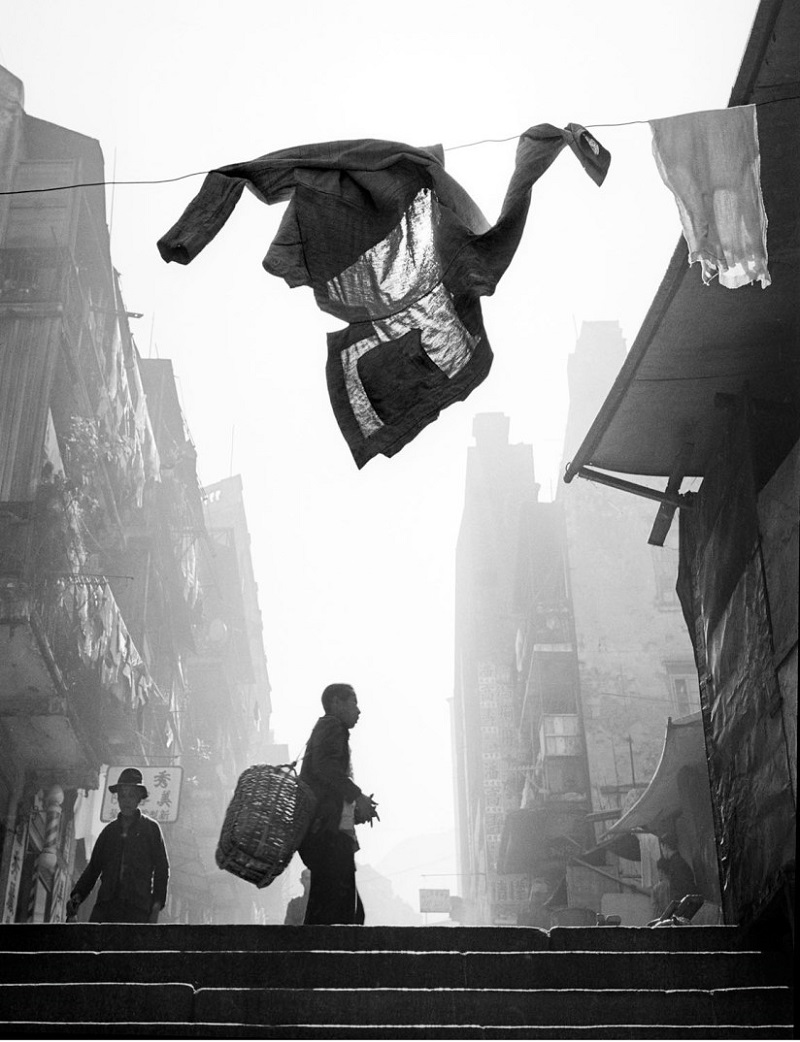 Fan Ho – The Omen, 1964

Fan Ho – Sun Rays, 1959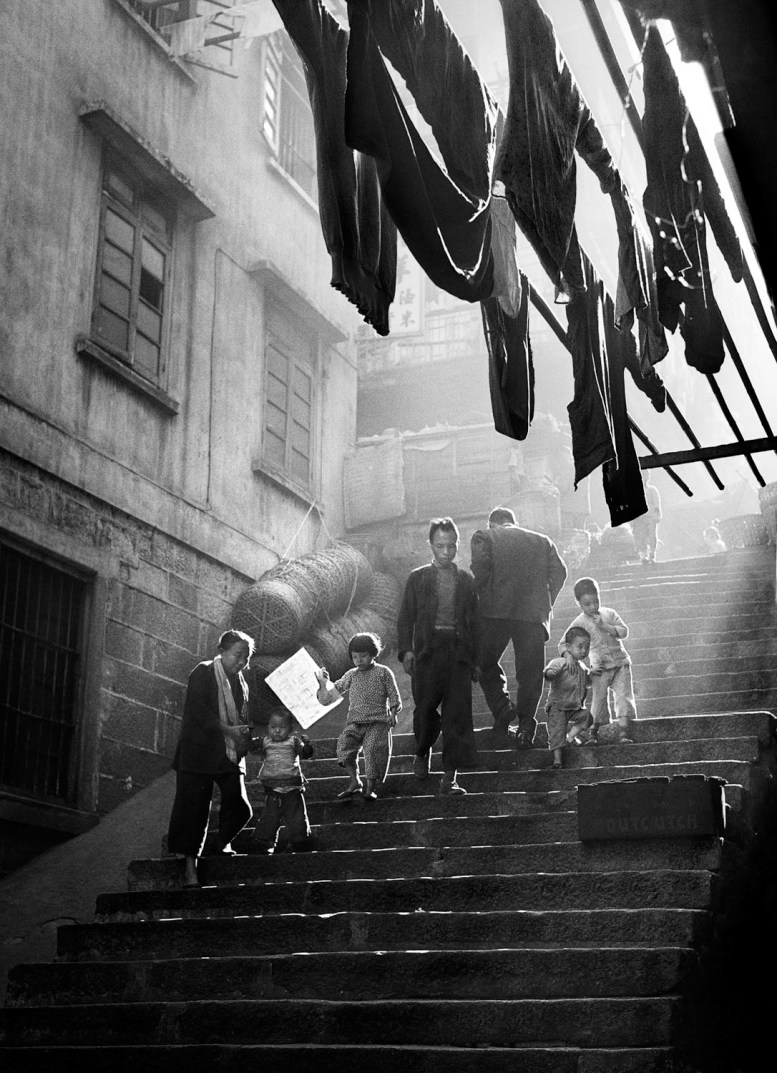 Fan Ho – Street Scene, 1956

Fan Ho – Steps

Fan Ho – Flare, 1966

Fan Ho – Daily Routine, 1961

Fan Ho – A Day is Done, 1957
Streets

Fan Ho – A Day is Done, 1957

Fan Ho – W, 1959

Fan Ho – The Lone Ranger, 1954

Fan Ho – People Crossing, 1957

Fan Ho – Pattern, 1956

Fan Ho – Lines & Forms, 1959

Fan Ho – Arrow, 1958
Water

Fan Ho – Hong Kong Venice, 1962

Fan Ho – Busy Harbor, 1964

Fan Ho – Ashore, 1963

Fan Ho – As Evening Hurries By, 1955
Windows

Fan Ho – Private, 1960

Fan Ho – On the Stage of Life, 1954
Others

Fan Ho – In a Buddhist Temple, 1961

Fan Ho – Approaching Shadow, 1954
All images by Fan Ho/fanhophotography.com unless otherwise noted.
Video: Introduction to Fan Ho
Ted Forbes of The Art of Photography takes a deeper look at the exceptional Hong Kong Street Photography of Fan Ho
15min 5sec
Related works
Related readings
Discover more ..