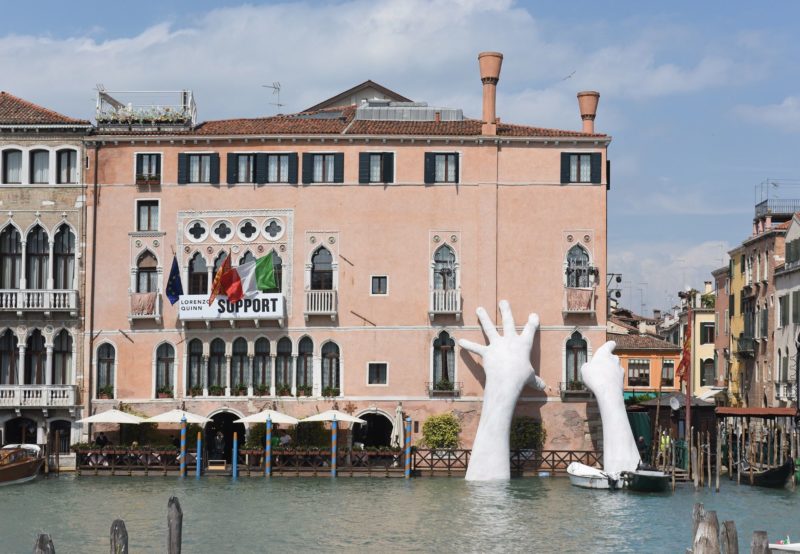 Lorenzo Quinn's hands sculpture
One of the most talked-about artworks in Venice Biennale 2017 was the monumental sculpture that was created by a celebrated sculptor called Lorenzo Quinn.
He calls his work Support, which involves two giant hands rising from a canal to support the building that houses Ca' Sagredo Hotel. The idea is to depict that the sculpture is helping Venice. It also symbolizes humankind's capability to destroy the world and an equal ability to save the world too.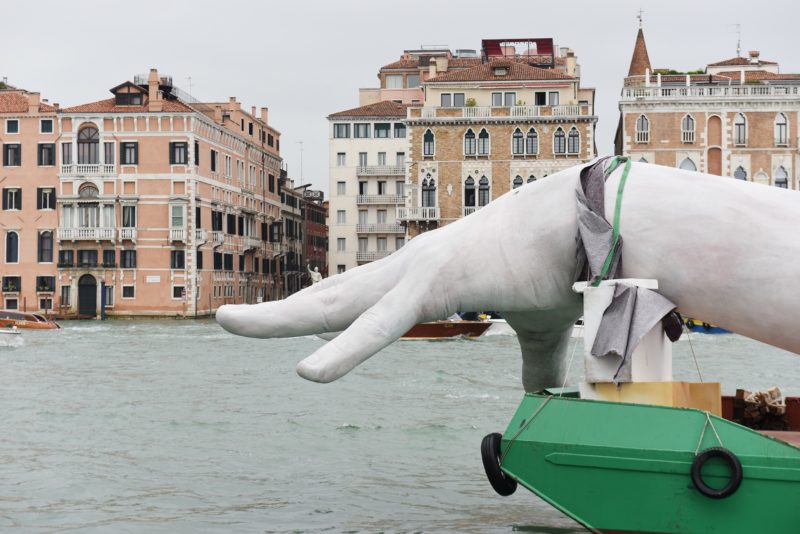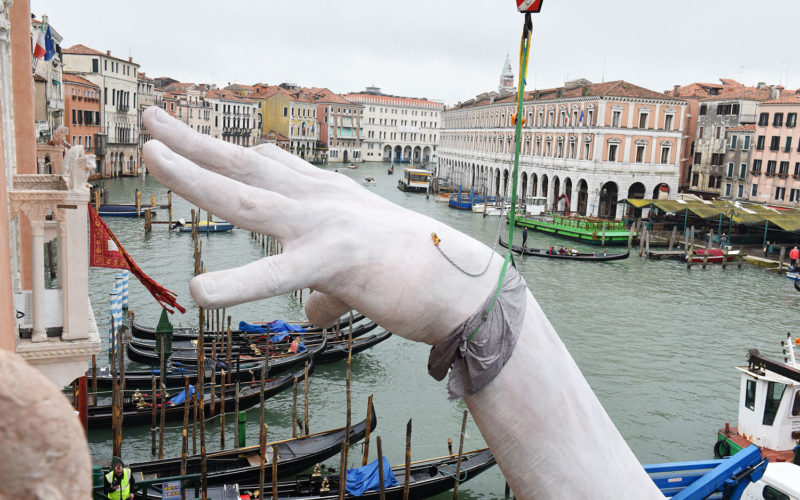 Venice & Global warming
Venice, known for its canals, gondolas, and centuries-old bridges, has an intimate relationship with the water around it. The sculpture that was made in time for the 57th International Art Exhibition at the Venice Biennale showcases the threat of global warming and its impact on the relationship between the city and the water. Cities like Venice are faced with the threat of rising water levels from global warming.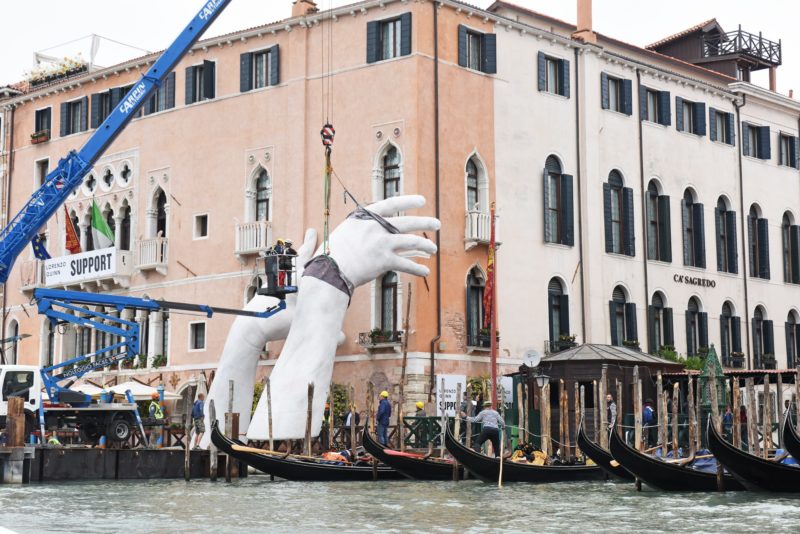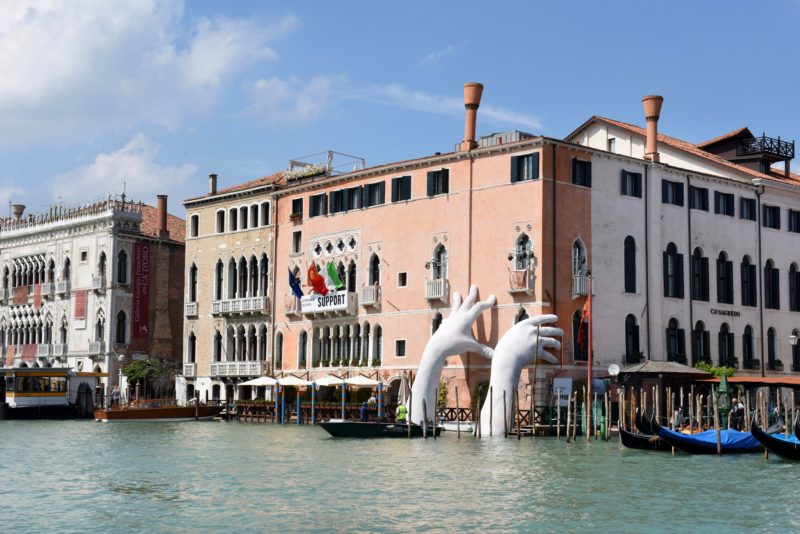 How was the sculpture created?
The sculpture also calls for swift action in mitigating the effects of global warming. It reminds humanity that it has the power to make and destroy the world that it is and can use its capacities to deal with pressing issues.
Quinn partnered with Halcyon Gallery in London to create the sculpture in his studio in Barcelona using a classic method called lost-wax casting. The process involves making a mold created from a wax model of the design. This method has been used for several centuries around the world.
Former location

Ca' Sagredo Hotel
Campo Santa Sofia, 4198/99, 30121 Venezia VE, Italy
The sculpture has been removed
Analysis
While there are hope and desperation in the sculpture, the work also carries a special meaning to Quinn. He says that he is thinking of the future generation and what we shall pass to them. He says he is worried about what will be left for his three children after the damage has been done.
Recently, in a post on Instagram, Quinn retaliated that 'Support' brings the message in black and white through the innocent hands. It shows that we can stand and curb the threat of climate change if we brought our synergies together.
Other hands sculptures by Quinn
Part of Quinn's work in the past also features sculptures with hands. Despite being a tricky part of the body to sculpt, he plays with it powerfully to bring out his message.
Some of the works include The Tree of Life, a bronze sculpture that pays tribute to victims of World War II in Birmingham, England and Love, a pair of hands that have been clasped and set in a ring in Millbank London.
Other hands sculptures
Since the 1980s, Chilean sculptor Mario Irarrázabal has been creating several large-scale hand sculptures, some of which have turned into famous landmarks. One of his most notable creations is the Hand of the Desert1, sitting in a remote spot in the Atacama Desert in Chile.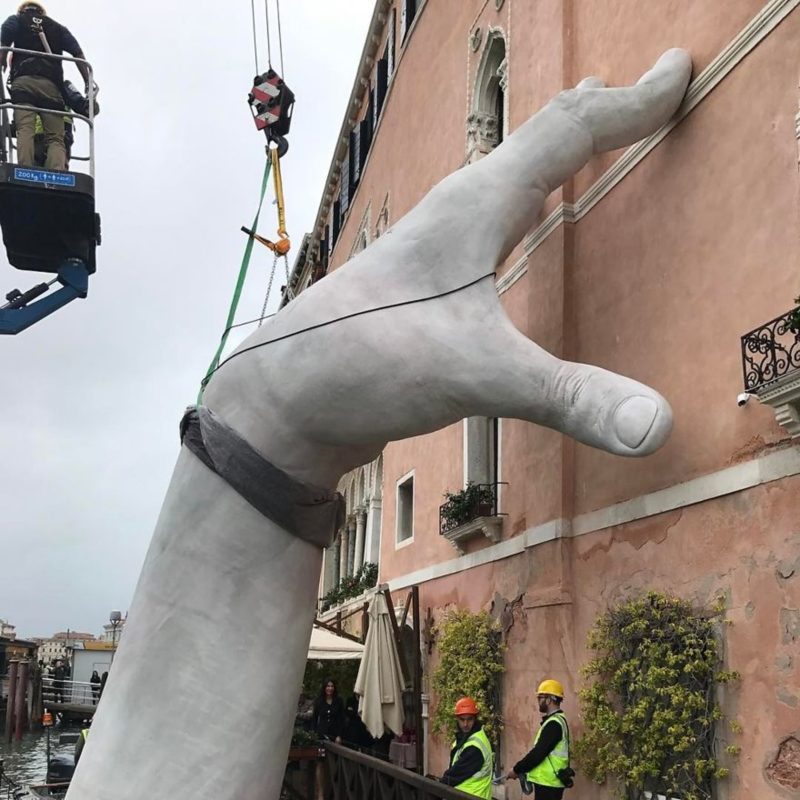 Footnotes