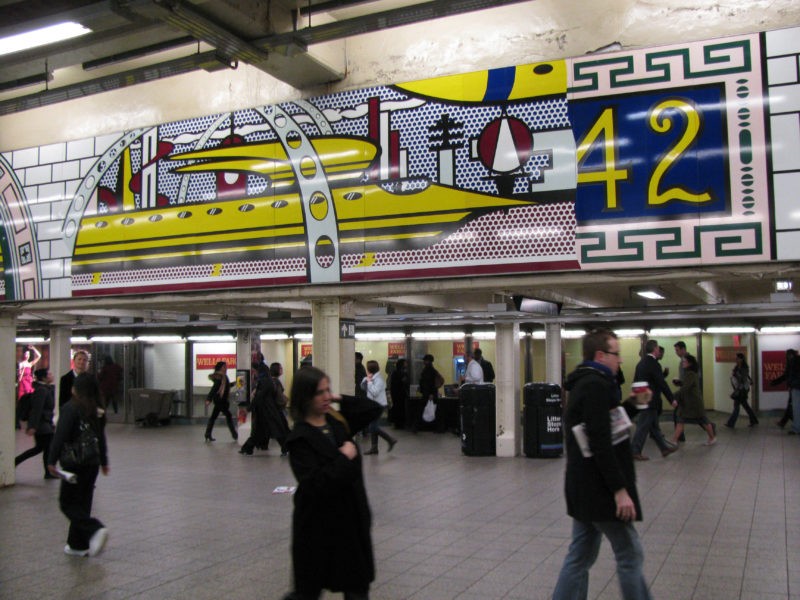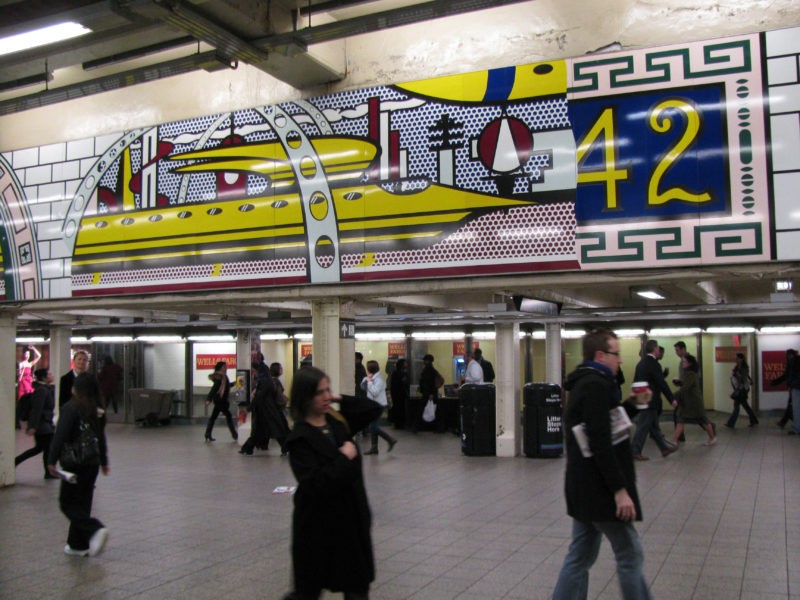 Introduction
As far as famous pop artists go, it truly does not get any better than Roy Lichtenstein. His style of comic art use made him one of the most well known and respected pop artists. His work has helped to inspire thousands of artists to hone their craft. His incredible pieces such as the Times Square Mural located in New York's busiest subway station, as well as his 1986 mural titled Mural with a Blue Brushstroke, are some of his most prominent public murals.
What Lichtenstein was famous for
Lichtenstein was in the front line of the Pop Art movement, which was captivated by the manufacturing process and mass consumerism. He built a largely successful career based on deceivingly simple works that appropriated from popular comic book characters, pulp fiction, and advertisement. Lichtenstein was skilled at the art of separating, cropping and enlarging certain sections of a mural to make the composition more striking.
Video: Roy Lichtenstein interview, 1966
https://www.youtube.com/watch?v=jBJuXF5a8E0
The progression of his paintings
Lichtenstein's first works were based on experimentation with abstract expressionism, but his style begun to mature as he started to concentrate on a particular style. His paintings soon started to draw inspiration from the narrative drama of comic books. His works featured certain elements that were characteristically Lichtenstein, such as the use of dots. Lichtenstein's pieces exemplified pop art's complex relationship with societal change and pop culture and the changes that came about in the 1960s.
Message of the works
As such, Lichtenstein's paintings highlight society's obsession with youth and beauty, the dictatorship of consumer objects and the excitement surrounding advertisement and the media. Mural with Blue Brushstroke may seem muddled with different elements; however, it offered a hedonistic perspective of earthly inconsequentiality.
Conclusion
Along with other popular pop artists such as Andy Warhol, Lichtenstein's work helped to develop the market drastically in the 1960s. Because of his contributions to the movement, artists started being commissioned and actually receiving recognition for their works. Additionally, contemporary art began to fetch good prices, which led to the hyper commoditization of art. Although it has been a while since the world was introduced to a Lichtenstein original, his works are still in very high demand today.
Murals
Overview
| Country | City | Location | Title | Year | Size | Technique | Status |
| --- | --- | --- | --- | --- | --- | --- | --- |
| USA | Beverly Hills | Creative Arts Agency Building | Bauhaus Stairway Mural | 1989 | 82.3 x 54.9 m (324 x 216 inches) | Oil and magna on canvas | Current location not known |
| USA | Minneapolis | Weisman Art Museum (University of Minnesota) | New York World's Fair Mural (Girl in Window) | 1963 | 6.30 x 4.88 m (248 x 192 inches) | Oil and Magna on plywood | In the permanent collection of the museum |
| USA | New York | AXA Equitable Center | Mural with Blue Brushstroke | 1984–1986 | 20.73 x 9.75 m (816 x 384 inches) | Oil and magna on canvas | |
| USA | New York | Times Square – 42nd Street Station | Times Square Mural | 1990 (fabricated 1994; installed 2002) | 1.85 x 16.26 m (73 x 640 1/2 inches) overall | Porcelain enamel on steel, 16 panels | On permanent display |
| Germany | Düsseldorf | Heinrich-Heine University Düsseldorf | University of Dusseldorf Brushstroke Mural | 1970 | 36.6 x 10.67 m (144 x 420 inches) - 4 walls | Magna on plaster | On permanent display |
| Israel | Tel Aviv | Museum of Art (Meshulam Riklis Hall) | Tel Aviv Museum of Art Mural | 1989 | 7 x 17.4 m (275 9/16 x 669 5/16 inches) overall | Oil and magna on canvas | On permanent display |
| USA | New York | Leo Castelli Gallery | Greene Street Mural | 1983 | 5,5 x 29.5m ( 18 × 96 1/2 feet) | Magna and silkscreen wallpaper | destroyed |
| USA | New York | Gagosian Gallery | Greene Street Mural | 2015 | 5,5 x 29.5m ( 18 × 96 1/2 feet) | | |
Weisman Art Museum, Minnesota, 1963
Created in 1963, the World's Fair Mural is one of the most outstanding pieces by Lichtenstein. The work is currently housed at the Weisman Art Museum in Minneapolis, Minnesota. In fact, it is one of the centerpieces of the museum, thanks to its strategic location above the front desk of the gallery. It is what greets you when you stepped into the WAM. Even when the room is poorly lit, you will still be drawn by the girl's radiant and glowing smile on the painting.
If you are not new to Roy Lichtenstein's works, you must be aware that he liked appropriating comic book and newspaper imagery when creating his pieces. He would sequestrate frames of illustrations that appealed to him and feed them into a projector before projecting them onto a canvas.
In this painting, Roy depicts a woman leaning out of the window. Still, it appears as if the image was appropriated from a frame of a colossal comic strip. The painting's characteristics also point to the elements of mass-produced comics – the solid block primary colors, the Ben-Day dots for shading, and the bold black outline.
However, in this piece, Roy Lichtenstein exaggerates every element. For instance, the colors are much brighter than in the real comic. And that is not all. The Ben-Day dots are also many folds larger, the arrangement of forms much more energetic, and the lines much stronger than in the real comic. All this is so that the audience's attention can be drawn into the formal elements of visual artwork, which is pattern, color, line, and form, and make us explore the link between popular culture and art.
Through a simple, controlled composition, the artist shows that comics have the power to relay strong emotions.
CAA Mural – Creative Arts Agency Building, California, 1989
The Creative Arts Agency is the brainchild of five art agents from William Morris Agency who decided to create their own organization in 1975. The five are Michael S. Rosenfeld, Ronald Meyer, Michael Ovitz, Rowland Perkins, and William Haber. Still, before they could even obtain funding for their proposed project, they were unceremoniously fired by William Morris.
The five incorporated the agency in Delaware, and within a short span, they were already enjoying success with their game show called Rhyme and Reason and the cartoon series The Jackson 5ive.
CAA continued to grow from strength to strength, and by the 1980s, it was financially able to commission architect I.M Pei to design its new headquarters in Beverly Hills.
Standing three floors high, the CAA headquarters resembles a classical structure amassed in three geometric volumes – a central circular patio with an arched wing on its two sides. One wing is covered in masonry while the other in expanses of travertine glasses. The patio is crowned with a low tapering glass mast that opens it up into a colossal, bright public space, adorned with a massive Roy Lichtenstein mural.
When the CAA headquarters was completed, Roy Lichtenstein was approached to create a huge mural that would punctuate the patio topped by the low, tapering glass mast.
Measuring 27 feet tall, the mural was inspired by the painting Bauhaus Staircase (1932) of Oskar Schlemmer, a piece that already had major symbolic importance in contemporary art and that was based on the staircase of the Bauhaus building in Dessau, Germany.
A limited-edition copy of the painting was created to celebrate the work's completion and was signed and given to every CAA agent.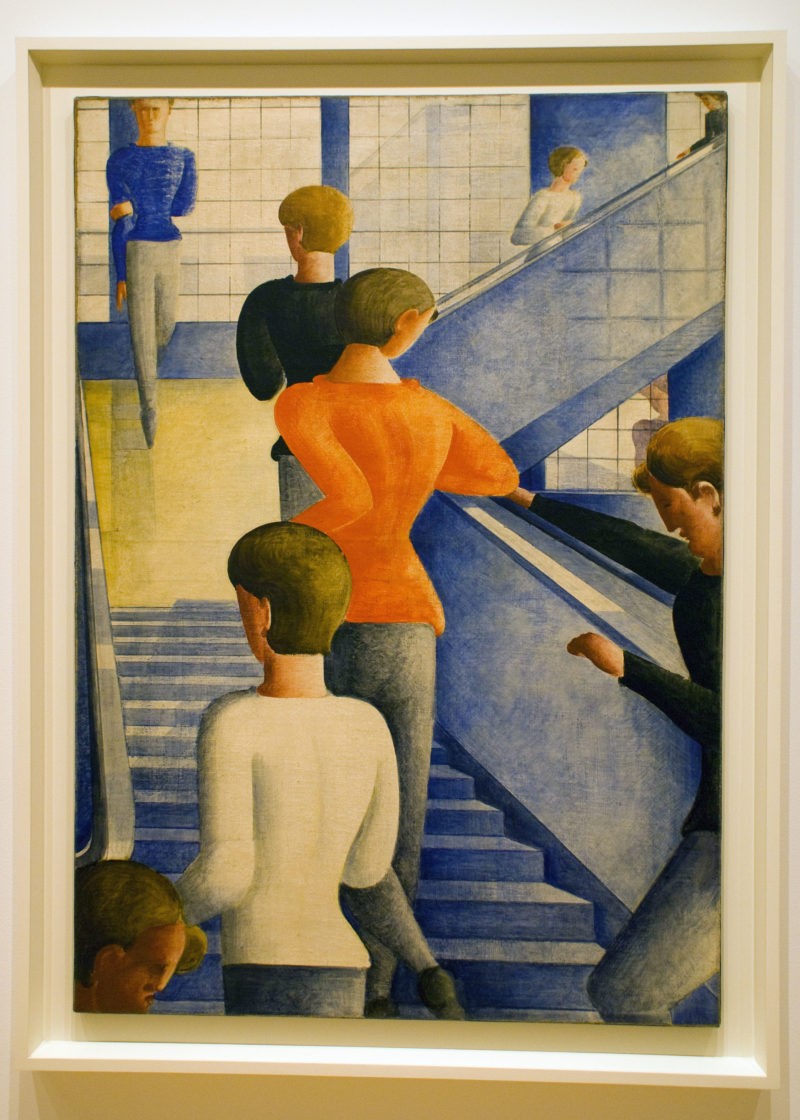 Greene Street Mural, 1983
Lichtenstein began to work with Rob McKeever, one of his assistants, in the early 1980s after he called the artist to offer himself up for the role. However, it was not easy, as McKeever recalls:
He said he wasn't ready yet, but to keep in touch with him," he remembers. "I would call him periodically over the summer, and then by around November, he was ready. So I went down there and started working for him in the afternoons.
One of McKeever's first roles was to help Lichtenstein create the historic Greene Street Mural in 1983.
The mural was produced at the Castelli Gallery at Greene Street in New York's SoHo. But as per the artist's wish, the piece was destroyed six weeks after the exhibition.
McKeever, who decades later teamed up with Lichtenstein Foundation and Gagosian Gallery in New York, recalls working with the artist on this project back in 1983.
McKeever says:
Working for Roy was never rigorous. He was not deadline-driven; he just worked steadily at it. He drew it out, taped it out, we would paint in the colors. When I started, he had already completed the final college (he had done a couple of other ones before that), and we took a photograph of that and projected it on the wall for him to draw out. He obviously drew it out because it's his mural, but once we started painting it, you were just given a task and you did it. The dots were done with silkscreen paper, so that was just like putting wallpaper up.
However, McKeever recalls painting the stripes as arduous, as well as the brushstroke, which Roy did from a scissor lift.
Greene Street Mural, 2015
In 2015, in collaboration with Roy Lichtenstein Foundation and Gagosian Gallery in New York, McKeever recreated the Greene Street Mural to present the work of Lichtenstein to younger generations.
But unlike the original version, which was produced by an array of artists including Lichtenstein, McKeever, Dorothy Lichtenstein (the artist's wife), Leo Castelli, and two other studio artists using projection, the 2015 version was produced by commercial sign painters.
Speaking about the production, McKeever said,
I think they wanted to make it clear that it is a copy. Roy dew out the original body himself, so for us to try to do that is not really the same thing… We wanted to just make it a faithful reproduction.
McKeever played the role of supervisor in the project. He ensured that the painters got the colors right ad that "the mechanics are the same way Roy would want them to be done."
He continues, "The stripes have to be the same way he did them, and the dots," McKeever said. "When you are trying to imitate his work, that is the biggest factor."
The team of painters used scaffolds and scissor lifts to produce the replica mural. Lichtenstein's foundation also played a crucial role in realizing the project by providing drawings and collages for the painting, with the original one was destroyed.
"The main thing we had to decide on was how it was going to be painted," McKeever said. "We didn't have the original crew, and obviously, Roy wasn't going to draw it out, so we had the idea to use commercial sign painters to duplicate it from photographs."
The biggest challenge the team encountered was getting the colors right since the photographs from the archives had probably faded or ruined. "The photographs are not the easiest things to interpret," McKeever pointed out. "Green has a tendency to go black in photographs and there is a whole green area that was black in the photograph, so we had to go back to the college to figure out where it was green."
The resulting work had all the elements that become synonymous with Lichtenstein's oeuvre – a little of Ben-Day dots, nods to Picasso and Brancusi, a drippy red brushstroke, piece of Swiss cheese, and a marbled composition book.
Combined with its imposing size, the mural offers a viewing experience that is revelatory, impactful.
"It's such an important piece of Roy's that wasn't widely documented at the time," explained Grzan from Gagosian Gallery. "People don't really know the imagery well, so it was important to expose it to a new generation of viewers."
Tel Aviv Museum of Art, Israel, 1989
The spaceship-inspired Tel Aviv Museum of Art is another place where you can find Roy Lichtenstein's mural. Hanging in the entrance foyer of the museum, the painting stands at 54 feet and measures 23 feet wide. The mural was produced in 1989 as a gift to the museum from Lichtenstein.
It includes a potpourri of figures appropriated from Roy's own work as well as Alexander Archipenko, Picasso, Marc Chagall, and Oscar Schlemmer.
Marc Scheps, director of the museum, described the mural as "art about art about art" since it portrays "a whole century in art and all the exchanges between figurative and abstract."
However, the local artists were not happy with the museum's move to choose an international artist to paint the mural instead of offering the wall to Israeli artists.
AXA Equitable Center, NYC, 1984–86
When the Axa Equitable Center design was completed in 1984, Lichtenstein was asked to create a large-scale mural for the tower once its construction was finished. The artist began preparing his sketches the same year, but strategizing took a little longer. Lichtenstein ultimately finished the mural in 1986, a year after the building was completed and was a subject of the book Roy Lichtenstein: Mural With Blue Brushstroke.
Lichtenstein copied and altered his previous pieces of work and a few others from his peers to create this mural. Several objects in the mirror were appropriated from Look, Mickey, including the door, section of a mirror, as well as an entablature. Also, the beach ball, from Girl with Ball, is held by Leger-like forms instead of a girl.
The resulting work is a discordance of images. A light blue brushstroke depicts a waterfall.
The artist used at least 18 colors rather than five, which he usually uses, and as a result, the paint extended beyond the frame. This made the piece to be termed as the first imperfect painting.
The artist again used his typical large canvas easel, just like in his previous paintings. He "selected the motifs, he made a series of drawings and then collaged them together to make a Marquette, measuring 34.25 by 17.5 inches, which became the working plan for the actual mural."
The slides of the collage were then projected onto the wall of the Axa Equitable Center, now known as AXA Center. Using the silhouette on the wall, the artist and his assistants Brian O'Leary, Arch O'Leary, Robert Mckeever, Fernando Pomalaza, and James di Pasquale, drew the mural, taking up to six weeks to complete.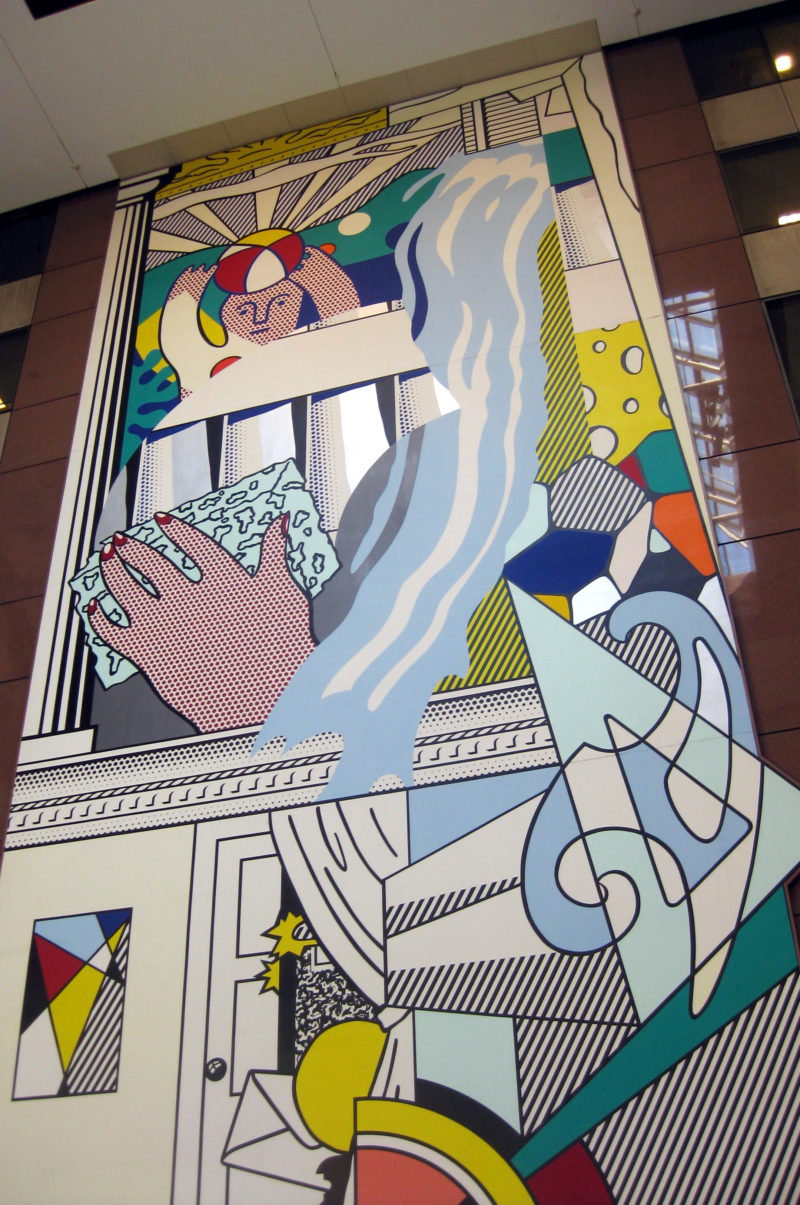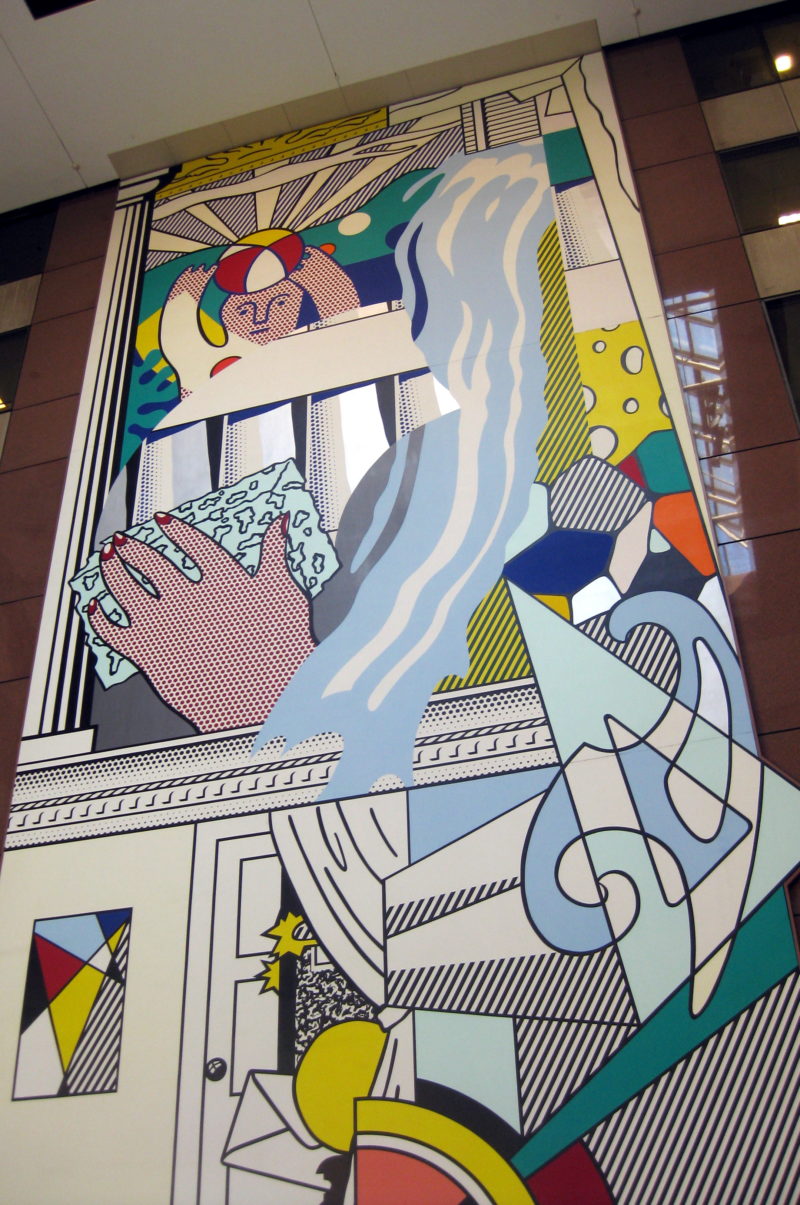 42nd Street Station, Times Square Mural, NYC, 1994/2002
Conceptualized in 1994 and installed in 2002, the Times Square Mural is another public space installation by Roy Lichtenstein. The artwork, commissioned by the Metropolitan Transportation Authority's Arts for Transit program, measures 6 feet by 53 feet and is made with porcelain enamel on steel.
The mural specifically goes back to the history of the city's transportation. The first panel indicates a section of an arch that suggests masonry and tile, two of the main materials used in the subway in the early 1900s. The next arch transforms into a steel girder, symbolizing the 1930's Machine Age era when metal represented modernism. A winged spaceship can be seen zipping through the arches.
By also referencing his previous works, this piece presents a collection of ideas the artist had accumulated over years of research into semiotics of contemporary art and modern culture.
Like other murals in this article, the Times Square Mural also includes components from other artists' work, such as Buck Rogers' comic strips and drawings from the architectural plan of the subway. This mural is a fitting Lichtenstein's homage to his home city and one of his last works before passing in 1997.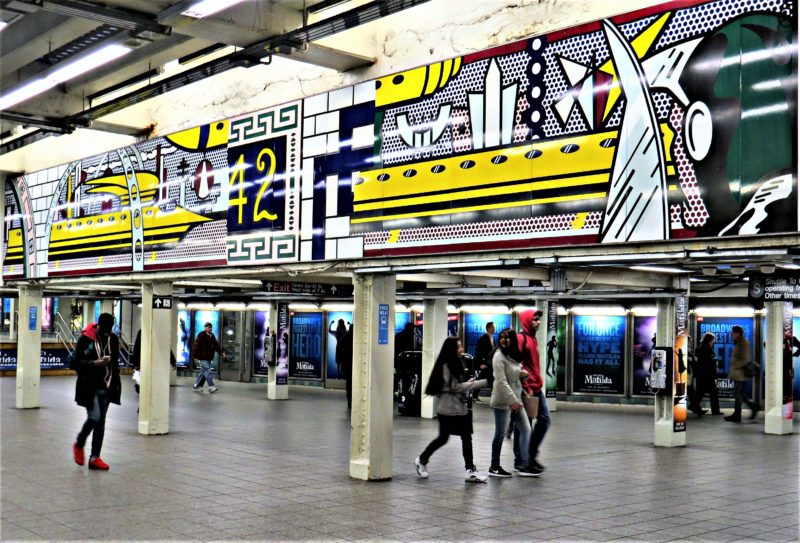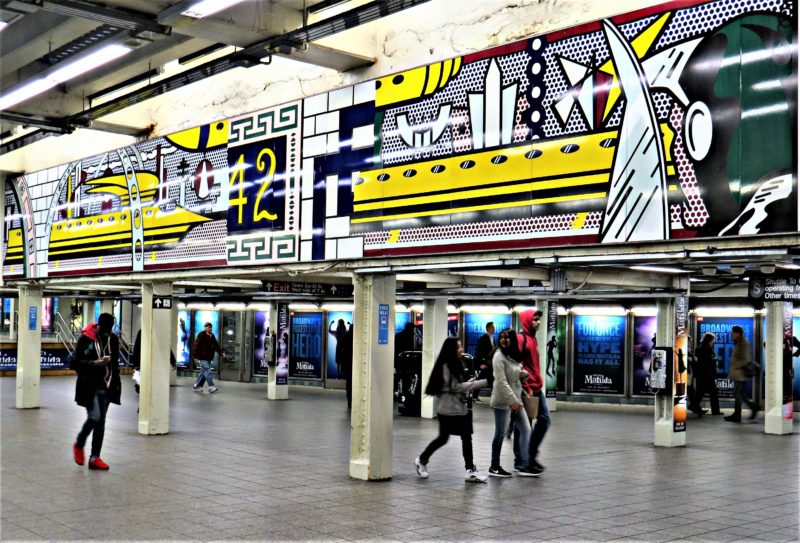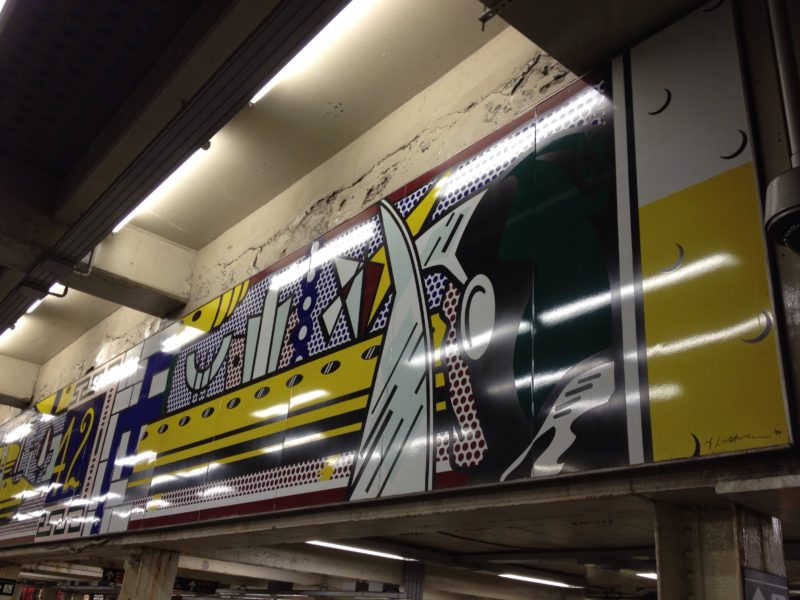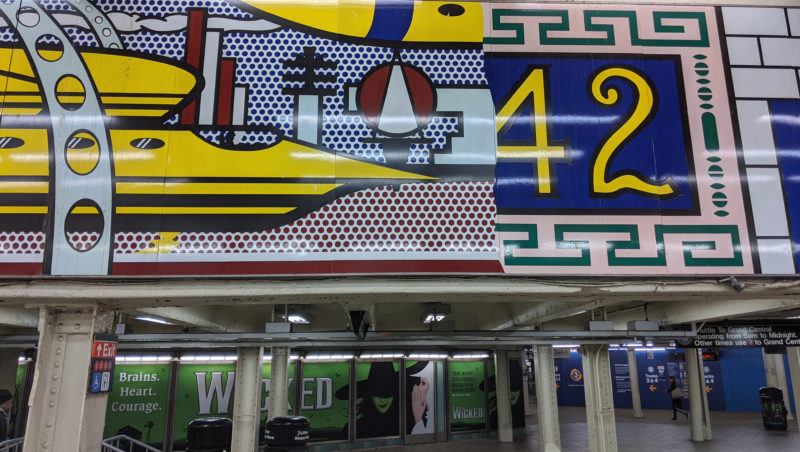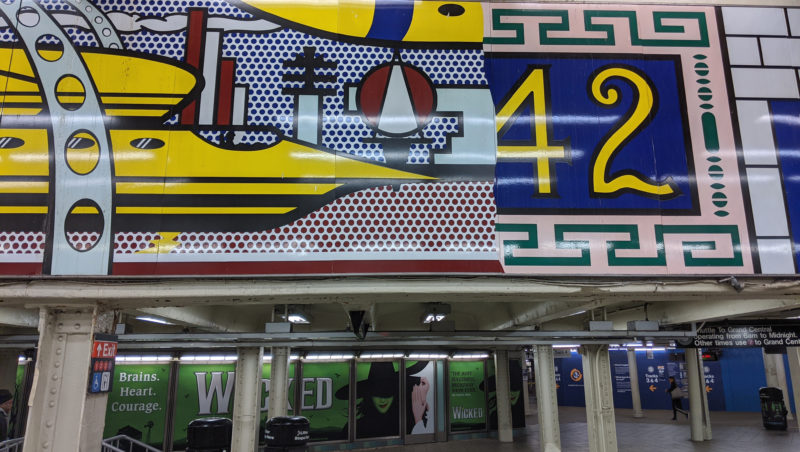 Heinrich-Heine University Düsseldorf, Germany, 1970
The mural at the University of Dusseldorf in German was created in 1970 and features elements from the artist's iconic Brushstroke series.
In this piece, the artist tries to question the esteemed status of the painterly mark as well as the central beliefs about the artistic process. Presented with drips and yet again set against a cluster of Ben-Day, the mural at the University of Düsseldorf signifies a gesture of control, which was revered during the time of Abstract Expressionism.
More by Roy Lichtenstein