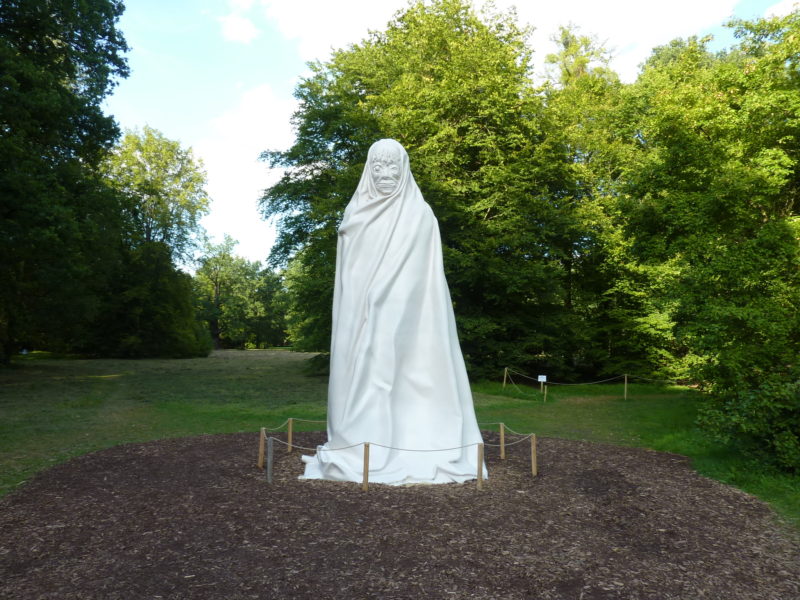 Apichatpong's ghost sculpture in Kassel, Germany
The Importance of Telepathy is Apichatpong Weerasethakul's 2012 sculpture for documenta 12 which he worked on in collaboration with his fellow colleague Chai Siris. The public art exhibit was on display in the Orangerie garden in Kassel during the documenta, an art event that takes place every five years.
Sitting idly in the lush garden, the sculpture is crafted out of ceramic and drabbed in dazzlingly white cloth cloaks to resemble the mythical creature of the shadows. It's immersed in what looks like an ethereal glow, covered to reveal only a scary face, giving it a believable ghostly appearance. There are also the hammocks and wind chimes strapped to the trees around the garden.
dOCUMENTA (13) - Apichatpong Weerasethakul - The importance of telepathy
Together, the large sculpture brings to mind Phi Boon, a popular ghost in Thai folklore and literature. Hiding behind the mask of Phi Boon is Sakda Kaewbuadee1, a Thai actor who has acted in various cinematic installations as an astronaut, a monk, and a tiger. The sculpture was first exhibited in Kassel, Germany.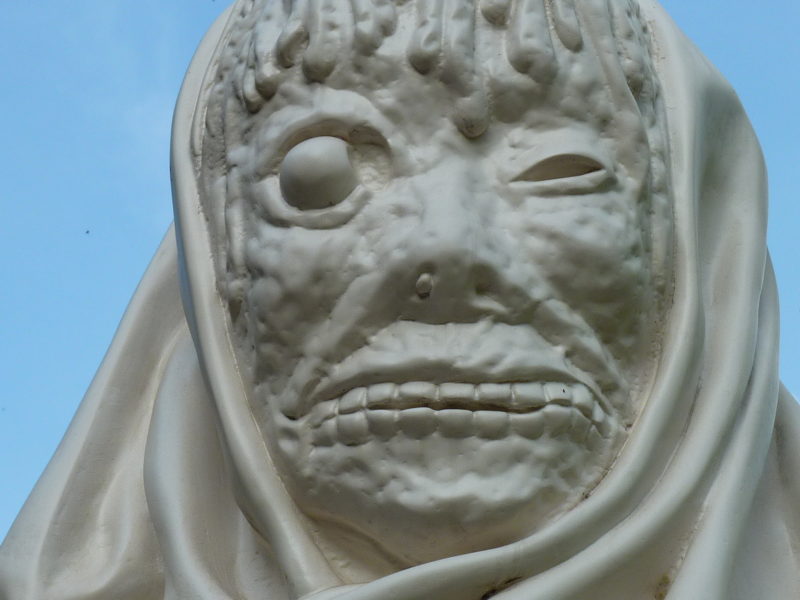 The story behind the sculpture
The story behind The Importance of Telepathy is as fascinating as the art installation itself. In Thailand, there exists a type of ghost known as Phi Boon.
Contrary to the textbook definition of ghosts, Phi Boon isn't a dead creature but a living person who is believed to possess godly powers and the ability to deliver the villagers from oppressive regimes and their pains. Besides being a symbol of hope, this ghost also entertains the villagers with otherworldly songs, poems, and texts.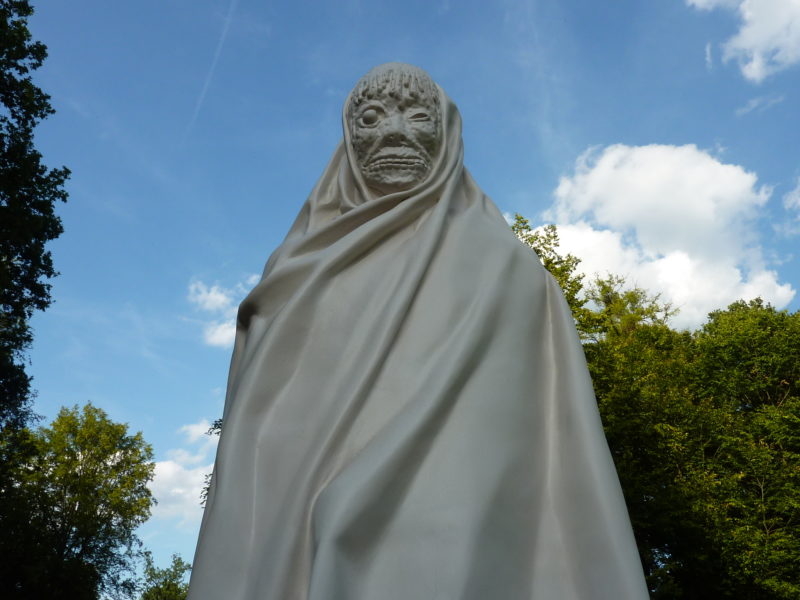 For over 260 years, Phi Boons have revolted against unjust regimes and governments – hence, what they call Phi Boon uprisings. Unfortunately, the last Phi Boons and their believers were executed in the 1950s.
What Apichatpong created this work
From the artist's perspective, the sculpture is a reminiscence of what Thailand as a country has gone through in the past tumultuous decades – the revolt, the military coups, the war, and then the hope, the faith, and the fear that often engulfs the northeastern state.
In an interview2, Apichatpong commented:
The spirit followed us from Thailand to Kassel. We remind the victims of the political violence in Thailand.
About Apichatpong Weerasethakul
Apichatpong Weerasethakul is a Thai independent film producer, screenwriter, film director, and artist, all rolled into one. His award-winning works have been featured in collections around the world, notably Tate and MoMA.
There's no tinge of doubt that he is one of the most prolific contemporary Thai artists of our time. Apichatpong is one of the main features of Tokyo's boutique art gallery, the SCAI the Bathhouse.
Apichatpong's very popular works like Blissfully Yours (2002), Tropical Malady (2003), Power Boy (2009), Uncle Boonmee Who Can Recall His Past Lives (2009), the Fireworks (2015), and The Serenity of Madness (2016) catapulted him into limelight in the global art stage.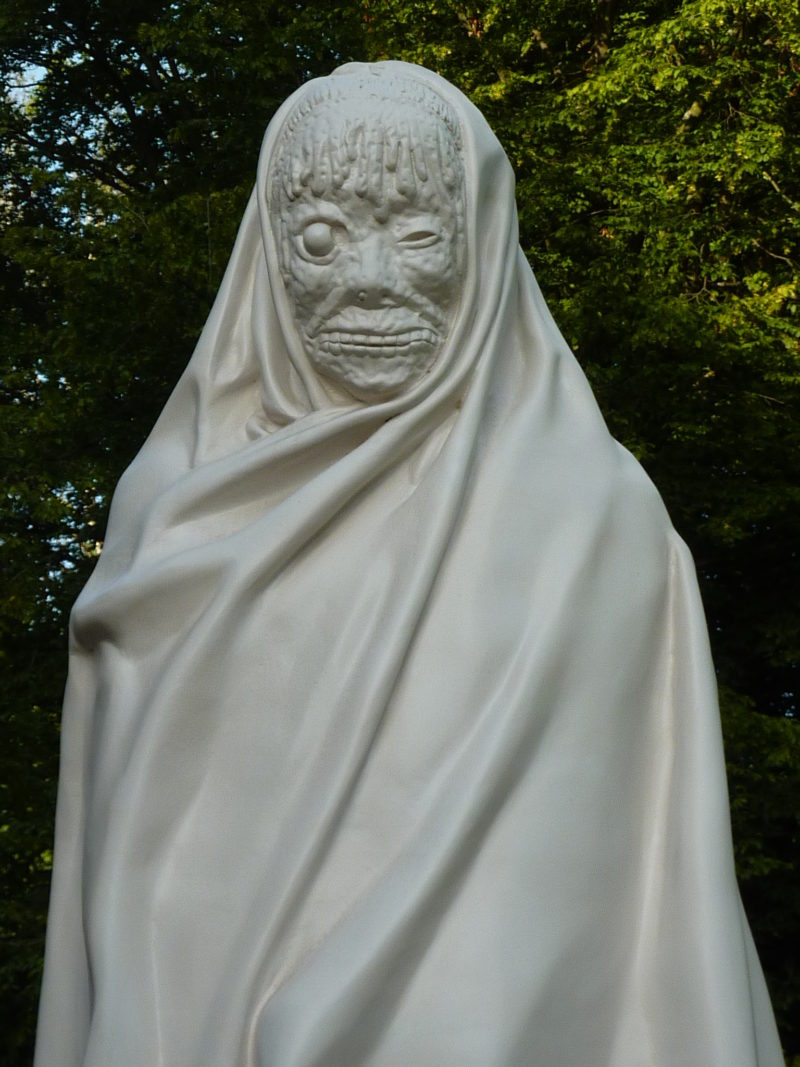 Footnotes