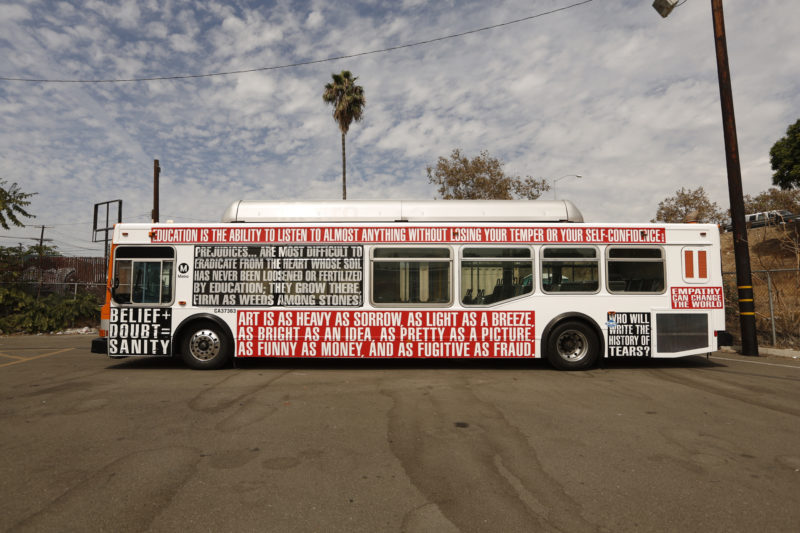 Why did Kruger wrap these buses?
From the late 1990s to recent years, Pictures Generation conceptual artist/activist Barbara Kruger has wrapped several buses in her prints – in New York, Los Angeles and Cologne.
Her work is usually known for its bold, eye-catching design and philosophical themes.
About Barbara Kruger
Barbara Kruger is a New Jersey-born conceptual artist known for her combination of image and type that conveys a direct feminist cultural critique.
Based in Los Angeles and New York, she is one of the most renowned contemporary artists today. For over three decades, her work has encompassed a broad spectrum of context and scale, ranging from publication inserts to immersive installations that involve text, images and video.
Her artwork explores societal stereotypes and behaviors of consumerism with text layered over mass-media images. Kruger is known worldwide for her text-based works that examine the consequences of capitalism and bodily autonomy. Her projects often take the form of cryptic statements written in a sans serif font1 that resembles advertising copy.
Megan O'Grady wrote in the New York Times2:
"[Her] work is nearly always direct in address and billboard-speed in receptivity. Resolutely anti-hierarchical, the artist's provocations have appeared on coffee mugs and city buses … thus ensuring that even people who might never have entered a museum or gallery would have access to them: medium, message, place.
School Buses
New York, 1997
Between November 1, 1997, and November 30, 1997, Kruger wrapped a bus that carried passengers from Fifth Avenue in Midtown Manhattan to eastern Queens. Her signature graphics and texts, reproduced in a large-scale vinyl format, covered the forty-foot length of the bus top and its sides, as well as the full rear panel.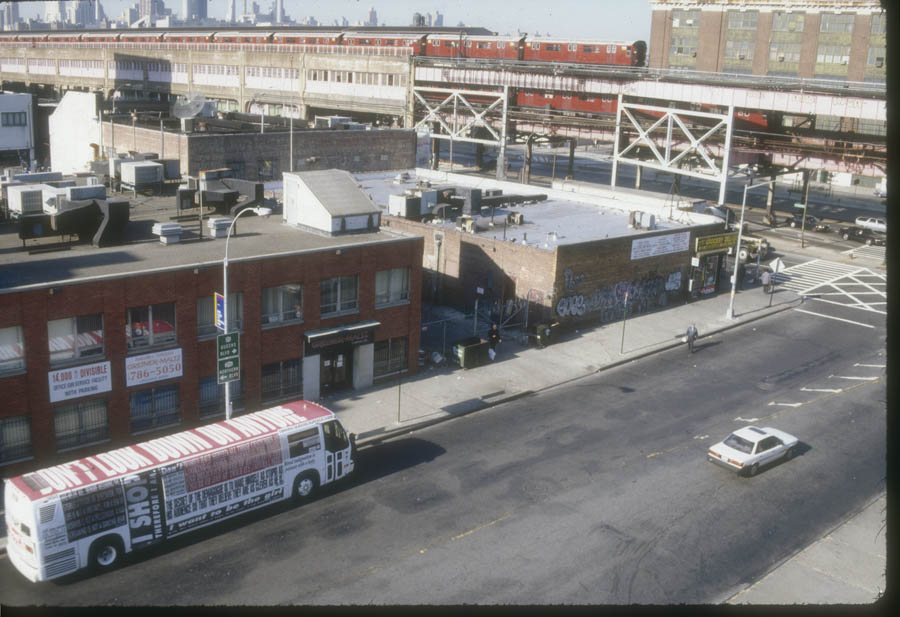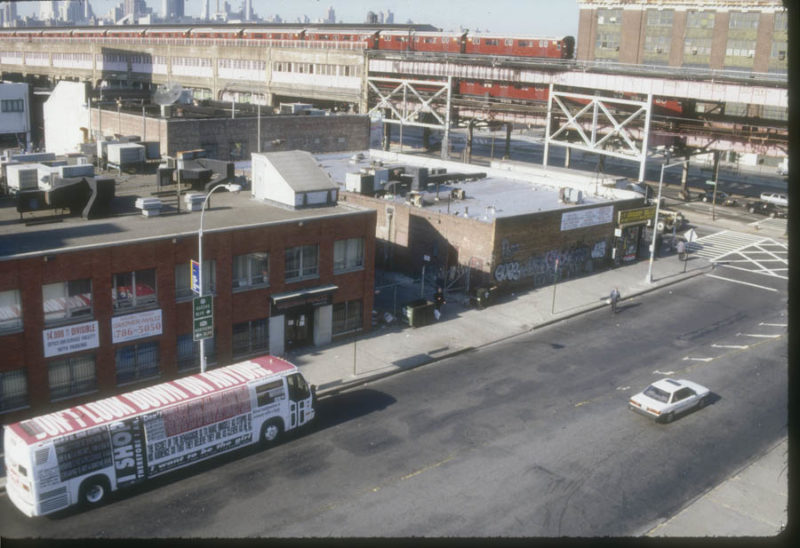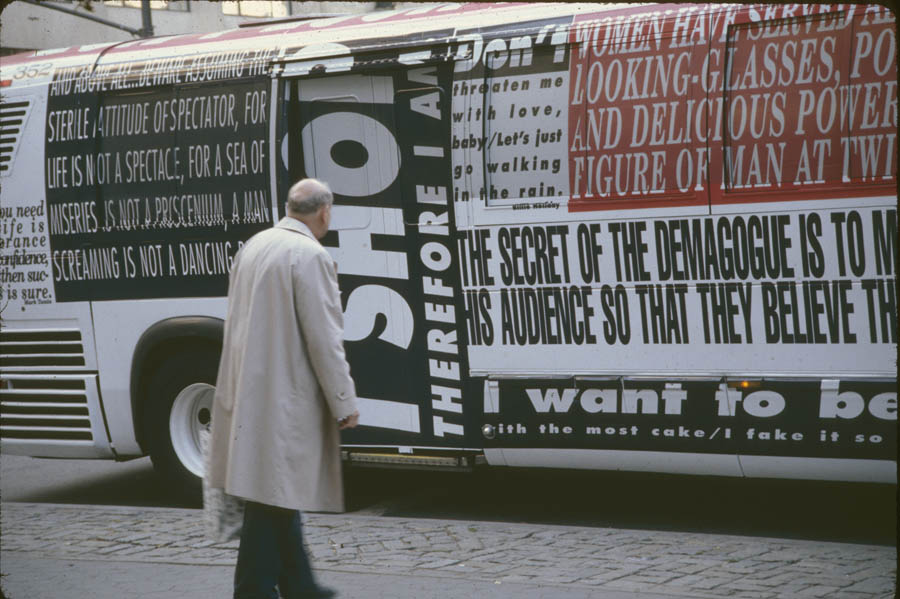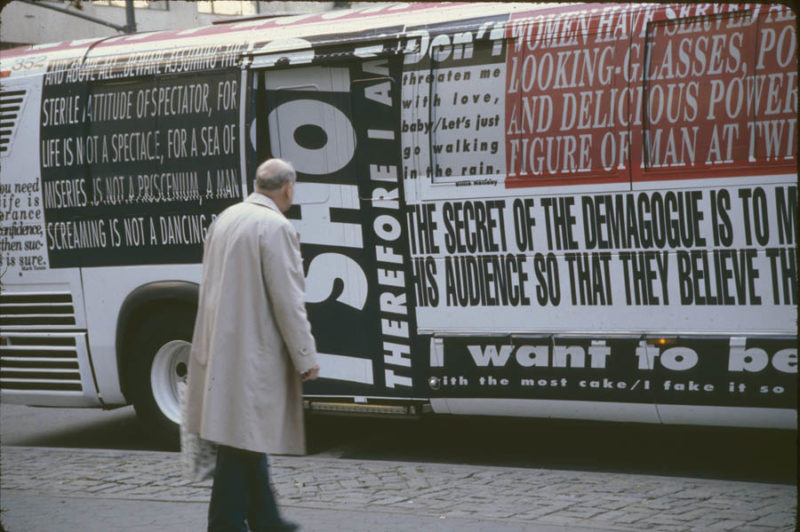 The artwork aimed to address the influence of celebrities on popular culture. Continuing her appropriation of mass media as part of her oeuvre, Kruger adopts a relatively new form of advertising, the bus wrap, to bring her own texts as well as several quotes to hundreds and thousands of "viewers" on the street.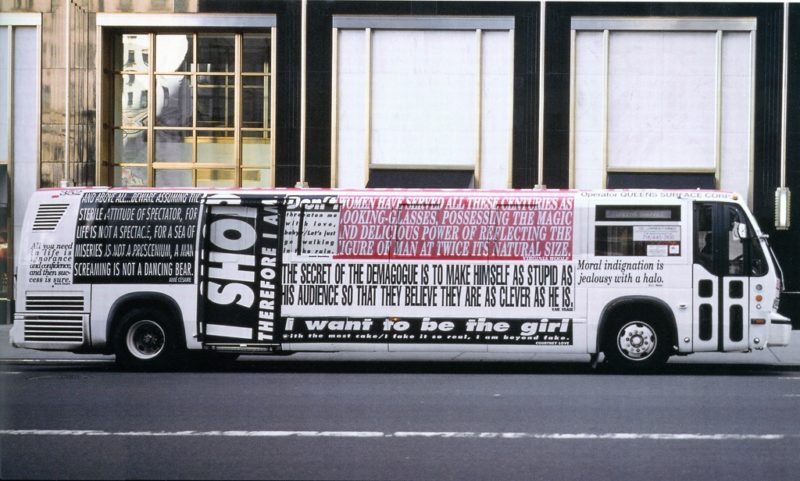 The texts on the bus included Kruger's own famous "I shop therefore I am"3 as well as quotes by other notable figures, including Courtney Love's "I want to be the girl with the most cake/ I fake it so real I think I am beyond fake," Mark Twain's "All you need in life is ignorance and confidence and then success is sure," and H.G. Wells's "Moral indignation is jealousy with a halo."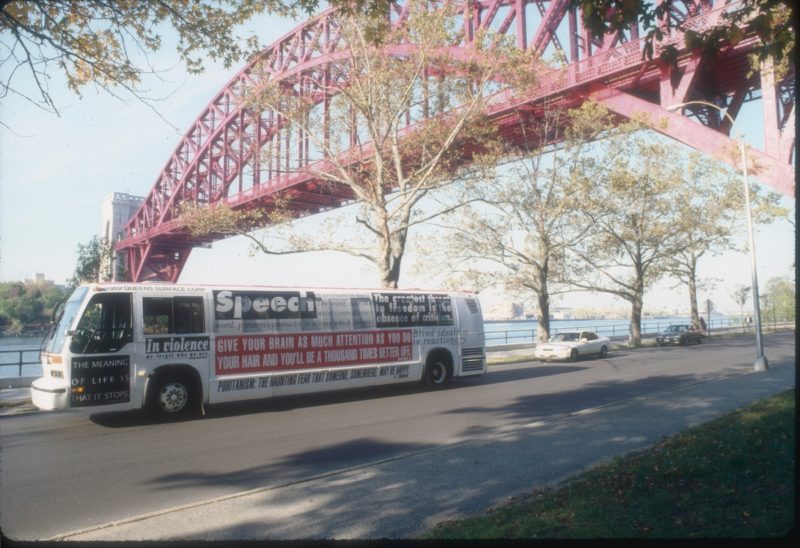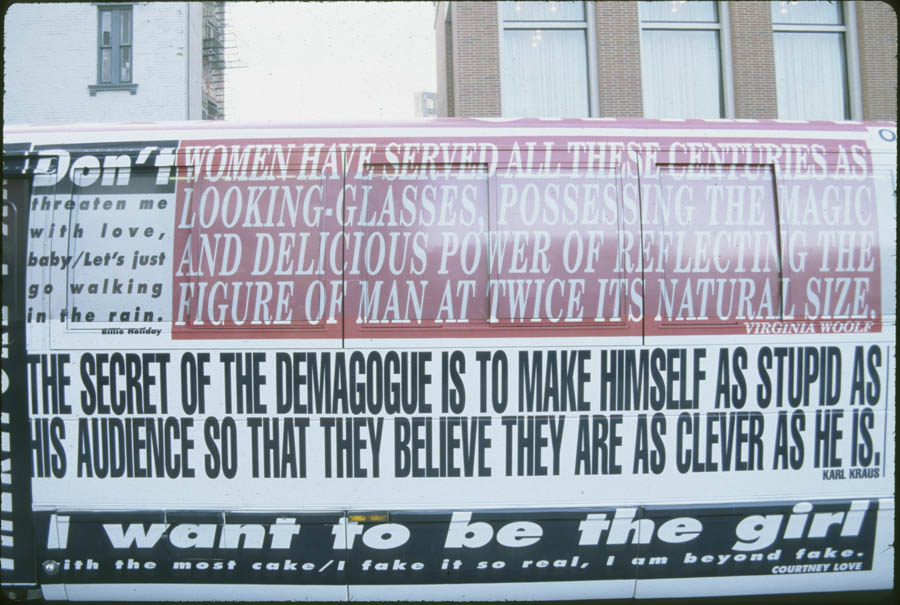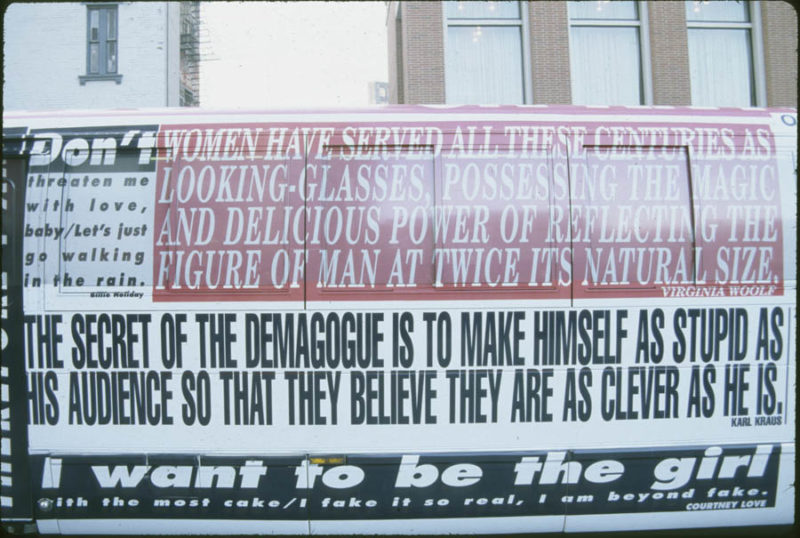 Drivers following the bus read, "Don't look at me," "Don't threaten me with love," "Don't put words in my mouth," "Don't get too close," and "Don't be a jerk." While office employees looking out of their mid-town windows down at the top of the bus read, "Don't look down at anyone."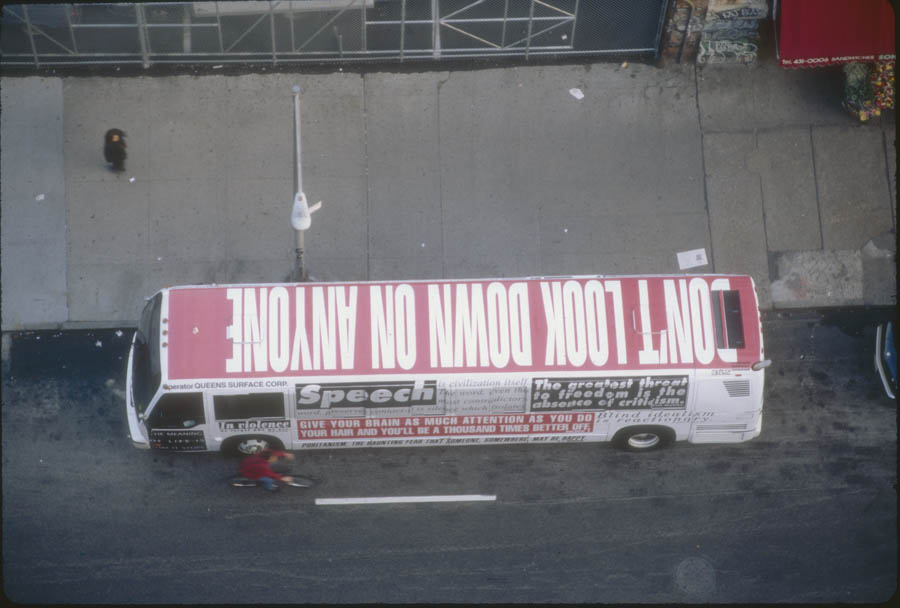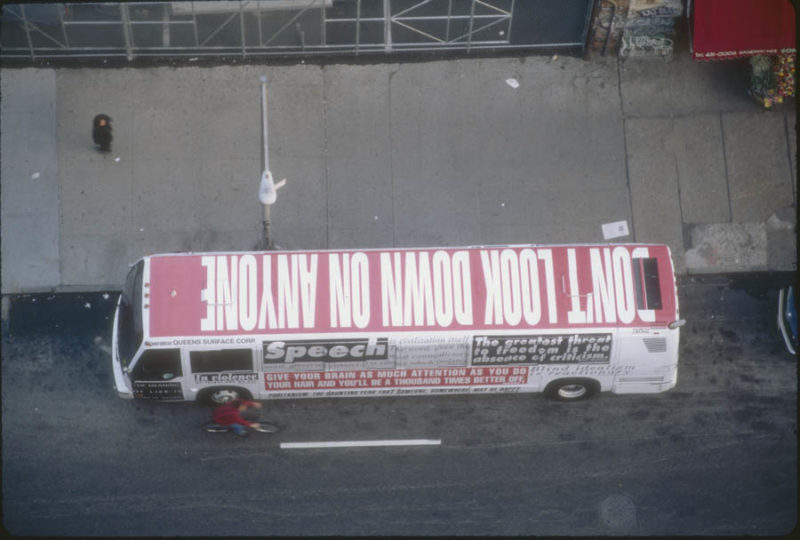 Los Angeles, 2012
In October 2012, Los Angeles commuters were treated to a bit of mobile conceptual art courtesy of Barbara Kruger's buses. For this project, twelve city buses were wrapped in the text produced by Kruger and accompanied by other works hosted on 85 billboards, bus shelters, and several other outdoor media sites in a month-long campaign-cum-public-exhibition.
The project intended to promote art education in Los Angeles's public schools and address the importance of arts education in Los Angeles public schools.
The artist's project for Arts Matter, a philanthropic organization run by LA Funds for Public Education, rendered in Kruger's signature style, directly and urgently addressed the importance of education, especially in the arts.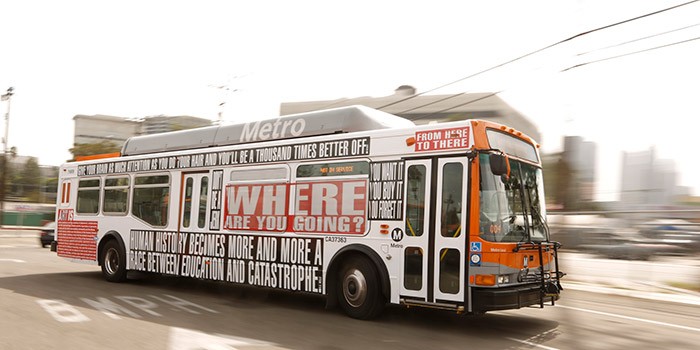 The place of the arts in the classroom is essential in encouraging invention, ambition, and an understanding of the importance and pleasures of living an examined life.
Kruger's statement, Art is as heavy as sorrow, as light as a breeze, as bright as an idea.. emphasized the fluid nature of art, stressing that art remains a crucial and indispensable part of a successful educational system.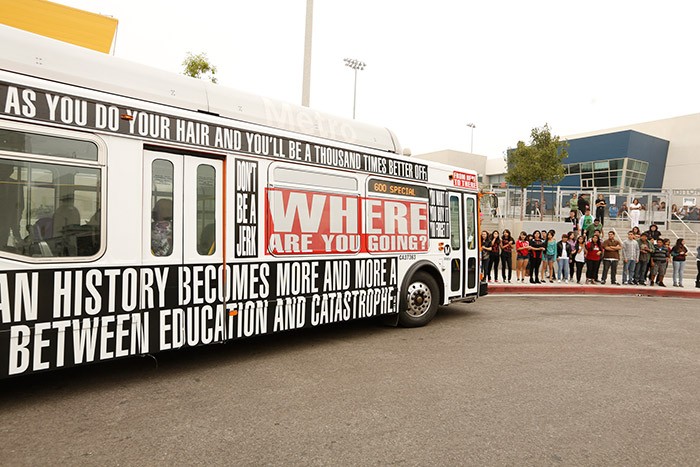 Megan Chernin, the chair of LA Fund, said5:
Arts education is critical for helping students develop creativity, critical thinking, and problem-solving abilities. In a district with nearly 80 percent of our student population living in poverty, in the heart of the world's creative capital, it is our imperative to ensure our public school students have the resources they need to prepare them for college and their careers.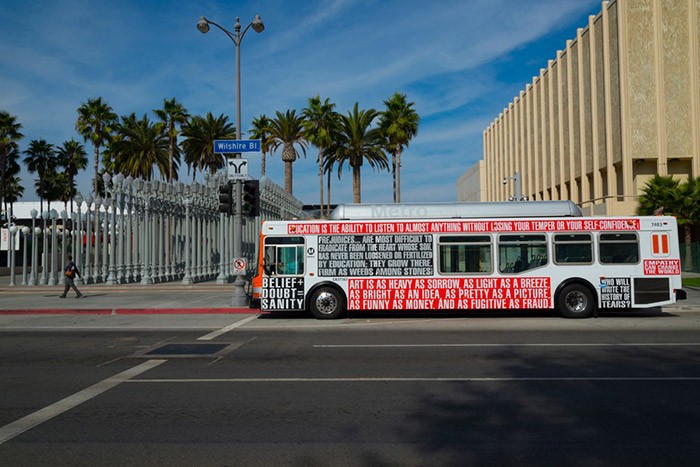 A bus wrap titled "School Bus" by Barbara Kruger was featured during the first four-month-long displays of the campaign.
Officials were hoping that the program would "draw attention, and contributions, to the district's arts programs, which have been slashed as state funding declined during the recessions.6"
LA Buses Get A Barbara Kruger Face Lift
Several billboard companies donated around $4 million in space on a billboard, Metro buses, bus shelters and other outdoor venues to support the program that also featured a yellow bus wrap by fellow artist John Baldessari. School Bus also referenced the bus wrap Kruger created in 1997 for New York City's Public Art Fund.
Cologne, Germany, 2013
For the Cologne project, Kruger designed the bus as an independent work of art, parallel to her large installation as part of the new presentation of the collection of the Museum Ludwig "Not Yet Titled". It was the first time that a large work by Kruger was installed there for the first time in almost two decades.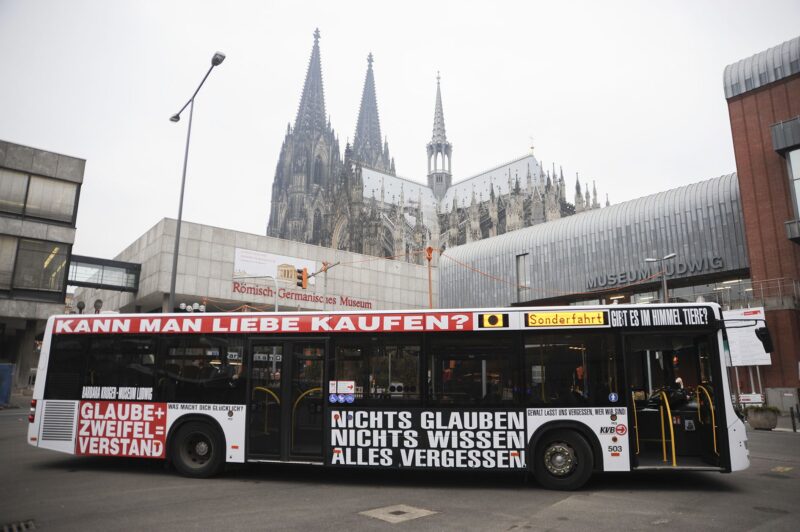 Some of the questions emblazoned on the bus included: "Is there a life without pain?", "Who are you?", "Where are you going?", "Who do you hate?" and "What makes you happy?".
Kruger designed the bus to encourage its passengers to think about God, the world, and even dancing bears. Additionally, Kruger also has questions such as "Are there animals in heaven?" or "Who greets the longest?" in striking, advertising-like letters glued on the bus.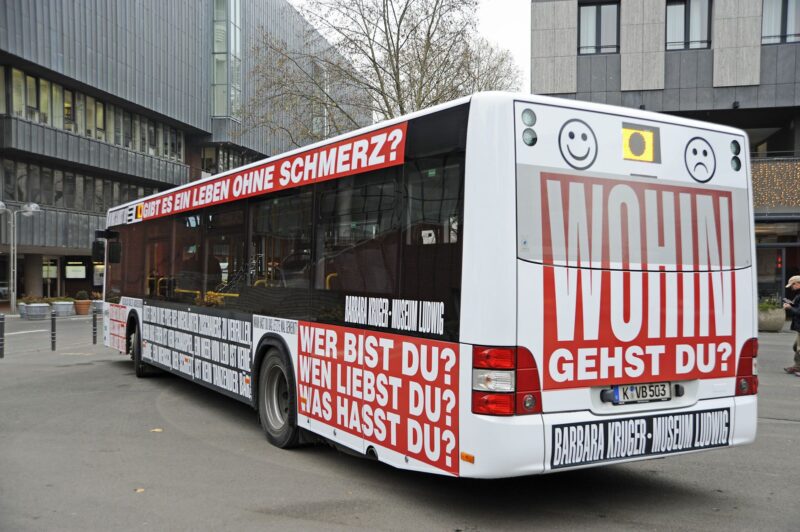 The central theme of this project was the use and abuse of power in politics as well as in the media and advertising. The texts were formulated and designed in large red, black, and white letters by Kruger at the invitation of the Museum Ludwig and the KVB, the Kölner Verkehrs-Betriebe (KVB).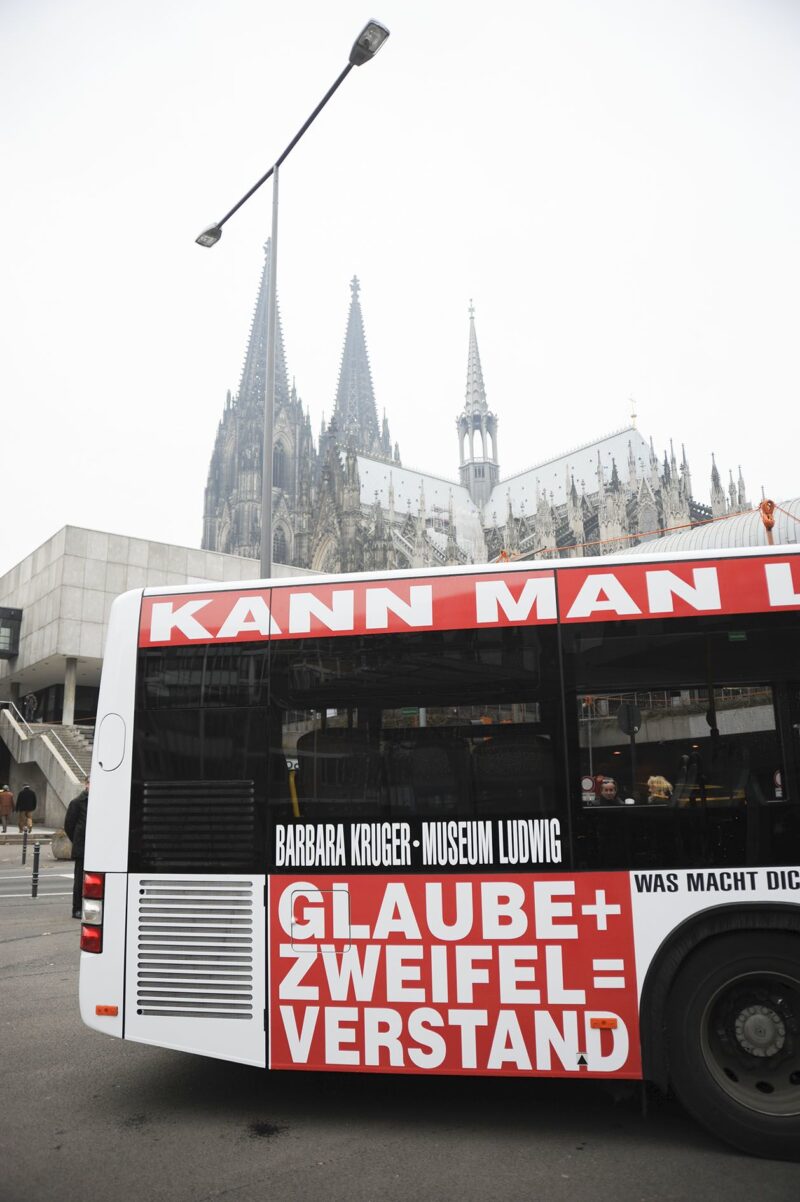 A special bus trip led through the city on the Rhine on various routes – and perhaps shook a philosopher awake in one or the other passenger and passer-by. Anyone who wished to take the ride could since it was a regular KVB bus ride.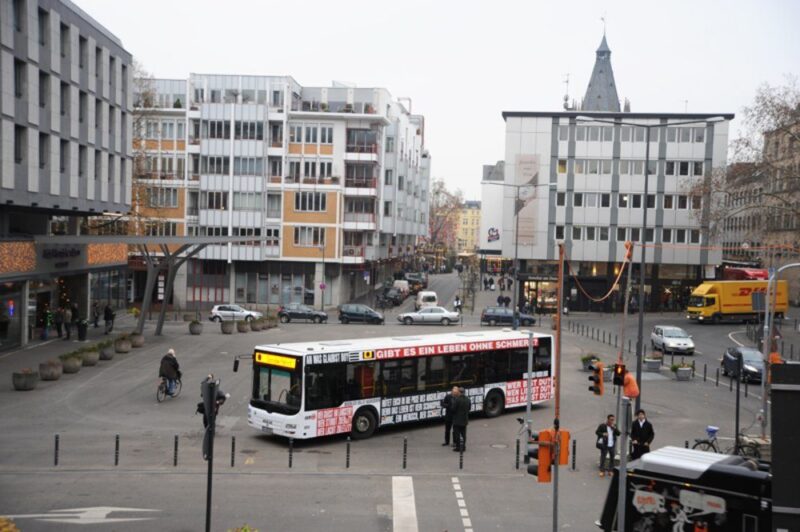 Performa Biennal, New York, 2017
In 2017, the Performa Biennal took over New York City. As part of its commissions, Kruger wrapped a yellow school bus in more red, black, and white banners, which roamed the streets as a mobile site for community outreach.
A vinyl label wrapped around the bus, making it look like a slightly confused mobile indoctrination center. "Know Nothing, Believe Anything, Forget Everything" loomed above a feverish riff on different types of war – Cold War, Race War, Limited War, and Anti-War, among others.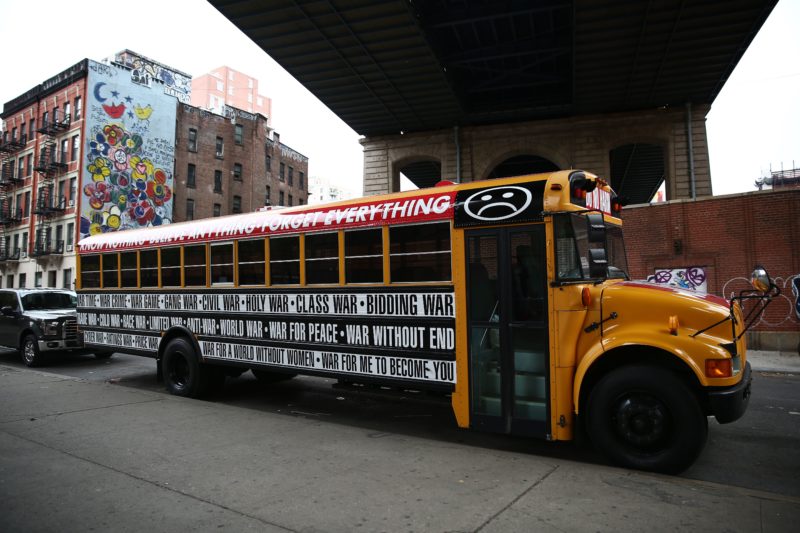 The side of the bus was more Orwellian: "Up Is Down, Right Is Wrong, Nasty Is Nice", while the emergency exit on the back was flanked by a bit of tween slang – "OMG, TMI".
Something to really think about is what makes us who we are in the world that we live in. And how culture constructs and contains us.
More by Barbara Kruger
Footnotes