Introduction
In 2005, MASS MoCA (Massachusetts Museum of Contemporary Art) presented a monumental and uniquely American sculptural installation by Providence-based sculptor Dave Cole.
For Cole's industrial-sized project The Knitting Machine, he used two excavators and replaced their shovels with telephone poles, fitting them with massive 6 meters (20 ft.) knitting needles.
This giant machine produced an oversized American flag, which can be seen as both a celebratory gesture of pride and a commentary on America's role in world affairs.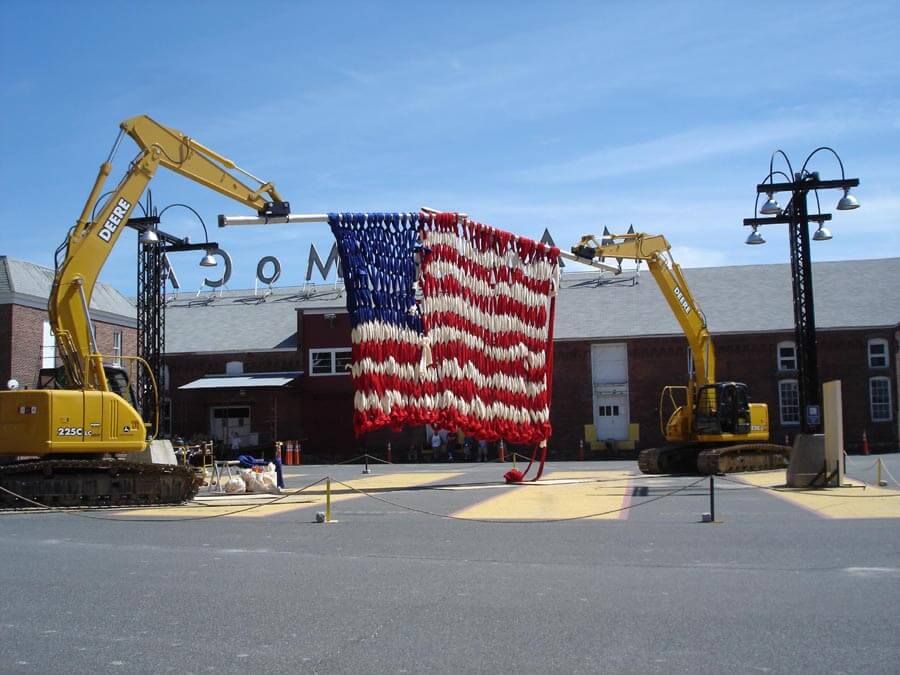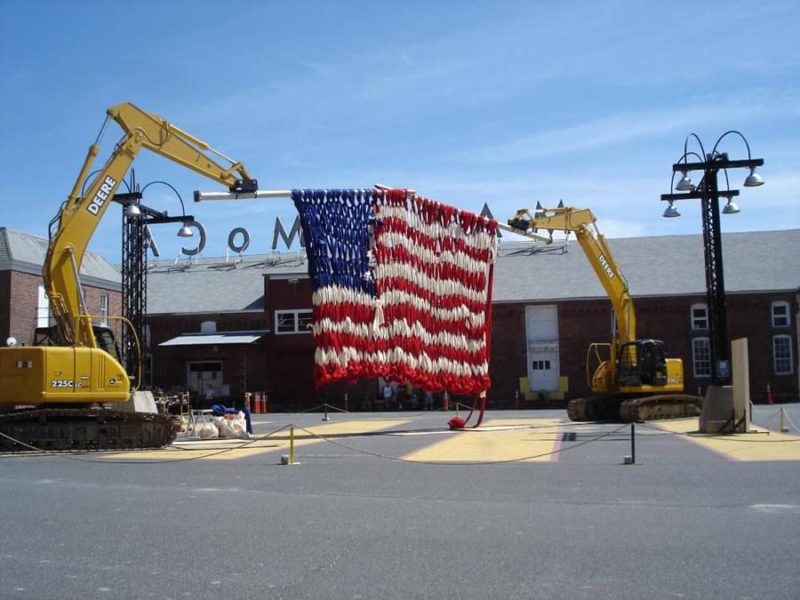 What does the artwork mean?
Shown on July 4th weekend in 2005, the artwork symbolizes crucial themes of Cole's work: A criticism of industry, patriotism, and domestic life. According to Cole, it blends knitting, a domestic activity typically associated with females, and the loud and bombastic process of construction that is generally associated with masculine work.
The Knitting Machine challenges familiar notions of labor and production, while expressing a complex understanding of patriotism.
Cole is known for using strange objects such as excavators and utility poles in his works and manages to convert them into something familiar. In the process, his artworks often take on a sense of humor. With The Knitting Machine, Cole played with stereotypes and impressively demonstrated that they are often more interwoven than we think.
What happened with the flag?
When the flag was removed from The Knitting Machine it was folded into the traditional flag triangle and was on display in a presentation case which Cole described as slightly smaller than a Volkswagen Beetle, accompanied by the 20′ knitting needles, and a video of the knitting process.
The MASS MoCA played a special role in this, as this kind of project could not be executed at any museum. Accordingly, Cole said: MASS MoCA is the kind of place that will not only allow something big and crazy to happen, but will actually encourage it.
Video
Dave Cole - The Knitting Machine